Grilled Pineapple Donut Sundaes- These sundaes are the perfect treat for your summer barbecue! Filled with rum, brown sugar and delicious flavor, they will be your fave warm weather dessert! If you love the tropical flavors of my Pineapple Upside Down Cake, Pineapple Coconut Cake and Pineapple Rum Cake, you will adore this! And check out this Cookout Menu!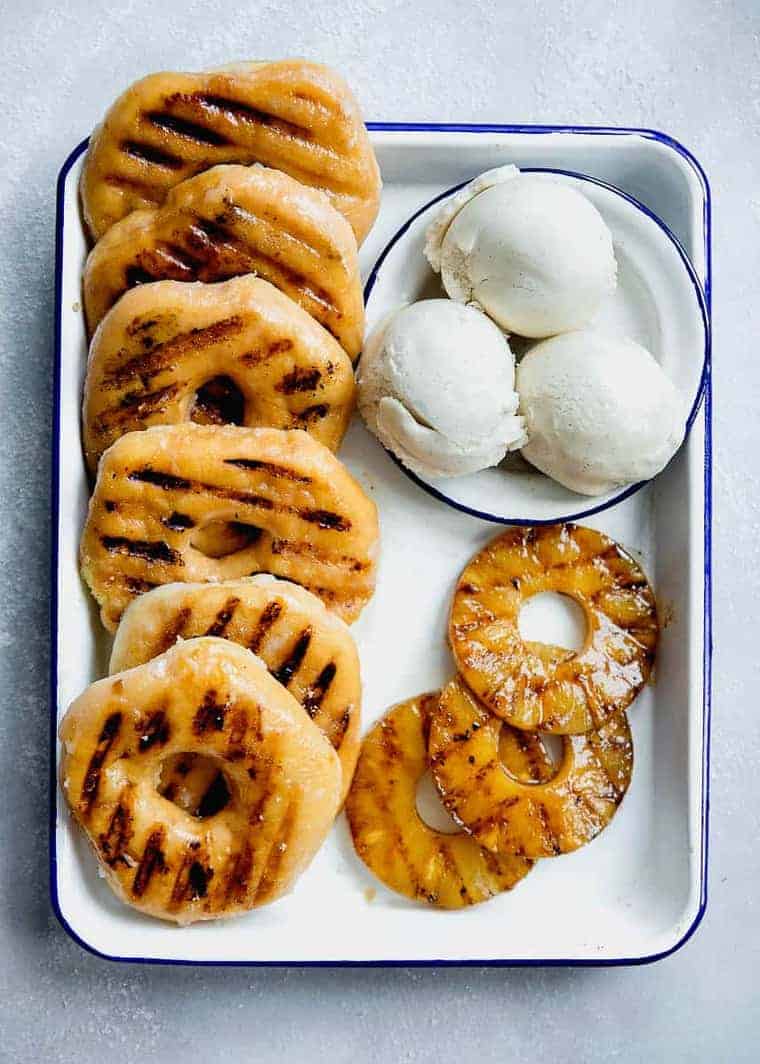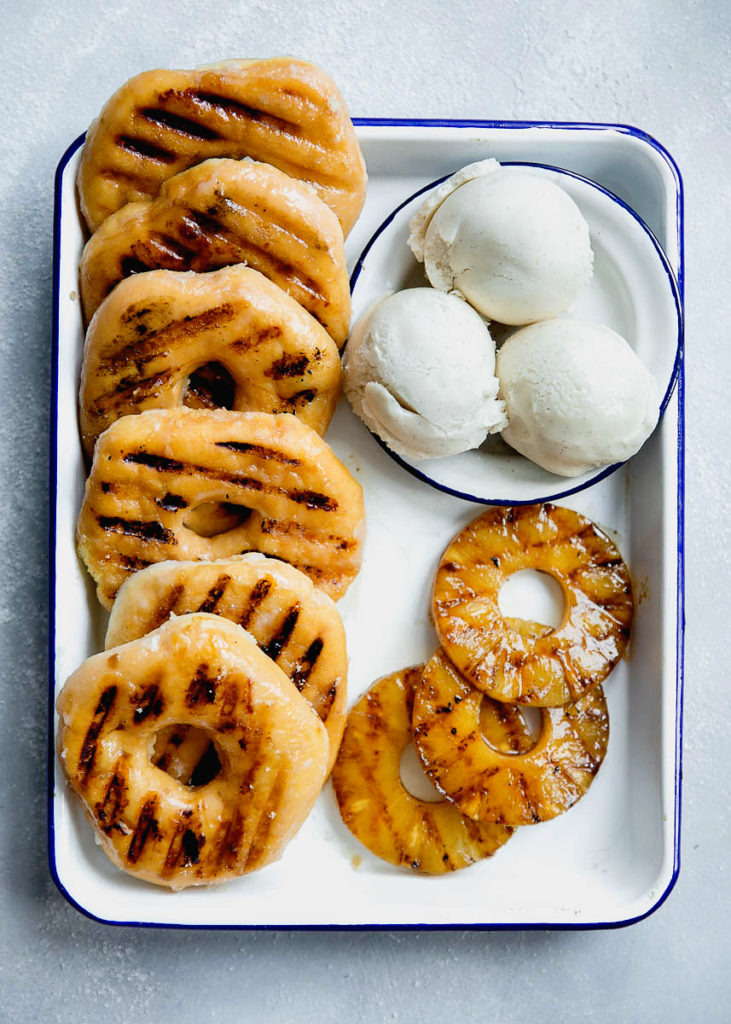 It's been just about two months since the official beginning of the Spring season. You heard me, two months. The first weeks were bearable with early signs of better weather and outdoor picnics to come. Soon the end of April crept up and cold winds, heavy rain and the occasional snow storms shocked us all. Now, the middle of May is upon us and the winds haven't subsided nor has the sun reared its head from behind these massive gray clouds. Saying I'm frustrated is an understatement. I mean, this time last year I was sipping Saturday evening cocktails out on the patio.
I'm craving Vitamin D like never before: there's just nothing better than feeling natural warmth on my skin. I want fresh fruit salads, ice cold lemonade and warm breezes that smell like lakefront when I close my eyes. Is a normal Spring with a graceful transition into Summer too much to ask for? In Chicago, it just might be.
How to Grill Pineapple
There is just one other thing I am finding myself craving above anything else: grilled food. I truly believe that there is almost nothing you couldn't grill. A grill is instantly capable of adding smoky, slightly charred flavor while also enhancing the texture of whatever is being cooked. Standing outside in forty degree weather with a pair of tongs in hand just isn't the way the to go. Shorts, sandals and a tacky apron add to the authenticity of whatever you're grilling. Okay, maybe that's just my personal take on it.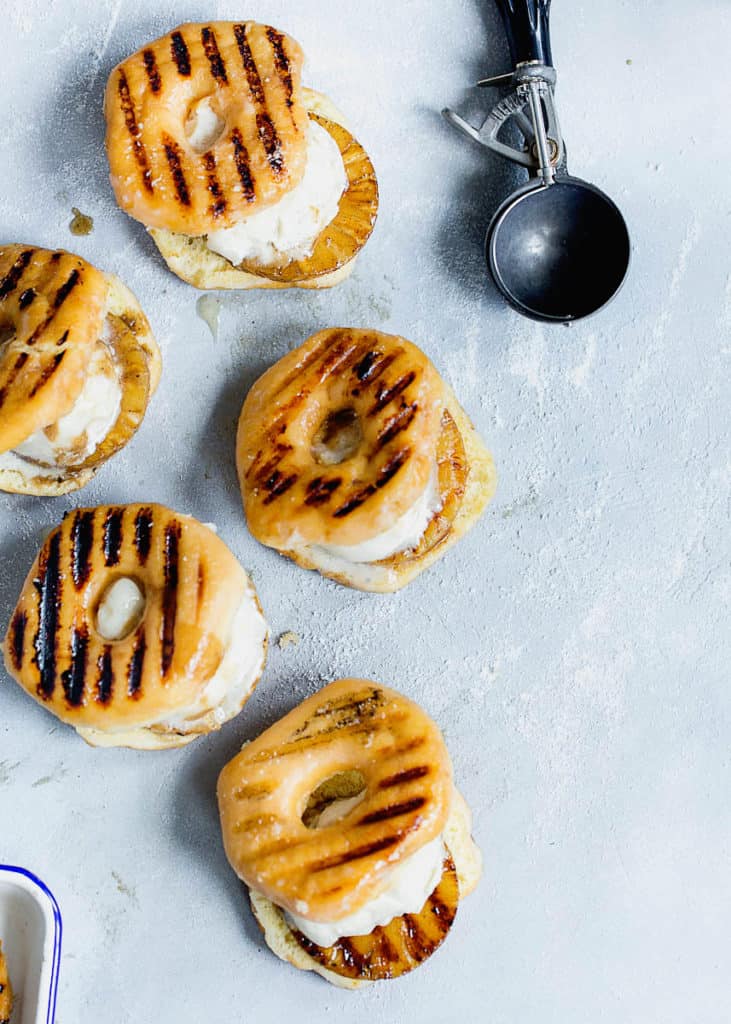 Regardless of weather, I'm choosing to be positive because Spring and/or Summer has to show up eventually right? In the efforts to keep that spirit alive I am sharing a recipe that ties well into my love for the grill. For some of you the weather is cooperative enough that you'll be able to head outside this weekend and whip these bad boys up. For others you can either tuck this recipe under your belt to be used in the coming weeks or bust out that handy indoor grill. Either way these are guaranteed to be amazing.
So I recently made these little miracles on the Today Show and realized it would be an absolute travesty if I didn't share them with you. You see, this recipe is seriously insane and requires the most brave of followers to make it. What makes it so insane you might be wondering?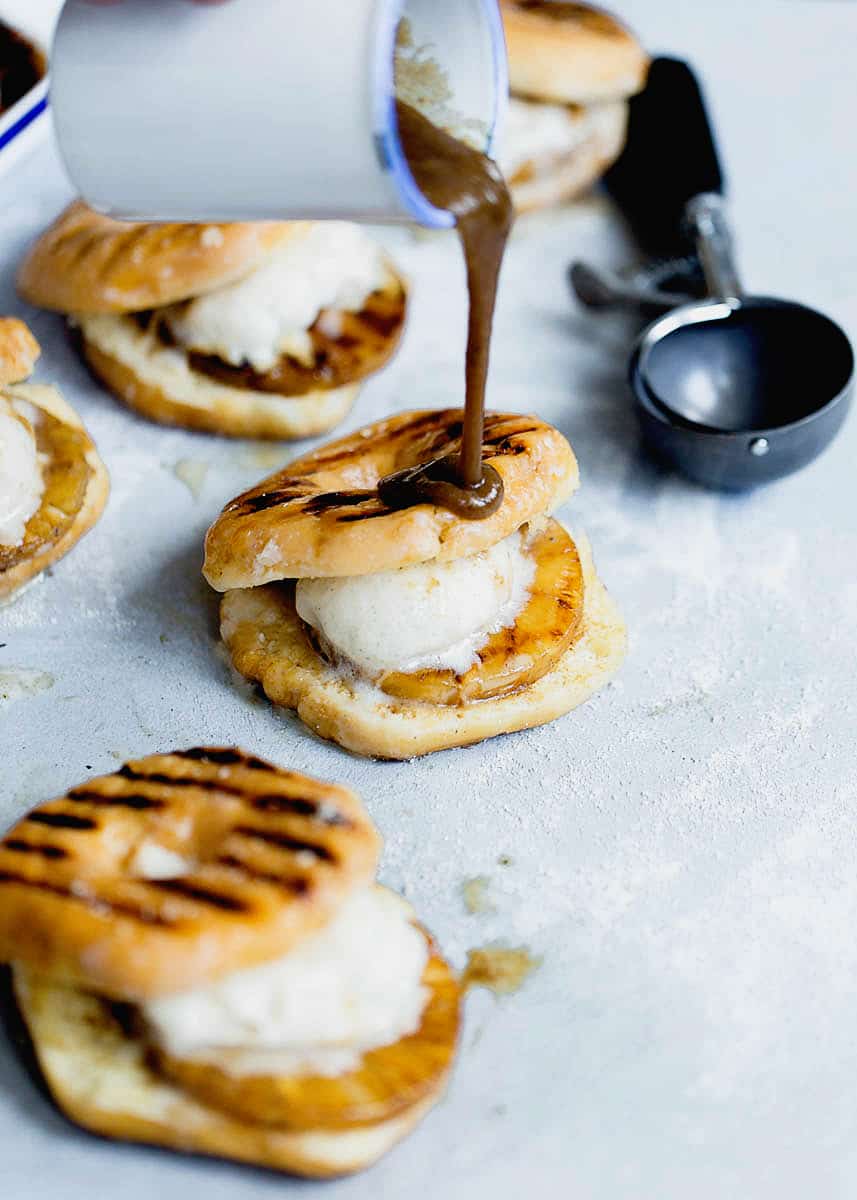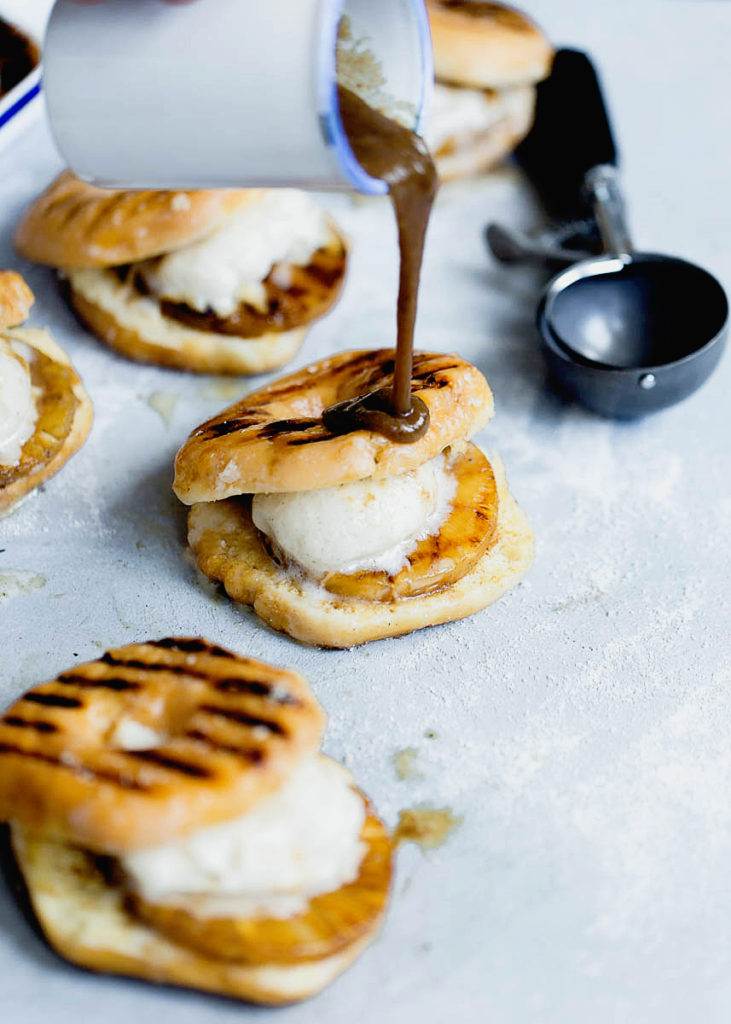 How to Grill Doughnuts
We are not only grilling pineapple. We are grilling donuts too my friends! I want you to go to your closest doughnut shop and pick up the softest, chewiest yeasty glazed donuts you can find. Once you have them, make the decision to do the crazy deed of throwing them on your grill. The sugar caramelizes in the most sensational way, they warm through and also pick up a hint of the smoke flavor that we know and love from grilling.
Doughnuts will never be the same. In fact these doughnuts were sort of life changing. I paired them with brown sugar rum soaked pineapple.
Pineapples are the quintessential Summer fruit; their vibrant color and even more vibrant flavor are the perfect representation of the season. Slightly acidic, pucker-your-lips sweet and perfectly juicy, pineapple is always refreshing yet indulgent. You can turn the fruit into a salsa or use it as an ingredient in a margarita but no matter what way you spin it it's crazy tasty. As you might've guessed, one my favorite spins is the grilled pineapple.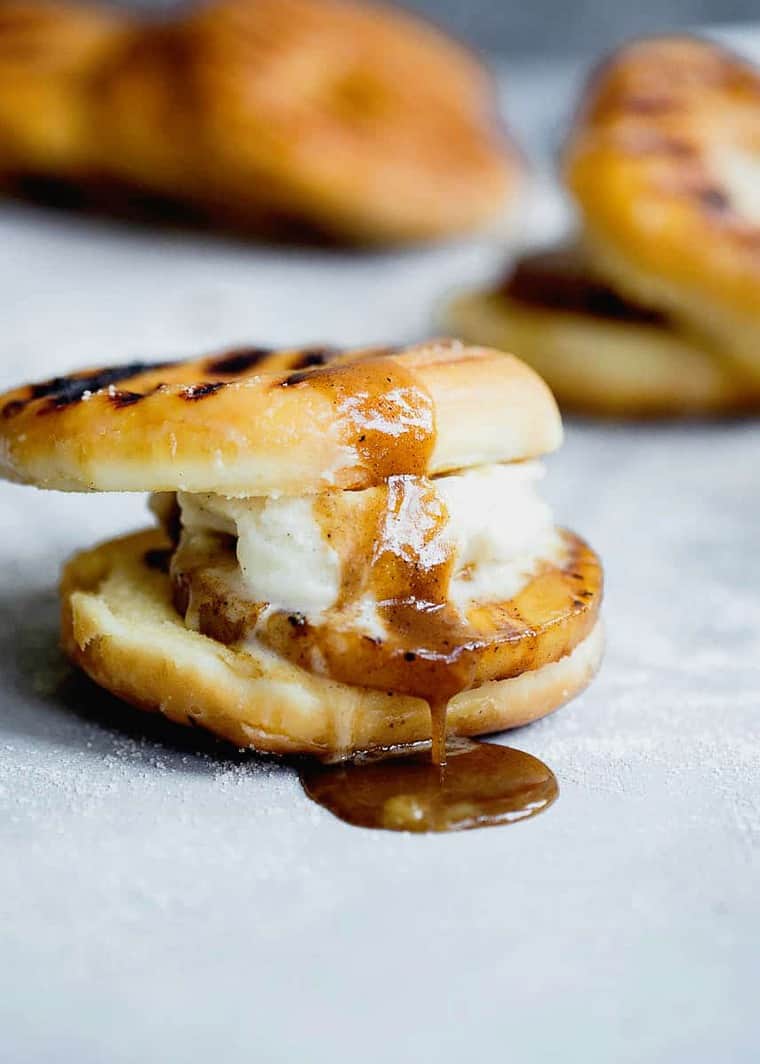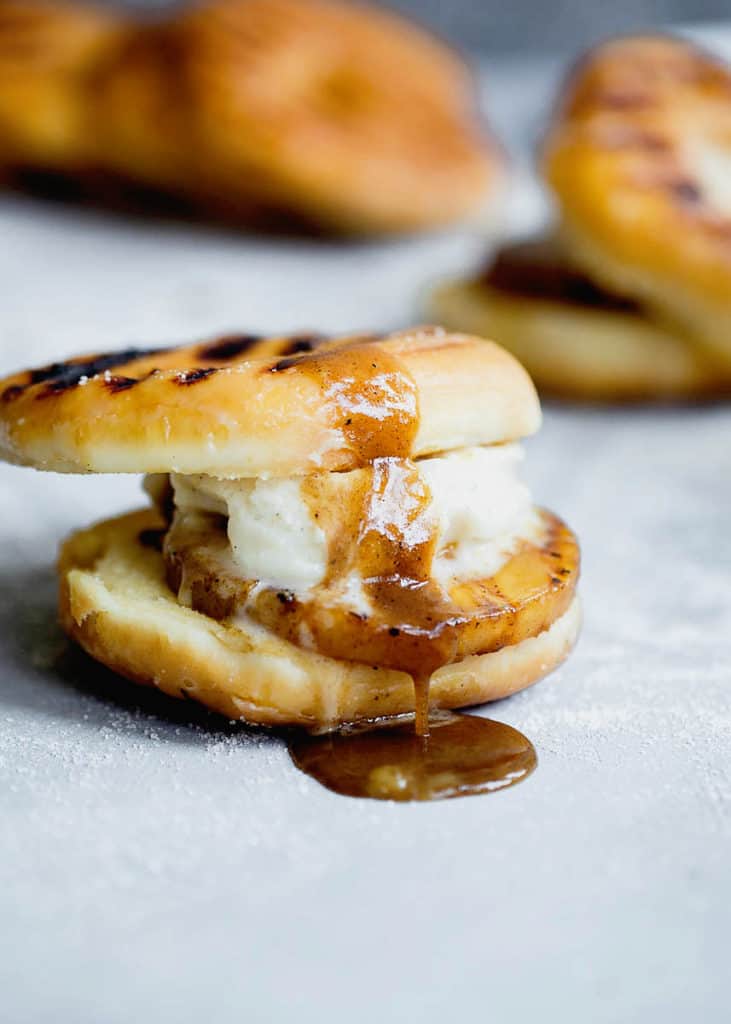 Grilled pineapple is already so sensational but when you let it marinate in the most glorious of sweet and alcoholy marinades, something magical happens.
How to Make a Rum Sauce
The sauce is then poured over the top and the doughnuts are filled with vanilla ice cream. Had I mentioned there was a sauce? Well there is. Made by bringing together a few simple ingredients in one sauce pan, the sauce adds the perfect touch you didn't know it needed. It's buttery, warm and slightly citrusy. The extra textural element takes this dessert to a new level.
All in all this recipe is absolutely sensational and just the perfect addition to any cookout. I knew I simply could not deprive you of this miracle and so here it is. If you want to see the Today Show clip, check it out below.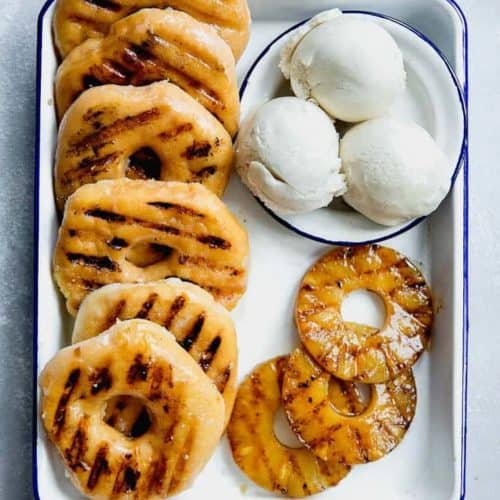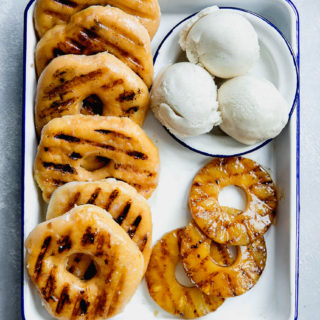 Grilled Pineapple Donut Sundaes Recipe
These sundaes are the perfect treat for your summer barbecue! Filled with rum, brown sugar and delicious flavor, they will be your fave warm weather dessert!
Print
Pin
Rate
Ingredients
For the Pineapple:
4

tablespoons

unsalted butter

1/3

cup

dark brown sugar

packed

1/4

cup

rum

1/4

cup

fresh orange juice

1

teaspoon

ground cinnamon

1

teaspoon

vanilla extract

1/4

teaspoon

salt

5

fresh pineapple rings
For Serving:
5

fresh glazed donuts

Vanilla or coconut ice cream for serving
Instructions
For the Pineapple:
Add butter, brown sugar, rum, orange juice, cinnamon, vanilla extract and salt to a medium sized pan over medium high heat.

Allow sauce to melt together then stir until combined. Bring sauce to simmer and allow sauce to reduce by about a ⅓.

Add pineapple rings to a glass dish and pour ¾ of the sauce over the pineapple. Leave the rest for serving.

Allow sauce to soak into pineapple for about 20 minutes, flipping over halfway through at 10 minutes.

While pineapple soaks prepare your grill. Spray grill with non-stick spray or lightly brush grates with oil.

Grill pineapple about 5-7 minutes on each side until beautiful grill marks appear and the pineapple is tender. While grilling, you can baste with additional sauce used for soaking the pineapple.
For the Doughnuts:
Spray the grill again or add oil again. Add doughnuts to the grill and carefully watch because they can burn fast. Grill for about 20-40 seconds then flip to grill the other side. Serve immediately warm.

To prepare sundaes, cut a donut in half, add pineapple slice and top with ice cream and leftover sauce (keep warm) and serve.
Video
Nutrition
Calories:
456
kcal
|
Carbohydrates:
24
g
|
Fat:
9
g
|
Saturated Fat:
5
g
|
Cholesterol:
24
mg
|
Sodium:
122
mg
|
Potassium:
114
mg
|
Sugar:
23
g
|
Vitamin A:
335
IU
|
Vitamin C:
11.6
mg
|
Calcium:
28
mg
|
Iron:
0.3
mg