This Pineapple Rum Cake Recipe starts with a homemade buttery sour cream pound cake with a lovely texture and pineapple flavor.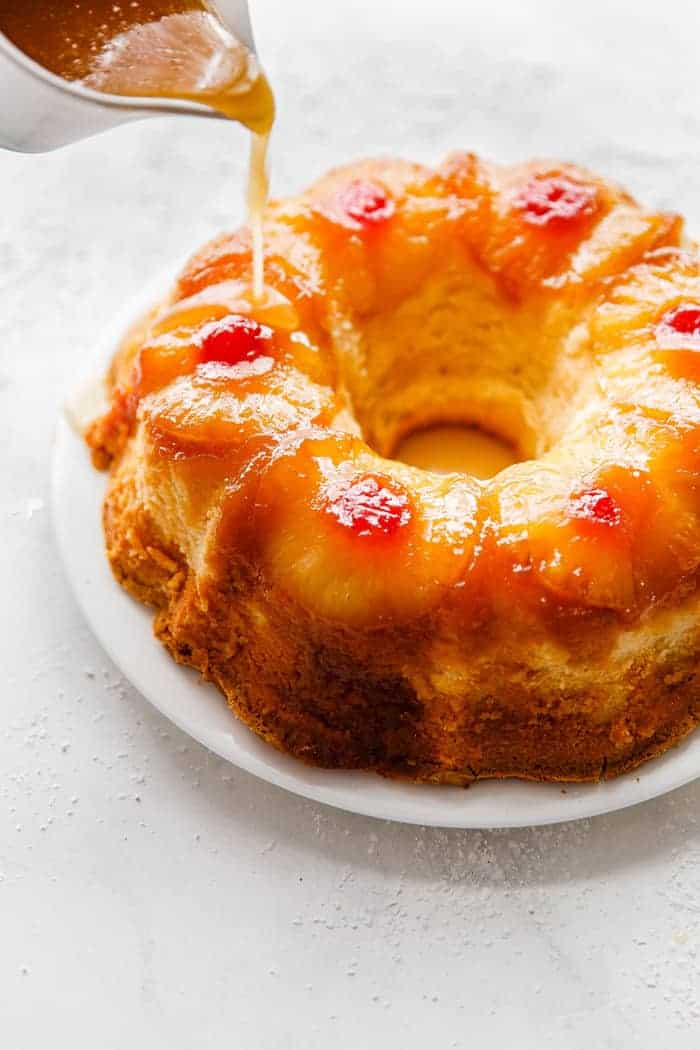 Here come the rum cakes. Decadent pound cakes drenched in buttery rum syrup and decked out with glazes galore. Making your way through the holiday season, you'll find rum cakes of all shapes and sizes or flavors and textures because each one is truly like a snowflake: one-of-a-kind. Recipes are passed down and new ones are created but each represents a vital part of a holiday meal.
The Perks and Highlights of the Best Pineapple Rum Cake
Cuisine Inspiration: Caribbean Delight
Primary Cooking Method: Baking & Boozing
Dietary Info: Definitely not on the low calorie side
Key Flavor: Sweet Pineapple meets Bold Rum
Skill Level: Intermediate Baker ready for a boozy twist
Sweet Highlights:
Tropical Vibes: This cake brings the beach to your kitchen, with the tropical sweetness of pineapple dancing in every bite.
Golden Brown Perfection: Baking this beauty until it's just the right shade of golden brown guarantees a moist center and a slightly crispy crust.
Glaze for Days: The rum glaze is the real MVP here, soaking into the cake and creating a symphony of flavors that's hard to resist.
What is a Rum Cake?
Traditionally, rum cake is enjoyed in the Caribbean as a holiday season dessert, descended from holiday puddings such as "figgy pudding". There are many variations of the cake across the Caribbean but they all share the same base of flavor and texture. A light sponge cake soaked with dark, delicious rum. In making my own version of the rum cake, I wanted to tie together Caribbean flavor and a Southern American classic. From there, the Pineapple Rum Cake with a fun Upside Down Cake twist was born. The pineapple flavor in this cake is delicate and perfectly complemented by a generous hint of rum and butter.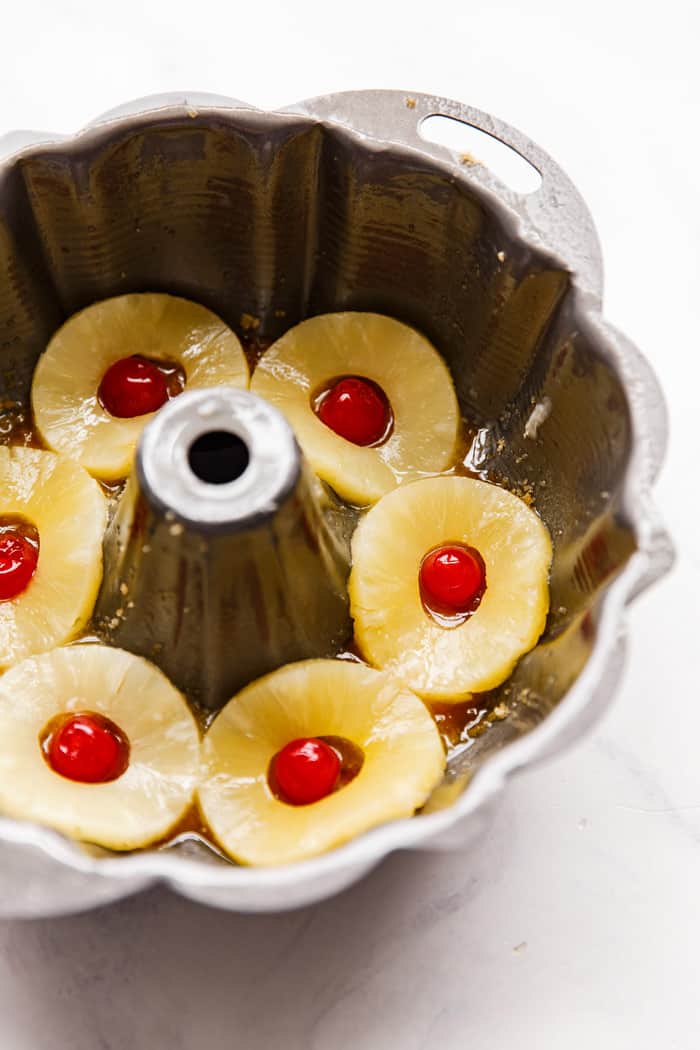 Ingredients
For the Cake Batter:
Unsalted Butter: We're talking about the good stuff, room temperature, ready to make your cake ridiculously moist and rich.
Granulated Sugar: Sweetness galore! It's time to turn up the sugar and let the sweet times roll.
Eggs: Five large ones, please. We need them at room temp to create that flawless batter.
Cake Flour: Sifted to perfection, this is the secret to a tender and fine crumb.
Salt: Just a teaspoon, but oh, it makes a world of difference.
Sour Cream: Bringing the moisture and the tang, it's the unsung hero of this cake saga.
Crushed Pineapple: A bit of the tropics to make things interesting.
Pure Vanilla Extract: A tablespoon of the good stuff to tie it all together.
For the Top of Cake Assembly:
Melted Unsalted Butter: Because butter makes everything better, especially when it's melted.
Light Brown Sugar: Packed and ready to bring a caramelized sweetness like no other.
Pineapple Rings: Six of them, creating a tropical throne for the cherries.
Maraschino Cherries: A cherry on top, times six! It's the cutest garnish in town.
For the Rum Syrup:
Rum: Half a cup of the fun stuff, making sure this cake is ready to party.
Granulated Sugar: Sweetening up our rum adventure.
Melted Salted Butter: A bit of salty to balance the sweet.
Pineapple Juice: Doubling down on the pineapple goodness.
Pure Vanilla Extract: Just a teaspoon, but it's essential.
How to Make Pineapple Rum Cake
Cake Prep:
Preheat and Prep: Heat the oven to 350°F and grease a 12-cup bundt pan.
Butter and Sugar: Whip butter for 2 minutes, add sugar, and mix until fluffy.
Add Eggs: Incorporate eggs one at a time, mixing well.
Dry Ingredients: On low speed, slowly add flour, salt, sour cream, pineapple, and vanilla. Mix just until combined.
Assemble:
Butter and Sugar Base: In the bundt pan, layer melted butter, brown sugar, pineapple rings, and cherries.
Add Batter: Pour batter over and smooth out.
Bake:
Bake for 70-80 minutes. Let it cool for 10 minutes before inverting onto a plate.
Rum Syrup:
Cook: Combine all ingredients in a pot, reducing over medium-high heat for 5 minutes.
Cool and Pour: Let it cool for 10 minutes, poke the cake, then pour the syrup over.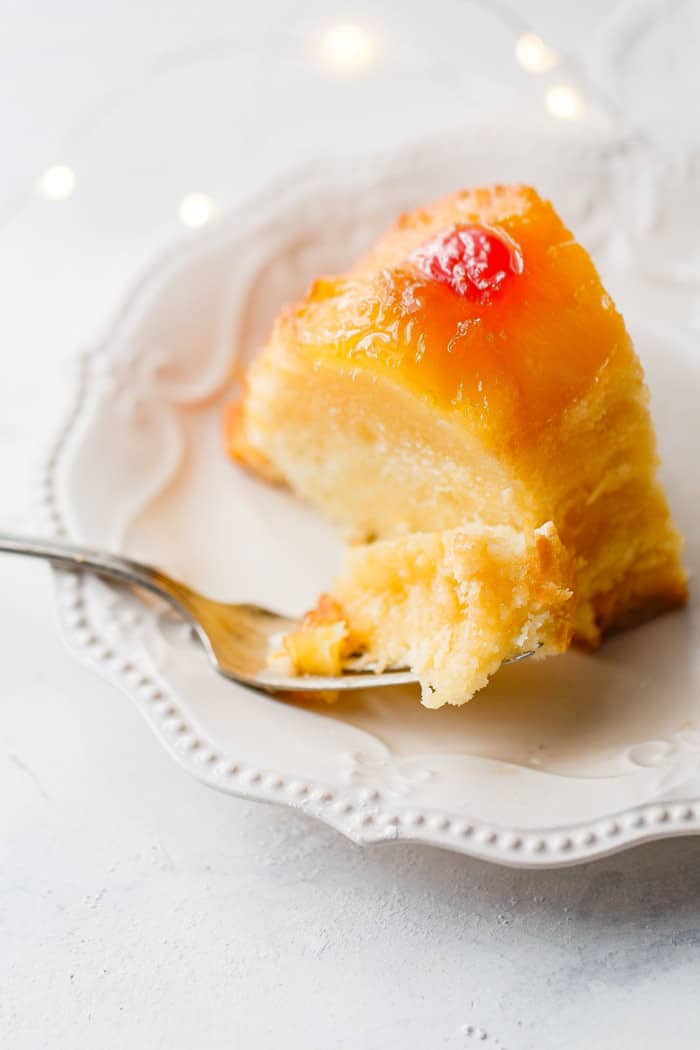 How do you make a glaze for rum cake?
Rum, which is made from sugar, will add natural sweetness but also warmth that highlights the caramel undertones in the cake. In this cake, I marry the rum with butter to create the perfect glaze for soaking into the cake. Along with a kick of sweetness from the sugar, it becomes thickened and the perfect consistency to really settle into every single bite.
Each flavor marries together to create a well-balanced, perfectly moist but never soggy cake.  I loved every single bite of this Pineapple Rum Cake, and I know you will too!
How to Serve
If you want a full Caribbean inspired meal, make sure you serve this dessert with this Brown Stew Chicken and Rice and Peas!
*Did you make this recipe? Please give it a star rating and leave comments below!*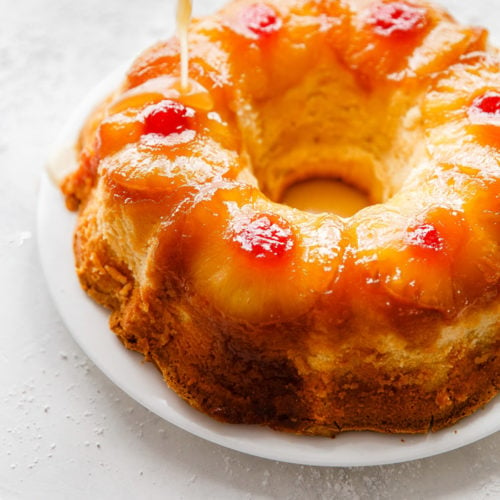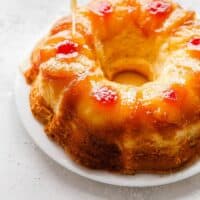 Pineapple Rum Cake Recipe
A homemade buttery sour cream pound cake is enhanced with sweet tropical pineapple flavor and a rum syrup.  The gorgeous pineapple upside down topping makes it a showstopper!
Print
Pin
Rate
Ingredients
For the Cake Batter
1 1/2

cups

Land O Lakes unsalted butter

room temperature

2 3/4

cups

granulated sugar

5

large

eggs

room temperature

3

cups

sifted cake flour

1

tsp

salt

1

cup

sour cream

1/4

cup

crushed pineapple

tbsp

pure vanilla extract
For the Top of Cake Assembly
2

tbsp

unsalted butter

melted

1/3

cup

light brown sugar

packed

6

whole pineapple rings

6

maraschino cherries
For the Rum Syrup
1/2

cup

rum

1/2

cup

granulated sugar

2

tbsp

salted butter

melted

2

tbsp

pineapple juice

1

tsp

pure vanilla extract
Instructions
To make the cake
Start by preheating oven to 350 degrees and spraying a 12 cup bundt pan with nonstick spray or grease pan (make sure you really prepare your pan well to insure no sticking for this cake).

In the bowl of a stand mixer fitted with the whisk attachment, beat the butter for 2 minutes on high speed.

Slowly add the granulated sugar. Mix together for an additional 5 minutes, until very pale yellow and fluffy.

Add the eggs 1 at a time, combining well after each addition and scraping down the sides and bottom of the bowl as needed.

Turn your mixer down to its lowest speed and slowly add the flour in 2 batches. Add the salt. Be careful not to overbeat. Add the sour cream, crushed pineapple and vanilla extract. Scrape down the sides and bottom of the bowl and mix the batter until just combined. Be careful not to overmix.
To assemble with top of cake
To assemble cake, pour melted butter in the bottom of the sprayed pan then sprinkle the butter with brown sugar.

Line the bottom of the pan with the pineapple rings and add 1 cherry to the center of each pineapple ring.

Evenly pour cake batter over pineapples and bake for 70-80 minutes or until toothpick inserted into center of cake comes out mostly clean but still moist.

Allow cake to rest for 10 minutes then quickly invert cake onto serving plate.
For the Rum Syrup
In a small pot set over medium heat, combine all the ingredients and cook over medium-high heat.

Reduce mixture by about a third and thickened, about 5 minutes. Remove from heat and let cool for 10 minutes.

Finally poke sides and top of cake and pour syrup over cake and allow to seep in then cool.
Video
Notes
Recipe Tip:
This cake tastes great warm before the syrup from the brown sugar and pineapple settles so allow this cake to cool somewhat and then serve warm if you like.
Also make sure you refrigerate the cake due to the fruit in this cake.  Wait until cakes comes to room temperature.
Nutrition
Calories:
524
kcal
|
Carbohydrates:
68
g
|
Protein:
5
g
|
Fat:
24
g
|
Saturated Fat:
14
g
|
Cholesterol:
112
mg
|
Sodium:
194
mg
|
Potassium:
113
mg
|
Fiber:
1
g
|
Sugar:
50
g
|
Vitamin A:
800
IU
|
Vitamin C:
3.1
mg
|
Calcium:
42
mg
|
Iron:
0.6
mg