A true Southern Classic, this Homemade Banana Pudding Recipe is flavored with ripe banana and vanilla essence and is perfectly creamy and rich from the addition of egg yolks and heavy cream. If you love Banana Pudding, definitely try my Bananas Fosters, Banana Pudding Cheesecake Blondies, this amazing Banana Pudding Cheesecake , Banana Pudding Pie, and Banana Pudding Milkshakes!
After a delightful supper with soul food staples like collard greens, smothered pork chops and macaroni and cheese, I can think of very few other classic, southern desserts to complete your supper than this homemade banana pudding recipe.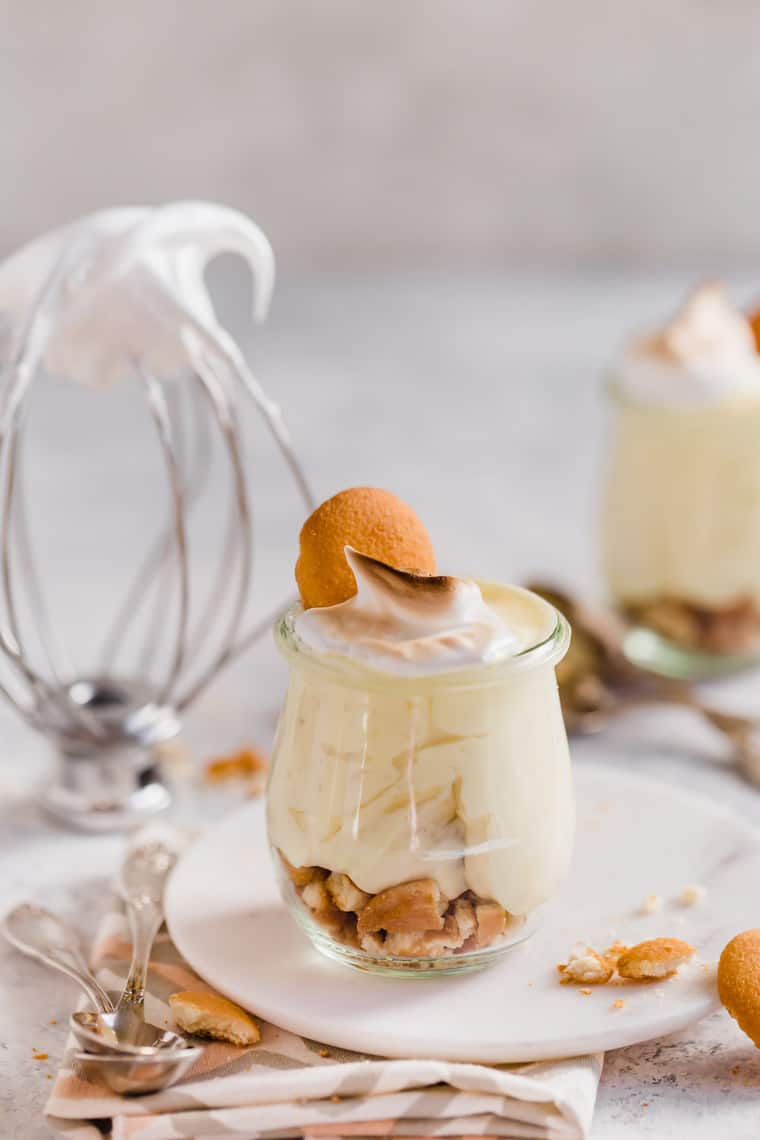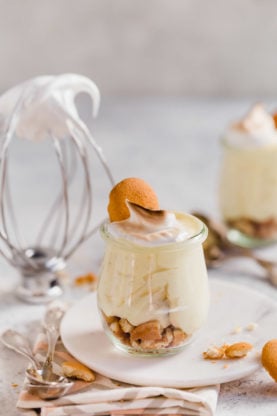 This wonderful recipe comes from my dear friend Carla Hall and her cookbook Carla Hall's Soul Food. It is such a fantastic book with so much heart and well "soul" that you must add to your collection. I felt so genuinely connected to all of the recipes in the book but this one stood out to me.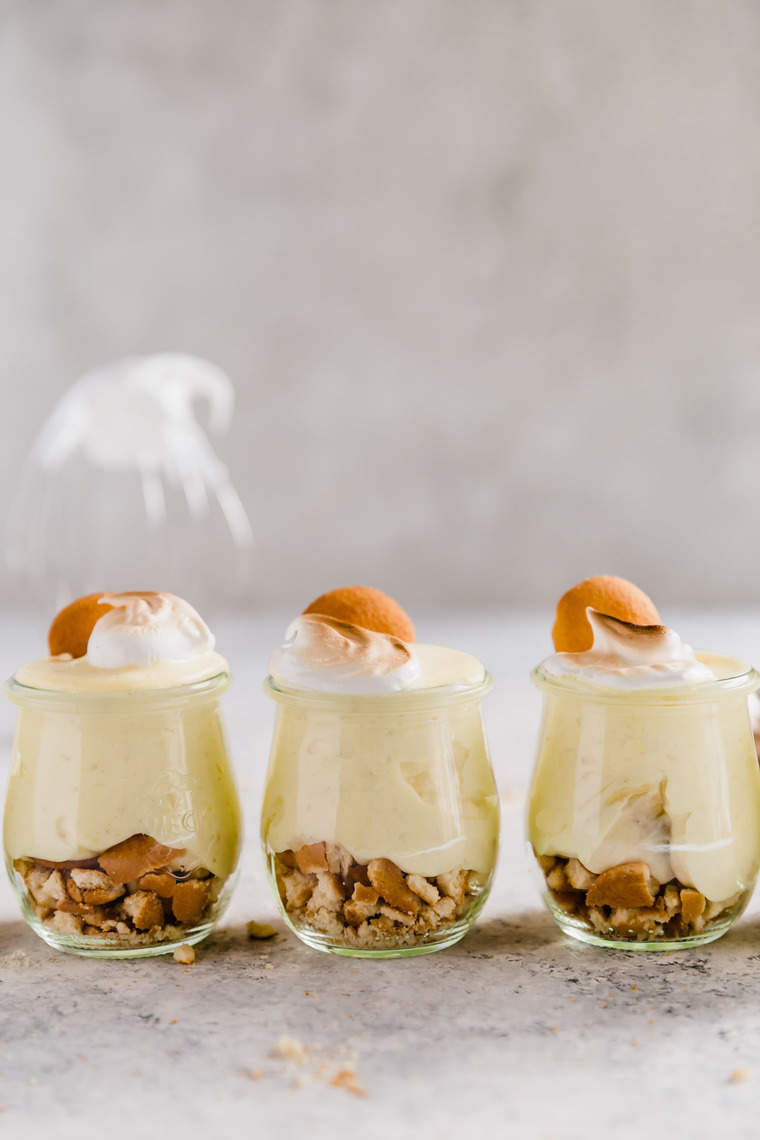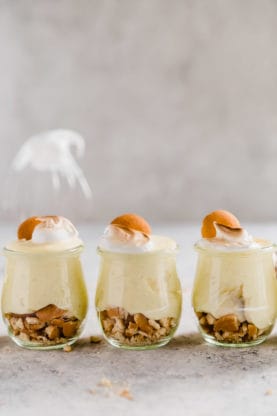 WHERE DID BANANA PUDDING COME FROM?
After bananas became more available from the Caribbean and South America after the American Civil War, homemade banana pudding recipes flooded the U.S. in the 1890s. It started to pop up in hundreds of newspapers, magazines, and cookbooks all over the country. Somewhere along the way banana pudding became nearly synonymous with the South. That seems to have happened just after World War II. Over the course of about 50 years, hundreds upon hundreds of banana pudding recipes were published in newspapers all over the country, but they were most prominent in Southern based publications.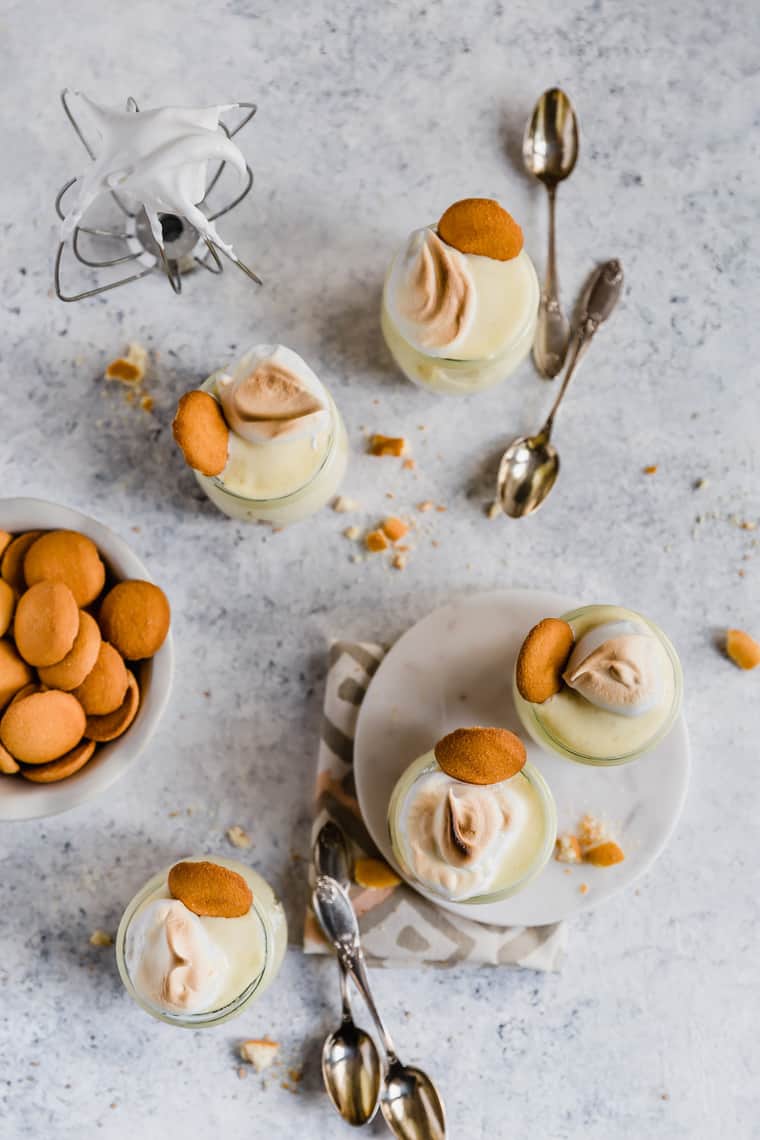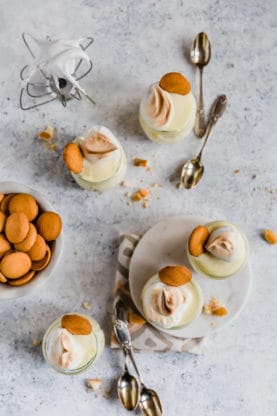 HOW TO MAKE HOMEMADE BANANA PUDDING
Each ingredient in this pudding is vital; they each add their own flavor, texture and flare.
Cornstarch
Sugar
Egg yolks
Salt
Whole milk
Half & Half
Bananas
Vanilla extract
Unsalted butter
Heavy cream
Vanilla shortbread cookies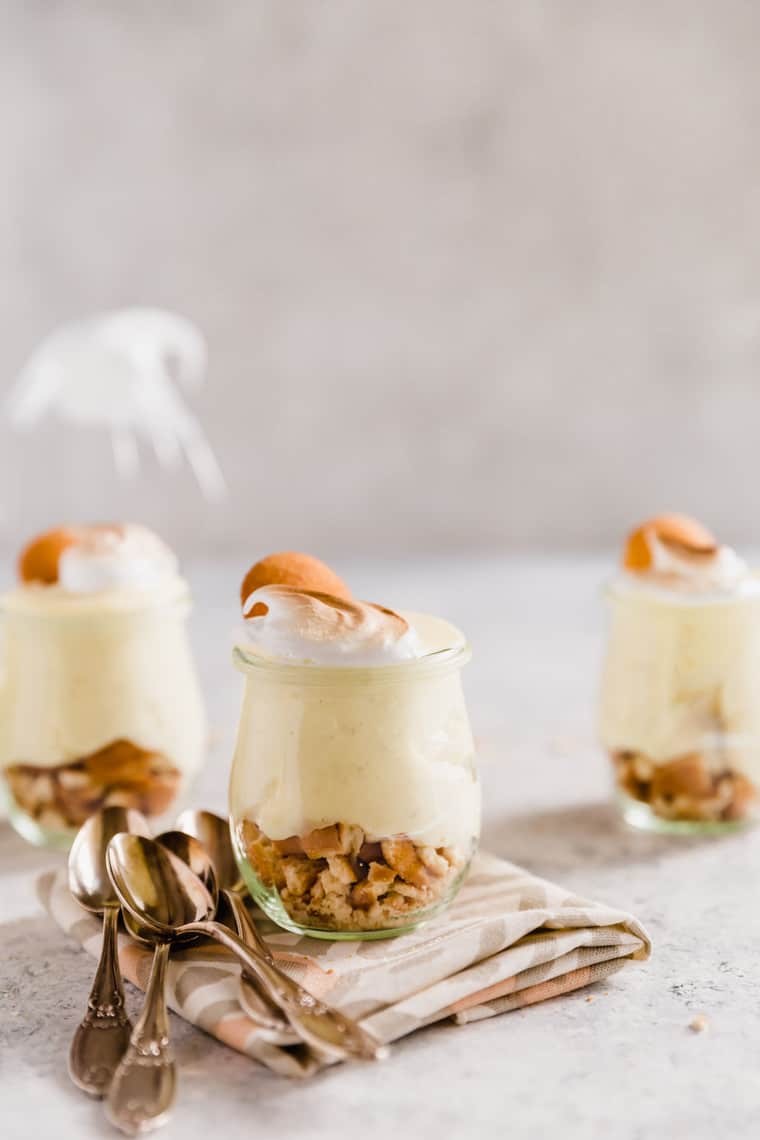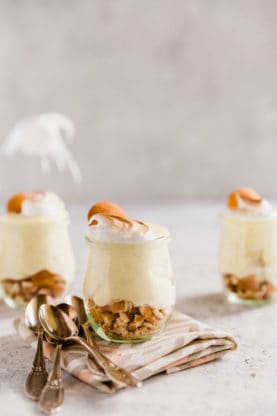 This recipe requires a ton of whisking. You whisk your cornstarch, sugar and egg yolks together, then you heat your milk, half and half and mashed bananas in a medium sized sauce pan over medium heat. While whisking your egg yolk mixture, add your heated milk mixture to it a little at a time. Your prep time for all this whisking to create your pudding is roughly 10 to 15 minutes. Once your pudding is finished, put the bowl it is in in the refrigerator to cool and top it with plastic wrap.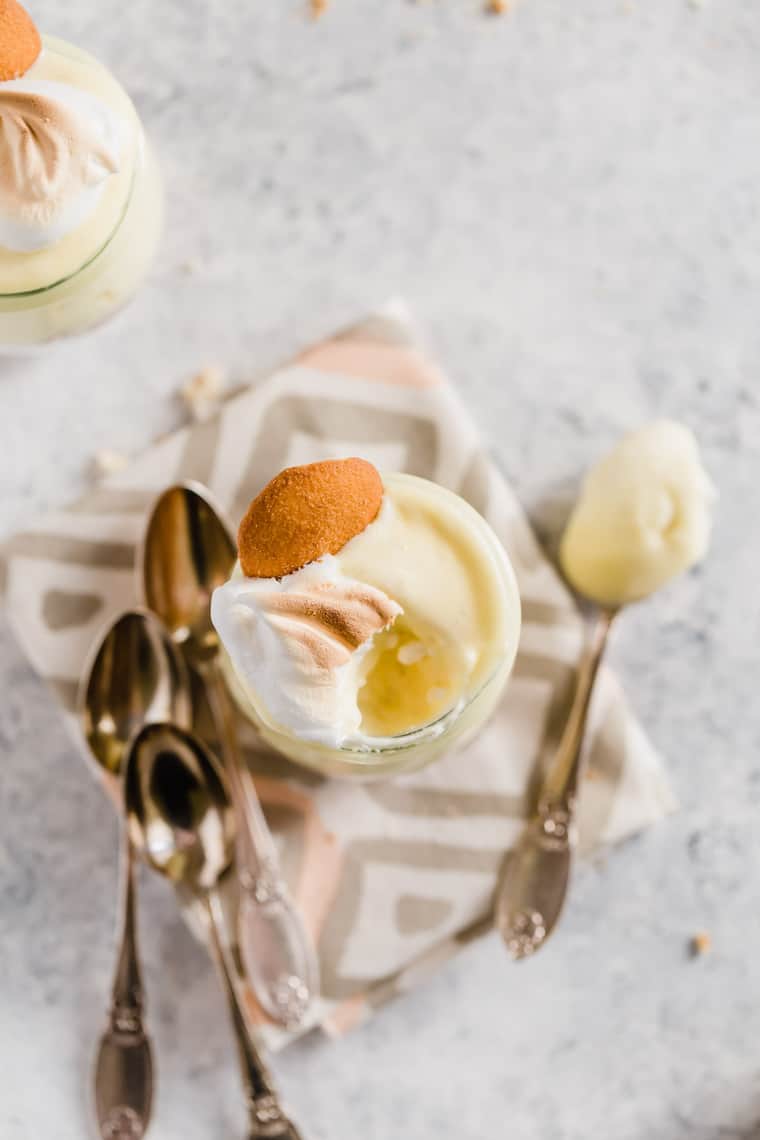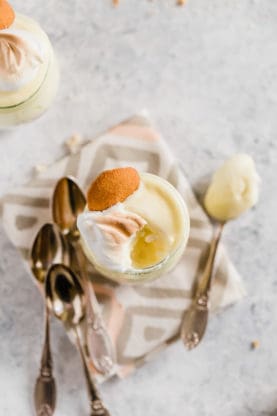 HOW DO YOU THICKEN BANANA PUDDING?
The key to thick pudding is the cornstarch. You must boil your pudding mixture so the liquid can be absorbed by the starch.
THE BEST WAFERS TO USE
Traditionally, recipes will call for Nilla Wafers and believe me, they're dang good. The way they get soft, but never soggy, from the pudding is just crazy good. But lately, I love the idea of upgrading the traditional recipe by using a higher quality vanilla shortbread cookie. The product is a bit more buttery with a standout vanilla flavor. You're welcome to make your shortbread homemade, but you can also easily find higher quality shortbread options at your local grocery store or bakery. You can't go wrong either way.
HOW TO KEEP THE BANANAS FROM TURNING BROWN
You can spray a small amount of citrus juice on the bananas before adding it to the completed dish. This keeps the bananas from turning brown.
BEST BANANA PUDDING RECIPE
The Best Banana Pudding Recipe is unassuming, innocent, old fashioned and completely perfect. Each bite should remind you of a version of the same Banana Pudding you grew up eating. Banana Pudding, or Nanner Puddin as its also called, is one of the easiest desserts to make so long as you can make a homemade custard. Simple, yet oh so delicious. This pudding recipe is about as much of a comfort food in the South as it is a dessert. One that everyone always looks forward to digging into to get the perfect ratio of vanilla wafers, pudding, and bananas.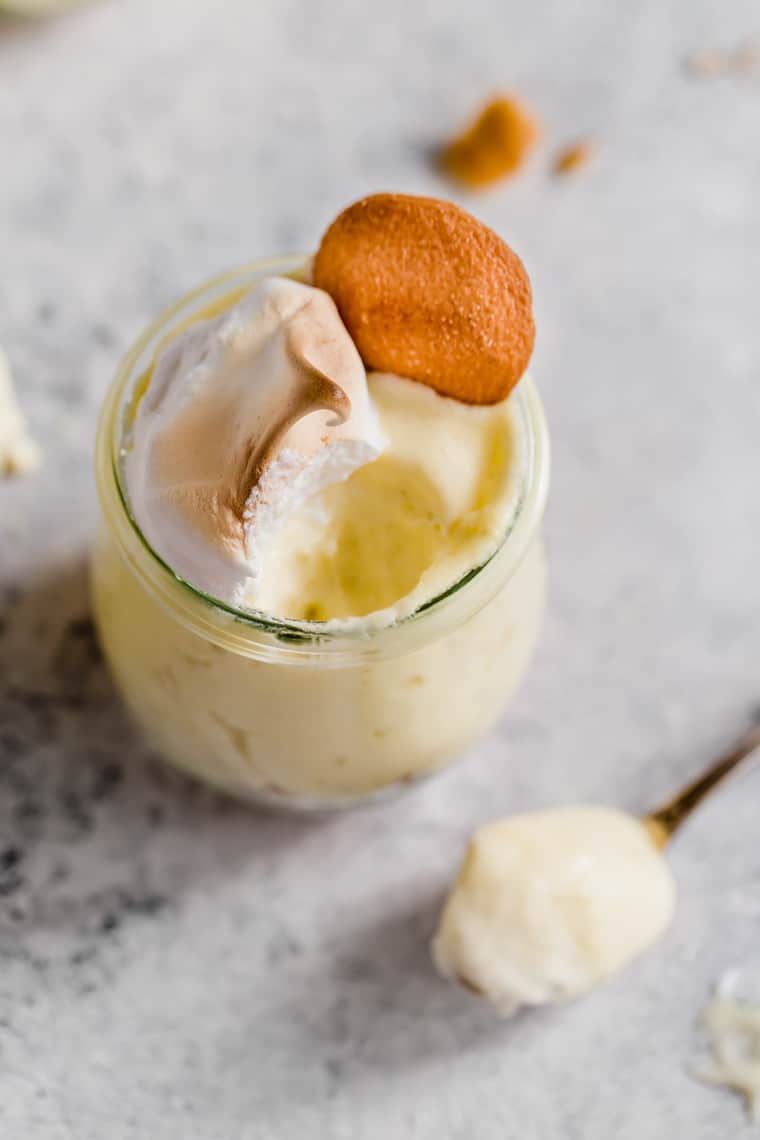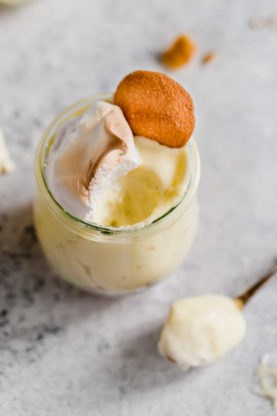 BANANA FLAVOR IN BANANA PUDDING
I love how the banana flavor permeates throughout the whole dessert. Even if you were to pick out all the banana slices before eating, it still tastes of bananas. By incorporating both sliced and mashed bananas in this recipe we ensure that every spoonful is packed with that sweet, fruity flavor. Using meringue rather than whipped cream takes this pudding to a new level. The meringue is light, fluffy and slightly sweet; it perfectly balances out the heaviness of the pudding. The added layer of sophistication doesn't hurt either.
HOW TO STORE BANANA PUDDING
Refrigerated banana pudding can last up to a week. If you want to keep it a little longer, you can freeze it. Before serving the dish, take a portion out right after completing it. Scoop it into a freezer-safe and airtight container and place in the freezer.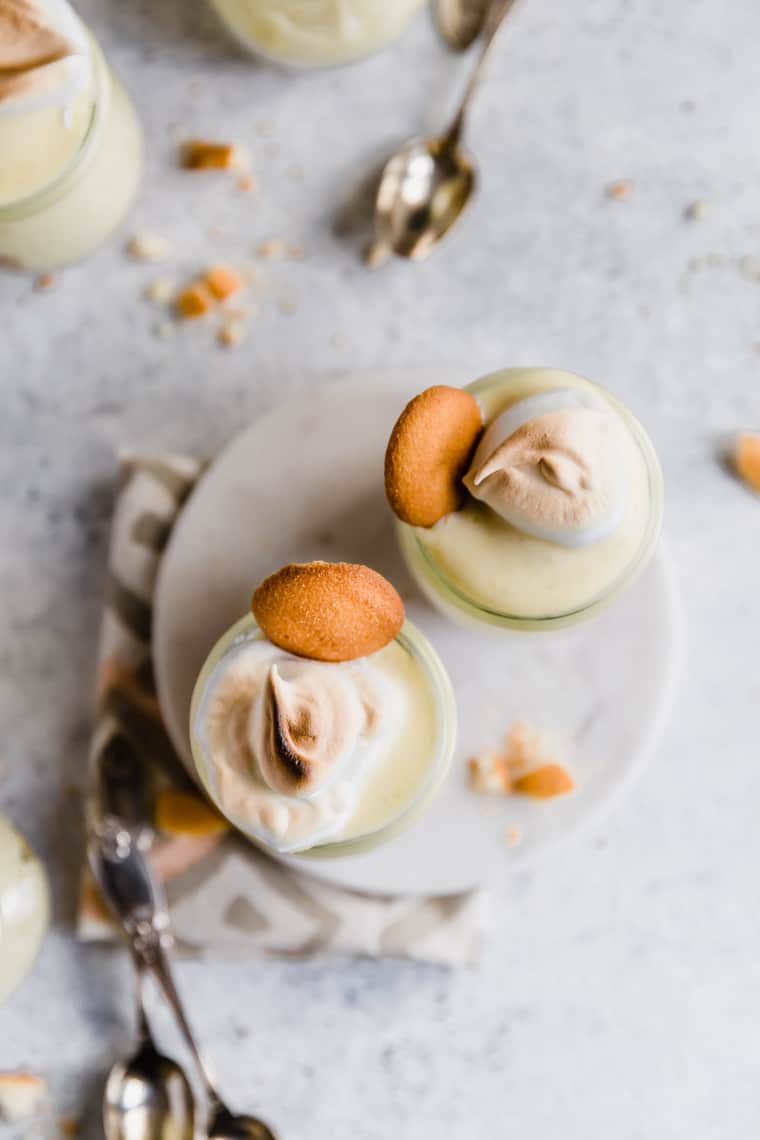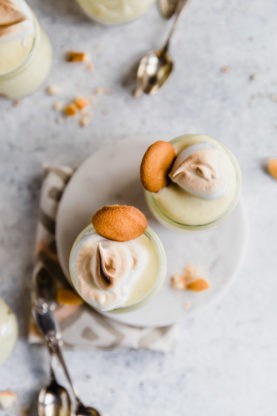 Together, each component of this recipe creates a more elevated version of this classic dessert. That's not to say that it's any better but occasionally a slight variation is just what we need. A little change never hurt anybody. The best part of this pudding is its simplicity; you can assemble it quickly without compromising on flavor or quality. Regardless of where you bring it, who you serve it to or what you serve it in, it's guaranteed to be a crowd pleaser anywhere you serve it.
If you like my banana pudding recipe, you'll some of my other recipes that feature banana pudding flavors.
*Did you make this recipe? Please give it a star rating and leave comments below!*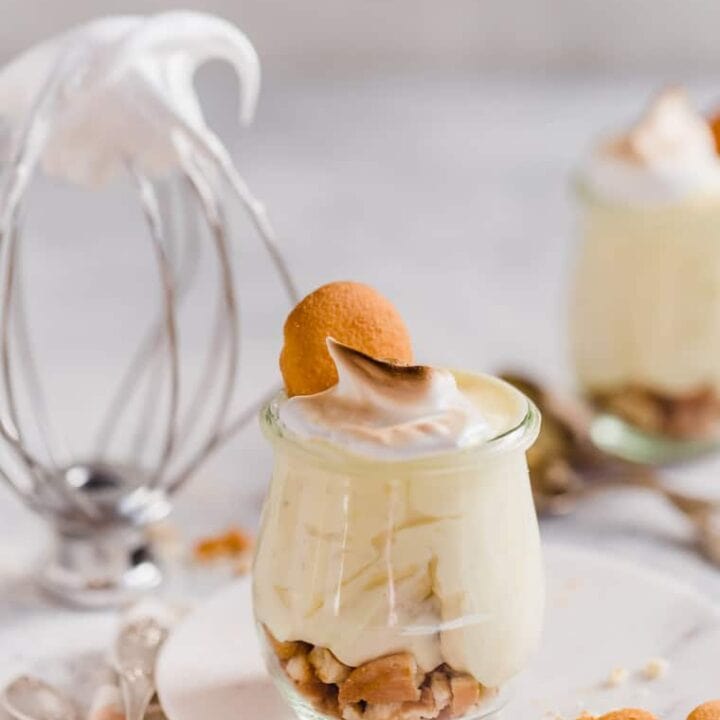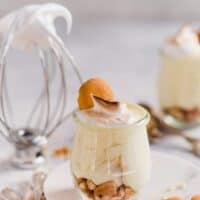 Homemade Banana Pudding Recipe
A true Southern classic done right. This old fashioned banana pudding is flavored with ripe banana and vanilla essence and is perfectly creamy and rich from the addition of egg yolks and heavy cream. This wonderful recipe from "Carla Hall's Soul Food".
Print
Pin
Rate
Ingredients
For the Banana Pudding
1/4

cup

cornstarch

3/4

cup

sugar

6

large egg yolks

1/4

tsp

salt

1 1/2

cups

whole milk

1/2

cup

half and half

1/2

cup

mashed ripe banana

2

tsp

vanilla extract

1

tbsp

unsalted butter

2

cups

heavy cream

2

ripe bananas, cut into 1/2 inch slices
For the Meringue
6

large egg whites

1

cup plus 2 tbsp

granulated sugar

1/2

tsp

vanilla extract

1 1/2

tsp

apple cider vinegar
Instructions
For the Pudding
Whisk the cornstarch, sugar, egg yolks and salt in a medium bowl. Heat the milk, half-and-half, and mashed banana in a medium saucepan over medium heat until bubbles form around the edges. While whisking the egg yolks, add the hot milk a little at a time. When the bowl feels warm, whisk in the remaining milk. Make sure you whisk well.

Return to the saucepan and set over medium heat. Whisk until the custard thickens and then boils for 2 minutes. Put the vanilla and butter in a large bowl and strain the hot cream over them through a fine-mesh sieve. Stir until smooth, then press a piece of plastic wrap directly on the surface and refrigerate until cold.

Whisk the cream in a large bowl until soft peaks form. Whisk one third of the whipped cream into the pastry cream to loosen it, then gently fold the remainder until incorporated. Fold in the banana chucks.
For the Meringue
Whisk the egg whites and the sugar in the bowl of an electric mixer set over a saucepan of simmering water until the sugar dissolves and the mixture is warm to the touch. Immediately transfer to the mixer fitted with the whisk attachment and whisk on medium-high speed until shiny, stiff peaks form. The bowl should no longer feel warm. Whisk in the vanilla and vinegar.

Place 12 ramekins on a half-sheet pan. Crumble one cookie into the bottom of each. Divide the pudding among the ramekins, then top with the meringue. Broil until golden brown. Stick 2 shortbreads into each ramekin and serve immediately.
Video
Notes
This recipe is just fantastic with shortbreads but you can also go with an original classic using nilla cookies.  That will give you an old fashioned taste.
Nutrition
Calories:
308
kcal
|
Carbohydrates:
36
g
|
Protein:
2
g
|
Fat:
18
g
|
Saturated Fat:
11
g
|
Cholesterol:
64
mg
|
Sodium:
82
mg
|
Potassium:
105
mg
|
Fiber:
1
g
|
Sugar:
32
g
|
Vitamin A:
700
IU
|
Vitamin C:
0.9
mg
|
Calcium:
71
mg