Searching for the absolute Best Lemon Meringue Pie Recipe? Look no further! Made with the butteriest homemade pie crust, a creamy tart lemon curd filling and piled high with fluffy clouds of sweet meringue, this pie is a lemon lover's dream come true! 
I love days of endless baking. I love recipe testing until there's flour in my hair and butter under my nails. I love the cozy heat that comes off the oven and the smell of a freshly baked pie. These moments are my definition of pure magic.
There are a lot of roles I play everyday: wife, mom, business-owner, baker, writer, and about a dozen more titles. I don't mind the hectic days or lack of sleep (every parent feels me on that one), but I do miss the kitchen.
Don't get me wrong, I'm in the kitchen a lot but as Grandbaby Cakes (and my family) has grown, I've had to step away from the stove. There aren't enough hours in a day to take calls, sit in on meetings, play with my daughter, take a shower and still have time to cook. Y'all, I'm no Wonder Woman.
This week's recipe is one that brought me an incredible amount of joy. Seriously, I was dancing around the kitchen as I formed a citrusy custard and whipped meringue. Erin Jeanne McDowell's Lemon Meringue Pie from her latest release, The Book On Pie, is a treat to those of us whose mouth waters at the sight of toasted meringue mountains.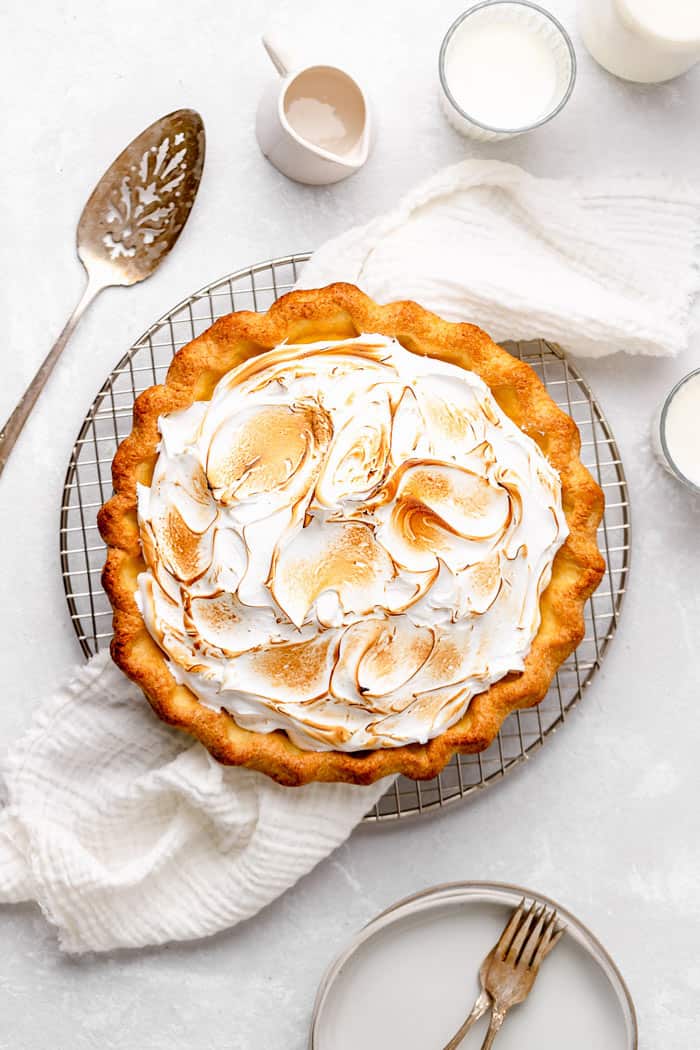 Perks and Highlights of the Best Lemon Meringue Pie Recipe Ever
frown if you're gluten-free! Swap in your favorite GF flour in the crust, and you're aboard the Lemon Meringue express.
Key Flavor: Tangy Lemon Zest
Pucker up, buttercup! The star of this show is the tangy, zesty, lip-smacking lemon filling. It's like a summer day packed into a pie, where the sunshine is bright, and the lemon trees are bursting.
Skill Level: Intermediate
Roll up those sleeves and flaunt that apron! This recipe is a playground for the intermediate baker who's looking to step up their game. A little challenging? Maybe. Rewarding? Absolutely.
Special Perks:
Crowd-Pleaser: Whether it's a sunny picnic or a cozy family dinner, this pie steals the spotlight. Warning: may induce spontaneous applause and marriage proposals.
Therapeutic Zesting and Whisking: Who needs a spa day when you have a lemon zester and a whisk? Engage in the meditative art of lemon zesting and meringue whisking. Breathe in, breathe out, and find your inner peace.
Sweet & Sour Balance: Life's all about balance, and so is this pie. The tangy lemon curd does a delightful tango with the sweet meringue, creating a flavor harmony that'll have your taste buds dancing.
Show-Stopping Meringue Peaks: Achieve new heights, literally. Those glossy, towering peaks of meringue aren't just delicious; they're a statement. Assert your dessert dominance.
Memory Maker: This isn't just a pie; it's an experience, a story, a treasured memory. Perfect for tradition-building, it's a recipe that's sure to be passed down through the generations.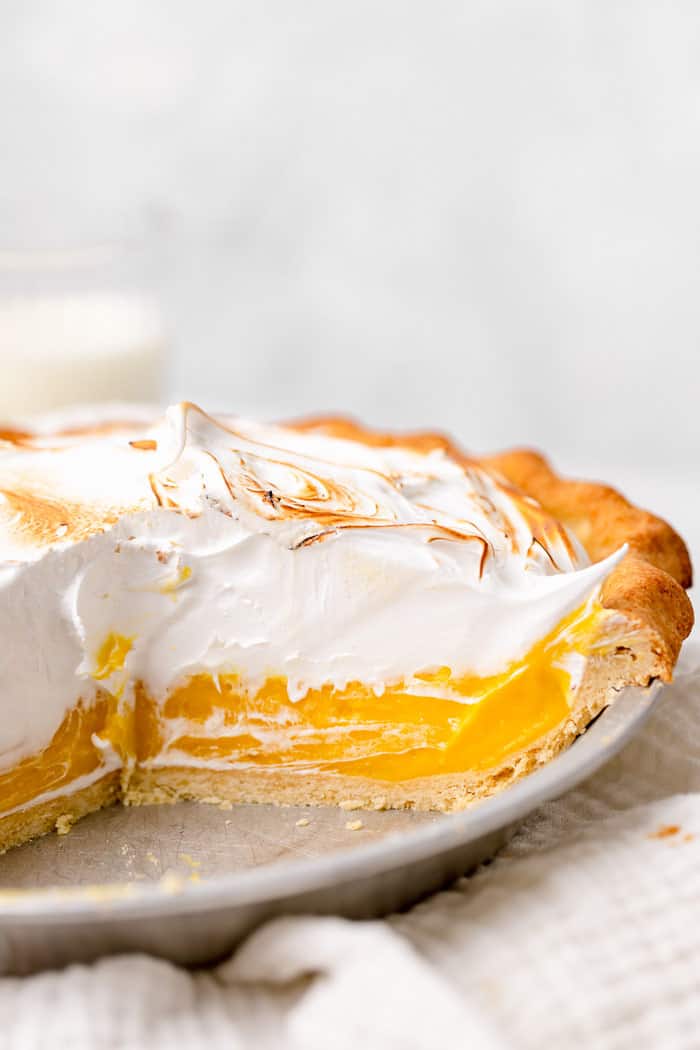 What is Meringue?
Meringue is a topping made by combining granulated sugar and egg whites, warming them together over a water bath, then whipping them until stiff. The result is an incredibly airy yet decadent topping used for cakes, pies, macarons and so much more!
A Lemon Meringue Pie is made using shortbread or shortcrust pastry, delicious lemon curd fillings, and a smooth, fluffy meringue on top.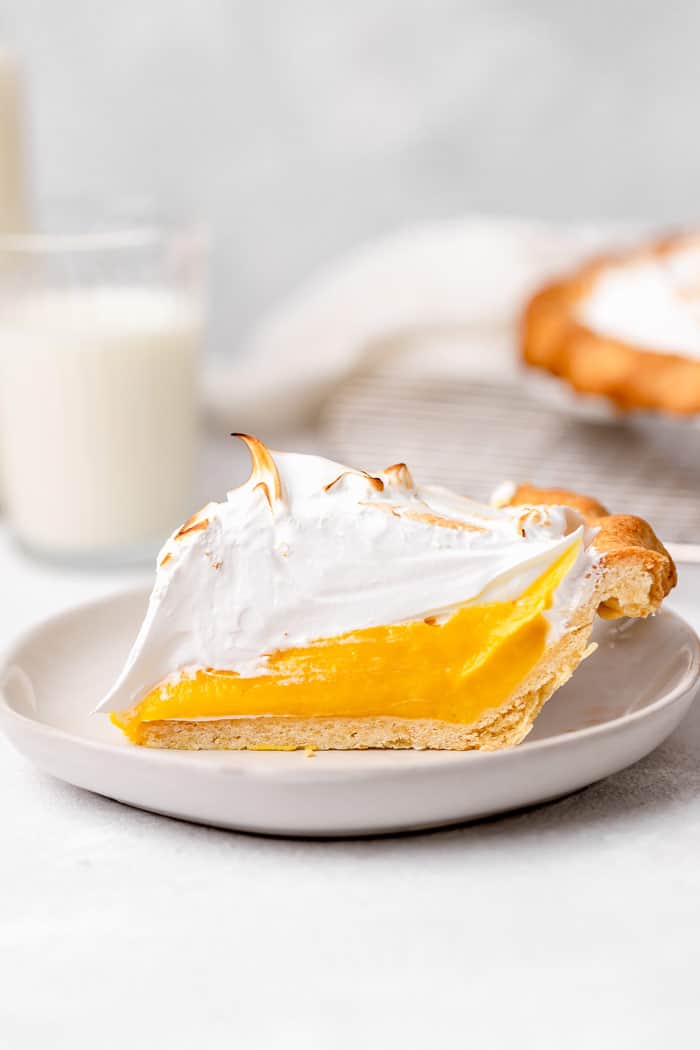 Ingredients
For the Pie Crust:
All-Purpose Flour (1 1/4 cup): The foundation of any great story, and in this case, the perfect pie, starts with the basics, baby! This is where our journey begins.
Fine Sea Salt (1/4 tsp): A dash of sophistication and flavor balancing, because we're fancy like that.
Cold Unsalted Butter (8 tbsp, cubed): The flaky crust culprit! Remember, cold is gold when you're lookin' for that bakery-style texture.
Ice Water (1/4 cup, plus a sprinkle more if you're feeling it): The glue that brings the party together. It's all about that consistency!
For the Filling:
Granulated Sugar (1 cup): Sweetness in life and in pie, it's essential, it's fundamental, it's…sugar!
Cornstarch (1/4 cup): The thickening plot twist! It's what takes our filling from saucy to sumptuously set.
Unsalted Butter (8 tbsp): Smooth operator alert! Adds richness that's like a velvet hug for your taste buds.
Fresh Lemon Juice (1 1/4 cup, courtesy of roughly 7 lemons): The zesty protagonist of our pie saga! Freshness is key, so no bottled business here, please.
Large Egg Yolks (10, count 'em, 10!): The golden treasure that gives our lemon filling its rich, creamy texture. Separation anxiety from the whites is real!
Fine Sea Salt (1/2 tsp): Back at it again, balancing all that tangy sweetness like a flavor seesaw.
For the Mile-High Meringue:
Large Egg Whites (4, freedom from the yolks!): The cloud base of our sky-high meringue. It's fluff time!
Cream of Tartar (1/2 tsp): The stabilizing force behind those stiff peaks. This ain't no floppy meringue show!
Granulated Sugar (1 cup): Round two of sweetness because meringue likes to get dolled up in glossy glam.
Fine Sea Salt (a large pinch): A touch more balance because meringue's not all about the sweet life.
Vanilla Extract (2 tsp, if you're feeling extra): Optional but let's be real, who wouldn't want a whisper of aromatic flair?
How to Make Lemon Meringue Pie
Blend & Tend: Whisk flour and salt, then massage butter into it until pebbly. Add ice water, mix until cohesive, then chill the dough disc.
Bake & Cool: Dock and bake at 425 F until golden (25-29 mins total), then cool.
Luscious Lemon Filling:
Mix & Melt: Combine sugar, cornstarch, butter, lemon juice, egg yolks, and salt over medium-low heat. Stir until thickened and bubbly.
Set & Rest: Strain into crust, cover, and chill for 2 hours or up to a day.
Meringue Magic:
Warm & Whip: Over simmering water, heat all ingredients to 160F, then whip to medium peaks.
Heap & Heat: Mound onto pie and torch if desired for a toasty finish.
Tips
Pies can be intimidating but I promise this one is much more simple than it seems. This recipe uses under 10 ingredients to create a tart, sweet and irresistibly flaky pie! With a few of my most useful tips and tricks you're guaranteed a show stopping result.
Check 'em out:
Let your curd get really thick
As your curd cooks, it will thicken. Since the transformation from liquid to goop happens so quickly, it's tempting to take the curd off the stove too soon. Let it thicken to the point where it is a smooth paste. When you add the lemon juice, it will loosen the curd, so you want it to be thick going in.
Use the three-bowl method
It's very important that not a speck of egg yolk be present in the egg whites to create meringue. The yolks have fat and fats break down meringue. Separate the egg over one bowl, then place the yolk in another bowl. Transfer the successfully separated egg whites to the third bowl one at a time.
Don't overbeat your meringue
If you overbeat your meringue, you will not be able to make beautiful peaks and valleys with your spatula and it can deflate. Be sure to gradually add in the sugar as soon as your egg whites foam so it has time to dissolve without the risk of overbeating.
Storage
After you bake the pie, it's important that you let it cool properly. For at least an hour, you shouldn't think about cutting into the pie at all or else it will deflate. Place it on the cooling rack after taking it out of the oven. If you don't have a baking rack, you can also set the pie on a heat-resistant pot holder.
After you are done cooling the pie at room temperature, you will need to place it in the refrigerator for at least 2 hours. For best results, I recommend refrigerating for 24 hours.
Once the pie has cooled down, you should cut it with a wet knife so that it doesn't stick to the curd and meringue. Make sure that you don't store the pie outside of the fridge for more than 2 hours at a time. You should return the remaining pieces to the fridge after serving it.
To store: Insert 3 toothpicks into the pie to support the plastic wrap. Push the toothpicks about halfway between the center and crust so that they stick out about 1⁄2 inch (1.3 cm) above the meringue. Position them in a triangle shape to ensure that all of the sides of the pie will be protected when you add the plastic wrap.
Drape a piece of plastic wrap over the toothpicks and pie (carefully so they don't puncture the plastic). Fold the edges of the cling wrap around the outside of the pan or plate.
If one of the toothpicks tears or punctures the cling wrap, throw the piece away and get another one to use.
Store the pie in the refrigerator for up to 3 days. Transfer the pie to the refrigerator, being careful not to pull on the cling wrap. Place the pie on the top shelf where you can keep it for a few days before enjoying it. After 1-2 days in the refrigerator, replace the plastic wrap with a new piece.
TIP: Avoid placing the pie in the freezer at any point! Meringues are made of eggs and sugar, so they don't freeze well. If you do put the meringue in the freezer, it can become flat or crunchy, ruining the texture of your pie.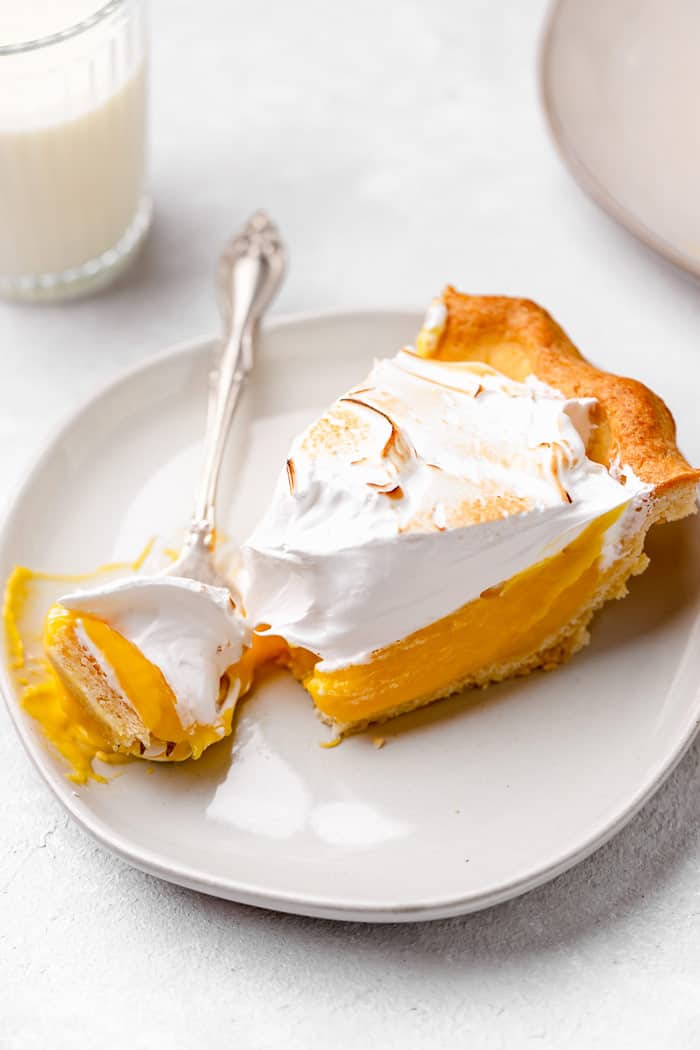 My Favorite Fruit Pies
There's truly a pie for every occasion, and the lineup below has got you covered for summer picnics, apple picking and everything in between!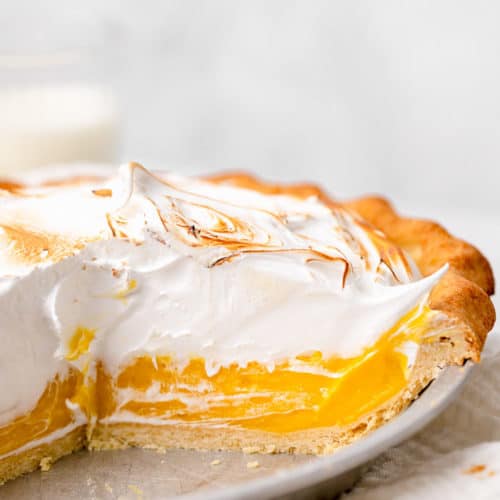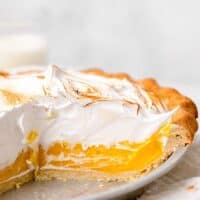 Lemon Meringue Pie
Made with the butteriest homemade pie crust, a creamy lemon filling and piled high with fluffy clouds of sweet meringue, this lemon meringue pie is a lemon lover's dream come true!
Print
Pin
Rate
Ingredients
For the Pie Crust
1 1/4

cup

all purpose flour

1/4

tsp

fine sea salt

8

tbsp

cold unsalted butter

cut into 1/2 inch cubes

1/4

cup

ice water

plus more if needed
For the Filling
1

cup

granulated sugar

1/4

cup

cornstarch

8

tbsp

unsalted butter

1 1/4

cup

fresh lemon juice

from about 7 lemons

10

large egg yolks

1/2

tsp

fine sea salt

1

9 inch pie crust

blind-baked, brushed with egg wash, and cooled completely
For the Mile High Meringue
4

large egg whites

1/2

tsp

cream of tartar

1

cup

granulated sugar

Large pinch of fine sea salt

2

tsp

vanilla extract

optional
Instructions
For the Crust
In a large bowl, whisk together the flour and salt. Add the cubes of butter, tossing them through the flour until each piece is well coated. Cut the butter into the flour by pressing the pieces between your fingers, flattening them into big shards. As you work, continue to toss the butter through the flour, recoating the shingled pieces. If you have warm hands, you may want to use a pastry cutter. Take care to ensure that all the cubes of butter are fully coated in flour as you work.

Make a well in the center of the flour mixture. Add the amount of ice water listed in the recipe to the well. Using your hands, toss the flour with the water to start to mix the two together. As the flour begins to hydrate, you can switch to more of a kneading motion but don't overdo it. Then add more water, about 1 tablespoon, until the dough is properly hydrated. It should be uniformly combined and hold together easily, but it shouldn't look totally smooth. Dough that is too dry may have a sort of "dusty" appearance, or pockets of unhydrated flour; it will not hold together and will look crumbly. Dough that is too welt will feel sticky or tacky to the touch.

Form the dough into a disk and wrap tightly in plastic wrap. Refrigerate for at least 30 minutes before using. The dough is best baked at 425 F. Place your prepared (docked/weighted) crust in the oven and bake for 15 to 17 minutes, until the edges appear set and are just starting to lightly brown. Remove the crust from the oven and use the parchment paper to lift the pie weights out of the pan. Return th epie to the oven and bake until the crust is evenly golden brown and fully baked, 10 to 12 minutes more. Let the crust cool completely before filling it.
For the Filling
In a small bowl whisk together sugar and cornstarch. In a medium pot, melt the butter over medium heat. Reduce the heat to medium-low, add the sugar mixture along with the lemon juice, eggs yolks, and salt. Cook, whisking constantly until the mixture begins to thicken, about 2 to 3 minutes more.

Continue to cook, stirring constantly with a spatula, scraping along the edges until the curd thickens and comes to a boil (look for fat bubbles in the center), 2 to 3 minutes more.

Strain the curd into the cooled pie crust and spread into an even layer. Cover with plastic wrap placed directly against the surface of the filling and transfer to the refrigerator to chill for at least 2 hours (or up to 24 hours).

Just before serving, add the meringue topping: Dollop the meringue onto the center of the chilled pie and use a small offset spatula to push the meringue out toward the edges, but leave a mound in the middle. If desired, use a kitchen torch to toast the meringue.
For the Meringue
Bring a medium pot filled with about 2 inches of water to a simmer over medium-low heat. Set a medium bowl over the pot, add all the ingredients, and whisk to combine. Then heat, whisking constantly, or beating with a hand mixer, until the mixture reaches 160F on a thermometer.

Remove the bowl from the heat and continue to whisk or transfer the heated mixture to the bowl of a stand mixer fitted with the whip attachment. Whip the mixture on medium-high speed until it reaches medium peaks, 2 to 3 minutes for the regular meringue, or 4 to 5 minutes for the mile high version.

Pile the meringue on top of the cooled pie. Spread the meringue out to the edges, but keep it mounded a bit higher in the middle. If desired, toast the meringue with a kitchen torch.
Notes
The pie can be made, without the meringue topping, up to 24 hours ahead; add the meringue just before serving.  Store leftovers in the refrigerator in an airtight container.  
Nutrition
Calories:
573
kcal
|
Carbohydrates:
72
g
|
Protein:
8
g
|
Fat:
29
g
|
Saturated Fat:
17
g
|
Cholesterol:
304
mg
|
Sodium:
282
mg
|
Potassium:
140
mg
|
Fiber:
1
g
|
Sugar:
51
g
|
Vitamin A:
1024
IU
|
Vitamin C:
15
mg
|
Calcium:
41
mg
|
Iron:
2
mg