Looking for this Summer's perfect berry pie? Well, look no further! Made with fresh, aromatic strawberries and a buttery, flaky crust, this Strawberry Pie is my go-to recipe for any BBQ, picnic or Summer weeknight treat. Don't forget the dollop of ice cream! If you love this pie, definitely try my Apple Berry Bars, Strawberry Crumbles and Strawberry Rhubarb Pie!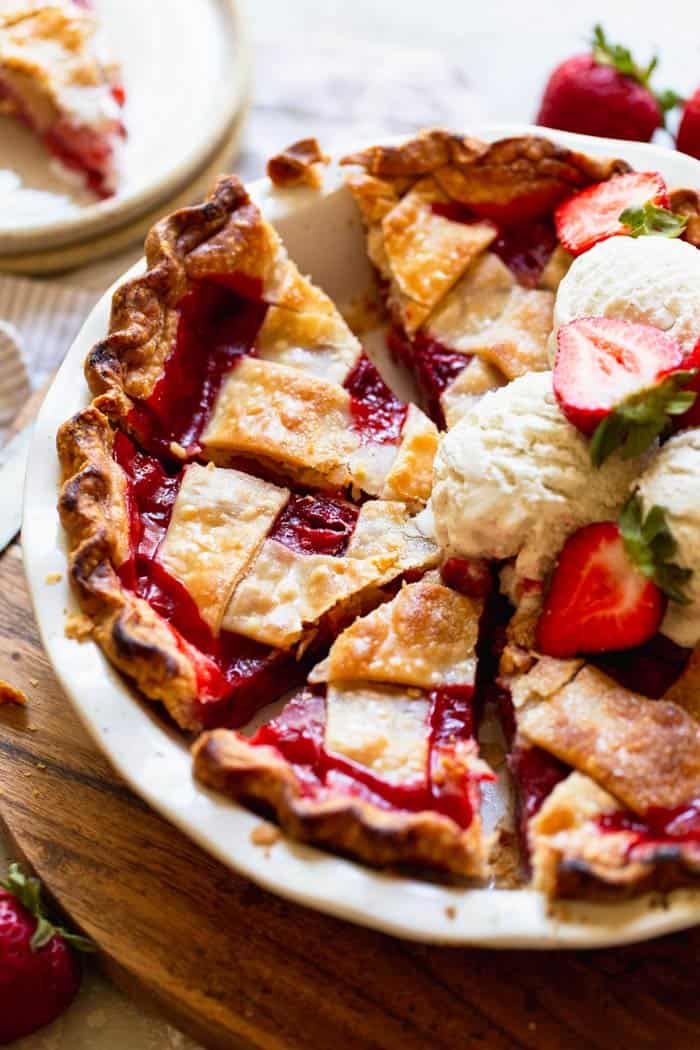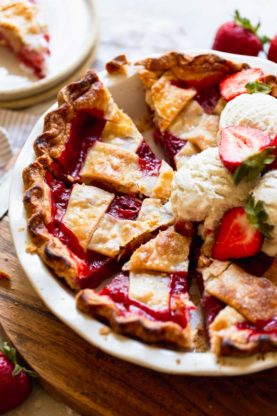 What do you say we kick this post off with a couple strawberry fun facts? During peak berry season, one acre of land can grow about 50,000 pounds of strawberries. Every plant on said land is hand-picked every 3 days! I don't know about you but that totally blows my mind.
I love strawberries; from their sweet scent to their crisp, fresh texture, I just can't seem to get enough. Each year, I look forward to peak strawberry season. There's nothing like strolling through the farmer's market and spotting those baskets of bright red, juicy berries. Needless to say, I always end up with more berries than I can carry or even consume.
A good portion of the strawberries I buy are frozen for Fall and Winter use. But, I also use these luscious bites of natural sugar and turn them into jams, syrups, crumbles and tastiest of all, Strawberry Pie! What do you say we make one together?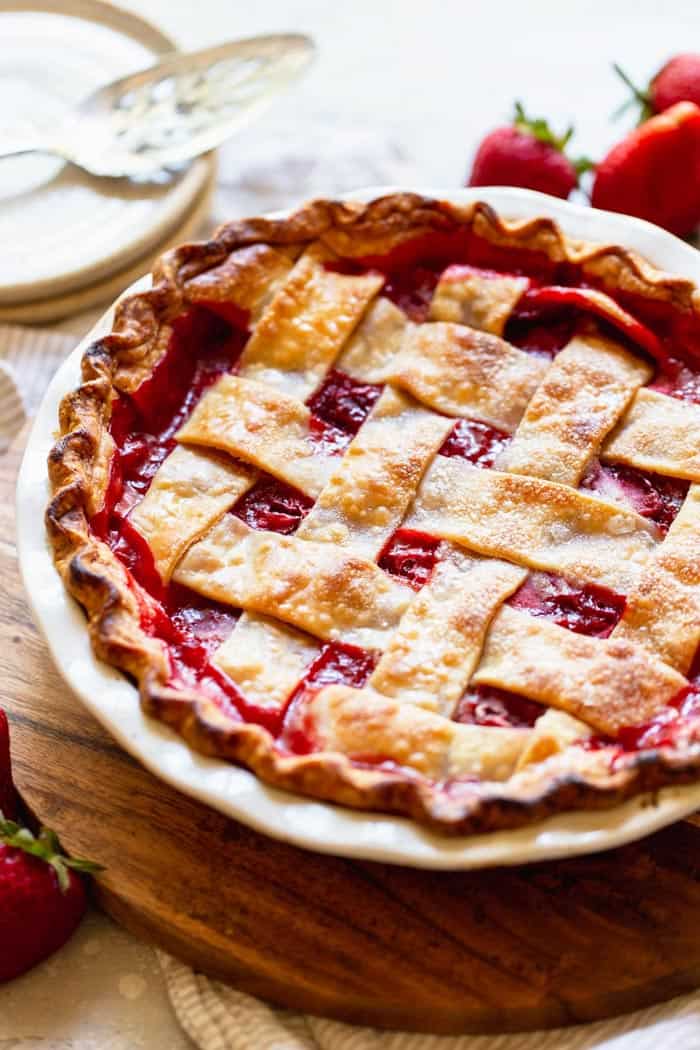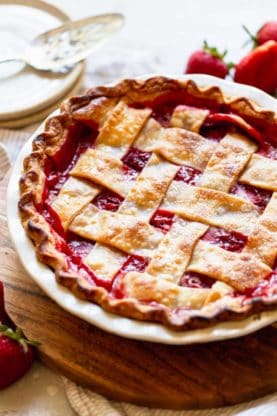 HOW TO PICK FRESH STRAWBERRIES
A fruit pie is only as good as the fruit it's showcasing. If your strawberries are dull, underripe and tasteless, your pie will be too. Let's avoid that shall we?
When buying any form of produce, do your best to buy in season. We are in the midst of berry season which means fresher, higher-quality fruit. Fresh strawberries should be bright red from top to bottom with vibrant green leaves. Though size doesn't really matter, be sure to still look for full, plump berries.
Ripe strawberries should also have no signs of mold and a strong, sweet aroma. All in all, trust your gut! You'll know 'em when you see 'em.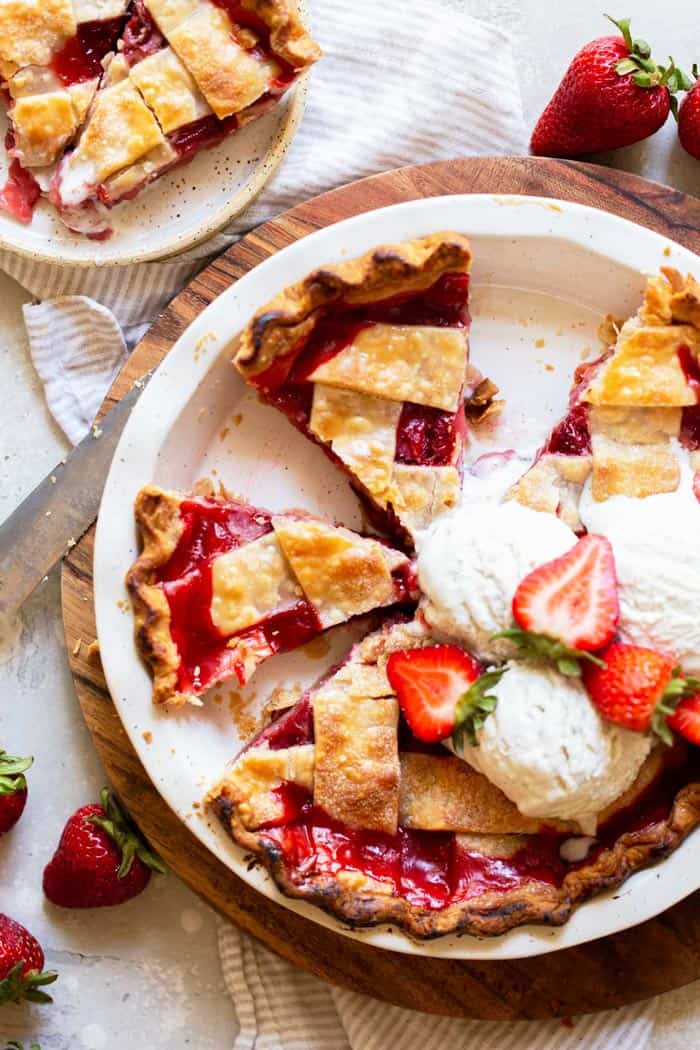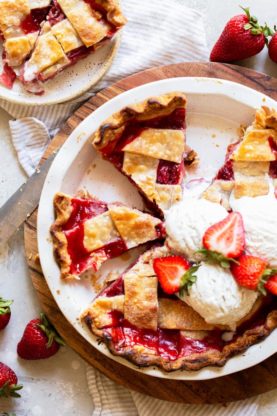 HOW TO MAKE A STRAWBERRY PIE
Fruit pies are often super simple and made with pantry-staple ingredients! This Strawberry Pie is no exception to that. So, this weekend take a couple hours for yourself and whip up this pie! Believe me, it's therapeutic.
Here's what you're gonna need today:
Cold Unsalted Butter & Cold Water
Both are essential to creating a layered, flaky dough. Keeping the pie dough cold will allow the butter to melt during baking and form a more evenly buttery crisp crust.
Cinnamon
A heavy pinch of cinnamon adds an earthy, spiced flavor to our filling.
Fresh Strawberries
Strawberries are our star players in this recipe. If using high-quality berries, their flavor should be bright, rich and herbaceous.
Vanilla Extract
Vanilla adds a lovely floral warmth that plays well with the cinnamon.
Milk & Sugar
Coating the top layer of our crust with milk and sugar is necessary for that perfectly browned, caramelized crust.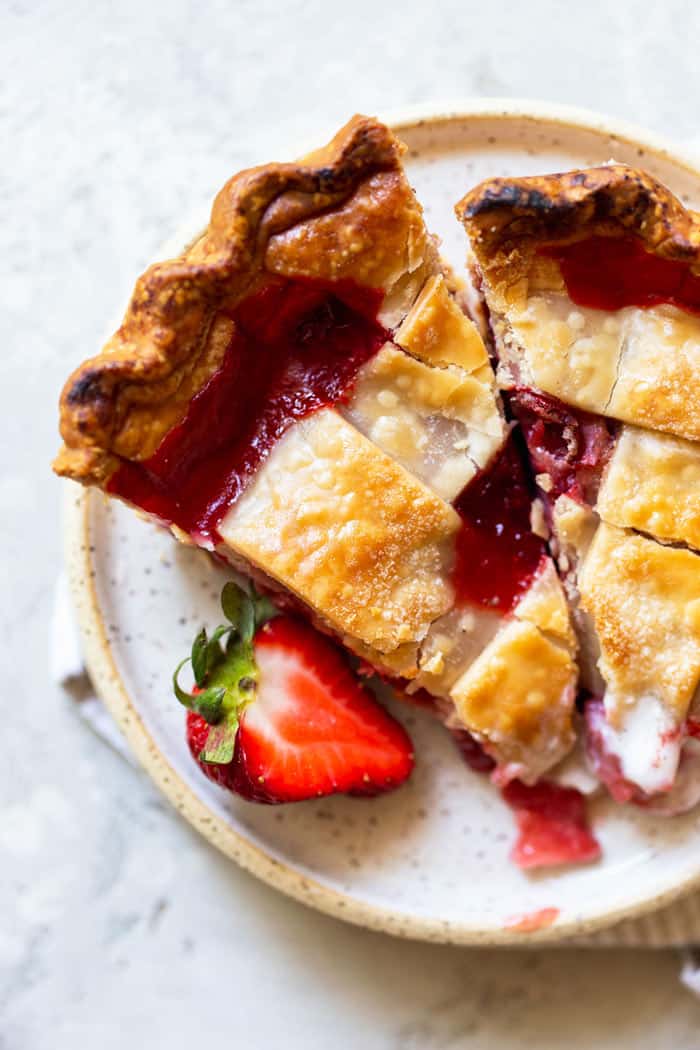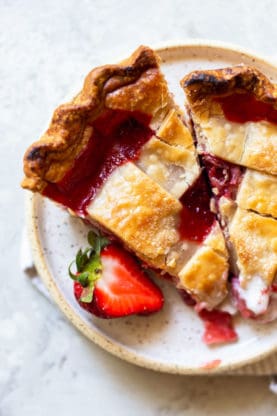 HOW TO MAKE PIE DOUGH
Making any kind of dough can be intimidating but I promise, there's no need to be scared. Wash and flour your hands, take a few deep breaths and get ready to make magic!
Follow my BEST PIE CRUST RECIPE (with step by step video) for the easiest, flakiest, most mouth-wateringly delicious crust.
TIP: If you're looking to simplify this recipe or dough making isn't your steez, don't worry about it. Use your favorite store-bought frozen pie dough! Just be sure to either defrost the dough overnight in the refrigerator or adjust the baking time to accommodate the frozen dough.
LEFTOVER FRUIT PIE STORAGE
Fruit pies can be stored either at room temperature or in the refrigerator for up to two days. Use a cake shield or a plate with an overturned bowl over the top to protect the pie and keep it fresh.
To Reheat
If you prefer a warm slice of pie, don't fret, fruit pies can be easily reheated. Preheat the oven to 350 degrees and line a baking sheet with parchment paper or foil. Place the pie on the sheet, lightly cover with foil and heat to your preferred temperature. Watch carefully, it should only take about 10 minutes.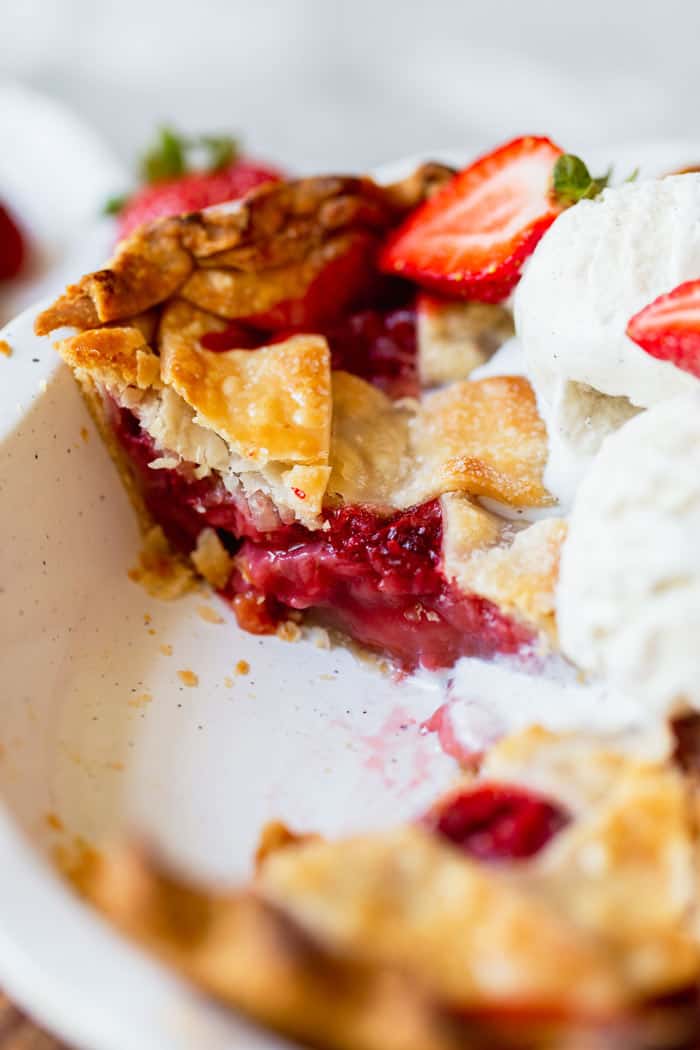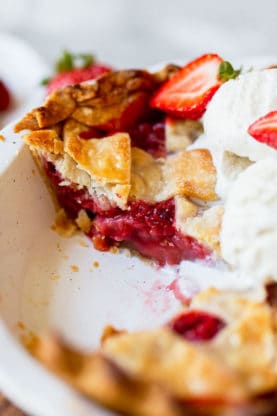 GRANDBABY CAKES' BEST SUMMER PIES
Summer pie season is the best time of the year! From fresh fruit to cool custards, there's something for everyone. Escape the heat and treat yourself to a bright slice of crisp, fruity heaven: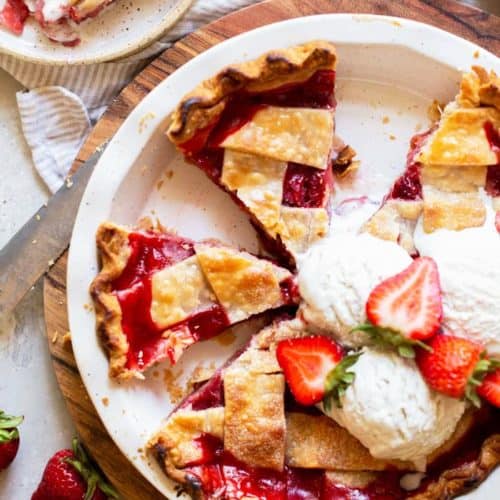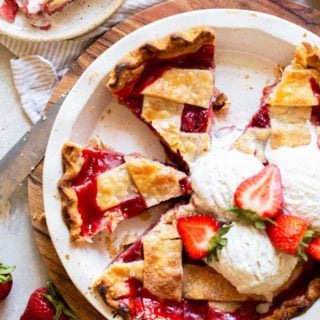 Strawberry Pie
Made with fresh, aromatic strawberries and a buttery, flaky crust, this Strawberry Pie is my go-to recipe for any BBQ, picnic or Summer weeknight treat. Don't forget the dollop of cream!
Print
Pin
Rate
Ingredients
For the Pie Dough
2 1/2

cup

all purpose flour

2

tsp

granulated sugar

1

tsp

salt

1

cup

very cold unsalted butter

cut in cubes (2 sticks)

1/2

cup

cold water

up to 2/3 cup if needed
For the Strawberry Filling
1/2

cup

granulated sugar

1/2

cup

all purpose flour

1/4

tsp

ground cinnamon

Pinch of salt

4

cups

fresh strawberries

sliced

1

tbsp

vanilla extract
For Assembly
2

tbsp

milk

1

tbsp

granulated sugar
Instructions
For the Pie Dough
In a medium sized bowl, add flour, sugar and salt and whisk together to combine.

Next add your butter cubes to flour and using your pastry cutter, cut the butter into the flour mixture until various sized crumbs appear.

Slowly add the cold water into the flour until a ball of dough forms. Start with 1/2 cup and add more water if you need it. Knead the dough quickly to bring it together. Don't worry if there is any flour left in the bowl.

Remove the dough from the bowl, cut into 2 sections and round into balls. Cover each ball tightly with plastic wrap and place in the refrigerator for 30-45 minutes to rest.
For the Filling
In a large bowl, mix together sugar, flour, cinnamon, and salt until combined.

Next throw in strawberry slices, and vanilla extract and toss until combined then set aside.
To Assemble
Preheat the oven to 425 F.

Remove 1 dough ball from the fridge and add a bit of flour to a working surface or clean the counter and place dough on it. Using a rolling pin, quickly roll dough out to about ¼ - ½ inch thickness and place in a 9 inch pie plate. Trim any access dough from the rim.

Add strawberry mixture to the inside of the crust.

Remove another dough ball from the refrigerator and roll it out to ¼ to ½ inch thickness and use a lattice design to top the pie.

Brush the top of the pie crust with milk then sprinkle with remaining sugar.

Bake for 35-40 minutes or until the crust is completely golden brown and the strawberries are bubbly. If you find that the ends of the crust are starting to brown a little too quickly, just top it with foil after baking for 20 minutes.

Remove from the oven and cool for 1 hour then serve.
Nutrition
Calories:
463
kcal
|
Carbohydrates:
57
g
|
Protein:
6
g
|
Fat:
24
g
|
Saturated Fat:
15
g
|
Cholesterol:
61
mg
|
Sodium:
498
mg
|
Potassium:
172
mg
|
Fiber:
3
g
|
Sugar:
19
g
|
Vitamin A:
718
IU
|
Vitamin C:
42
mg
|
Calcium:
28
mg
|
Iron:
2
mg