This Blueberry Hand Pie recipe has a blueberry vanilla goat cheese cream filling baked inside a buttery and flaky crust then topped with a sweet blueberry glaze! Simple and rustic, these turnovers are perfect for pie-lovers and skeptics alike!. To-die-for! If you love these, you will love these Guava Empanadas, Blueberry Pancake Cobbler, Strawberry Hand Pies, Blueberry Cobbler, Individual Strawberry Crumbles and Homemade Pop Tarts!! And for something savory, try these Jamaican Beef Patties!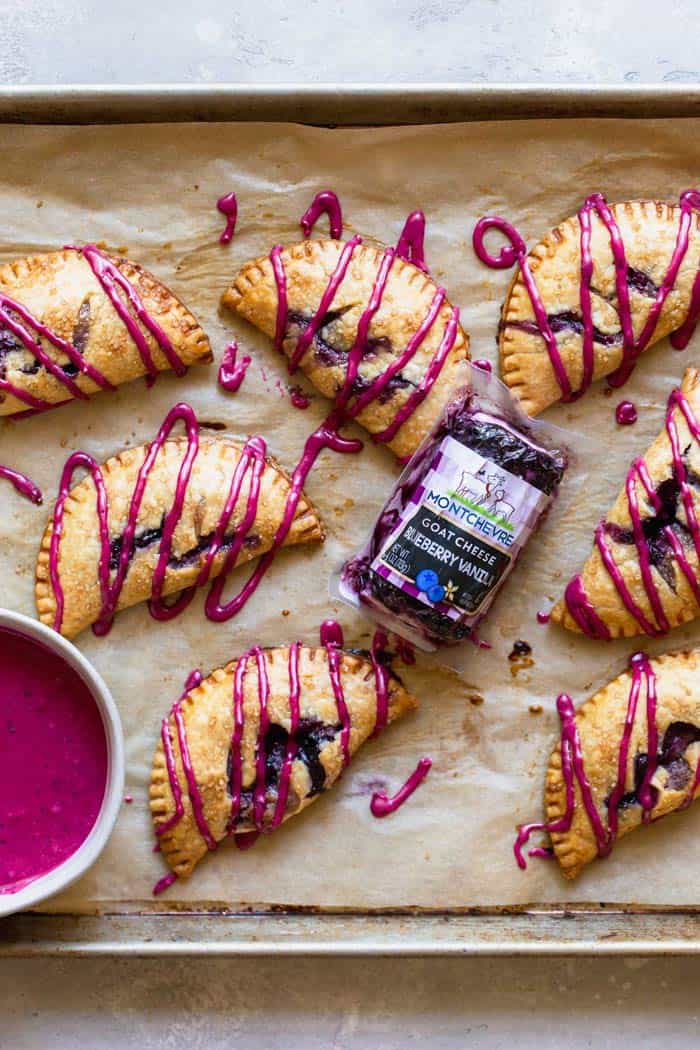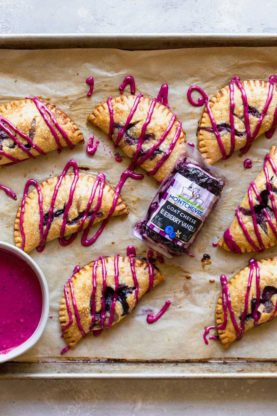 Disclosure: I partnered with Montchevre for this recipe post, but all opinions expressed here are my own. I am grateful for authentic partnerships like this.
I'm a Southern raised girl through and through. Seriously, I bleed grits and gravy. Southern food is basically my religion and I wouldn't have it any other way. If you've followed this blog for a while, you know that I learned everything I know from my Big Mama: a strong Southern woman by her own right. She taught me how to sling hush puppies and fry catfish with the best of 'em!
Big Mama's specialty? Homemade pies. From Sweet Potato to Apple, that woman could whip a masterpiece in a matter of minutes. I was constantly mesmerized as her hands moved in a blur. During the summers, she made fruit pies of all kinds: cherry, peach, rhubarb, etc. Each pie was uniquely flavored and oh so sweet!
Today, I'm drawing inspiration from my Big Mama's fabulously fruity Summer pies. Aromatic, zesty, and ooey-gooey in all the best ways, these Blueberry Hand Pies are not only delectable but, down-right good for the soul!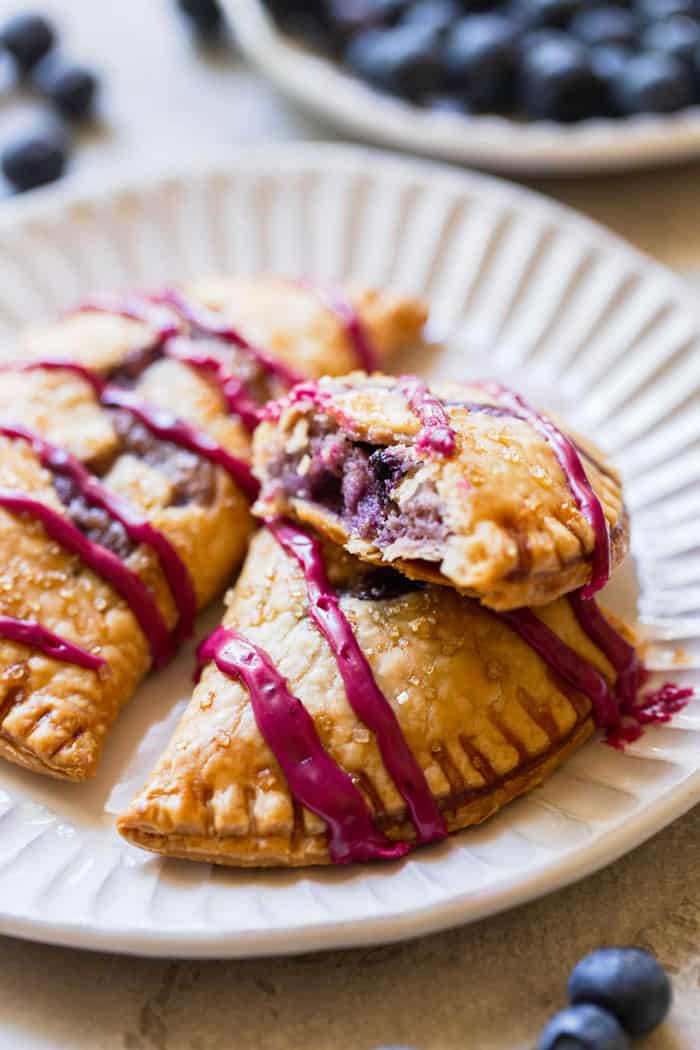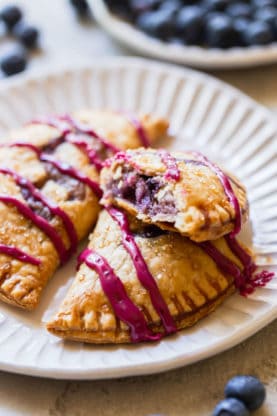 WHAT ARE HAND PIES?
Hand Pies (also called turnovers) are a fantastic option for changing up the traditional slice of pie. Similar to an empanada, hand pies are made by filling pre-cut rounds of dough with fruit fillings. Easily made and more easily eaten, these stuffed desserts are perfect for outdoor gatherings or any event that includes small children.
TIP: Be sure to never fill a hand pie with a particularly runny filling. Since you aren't pouring it into a contained pie plate, it will most likely cause the pies to burst and become soggy.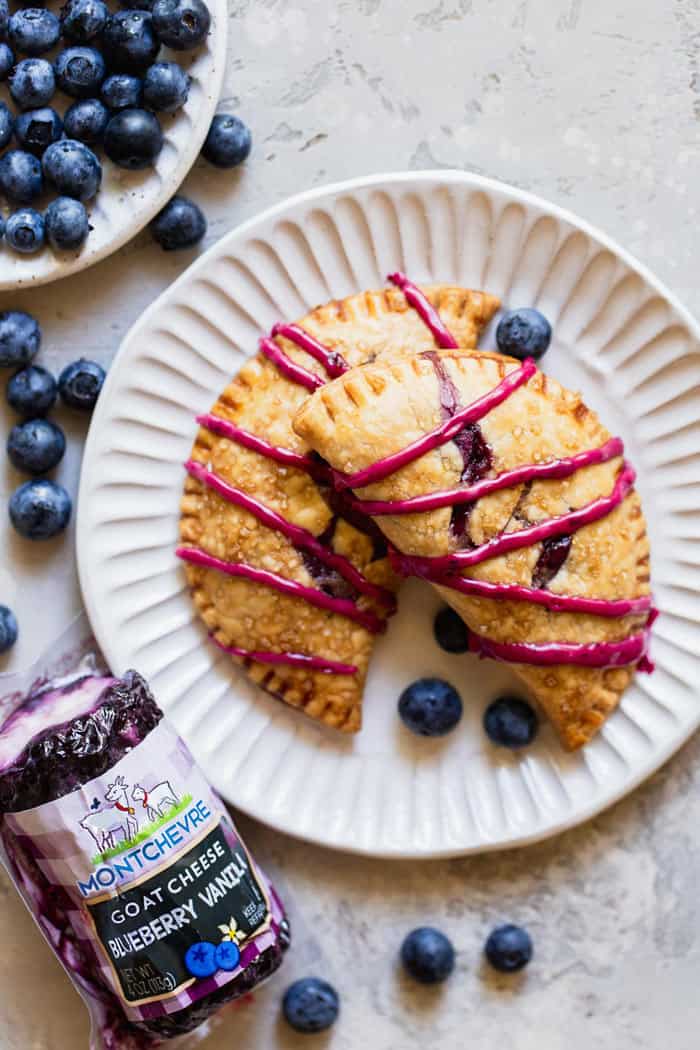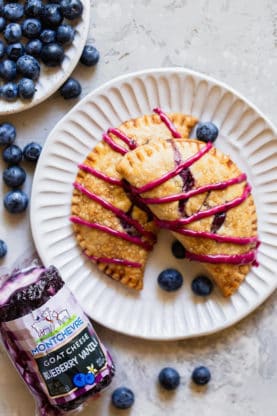 CREATING A GOAT CHEESE FILLING
Okay, it's time to let you in on a secret: these aren't just any 'ole Blueberry Hand Pies. These pockets of perfection have a mystery ingredient, a little something special: Blueberry Vanilla Goat Cheese! Montchevre Goat Cheese is the largest goat cheese brand in the United States. Made in Wisconsin using traditional French cheese making techniques, Montechevre is the highest quality goat cheese available.
Everyone is familiar with cheese from cow's milk. This time around, I'm breaking away from the expected to make a delightfully surprising treat. Montechevre's Blueberry Vanilla Goat Cheese is sweet, tangy, floral and creamier than just about any other cheese I've ever had. Absolutely perfect for these hand pies!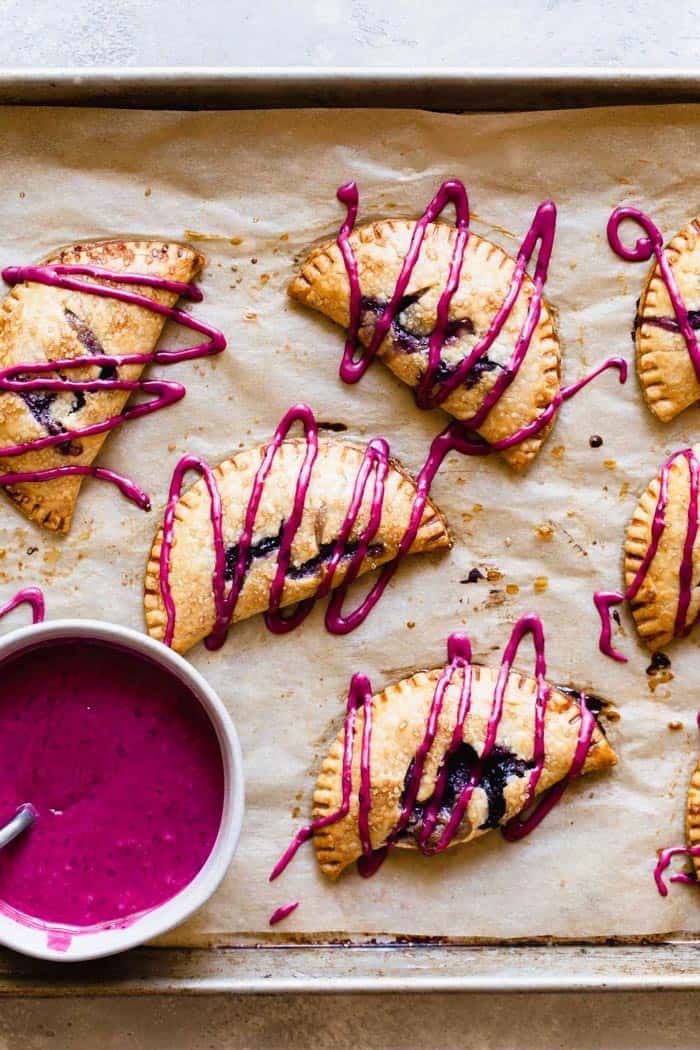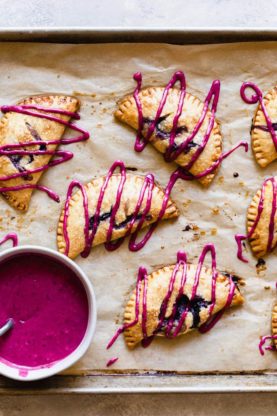 HOW TO MAKE BLUEBERRY HAND PIES
Not to toot my own horn but, this recipe is a doozy! From the decadent filling to the buttery crust, every bite of these pies is a luxurious experience. Believe me, you don't wanna miss out on this one.
Here's how we get the party started:
Montchevre Blueberry Vanilla Goat Cheese – made with high-quality goat's milk, vanilla and blueberries, Montechevre's award-winning goat cheese brings an exciting, delicious flavor to this recipe. Each bite is layered with a rich, smooth texture and a tart, candied taste. So darn good. Montchevre has a new flavor, Blueberry Lemon, that is a nice substitute that adds a tangy citrus flavor, and launches this summer! It would go wonderfully in these turnovers!
Cream Cheese – to balance out the tang of the goat cheese I added a bit of cream cheese. The added cream smooths out our mixture and compliments the sweetness of the berries.
Granulated Sugar – just half a cup of sugar helps to caramelize the blueberries, making for a sweeter, more complex filling.
Cinnamon – This spice really helps the blueberries pop in the most lip-smackingly delicious way. I like the depth it adds.
Fresh Blueberries – these little nuggets of tangy, sweet juice pair perfectly with goat cheese. Being a big fan of berries, I made sure there was plenty to go around.
Homemade Pie Dough – this is my absolute favorite pie crust recipe. It is insanely buttery, flaky and just irresistible.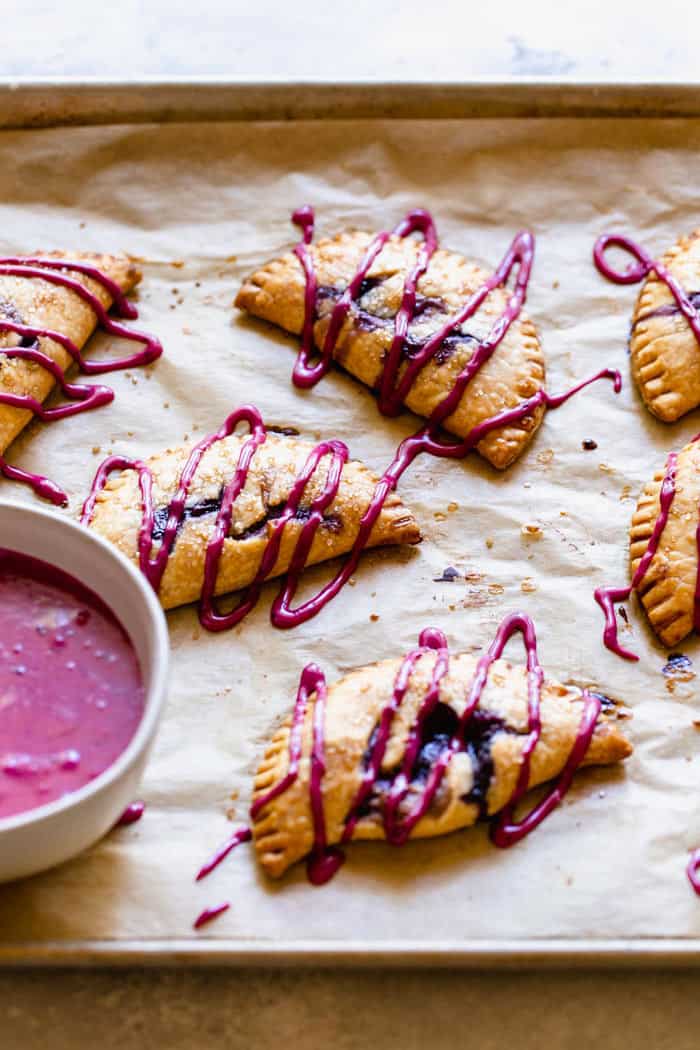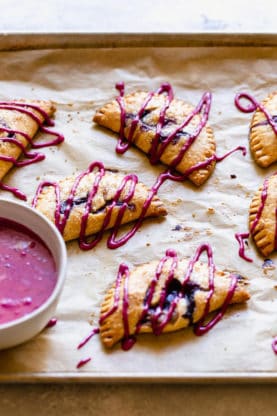 TIPS FOR CREATING PERFECT HAND PIES (TURNOVERS)
Keep the Dough Cool
To ensure a crisp, flaky crust, it's important to keep your dough as cold as possible without being unworkable. The dough should be able to stretch easily but still be cool to the touch.
TIP: Keep the dough rounds in the refrigerator and take them out as needed. Be patient, work one piece of dough at a time!
Don't Overfill
Overstuffing the dough will cause the hand pies to pop open during baking. Carefully measure out the filling for each pie using a small cookie scoop or a large spoon.
TIP: For an easier filling process, pre-measure out the filling onto parchment paper and freeze for 10-15 minutes. This will make for a more stable mixture that doesn't move around in the dough.
Brush Before Baking
Looking for that crisp, beautifully browned crust? Mix together an egg yolk with one teaspoon of water and carefully brush the crust.
TIP: If you're looking to go the extra mile, sprinkle on a bit of decorating sugar or flaky sea salt before baking.
LEFTOVER STORAGE AND REHEATING
Any leftover pies can (and should) be tightly wrapped in plastic wrap and stored at room temperature for up to 3 days. If you're looking to make them last longer, wrap them up, stick 'em in a freezer-safe bag and place them in the freezer. Frozen hand pies will last up to 4 months.
When you're ready to reheat, thaw the pies at room temperature for an hour and in the meantime, preheat the oven to 375 degrees. Reheat on a parchment lined sheet pan for at least 30 minutes.
GRANDBABY CAKES' BEST BLUEBERRY RECIPES
Bust the blueberry blues by whipping up some of my absolute favorite berry-filled recipes: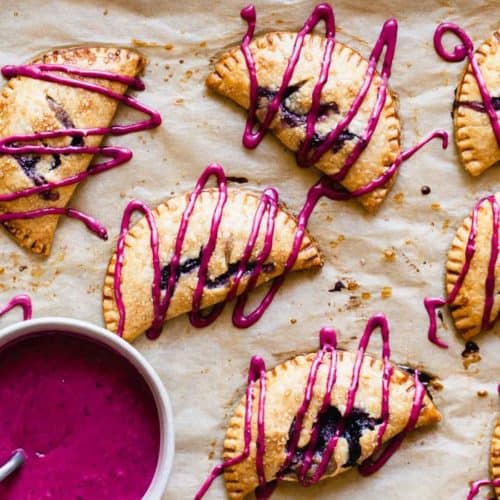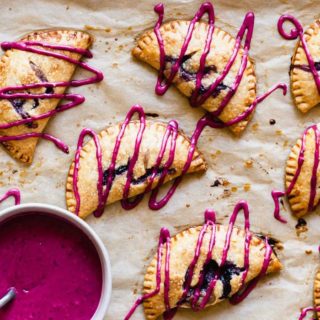 Blueberry Hand Pies
This Blueberry Hand Pie recipe has a blueberry vanilla goat cheese cream filling baked inside a buttery and flaky crust then topped with a sweet blueberry glaze! Simple and rustic, these turnovers are perfect for pie-lovers and skeptics alike!. To-die-for!
Print
Pin
Rate
Ingredients
For the Crust
2 1/2

cup

all purpose flour

2

tsp

granulated sugar

1

tsp

salt

1

cup

very cold unsalted butter

cut in cubes

1/2

cup

very cold water

up to 2/3 cup if you need it
For the Cheese Filling
4

oz

Montchevre Blueberry Vanilla Goat Cheese, room temperature

Find it HERE!

4

oz

cream cheese

room temperature

1/2

cup

granulated sugar

1/2

tsp

vanilla extract

1/4

tsp

ground cinnamon

1

large egg

pinch of salt
For the Blueberries
1

cup

fresh blueberries

1/4

cup

granulated sugar

1

tbsp

all purpose flour

2

tsp

fresh lemon juice
For Assembly
1

large egg

2

tbsp

water

Turbinado Sugar
For the Blueberry Glaze
1/2

cup

fresh blueberries

2

tbsp

lemon juice

1

tbsp

water

1 1/2

cup

confectioner's sugar

up to 2 cups if you need it to be thicker
Instructions
For the Crust
In a medium sized bowl, add flour, sugar and salt and whisk together to combine.

Next add your butter cubes to flour and using your pastry cutter, cut the butter into the flour mixture until various sized crumbs appear.

Slowly add the cold water into the flour until a ball of dough forms. Start with 1/2 cup and add more water if you need it. Knead the dough quickly to bring it together. Don't worry if there is any flour left in the bowl.

Remove the dough from the bowl, cut into 3 or 4 sections and round into balls. Cover each ball tightly with plastic wrap and place in the refrigerator for 30-45 minutes to rest.
For the Cheese Filling
Next add in vanilla, cinnamon and the egg and mix until smooth.
For the Blueberries
Toss all of the ingredients together and set aside.
For the Glaze
Add blueberries, lemon juice and water in a small saucepan over medium heat. When the blueberries begin to burst and release juices, add everything to a blender or food processor and puree it.

Whisk in the confectioner's sugar in 1/2 cup increments until smooth and you achieve desired consistency for drizzling. Add more sugar as needed then set aside.
To Assemble
Preheat the oven to 375 degrees.

Whisk together egg and water and set aside.

Remove dough from the fridge and add a bit of flour to a working surface or clean counter and place dough on it.

Using a rolling pin, quickly roll dough out to about 1/4 inch thickness.

Cut out circles using a large cutter the size of about 4 ½ circumference.

Spoon about ¾ to 1 ½ tablespoons filling onto one half of each circle of dough. Next spoon a couple of blueberries on top of the filling.

Brush a little egg wash around the outside of the dough circle, and fold it in half so the other side comes down over the filling, creating a semicircle.

Seal each hand pie by pressing the edges of the dough together with the tines of a fork then add two tiny slits to the top of each pie.

Brush with egg wash and sprinkle with raw sugar.

Place back in the refrigerator for about 20-25 minutes to firm up before baking.

Once firm, bake for about 20-30 minutes or until golden brown and puffed. (If you made super thick dough, you would have to bake for up to 40 minutes). Cool until room temperature or just warm.

Drizzle with blueberry glaze and serve.
Nutrition
Calories:
344
kcal
|
Carbohydrates:
43
g
|
Protein:
5
g
|
Fat:
17
g
|
Saturated Fat:
11
g
|
Cholesterol:
66
mg
|
Sodium:
325
mg
|
Potassium:
56
mg
|
Fiber:
1
g
|
Sugar:
26
g
|
Vitamin A:
595
IU
|
Vitamin C:
2
mg
|
Calcium:
28
mg
|
Iron:
1
mg