The BEST Apple Pie Recipe: Perfectly tender, spiced apples hinted with cinnamon, freshly grated nutmeg and brown sugar are enveloped into a flakey, buttery cocoon of crust makes this the BEST Apple Pie recipe sure to please the whole family! It was meant to dance on the taste buds and fill the belly. Perfect for fall, holidays or all year round. If you love apple desserts, try these Apple Pie Bars, Apple Brown Betty, Apple Cobbler, Apple Tarte Tatin, Apple Crisp French Toast, Apple Fritters, Apple Cider Cake, Caramel Apple Cheesecake, Dutch Apple Pie, and Baked Apples.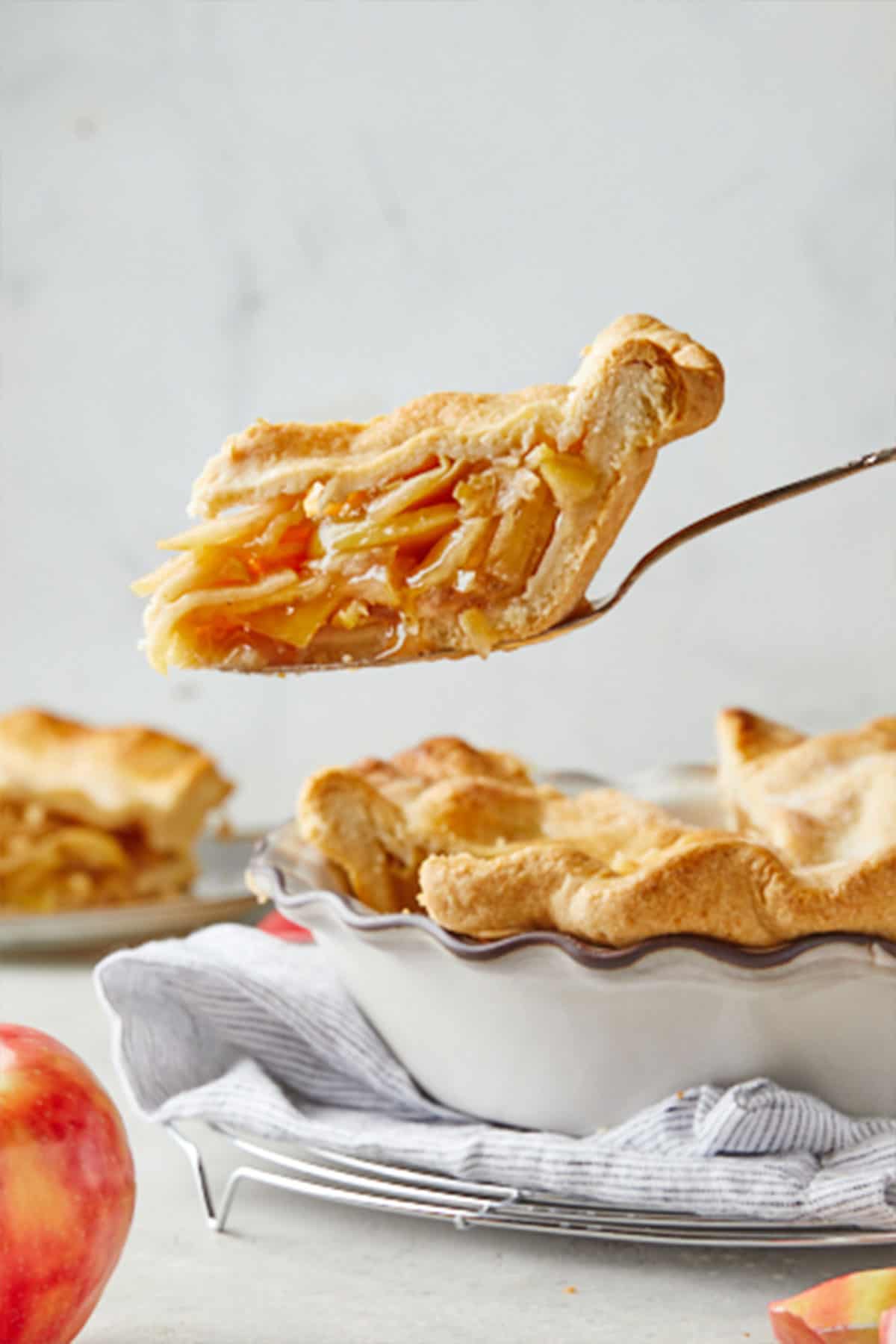 The BEST Apple Pie Recipe Baked With a Perfect Double Crust!
Bare with me y'all, I'm feeling a bit nostalgic today. This time of year always brings up old memories that send me into a whirlwind of sentimental emotions. I find myself reminiscing about the Fall days spent in my Big Mama's kitchen baking more than was ever necessary. She loved to bake and share her treats with just about anyone who would try them. Her recipes were sacred and her willingness to share them with me meant everything.
Big Mama's pies were famous and for me, no other pie could compare. But today's recipe comes pretty darn close. This Apple Pie recipe comes from my dear friend Shauna Sever's new cookbook Midwest Made. Shauna and I met a few years ago in person when she moved back to the Chicagoland area after many years in LA. We went to lunch and hit it off immediately. We had similar goals and dreams, and it was so incredible to finally have a friend that truly understood me and my plight. About a year later, we started what I like to refer to as an iconic group text including my dear boo Alejandra Ramos. Our sisterhood is something so special to me. Women helping women, women supporting women and women inspiring women is our MO. And we can sure get down in the kitchen too!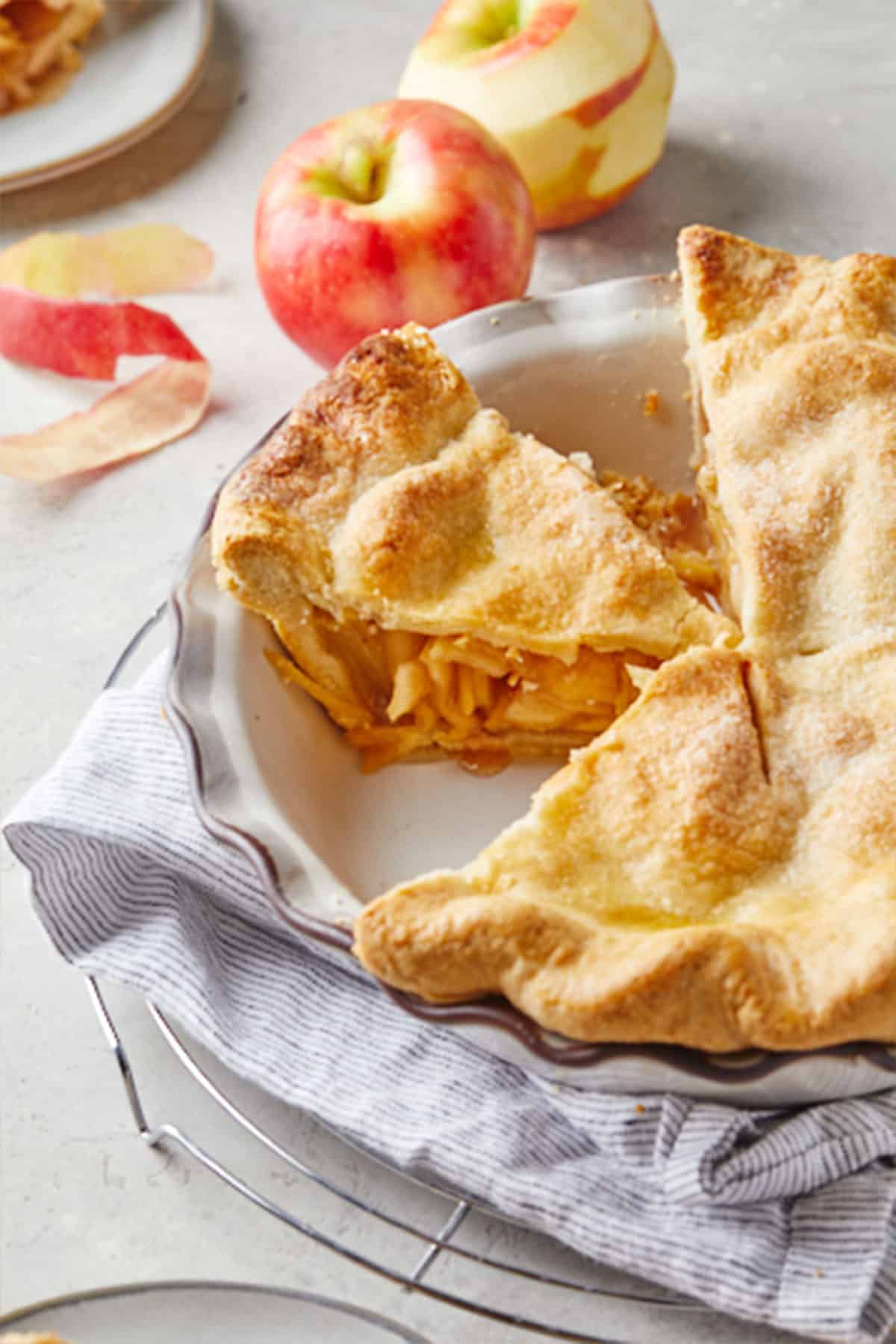 Shauna's double-crust apple pie is truly one of the best apple pie recipes I have seen around.
It is the perfect treat for a cozy fall day! And if you are looking for the best apple pie for Thanksgiving and fall baking, this is it?
So what are you waiting for? Let's get baking!
Where Does Apple Pie Come From? Is Apple Pie American?
The better part of classic American food can be traced back to the Midwest. Whether it's cakes, brownies or pies, the roots of almost any comforting treat come from middle America.
Shauna's recipes, including this apple pie, pay tribute to the Big, Bold Baking she has come to know and love. Her new cookbook is not only an ode to the immigrant families who brought their traditions to this country but also an insight into her creative culinary mind.
I'm a big fan of Shauna's work and I'm proud to share it with you all!
Tips and Tricks for the Best Apple Pie Recipe Crust
Shauna's pie crust is absolutely foolproof and makes for one of the easiest pie making experiences you'll ever have. But I've got my own crust tricks to share with you to make the process even simpler.
Choose the Right Pie Dish
Your choice of pie dish is going to heavily contribute to the final result of your pie. The dish is serving as the conduit for the heat that is cooking your crust. If your dish heats too quickly your crust will burn before it's done. If you're dish heats too slowly the baking time will be too long and your apples will release too much moisture. Who wants a soggy crust? Not me.
I suggest using either a Pyrex or ceramic pie dish. Both options allow heat to build gradually and spread evenly. The result is an evenly cooked crust with no sog in sight.
A Secret Ingredient: Vinegar
Adding red wine vinegar or apple cider vinegar to your favorite pie crust helps to prevent the formation of gluten. Gluten makes for a tough crust which is almost worse than a soggy one.
Get that Golden Brown Crust
Is a pie really a pie if it doesn't have that idyllic toasted brown coloration? No it's not. Get yourself a soft-bristled pastry brush and bust out those eggs.
If you're looking for more of a yellow-golden crust then use an entire beaten egg.
Why Make A Double Crust?
We've all had a slice of Double-Crusted Apple Pie because honestly, it's the only way to go. You get tender, spiced apples that are enveloped into a flakey, browned butter cocoon of crust. Each bite has that perfect apple to crust ratio you've been searching for your whole life.
Visually, a double-crust makes for the ideal apple pie. Get creative with your crust! There are plenty of Pinterest worthy crust creations that will take your pie to the next level. A classic overlay or even a lattice are traditional takes but using cookie cutters are a new way of making a crust all your own as well. I include some additional pie crust tips in my All Butter Crust recipe as well.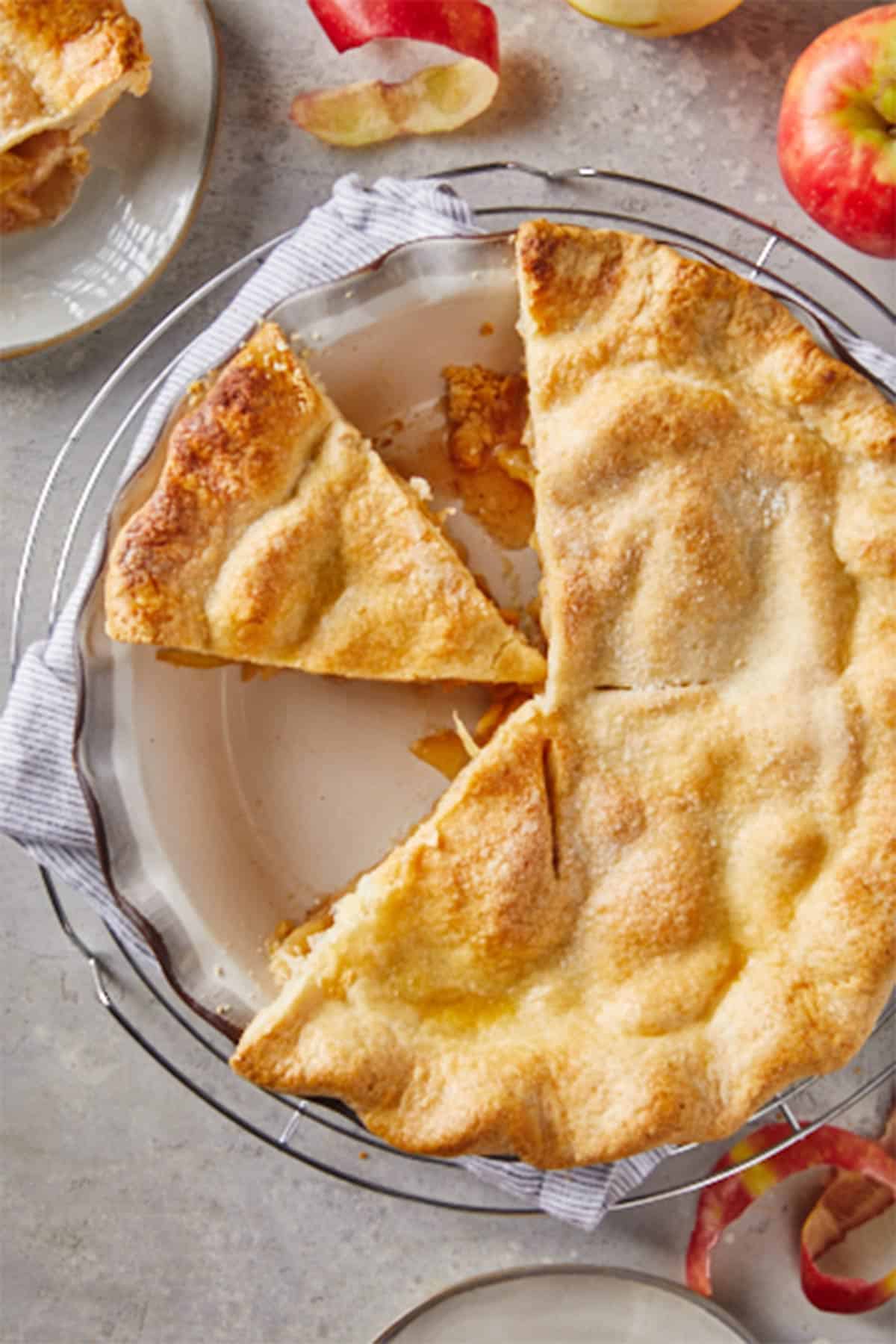 How To Make Apple Pie
Most of the difficulty of pie baking is in the crust but the filling is the star and should be treated as such!
Toss your apples with the rest of the filling ingredients and allow them to rest overnight. Yes, an hour totally works and the results will still be amazing. But, if you take the time to let them sit overnight the sugars will draw out extra moisture from the apples and prevent any rogue juices to leak while baking. Drain the liquid and set your apples aside.
But wait! Don't discard that liquid! Instead, bring it to a boil in a small saucepan and let it reduce and thicken. Then, add the thickened result back to the apples, mix and carefully pour your apple mixture into the crust.
The result is a filling layered with deep rich flavor and a slightly saucy texture. It's almost like having a caramel apple in a pie. Yum!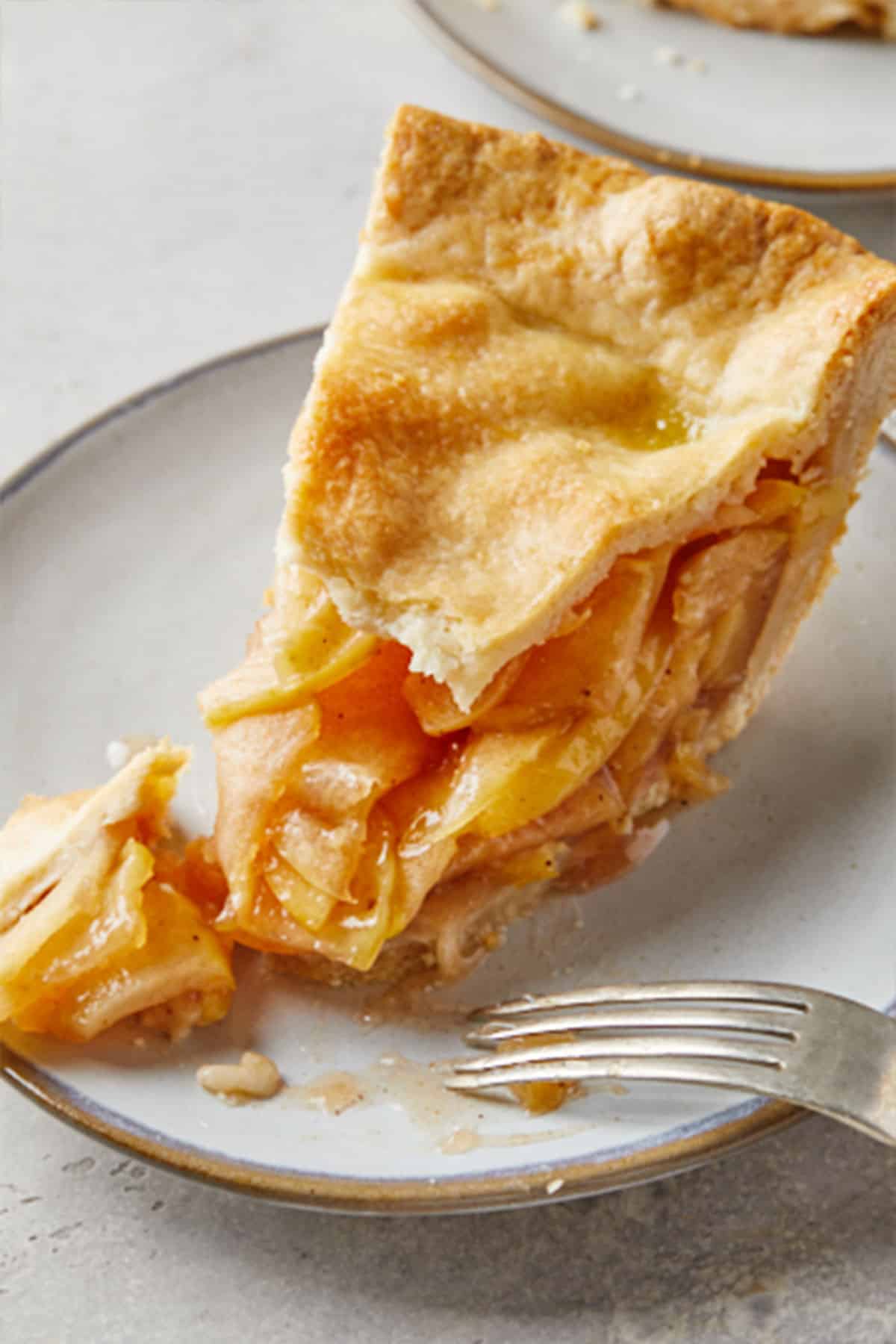 What Are the Best Apples To Use For Apple Pie Filling
I know that I'm not the only one who goes apple picking every year just to watch bags of apples sitting on the counter going bad.
But the truth is, most of the apples you're lugging home are perfect for apple pies! I have tried all apples for different recipes from my Maple Apple Cake to my easy Apple Cider Float (I add apple slices to the bottom). After lots of trial and error I've found that Granny Smith, Honey crisp and Pink Lady are the best options for baking.
Shauna's favorites are Honey Crisp, and they bake beautifully in this pie. These apples have the perfect balance of sweetness, crisp texture and tartness.
All of these apples can be found at almost any orchard or even your local grocery store!
Other Pie Recipes to Try!
If you love this Apple Pie then you will love these pies too!
The BEST Apple Pie Recipe
Perfectly tender, spiced apples hinted with cinnamon, freshly grated nutmeg and brown sugar are enveloped into a flakey, buttery cocoon of crust makes this the BEST Apple Pie recipe sure to please the whole family! It was meant to dance on the taste buds and fill the belly. Perfect for fall, holidays or all year round.
Print
Pin
Rate
Ingredients
For the Filling
8

cups

thinly sliced Honeycrisp Apples

about 6 medium-size to large apples

1/2

cup

granulated sugar

1/4

cup

light brown sugar

1

tsp

freshly squeezed lemon juice

1/2

tsp

ground cinnamon

1/4

tsp

freshly grated nutmeg

1/4

tsp

fine sea salt

4

tbsp

cornstarch
For the Double Crust
2 2/3

cup

unbleached all purpose flour

spooned and leveled

2

tsp

granulated sugar

to 2 tbsp if you level up

1

tsp

fine sea salt

1/4

tsp

baking powder

1

cup

very cold unsalted butter

cubed

1/2

cup

ice water

1

tbsp

red wine vinegar
Crust and Assembly
Nonstick cooking spray for pan

All purpose flour for dusting

2

tsp

unbleached all purpose flour

2

tbsp

granulated sugar

divided

1

large egg

1

tbsp

water

Pinch of fine sea salt
Instructions
For the Double Crust
In the bowl of a food processor, combine the flour, sugar, salt and baking powder. Pulse a few times to blend. Sprinkle half of the butter pieces over the dry ingredients. Process until the mixture resembles cornmeal, about 15 seconds.

Add the remaining cold butter and pulse about 10 times, until this batch of butter cubes is broken down by about half.

In a measuring cup, combine the water and vinegar. Add about three quarters of the liquid to the bowl. Pulse about 10 times, or until the dough begins to form a few small clumps. Test the dough by squeezing a small amount in the palm of your hand. If it easily holds together and your palm isn't dusty with floury bits, it's done.

If not, add an additional 1/2 tablespoon of vinegared water and pulse 2 or 3 more times. Repeat this process as needed just until the dough holds together.

Turn out the mixture onto a work surface. With a few quick kneads, gather the dough into a mass. For double crust, divide the dough in half and shape into disks. For 2 slab crusts, shape each half of the dough into a 5x8 inch rectangle. Refrigerate for at least 2 hours before rolling.
For the Filling
In a large bowl, combine all the filling ingredients, except the cornstarch. Toss to mix well. Let sit at room temperature for 1 hour.

Drain the filling over a 2 to 2 1/2 quart saucepan, pressing down on the fruit gently and catching the liquid- you should have at least 1/2 cup of liquid. Return the apples to their bowl. Set the pan over high heat and reduce the liquid to about 1/3 cup which will take about 5 minutes. You can swirl the pan occasionally, but avoid stirring. Remove the pan from the heat and set aside to cool for 5 minutes.

Add the cornstarch to the apples and toss to coat. Pour the apple syrup over the fruit and stir gently to blend.

Position a rack to the center of the oven and preheat it to 425 F. Line a baking sheet with aluminum foil. Spray a 9 inch glass pie plate with nonstick cooking spray and dust with flour, knocking out the excess. Place the pie plate on the lined baking sheet.

On a lightly floured surface, roll out 1 dough disk into a 12 inch circle. Place the dough in the prepared pie dish. In a small bowl, combine the flour and 2 teaspoons of the sugar. Scatter evenly across the bottom of the dough. Scrape the filling into the crust.

Roll out the second dough disk to a 12 inch circle. Drape the dough over the filling. With a thin, sharp knife, slice a few vents around the center of the pie. Press to seal the top and bottom crust edges together. Fold the overhand under; crimp decoratively. Freeze the pie until the top crust is firm, about 15 minutes.

In a small cup, whisk together the egg, water and salt. Brush lightly over the top crust, and sprinkle with remaining 4 teaspoons of sugar.

Bake the pie at 425 F for 15 minutes. Rotate the pie 180 degrees. Lower the oven temperature to 375 F. Bake for another 50 to 60 minutes, until the filling is bubbling (bubbling is key to indicate that the starch has begun to thicken the filling!) and the crust is deeply browned. If the pie's edges look as if they may burn at any point during the end of the baking time, simply roll the foil from the pan up over the pie's edges.

Allow the pie to cool completely at room temperature on a wire rack before slicing and serving, at least 3 hours.
Notes
Tip for Crust: Most double crust pie recipes have you baking for about an hour in total.  I like to take them quite a bit browner, as much as 20 minutes longer to really develop color and incredible flavor that comes from the marriage of deeply browned butter and flour.
Honeycrisps have become one of my favorite baking apples, and as it happens they're a midwestern invention, first cultivated at the University of Minnesota in 1974, and then finally released to the public in 1991.  
Nutrition
Calories:
521.03
kcal
|
Carbohydrates:
72.98
g
|
Protein:
5.63
g
|
Fat:
24.19
g
|
Saturated Fat:
14.87
g
|
Cholesterol:
81.47
mg
|
Sodium:
579.11
mg
|
Potassium:
214.5
mg
|
Fiber:
4.19
g
|
Sugar:
36.31
g
|
Vitamin A:
806.29
IU
|
Vitamin C:
5.99
mg
|
Calcium:
34.76
mg
|
Iron:
2.25
mg