This Braised Jamaican Oxtail Recipe is a Caribbean take on a classic Southern staple!! Giant beef oxtails are slowly simmered for hours in a homemade 'jerk' sauce rendering tender, fragrant and delicious pieces of goodness! 
Knobby and fatty are two words that describe oxtails perfectly. Admittedly, that sounds anything but sexy, so if I stopped there with that as my description I'd understand why you wouldn't be interested in the least. And I'm sure the name "oxtails" doesn't help either. So let me just ask that you take a leap of faith and get past the name.
It's just beef. Oh, but it's the tail you're thinking too – yeah I need you to get over that too. There's beautiful meat lurking here, like short ribs but even silky smoother. Well those knobs of bone marrow and all that fattiness make for super tender, smooth like butter braised chunks of beef. These oxtails are cooked in a Caribbean inspired braising liquid that is rich and smoky, with a hint of scotch bonnet chili heat.
Perks & Highlights of This Ultimate Jamaican Oxtail Recipe
Cuisine Inspiration: Jamaican/Caribbean
Primary Cooking Method: Braising
Dietary Info: High Protein, Gluten-Free
Key Flavor: Rich, savory with a spicy kick and underlying sweetness
Skill Level: Intermediate
Special Perks:
Authentic Flavors: This recipe stays true to its Jamaican roots, using traditional spices and cooking methods to ensure an authentic taste experience.
Tender and Juicy: The slow, gentle braising process renders the oxtails unbelievably tender, falling off the bone, while locking in all the juicy flavors.
Spice to Your Liking: While the recipe provides for a moderate level of heat, it's easily adjustable to suit spice aficionados or those who prefer a milder palate.
Aroma that Fills the Home: As the oxtails simmer, they fill your space with an irresistible aroma, building anticipation for the delicious meal to come.
Perfect for Special Occasions: Though it takes some time to prepare, the flavorful payoff makes it ideal for special gatherings, celebrations, or that fancy weekend dinner.
This Jamaican Oxtail recipe isn't just a meal; it's a culinary journey to the heart of Jamaica. Each bite encapsulates the island's vibrant culture, warm spirit, and love for hearty, flavorful food.
What Is An Oxtail?
First and foremost oxtails are not from an ox. Well at least not today's oxtails. For all intents and purposes oxtails refer to the tail of a steer. Any oxtails you buy retail will be beef. The tail has a long bone that is surrounded by highly gelatinous meat making it very flavorful and desirable.
For those unfamiliar, oxtails aren't actually the tail from an ox, but are the tails from cows cut into pieces. Each piece has a thick cylindrical bone with chunks of tough, fatty meat. If cooked the right way they are as delicious as beef short ribs. They are perfect for slow cooked braising and stews as the process basically renders them butter like tender.
Oxtails are often used for making stock. But around the world they are eaten as main entrees and stews from China and Korea to Jamaica and the USA. Oxtails for a long time have been a staple in soul food cooking. My grandmother would make big pots of them on Sundays and we'd have many guests pop over and enjoy individual bowls full with cornbread and hot sauce.
As a kid, I ate them and enjoyed them thoroughly, but they were always like the crawfish tails of beef; you worked hard for so little return. Now don't get me wrong, they were/are crazy delicious, but there just ain't a lot of meat if you get the smaller ends Back then it didn't matter, cause at about a buck per pound or less you could buy lots of the stuff.
Where Can I Buy Them?
You can actually find oxtails in most store formats. I actually price comparison shop a few different locations. But you can easily find them in abundance at more ethnic (Asian, Caribbean, Hispanic, African American) markets. You can also find in large format grocery stores and chains, but likely not in as great of quantities.
You'll have to check both frozen and refrigerated meat sections. More often than not they'll be in the latter section, but in some specialty places like Whole Foods you may find them in the former. For any of you who buy from a butcher, most butchers will be happy to reserve them for you if you give them a heads up.
Are They Expensive?
Relatively to what they used to cost, oxtails are at a premium. Back in the day you could get them for $3 per pound. Now a days here in Austin then run $7 or $8 per pound. Now those aren't short rib prices, but still I'm campaigning to make oxtails cheap again.
The challenge is, oxtails are en vogue now given their popularity among chefs. What was once considered "humble" food has essentially been gentrified to a certain extent. For the best deal, check with Walmart or Costco, as they tend to have the best value.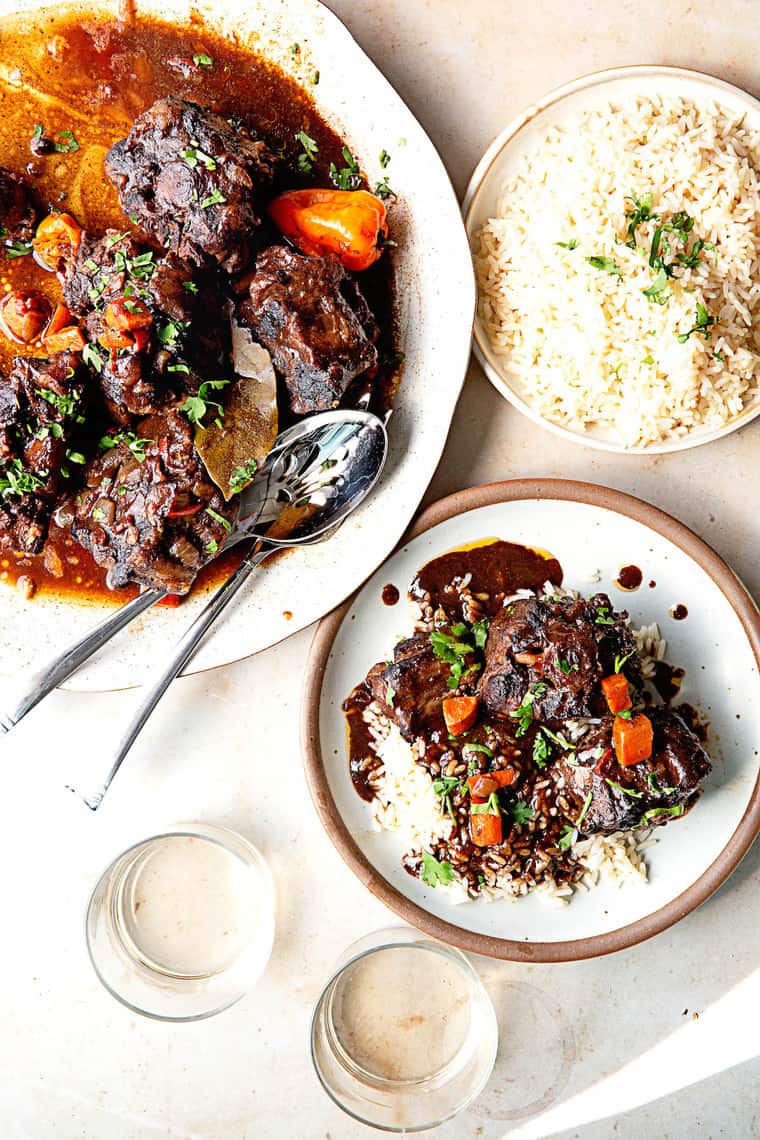 How To Cook Jamaican Oxtails
An oxtail has a large bone and is very gelatinous, which makes them perfect for any type of slow cooking like stewing or braising. Most recipes call for them to be slowly simmered on a cooktop or braised for hours in the oven.
Either way, for best results you want to be sure to brown the oxtails first to seal in all that rich flavor. From time to time I will smoke them on my grill/smoker, after all low and slow smoking qualifies as long slow cooking.
As a rule of thumb, cook them anyway you would consider cooking beef short ribs. Admittedly, I'm partial to braising in the oven. If you're more of a crockpot person, you'll be fine.
Just make sure you brown the meat first and even consider sautéing any of the aromatics/vegetables you pair with the oxtails. Regardless of the method, you're looking at about 4 hours minimum cook time. Pop open your favorite beverage or two and fill the room with your favorite Reggae artist whether its Buju Banton or Bob Marley. Lively up yourself and have a ball!
How Long Do You Braise Them?
You want something with high levels of acidity to help break the meat down during the long cooking process. You can never go wrong with a good red wine. I like a good value cabernet or a Malbec with some complexity.
They help provide that deep, rich flavor that pair well with different aromatics and vegetables. For this Jamaican based oxtails recipe, I made a Jerk barbecue sauce. It has a really good balance of flavors including elements of sweet and spicy with that distinct Caribbean essence.
What to eat them?
Most people just eat the meat right off the bone. If cooked properly the meat will be super tender and pull easily from the bone. At the end of the day, oxtails are just beef and can be used like you would any other fatty beef cuts.
You can pull the meat away from the bones and served with the following:
Another favorite is lima beans; the canned variety are a great addition to make this more of a stew. My personal preference is just chewing them right off the bone. Just make sure to have napkins on hand.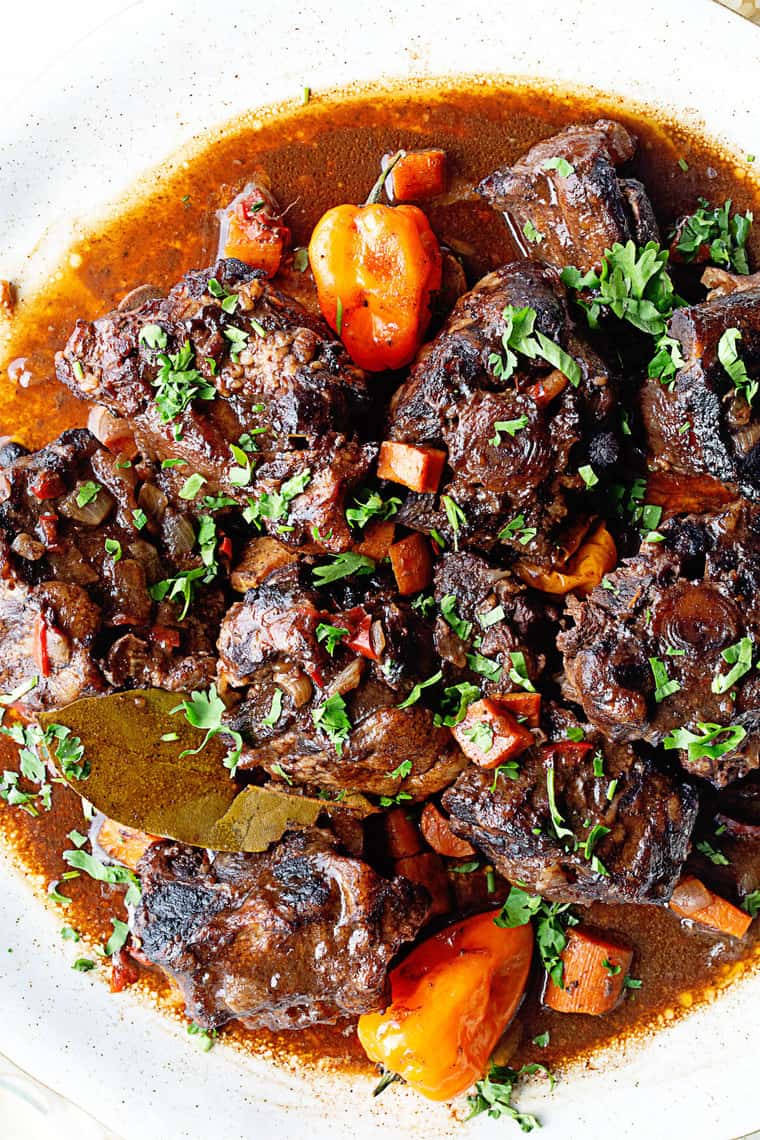 Can They Be Made Ahead of Time?
Absolutely! As I matter of fact, I highly recommend it. Feel free to make the oxtails a day or two ahead of time. They keep well in the refrigerator and taste better with time. Just make sure you reheat them slowly in the oven at low temperatures (225-250 degrees).
Best Oxtail Recipe Cooking Tips
Let oxtails reach room temperature before cooking

Plan for a minimum of 4 hours cook time cooked at 275 degrees.

Season braising liquid liberally

Don't forget to remove the habanero/scotch bonnet chili an hour into cooking. Otherwise, the chili will breakdown and leave all kinds of hellacious fire in your braise

Brown the oxtails before braising them. Be mindful not to crowd the pot too much as this will create more steaming at the expense of more flavorful caramelization. Brown the oxtails in batches if necessary

For more of a traditional stew consistency add canned broad or butter beans

For the sauce, use a basic, plain barbecue sauce like original Kraft. Avoid different flavored sauces.

Heat level is based on your preference. This recipe is for a milder version. You can increase heat levels by either using a spicy jerk paste in your sauce and/or including chopped habanero peppers (including seeds) in the braising liquid.

Don't break the bank with your wine selection. Choose a really good value red wine that you enjoy drinking.

For overly fatty oxtails, trim them ahead of time or skim-off the rendered fat an hour into the cook time

Reserve the leftover gravy for use with biscuits or over rice
If you make this delicious Jamaican Oxtail Recipe recipe and please come back and leave me a comment below with your feedback. Definitely take a photo of the dish and be sure to tag #foodfidelity so that I can see them.
More Beef Recipes
If you love braised recipes that have full on flavor, try these Coke Braised Short Ribs, Pomegranate Braised Short Ribs, Italian Pot Roast and Beef Ribs.
A HUGE Thank You to Marwin Brown of Food Fidelity for Guest Posting!!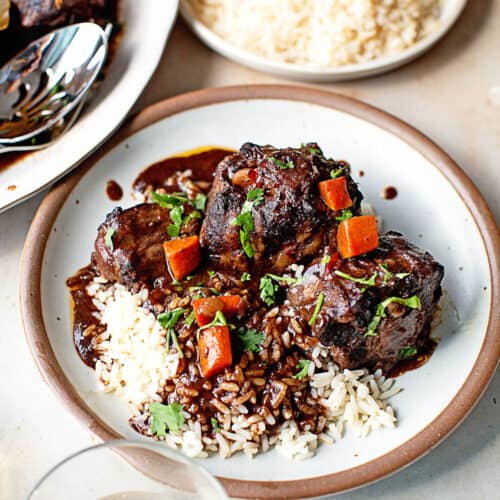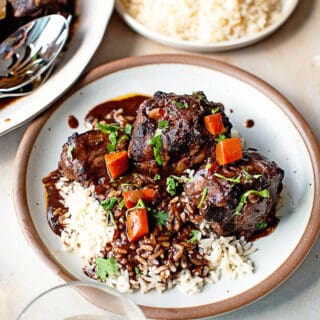 Jamaican Oxtail Recipe
This Braised Jamaican Oxtail Recipe is a Caribbean take on a classic Southern staple. Gelatinous beef oxtails are slowly simmered for hours in a homemade 'jerk' sauce rendering tender, fragrant and delicious pieces of goodness!
Print
Pin
Rate
Ingredients
For the Jerk BBQ Sauce
18

oz

bbq sauce bottle

of your choice

1/4

cup

mild jerk paste

Walkerswood or Grace store bought brand

1

tbsp

worcheshire sauce

3

tbsp

pineapple juice

1

tbsp

olive oil

1/2

tbsp

kosher salt

1/2

tbsp

black pepper

1/4

cup

cider vinegar

1

cup

ketchup
For the Oxtails
5

lbs

oxtails

2

tbsp

all-purpose flour

1

tbsp

olive oil

1

habanero pepper

1

medium onion

diced

3

garlic cloves

diced

1

medium carrot

peeled and diced

2

celery stalks

diced

1

red bell pepper

diced

3

bay leaves

1

tbsp

kosher salt

1

tbsp

black pepper

1

tbsp

allspice

1 1/2

cup

red wine

3

cups

Jerk BBQ Sauce

recipe below

1

cup

beef broth

3

fresh thyme sprigs
Instructions
For the Sauce
Whisk together all ingredients in a medium saucepan situated over medium heat. Allow to come to a bubble and then reduce the heat to low. Allow to simmer until thickened, about 10 minutes.

Serve immediately or allow to cool slightly and store in an airtight container in the refrigerator for up to a week.
For the Oxtails
Pre-heat oven to 275 degrees. Season oxtails with salt and pepper. Dust oxtails with flour. Set aside.

Heat olive oil in a large dutch oven pot on medium. Add the oxtails and brown on all sides. Be careful not to overcrowd the pan. If necessary brown in batches. Remove oxtails to a paper towel laden plate.

Take the habanero and using the sharp end of a knife puncture each side of the chili creating small slits/incisions.

Saute the onions, garlic, carrots, and celery for 4-5 minutes. Stir as needed.

Add the habanero and red bell peppers, mixing them in well with the other vegetables. Add the bay leaves, half the salt, pepper, and all spice seasonings. Let cook 2-3 minutes, mixing as needed.

Add the wine to the pot and deglaze using a wooden spoon to scrape up the bits.

Add the bbq sauce, beef broth and remaining spices. Mix well, then add the oxtails and fresh thyme.

Cover with heavy lid and bake for 4 hours. Oxtails should be fork tender. Sauce should have the consistency of a thin bbq sauce.
Notes
Jerk BBQ Sauce can be made ahead of time
If you prefer a thicker gravy type consistency, mix two tablespoons of corn starch in a bowl of water. Stir well to create more of a slurry. Remove the oxtails from the pan, heat the pan on medium heat, then add the corn starch slurry to the sauce and mix well. Sauce should start to thicken after about 5 minutes.
Serve oxtails with rice and top with more of the sauce.
Nutrition
Calories:
633
kcal
|
Carbohydrates:
29
g
|
Protein:
60
g
|
Fat:
28
g
|
Saturated Fat:
10
g
|
Cholesterol:
208
mg
|
Sodium:
1957
mg
|
Potassium:
317
mg
|
Fiber:
1
g
|
Sugar:
20
g
|
Vitamin A:
1407
IU
|
Vitamin C:
18
mg
|
Calcium:
76
mg
|
Iron:
8
mg