This Nana's Italian Pot Roast with Bolognese Sauce is a sensationally tender pot roast braised in a savory tomato sauce that melts in your mouth like this Dutch Oven Pot Roast. It is filled with tons of great Italian flavors and spice. This will become a favorite dinner in your home especially when paired with my perfect Garlic Bread. If you love incredible Italian dishes, try my Baked Spaghetti Recipe , Chicken Stuffed Shells , Italian Beef, and Butternut Squash Ravioli as well!
The BEST Italian Pot Roast Recipe Ever!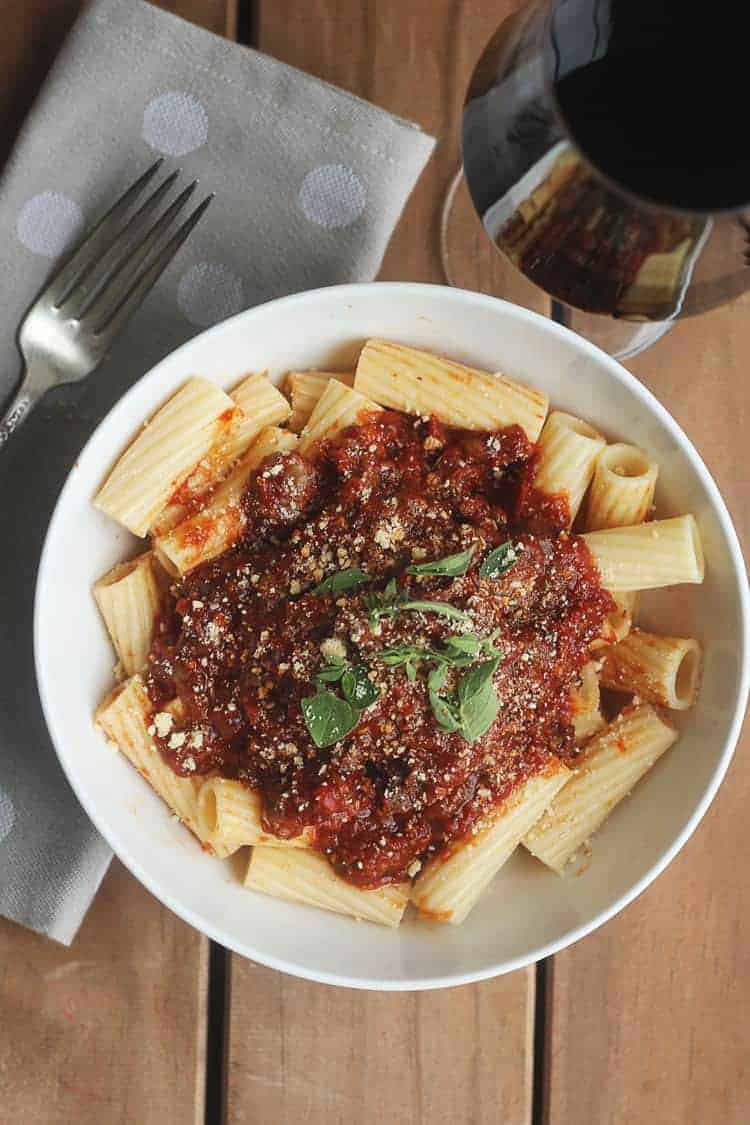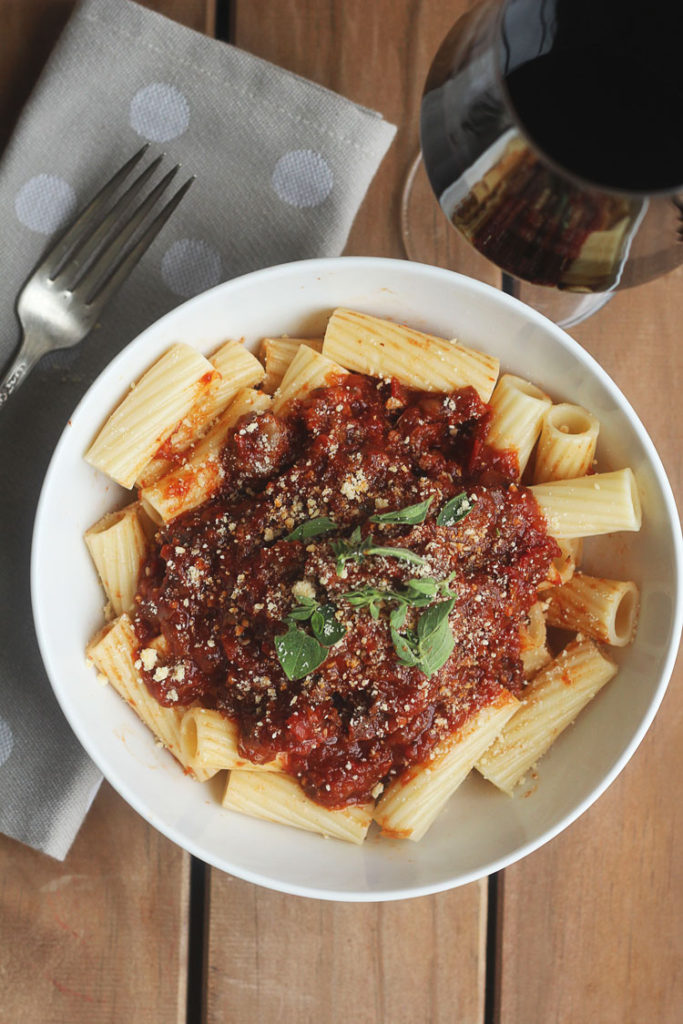 A great bottle of wine makes the best Italian dishes. I consider myself an expert on this. That's because I think my husband might be Italian, and he just doesn't know it. No one person can love Italian food so much without having those roots somewhere. Because of this love, we have tried tons of Italian restaurants in Chicago, and I have cooked more pasta and bolognese in my day than most people but this Nana's Italian Pot Roast is extra special.
Several years ago when my husband and I were still courting (that means dating for all the youngins), we frequented a restaurant in Chicago that served a dish called Nana's Gravy. The name was the catch for me. Anything with grandmother in the title immediately strikes a cord.
What Is Italian Pot Roast?
This Italian Pot Roast recipe is a delicious slowly braised beef in an indulgent tomato sauce over rigatoni. It is absolutely delicious.
Just imagine beef so tender that it falls off the bone submerged in a decadent crushed tomato sauce filled with caramelized onions, garlic, Italian seasonings, chicken stock and wine.
Key Ingredients for Italian Pot Roast Recipe Bolognese Sauce
To create a truly tender pot roast Italian style, it really begins with the base sauce. This sauce is almost like a bolognese because the meat braises in the sauce for hours until the beef just falls completely apart, very similar to these Pomegranate Braised Short Ribs. The key ingredients for this Bolognese sauce are:
Onions
Garlic
Tomatoes
Red Wine
Stock
Italian Seasonings
Starting with the aromatics, they truly add not just additional flavor but nuances of flavor to the finishes sauce. By doing a saute' of them at the very beginning, they allow those ingredients to truly become one with the sauce as it continues to develop hours later.
For the tomatoes, I use a combination of crushed tomatoes and tomato sauce. It adds various textures and thickness creating the consistency and thickness I prefer.
The wine is seriously essential here. My fave wine to use for this recipe is Love Cork Screw's 2005 Cabernet "Moving On Up" in this recipe, and it really brought out the intense flavors and deliciousness of the beef.
Cooking Tip: I learned a great tip from the amazing Ina Garten. She has always said to only cook with wines that you would drink, and this is a wine I definitely enjoy drinking so it was right at home in this recipe.
Finally a stock helps to round out the flavor so you don't taste too much wine. I use chicken stock but feel free to use beef or even vegetable stock if you want.
And finally a mix of Italian seasonings truly brings this home creating the best base you have ever tasted!!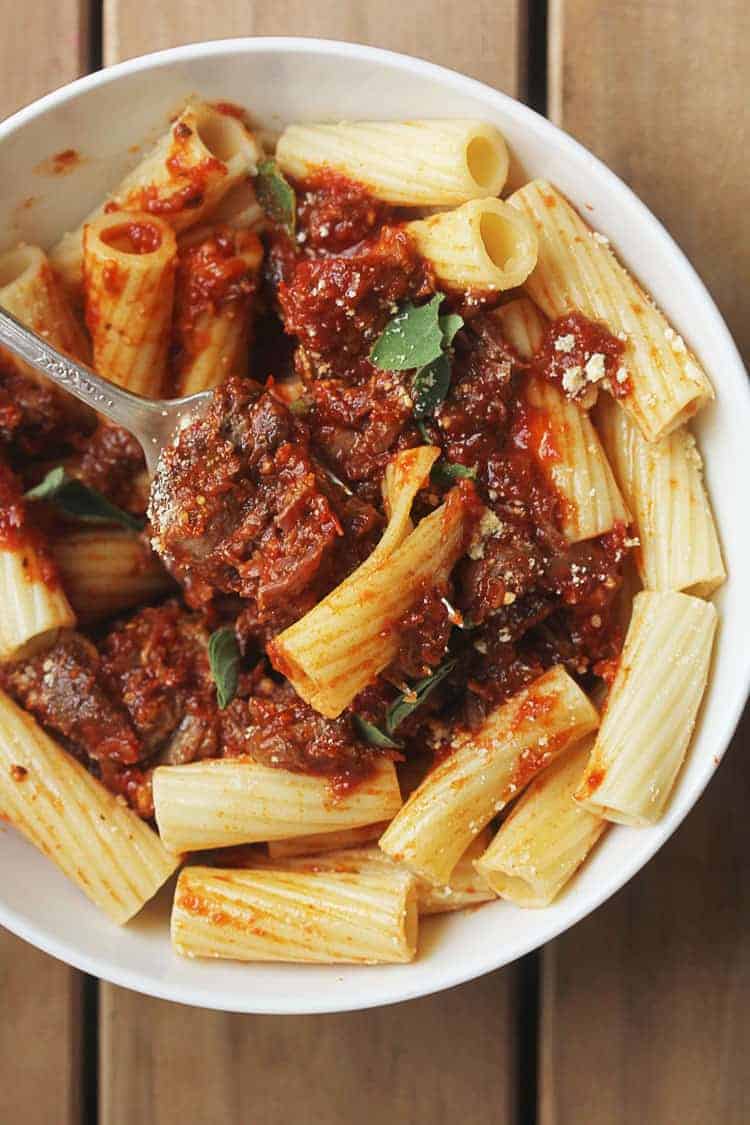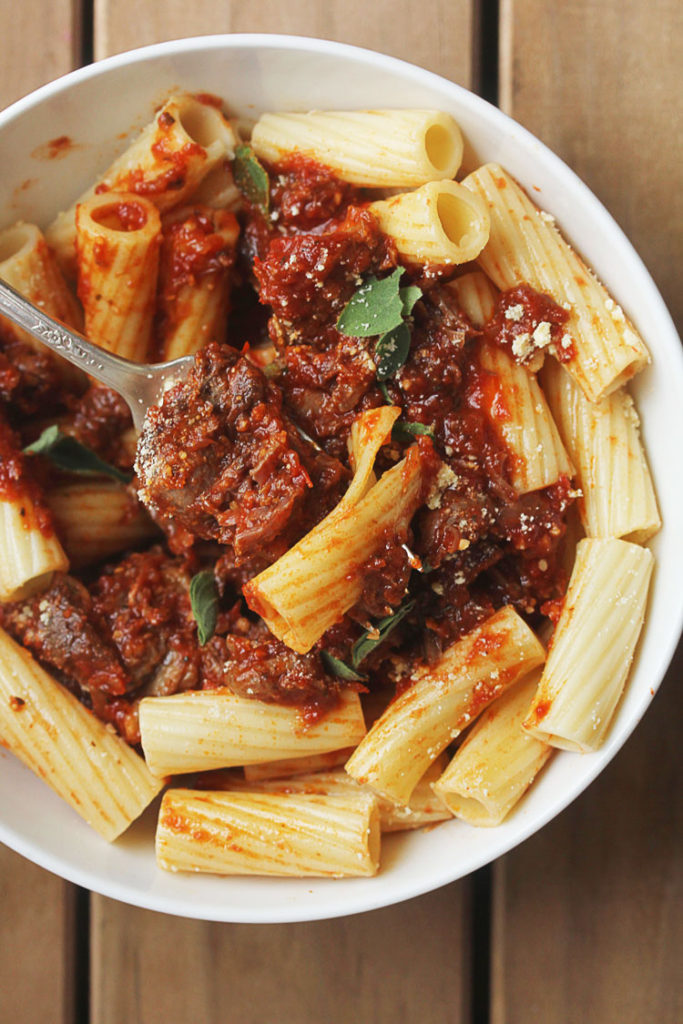 How to Serve Pot Roast with Bolognese Sauce Recipe
I served Nana's Italian Pot Roast with Bolognese Sauce over some cooked rigatoni, and we ate like royalty. This is a recipe you can make for date night, special occasions or even this New Year's. It is spectacular and definitely worth the 4 hour slow roast time. And remember, the fun part is celebrating with a glass of wine after your feast is complete!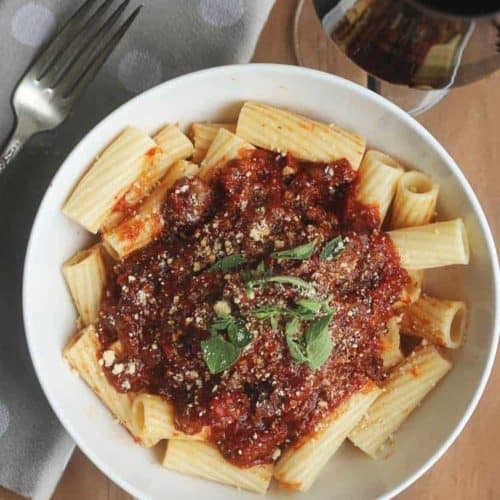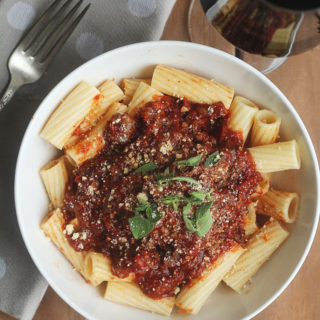 Nana's Italian Pot Roast Recipe with Bolognese Sauce
This Nana's Italian Pot Roast with Bolognese Sauce is a sensationally tender pot roast braised in a savory tomato sauce that melts in your mouth. It is filled with tons of great Italian flavors and spice.
Print
Pin
Rate
Ingredients
2

pounds

pot roast

beef shanks or short ribs

Salt and pepper to taste

3

tablespoons

extra virgin olive oil

1 1/2

cups

chopped onion

2

tablespoons

minced garlic

28

ounces

crushed tomatoes

1 can

15

ounces

tomato sauce

1 can

1/3

cup

red wine

1

cup

chicken stock

2

tablespoons

Italian seasoning and herbs

2

tablespoons

granulated sugar

1/2

teaspoon

crushed red pepper flakes

1

pound

rigatoni pasta

Garnish: chopped parsley and parmesan cheese
Instructions
Preheat oven to 300 degrees.

Liberally season both sides of beef with salt and pepper. Don't be shy. They will need lots of flavor.

Add olive oil to large pot over medium high heat on stove.

Once olive oil is hot, add beef to pot and deeply brown on all sides then remove from pot.

Scrap the bottom of the pan to get the flavor back into the oil. Next add chopped onion and sweat them for a few minutes until they start to soften and turn golden.

Add in minced garlic and only cook for 1 minute.

Pour in crushed tomatoes, tomato sauce, red wine, and chicken stock. Stir in Italian seasoning, sugar, red pepper flakes and salt and pepper to taste. Bring sauce to a simmer.

Lastly return browned beef to pot and submerge in the sauce.

Bake covered for 3 1/2- 4 1/2 hours or until beef is cooked through, tender and falling off the bone and sauce has thickened. This will depend on the thickness of beef.

Remove pot from oven and gently ladle the oil off the top of the sauce which has settled. Simmer over medium low heat to thicken sauce.

Cook pasta according to instructions on package and drain.

Serve completed gravy by adding pasta to serving platter, topping with meat and gravy and garnishing with chopped parsley and parmesan cheese.
Notes
Make sure you use an incredible wine that you would actually drink.  Avoid using the cooking wines you find on the shelves in the grocery store.
Nutrition
Calories:
508
kcal
|
Carbohydrates:
61
g
|
Protein:
35
g
|
Fat:
12
g
|
Saturated Fat:
3
g
|
Cholesterol:
74
mg
|
Sodium:
544
mg
|
Potassium:
1081
mg
|
Fiber:
5
g
|
Sugar:
13
g
|
Vitamin A:
500
IU
|
Vitamin C:
15.7
mg
|
Calcium:
100
mg
|
Iron:
5.6
mg