These Pumpkin Cider Donuts are made with earthy pumpkin cider and warm spices then, fried to perfection and freshly glazed! These doughnuts are tender, sweet and oh-so decadent! If you love these donuts, you will love these Pumpkin Stuffed Donuts or Pumpkin Fritters, Apple Fritters and Blueberry Donuts!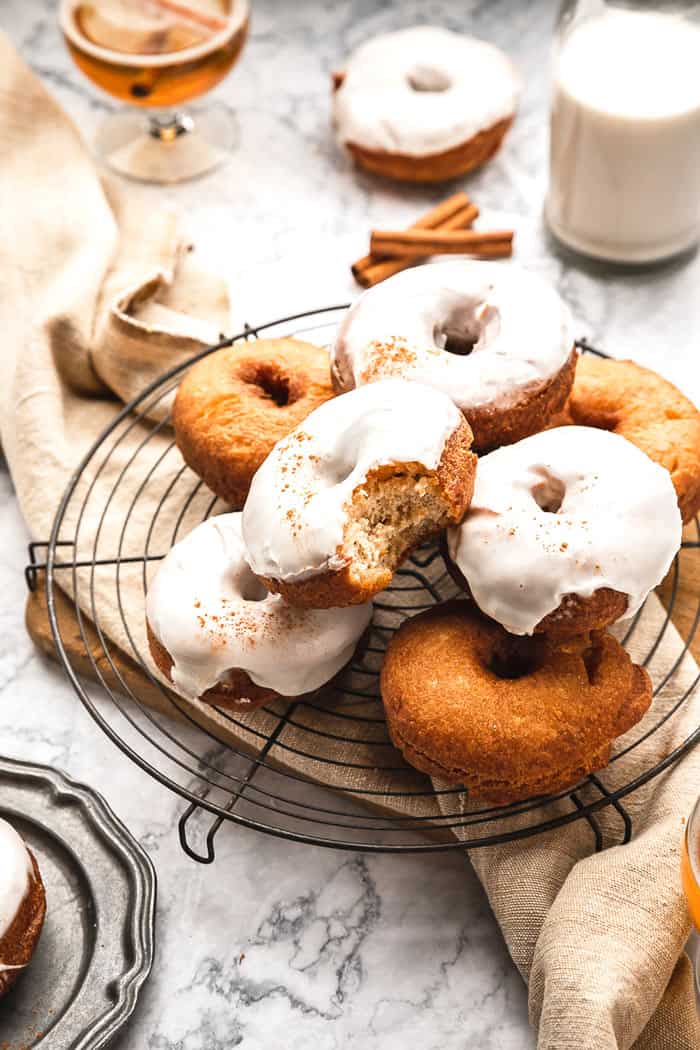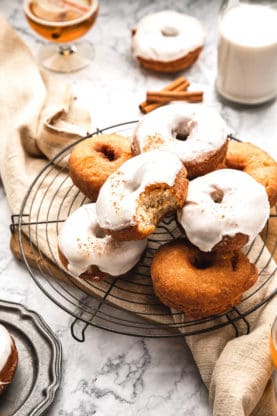 Today's recipe comes from no other than Geoffrey Zakarian's cookbook My Perfect Pantry! For those of you who aren't familiar with him, Geoffrey is a chef, restaurateur and cookbook author. Oh, you might even recognize him the next time you're tuned into Chopped or The Next Iron Chef on the Food Network!
I had the pleasure of meeting Geoffrey (and scoring a signed copy of his cookbook) at a Kohler Food and Wine Experience a few years back. It was a weekend I'll never forget! I have also been on set with him numerous times for Today Show and his show on Food Network, The Kitchen.
Once I got home, I couldn't wait to bust out this cookbook and try out a new recipe. I settled on these Apple Cider Donuts in Chef Zakarian's cookbook because they were truly calling my name. And if you listen close, you can hear it calling yours too!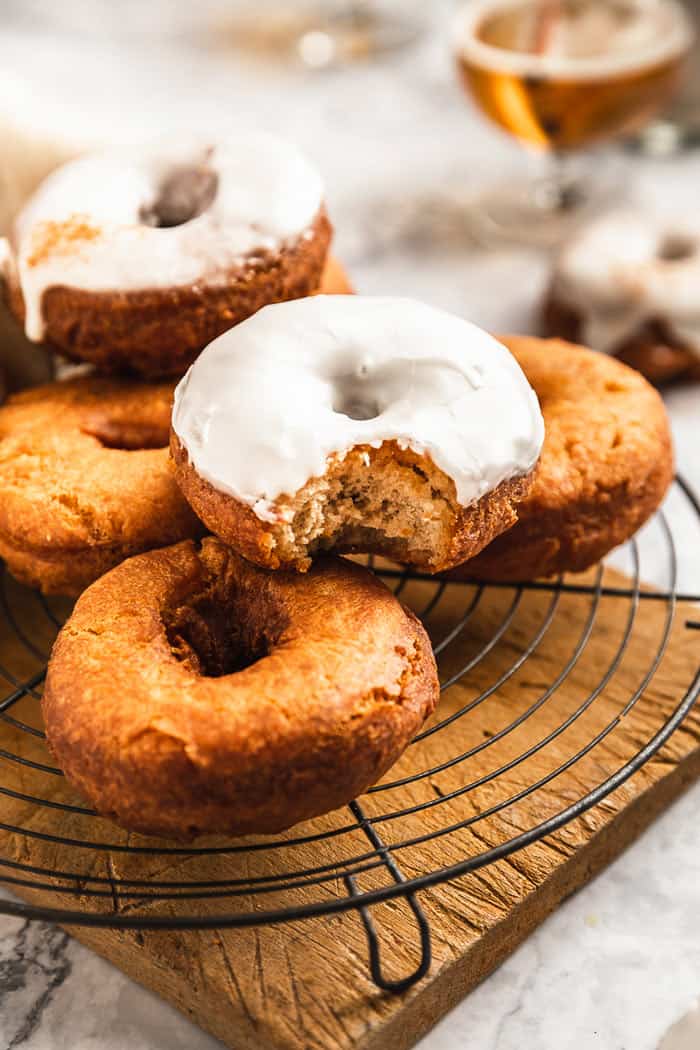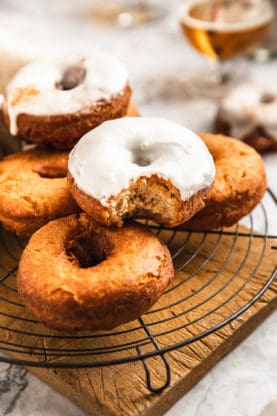 HOW TO MAKE PUMPKIN CIDER DONUTS
These Pumpkin Cider Donuts are Autumn-inspired rounds of pure heaven. Fried up golden brown, puffed to perfection and double-dipped in sugary glaze, these doughnuts couldn't get any tastier.
Though I made a couple changes, I pretty much stuck to the original recipe. Here are a few of the ingredients that really stood out to me:
Pumpkin Cider (or Apple Cider) – unpasteurized and unfiltered, cider is tangier and stronger than traditional juice. Both options are pungent and sweet, making them perfect for flavoring a dough. I prefer pumpkin over apple but either will be delicious.
Whole Milk (or Coconut Milk)- I've been mindful about limiting dairy in my diet so I chose to use coconut milk. Both choices add a liquid fat that adds necessary richness.
Apple Cider Vinegar– vinegar cuts through sugar and ensures a well-balanced doughnut.
Cinnamon & Nutmeg– together they create a warm, spiced flavoring that pairs perfectly with the pumpkin.
Vanilla– woodsy and floral, vanilla rounds out the recipe and adds aroma.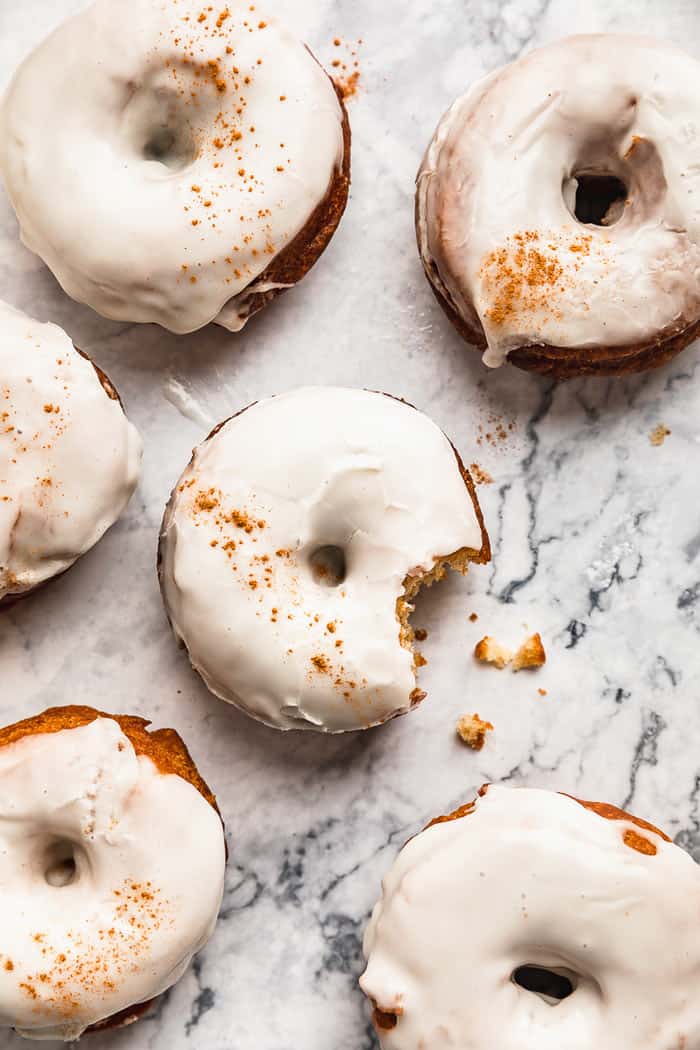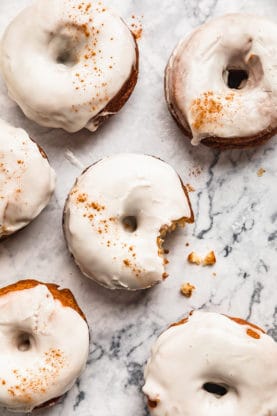 MAKE AHEAD PUMPKIN DONUTS
This recipe's dough can be made, covered and refrigerated for up to 24 hours. Alternatively, you can shape the doughnuts, line them on a parchment paper-lined baking sheet and refrigerate them overnight. Both work, but I find that pre-shaping them causes them to dry out quickly. Either way, be sure that the dough is tightly sealed!
CAN LEFTOVER FRIED CIDER DONUTS BE STORED?
Unfortunately, no. Once these doughnuts are fried and glazed, they need to be served immediately. Fried dough, of any kind, goes stale quickly and makes for a chewy, oily mess.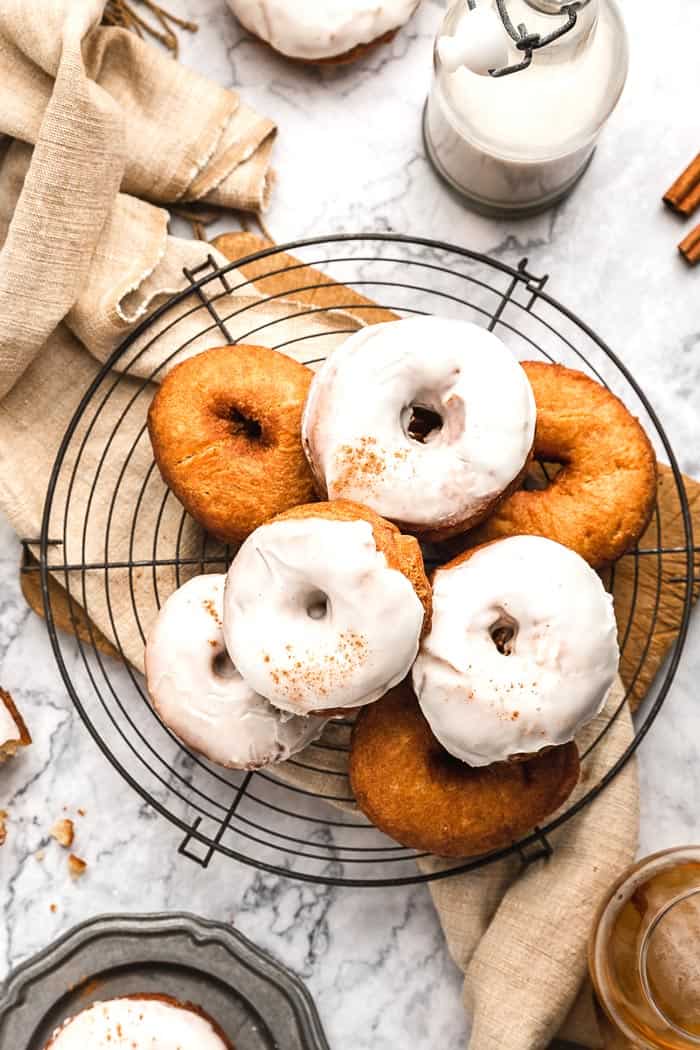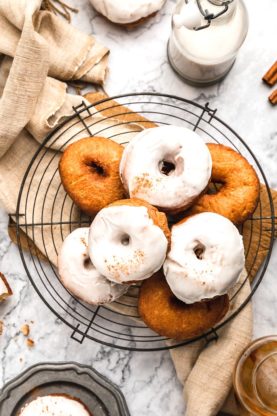 MORE GRANDBABY CAKES PUMPKIN PASTRIES
If you're not indulging in all things pumpkin, is it even really Fall? I think not. Make all your pumpkin-filled dreams come true by baking a few of my greatest winter squash recipes: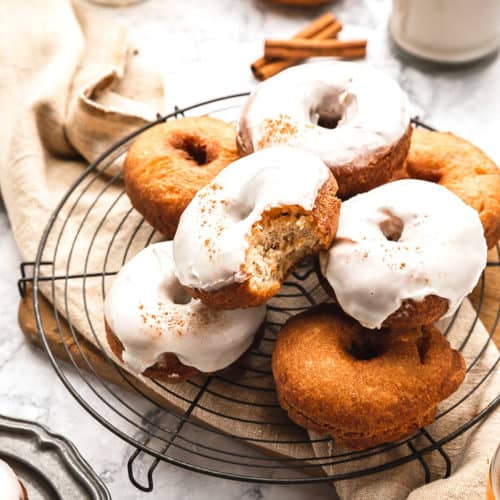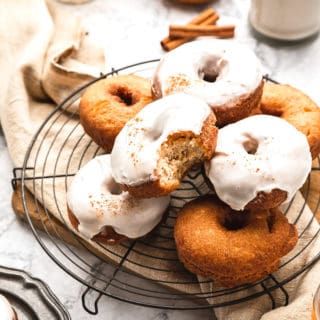 Pumpkin Cider Donuts
These Pumpkin Cider Donuts are made with earthy pumpkin cider and warm spices then, fried to perfection and freshly glazed! These doughnuts are tender, sweet and oh-so decadent!
Print
Pin
Rate
Ingredients
For the Doughnuts:
1

cup

pumpkin cider

originally apple cider

1/2

cup

whole milk

I used coconut milk

2

teaspoons

cider vinegar

4

cups

all-purpose flour

plus more for rolling

2

teaspoons

baking powder

1

teaspoon

baking soda

1/2

teaspoon

ground cinnamon

1/2

teaspoon

kosher salt

1/4

teaspoon

freshly grated nutmeg

1

cup

sugar

1/4

cup

shortening

2

large

eggs

1

teaspoon

pure vanilla extract

Canola oil

for frying
For Glaze:
2

cups

confectioner's sugar

sifted

2

tablespoons

cider vinegar

1

teaspoon

pure vanilla extract
Instructions
To make the doughnuts:
Bring the cider to a boil in a small saucepan and reduce to 1/2 cup. 3 to 4 minutes. Let cool.

In a liquid measuring cup, combine the milk and vinegar. Let sit 5 minutes to curdle into buttermilk, and stir. Sift together the flour, baking powder, baking soda, cinnamon, salt and nutmeg.

In the bowl of an electric mixer fitted with the paddle attachment, cream the sugar and shortening together on high speed for 1 minute. Reduce the speed to medium and add the eggs, 1 at a time, until incorporated, then mix in the vanilla. Add the buttermilk and cooled cider and mix until combined. Add the sifted flour mixture and mix on low just until a dough comes together. Chill the dough 30 minutes in the refrigerator.

When ready to fry, heat 2 inches of oil in a deep pot to 365 degrees. Roll half the dough on a floured work surface to about 3/4 inch thickness. Cut as many doughnuts as you can with a 3 1/2 to 4 inch cutter. Use a 1 inch cutter, or slightly smaller to make the doughnut holes. You should get 6 or 7 doughnuts from each half of the dough. Chill the first half of the doughnuts in the refrigerator while you roll out the second half.
To make the glaze:
In a small bowl, whisk together the confectioners' sugar, vinegar, vanilla, and 1 tablespoon water to make a thick glaze. You should be able to drizzle the glaze from a spoon. If its too thick add a little more water.

Fry the doughnuts in 2 batches until dark golden brown, about 2 minutes per side (a little less for the doughnut holes). Drain on paper towels and bring the oil back to 365 before frying the second batch. While the doughnuts are still warm, dip the surface of one side in the glaze. Let the glaze set with the glazed side up on a cooling rack for 5 to 10 minutes. These doughnuts are best served warm or at least within 1 to 2 hours of frying.
Notes
Feel free to replace pumpkin cider which isn't always so available with apple cider.
Nutrition
Calories:
310
kcal
|
Carbohydrates:
61
g
|
Protein:
4
g
|
Fat:
5
g
|
Saturated Fat:
1
g
|
Cholesterol:
27
mg
|
Sodium:
177
mg
|
Potassium:
134
mg
|
Fiber:
1
g
|
Sugar:
33
g
|
Vitamin A:
55
IU
|
Vitamin C:
0.2
mg
|
Calcium:
45
mg
|
Iron:
1.9
mg