Decadent puff-pastry pumpkin stuffed donuts filled with a pumpkin Butterfinger® cream and topped with a sweet chocolate glaze! These are fluffy and buttery with bursts of crisp, peanut-buttery candy pieces! If you love these, you will also love these Pumpkin Fritters, Pumpkin Cider Doughnuts and Brown Butter Butterfinger Cookies!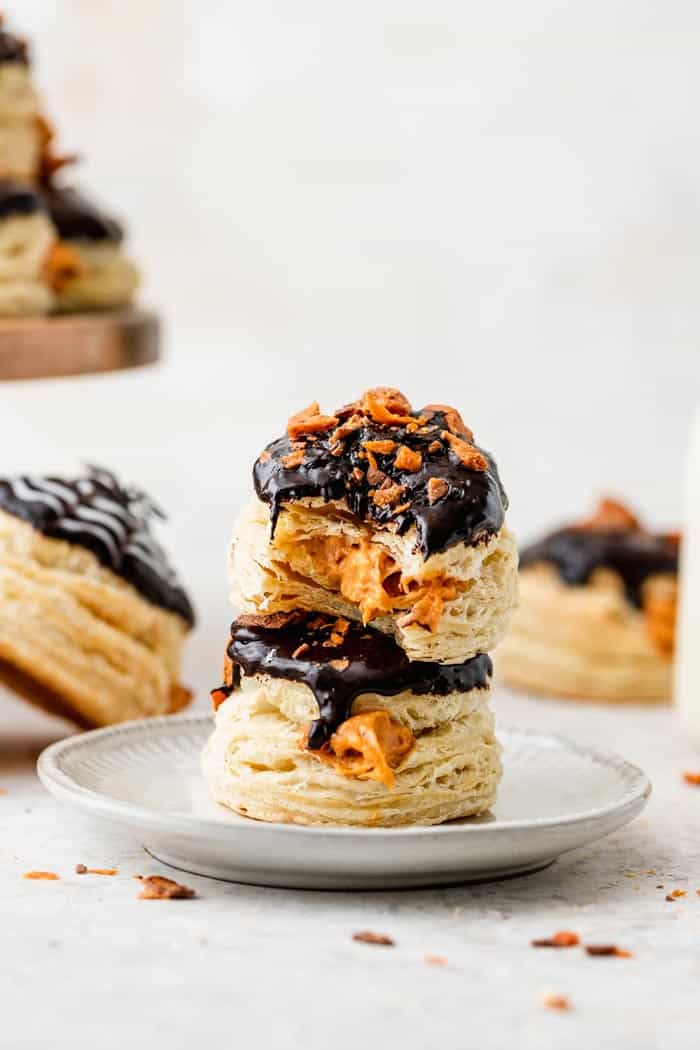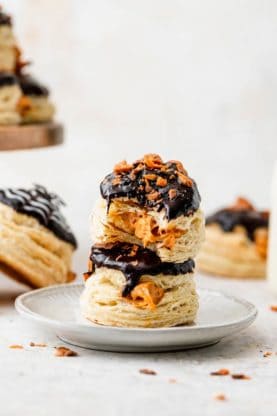 Disclosure: I partnered with Butterfinger® for this recipe post, but all opinions expressed here are my own. I am grateful for authentic partnerships like this.
Little known fact: I am a donut addict. Okay, maybe it's not that deep but I have been on a real donut kick lately! For the past few weekends I've been hit with a deep craving that just can't be ignored. So, I pull up a trusty delivery app and, just like that, I've got an assorted half dozen all to myself. Old Fashioned, Original Glaze, Double Chocolate, Strawberry Frosted, Apple Fritter, need I say more?
In celebration of my rediscovered love for rounds of tender, tasty dough, I decided to share a donut recipe with y'all! With the spooky season upon us, I thought it would be fun to create a donut inspired by one of my favorite childhood Halloween candies: Butterfinger. Buttery, flaky and downright delicious, Butterfingers make for the perfect addition to this recipe! With each bite of these bad boys you get a mouthful of buttery pastry layers, fudgy glaze, earthy pumpkin cream filling, and crisp, playful pieces of Butterfinger.
Dough-nut worry, you'll have a few of these for yourself soon enough. Let's get to work!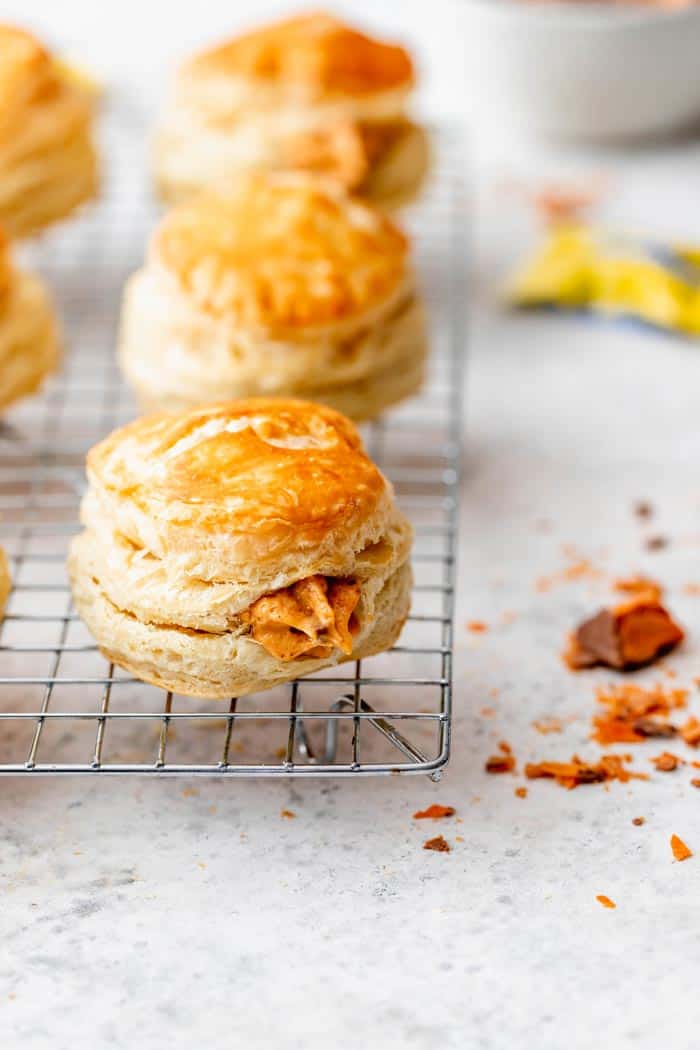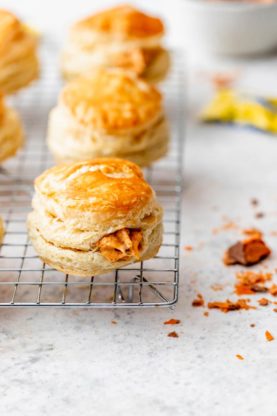 HOW TO MAKE BUTTERFINGER PUMPKIN STUFFED DONUTS
If you're intimidated by the idea of homemade donuts, don't be. I spent years avoiding donut recipes because they seemed to be my weakness. No matter how many times I tried, I just couldn't get it right. But I also realized that I went into each recipe anxious and having already decided that it wouldn't go well.
Eventually, I got fed up with my own pessimism so I scrapped all my previous attempts and started over. And y'all, here we are!
This recipe combines 5 components to create something sweet, fun, unique and undeniably delectable. Here's how the money gets made:
Pumpkin Cream Cheese Filling– made with earthy pumpkin, tangy cream cheese and warm spices, this filling is EPIC. Each spoonful is velvety, luscious and full of classic Fall flavors.
Butterfinger Pieces– the bar that started it all! Butterfingers are crispety, crunchety, peanut buttery and covered in a rich, chocolatey coating. During baking, butterfingers maintain their texture making for an intense, flavorful bite.
Puff Pastry Sheets- using store-bought pastry is an easy shortcut that doesn't require sacrificing quality. Flaky and buttery, puff pastry layers will imitate the "cronut" doughnut variation.
Chocolate Glaze– rich and fudgy, yet not overpowering, this subtle glaze is the cherry on top. The added layer of decadence helps to create balance and introduce a little extra sweetness.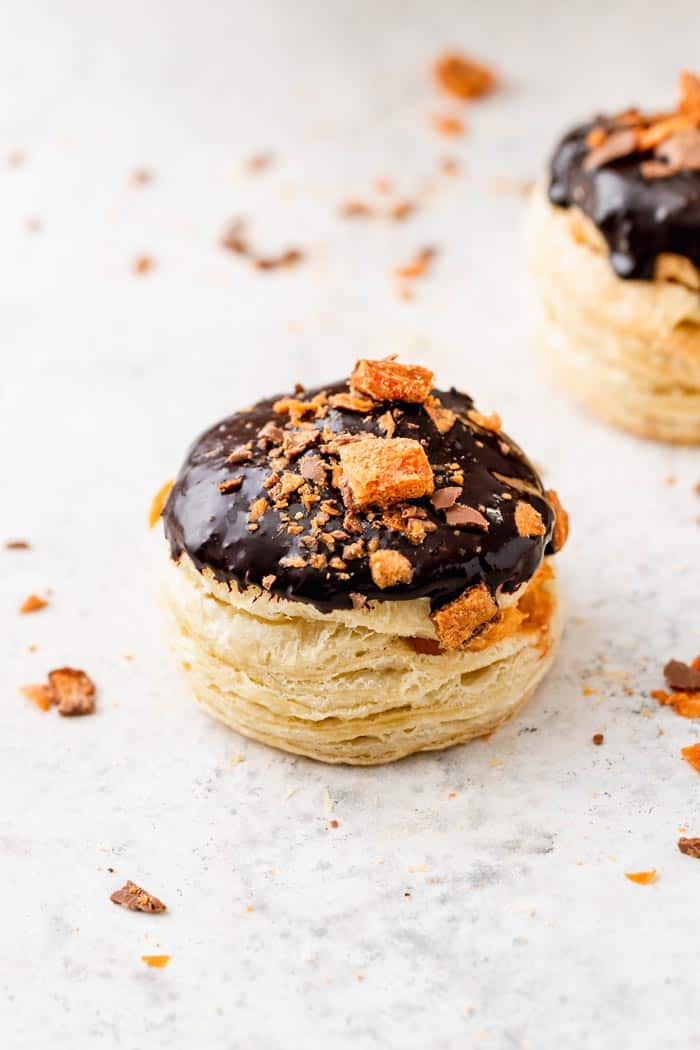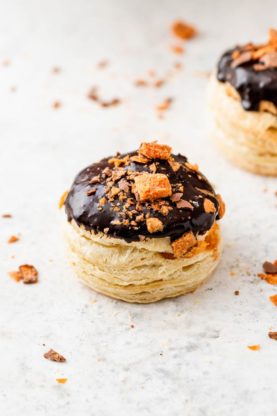 SHOULD I BAKE OR FRY?
This recipe offers instructions on how to both bake and fry these donuts! Both options are equally as appetizing but the textures are noticeably different. Fried donuts are light, fluffy and slightly crisp. Baked donuts are a bit more dense yet still airy and buttery. I adore these donuts, regardless of how they're made! If you're indecisive, I suggest splitting the batch and trying both! No matter what, you're guaranteed one super tasty bite.
CAN LEFTOVER PUMPKIN STUFFED DONUTS BE STORED?
You can never go wrong with a fresh donut, served straight out of the fryer or oven. But sometimes, we find ourselves with a few more than we know what to do with. The problem with eating donuts a few days later is that they quickly lose their flavor because they go stale.
Luckily, your freshly baked donuts can be kept for a couple days, but only if you're careful about how you store them. Place your leftovers in an airtight container or seal them inside storage bags, making sure to squeeze out as much air as possible. Because these donuts contain a cream filling, you'll need to store them in the refrigerator; they'll keep for up to 48 hours.
TIP: Want to enjoy your donuts like they literally just came from the bakery? All you need to do is take them out of the storage container and pop them in the microwave for 5 seconds. The donut will be soft, warm and perfectly moist.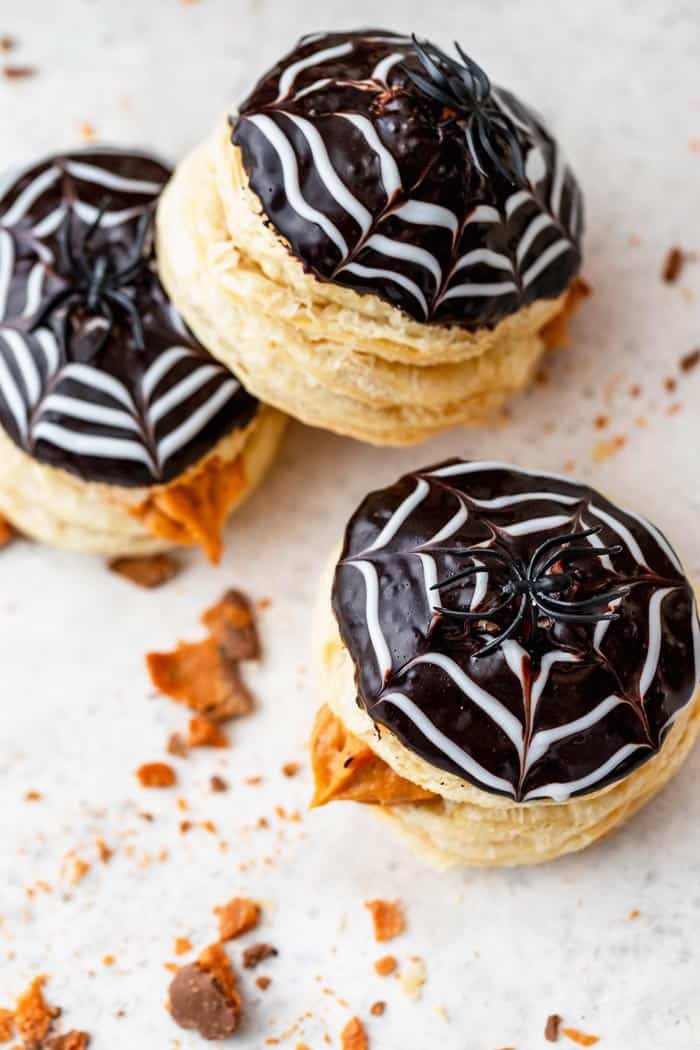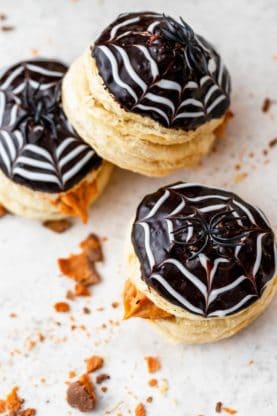 GRANDBABY CAKES' MOST DECADENT DONUTS
The best part about donuts? They can be served morning, noon and night and still be just as divinely delicious! Don't just my word for it though, test the theory for yourself by trying a few of my BEST donut recipes.
Check 'em out: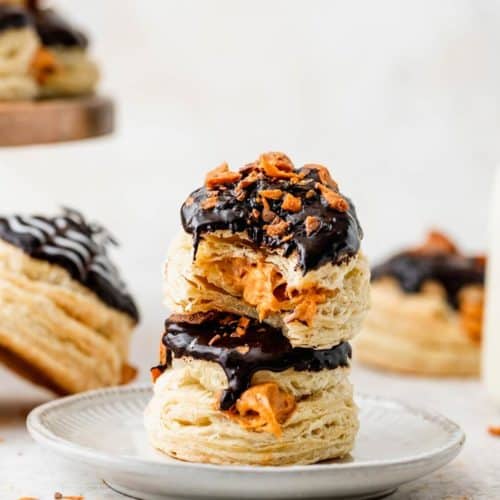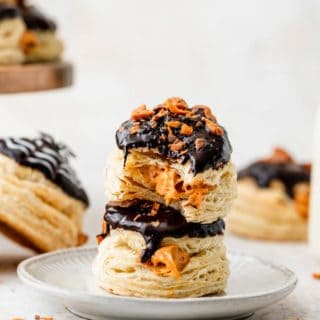 Butterfinger Pumpkin Stuffed Donuts
Decadent puff-pastry donuts stuffed with a pumpkin Butterfinger cream filling and topped with both a sweet chocolate glaze!
Print
Pin
Rate
Ingredients
For the Filling
8

oz

cream cheese

room temperature

1/4

cup

canned pumpkin

2

tbsp

heavy whipping cream

1/2

cup

powdered sugar

plus 1 tbsp

1

tsp

vanilla extract

3/4

tsp

ground cinnamon

1/4

tsp

ground nutmeg

1/3

cup

chopped Butterfinger

up to 1/2 cup
For the Donut
mild oil (if frying)

3

puff pastry sheets

thawed overnight in the refrigerator

1

large egg

1

tsp

water

1

cup

heavy whipping cream

3/4

cup

cocoa powder

sifted

1/4

cup

granulated sugar

1

tsp

vanilla extract
Instructions
For the Filling
In a medium bowl using an electric mixer, beat the cream cheese, canned pumpkin, heavy cream, sugar, vanilla and pumpkin spice until light and fluffy.

Next, using a spatula, fold in chopped Butterfinger®.

Add filling to a piping bag with a round tip and set aside in the refrigerator.
For the Donuts
In a small bowl, beat together the egg and water to use as an egg wash.

Lay out the first sheet of puff pastry. Brush one entire side with egg wash then lay the next layer on top, brush with egg wash and finally repeat with the third layer.

Punch out 9 circles using a 3 in. round cutter or the inside of a round glass to remove dough.
To Bake
Preheat your oven to 375 F degrees. Line a baking sheet with parchment paper.

Place the donuts onto the prepared baking sheet and bake for about 20 minutes or until golden brown.

Allow them to cool completely.
To Fry
Heat oil in a deep pot over medium-high heat until oil reaches 375 degrees.

Fry donuts, 2 at a time, for about 4-5 minutes before turning over. Fry the other side for another 2 minutes until golden and puffed. Drain on a paper towel and allow to cool completely.
For the Ganache and Filling the Donuts
In a saucepan, heat the cream, stirring frequently to avoid scorching, until it begins to simmer and is just about to boil (make sure it doesn't boil however).

Remove the cream from the heat and whisk in the cocoa powder, sugar, and vanilla until smooth. Let the mixture cool to your desired thickness.

Once donuts are at room temperature, Insert the tip of the filling piping bag into the side of donut at a slight angle and squeeze gently to fill. Repeat on the opposite side.

Dip the tops of donuts in ganache, top with chopped Butterfinger or make Spider Tops below.
Optional: To Make Spider Tops for Halloween
Use a small frosting tip (or a ziplock bag with a corner cut) to pipe two white circles with the white icing, and a dot in the center.

Starting at the center dot, use a toothpick to pull a straight line out to the edge of the donut. Repeat around the donut to make a spiderweb. Add a toy spider on top and repeat. Let stand until chocolate sets.
Notes
TIP: Want to enjoy your donuts like they literally just came from the bakery? All you need to do is take them out of the storage container and pop them in the microwave for 5 seconds. The donut will be soft, warm and perfectly moist.
Nutrition
Calories:
745
kcal
|
Carbohydrates:
61
g
|
Protein:
11
g
|
Fat:
53
g
|
Saturated Fat:
21
g
|
Cholesterol:
87
mg
|
Sodium:
320
mg
|
Potassium:
249
mg
|
Fiber:
4
g
|
Sugar:
17
g
|
Vitamin A:
1862
IU
|
Vitamin C:
1
mg
|
Calcium:
70
mg
|
Iron:
3
mg