This recipe for Smothered Steak is exactly what you need for an easy, yet impressive, weeknight dinner! Perfectly seared steaks swimming in a brown onion gravy make this dish the key to any southerner's heart. Served alongside Collard Greens, Cornbread, and Mashed Potatoes – Smothered Steak becomes a family favorite at the first bite!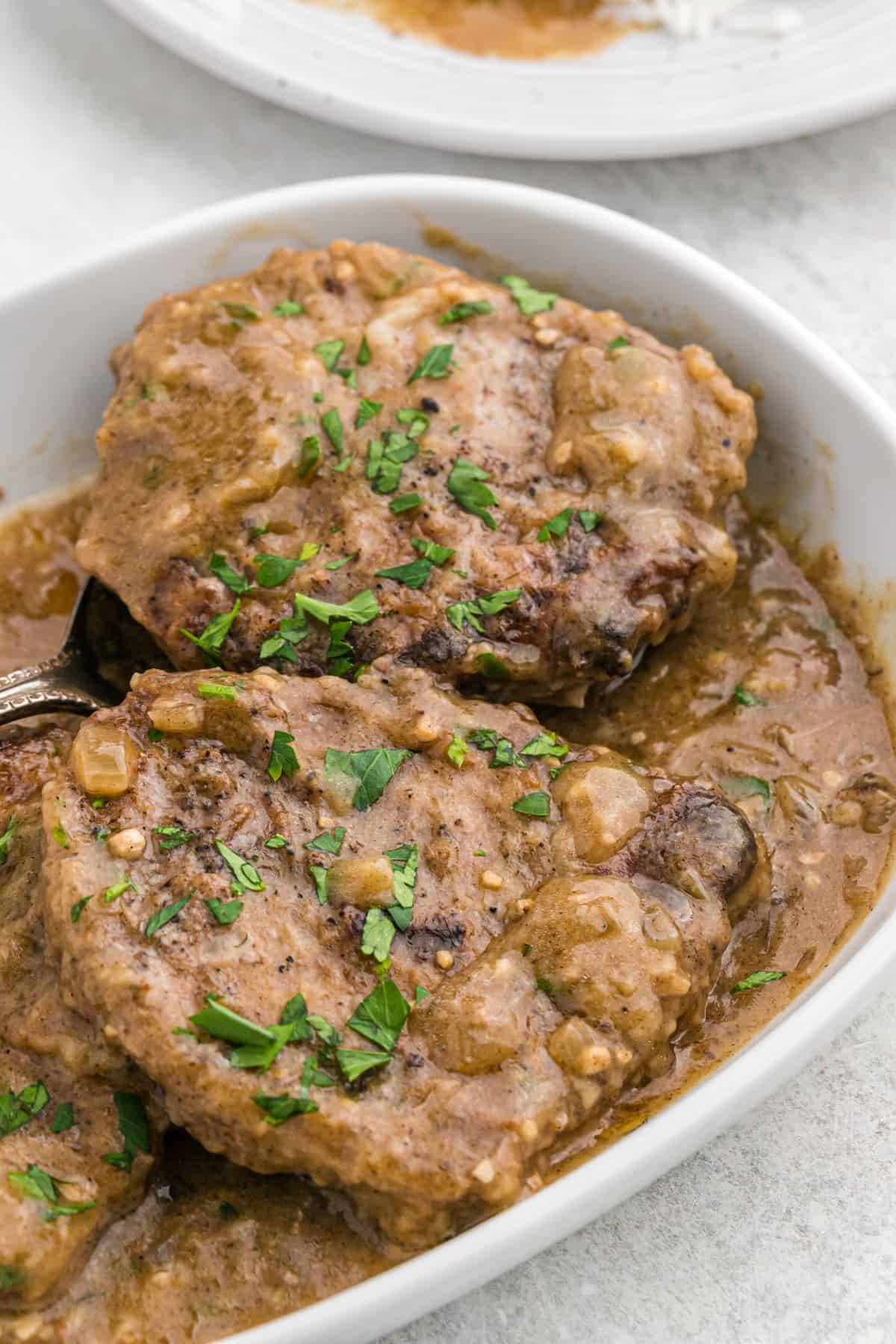 We're bringing comfort food to the next level! While I love fried chicken, chicken fried steak, and grilled ribeye as much as the next person, sometimes we need to take it up a notch – like on date night. And while a Skirt Steak with Chimichurri is a dish to fall in love over, there is some kind of beautiful pairing between an old love and classic comfort food. It's magical and effortless at the same time.
What is it?
A smothered steak recipe is one that uses a cheaper cut of steak that is then cooked and braised in its own liquid. That liquid is then made into a flavorful gravy that gives this steak a makeover. No longer the cut of meat to pass by at the grocery store. This will easily become the dish you dream about and wake up with the taste of thick, rich gravy in your mouth. And yes, I would absolutely serve this for breakfast or brunch alongside some eggs and sour cream biscuits! If you love the sound of smothered steak, be sure to check out my smothered pork chops as well!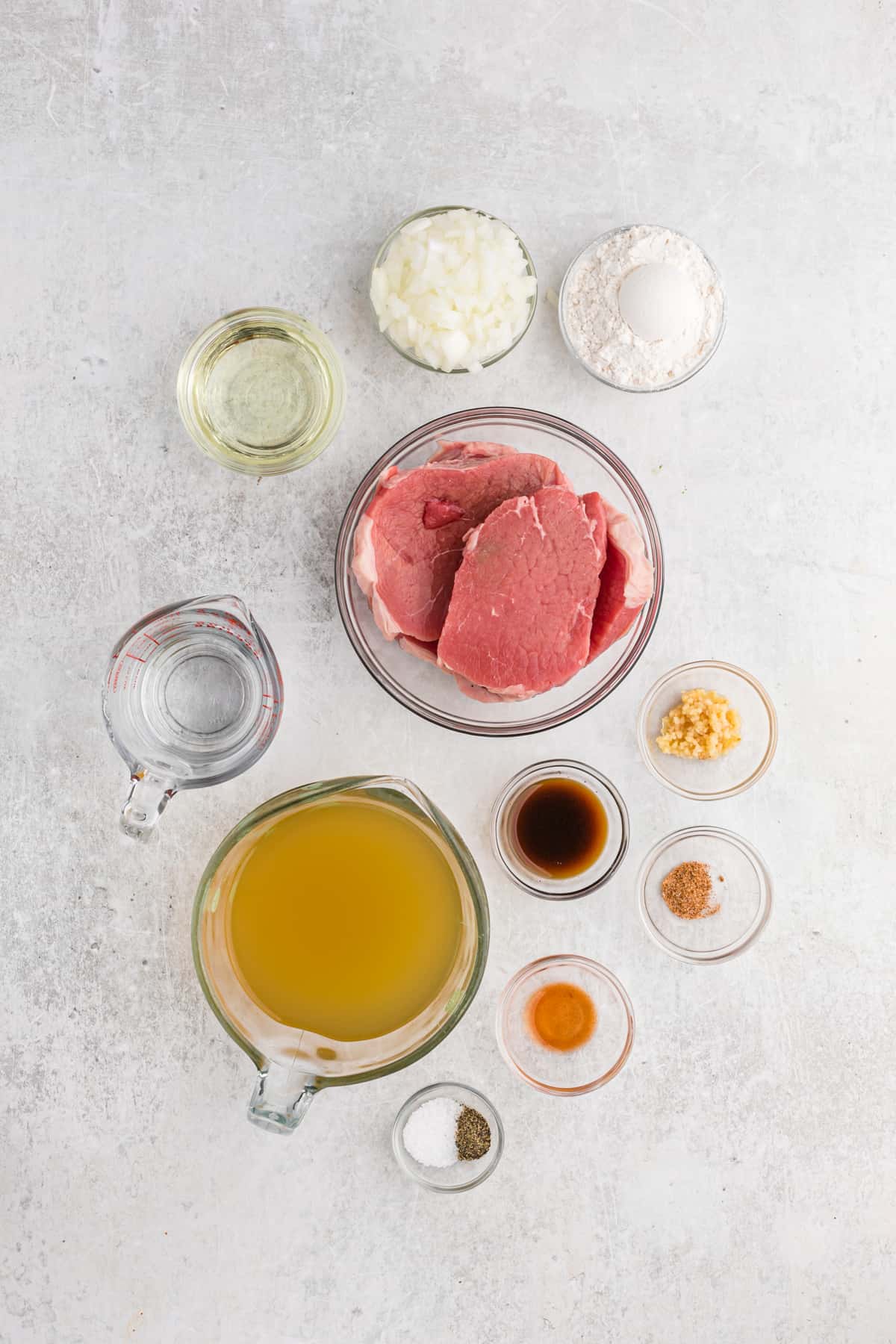 Steak and Gravy Ingredients
Steak – When choosing your steak, go for a top or bottom round. These are typically a cheaper cut of steak than your standard ribeye, and lends itself well to being breaded before fried if desired. You really can use any cut of steak but I suggest leaving the expensive ones for recipes where all the focus is on the steak itself vs a shared spotlight with the gravy.
Gravy – Mushrooms or onions create the perfect base for nearly any gravy imparting a lot of flavor with minimal ingredients. Add a few key ingredients such as creole seasoning, hot sauce, and of course minced garlic and you're well on your way to wanting to slather anything and everything with this sauce!
Stock or Broth – One key component to any gravy is the liquid you add. While you usually use milk or water as the base to a gravy, opting for broth elevates the flavor profile. A good rule of thumb is if you're making gravy for beef, use beef stock. If you're making gravy for chicken or pork, use chicken stock. For anything else or a dish that needs more of a mild flavor, opt for vegetable broth.
What's the difference between broth and stock? Stock is made from the bones of an animal whereas broth is typically made from the meat of an animal or raw vegetables. In most cases they can be used interchangeably. So if you have one and not the other for a recipe, feel free to use what you have on hand.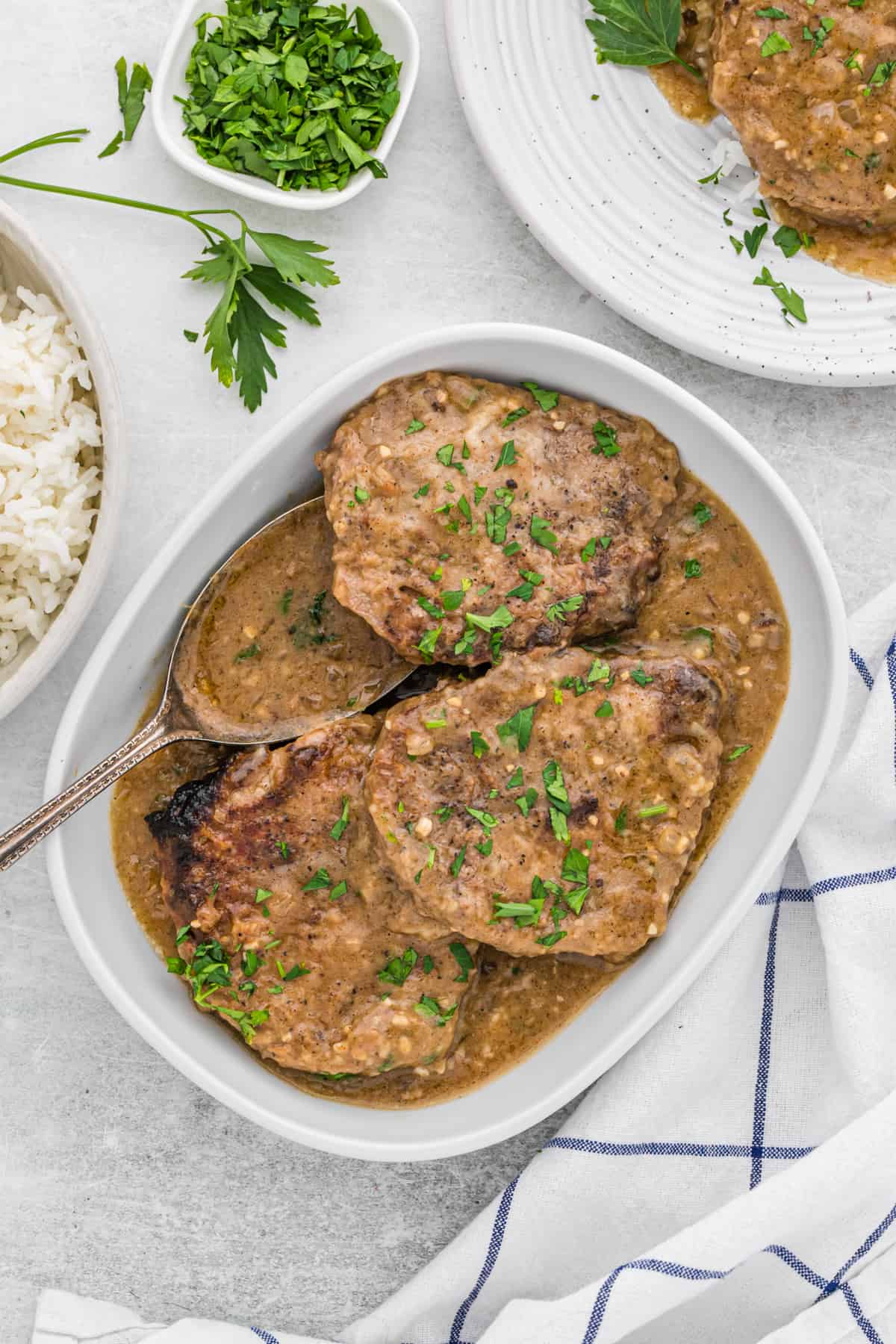 How to make smothered steak
Start with a cast iron skillet over medium heat. Season the steaks liberally with salt and pepper. Add the steaks to a rimmed plate with flour, dredging on all sides. Add the steaks to the oiled skillet and allow to sear on all sides before removing to a plate.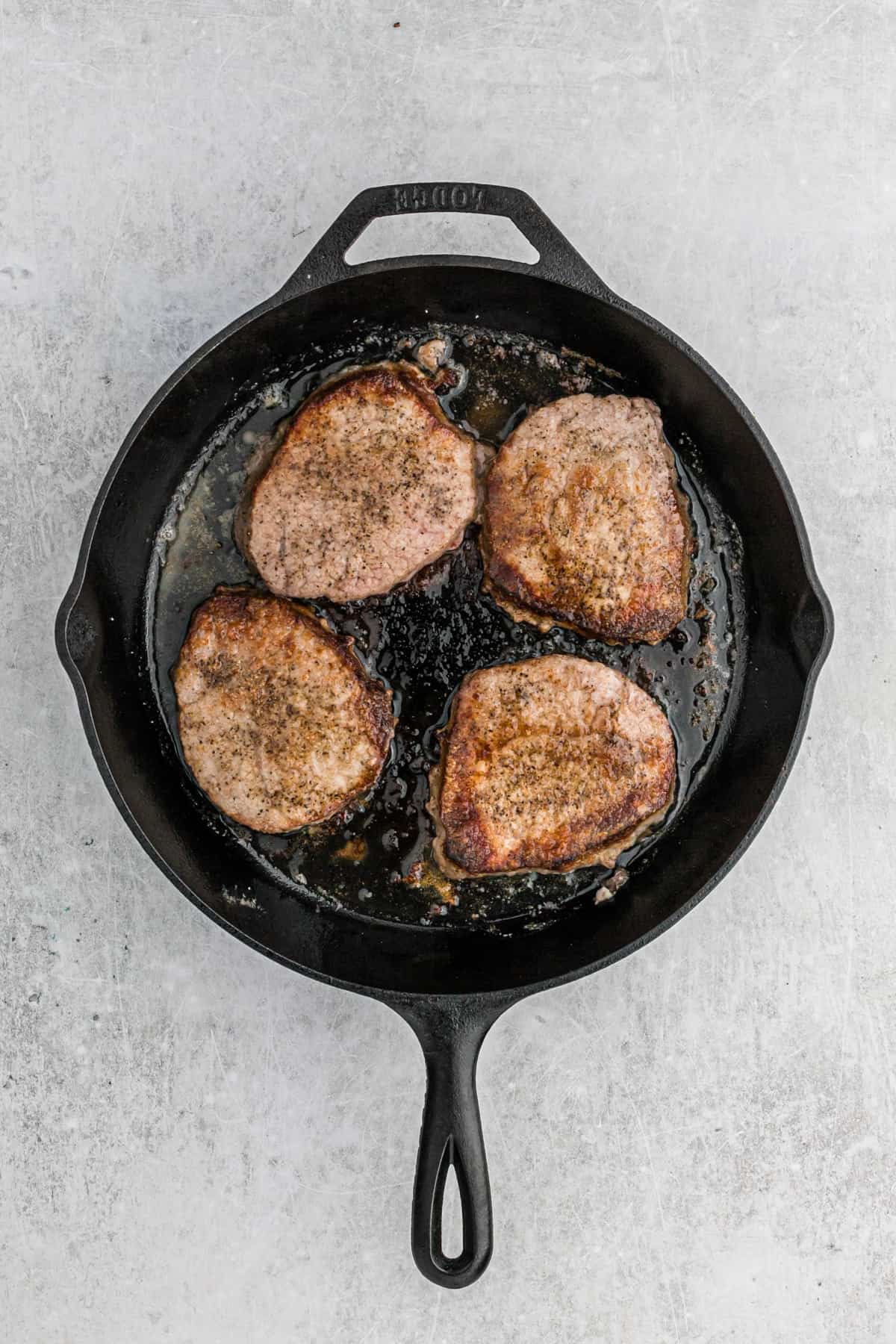 Add onion to the skillet and scrape the bottom, releasing all those brown bits of flavor. Saute the onions until they are golden and tender. Add the garlic, oil, and flour to the skillet and cook out until the flour becomes light brown in color. Slowly add in the beef broth and water, whisking all the while to loosen and create a roux.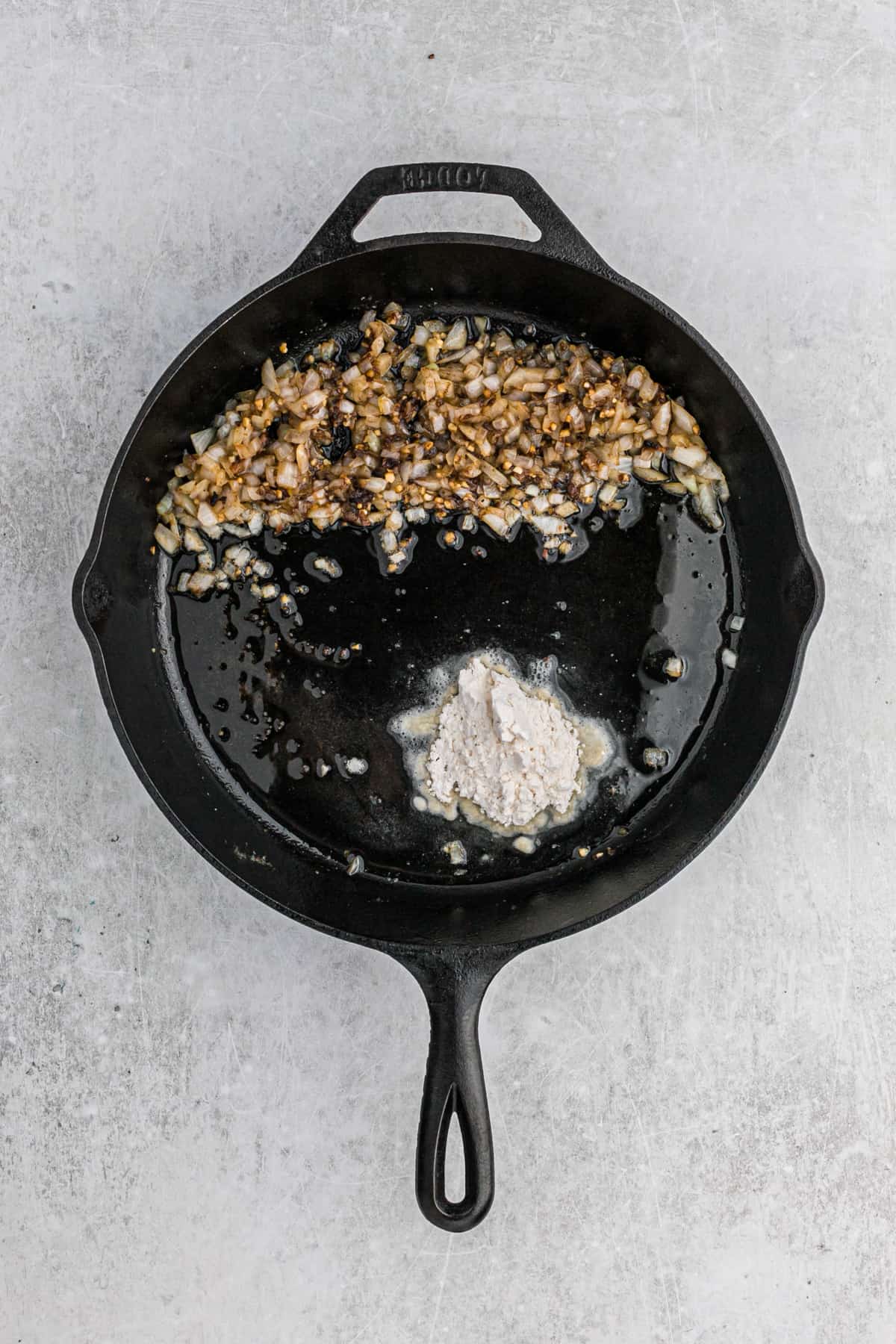 Increase to high heat adding in the remaining ingredients and bringing to a boil. Then reduce heat back to medium heat, adding the cuts of beef back to the skillet. Cover and cook until the steak is tender and the gravy coats the back of a spoon like a tablecloth in thickness.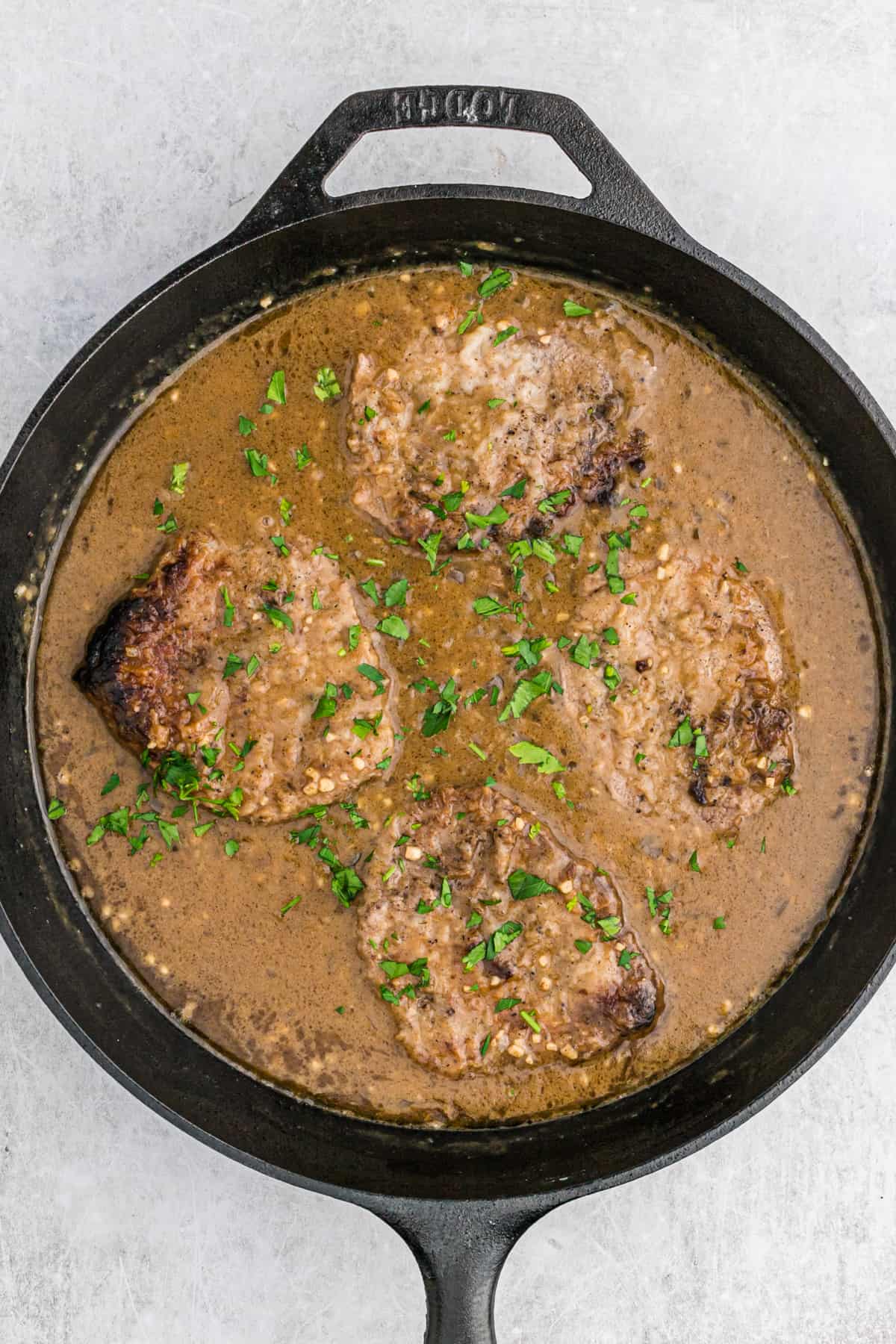 Tips for the perfect steak
Bring your steak to room temperature so it cooks evenly.
Use a hot cast iron skillet to create a solid sear on the steak without cooking it through. It should sizzle.
Season the steak itself liberally to enhance the crust.
Use a pair of tongs to lay the steak away from you, for safety.
Use an internal thermometer to gauge the temperature of your steak if you're new to cooking steak. Don't leave it to guessing. You'll be more likely to overcook the steak that way.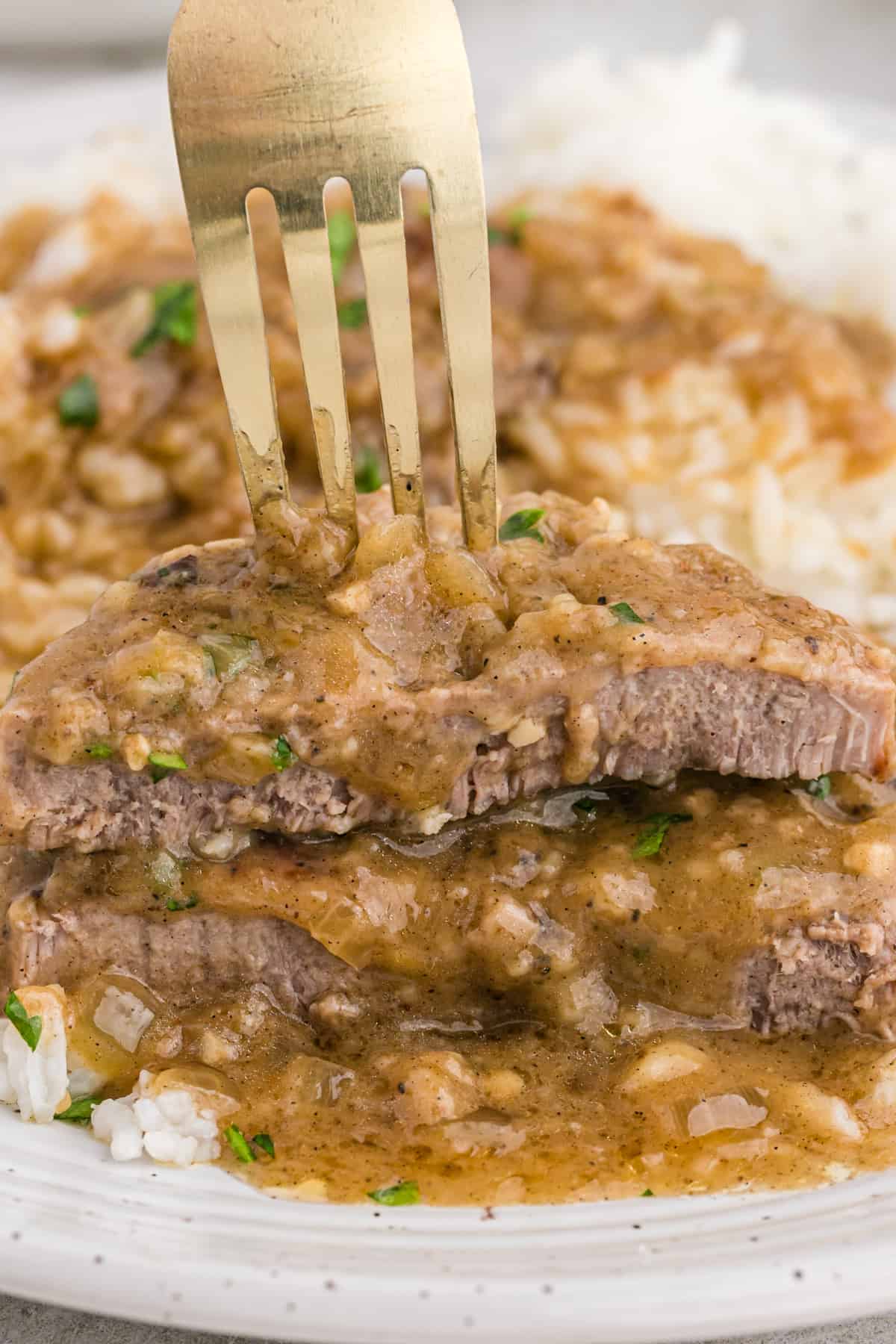 Storing & Reheating Leftovers
Allow the steak and gravy to come to room temperature, cooling completely. Then add it to an airtight container before placing it in the refrigerator for up to 5 days or the freezer for up to 3 months.
For best results, reheat in a skillet on the stovetop over medium-low heat with a touch of extra oil to keep from burning. You can also add a bit more stock to the skillet to loosen up the gravy as it reheats. It may have thickened upon standing in the refrigerator.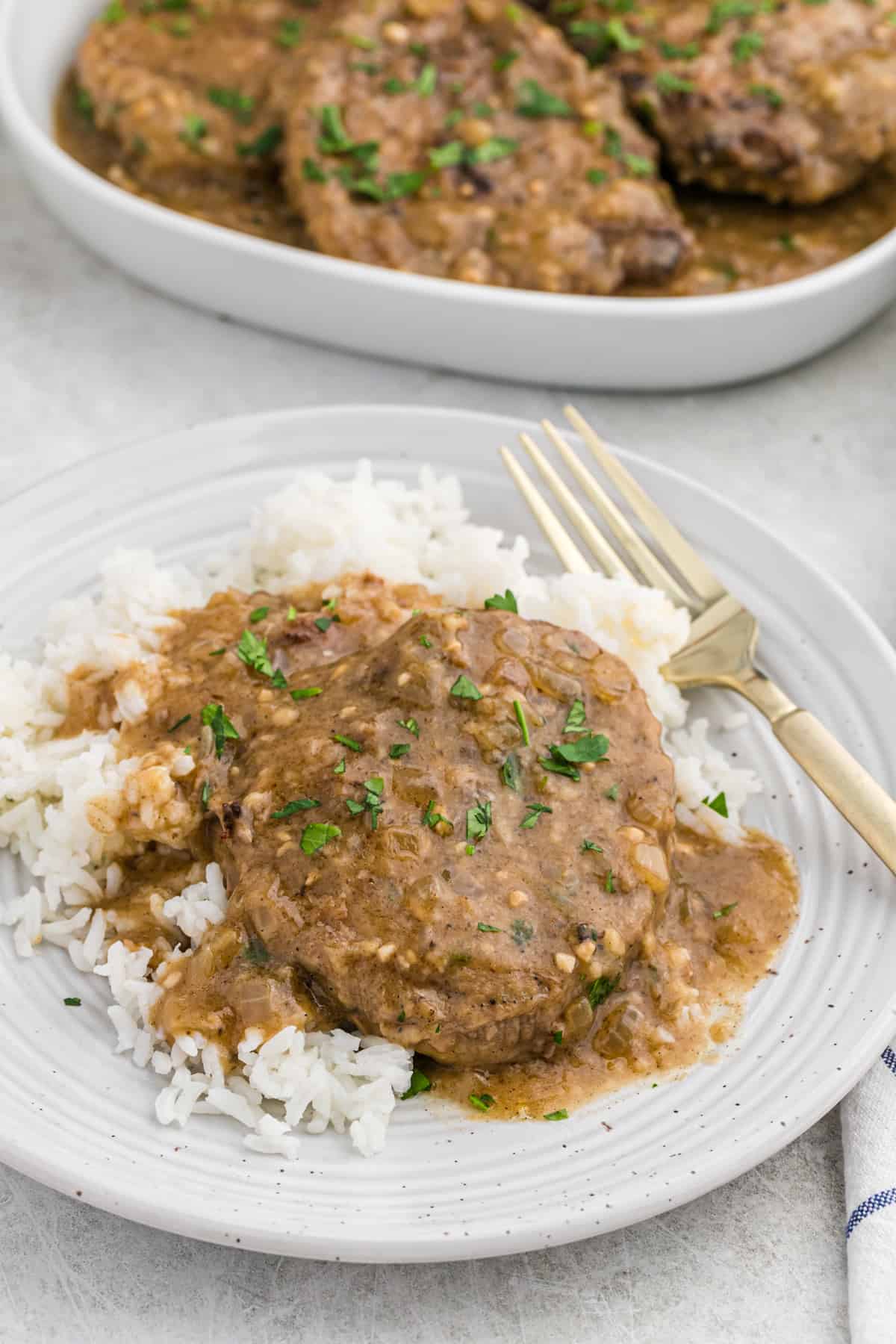 Classic Southern Dishes
If you're from the south, then you'll likely see this list and simply nod in agreement. These dishes are true-blue traditional southern-as-they-get dishes! If you're from, well anywhere else, be prepared to have your mind and taste buds blown! Southern cooking is full of flavor and fresh ingredients. Check out these dishes to add a bit of vibrant, full-bodied flavor to your next meal.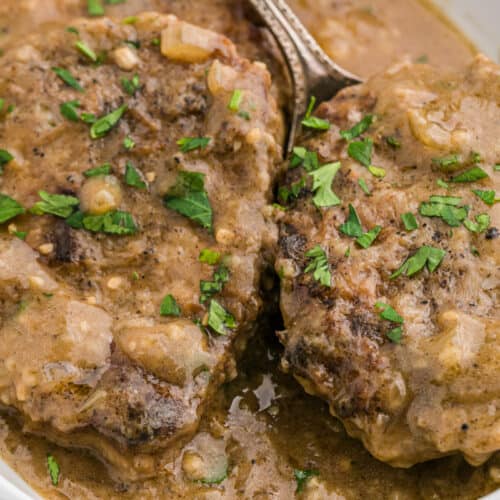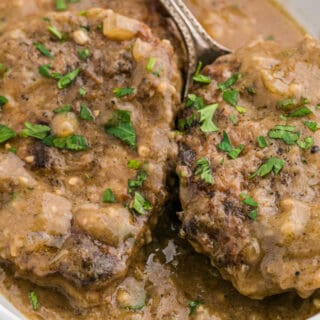 Southern Smothered Steak
Southern Smothered Chicken – Fried chicken breasts smothered in a traditional and delicious brown gravy with onions creates the perfect classic southern smothered chicken dish.
Print
Pin
Rate
Ingredients
5

tablespoons

vegetable or olive oil

separated

1

pound

round steaks

about 4

Salt and pepper

1/2

cup

all-purpose flour plus 2 tablespoons

separated

1

medium

onion

sliced

2

teaspoons

minced garlic

3

cups

beef stock

1/2

cup

water

1-2

tablespoons

worcestershire sauce

Rice for serving

Garnish: parsley
Instructions
Heat 4 tablespoons of oil in large pan over medium heat.

Season round steak with salt and pepper to taste.

Dredge steak lightly in 1/2 cup of flour then brown in skillet on both sides.

Once browned, remove steak from skillet and drain on paper towel. Set aside.

Next scrape the bottom of the pan getting up all of the browned bits.

Add the onion slices to the pan and saute' for about 5 minutes until a bit browned and tender.

Add minced garlic and saute' for 1 minute.

Next add 1 additional tablespoon of oil to skillet then sprinkle on remaining flour.

Allow the flour to brown then pour in beef stock and water and whisk together.

Turn heat to high to bring to a boil and season with salt and pepper.

Whisk in worcestershire sauce then turn heat down to medium.

Add back in steak and put lid on pan. Allow the sauce to thicken until it coats the back of a spoon and steak is nice and tender.

Serve over rice and garnish with parsley if you desire.
Notes
Make sure you really allow the gravy to thicken.  Take the time to let it simmer until it coats the back of a spoon.  It will also continue to thicken once the heat is turned off if it is resting.
Nutrition
Calories:
410
kcal
|
Carbohydrates:
18
g
|
Protein:
31
g
|
Fat:
23
g
|
Saturated Fat:
4
g
|
Polyunsaturated Fat:
2
g
|
Monounsaturated Fat:
15
g
|
Cholesterol:
71
mg
|
Sodium:
480
mg
|
Potassium:
829
mg
|
Fiber:
1
g
|
Sugar:
3
g
|
Vitamin A:
4
IU
|
Vitamin C:
3
mg
|
Calcium:
54
mg
|
Iron:
4
mg