Made with a simple homemade spice rub, rich butter, caramelized onions and a hint of maple essence, my Auntie Rose's Southern Baked Chicken recipe is tender, juicy and chock-full of flavor! Baked, not fried, this recipe is perfect for hands-off cooking! If you love this recipe, definitely try these Turkey Legs, Baked Turkey Wings, Creamy Garlic Chicken Skillet, Rosemary Chicken, Baked Garlic Chicken or this Brown Stew Chicken.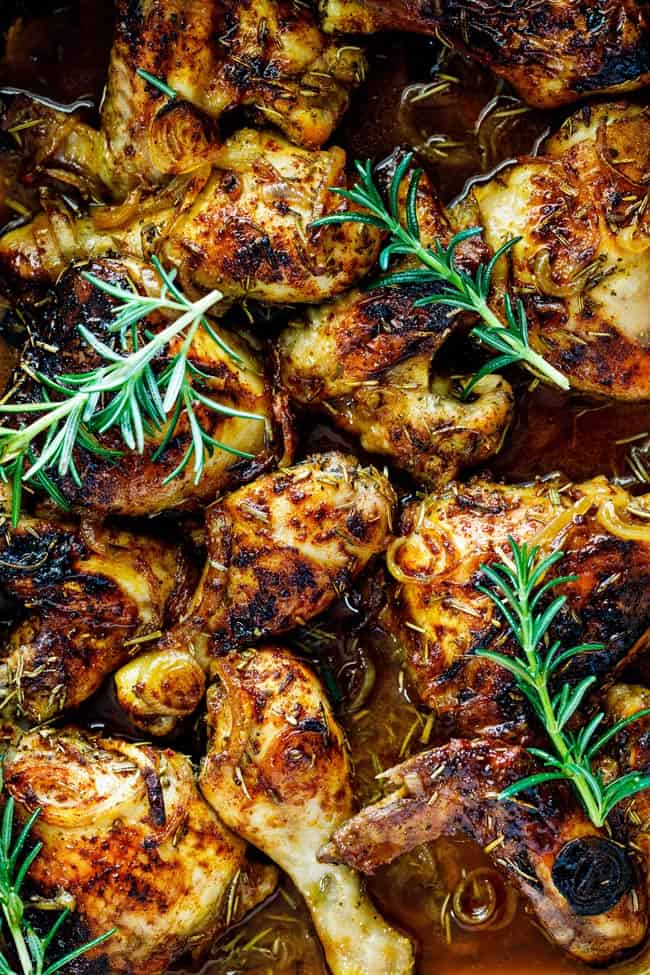 For those of you who don't know, Auntie Rose is one of the many women I was blessed to have been raised by. A master in the kitchen, Auntie Rose is someone I constantly look up to. Her creativity, energy and excitement continue to inspire me. I just love me some Auntie Rose!
Rose's recipe rolodex is a thing of beauty. From cornbread dressing to deviled eggs, Auntie Rose has perfected it all. On special occasions, or when I've buttered her up just enough, I can sneak a recipe or two out of the vault. Shhh, don't tell.
Today, I'm sharing one of my absolute favorite Auntie Rose specialties: Southern Baked Chicken. Trust me, one bite in and you'll swear that they flew straight down from heaven and onto the plate!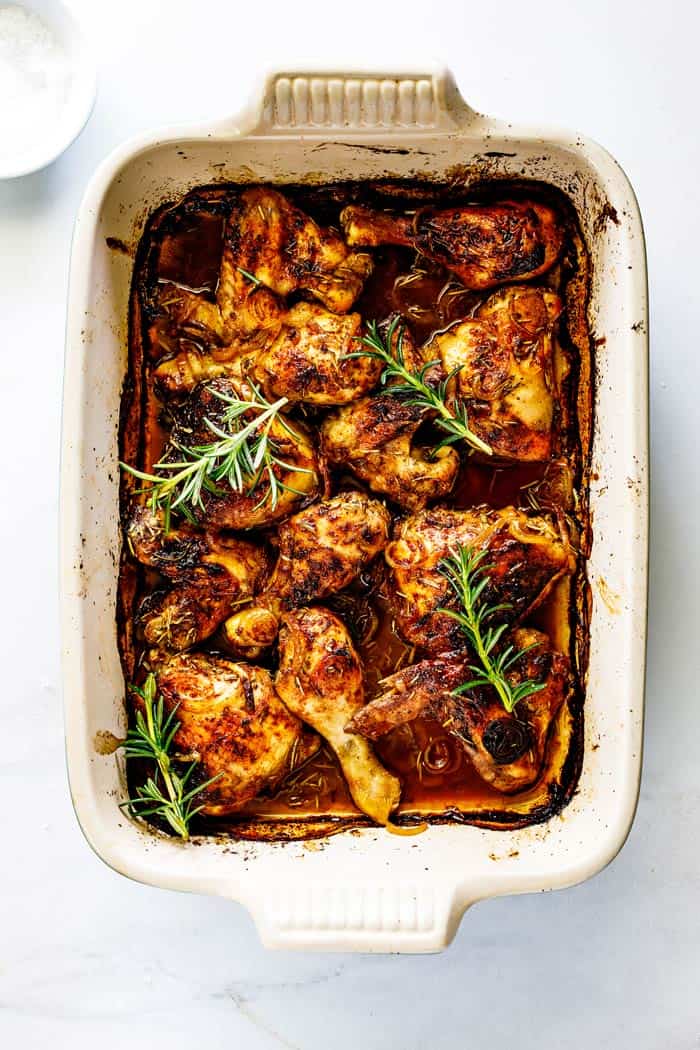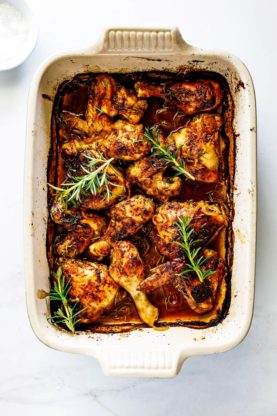 HOW TO MAKE SOUTHERN BAKED CHICKEN
Oh man, are you in for a treat today! I'm sure you've all had your share of wings but, let me tell you, you've never had 'em like this. Each bite is succulent and packed with well-balanced, full-bodied flavor. From the crisp, seasoned skin to the sticky sauce, these wings have got it all.
So, what're you waiting for? Let's make a shopping list: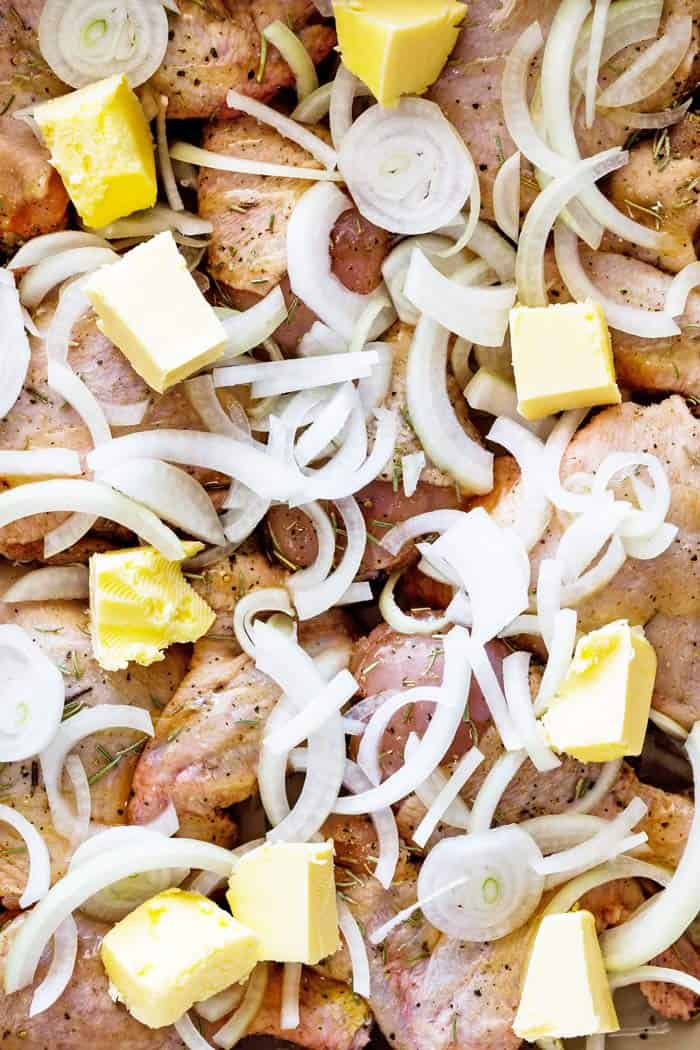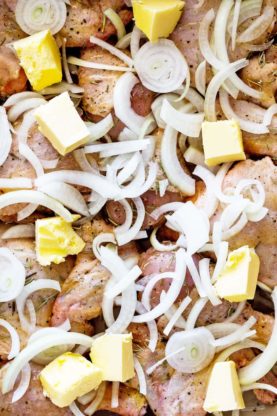 Fresh Chicken
Do your best to find the freshest chicken possible. Chicken wings should be pink, springy and without any mysterious odors. You can also use chicken legs or thighs. I do not recommend using chicken breasts. Because this recipe bakes super long, chicken breasts are prone to drying out.
Seasoned Salt
Lawry's has a designated, super special place in my heart. It's the perfect balance of salty and smoky.
Dried Rosemary
Peppery, woody, slightly bitter and aromatic, rosemary adds a beautifully herbaceous note to our chicken.
Onion & Garlic Powder
No good spice rub is without the sweet, caramelized and pungent tones of onion and garlic.
Black Pepper
A dash of sharp, pungent goodness. Need I say more?
Paprika
The best way to get that amazing smoky sweetness.
Maple Syrup
I suggest using a pure maple syrup to achieve that caramel-like, sticky-toffee flavor. The added liquid will also keep the wings moist while baking. Don't buy the fake pancake kind. You will want a pure grade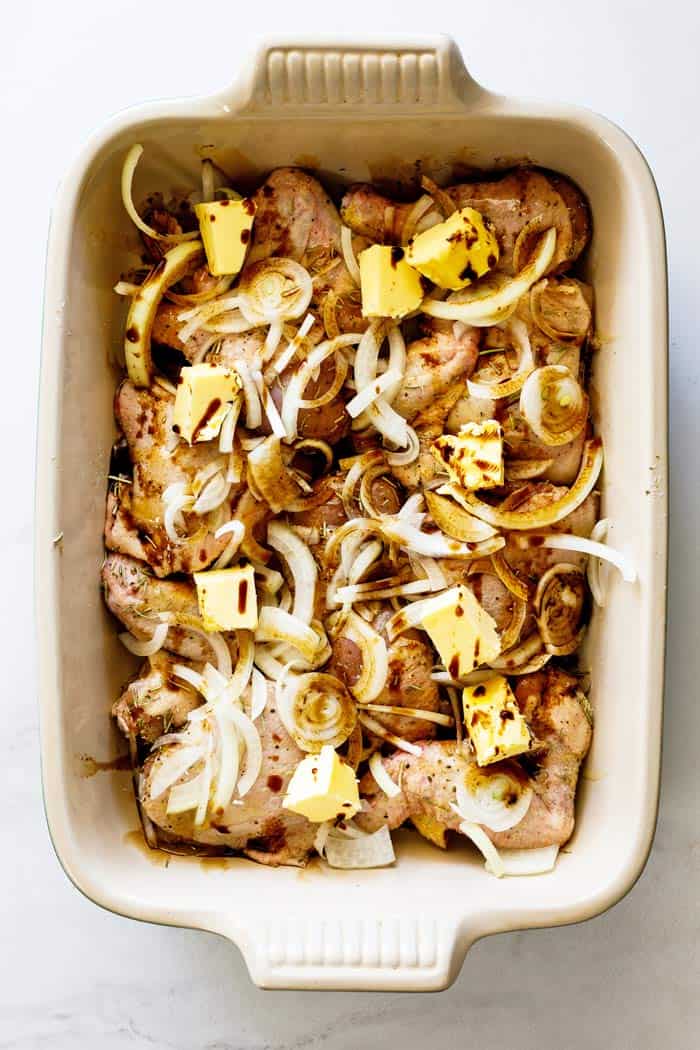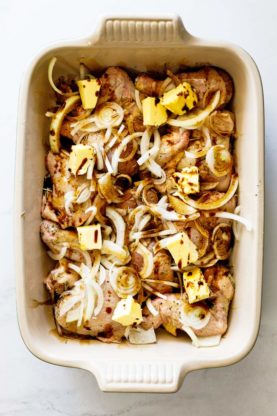 Onion
Acidity balances out the sugars from the maple syrup. Onions also release moisture that seeps into the chicken.
Sliced Salted Butter
The pads of butter will melt over the chicken and co-mingle with the syrup to create a sticky-sweet, buttery sauce.
Worcestershire Sauce
A bit of malted, vinegary flavor rounds out the dish and helps to develop color.
Rosemary Garnish (optional)
We all deserve something pretty, right? A little garnish takes presentation to a whole new level.
TIPS FOR BAKING CHICKEN
From a cook's perspective, I'm a big fan of Southern baked chicken. When it comes to recipes, easier preparation and quicker cleanup are the best advantages I could ask for! This recipe is the epitome of easy-to-make; you'll wonder how you went without it for this long.
But, before we get to eating, read up on a few of my BEST chicken baking tips:
Dry Them Well!
After removing the wings from their packaging and properly rinsing them, be sure to dry them REALLY well. Press firmly on the wings with paper towels to blot away excess moisture. The less moisture on the skin, the more crisp and flavorful your wings will be!
Turn While Baking
Be sure to set a timer and turn the chicken halfway through baking. Flipping the chicken will ensure even cooking and golden-brown skin all over!
Rotate the Baking Dish
In most cases, the back of the oven is often hotter than the front. To avoid uneven baking, it's important to not only turn the wings but also rotate the baking dish.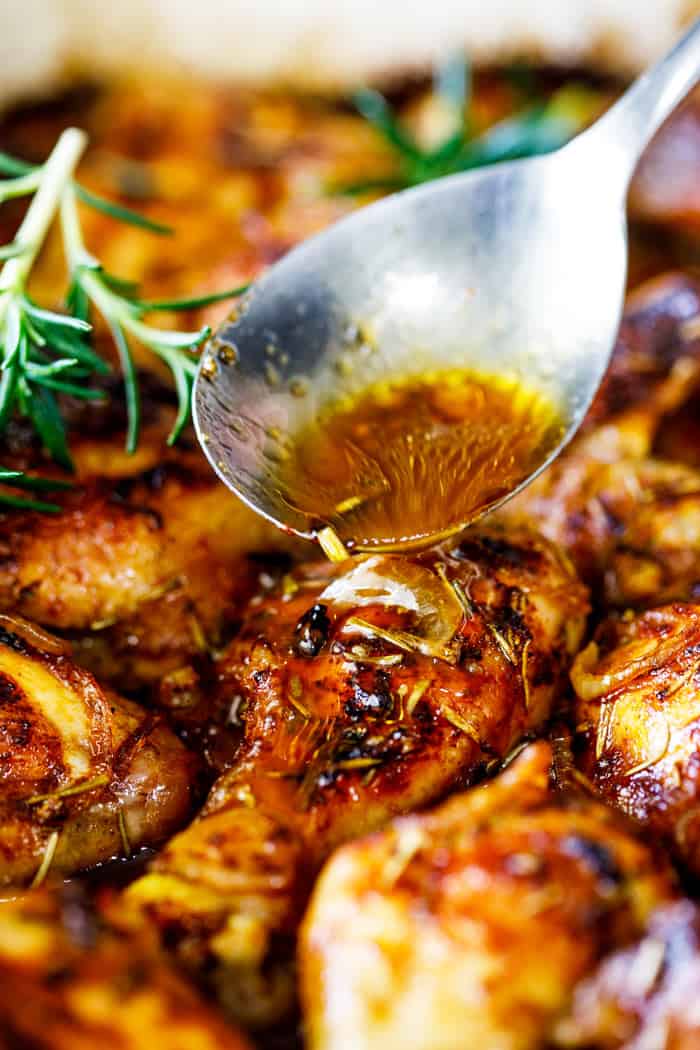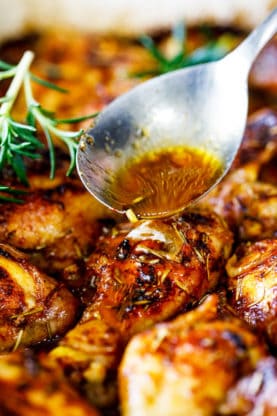 WHAT DO I SERVE WITH SOUTHERN BAKED CHICKEN?
I'd be lying if I said I've never eaten this chicken (straight off the pan) for dinner. Ain't no shame in my game y'all. But, if you're looking to create a classic Southern spread, look no further.
Here's how I like to serve 'em up:
Looking to keep it more simple? These chicken wings pair well with tossed salads, roasted vegetables or some grilled corn on the cob!
GRANDBABY CAKES' BEST CHICKEN RECIPES
Avoid that weeknight chicken rut by introducing a few of my tastiest recipes into your rotation. Seriously, ditch monotonous munching and get with one of these: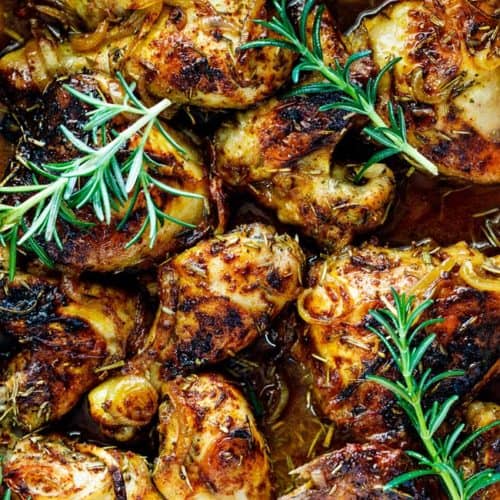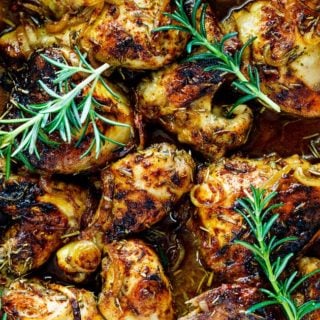 Southern Baked Chicken
Made with a simple homemade spice rub, rich butter, caramelized onions and a hint of maple essence, my Auntie Rose's Southern Baked Chicken recipe is tender, juicy and chock-full of flavor!
Print
Pin
Rate
Ingredients
2

tsp

seasoned salt

2

tsp

dried rosemary

2

tsp

garlic powder

2

tsp

onion powder

1

tsp

black pepper

4

lbs

fresh chicken wings

We use wings most of the time but you can also use legs or even thighs but not breasts

1/3

cup

pure maple syrup

1/2

cup

butter

in pats

1

large

onion

thinly sliced

2

tbsp

Worcestershire sauce

Paprika

to taste

Fresh rosemary

for garnish
Instructions
Dry chicken with paper towels and place in a large bowl. Set aside.

Whisk together seasoned salt, dried rosemary, garlic powder, onion powder and black pepper in a small bowl until combined.

Sprinkle and toss chicken with seasoning mix ensuring all of the chicken is completely covered. Cover and place chicken in the refrigerator and rest for 2-3 hours or even overnight.

When ready to bake, remove chicken from the fridge and allow it to come to room temperature for 30 minutes. Preheat the oven to 325 degrees. Add chicken to a 8x11 or 9x13" baking dish.

Use a spoon to drizzle chicken with maple syrup on both sides. Cover with onions then add pats of butter over the chicken. Lastly, drizzle Worcestershire sauce over the chicken. Cover the dish with foil and bake for 1 hour.

After an hour, turn the chicken over and evenly sprinkle the top of the chicken with paprika. Bake for an additional hour.

After the 2nd hour, turn the temperature to 350 degrees. Remove foil, sprinkle with more paprika if desired for color. Brown for 20-30 more minutes. Garnish with fresh rosemary and serve.
Notes
We usually use chicken wings for this recipe but you can also use legs or thighs.  Do NOT use chicken breasts because the long bake time does not tenderize them but dry them out.
Make sure to use pure maple syrup instead of the artificial pancake kind.
Nutrition
Calories:
378
kcal
|
Carbohydrates:
11
g
|
Protein:
20
g
|
Fat:
28
g
|
Saturated Fat:
11
g
|
Polyunsaturated Fat:
4
g
|
Monounsaturated Fat:
10
g
|
Trans Fat:
1
g
|
Cholesterol:
111
mg
|
Sodium:
729
mg
|
Potassium:
270
mg
|
Fiber:
0.5
g
|
Sugar:
8
g
|
Vitamin A:
483
IU
|
Vitamin C:
3
mg
|
Calcium:
41
mg
|
Iron:
1
mg