When I tell you that my "Melt-in-Your-Mouth Baked Turkey Wings" recipe will change the way you do family dinners (and maybe even Thanksgiving), believe me, it's a dinner changer. There's nothing quite like sitting down to a plate of tender, spice-infused turkey wings that have been lovingly seasoned and slow-baked in the oven to perfection. This dish is close to my heart. These turkey wings carry all the soul-warming goodness that reminds me of big family gatherings, without the fuss of a whole turkey.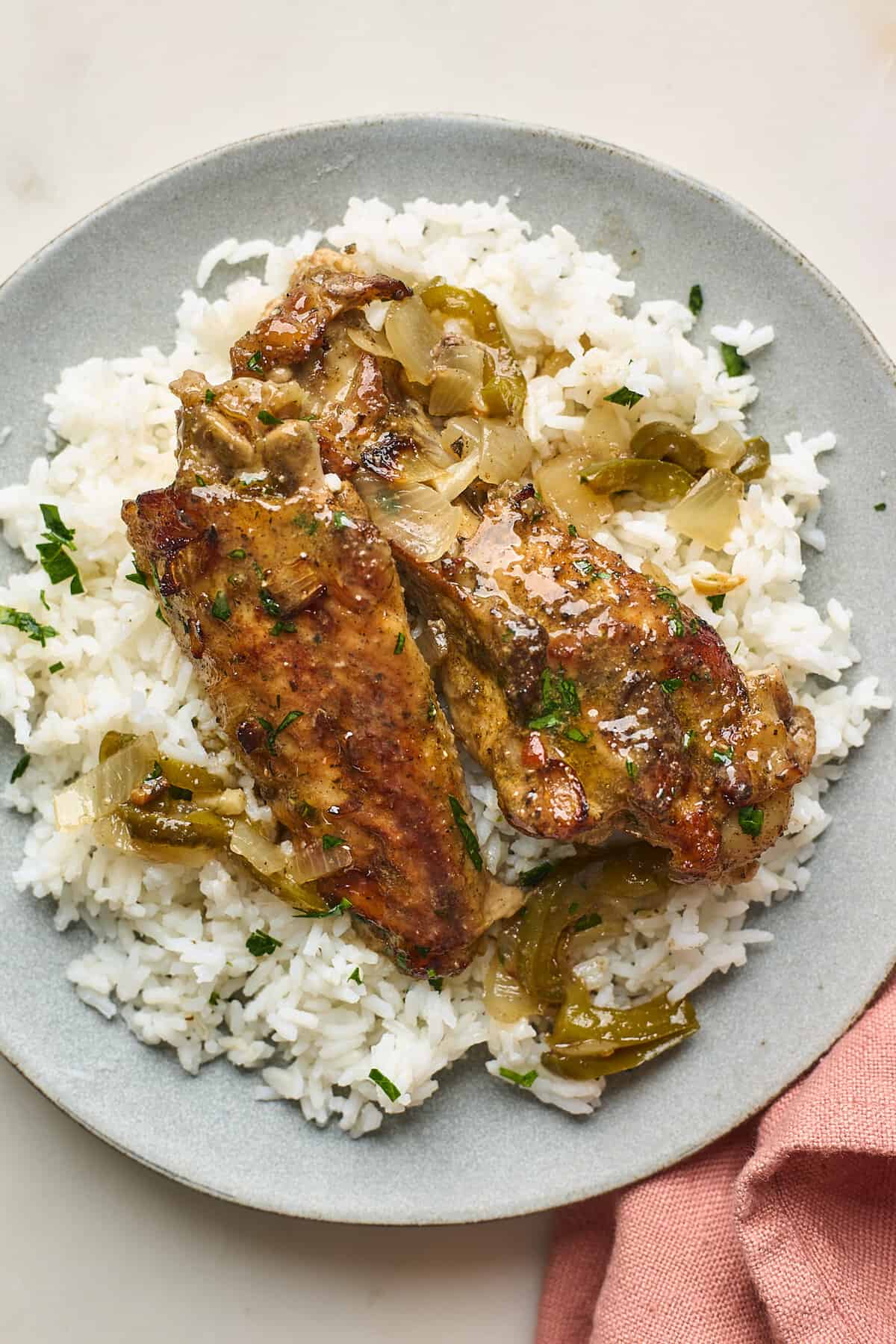 Now, I'm excited to share with you the secret to getting turkey wings just right—juicy on the inside with that crave-worthy crispy skin on the outside. And let's not forget about the sauce, y'all. It's the kind of rich, finger-licking goodness that has everyone asking for seconds. Whether you're hosting a special occasion or simply spicing up your weeknight meal routine, this easy turkey wing recipe is just what you need to bring everyone running to the table. So, roll up your sleeves, and let's get started. Trust and believe, you're in for a treat!
The Heart & Soul Of This Baked Turkey Wings Recipe
Cuisine Inspiration: Southern-American Primary
Cooking Method: Oven, Baking
Dietary Info: Gluten-Free Option, High-Protein
Key Flavor: Savory with a hint of Cajun spice
Skill Level: Intermediate
Sweet Spots
Comfort Food at Its Best: These turkey wings are seasoned and baked to tender perfection, reminiscent of Sunday dinners at grandma's.
A Flavorful Cajun Kick: With just the right amount of Cajun seasoning, each bite is infused with a warmth that is both invigorating and deeply satisfying.
Easy to Customize: Whether you're a fan of extra spice or prefer a milder taste, the recipe is a breeze to adjust to suit your flavor preferences.
Perfect for Meal Prep: These wings keep well in the fridge or freezer, making them ideal for preparing meals in advance.
Crowd-Pleaser: Designed to delight, this dish is a hit at gatherings, ensuring everyone leaves the table with a full belly and a happy heart.
Ingredients
Using seasonings you likely have on hand and fresh ingredients you'll be in for a flavorsome dinner in no time.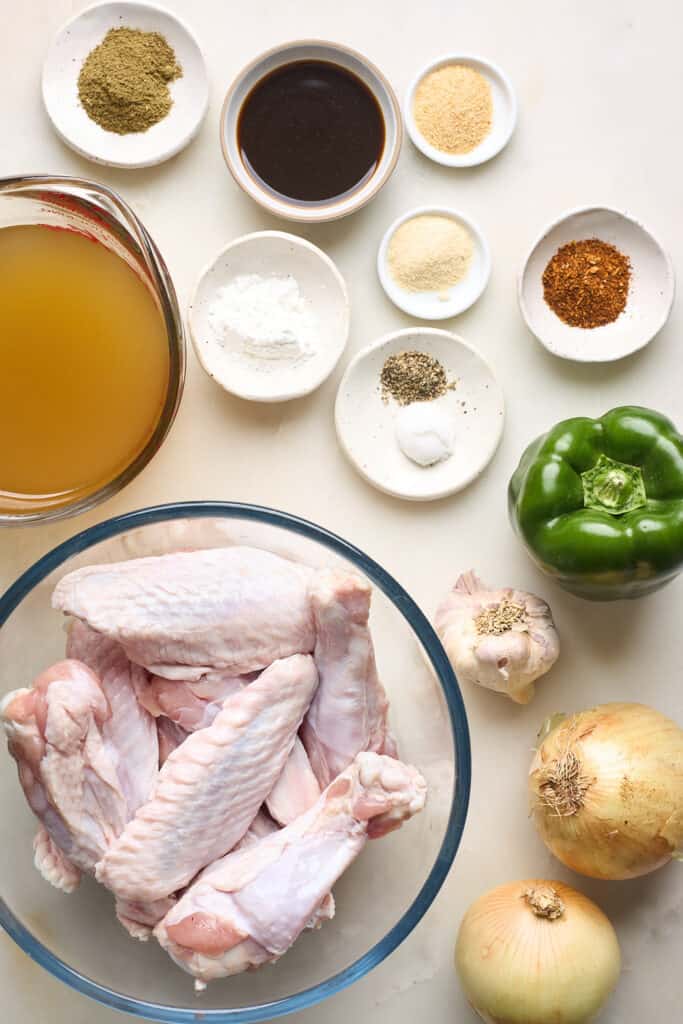 Turkey wings: Roughly 3 1/2 pounds of turkey wings, or a package of 4 whole wings.
Seasonings/Turkey Rub: For this recipe, we'll use a combination of poultry seasoning, cajun seasoning, garlic powder, onion powder, salt, and ground black pepper to taste.
Onions: Sweet or Vidalia onions work best.
Green bell pepper: Gives color and crunch to this dish.
Garlic: Minced garlic works great in place of whole garlic cloves.
Chicken stock: Homemade chicken stock, canned or boxed chicken broth works great. Turkey stock is another great option.
Worcestershire sauce: Adds another depth of umami flavor.
Cornstarch: Aids in creating a thick stock that will stick nicely onto the turkey wings.
How to choose and prepare turkey wings
Your local butcher or grocery store should have frozen or fresh turkey wings available. Avoid purchasing smoked turkey wings, as these are already cooked.
4 whole turkey wings were used to prepare our dish. Typically when purchasing whole wings, the wing tip has been removed. If your package of turkey wings has wing tips you can cut them off and freeze them.
To prepare turkey wing for this recipe, cut them between the joints to separate them. Rinse, then pat them dry. The process of patting them dry helps our delicious spice blend stick to the turkey skin.
Parts of a turkey wing
Full wing: A full turkey wing includes all of its parts and hasn't been separated. You can buy packaged full turkey wings. Similar in shape to chicken wings, just much larger.
Drummette: Similar to a chicken drumstick, but larger depending on the size of the turkey.
Middle wing: This section is flatter, and located between the drummette and wing tip. While it's part of the wing, it's sometimes called the wing. If you're ordering wings at a restaurant, this is what you'll get.
Wing tip: This part of the turkey wing may or may not be part of the one you buy. They don't contain much meat, so the butcher will likely cut this piece off. If your portion comes with a wing tip don't throw it away, freeze it! They add lots of flavor to soups and stocks.
How to make baked turkey wings
Rinse turkey wings, add to a large roasting pan or casserole dish, and pat dry.
Add the poultry seasoning, mixture to the turkey wings and toss until they are well coated. Let sit in the fridge to marinate.
After letting the dry rub do it's magic, top the turkey wings with the onion, green peppers, and garlic then pour the stock and Worcestershire on top.
Cover and bake until tender then remove the foil and brown to get that crispy skin.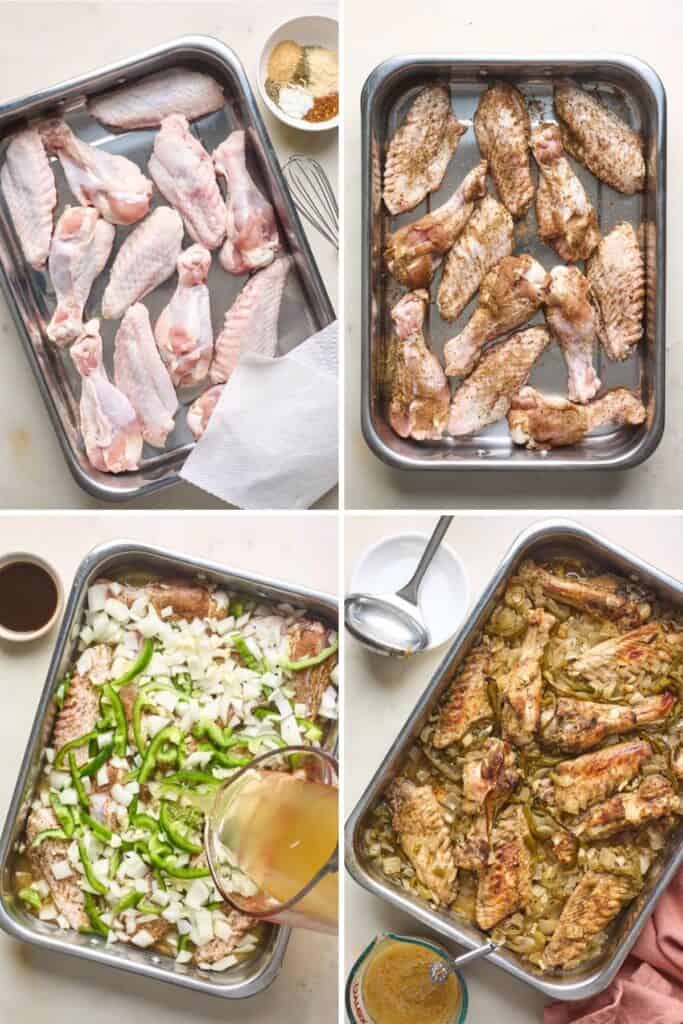 Remove a cup of sauce from the bottom of the wings and stir with cornstarch. Then add back in the pan, and get ready to try not to lick the plate!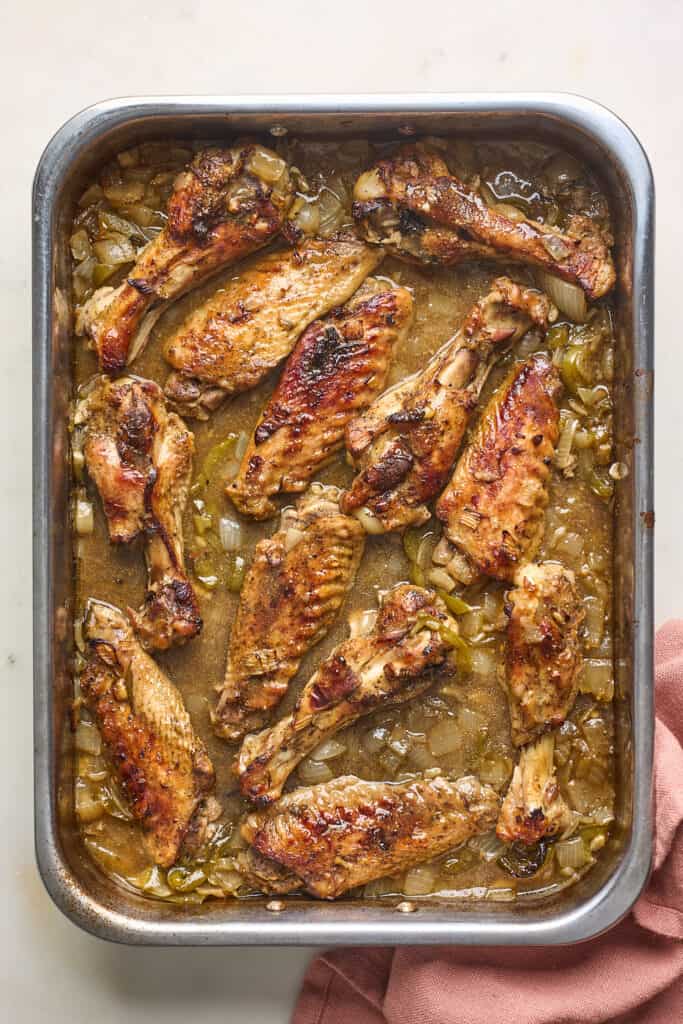 Tips For Making The Best Gobbling Good Turkey Wings
Transform your turkey wings into a talked-about masterpiece with these tried-and-true tips:
Marination Magic: Give those wings a good rub-down with your spices. The secret to flavor that goes beyond the surface lies in letting those wings marinate. The longer, the better – a minimum of an hour will do, but overnight is where the magic happens.
Room Temperature Rule: Never rush your turkey wings straight from the chill of the fridge to the heat of the oven. Allowing them to rest at room temperature before baking ensures even cooking and juicier meat.
Use a meat thermometer to check the doneness of the turkey meat. The best reading will be an internal temperature at the thickest part of the wing. 165 degrees Fahrenheit or 74 degrees Celcius is the magic number.
Basting Basics: Keep those wings bathed in flavor. Baste them occasionally with the pan juices. This not only adds moisture but also intensifies the flavor with every spoonful drizzled over.
Low and Slow Lovin': Patience is a virtue, especially when it comes to turkey wings. A slow roast at a moderate temperature makes them fall-off-the-bone tender.
Crispy Finale: For that irresistible crunch, uncover the wings towards the end of cooking and let the oven do its magic. This will crisp up the skin while locking in the moisture.
Sauce Savvy: Thicken the pan juices with a slurry of cornstarch for a glossy, rich sauce that's the perfect complement to your wings.
Rest and Relax: Give your turkey wings a brief rest after they come out of the oven. This little breather allows the juices to redistribute, ensuring every bite is succulent.
Freeze leftover turkey bones along with the wing tips to add flavor to any future soups or stocks you make.
Customize Your Turkey Wings: Substitutions and Additions
Whether you're adapting the recipe to what you have on hand, accommodating dietary restrictions, or just looking to experiment with new flavors, here's how you can tailor these turkey wings to fit your needs and taste:
Butterfly Beauties: If turkey wings are too large for your gathering, try substituting with chicken wings. They cook faster and are perfect for a smaller crowd or as appetizers.
Herb Harmony: Freshen up the flavor profile by incorporating fresh herbs like thyme, rosemary, or sage. Their aromatic qualities complement the rich turkey meat beautifully.
Citrus Twist: Adding a squeeze of lemon or orange juice to your marinade can introduce a zesty brightness, cutting through the richness of the meat.
Spice Swap: Not a fan of Cajun seasoning? Try a different spice blend such as Italian seasoning for a more Mediterranean feel, or a barbecue rub for a smoky kick.
Heat Things Up: For spice enthusiasts, incorporate a dash of hot sauce or a sprinkle of chili flakes into your seasoning for an extra fiery experience.
Sweet and Savory: Introduce a touch of sweetness by brushing your turkey wings with a maple glaze or honey mustard mixture in the last 30 minutes of cooking for a sticky, caramelized finish.
Veggie Variety: Surround your turkey wings with a medley of root vegetables like carrots, parsnips, and potatoes for a complete meal in one pan.
What To serve With Turkey Wings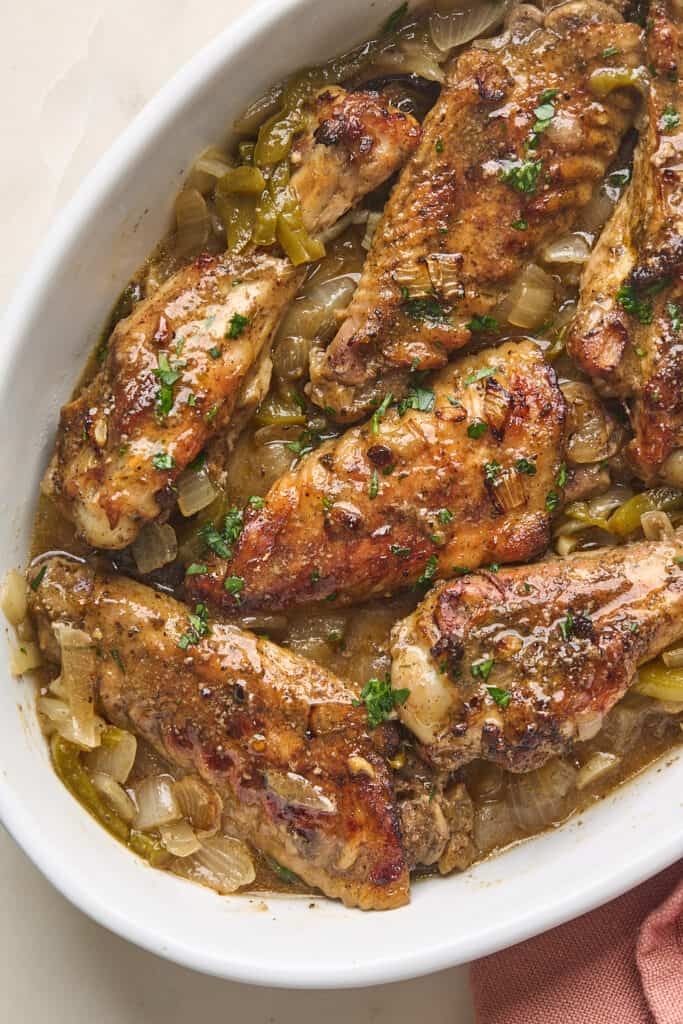 How to Store Baked Turkey Wings
Proper storage is key to maintaining the deliciousness of your baked turkey wings for as long as possible. Here's how to keep them safe and savory after cooking:
In the Refrigerator:
Cool Down: Allow the turkey wings to cool to room temperature. Do not leave them out for more than 2 hours to avoid bacterial growth.
Airtight Container: Transfer the cooled turkey wings into an airtight container. If you have a lot of sauce or gravy, you can store it in a separate container to prevent the wings from getting soggy.
Refrigerate: Place the container in the refrigerator. Properly stored, the turkey wings should last for 3-4 days.
In the Freezer:
Prep for Freezing: If you plan to freeze the turkey wings, wrap them individually in foil or plastic wrap. This helps preserve their moisture and flavor.
Airtight Container or Freezer Bags: After wrapping, place them in an airtight container or heavy-duty freezer bags to prevent freezer burn.
Freeze: Stored correctly, turkey wings can last in the freezer for up to 3-6 months.
Thawing and Reheating:
When you're ready to enjoy your turkey wings again, thaw them in the refrigerator if they were frozen.
For reheating, place them in a 350-degree oven until heated through. If they're a bit dry, add a splash of chicken stock or water before reheating to add moisture.
Remember that the quality of the wings is best when consumed sooner rather than later, even with proper storage techniques. Enjoy your leftovers, and always make sure to check for any signs of spoilage before reheating and consuming.
Frequently Asked Questions
Do you cook the whole turkey wings or halved wings?
This decision is entirely up to you and the size of your casserole dish. The turkey wings may be more easily manipulated to fit in your baking dish if they've been separated.
My turkey wings are tough. How can I make them more tender?
Turkey wings need time to become tender. If they're tough, they likely haven't cooked long enough. Return them to the oven, covered, and check every 15 minutes until they reach the desired tenderness.
Can I make this recipe in a slow cooker?
Absolutely! After seasoning, you can place the wings in a slow cooker with the onions, bell peppers, garlic, chicken stock, and Worcestershire sauce. Cook on low for 6-8 hours or on high for 3-4 hours.
Can I use frozen turkey wings?
Yes, but ensure they're completely thawed before seasoning and cooking to achieve even cooking and proper flavor absorption.
What can I do if my sauce is too thin?
If the sauce is too thin after cooking, remove the turkey wings and let the sauce simmer on the stove until it's reduced to your desired thickness.
How do I get crispy
turkey wings?
If you prefer crispy baked turkey wings, for the last few minutes place the rack closer to the middle and broil low, and rotate the turkey until crispy.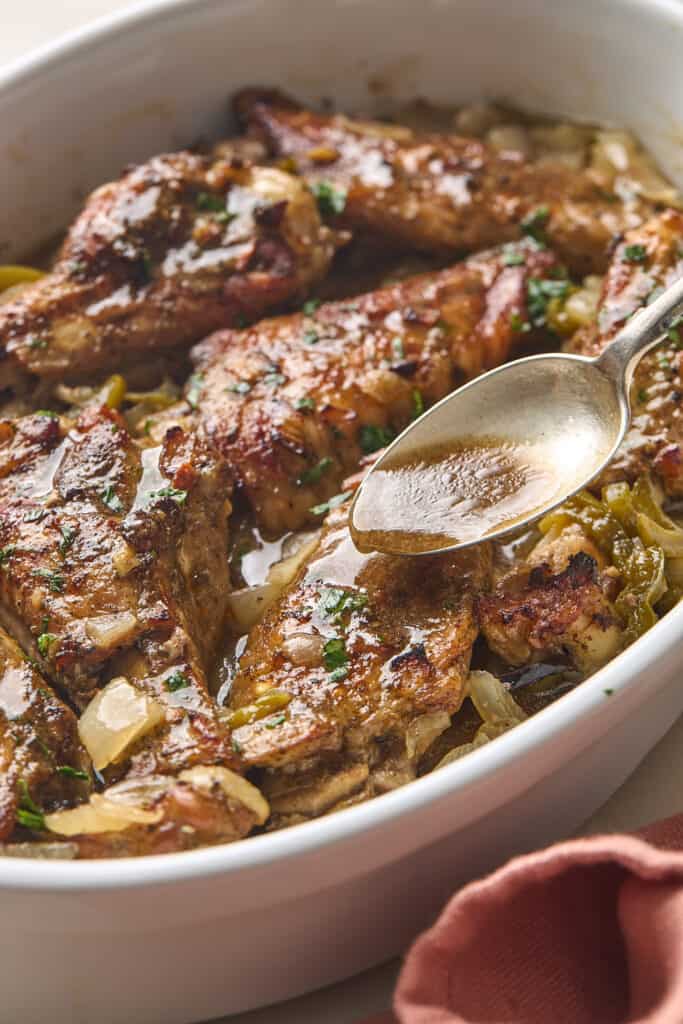 As you savor the last bite of these tender baked turkey wings, you're not just finishing a meal; you're wrapping up a moment of true culinary delight. This dish isn't just about the deep flavors and the perfect tenderness—it's a heartwarming symbol of shared joy and homestyle tradition. Every time these wings grace your table, they bring more than just satisfaction; they bring a piece of home, a dash of love, and a tradition that enriches every meal. Happy cooking, and enjoy the simple pleasure of a dish made with soul.
More turkey recipes
*Did you make this recipe? Please give it a star rating and leave comments below!* Post a photo of how your version of the recipe came out on Instagram (using #grandbabycakes)!!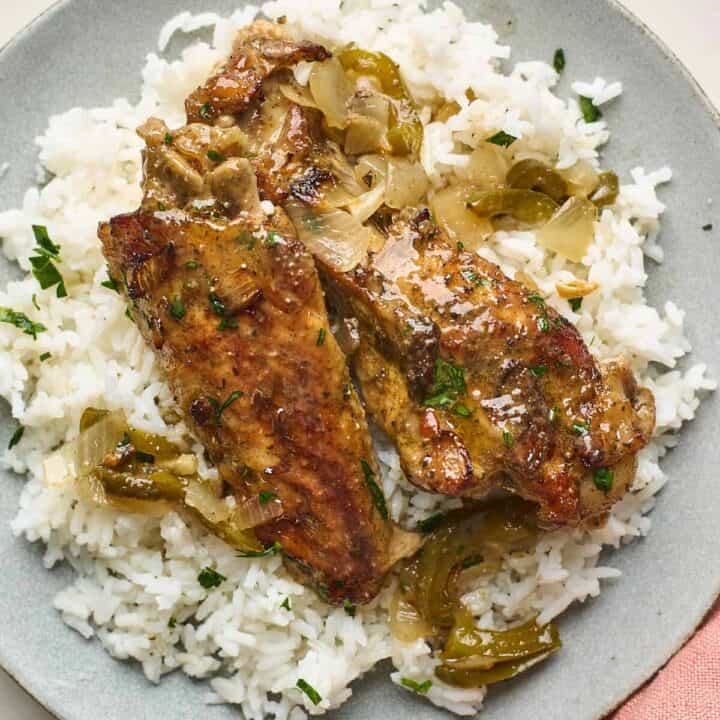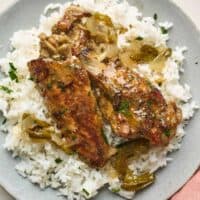 Baked Turkey Wings
These turkey wings are easy to make, juicy and flavorful. Baked in the oven with a homemade pan sauce fall off the bone tender you can't go wrong!
Print
Pin
Rate
Ingredients
3 1/2

pounds

Turkey wings

about 4 turkey wings

2

teaspoons

Poultry seasoning

1

teaspoon

Cajun seasoning

1

teaspoon

Garlic powder

1

teaspoon

Onion powder

1

teaspoon

Salt

add more to taste

1/2

teaspoon

Ground black pepper

2

large

Onions

chopped

1

large

Green bell pepper

thinly sliced

2

cloves

Garlic

chopped

3

cups

Chicken stock

2

tablespoons

Worcestershire sauce

1

tablespoon

Cornstarch
Instructions
Rinse turkey wings, add to a large roasting pan and pat dry. Set aside.

Toss the poultry seasoning, cajun seasoning, garlic powder, onion powder, salt and pepper in a small bowl until combined. Add seasoning mixture to the turkey wings and toss until they are well coated.  Let sit in the fridge for 60 minutes.

After the 60 minutes are up, preheat the oven to 350 degrees.

Slice bell pepper and chop onions while the oven is heating.

Add the onion, green pepper and garlic to a large bowl then pour in the stock and worcestershire and combine. Pour the mixture into the large roasting pan then carefully around the turkey to make sure not to disturb the seasonings.

Cover with foil then bake for about 2 hours or more depending on how thick and big your turkey wings are. You want to make sure they are completely tender then remove the foil and brown lightly for 15 minutes.  Remove a cup of sauce from the bottom of the wings and stir with cornstarch.  Then add back in the pan.

Bake for 15-20 minutes until the sauce thickens and serve.
Notes
Storing
Leftover baked turkey wings can be placed in an airtight container and stored in the refrigerator for 3-4 days.
Freezing: Wrapped properly and stored in an airtight container, frozen turkey wings can last 3-6 months in the freezer.
Nutrition
Serving:
1
g
|
Calories:
653
kcal
|
Carbohydrates:
21
g
|
Protein:
60
g
|
Fat:
35
g
|
Saturated Fat:
9
g
|
Polyunsaturated Fat:
8
g
|
Monounsaturated Fat:
14
g
|
Cholesterol:
192
mg
|
Sodium:
1102
mg
|
Potassium:
1118
mg
|
Fiber:
3
g
|
Sugar:
8
g
|
Vitamin A:
469
IU
|
Vitamin C:
41
mg
|
Calcium:
91
mg
|
Iron:
5
mg