This Sweet Potato Chocolate Marble Cake swirls spiced moist sweet potato cake batter with decadent chocolate batter then bakes to perfection and is topped with a homemade chocolate ganache and salt! This buttery pound cake is destined to steal the show at any dinner or holiday table! If you love this, you will love this Brownie Swirl Pound Cake, Sweet Potato Cake, Red Velvet Marble Cake and Chocolate Pound Cake recipe.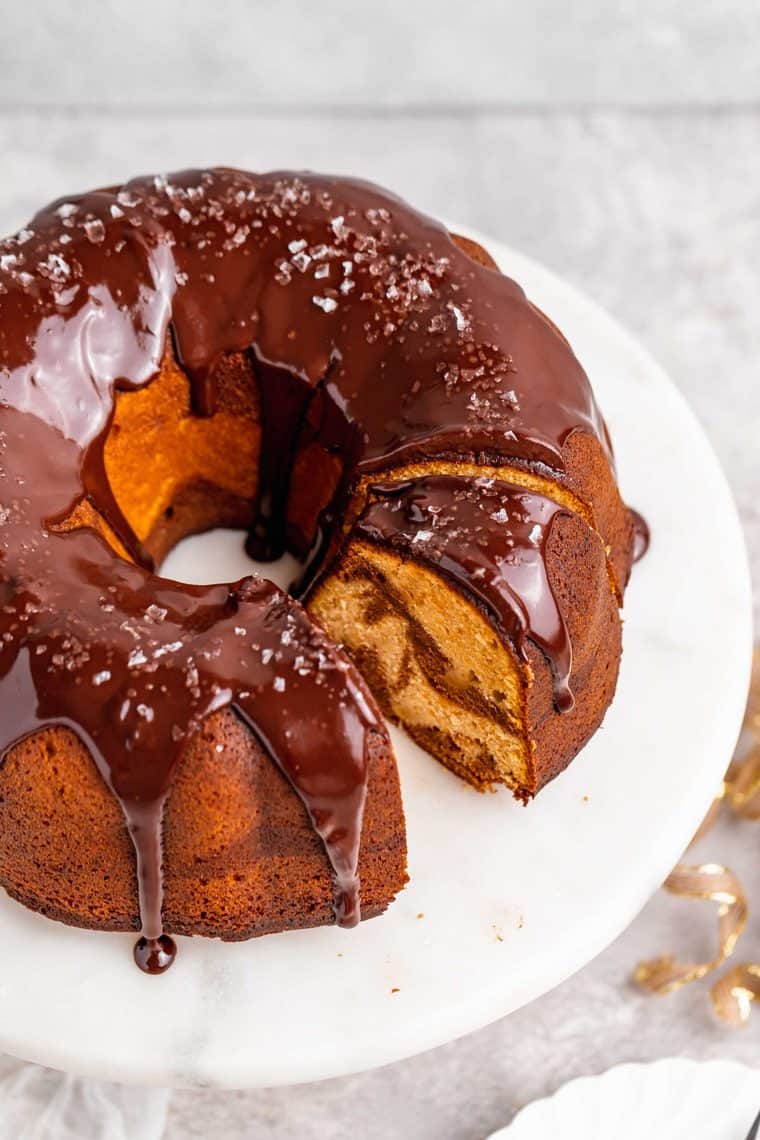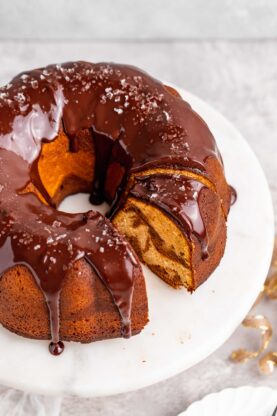 Around these parts (and by that I mean the internet), I'm known as the pound cake queen! Grandbaby Cakes started with just a few simple Bundt cake recipes that took off. Even today, those recipes have a special place in my heart and my belly.
I just love how simple a pound cake can be without sacrificing flavor. Today's recipe is no exception to that! Sweet Potato Chocolate Marble Pound Cake is both a novice and professional baker's dream. Because pound cake batter is so forgiving, this is a great dessert for easy entertaining or late-night sweet tooth satisfaction.
Not to toot my own horn (*toot toot*) but this rich, tender cake was featured in Better Home and Gardens! AKA the Mecca of at home entertaining and classic recipes. So, if you don't believe my hype, trust BHG.
With swirls of sweet, earthy, and spiced sweet potato batter and dark, rich chocolate batter, this cake is so dang buttery and flavorful. Did I mention the heavy drizzle of homemade chocolate ganache and crunchy salt on top? Ugh, I just don't think it gets better than that!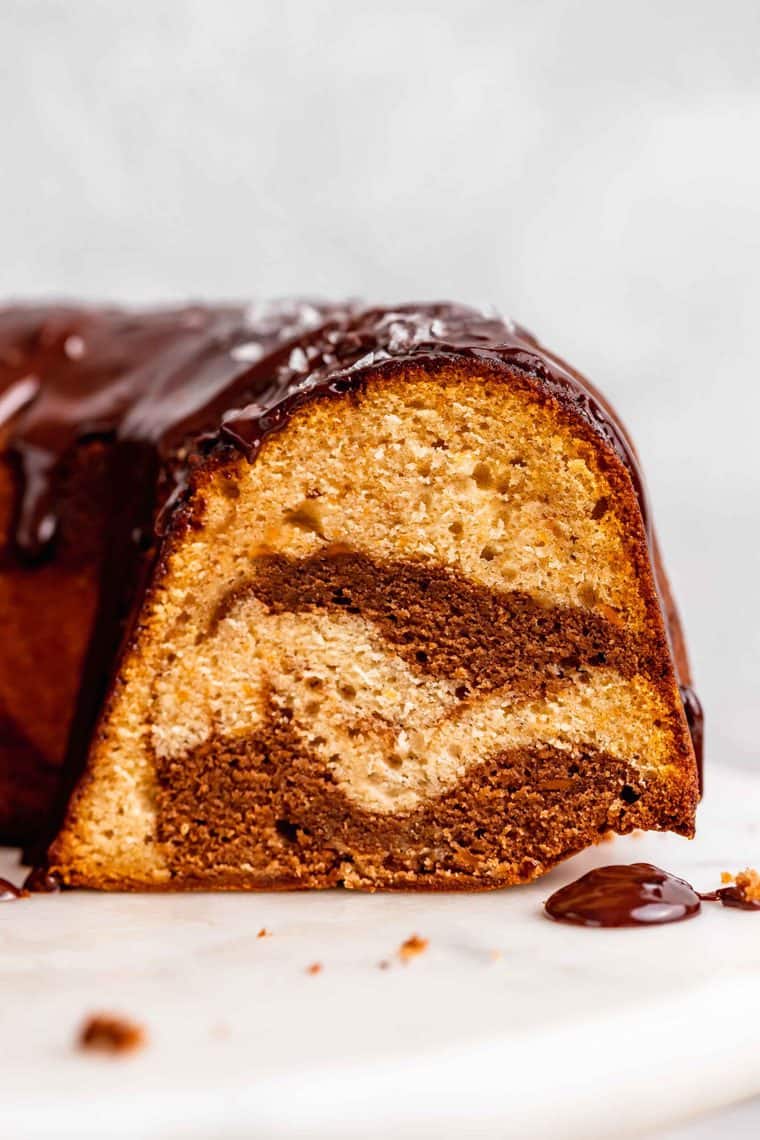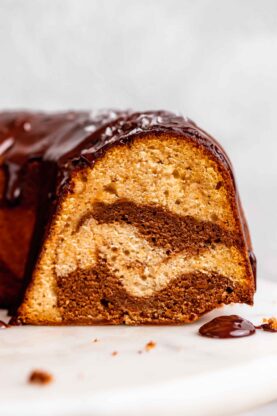 SWEET POTATO CAKE BATTER
We're kicking off this recipe by stirring up an epic sweet potato pound cake batter! First, cook those potatoes until steaming and tender. The microwave makes this step super simple but you can totally bake the potatoes for about an hour at 425 degrees. Once cool, mash up those potatoes and make sure to eliminate any larger clumps.
Next, whisk together the dry ingredients in a large bowl and set aside. Using a hand or stand mixer, beat the butter and sugar until light and fluffy. Add the eggs one at a time, scraping down the bowl in between.
Gradually (about a ⅓ at a time) add the flour mixture and mix just until combined. Finally, toss in that sweet potato mash, sour cream, and vanilla. Once everything looks smooth and well-combined, transfer 3 cups of the batter to a separate bowl.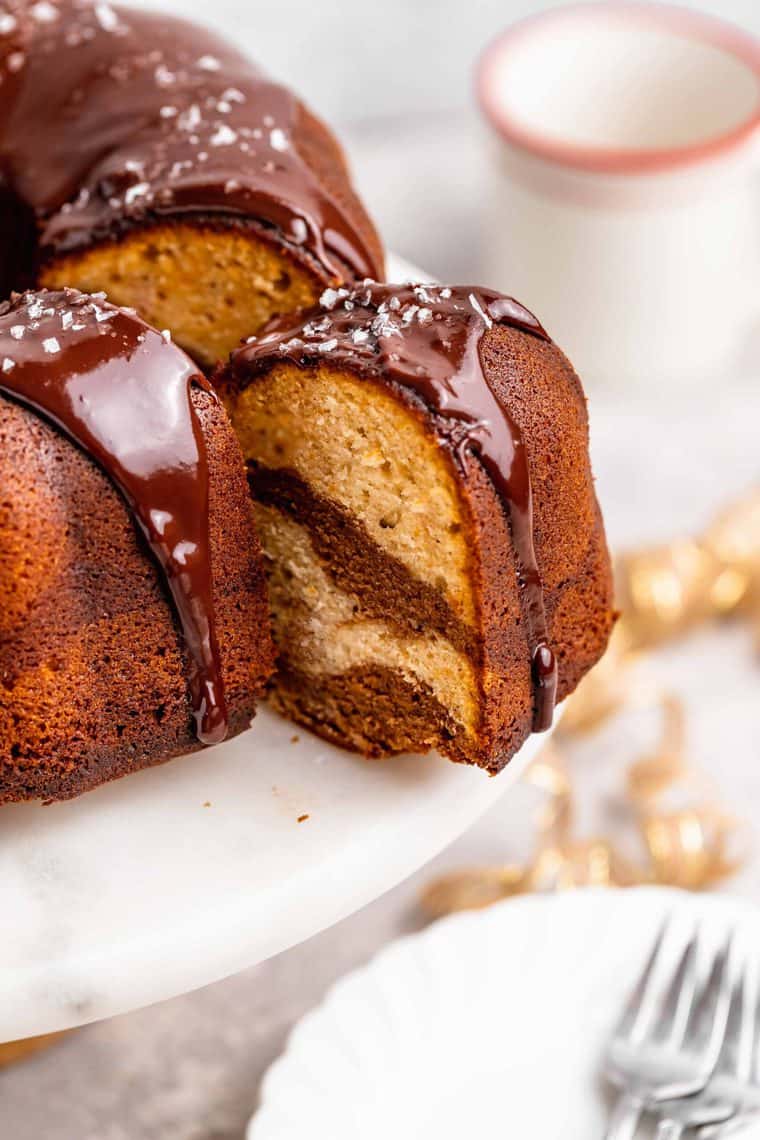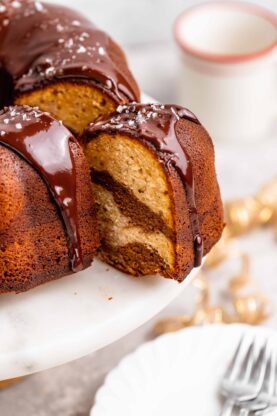 CHOCOLATE CAKE BATTER
Even without the chocolate swirl, this cake would be incredible. But, the added richness from the chocolate is so unexpectedly delicious. To make the chocolate batter you'll need to start off with a good-quality chocolate! The better the quality, the better the result will be.
Start by melting 2 ounces of chocolate in a microwave-safe bowl. Again, you can skip the microwave by using the double-boiler method on a stovetop instead. Allow the chocolate to cool as you make the rest of the batter.
Add the melted chocolate to the reserved batter (mentioned above) and sir to combine. That's it! Crazy easy.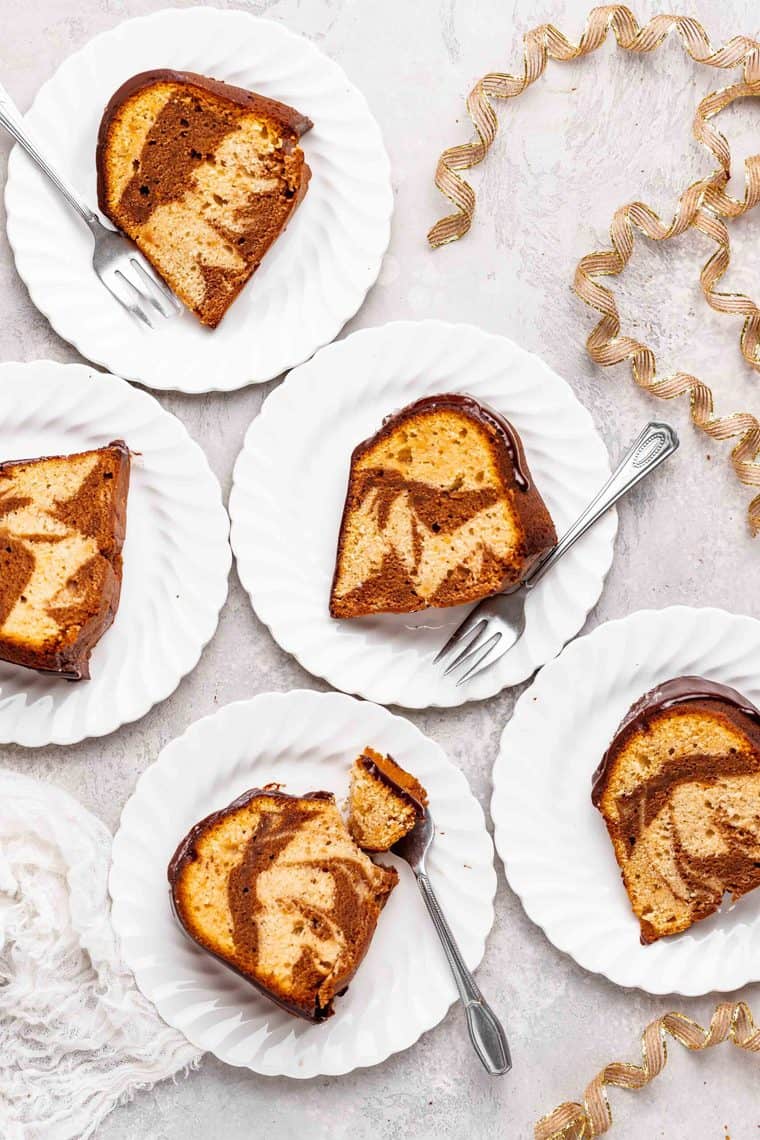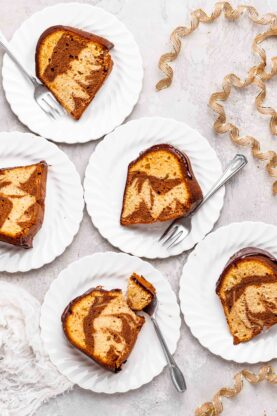 SWIRLING & BAKING A MARBLE CAKE
This is my favorite part! Preheat the oven to 350 degrees, then grease and flour two 8-inch cake pans. For extra insurance, cut a couple parchment rounds to place at the bottom of each pan.
Alternate spooning mounds of each batter into the cake pans until there's no more left. Use a knife to swirl the batters together, creating a design of your very own! Don't overdo it though. If you mix too much, the batters will meld together.
Bake then let them cool completely before topping with ganache!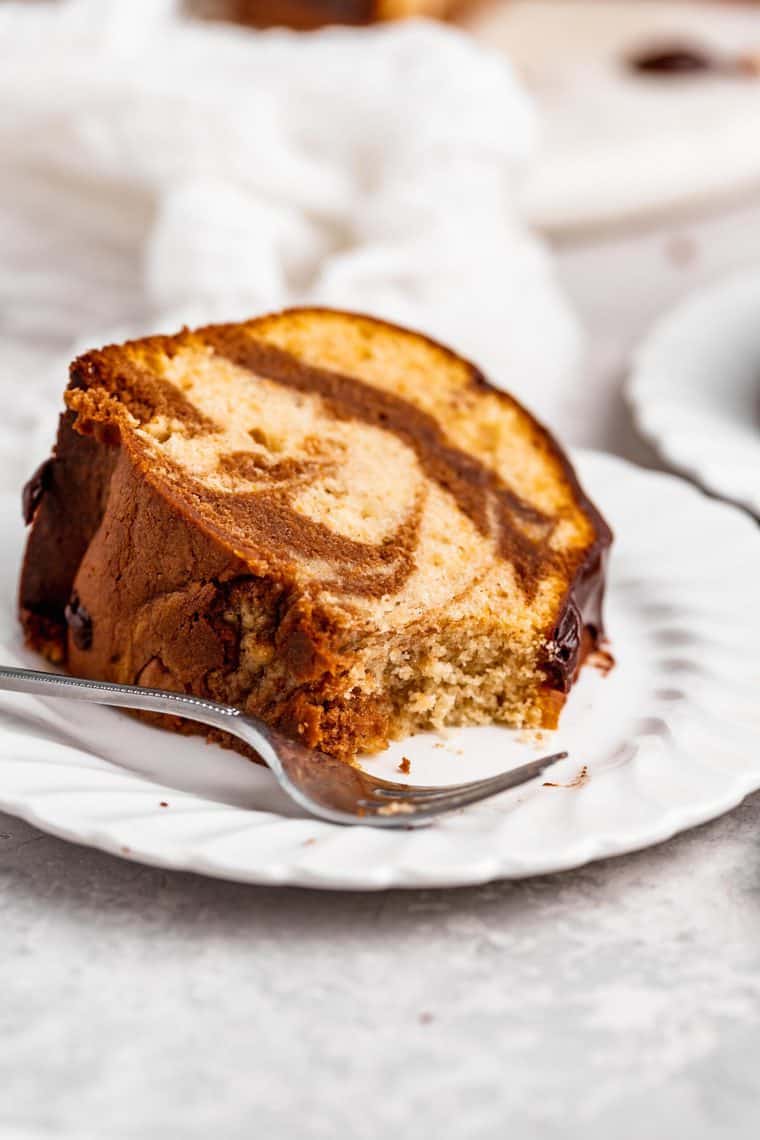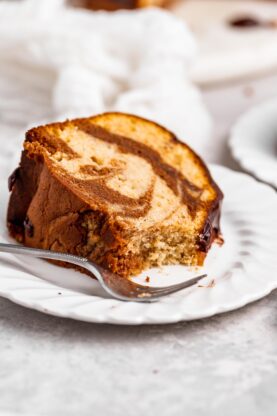 CHOCOLATE GANACHE
Just to make this cake that much more decadent, I've added a smooth chocolate ganache. To make it, simply bring the heavy cream to a boil, then remove from heat and add the remaining chocolate to it. DO NOT STIR! Wait 5 minutes, whisk until smooth, and slowly pour the ganache over the top of each cake.
To top it all off, add a hefty sprinkle of flaky sea salt for an added salty crunch!
HOW TO STORE HOMEMADE POUND CAKE
If I could eat this whole cake in one sitting, you just know I would! Unfortunately, I'm not sure my hips or my arteries would appreciate that. But, luckily for the both of us pound cake is super easy to store and save.
If kept in an airtight container or tightly wrapped, pound cakes can be kept for 4-5 days at room temperature. This cake should be kept in a cool environment so if you live in a warmer/humid climate I'd recommend storing the cake in the fridge.
To Freeze: Wrap the cake in aluminum foil or plastic wrap then put it in a heavy-duty freezer bag. A frozen pound cake will keep for 4-6 months. When ready to consume, thaw overnight in the fridge.
GRANDBABY CAKES' BEST POUND CAKE RECIPES
Pound cakes all around people! Try out one of Grandbaby Cakes' baddest, butteriest bundts: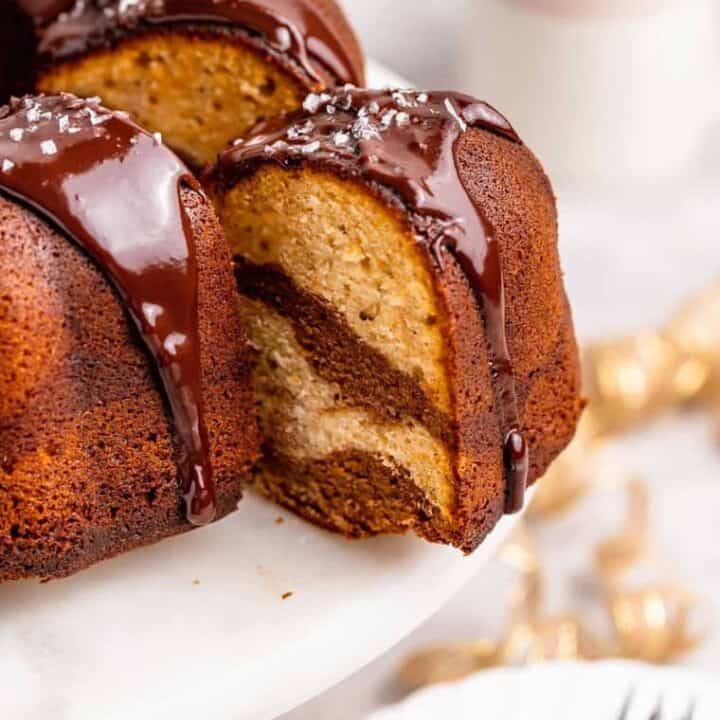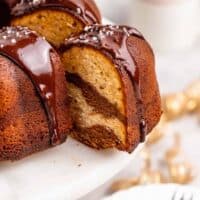 Sweet Potato Chocolate Marble Cake
This Sweet Potato Chocolate Marble Cake swirls spiced moist sweet potato cake batter with decadent chocolate batter then bakes to perfection and is topped with a homemade chocolate ganache and salt!
Print
Pin
Rate
Ingredients
1

sweet potato, scrubbed

10-12 oz size

8

oz

semisweet or bittersweet chocolate

chopped

3

cups

all purpose flour

2

tsp

pumpkin pie spice

1 1/2

tsp

baking powder

1 1/2

tsp

salt

1

cup

unsalted butter

room temperature

2

cups

granulated sugar

5

large eggs

1

cup

sour cream

room temperature

1

tbsp

vanilla extract

2/3

cup

heavy whipping cream

flaky sea salt
Instructions
Pierce the potato several times with a knife or fork. Microwave on high for 5 minutes or until tender. Then let cool.

Halve potato lengthwise then scrape pulp into a medium bowl. Mash until smooth. Measure 3/4 cup; set aside any remaining for another use. In a small microwave-safe bowl, melt 2 oz of chocolate in microwave on high for 30 to 45 seconds, stirring once.

Preheat the oven to 350 F. Grease and flour or use non-stick spray to coat a 10 cup bundt pan. In a medium bowl, whisk together flour, pumpkin pie spice, baking powder, and salt. In a very large bowl, beat butter and sugar on medium high 2 to 3 minutes or until light and fluffy. Add eggs, one at a time, beating after each until combined. Gradually add flour mixture, beating until combined. Beat in sour cream, mashed sweet potato, and vanilla until combined. Remove 3 cups of batter to a medium bowl then stir in melted chocolate into separated batter.

Alternately spoon mounds of each cake batter into pan. Using a knife, swirl batters together. Bake for 50-60 minutes or until a toothpick inserted near center comes out clean. Let cool in pans on a wire rack for 10 minutes. Remove from pan and let cool completely.

For ganache, in a small saucepan bring cream just to boiling over medium high. Remove from heat. Add remaining chopped chocolate. (don't stir). Let it stand for 5 minutes then stir until smooth. Spoon ganache over the top of the cake and sprinkle with flaky sea salt.
Notes
You can also make this with two 9 inch loaf pans.  Bake for 45 minutes or until toothpick inserted near center comes out clean.
Nutrition
Calories:
463
kcal
|
Carbohydrates:
54
g
|
Protein:
6
g
|
Fat:
25
g
|
Saturated Fat:
15
g
|
Polyunsaturated Fat:
1
g
|
Monounsaturated Fat:
7
g
|
Trans Fat:
1
g
|
Cholesterol:
104
mg
|
Sodium:
265
mg
|
Potassium:
244
mg
|
Fiber:
2
g
|
Sugar:
31
g
|
Vitamin A:
2676
IU
|
Vitamin C:
1
mg
|
Calcium:
68
mg
|
Iron:
2
mg