This Sweet Potato Pecan Pie Recipe starts with a flaky, buttery crust that's filled with a lush sweet potato filling then topped with a crisp, sweetened pecan topping. You get the best of both worlds PLUS A HOW TO VIDEO! If you love this pie, you will also love my S'mores Pumpkin Pie, Sheet Pan Pie with 3 flavors in 1, Pecan Pie Bars, Sweet Potato Cobbler, Chocolate Bourbon Pecan Pie, Pumpkin Pie, Pie Trifle, Pecan Pie, Sweet Potato Pie , Butter Pecan Cheesecake, Pecan Pie Upside Down Cake, Caramel Pie and Sweet Potato Chess Pie!!
Disclosure: I partnered with Karo® Corn Syrup for this recipe post, but all opinions expressed here are my own. I am grateful for authentic partnerships like this.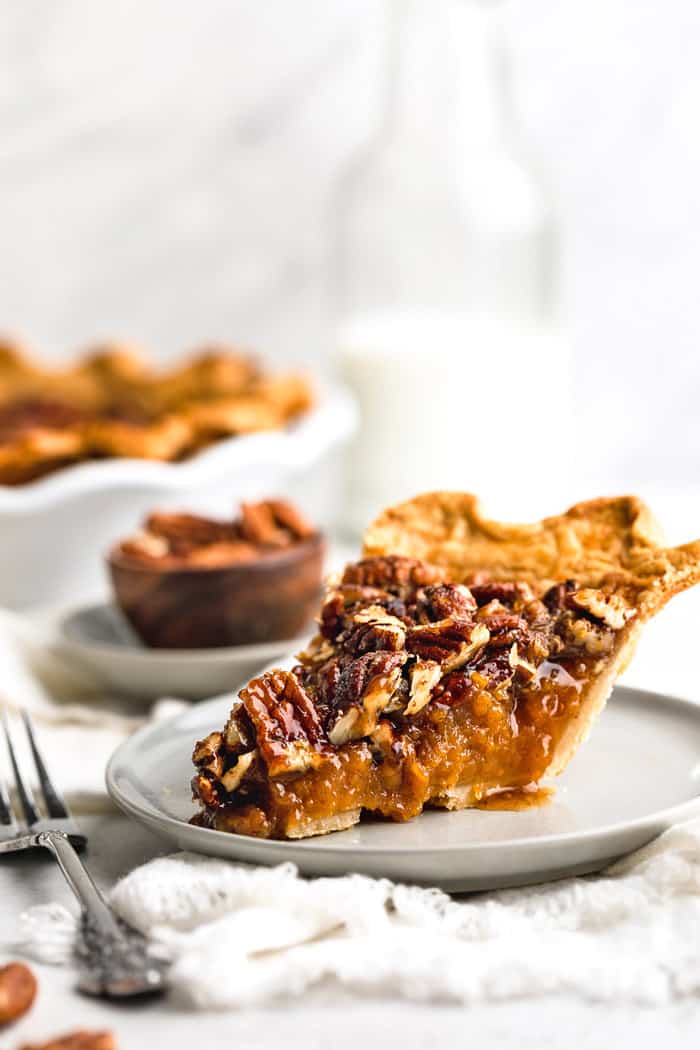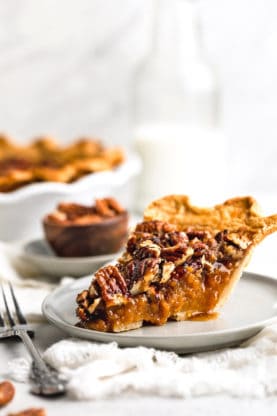 Homemade pies are the heart of the South especially during the holidays. That's why I'm sharing the ultimate Fall pie recipe: Sweet Potato Pecan Pie using Karo Corn Syrup.
From Georgia Peach to Florida Key Lime, Southerners everywhere love to knead buttery doughs and fill them with joy. Like most of those Southerners, I learned how to bake pies from none other than my grandmother: Big Mama. Her careful hands moved with intention and years of practice allowed her to bake with ease. When I watched her make magic, I wanted nothing more than to be just like her.
Now, I'm not quite there yet, but I will say that after plenty of my own trials and errors, I'm coming close. Pie making is in my blood y'all, and who am I to deny that? My mama made pies. I make pies and now even my daughter is stirring fillings to pour into my homemade doughs.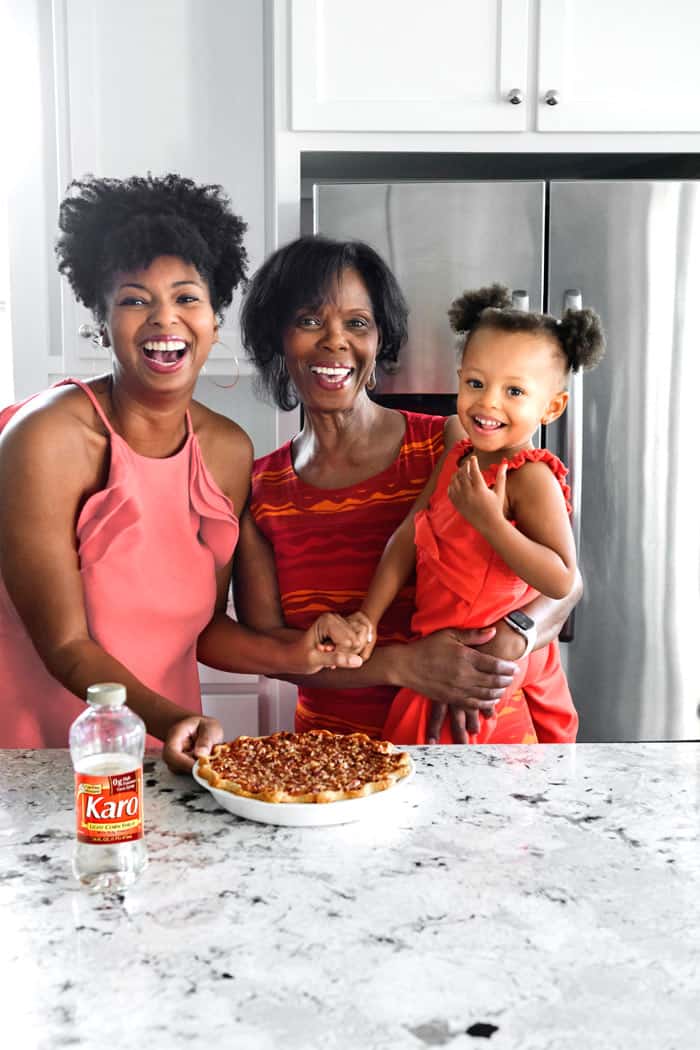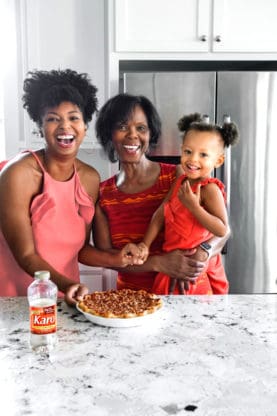 So, today I'm sharing the ultimate Fall pie recipe: Sweet Potato Pecan Pie. It's balanced, it's sweet, and so dang addictive. For Thanksgiving, we always have a mean homemade sweet potato pie AND an insane homemade pecan pie on the dessert table. I thought it might be fun to merge the two into something even more impressive!
You're gonna find yourself busting out this recipe all season long especially for the holidays!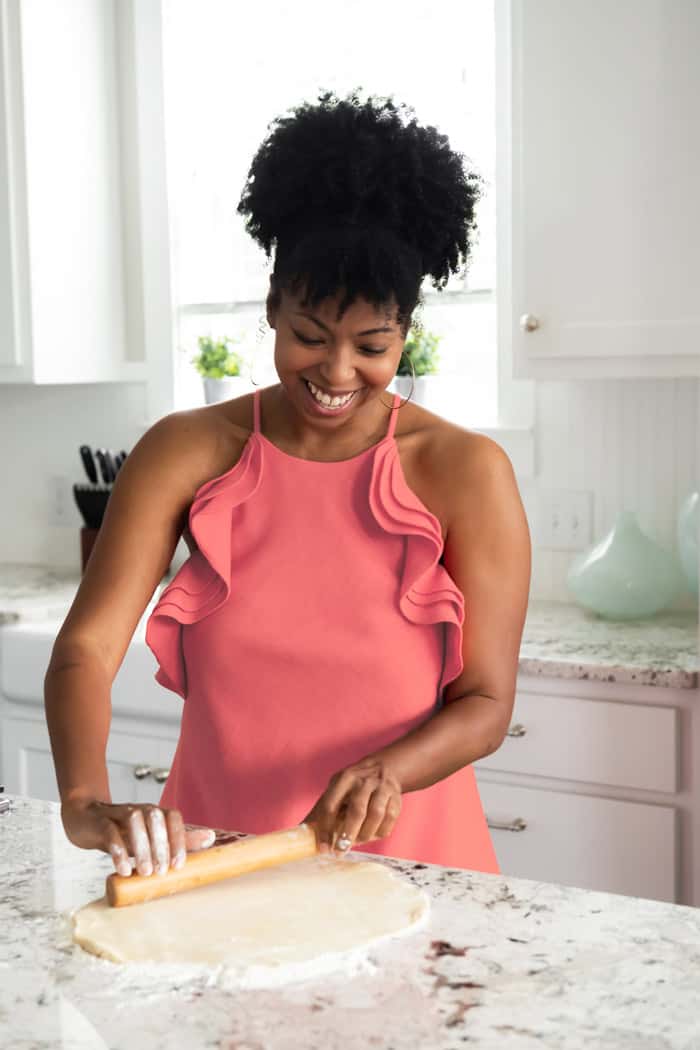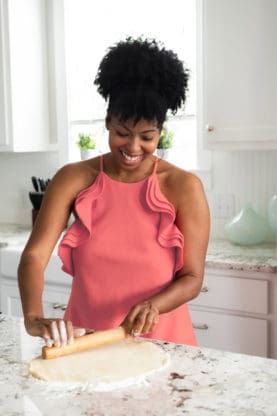 HOW TO MAKE HOMEMADE PIE DOUGH
Pie dough, or any dough for that matter, can seem intimidating but I promise it's not. After years of practice, I've nailed the recipe and technique just so that I could share it with y'all! Check out my BEST PIE CRUST RECIPE (WITH STEP BY STEP VIDEO!) for a complete walkthrough.
Tip: When making pie dough, make sure all of your ingredients are super cold. From the butter and water to even your hands, you want to make sure that you keep these ingredients chilled to ensure for flakiness to develop when the oven heat hits your dough.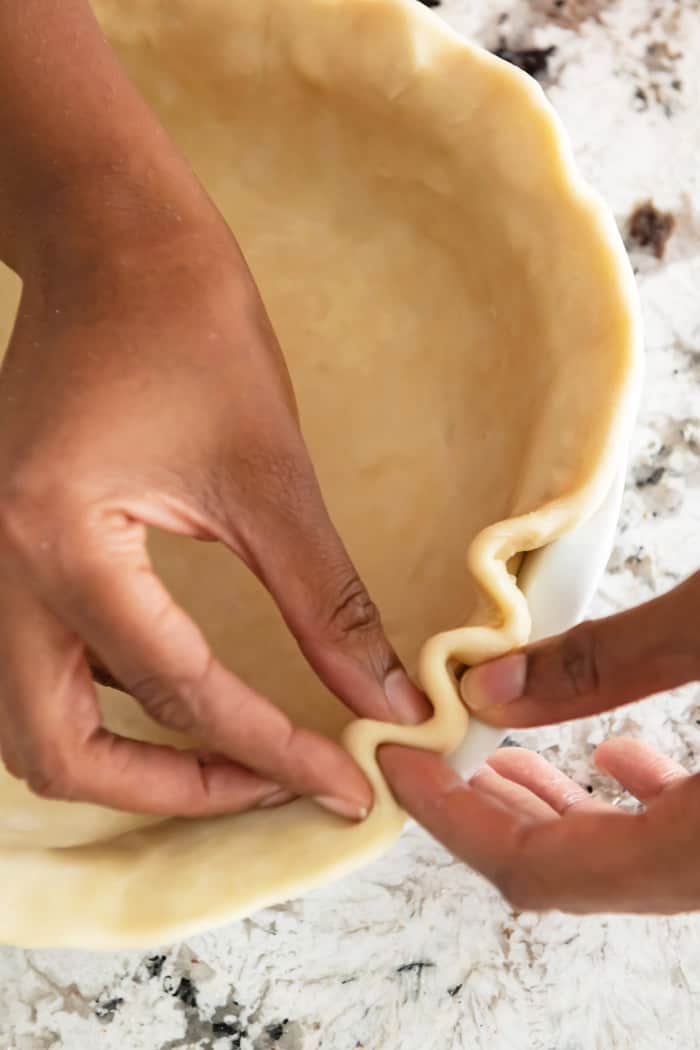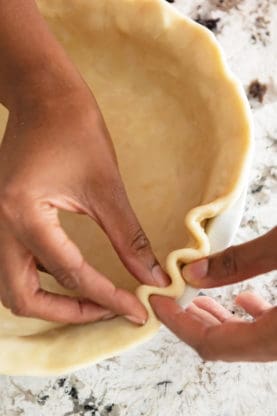 HOW TO MAKE SWEET POTATO & PECAN PIE FILLING (KARO CORN SYRUP)
This pie is truly my Southern foodie dream come true! I mean, we're talking luscious sweet potato filling and perfectly gooey pecan topping layered onto flaky pie crust. It doesn't get any better than that. Each element of this pie corresponds with another to make something you've truly never had before.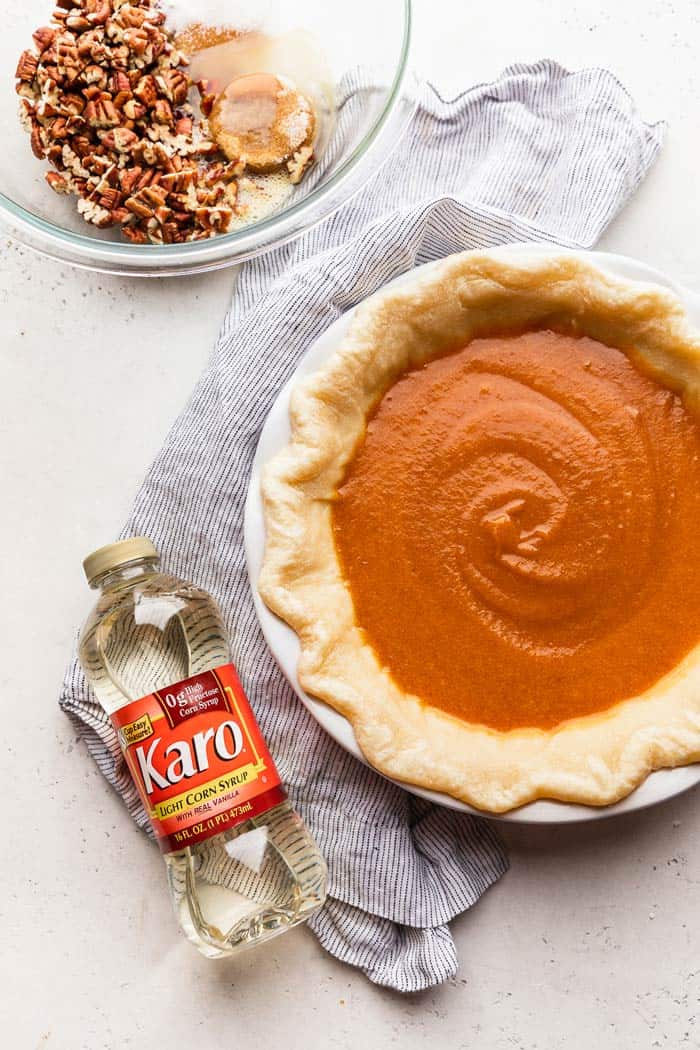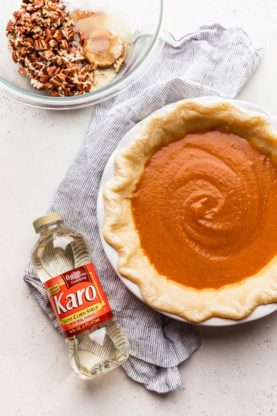 Here's how it all happens:
Sweet Potato Pie Filling
Mashed Sweet Potato- rich and sweet, these creamy potatoes make for a wonderfully decadent pie. Each bite is earthy, smooth and downright heavenly!
Salted Butter- butter adds velvety richness. Using the salted variety helps to balance out sweetness.
Granulated Sugar- added sugar will combine with the natural sugars from the sweet potato and create a caramelized flavor.
Egg– works as an emulsifier and binder
Cinnamon & Nutmeg– woodsy and fragrant, both spices add warmth and aroma.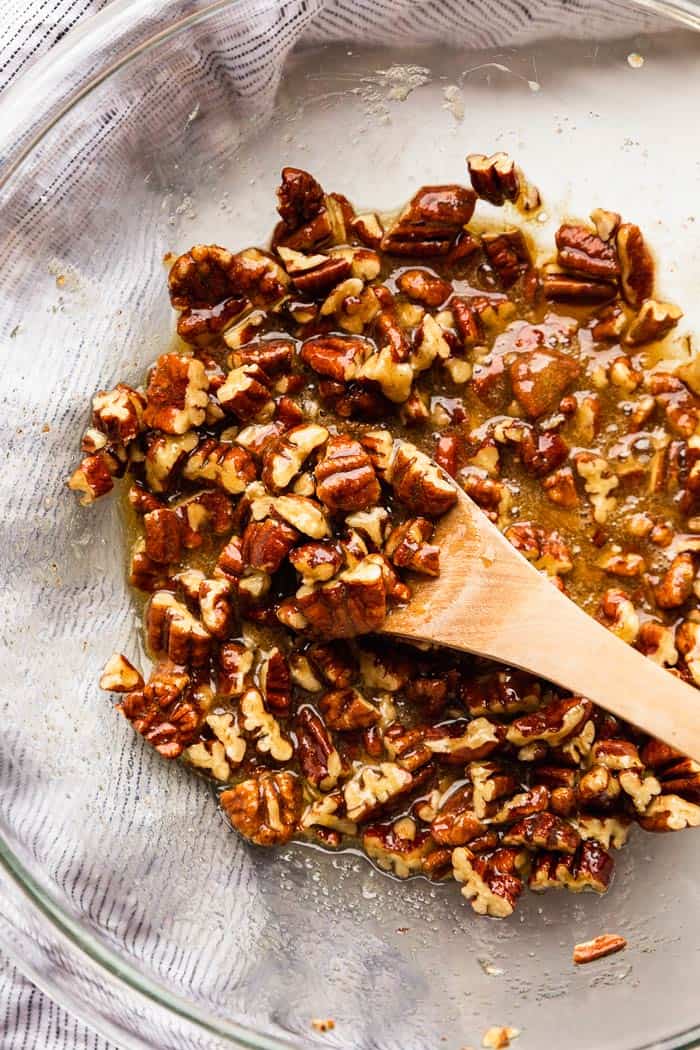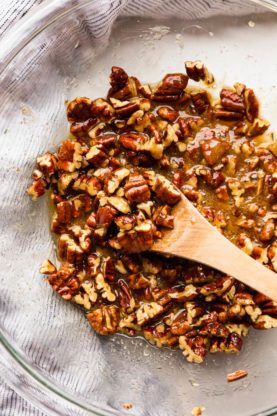 Pecan Pie Topping
Karo Corn Syrup– made with 3 simple ingredients, Karo Corn Syrup has been the go-to for adding sweetness and giving smooth texture to baked goods since 1902. Just a few squeezes makes for that sticky-sweetness that we all know and love pecan pie for! I never make a pecan pie without it! It is essential to creating this wonderful recipe. Want to learn even more about Karo and Corn Syrup, go here! You can select whether you want to go with light or dark corn syrup here. Dark corn syrup will add additional flavor!
Chopped Pecans– pecans are buttery and nutty; their crunchy nature also adds incredible texture.
Granulated & Light Brown Sugar– sugar coats the pecans and creates a delicious layer of goodness!
Egg– simply a binder but it also adds richness.
Vanilla Extract– a heavy splash never killed anyone, right? Everyone loves the smell of warm vanilla.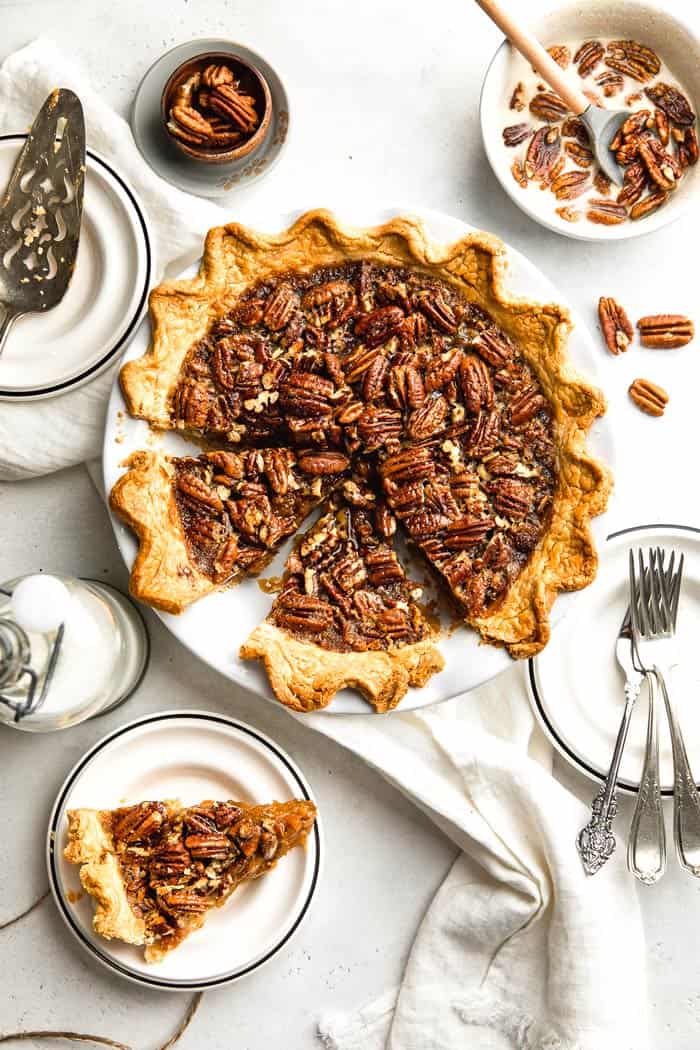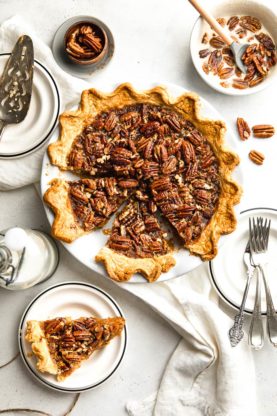 BAKING TIPS
Making a pie is always a decent amount of work, so don't let it go to waste! Here are a few pro tips to ensure a perfectly-baked, flavorful pie:
Bake the Sweet Potatoes
A lot of recipes call for boiling or steaming sweet potatoes before making the filling. But, I find that both methods water-log the potatoes and make for a soupy, underwhelming filing.
Bake the sweet potatoes whole, at 375 degrees for an hour, up to a week in advance of baking.
Bake the Pie Properly
The texture of a sweet potato pie is similar to that of a custard pie: satiny and smooth. In order to achieve that creamy mouthfeel, it's crucial to bake the pie properly.
Keep a close eye during baking. When done, the center of the pie should have a slight jiggle; it will continue to set during the rest period. A knife inserted in the edge of the pie should come back moist, but clean.
Give the Pie Enough Time to Rest
Okay, I know this is the worst part. Who wants to wait while a warm, tasty pie is just sitting there? But, I promise that if you cut into it too early, it's gonna be a hot mess.
For best results, let the pie sit at room temperature for at least 2 hours after baking. Then, cover loosely and rest overnight (a full 24 hours, if possible) in the refrigerator.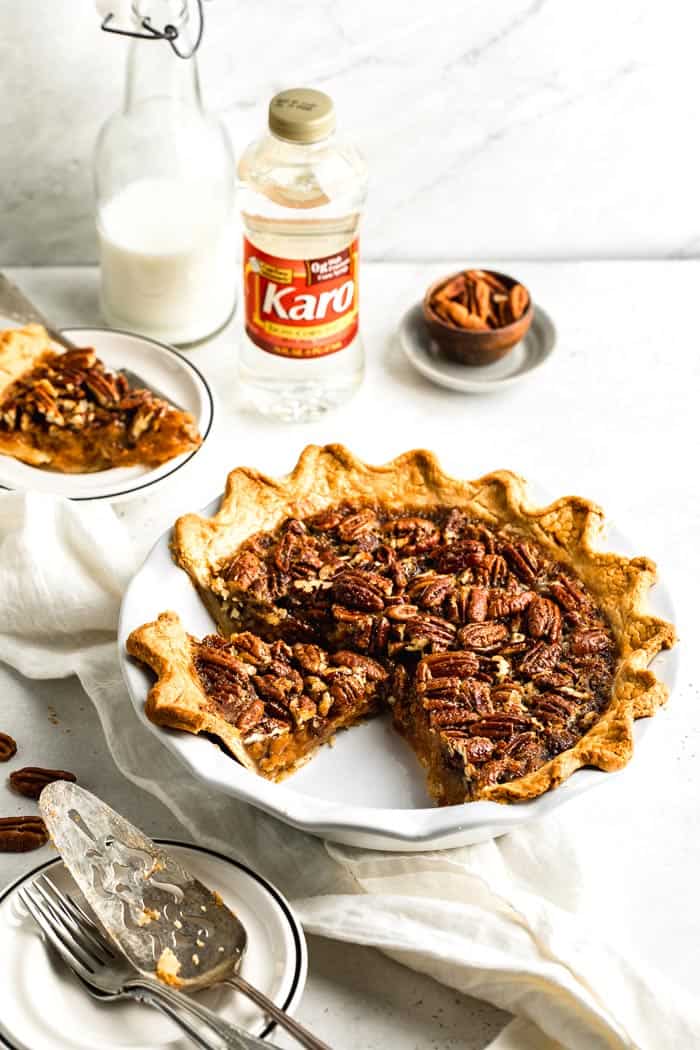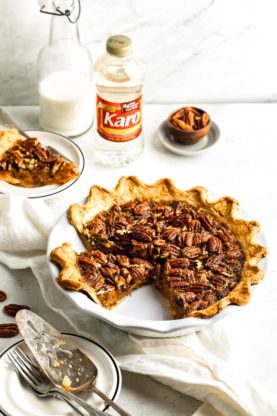 STORAGE & REHEATING
To Store: Because this pie contains eggs, it's important to keep it tightly-wrapped and refrigerated. A properly stored pie will keep for up to 3 days.
To Reheat: I suggest avoiding the microwave; it just doesn't help the texture of the pastry. A conventional or toaster oven works much better. Preheat your oven to 350 degrees, line a baking sheet with foil or parchment paper, place the pie on the sheet and lightly cover with foil. Bake for 5-15 minutes, depending on the size of the slice you're reheating.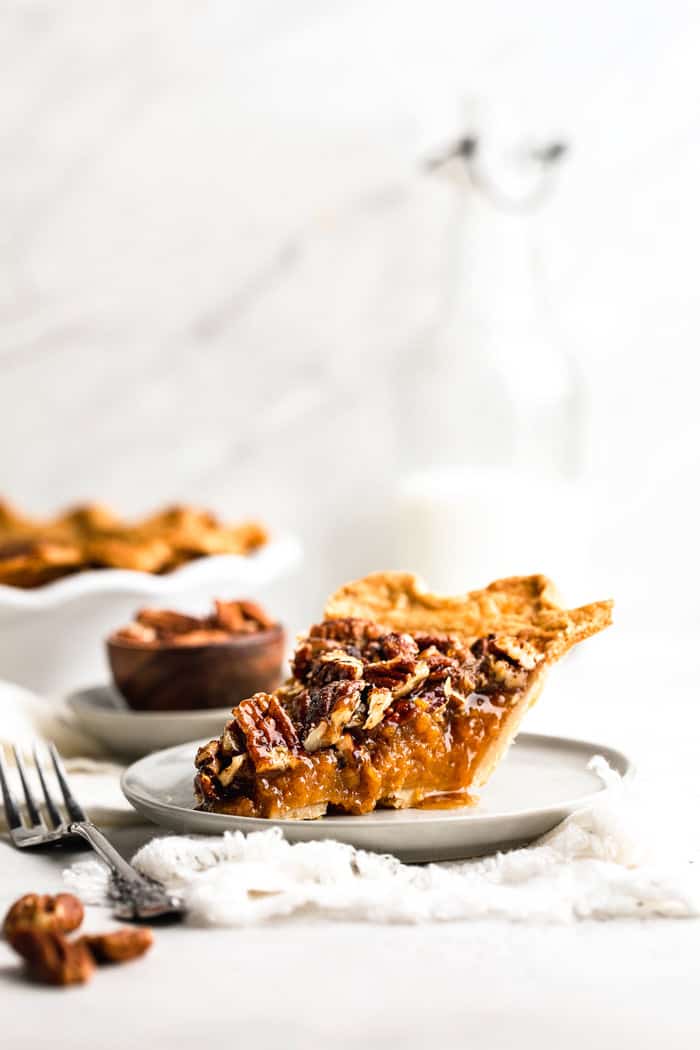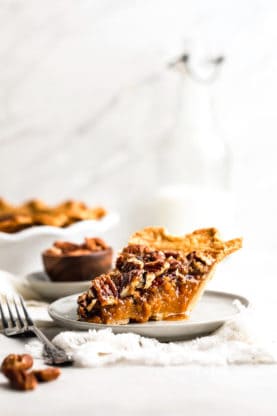 GRANDBABY CAKES' BEST SOUTHERN PIES
Looking for more of my butteriest bites? You've come to the right place. Migrate South for the Winter by churning out a few of my most decant Southern-inspired pie recipes: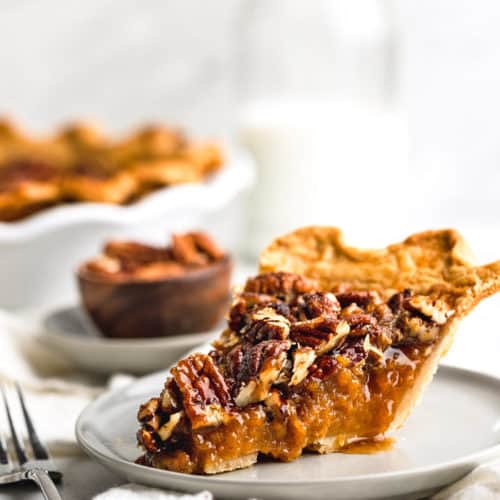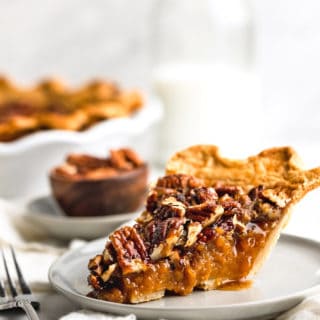 Sweet Potato Pecan Pie
This Sweet Potato Pecan Pie starts with a flaky, buttery crust that's filled with a lush sweet potato filling then topped with a crisp, sweetened pecan topping.
Print
Pin
Rate
Ingredients
For the Pie Crust (Double if using a deep pie plate!)
1 1/4

cup

all purpose flour

1

tsp

granulated sugar

1/2

tsp

salt

1/2

cup

very cold unsalted butter

cut in cubes

1/4-1/3

cup

very cold water
For the Sweet Potato Pie Filling
1

cup

sweet potato

mashed

1/4

cup

salted butter

melted and cooled

1 1/2

cup

granulated sugar

2

large eggs

beaten

2

tsp

vanilla extract

1/4

tsp

ground cinnamon

1/8

tsp

ground nutmeg
For the Pecan Pie Topping
1

large egg

room temperature and beaten

1 1/4

cup

chopped pecans

1/4

cup

granulated sugar

2

tbsp

light brown sugar

packed

1/3

cup

Karo's Corn Syrup

1

tsp

vanilla extract
Instructions
For the Crust
(if using a deep pie dish, double this recipe). In a medium sized bowl, whisk together flour, sugar and salt.

Next, add the cold butter cubes to flour and, using your pastry cutter or hands, cut the butter into the flour mixture until various sized crumbs appear.

Slowly add the cold water into the flour until a ball of dough forms. Start with a ¼ cup and add more water if needed. Knead the dough quickly to bring it together. Don't worry if there is any flour left in the bowl.

Remove the dough from the bowl, round into a ball and place into a clean bowl. Cover tightly with plastic wrap and rest in the refrigerator for 45-55 minutes.
For the Sweet Potato Pie Filling
Using a hand mixer and a large bowl, whisk together sweet potato, sugar, butter, eggs, vanilla, cinnamon and nutmeg until smooth then set aside.
For the Pecan Pie Filling
In a large bowl, combine the beaten egg, pecans, both sugars, corn syrup and vanilla.
To Assemble
Preheat the oven to 400 degrees.

Remove dough from the fridge and add a bit of flour to a working surface or clean counter and place dough on it. Using a rolling pin, quickly roll dough out to about 1/4-1/3 inch thickness and place in your pie plate. Freeze the crust for 10 minutes.

Remove the crust from the freezer, line with parchment paper and add pie weights. Brush with egg wash (just 1 egg and 1 teaspoon of water whisked together) then Bake for 6-8 minutes or until a pale golden color.

Remove crust from the oven, reduce oven temperature to 350 degrees and place a baking sheet on the lowest oven rack.

Slowly pour sweet potato filling into the crust and carefully cover with a piece of aluminum foil.

Place the pie on the preheated baking sheet in the oven and bake for 40-45 minutes.

Remove pie from the oven and let rest (covered) for 10 minutes. Then, gently spoon the pecans over the top of the pie.

Place pie back in the oven and bake for an additional 20-25 minutes or until pie is set and the crust is golden brown.

Cool on a wire rack for 2 hours. Refrigerate overnight. Serve with whipped topping or vanilla ice cream, if desired.
Video
Nutrition
Calories:
607
kcal
|
Carbohydrates:
79
g
|
Protein:
6
g
|
Fat:
31
g
|
Saturated Fat:
13
g
|
Cholesterol:
107
mg
|
Sodium:
341
mg
|
Potassium:
170
mg
|
Fiber:
3
g
|
Sugar:
60
g
|
Vitamin A:
2989
IU
|
Vitamin C:
1
mg
|
Calcium:
39
mg
|
Iron:
2
mg