For the indecisive pie lover, here's 3 in 1 in my SHEET PAN PIE: Sweet Potato, Pecan and Pumpkin all baked together! Skip the fussy crusts and finicky fillings, instead, use a store-bought crust and 3 one-bowl fillings to create the ultimate Thanksgiving dessert!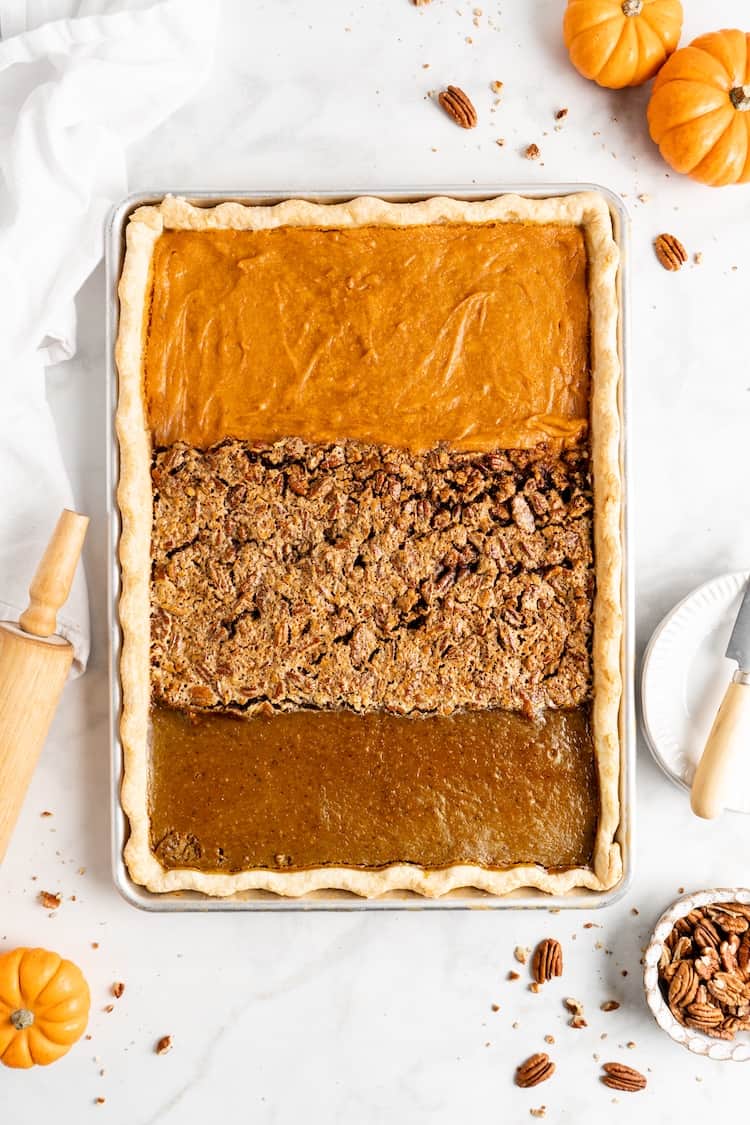 Thanksgiving just wouldn't be Thanksgiving without a pie (or three). Every year, I churn out multiple pies because no one in my family can seem to agree on which one they like best. Some folks love classic apple, some like tart cherry and some are more cream pie people. I do what I can to please everybody, but one woman can only do so much.
This year, I'm cutting a few corners, kicking back and enjoying my holiday. Why? Because I can. This tri-pie sheet pan pie recipe is just what this hectic, over-the-top year called for. Three pies, baked at the same time, in one giant crust: a holiday miracle!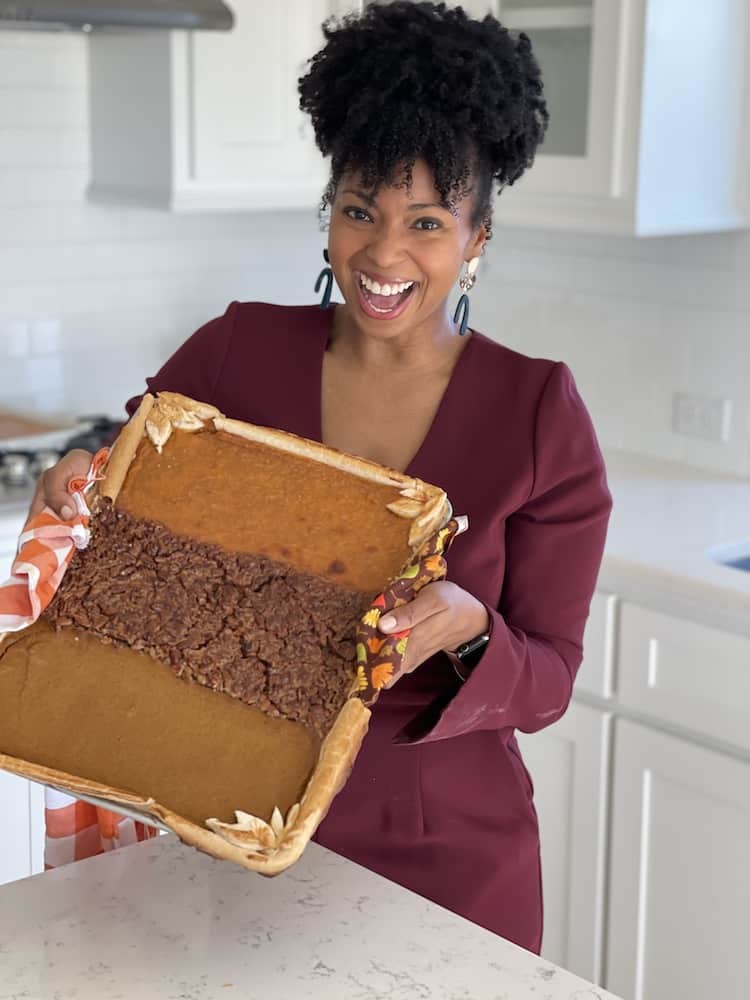 I used this recipe to combine my family's favorites: Pecan, Sweet Potato and Pumpkin. I mean, if you can't pick one flavor, you can have a little of each!
How to Make Sheet Pan Pie
Pie recipes can be labor intensive and, when it comes to large gatherings, one pie just doesn't make the cut. Don't get me wrong, I love spending days in the kitchen cranking out crusts and whisking fillings but I just don't always have the time for that.
This large and in charge sheet pan pie combines ease with flavor! Using a store-bought crust and 3 one-bowl fillings, you've got a jumbo-sized pie that can feed an army.
Here's how it comes together: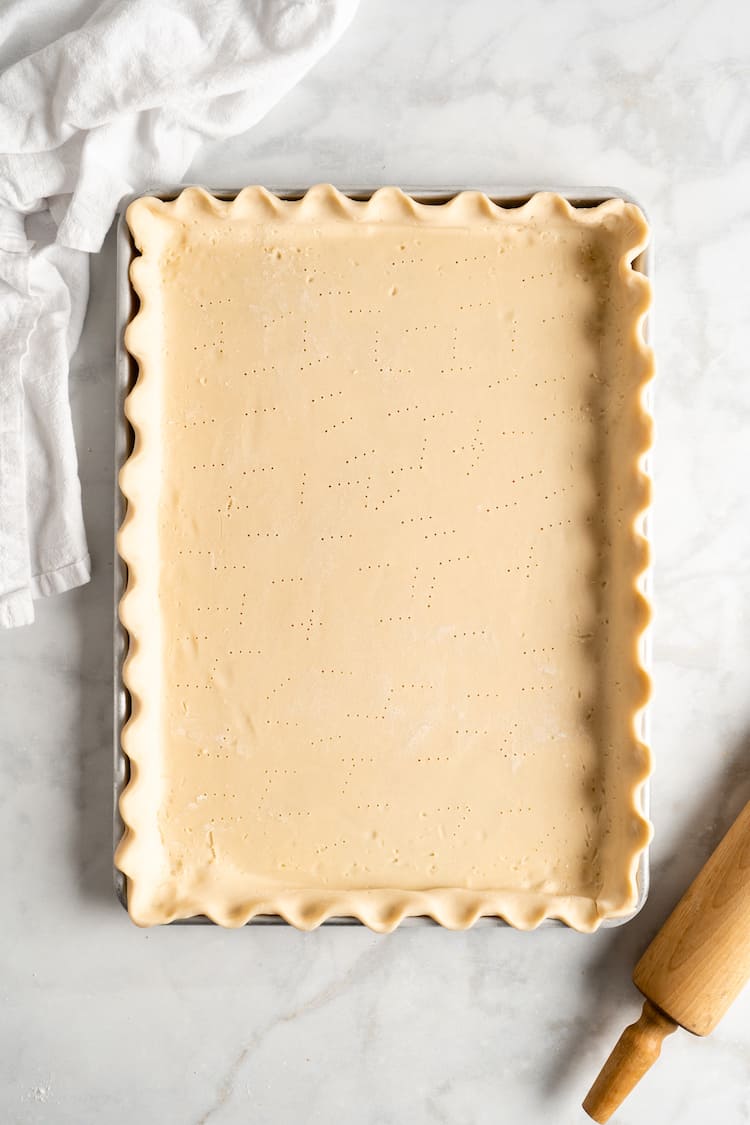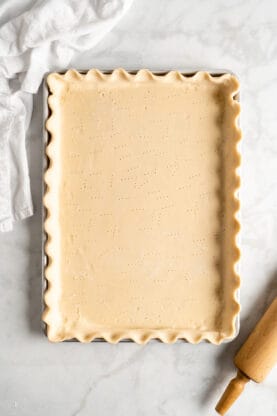 Store Bought Pie Crust- This recipe is made simple by utilizing a store-bought crust! No need to cube cold butter or pull a muscle rolling out dough, just pick up a couple packages of your preferred frozen aisle variety. Before working the dough, allow the crust about 30 minutes to an hour to defrost a bit.
TIP: If you can't seem to get your hands on a frozen pie crust, trying using puff pastry! Treat it the same as you would the crust (just a hair more gentle) and you have a buttery, flaky and unique pie.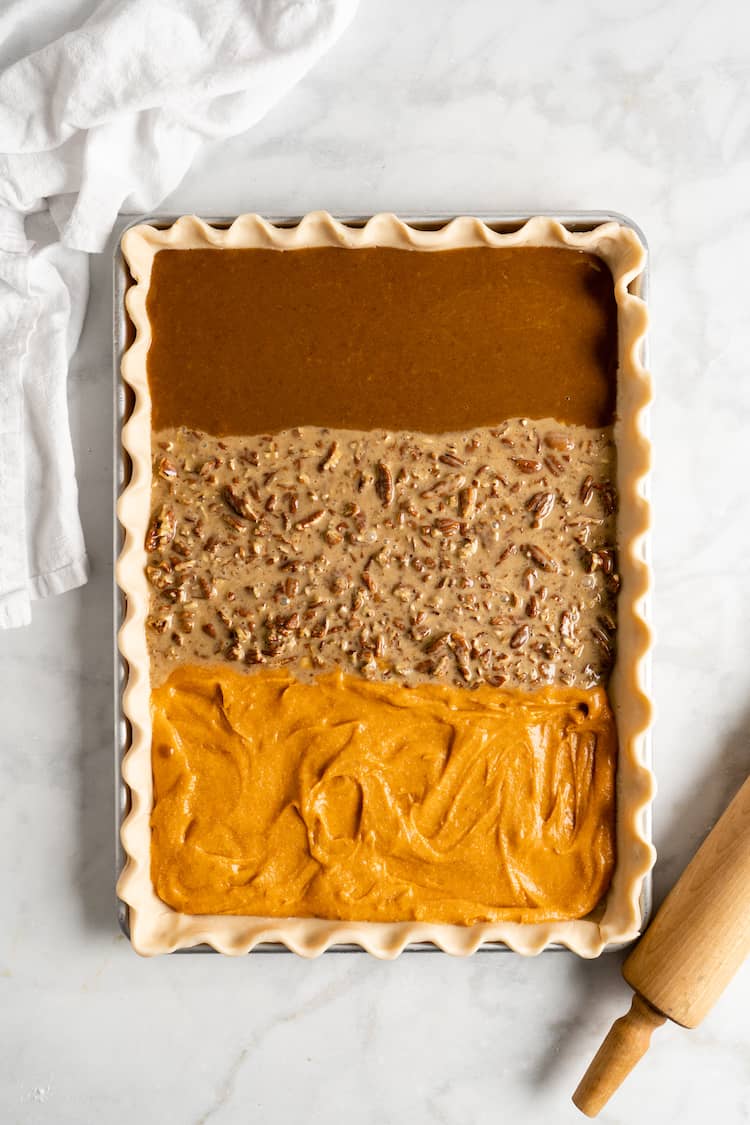 Sweet Potato Pie Filling- rich and sweet, these creamy potatoes make for a wonderfully decadent pie. Each bite is earthy, smooth and downright heavenly! An uncomplicated filling allows the natural flavor of this delicious root vegetable to shine through.
TIP: A lot of recipes call for boiling or steaming sweet potatoes before making the filling. But, I find that both methods water-log the potatoes and make for a soupy, underwhelming filing. Bake the sweet potatoes whole, at 375 degrees for an hour, up to a week in advance of baking.
Pecan Pie Filling- Pecan pie might just be my favorite; it's crunchy, sticky-sweet and melt-in-your-mouth delicious. This classic filling pleases just about everyone at the function!
TIP: Pecan pie benefits from having rested for a solid amount of time. I'd recommend allowing this pie to at least come to room temperature before serving it. Ideally, this pie would be refrigerated overnight.
Pumpkin Pie Filling- Who doesn't love a warm, spiced pumpkin pie? This filing is creamy, decadent and, yet, somehow still simple and light.
TIP: Want to do something different? Trying swapping out the pumpkin puree for butternut squash! This easy swap will make for a nuttier, sweeter filling.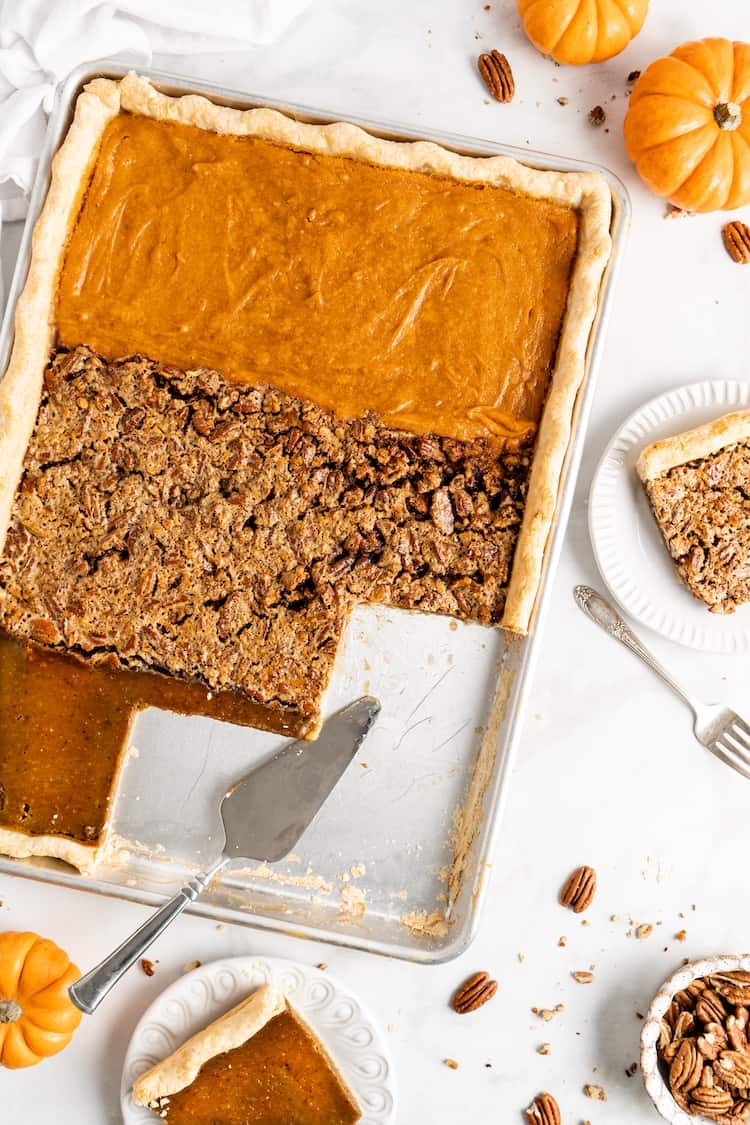 Leftover Storage and Reheating
To Store: I recommend cutting any leftovers into pre-portioned squares; this will make it easier to properly wrap each piece and tuck them away. Once ready to eat, you'll be able to pop one (or however many you'll need) out of the freezer, defrost and enjoy!
Because this pie contains eggs, it's important to keep it tightly-wrapped and refrigerated or frozen. Wrap each piece in a layer of plastic wrap, then either place it in an airtight container or wrap it in an additional layer of aluminum foil. A properly stored pie can be refrigerated for up to 3 days and frozen for up to 6 months.
To Reheat: I suggest avoiding the microwave; it just doesn't help the texture of the pastry. A conventional or toaster oven works much better. Preheat your oven to 350 degrees, line a baking sheet with foil or parchment paper, place the pie on the sheet and lightly cover with foil. Bake for 5-15 minutes, depending on the size of the slice you're reheating.
If you're starting from frozen, either defrost the pie in the fridge overnight or at room temperature for 30-60 minutes.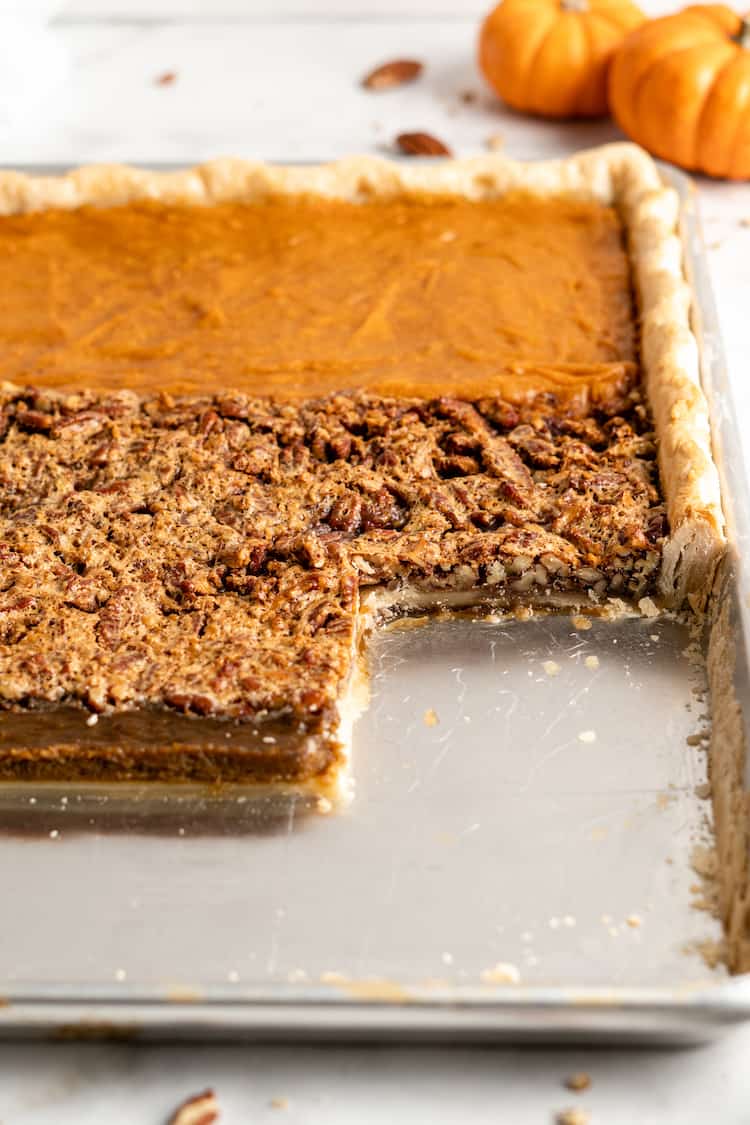 More Grandbaby Cakes Holiday Pie Recipes
I don't know about you, but I'm just about ready to hibernate for the Winter! Catch me swaddled in sweats, moving about the kitchen and whipping up my FAVORITE pie recipes.
Entertaining or not, these recipes are guaranteed to brighten up your Holiday season: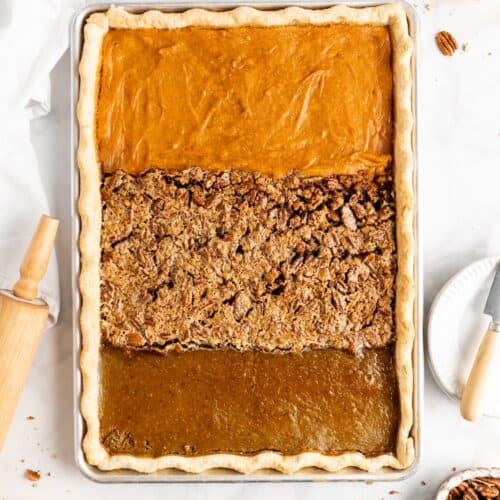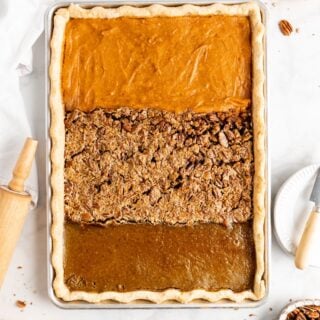 Sheet Pan Pie
For the indecisive pie lover, here's 3 in 1: Sweet Potato, Pecan and Pumpkin all baked together!
Print
Pin
Rate
Ingredients
4

refrigerated rolled pie crusts

should be 2 boxes
For the Sweet Potato Filling
2/3

cup

granulated sugar

5

tbsp

unsalted butter

room temperature

1

large egg

1/4

tsp

vanilla extract

1 2/3

cup

sweet potato

fully cooked and mashed

3/4

tsp

ground cinnamon

1/4

tsp

ground nutmeg

1/4

tsp

salt

1/3

cup

evaporated milk
For the Pecan Pie Filling
3/4

cup

light brown sugar

1/2

cup

light corn syrup

4

tbsp

unsalted butter

melted and cooled

1

large egg plus 1 egg yolk

1

tsp

vanilla extract

2

cups

pecans

roasted and roughly chopped

kosher salt
For the Pumpkin Pie Filling
1 1/2

cup

pumpkin puree

1/4

cup

evaporated milk

1/2

cup

granulated sugar

1/2

tsp

kosher salt

1

large egg

2

tsp

pumpkin pie spice

see note below
Instructions
For the Crust
Preheat the oven to 350 degrees F. Unroll 3 of the pie crusts on a lightly floured work surface. Stack them on top of each other. Roll out the thick, layered dough to a 15-by-21-inch rectangle. Press into a rimmed baking sheet so that the crust comes up the sides and hangs over slightly. This will be the bottom crust. Chill until ready to use, at least 30 minutes.
For the Pumpkin Pie Filling
Whisk together the pumpkin, evaporated milk, sugar, salt, pumpkin pie spice and the egg and in a medium bowl until smooth. Cover and set aside.
For the Pecan Pie Filling
Whisk together the brown sugar, corn syrup, butter, vanilla, eggs and a pinch of salt in a medium bowl until smooth. Fold in the pecans, cover and set aside.
For the Sweet Potato Pie Filling
Using a stand mixer or a hand held mixer, beat together the butter and sugar, then carefully add in the egg and vanilla. Once combined, add in the cinnamon, nutmeg, salt and mashed sweet potato. As the mixture begins to smooth out, gradually pour in the evaporated milk. Mix until fully incorporated, cover and set aside.
To Assemble
Once all fillings are made, begin assembling the pie. Remove the baking sheet with dough from the refrigerator. Using a fork, poke the pie crust about a dozen times, going all around the dough (except for the crust).

Using a large spatula, carefully scoop, spread and smooth each filling onto the crust. On the left side, start with the sweet potato and allow it to only take up ⅓ of the pan. Next, scoop and spread the pecan filling in the middle. Because there is a bit more liquid in the pecan mixture, it will spread a bit, do your best to control it by quickly scooping, spreading and smoothing the pumpkin mixture on the right side.

Bake until all pies are set and the crust on the pie is golden brown and crisp, 50 to 60 minutes.

Remove the pie from the oven and allow it to completely cool, about 1-1 ½ hours. Tightly cover the top with aluminum foil (or plastic wrap) and transfer to the refrigerator to set for at least 4 hours. Overnight is best.

Allow the pie to sit at room temperature for at least 30 minutes before serving. Slice, serve and enjoy!
Notes
If you don't have pumpkin pie spice for the pumpkin pie filling, add 1 tsp ground cinnamon, ½ tsp ground ginger, ¼ allspice, ¼ tsp cloves, pinch of nutmeg.
*There will be leftover dough! It can be used to decorate the tops of the pies or saved for a smaller project.
Nutrition
Calories:
510
kcal
|
Carbohydrates:
61
g
|
Protein:
6
g
|
Fat:
28
g
|
Saturated Fat:
9
g
|
Polyunsaturated Fat:
4
g
|
Monounsaturated Fat:
12
g
|
Trans Fat:
1
g
|
Cholesterol:
55
mg
|
Sodium:
326
mg
|
Potassium:
246
mg
|
Fiber:
3
g
|
Sugar:
36
g
|
Vitamin A:
5820
IU
|
Vitamin C:
2
mg
|
Calcium:
71
mg
|
Iron:
2
mg