This Chocolate Bourbon Pecan Pie is packed with indulgent chocolate, spiced bourbon, and a deliciously sweet and gooey pecan filling. This showstopper of a pie makes for a great addition to the holiday table!
Disclosure: I partnered with Karo® Corn Syrup for this recipe post, but all opinions expressed here are my own. I am grateful for authentic partnerships like this.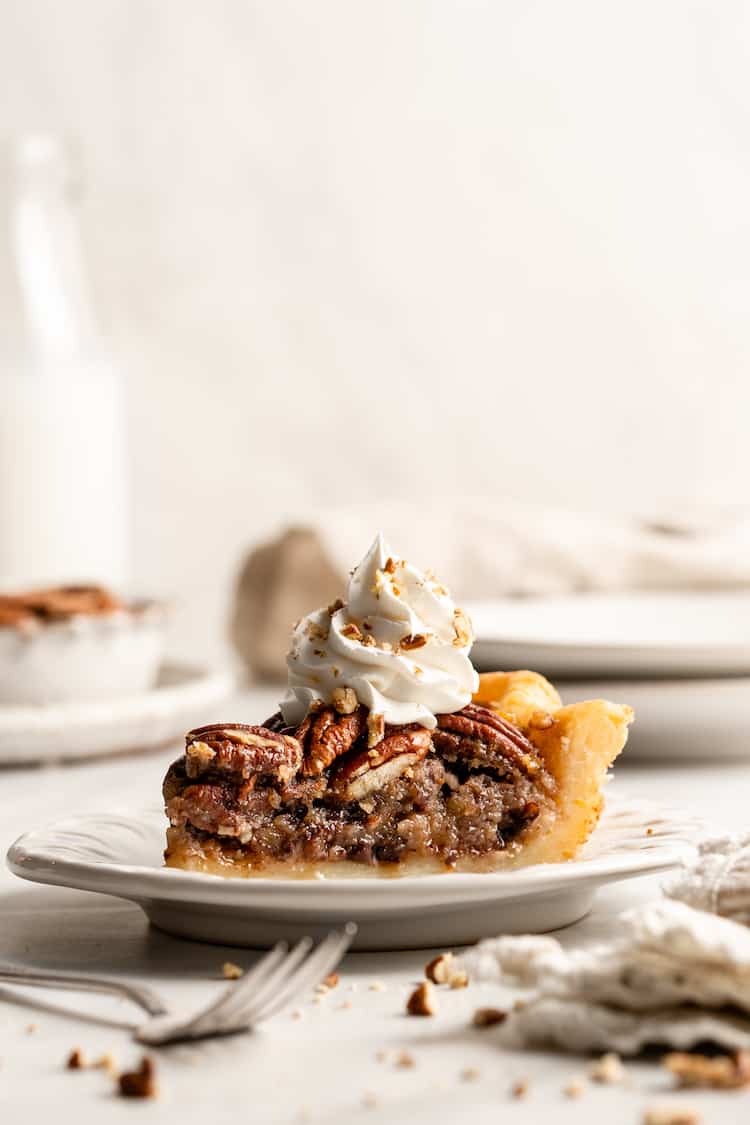 I've posted pecan pie recipes to the blog before but none like the one I've got for y'all today! Chocolate Bourbon Pecan Pie has quickly become a staple holiday pie recipe in my home, and it's sure to be one in yours too. The best part? It's got chocolate and bourbon: two of my top treats.
Perks and Highlights of the Best Chocolate Bourbon Pecan Pie
Cuisine Inspiration: Southern Comfort with a Twist This pie has its roots deep in the South but with a splash of bourbon and the richness of chocolate, it's Southern comfort with an indulgent twist!
Primary Cooking Method: Baking Bliss Baked slowly to allow the flavors to develop and meld, this pie is a true testament to the art of baking.
Dietary Info: Indulgence at Its Finest Let's be real; this is pure indulgence on a plate. It's rich, decadent, and absolutely worth the splurge for your taste buds.
Key Flavor: Boozy Chocolate Decadence Imagine a world where crunchy pecans, luxurious chocolate, and a hint of bold bourbon come together. Now check this out – it's not a fantasy; it's this pie!
Skill Level: Intermediate Baker's Joy You don't need to be a pro, but a little experience will make this baking journey as sweet as the pie itself!
Special Perks:
Crowd Magnet: Perfect for holidays, potlucks, or any festivity – this pie is guaranteed to attract a crowd and have them begging for your secret.
Texture Play: The gooey filling, crunchy pecans, and flaky crust offer a symphony of textures that just dance on the palate.
Bourbon's Little Secret: The warmth of bourbon isn't just a flavor; it's an experience that elevates this pie from great to unforgettable.
Chocolate's Dark Seduction: The use of chocolate adds a deep, dark seduction to the classic Southern pecan pie, making it irrefutably irresistible.
Make-Ahead Wonder: One of the wonders of this dessert? Make it ahead, and it tastes just as divine, if not more, giving you time to relax before the fanfare.
One slice of this Chocolate Bourbon Pecan Pie transports you to a place where calories don't count, and every bite is a celebration of life's sweet luxuries. Ready to bake magic?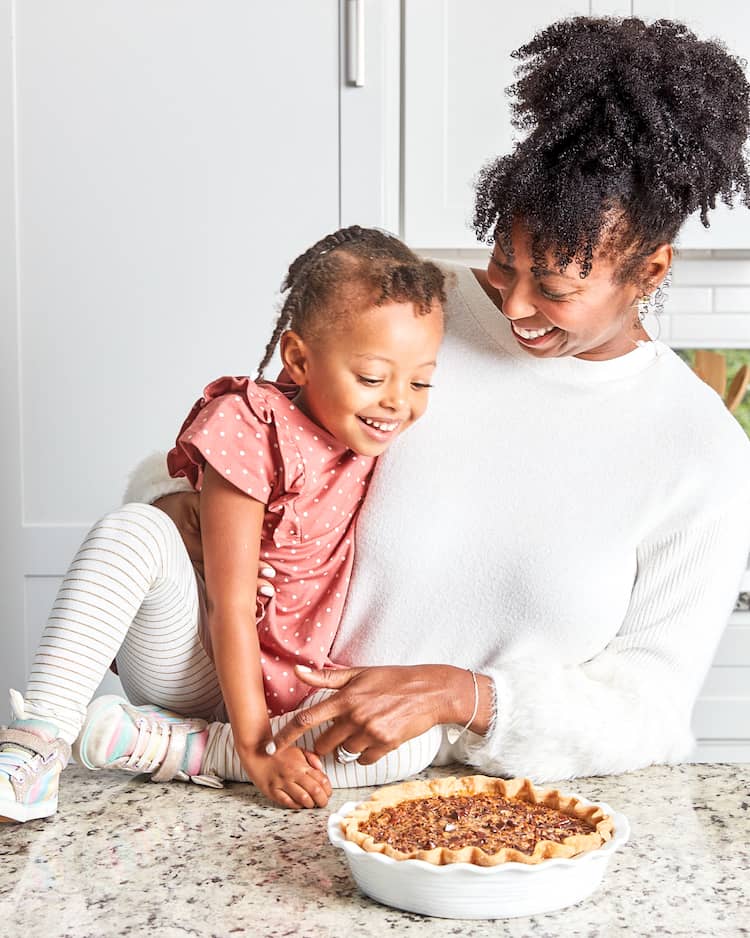 Pecan pie appears to be more complicated than it is. At its core, it's a recipe made with pantry-staple ingredients! I love the simplicity of this recipe paired with the intense, complex flavors it results in. So, if you're looking for an easy, yet impressive pie to keep on repeat this Fall look no further!
Chocolate Bourbon Pecan Pie is fudgy, crunchy, buttery, sweet, gooey and luscious! Top it with some fresh cream or ice cream and wait for those knees to go weak at the first bite.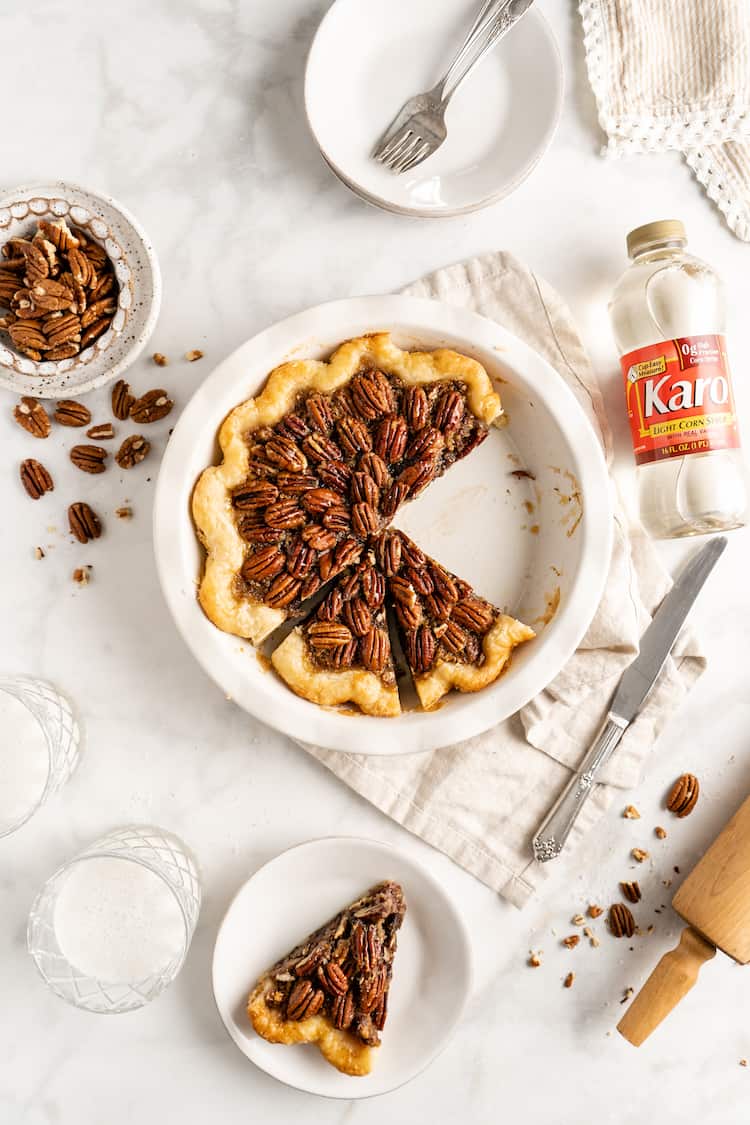 Ingredients
The best, and simplest, part of this recipe is the filling. Not only is it easy to make, but it tastes so dang good!
Here's what we're using to pull it together:
Karo® Light Corn Syrup –

Corn syrup also controls the crystallization of sugar to keep this pie filling silky and glossy. Just a few squeezes single handedly creates that ooey-gooey texture we all know and love pecan pie for!

Toasted Pecans-

Don't go skipping the "toasted" portion of this ingredient. The extra step makes for a more flavorful result.

Granulated Sugar-

If your sugar has got some lumps and clumps, go ahead and sift that. We want to avoid large pieces of sugar studded throughout the filling.

Unsalted Butter-

Butter makes everything better, am I right?

Eggs-

Room temperature eggs are a must here!

Bourbon-

Choose a bourbon you enjoy the taste of! Most of the alcohol will burn off but you will still be able to clearly taste it. If you're not a fan of bourbon, dark rum or whiskey will work wonderfully.

Pure Vanilla Extract

– Don't get caught slipping, good quality vanilla is

everything

!

Kosher Salt-

Kosher salt is king and you can't tell me different. If you don't have any on hand, I'd recommend swapping out the unsalted butter for salted butter, rather than using another salt variety.

Semisweet Chocolate Chips-

Chips or chunks will work. Go dark, milk, or semisweet, it's your party!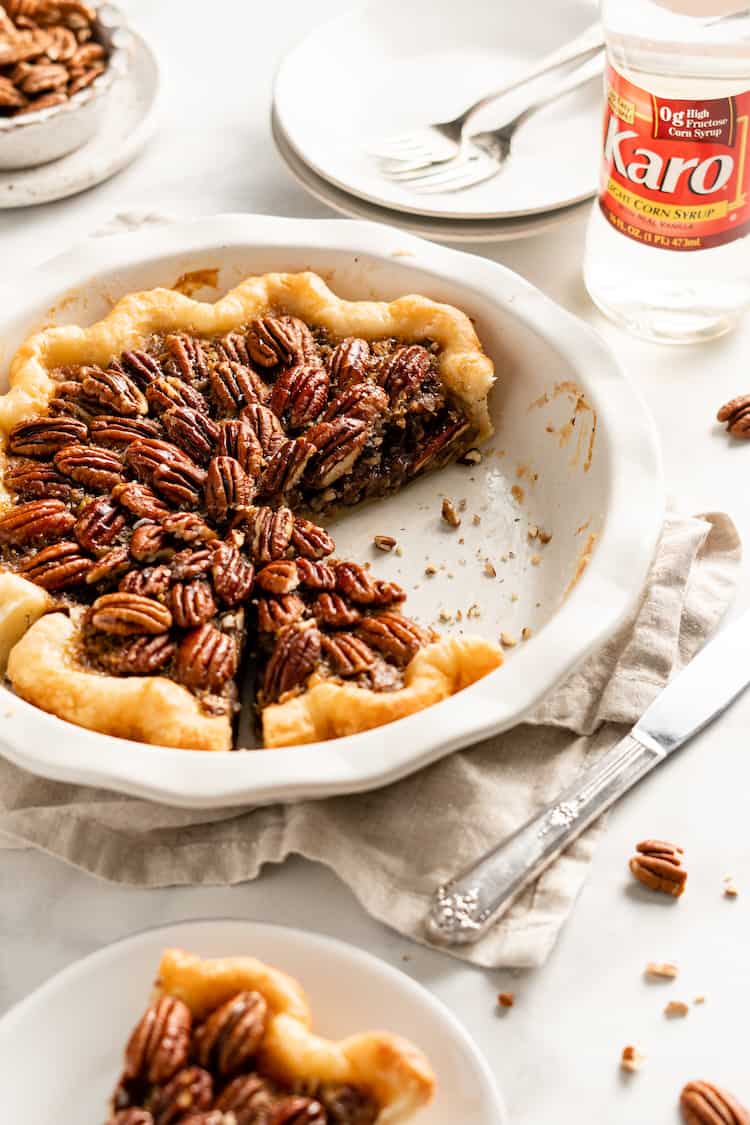 Tips
I'm gonna let y'all in on a secret: I keep a stash of pie crust in the back of the freezer at ALL times. I mean, you just never know when the occasion for a homemade pie is going to present itself!
But, if you're whipping up a fresh round of dough I'm here to help. I got a few tips to keep that crust as buttery and crisp as it should be: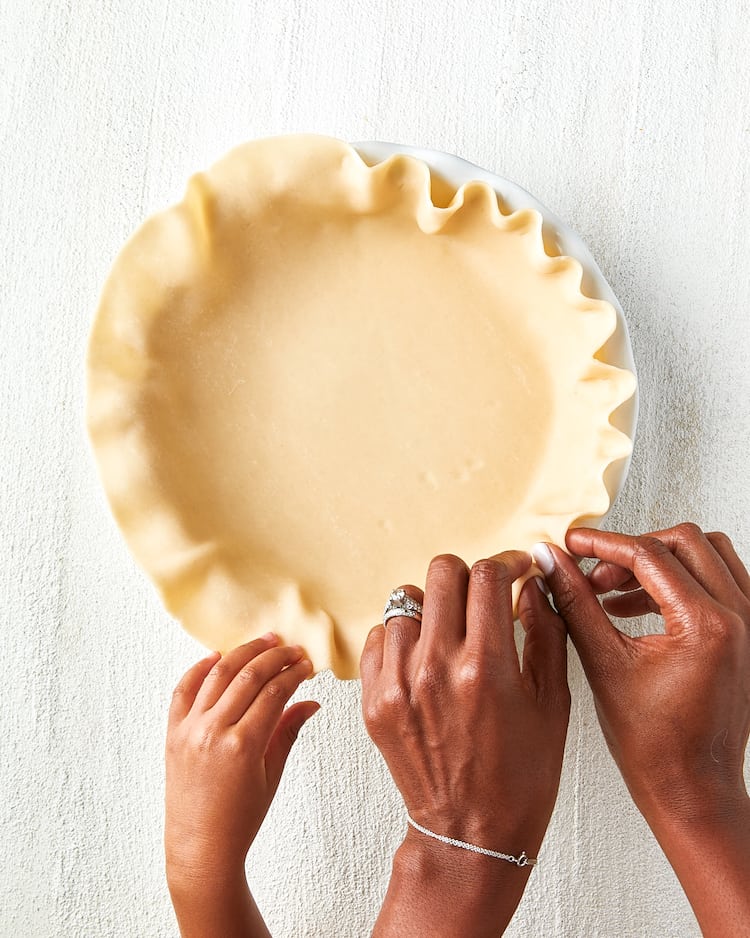 Work with COLD Ingredients-

Both your butter and your water should be as cold as possible, without being frozen. I'd recommend cubing your butter and keeping it in the fridge until ready to use. As for the water, add a few ice cubes to keep it cold while you work.

Don't Overdo It-

When cutting the butter into the dry ingredients, be careful. It's very easy to either leave too many large chunks of butter in the dough or dissolve the butter into the dry ingredients completely. You're looking for small butter pieces and shavings throughout the flour.

Watch the Water-

Pour in the water one tablespoon at a time! You do not want to add in too much water and create a sticky, messy dough. Instead, go slowly and give the dough time to evenly hydrate. To make sure the dough is ready, squeeze some in your hand. If it holds its shape without sticking to you, it's done. It's OK if some of the dry ingredients are still hanging out at the bottom of the bowl.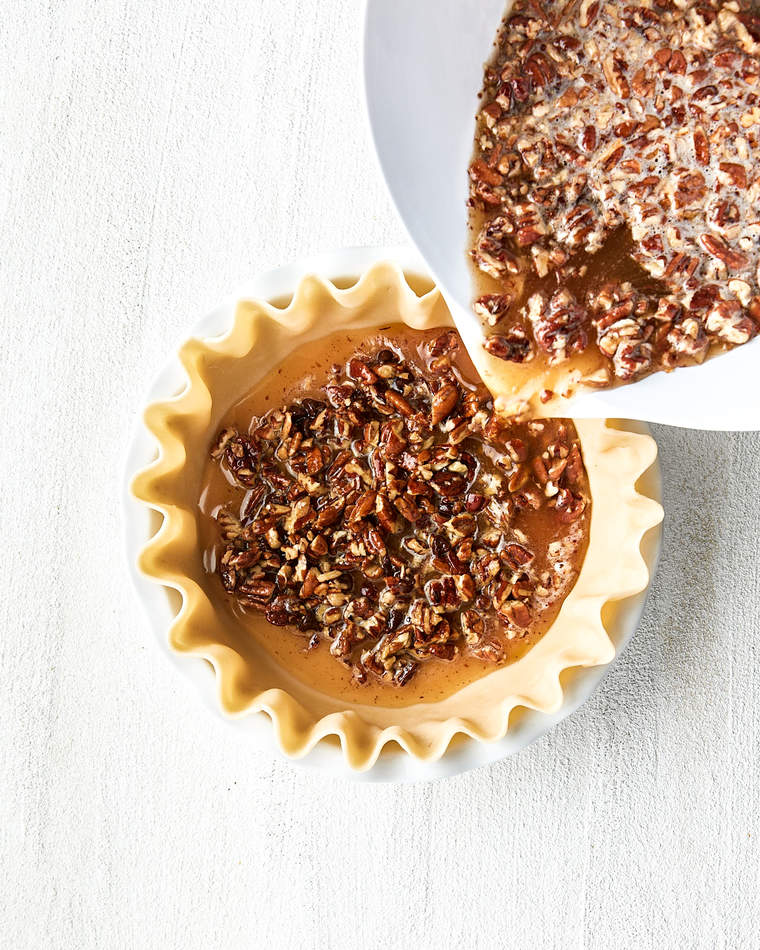 TIP: To save on time, you can absolutely use a frozen pie crust. I'd just go ahead and use a deep-dish crust to accommodate the amount of filling this recipe produces.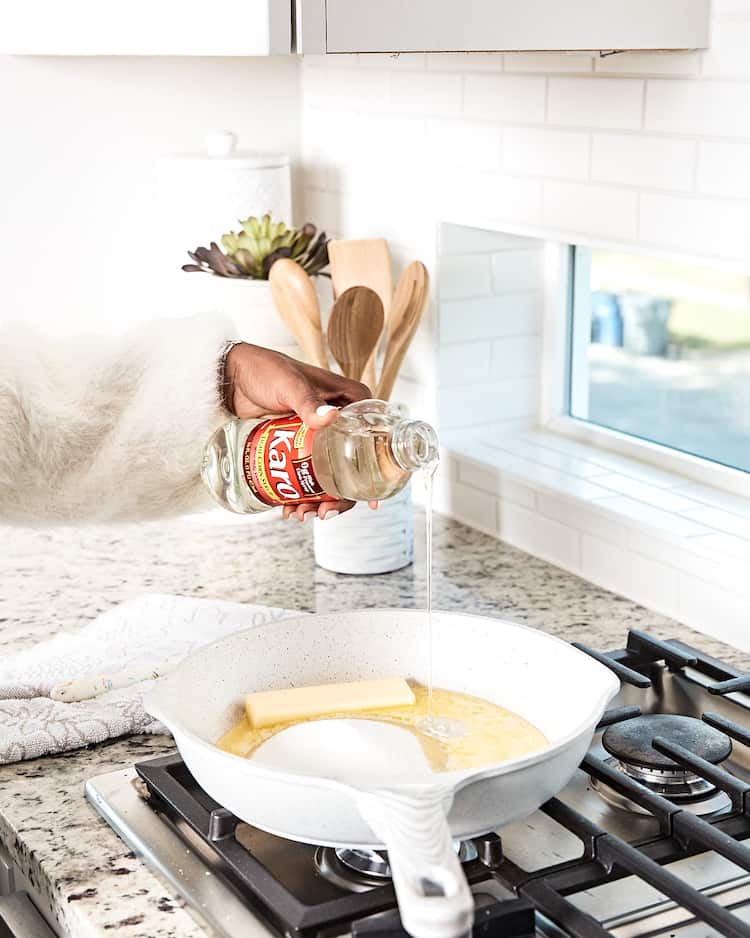 How to Make and Serve A Chocolate Bourbon Pecan Pie
Chocolate Bourbon Pecan Pie is baked for 50-60 minutes at 350 degrees. You'll want to check in on the pie after about 30 minutes, if the crust is browning too quickly go ahead and cover it up with foil or a pie ring.
It can be tricky to tell when a pecan pie is fully cooked. It's ready when the center no longer wobbles. It can jiggle just a bit, but if the center is still looking like soup keep baking for another 5-10 minutes. Know that the pie will continue to cook as it cools.
Because there's chocolate in the filling, the center will be quite fudgy. If you try to slice the pie immediately out of the oven it will absolutely fall apart. Allow the pie to come to room temperature before serving, about 2 hours. I know, it's a long wait but it's so worth it!
Sling your slices with a hefty dollop of fresh whipped cream or vanilla ice cream on top!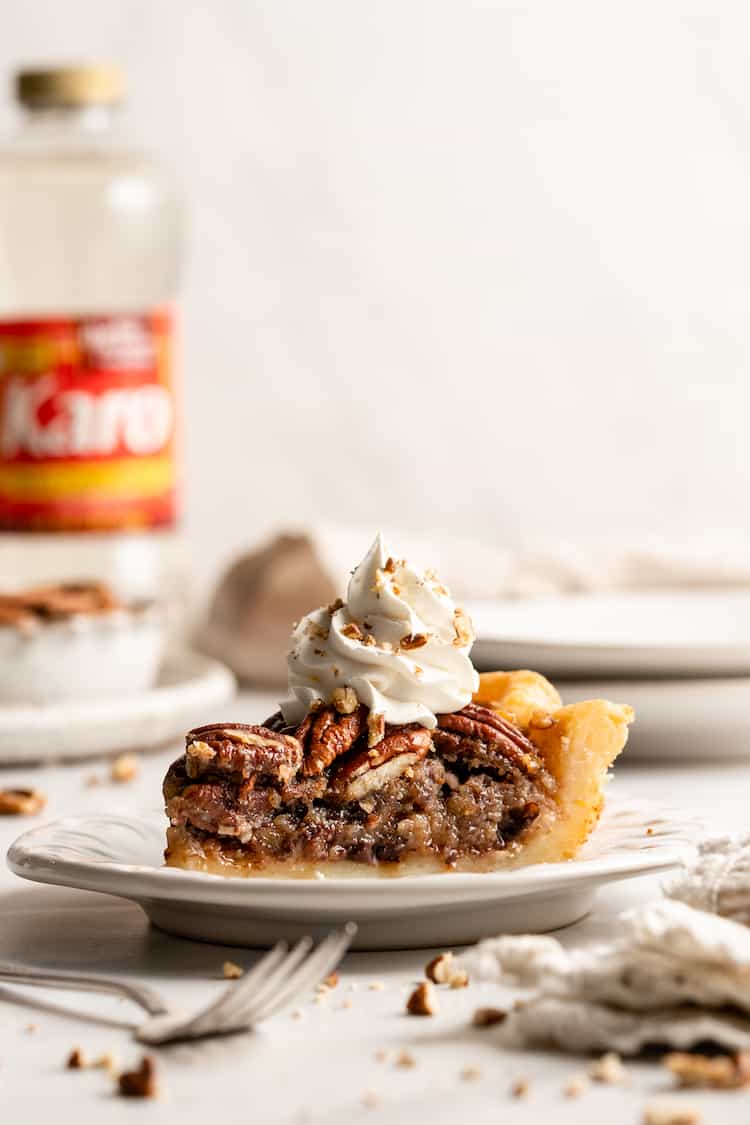 STORING LEFTOVER PECAN PIE
Whether you've got leftovers to save, or you need to tuck away your pie until it's time to be served, storing pecan pie is a breeze. Simply wrap your pie in aluminum foil and put it in the fridge where it will keep for 4-5 days.
NOTE: Do not place a hot pie in the refrigerator! Pecan Pie needs to be at room temperature before storing.
My Favorite Pecan Recipes
This southern girl loves her pecans! I'll candy those babies, mix 'em into cake batter, or eat them plain. If you feel me, give a few more of my FAVORITE pecan recipes a try: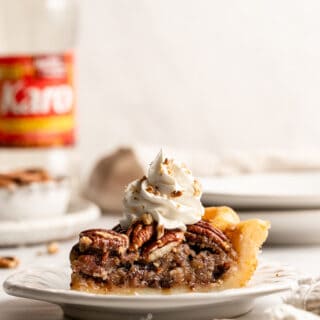 Chocolate Bourbon Pecan Pie
This Chocolate Bourbon Pecan Pie is packed with indulgent chocolate, spiced bourbon, and a deliciously sweet and gooey pecan filling.
Print
Pin
Rate
Ingredients
1 1/2

cups

pecans

1

Perfect Pie Crust Dough

or you can use 1 frozen pie crust

1

cup

granulated sugar

1

cup

Karo® Light Corn Syrup

1/2

cup

unsalted butter

1 stick

4

large eggs

room temperature

1/4

cup

bourbon

1 1/2

tsp

pure vanilla extract

1

tsp

kosher salt

1

cup

semisweet chocolate chips
Instructions
Preheat the oven to 350 degrees. Spread the pecans over a baking sheet. Toast the nuts for 10 minutes, tossing halfway through.

Transfer the pecans to a heat-safe bowl and allow them to completely cool.

If using a homemade crust, prepare the recipe according to its instructions.

Preheat the oven to 325 degrees. Whether using a homemade or frozen pie crust, it's important to pre-bake. Use a fork to poke around the bottom and sides of the crust, place a sheet of parchment paper over the top, and add pie weights to the middle. The parchment paper will help you to easily lift out the weights. Bake for 10-12 minutes, or until firm and slightly golden.

In a small saucepan, combine the sugar, light corn syrup, and butter. Heat over medium heat, stirring continuously. Once the butter has melted and the sugar has dissolved, remove the mixture from the heat. Transfer the liquid to a large heat-safe bowl and allow it to cool.

In the meantime, whisk together the eggs, bourbon, vanilla, and salt in a separate small bowl.

Once cool enough, gradually add the egg mixture to the sugar mixture. Whisk to combine.

If not already in halves and pieces, chop up the pecans. Add the nuts and chocolate chips to the rest of the ingredients. Stir to combine.

Slowly pour the filling into the prepared pie crust.

Bake the pie for 50-60 minutes. Check the pie halfway through, if the edges are browning too quickly cover them with aluminum foil. The pie is done when the edges are set but the middle is still a bit wobbly when touched.

Remove the pie from the oven and set it on a wire rack to cool to room temperature. Slice and serve with whipped cream or vanilla ice cream!
Video
Notes
*NOTE: The filling's texture is quite fudgy. If you'd like a more "set" texture (for easier slicing), cover and refrigerate the pie for 1-2 hours.
Nutrition
Calories:
726
kcal
|
Carbohydrates:
83
g
|
Protein:
7
g
|
Fat:
41
g
|
Saturated Fat:
16
g
|
Polyunsaturated Fat:
6
g
|
Monounsaturated Fat:
17
g
|
Trans Fat:
1
g
|
Cholesterol:
114
mg
|
Sodium:
539
mg
|
Potassium:
260
mg
|
Fiber:
4
g
|
Sugar:
67
g
|
Vitamin A:
495
IU
|
Vitamin C:
1
mg
|
Calcium:
53
mg
|
Iron:
3
mg