This gooey Pecan Pie Bars recipe are made up of a buttery shortbread base, toasted pecans, sticky caramel, loads of chocolate and a salt sprinkle! These indulgent bars are full of everything you love about pecan pie and then some! If you love these, you will also love this Pecan Pie Upside Down Cake, Chocolate Bourbon Pecan Pie, Classic Pecan Pie, and Sweet Potato Pecan Pie.
By Leidi Rodriguez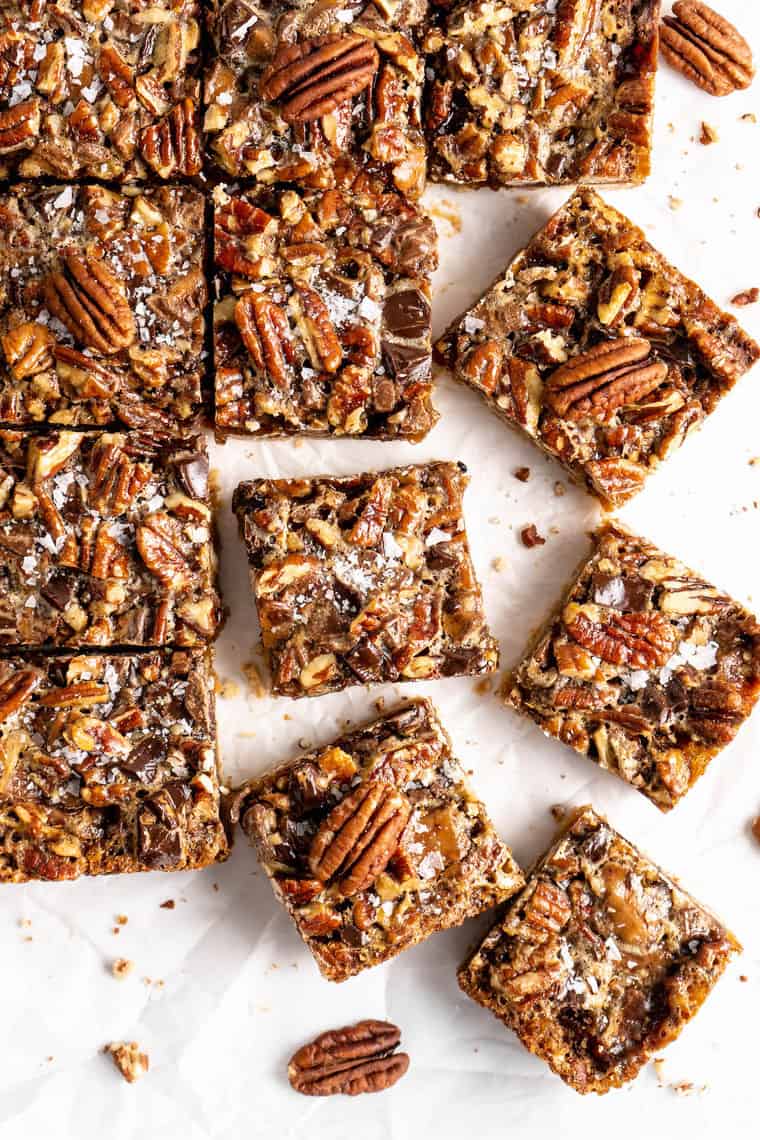 Hello everyone! Are we in the mood for a brand spanking new, hot off the press, and highly requested recipe? Because I sure am!
Okay, I'm exaggerating a bit. This recipe might only have been requested by yours truly but either way it's absolutely phenomenal. So much so that I've made at least 3 batches in the last month and I will be coming back for more.
Pecan pie, very specifically chocolate pecan pie, is my favorite pie in existence. It's buttery, crisp, nutty, sugary, and filled with creamy chocolate. But, making a pie is a lot of work and right now I just don't have the time for all of that.
So, today I'm dishing out a recipe made for those of us who need that slice served a little quicker or for those who are just looking to change things up a little!
CHOCOLATE PECAN PIE BARS
This recipe is very similar to the chocolate pecan pies we slice and serve during the holiday season, and it lends well to sharing. A base layer of crumbly shortbread, sticky toasted pecans, and decadent chocolate all come together to create a dessert perfect for get togethers, potlucks, bake sales, parties , etc.
Or, you can do like me and hoard the whole lot to yourself. That ain't nobody's business but your own!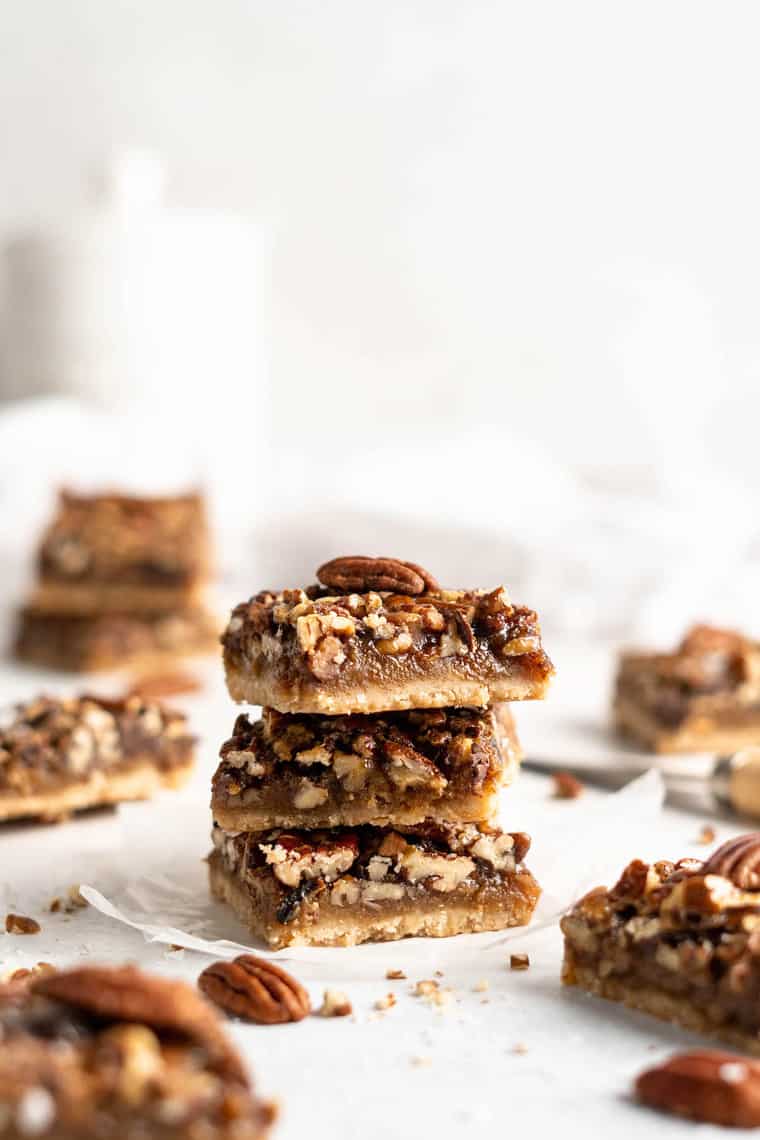 PECAN PIE BARS INGREDIENTS
I'll be honest, I almost never go out of my way for a recipe. Most of the time I just wait for a craving to kick in, dig through the pantry, and scrounge for anything that can make my very pressing dream a reality. Usually, this means swapping out ingredients and making a few liberal yet effective substitutions. Maybe it's my idea of a thrill or a challenge? Either way I'm eating so I'm happy.
Today's recipe is the result of one of those reconnaissance missions! An undeniable craving for salty-sweet, nutty, chocolate-y goodness led me to these delectable pecan pie bars and I just know you'll love them.
Here's what you'll need:

CAN THESE PECAN BARS BE MADE GLUTEN-FREE?
Yes! If you're one of our gluten-free friends, swap out the all-purpose flour in this recipe for your favorite GF alternative. I'd recommend either Bob's Red Mill or King Arthur's cup-for-cup option.
HOW TO MAKE PECAN PIE BARS
You would not believe how easily this recipe comes together. Don't believe me? Follow the instructions below and see for yourself!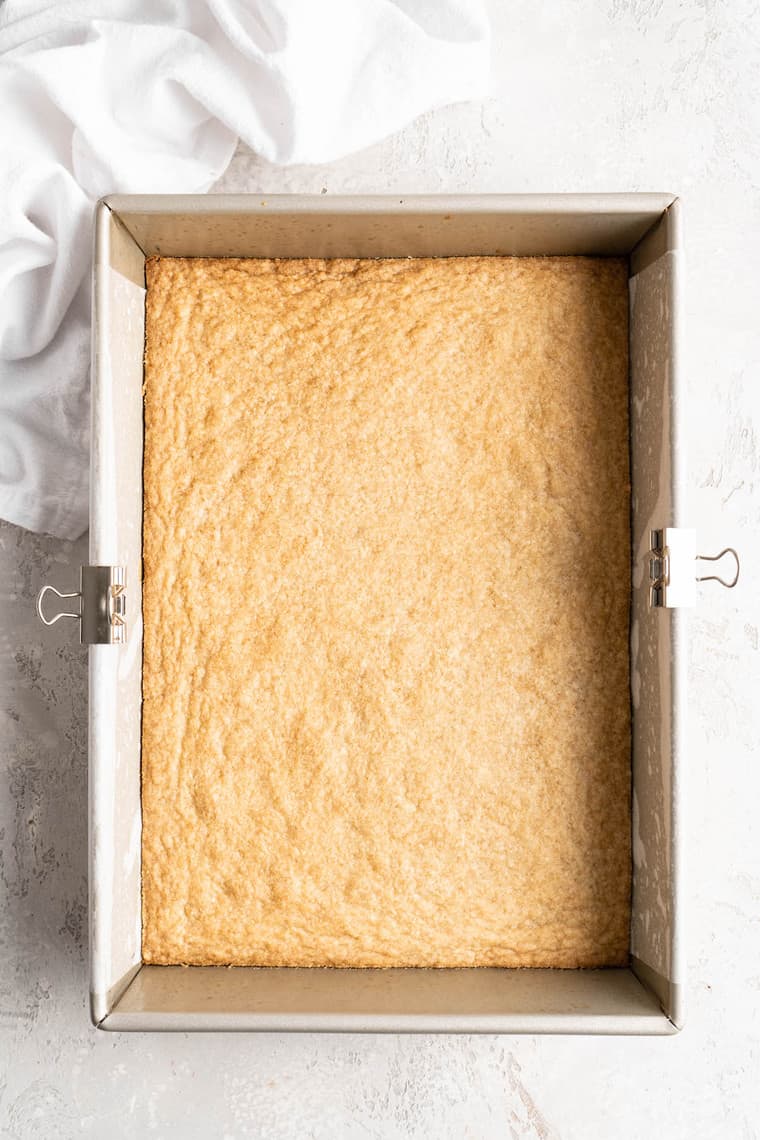 BAKE THE SHORTBREAD-

The base layer of this recipe is a homemade shortbread; it makes for the perfect melt in your mouth bite. I highly recommend following the instructions to parchment paper line your pan. It will make removal that much easier. Spread the dough as evenly as possible and bake until just lightly browned.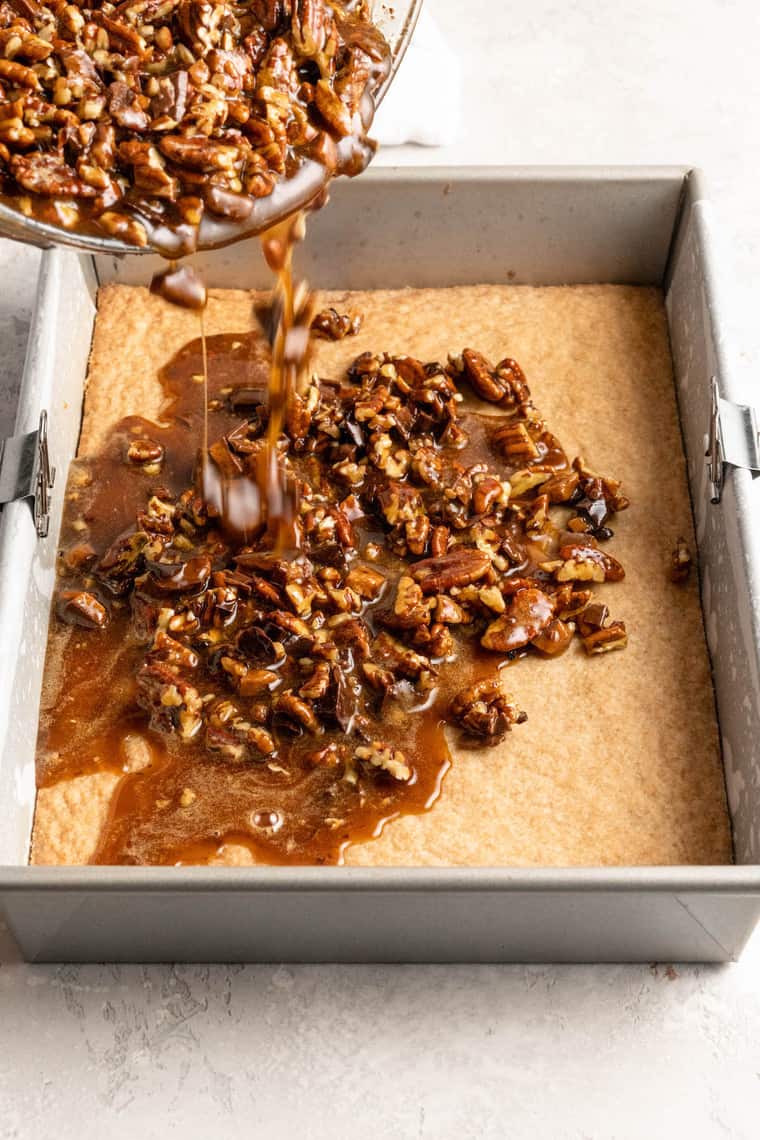 MAKE THE FILLING-

While you wait for the crust to bake, prepare the filling. Combine the ingredients in the order specified in the instructions. Don't skip out on toasting the pecans! It adds a much needed depth of flavor. Carefully pour the filling onto the crust, using a spatula to evenly spread the pecans and chocolate.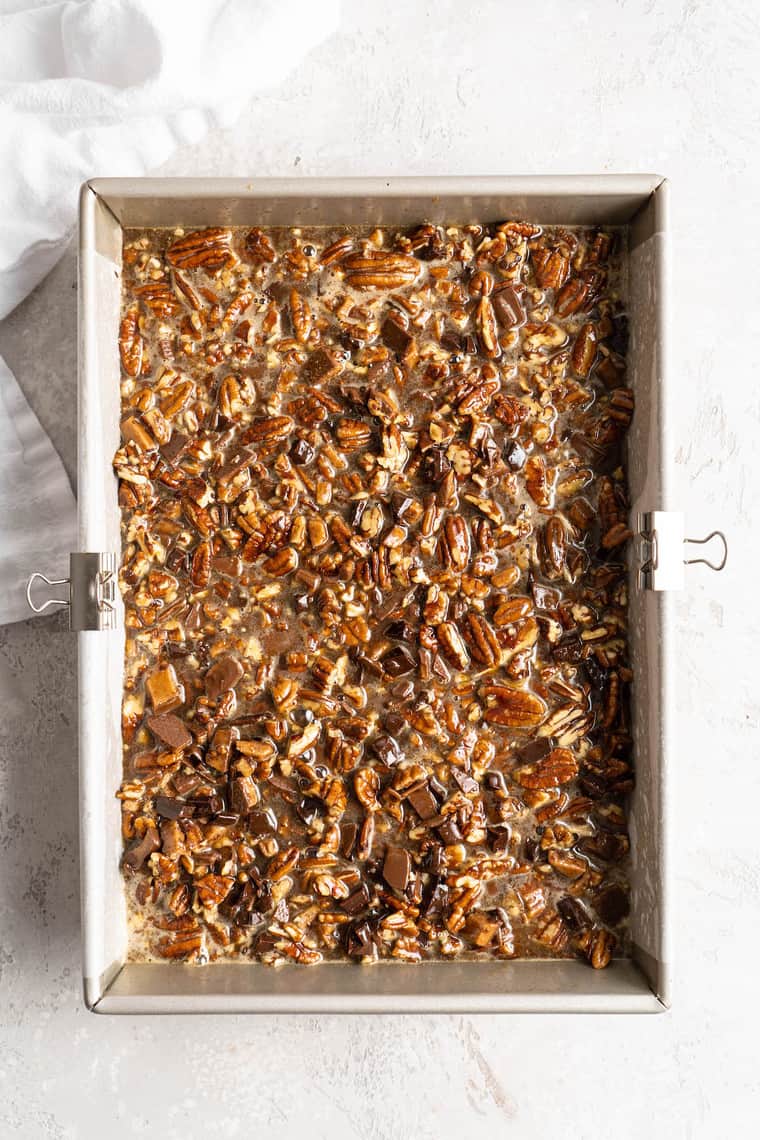 BAKE, + SERVE-

Bake the bars for 25-35 minutes, or until the center is just set. As soon as you pull the bars out of the oven, liberally sprinkle flaky sea salt over the top. Go as light or as heavy as you'd like! Allow bars to cool completely, about an hour, then carefully lift them from out of the pan using the parchment paper. Cut into squares and serve!
STORAGE INSTRUCTIONS
Pecan pie bars can be stored in an airtight container at room temperature for up to 1 week. Alternatively, you can extend the life of your bars by freezing them. Prepare and slice the bars as directed, then double wrap each one in a layer of plastic wrap and aluminum foil. Place the wrapped bars in a freezer-safe airtight container or ziploc bag. Freeze for up to 3 months. Thaw the chocolate pecan pie bars in the fridge overnight before serving.
GRANDBABY CAKES' BEST PECAN RECIPES
Feeling peckish? Try out a few more of GBC's peppiest pecan recipes: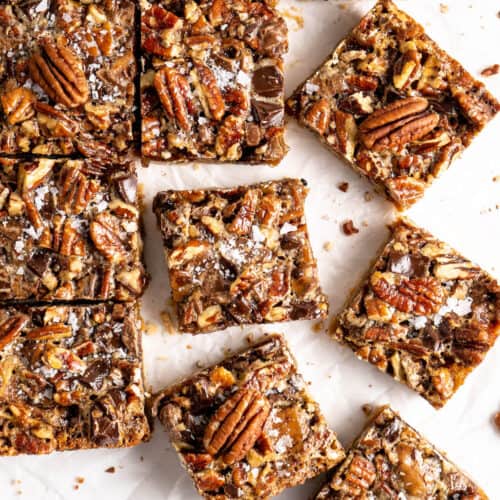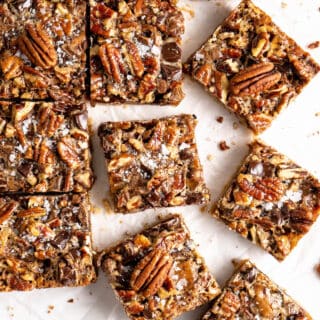 Pecan Pie Bars
This gooey Pecan Pie Bars recipe are made up of a buttery shortbread base, toasted pecans, sticky caramel, loads of chocolate and a salt sprinkle!
Print
Pin
Rate
Ingredients
For the Crust
1

cup

unsalted butter

softened

1/2

cup

dark brown sugar

2 1/3

cup

all-purpose flour

1

tsp

kosher salt
For the Filling
3

large eggs

3/4

cup

corn syrup

1/2

cup

light brown sugar

2

tbsp

molasses

1

tbsp

vanilla extract

4

oz

semisweet chocolate

chopped into chunks

4

oz

heath bars

1/2 cup chopped into chunks

2

cups

pecan halves and pieces

Flaky sea salt
Instructions
For the Crust
Preheat the oven to 350 degrees. Grease a 9x13 pan and line it with parchment paper. Leave a couple inches of paper hanging over the sides to easily lift out the bars.

In the bowl of your stand mixer, or using a bowl and a hand mixer, beat the butter, brown sugar, flour, and salt together, on low speed. After about 1-2 minutes, increase the speed to medium and continue to beat until coarse, almost dough-like crumbs form.

Using your hand, or a spatula/large spoon, press the dough mix into the bottom of the pan, trying to spread it as evenly as possible.

Bake for 25-30 minutes, or until lightly browned. Let cool for 10 minutes. In the meantime, prepare the filling.
For the Filling
Spread the pecans on a rimmed baking sheet. Bake for 8-10 minutes or until fragrant and lightly toasted. Remove from the oven and let cool completely.

Wipe out the bowl of the stand mixer. To that bowl, add the eggs, corn syrup, and brown sugar. Beat on low speed until smooth, about 1-2 minutes.

Add in the molasses and vanilla, then briefly mix again until just combined.

Use a spatula to fold in the pecans and both chocolates. Pour the mixture over the top of the baked crust.

Return to the oven and bake for 25-35 minutes, or until the center is set. Once out of the oven, immediately sprinkle flakey sea salt over the top. Add as much or as little salt as you'd like.

Let cool completely, about an hour. Slice into squares and serve!
Nutrition
Calories:
303
kcal
|
Carbohydrates:
35
g
|
Protein:
3
g
|
Fat:
18
g
|
Saturated Fat:
7
g
|
Polyunsaturated Fat:
3
g
|
Monounsaturated Fat:
7
g
|
Trans Fat:
1
g
|
Cholesterol:
41
mg
|
Sodium:
127
mg
|
Potassium:
135
mg
|
Fiber:
2
g
|
Sugar:
23
g
|
Vitamin A:
274
IU
|
Vitamin C:
1
mg
|
Calcium:
31
mg
|
Iron:
1
mg