Southern Sweet Potato Pie Recipe – A classic sweet potato pie recipe filled with indulgent fall flavors and spices in a flaky buttery crust. Perfect for the holiday season or Sunday supper dessert!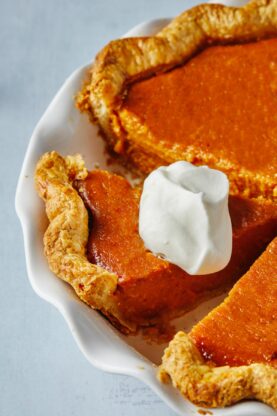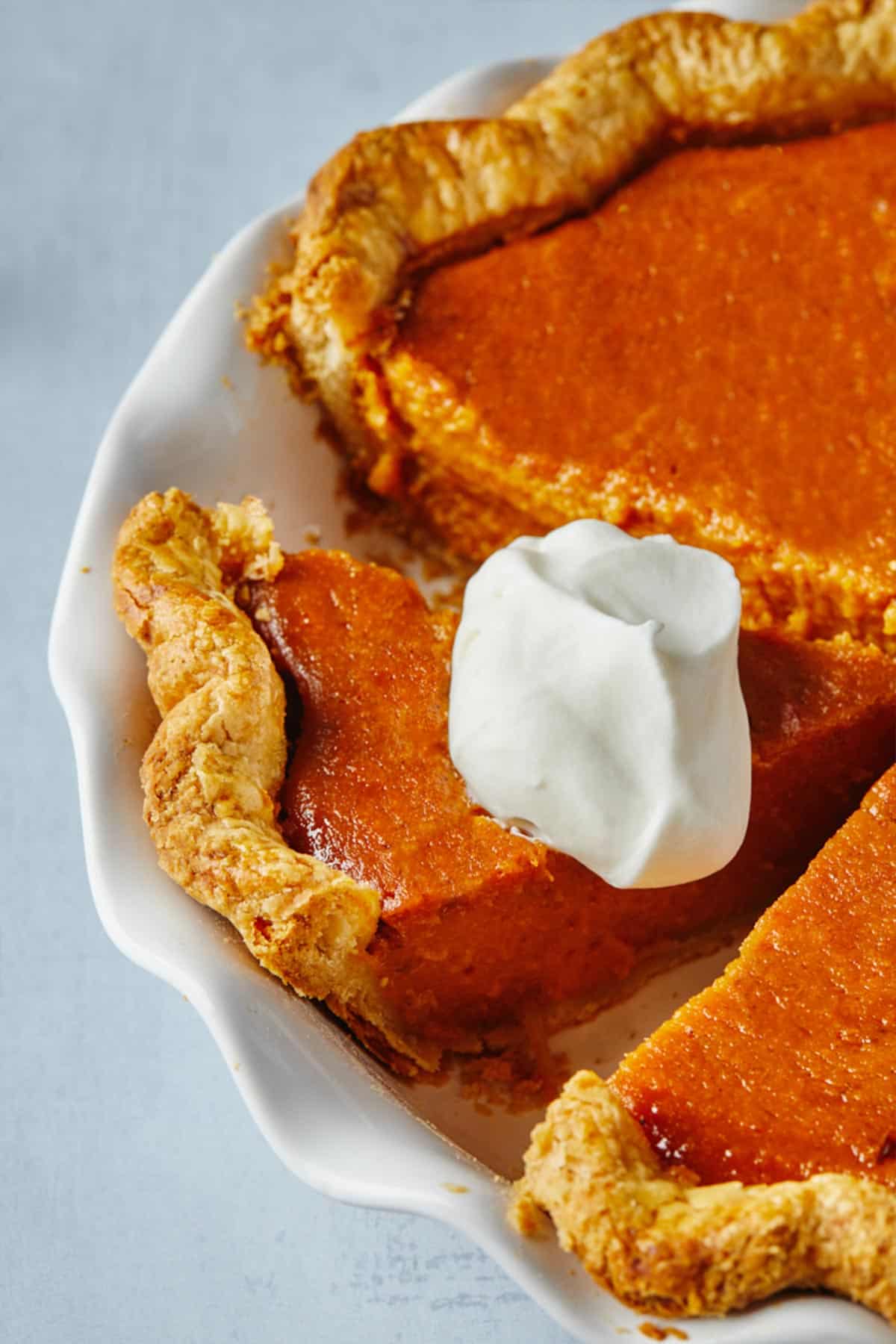 SOUTHERN SWEET POTATO PIE RECIPE
I first purchased Patty Pinner's cookbook and treasure "Sweets: Soul Food Desserts & Memories" five years ago. I was instantly connected to the stories and photographs because I saw fragments of myself intertwined in the pages. Growing up mesmerized by my Big Mama's cooking and baking (especially her southern sweet potato pie recipe) made me relate to Patty on so many levels.
CONNECTION BETWEEN FOOD AND MEMORIES
In "Sweets", Patty not only shares stories through her rich history but she also gives beautiful accounts of her past through her dishes and family recipes. Many people don't understand how connected food is to their experiences in life. For so many of my fondest memories, I can remember what I was eating. Birthdays, holidays and even my engagement were met with food experiences that can never be forgotten.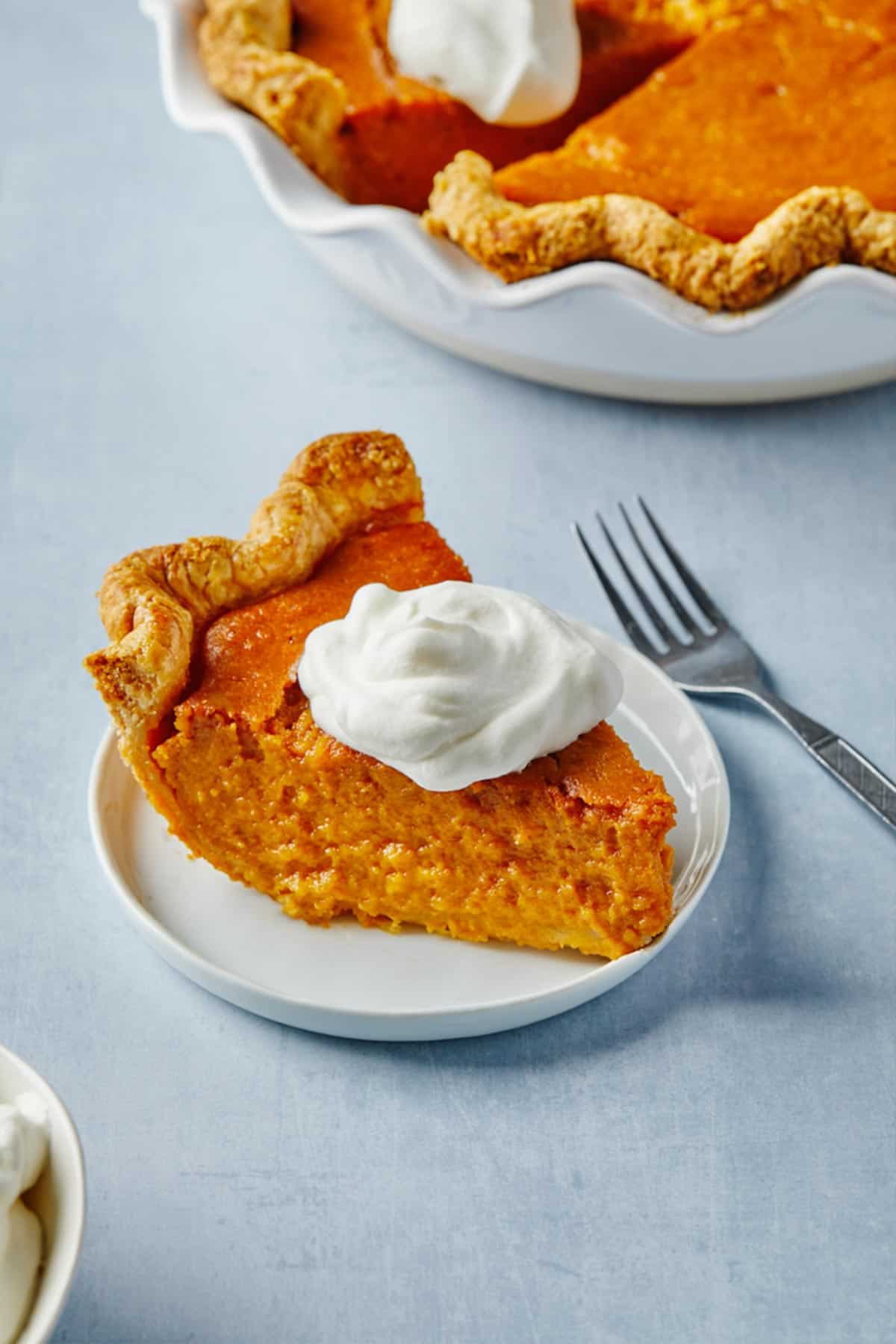 PIE CRUST RECIPE
The crust is so essential when making a homemade pie. Patty's pie crust recipe utilizes shortening instead of butter or margarine. It does result in a very flaky crust so it is definitely worth giving a try. You can also replace some of the shorting with butter or use a butter flavored shortening if you want the additional flavor. I personally love the flavor of butter so I always make my
pie crusts
with butter.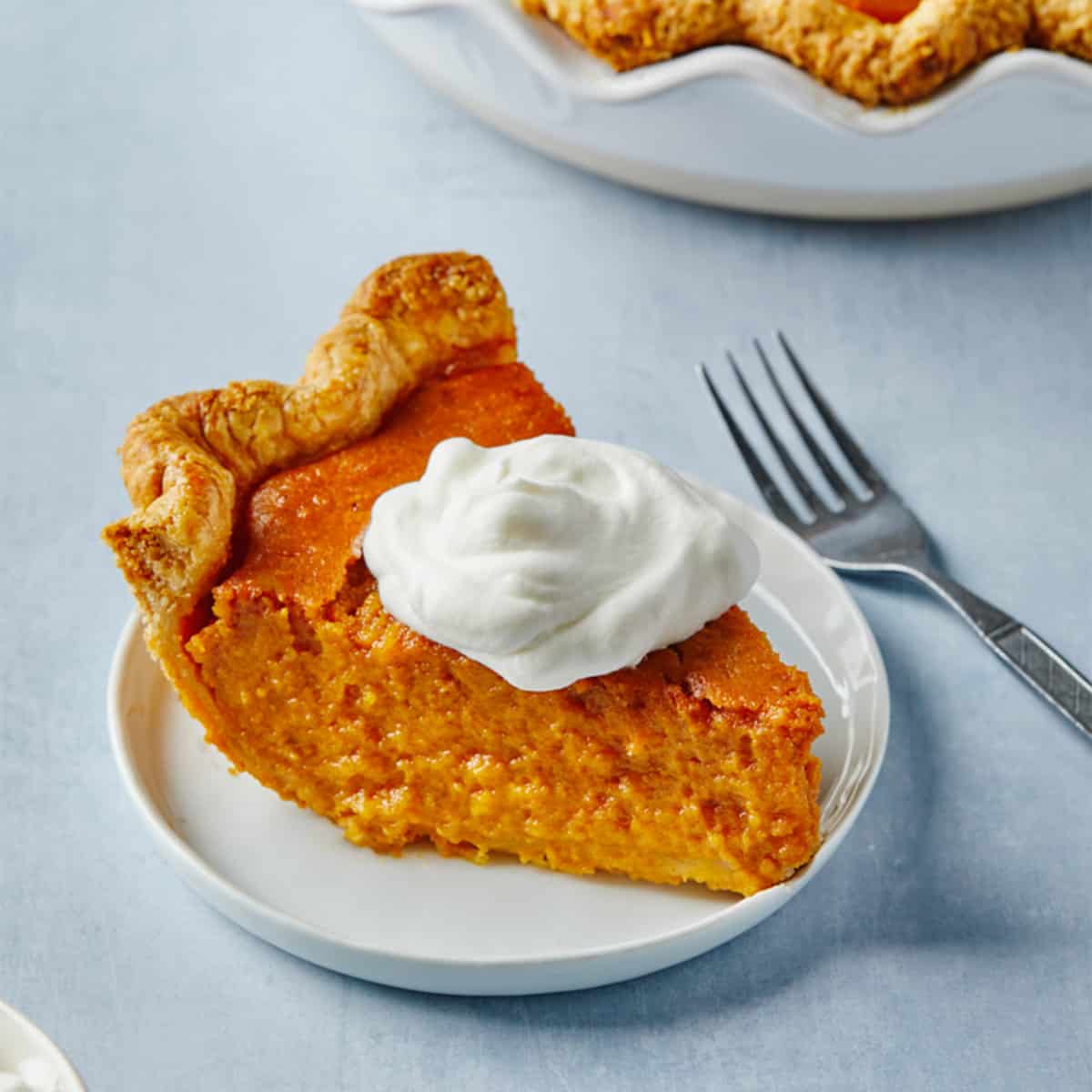 PIE FILLING
The pie filling is really sensational. There is lots of butter in this recipe so just know that it is definitely for a special occasion like the holidays. What I found interesting was the addition of buttermilk, which gave a nice tangy flavor to this Southern Sweet Potato Pie Recipe. For the sweetness, there is a combination of sugar and corn syrup that's used. I found this to be very unique, and it tastes phenomenal. For the spices, it is everything you would find in a pumpkin pie if that is your thing. The cinnamon, nutmeg, and allspice really heighten the flavor of the sweet potatoes creating something really rich and enhanced.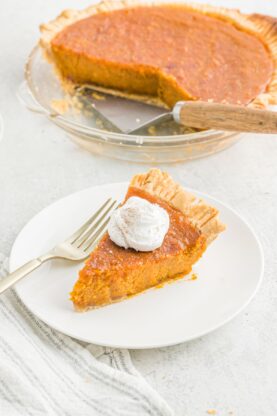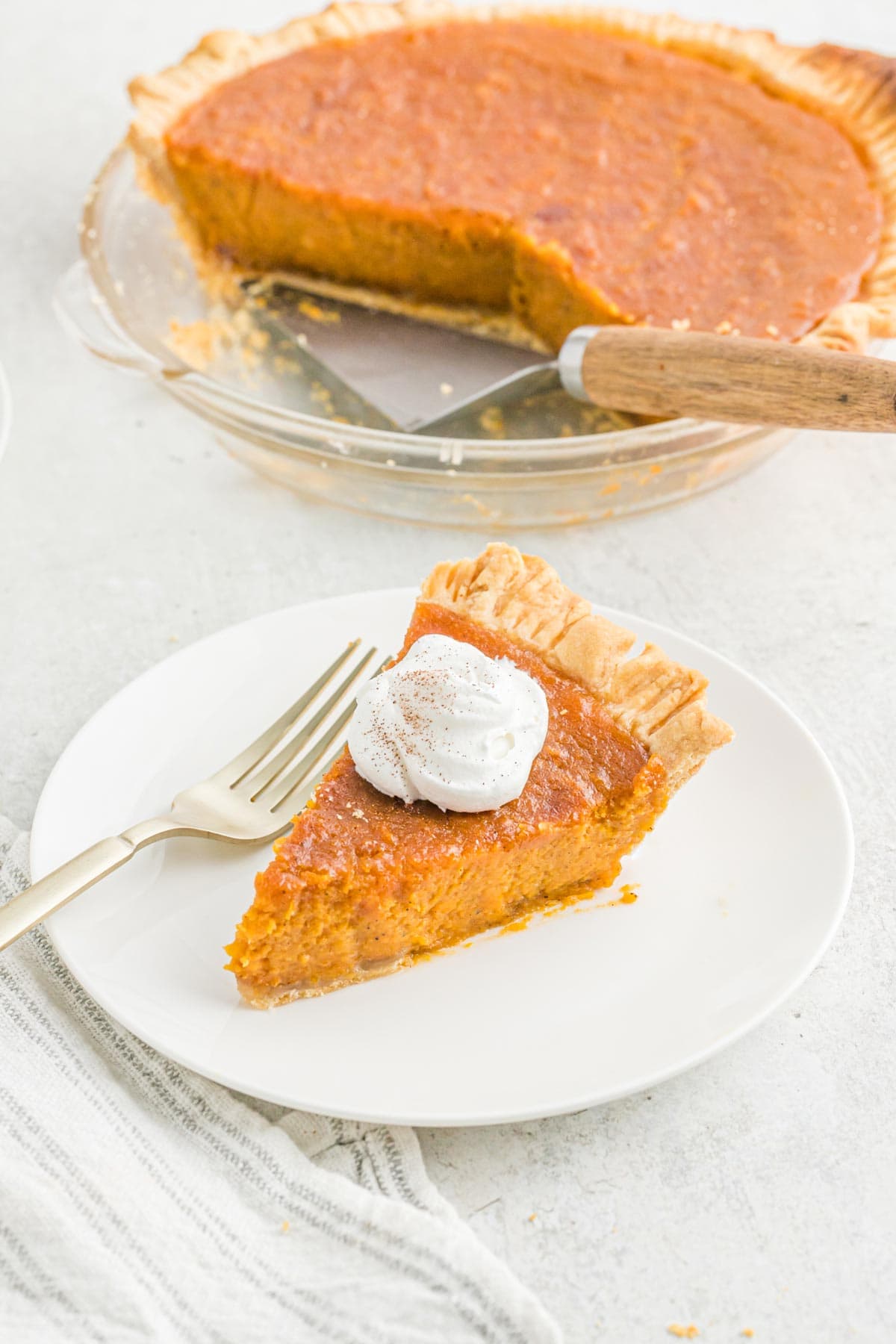 If you love sweet potato, you will adore my Sweet Potato Chess Pie recipe or my Sweet Potato Cheesecake recipe or even my Sweet Potato Pound Cake recipe or Sweet Potato Cupcakes with Toasted Marshmallow.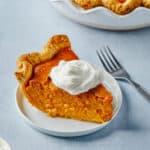 Southern Sweet Potato Pie Recipe
A classic sweet potato pie recipe filled with sensational fall flavors and spices in a flaky pie crust. Perfect for the holiday season or Sunday supper dessert!
Keyword:
classic recipes, crowd pleasers, holiday recipes
Ingredients
For the Pie Crust:
1 1/2

cups

all-purpose flour

sifted

1/2

teaspoon

salt

1/2

cup

vegetable shortening

chilled

1

large

egg

beaten

2 to 3

tablespoons

cold milk

or more as needed
For the Pie Filling:
3

large

sweet potatoes

1/2

cup

unsalted butter, melted

1 stick

1/2

cup

dark corn syrup

1 1/2

cups

granulated sugar

2

large

eggs

beaten

1/2

cup

buttermilk

1/2

teaspoon

ground nutmeg

1/2

teaspoon

ground cinnamon

1/2

teaspoon

ground allspice

1

teaspoon

vanilla extract

Pinch

salt

Whipped cream

for garnish
Instructions
Wash the whole sweet potatoes and drain them.

Place the sweet potatoes in a large pot and add cold water to cover by 2 inches.

Bring the water to a boil over medium heat, and cook until the potatoes are tender, 30 to 40 minutes.

(A fork should pierce the potatoes easily but they should not fall apart.) When the potatoes are done, drain and cool them.

Preheat the oven to 375 degrees F.

Prepare the pastry for a 9-inch single-crust pie.

In a bowl, combine the flour and salt.

Cut the shortening into the dry ingredients with a fork or by pinching the shortening into the flour mixture with you fingers.

The result should be coarse crumbs and small clumps the size of peas. Add the egg and mix well. Add the milk 1 tablespoon at a time. Don't be afraid to add more milk if necessary to achieve a dough that's wet enough to form into a ball. Being careful not to overwork the dough, form the dough into a ball with you hands.

Wrap the ball in plastic, then chill in the refrigerator for 30 minutes.

Transfer the dough from the refrigerator to a lightly floured surface.

Flatten the ball slightly and dust the top of it with flour before rolling it out with a rolling pin Begin rolling at the center of the dough and work outward.

Roll the dough out into a circle about 4 inches wider than the pie pan it will be placed in. Set it aside.

When the potatoes are cool enough to handle, peel and mash them in the large bowl of an electric mixer.

Add the melted butter, corn syrup, and sugar. Beat on medium speed. Discard the long, stringy fibers that collect around the electric beaters as you beat the filling. In the end, you want a smooth, string-free filling.

Add the eggs one at a time. Beat well after each addition

Pour in the buttermilk.

Add the nutmeg, cinnamon, allspice, vanilla extract, and salt. Beat until the filling is smooth.

Pour the filling into the prepared pie crust.

Bake for 35 to 40 minutes, or until a toothpick inserted into the center comes out clean.

Remove from the oven and cool completely on a wire rack.

Garnish with whipped cream.
Nutrition Facts
Southern Sweet Potato Pie Recipe
Amount Per Serving
Calories 587
Calories from Fat 234
% Daily Value*
Total Fat 26g 40%
Cholesterol 101mg 34%
Sodium 250mg 10%
Potassium 244mg 7%
Total Carbohydrates 82g 27%
Protein 6g 12%
* Percent Daily Values are based on a 2000 calorie diet.