This Blueberry Orange Pound Cake Recipe is moist, decadent and the perfect combination of sweet blueberries and tart sweet orange citrus flavor!! This is a wonderful cake to make for Spring and Summer get togethers or all year round!
My weekly brunch with mom featuring a special Blueberry Orange Pound Cake and HomeGoods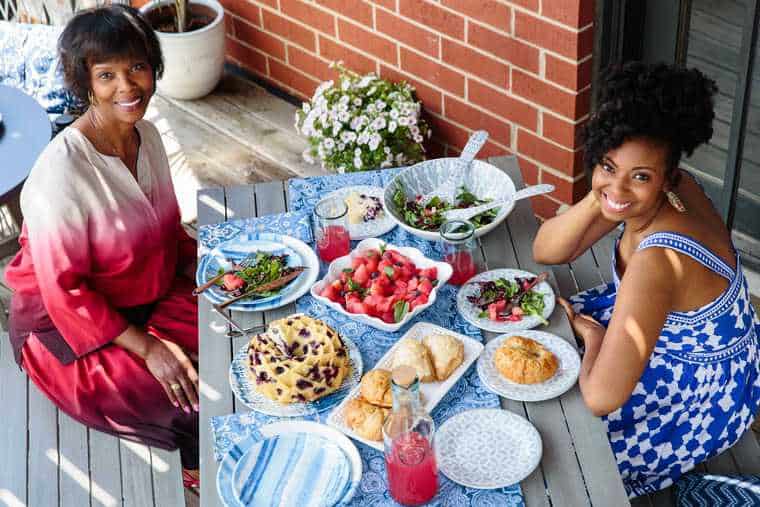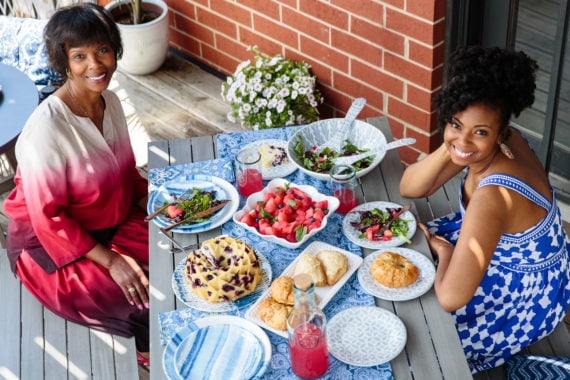 This summer has truly been a crazy one. I have literally been on a flight to a different locale every other week. I am so grateful for all of the opportunities that have come my way so trust me when I say I am not complaining. However, I have recently found it harder to find time for the people and things that truly mean a lot to me.
Let's be real. There's no denying life can get a little hectic. Sometimes it's hard to find time for literally anything, especially time for yourself. But there's one thing I always find time for and that's my mother. It's as simple as it sounds.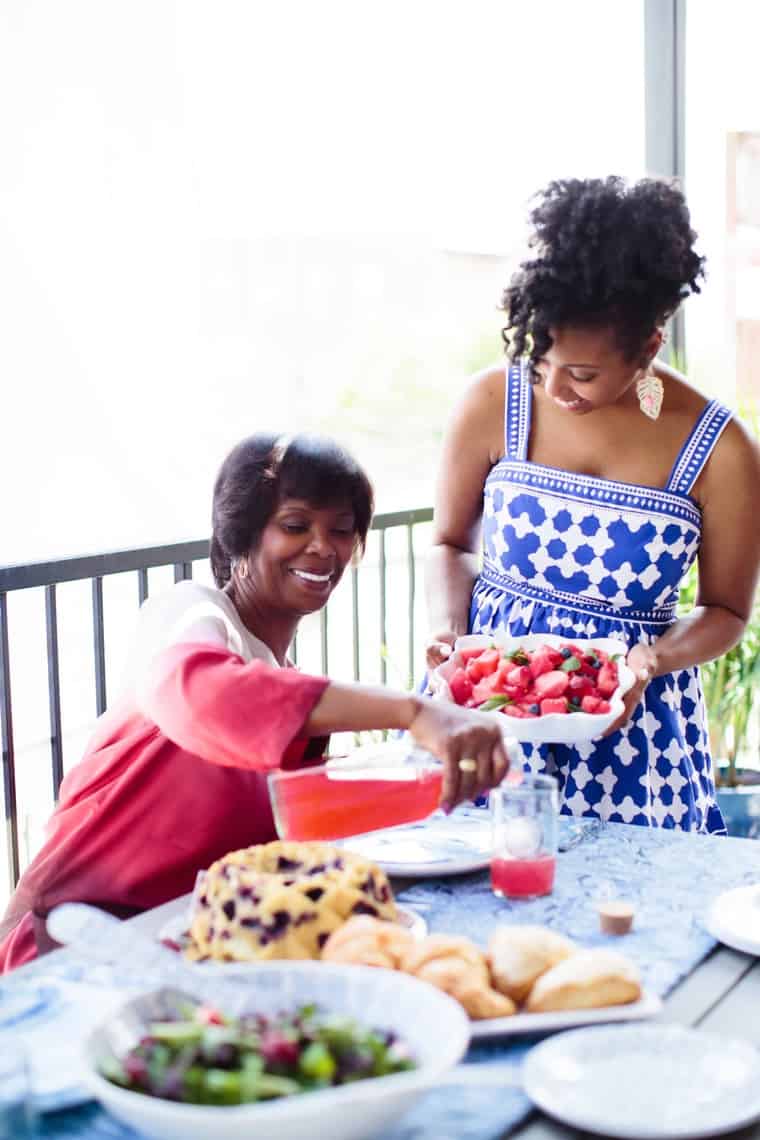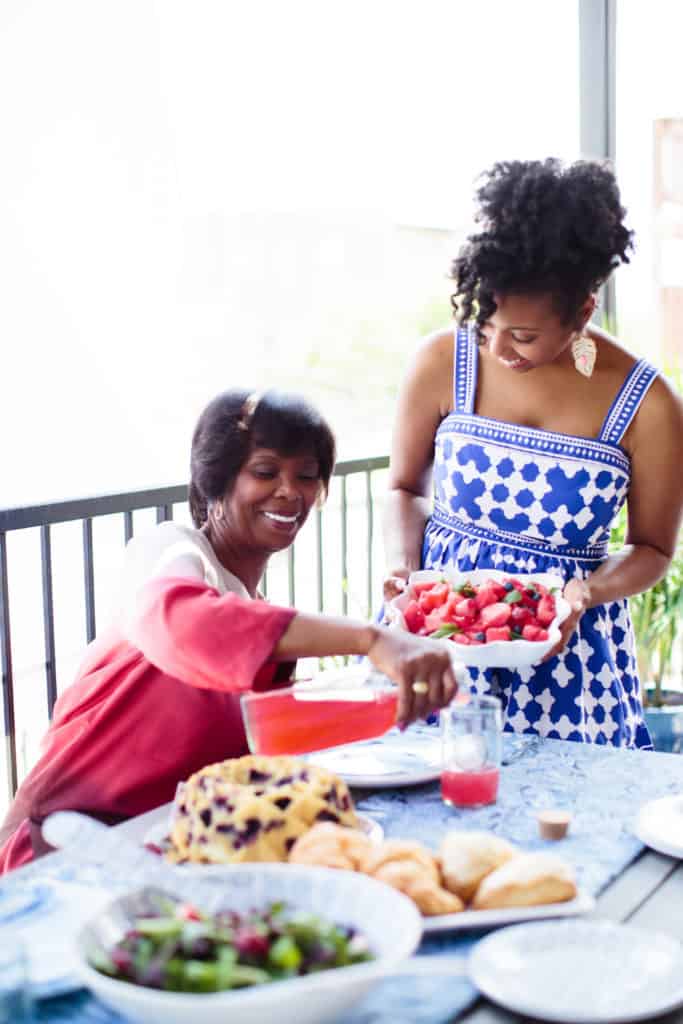 My mom has always been my rock; she loves me unconditionally and is there when I need her. Taking time out of my busy schedule for this wonderful woman who's devoted her life to me is the gift that keeps on giving.We de-stress and unwind together with our weekly brunches! In fact, 92% wish they had more time for these moments. We unplug the cell phones, tablets, and television. We spend time talking about our lives and enjoying each other's company. Those are the memories I will cherish for years to come.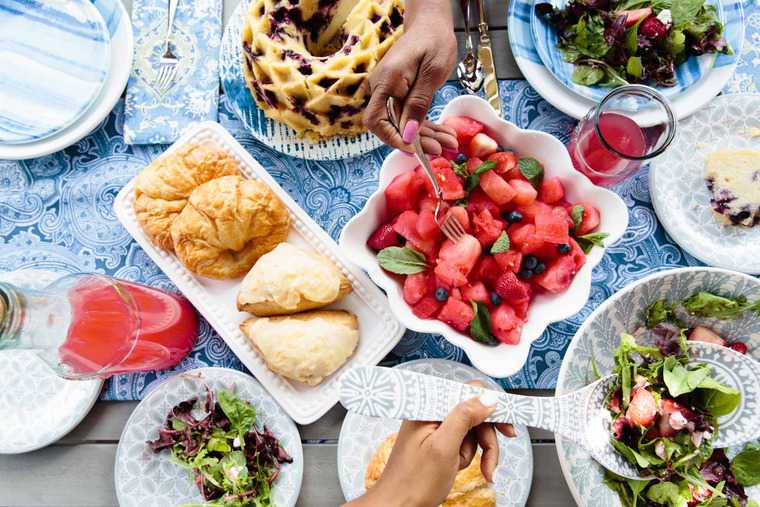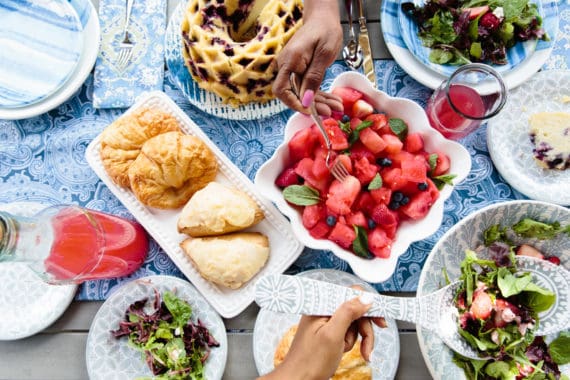 Because my weekly brunch with mom is our special time, I try to make this time as incredible as possible. I pull out all the stops! From decor to incredible recipes, I really turn things up a notch and invest in making the experience as wonderful as possible. I tend to shop HomeGoods (to make each week better than the last!) for special finds that speak to my entertaining and cooking style – but also to make it fun and relaxed for mom and me.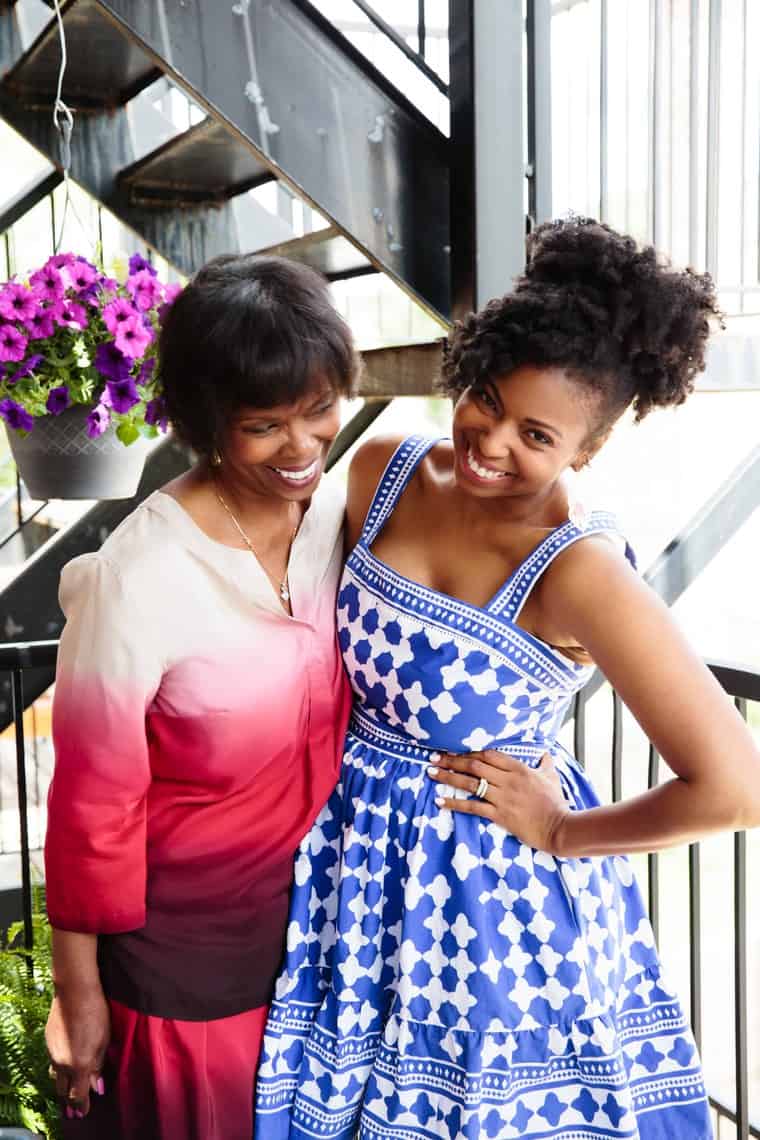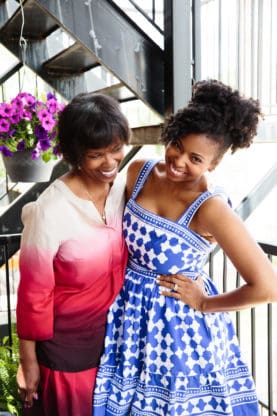 Whether you are looking to celebrate mom's birthday, Mother's Day or create a weekly ritual like I do, here are a few ideas that can make your weekly brunch with mom something to look forward to:
1. Start with a Clear Vision: A summertime nautical theme inspired this week's brunch. I decided to go with a cool, Zen, beachy blue motif that's relaxing. Because HomeGoods makes it so simple to reasonably change the aesthetics of our brunch space, we love to have fun changing it up as much as possible. Coordinating with the seasons or holidays always adds a fun punch.
2. Something Extra Special: When you have weekly brunches, things can get a little stale. That's why I love to punch it up by serving everything on gorgeous platters. It may seem formal but it will elevate your weekly brunch to another level.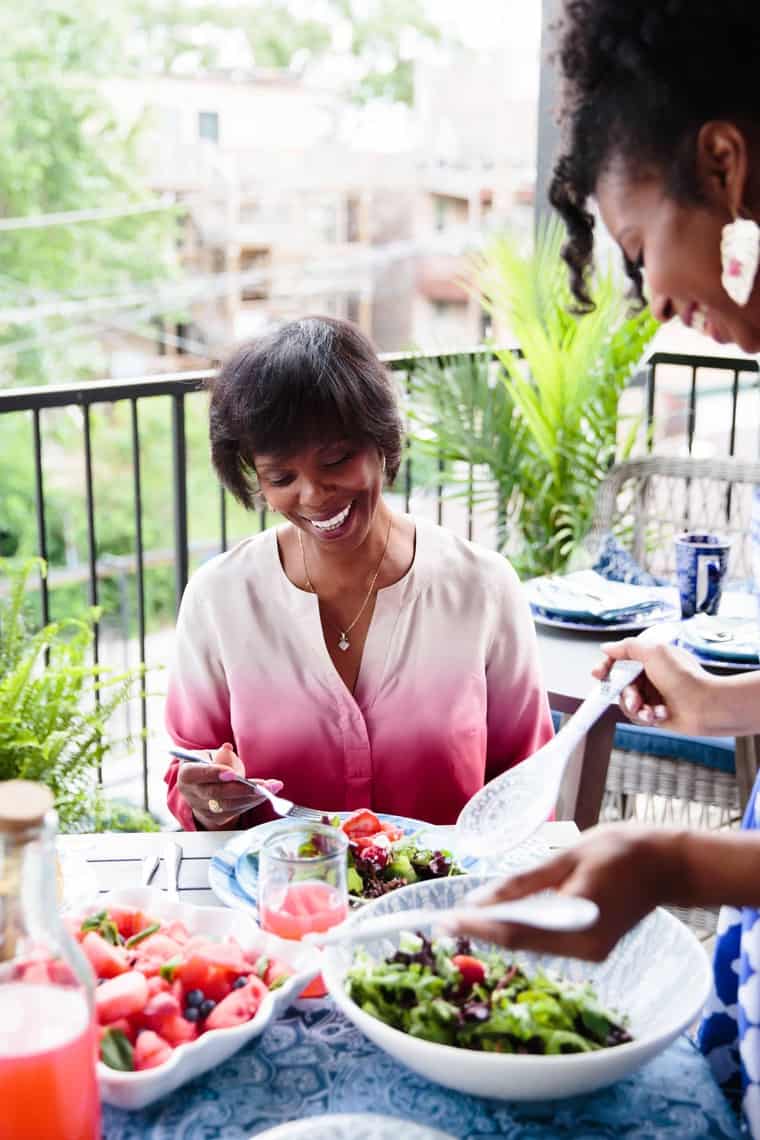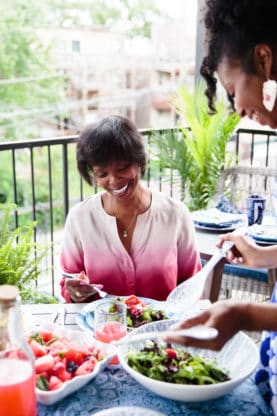 3. Keep the Menu Low Key: While I love the idea of making every single thing from scratch, my schedule just doesn't allow that. Instead, I head to my local bakery and pick up croissants, scones and muffins. I like to devote my time to making just one signature item like my Blueberry Orange Pound Cake (find the recipe below) while letting everything else be un-fussy and simple to pull together. The blueberry orange pound cake is the perfect treat for a special day.
4. Go Seasonal: Make sure your menu reflects the time of year. Because I love hitting the farmer's market on a regular basis, I consistently grab fresh and beautiful fruits and vegetables that make it into our weekly brunch.
5. Use White Platters for Bright Foods: With my simple watermelon salad and croissants, I loved adding them to crisp white serving platters from HomeGoods (they have a great variety!). They really highlighted the food.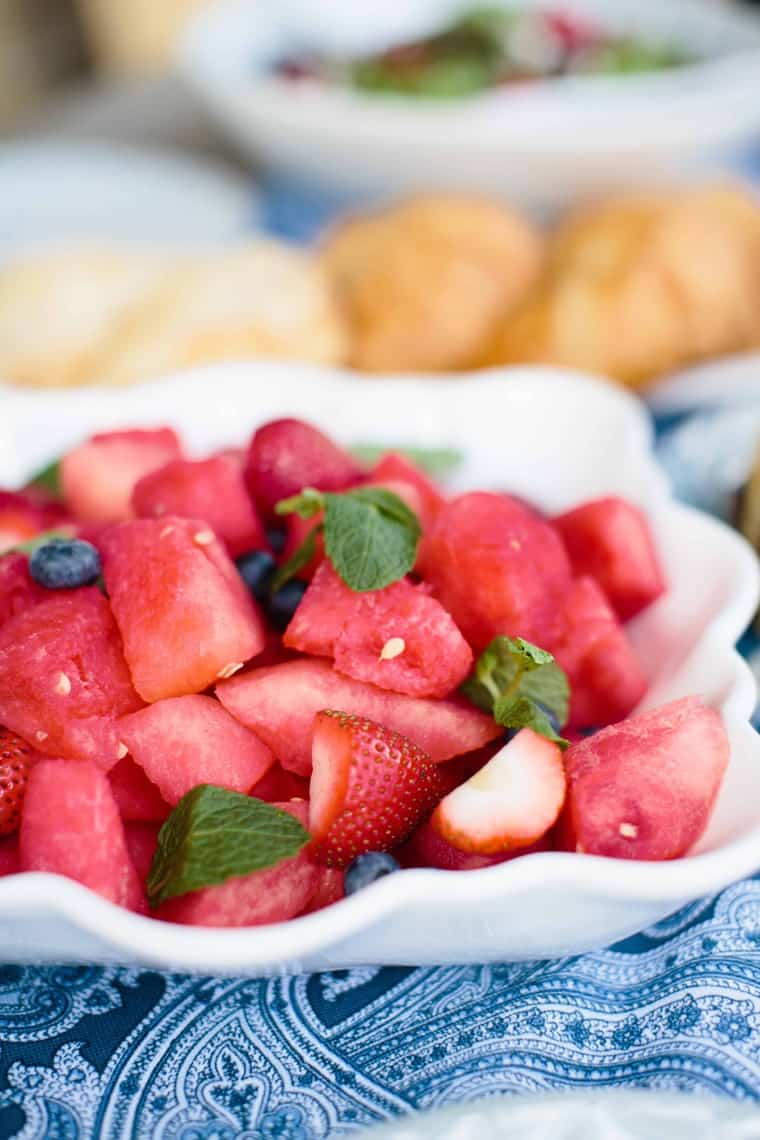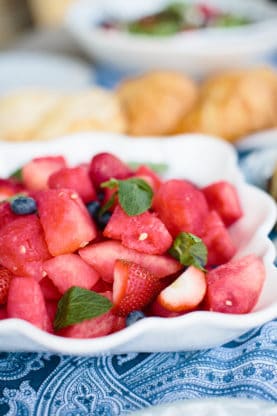 6. Create Cohesion between Spaces: My kitchen and patio area are connected so I wanted the design to flow easily between the spaces. The calming water-themed design of the kitchen space and breakfast nook complete with HomeGoods accessories inspired the design of the patio tablescape. It was really an extension between the two areas.
7. Mix and Match: No need to be too cohesive however. I love to mix plates, napkins and serving platters of various patterns and prints on my table. The trick is making sure they have similar colors and tones but different designs. They coordinate perfectly without looking too matchy matchy.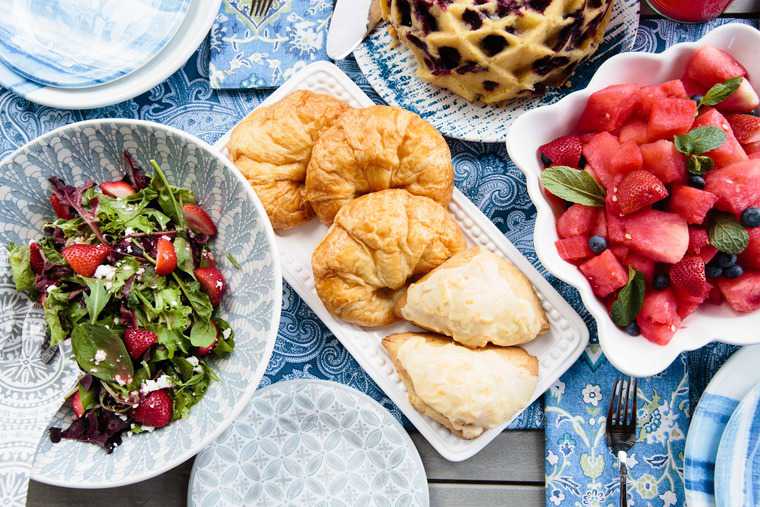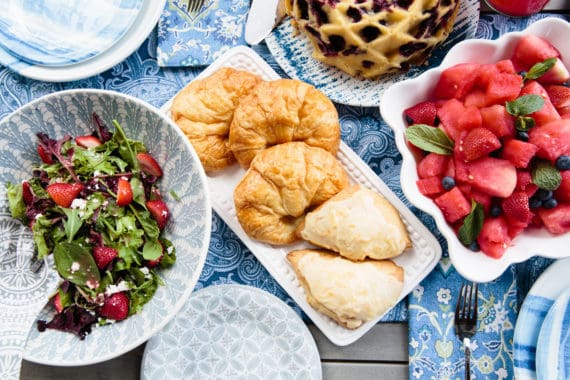 8. Bring in Texture: I found an amazing serving bowl at HomeGoods that had the greatest tribal design and incredible texture on its surface. It added such personality to the tablescape and was a wonderful conversation piece.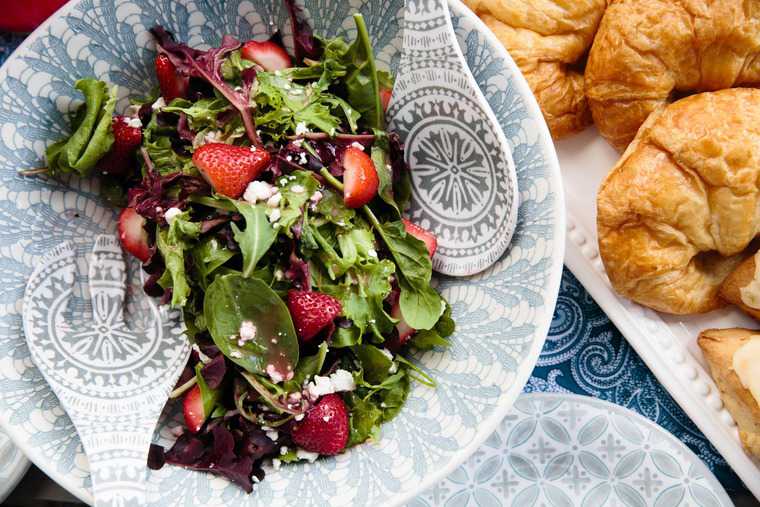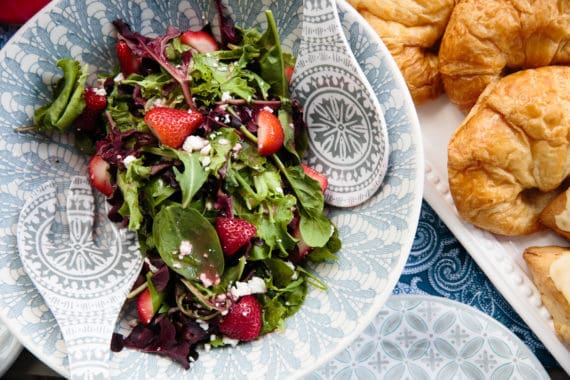 9. Transform a tablecloth into a runner: I found (also at HomeGoods) a great patterned tablecloth that I knew I wanted on our brunch table, however, I didn't want it to overwhelm the coordinated items I was already incorporating. I decided to fold it into a runner so I would have a hint of the pattern poking through. It allowed my table to serve as a neutral background tying everything together. Win Win!
10. Generational Playlist: My mom is definitely old school and loves her classics from back in the day. I, however, love newer school music and some 90s hits. I love to create a fun mix of all of our music for our brunches so we both get a little of what we like.
11. Set Up a Separate Lounge Space: After brunch, it is always nice to move to another area just for chatting and enjoying a cup of coffee or tea. I set up another area with coordinating pillows, florals, plants and cute table setting that was just perfect.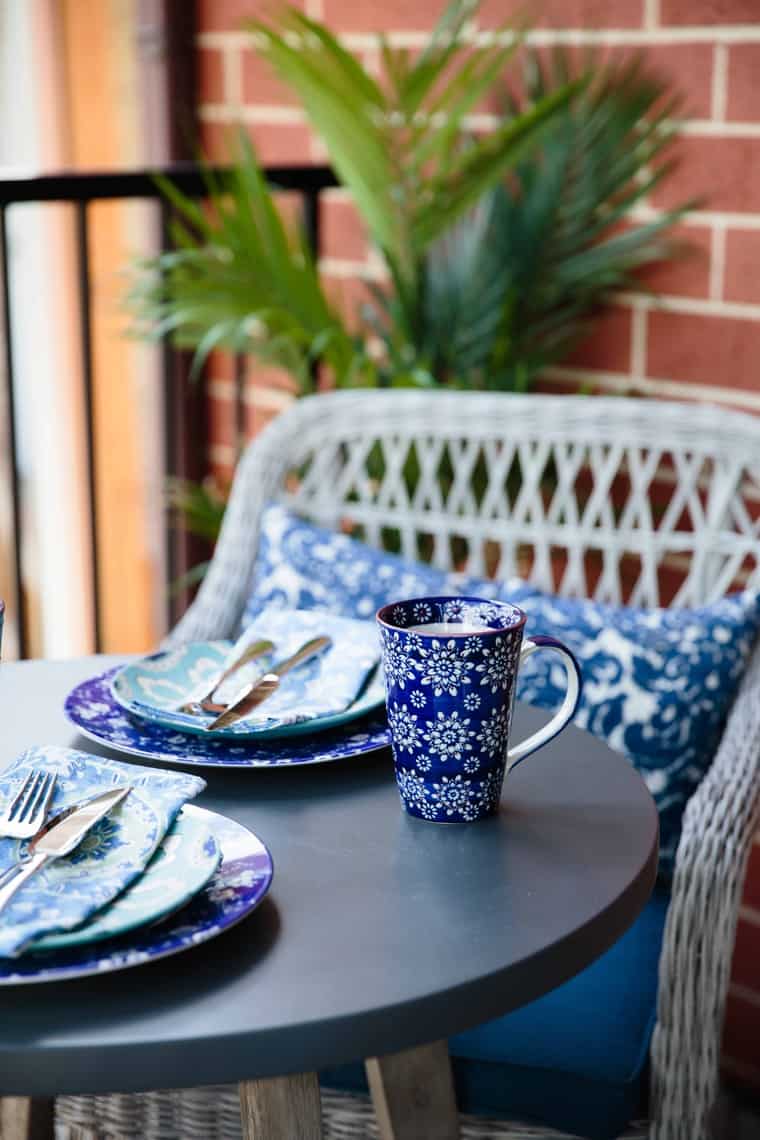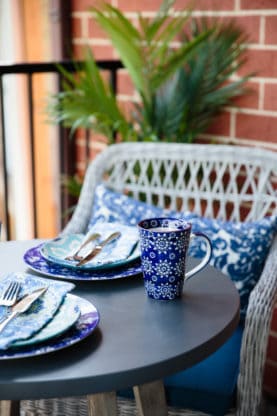 This blueberry orange pound cake recipe is the perfect brunch item to serve all summer long. Fresh seasonal blueberries along with hints of citrusy orange flavor really highlight this moist, sweet and perfectly tender cake.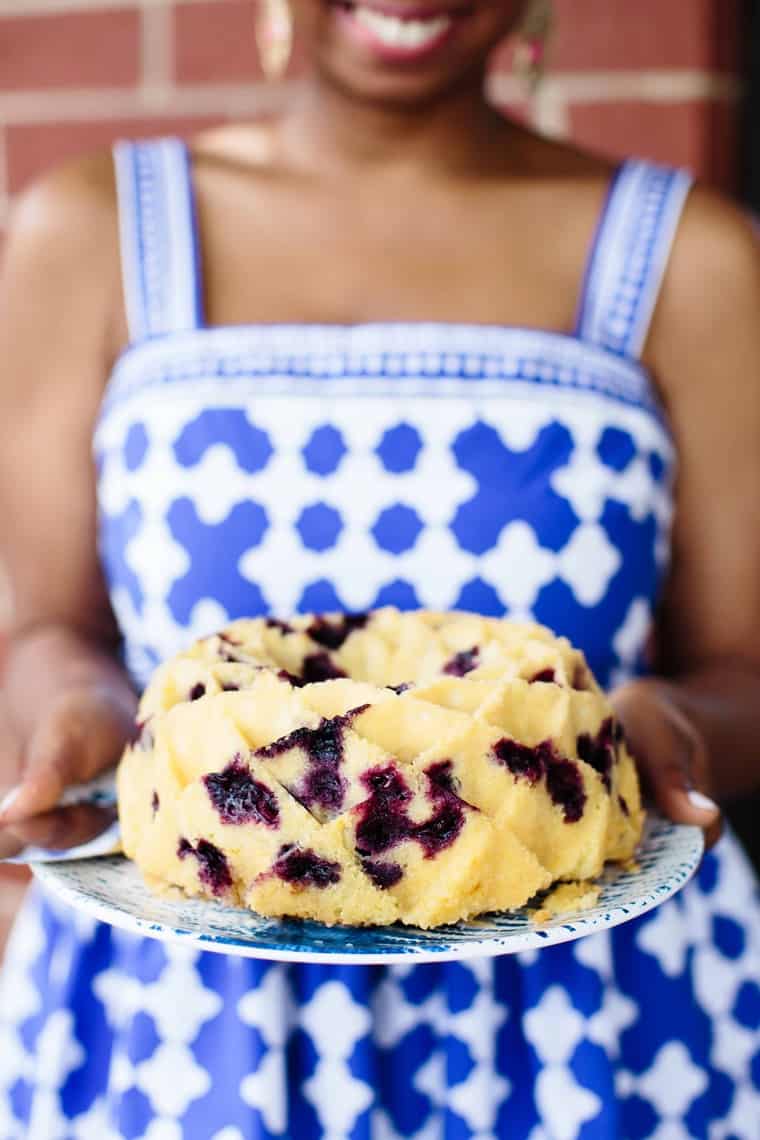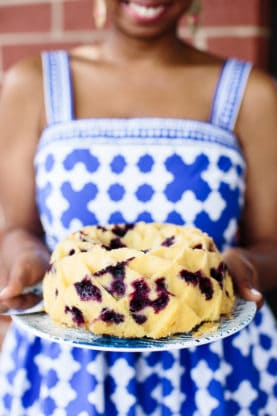 The crumb of this blueberry orange pound cake melts in your mouth and is irresistible. I guarantee it will become your brunch favorite.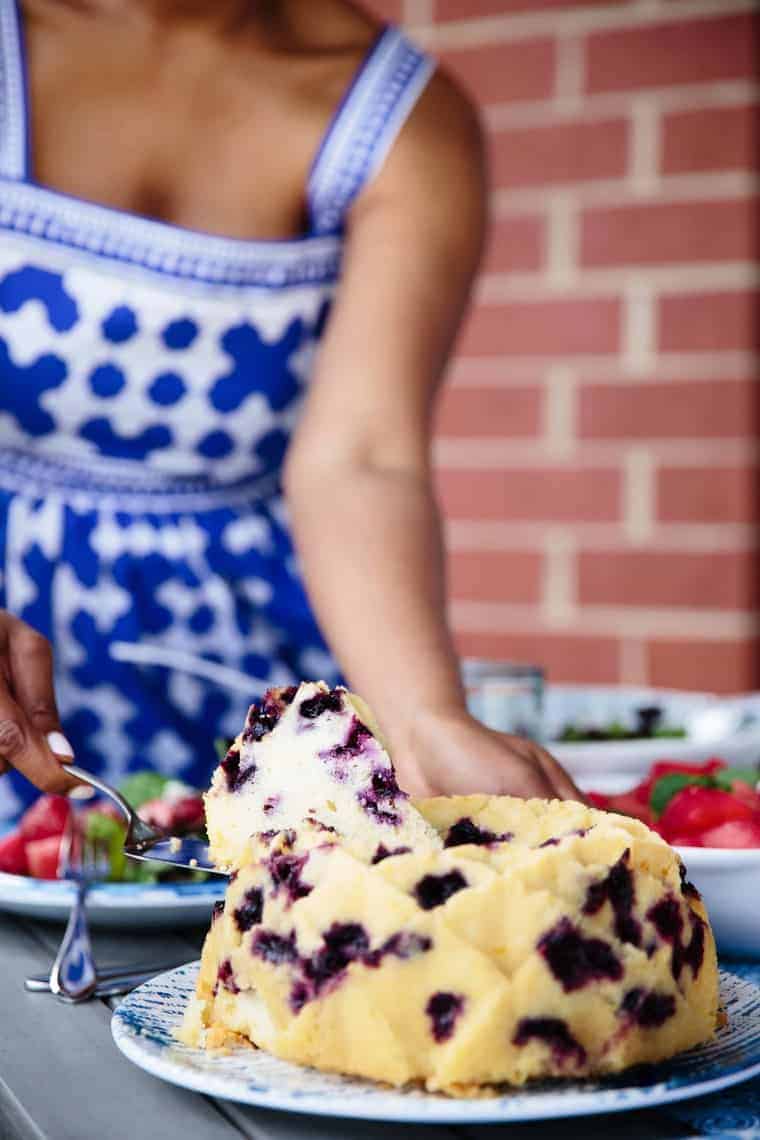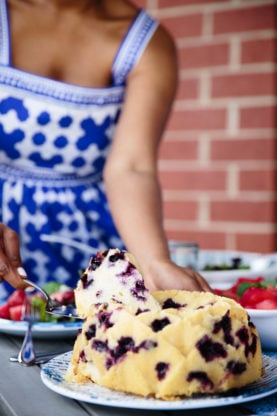 For more incredible breakfast and brunch ideas, check out these posts:
Photos by Azuree Wiitala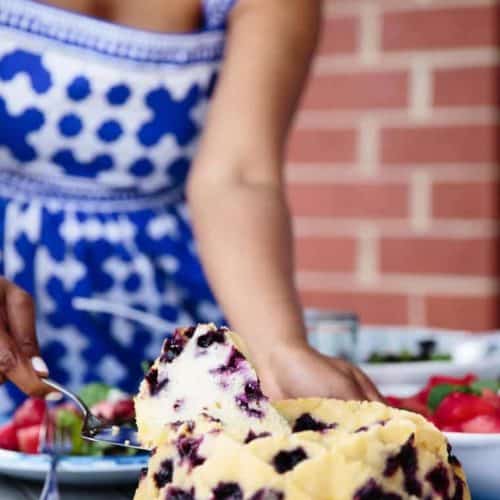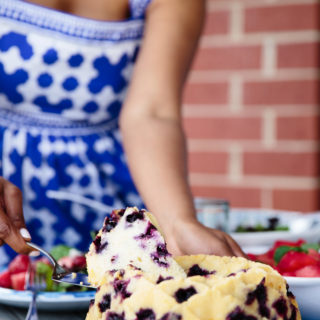 Blueberry Orange Pound Cake Recipe
This Blueberry Orange Pound Cake Recipe is moist, decadent and the perfect combination of sweet blueberries and tart sweet orange citrus flavor!!  This is a wonderful cake to make for Spring and Summer get togethers or all year round!  
Print
Pin
Rate
Ingredients
For the Cake:
3

cups

all-purpose flour

1

tsp

salt

1/2

teaspoon

baking powder

1/4

teaspoon

baking soda

1

cup

unsalted butter

room temperature

2

cups

granulated sugar

1

teaspoon

pure vanilla extract

6

large eggs

1

cup

sour cream

room temperature

2

cups

fresh blueberries

(or see note below about using frozen berries)

Zest and juice of 2 oranges

about 5-6 tablespoons of orange juice total
For the Glaze:
1

cup

confectioner's sugar

2

tablespoons

orange juice
Instructions
Preheat oven to 325 degrees F. Grease and lightly flour a 12 inch bundt pan; set aside. In a medium bowl stir together flour, salt, baking powder, and baking soda; set aside.

In a large bowl beat butter with an electric mixer on medium to high speed for 30 seconds. Gradually add sugar, beating on medium speed about 10 minutes or until light and fluffy. Add vanilla. Add eggs, one at a time, beating on low to medium speed for 1 minute after each addition and scraping side of bowl frequently. Alternately add flour mixture and sour cream to butter mixture, beating on low speed after each addition just until combined.

Fold in berries, zest and juice until combined.

Pour batter into prepared pan, spreading evenly. Bake for 1 hour and 15-25 minutes or until a toothpick inserted near center of cake comes out clean. Cool in pan on a wire rack for 10 minutes. Remove from pan; cool completely on rack.
For the Glaze:
Stir together confectioner's sugar and orange juice until combined and drizzle over top of cooled cake then serve.
Notes
For Frozen Blueberries – Feel free to use frozen berries in this recipe.  Don't thaw.  Just add them right into the recipe.
You can replace the blueberries with any other type of berry (strawberry, blackberry, etc.).
Also make sure your ingredients especially butter are room temperature before beginning.
Nutrition
Calories:
379
kcal
|
Carbohydrates:
53
g
|
Protein:
5
g
|
Fat:
16
g
|
Saturated Fat:
9
g
|
Cholesterol:
107
mg
|
Sodium:
157
mg
|
Potassium:
101
mg
|
Fiber:
1
g
|
Sugar:
34
g
|
Vitamin A:
555
IU
|
Vitamin C:
2.6
mg
|
Calcium:
40
mg
|
Iron:
1.5
mg