How To Make Grits Recipe – What are grits and how do you make grits? Check out this recipe for perfect creamy and buttery Southern Grits that are amazing for breakfast, brunch, lunch and dinner.
How to Make Grits
Grits were part of the daily fabric of my upbringing before they were so-called trendy. Southern breakfasts usually consisted of scrambled eggs, bacon, biscuits, rice and a pot of grits. Sometimes the biscuits were replaced with toast or hoe cakes. Sometimes the bacon was replaced with sausage. But at the end of the day, the grits were a mainstay.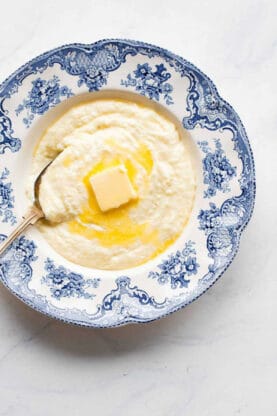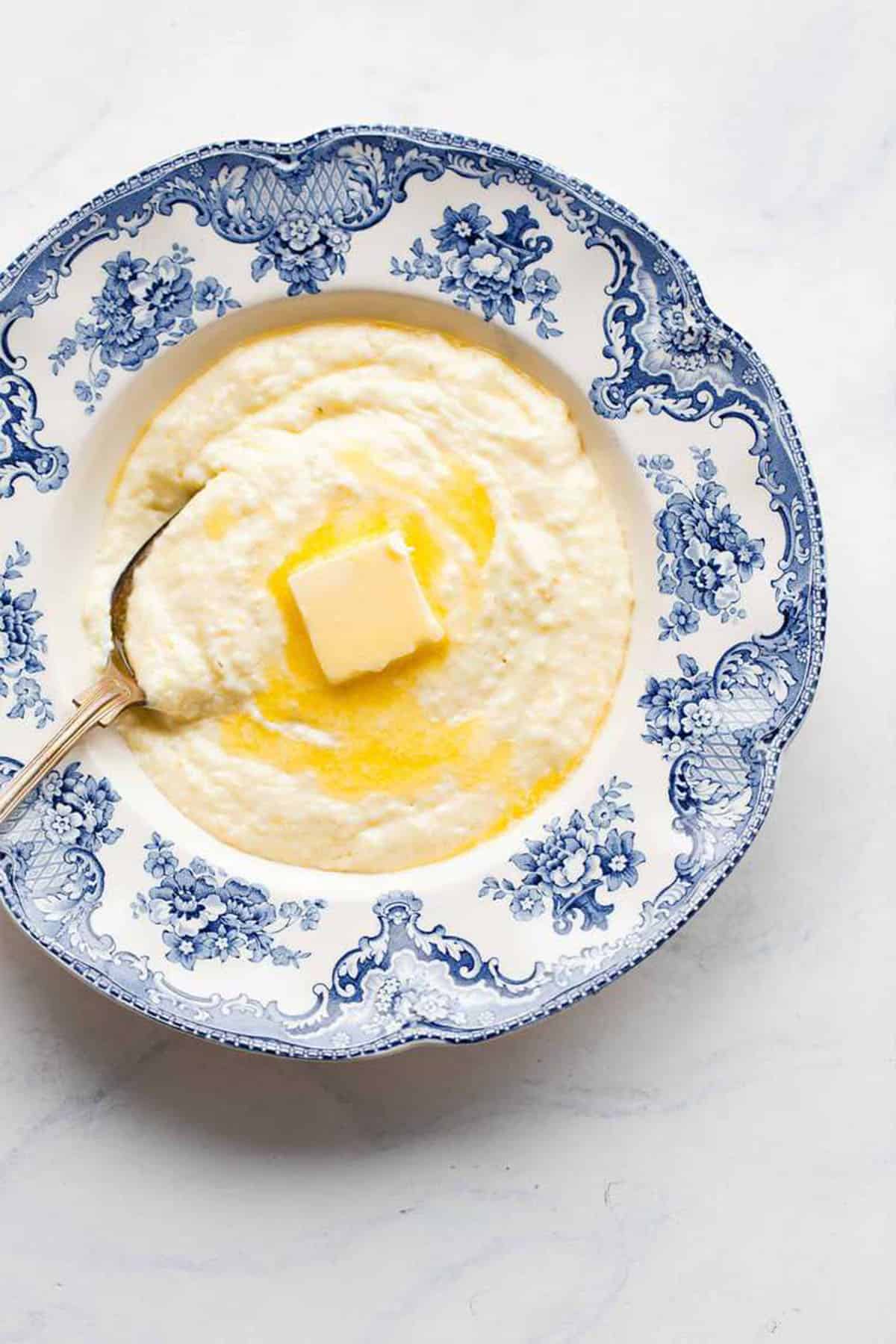 There was a time when you would be hard pressed to find grits anywhere outside of the south. Then I started seeing grits make their way onto every single menu known to man. Apparently everyone was just catching on to the splendor of how to make grits.
What Are Grits? What are Grits Made of?
So exactly what are grits? And I'm not talking about the movie True Grit on the True Grit pullover that is roaming the web. I'm talking Southern Grits.
They are in essence ground up corn kernels that are made tender in liquid. Most times, my people just made them quite simply with water then seasoned them with butter and salt.
This is what I call a traditional dish of grits recipe. It is honestly my favorite because of the ease and simple flavor.
However when you want grits rich in flavor which are insanely creamy, buttery and smooth in texture, this is how to make grits.
How Do You Make Grits?
For this grits recipe, I replace half of the water with half and half. It imparts a luscious essence to the grits. I like that mix of both milk and cream here. I love using stone ground grits but in a pinch I will use a quick grit to speed up the process.
You would still follow the recipe as follows however you would cook them for a much longer time of 20 or so minutes or until nice and tender.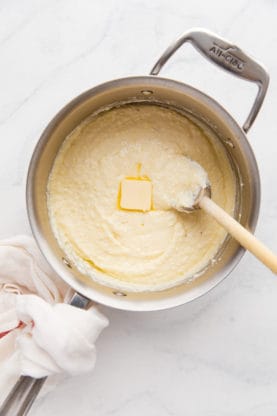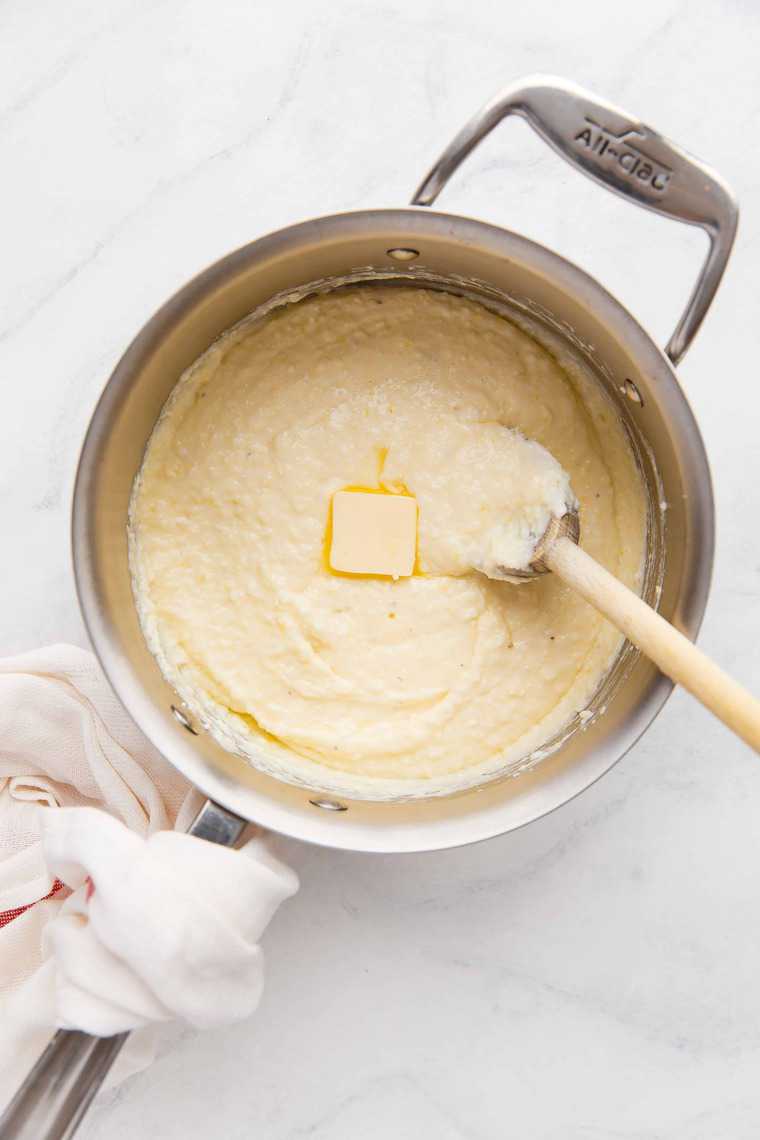 Once I add my grits to the pot, I briskly whisk them into the boiling liquid. One thing I absolutely hate is lumpy grits so this helps to make sure the grits stay smooth. I cover with a lid and bring the temperature down so they simmer and don't overcook.
When you are first learning how to make grits, you may just follow the back of the package and not stir but every now and then, I go in and continue to stir them continuing to make sure that they are nice and smooth.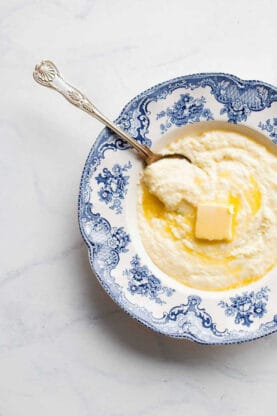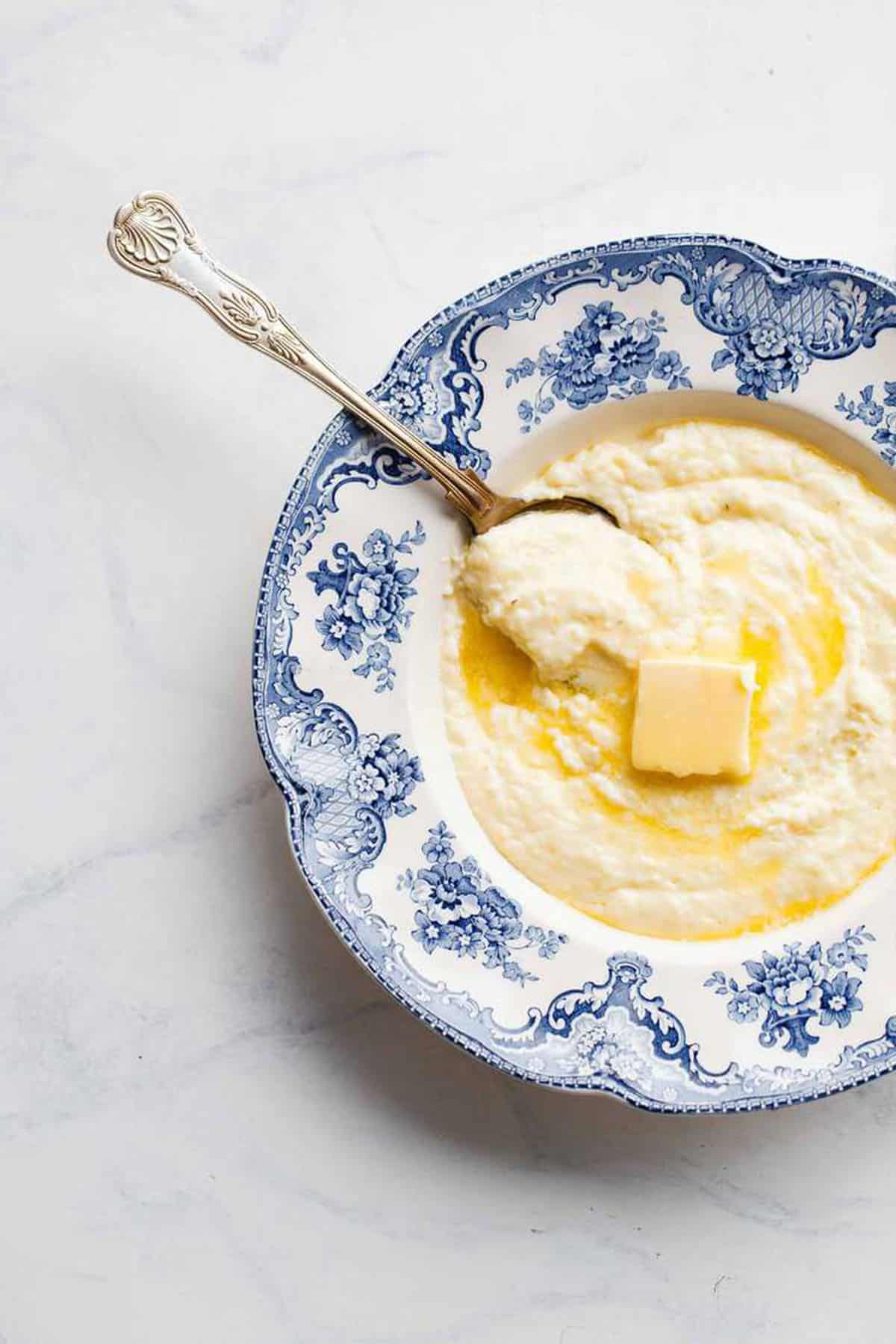 Once the grits have thickened and the liquid has pretty much evaporated, I add in an entire stick of unsalted butter. Yes, I said an entire stick. This isn't a diet grits recipe so if you want to cut back on the calories, maybe make this another time in life. Also some heavy cream is added to make these about as rich as possible. Finally, I salt them up to give them the perfect amount of flavor. If you wanted to mix in some shredded cheese, you definitely could but I really find this a perfect method of how to make grits.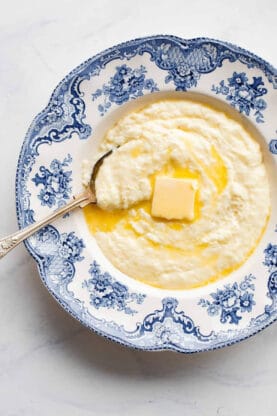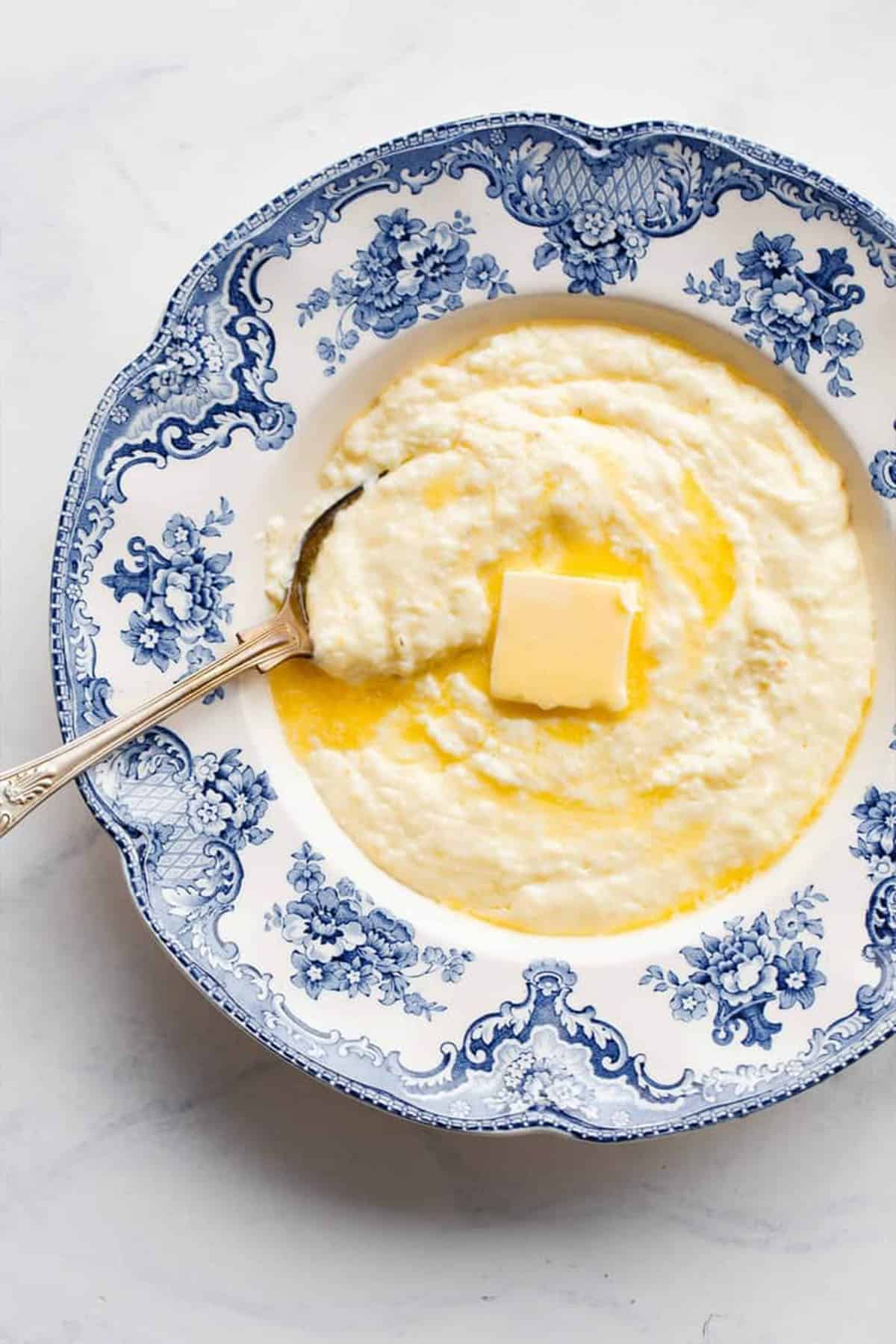 You can serve this grits recipe for breakfast, brunch, lunch, dinner or even for a snack. They are sensational when served as a side or as the bed for something like shrimp, short ribs or various heavily sauced dishes. The sauces and gravies mingle with the grits and create something quite magical. These grits are downright perfect. So grab a pot and get to cooking.
How To Make Grits Recipe
How To Make Grits Recipe - What are grits and how do you make them? Check out this recipe for perfect creamy Southern Grits that are amazing for breakfast, brunch, lunch and dinner.
Keyword:
easy, grits, savory breakfast
Ingredients
2

cups

half and half

2

cups

water

1

cup

stone ground grits

or 5 minutes for Quick grits in a pinch

½

cup

unsalted Land O Lakes® Unsalted Butter

¼

cup

Land O Lakes® Heavy Whipping Cream

Salt to taste
Instructions
Add half and half and water to a large pot over medium high heat and bring to a boil.

Once liquid starts boiling, briskly stir in grits and bring heat down to low and cover with lid. Cook according to instructions on back of package (about 20 for stone ground and about 5-7 minutes long for Quick) stirring twice during this time to maintain smoothness. They should be completely tender and thick.

Once ready, stir in butter, heavy cream and season with salt to taste.
Nutrition Facts
How To Make Grits Recipe
Amount Per Serving
Calories 556
Calories from Fat 378
% Daily Value*
Total Fat 42g 65%
Cholesterol 126mg 42%
Sodium 65mg 3%
Potassium 221mg 6%
Total Carbohydrates 36g 12%
Protein 7g 14%
* Percent Daily Values are based on a 2000 calorie diet.