What are grits and how do you make grits? Check out this recipe for perfect creamy, perfectly textured, and buttery Southern Grits that are amazing for breakfast, brunch, lunch and dinner. Serve with Salmon Croquettes , make this Shrimp and Grits recipe or Grillades and Grits or turn into my Baked Cheese Grits or go keto with Cauliflower Grits to have a truly down home Southern meal!!
How to Make Grits
Grits were part of the daily fabric of my upbringing before they were so-called trendy. Southern breakfasts usually consisted of scrambled eggs, bacon, biscuits, rice and a pot of grits. Sometimes the biscuits were replaced with toast or hoe cakes.
Sometimes the bacon was replaced with sausage. But at the end of the day, the grits were a mainstay, and I learned how to make grits at an early age.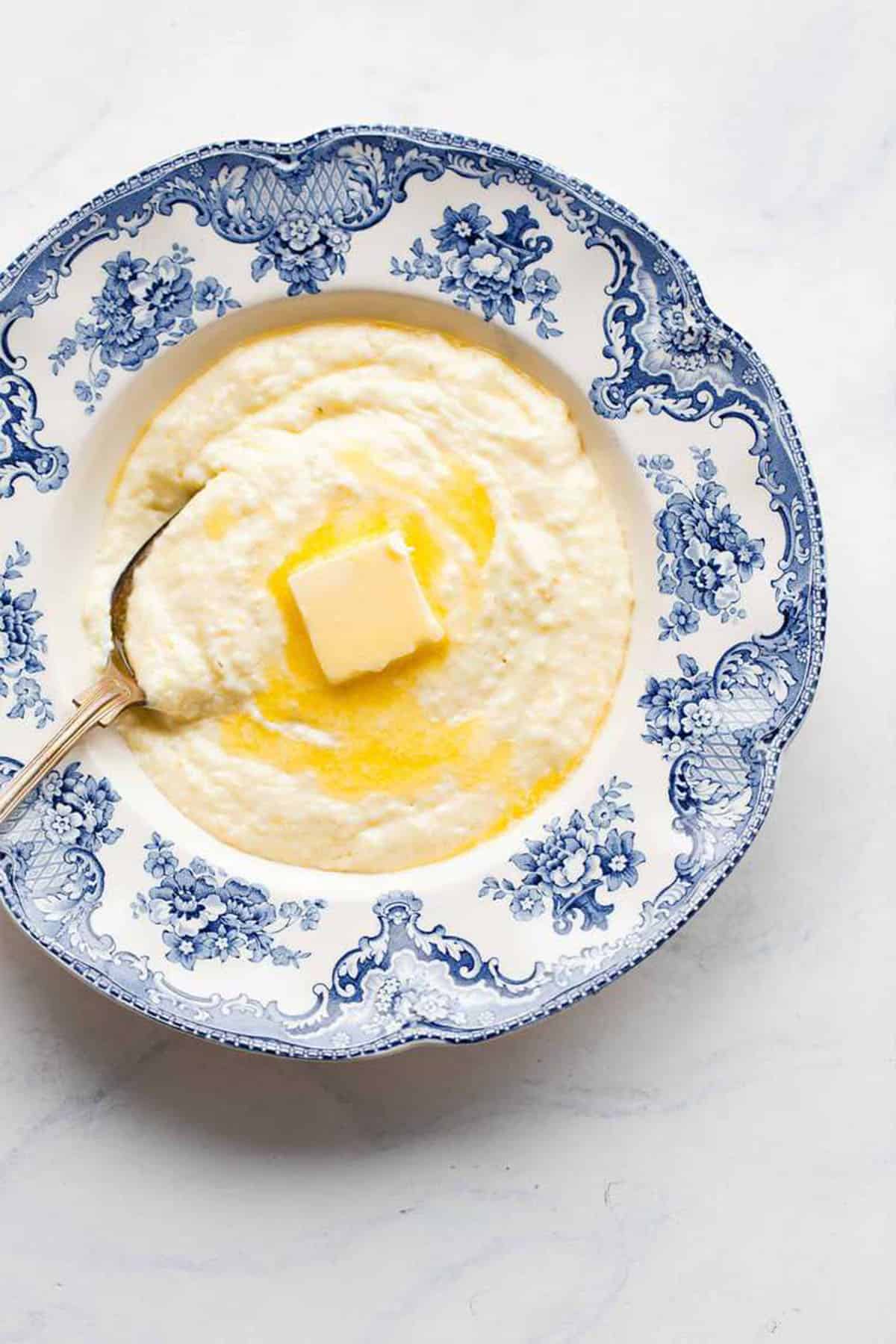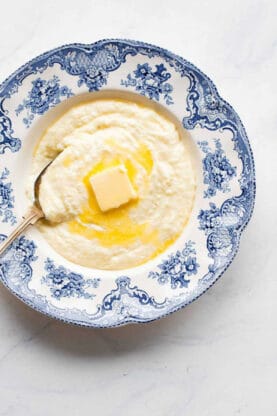 There was a time when you would be hard pressed to find grits anywhere outside of the south. Then I started seeing grits make their way onto every single menu known to man. Apparently everyone was just catching on to the splendor of how to make grits.
What Are Grits? What are Grits Made of?
So exactly what are grits? And I'm not talking about the movie True Grit on the True Grit pullover that is roaming the web. I'm talking Southern Grits.
They are in essence ground up corn kernels that are made tender in liquid. Most times, my people just made them quite simply with water then seasoned them with butter and salt.
Corn Grits
The word grits actually comes from the Middle English word "gyrt". It is the outer bran of any whole grain. The whole grain found in grits is corn. Native Americans were actually sme of the first who would grind up the kernels into cornmeal and make porridge. That is considered the first pot of grits. Next early settlers would make grits by taking the corn, turning it into hominy and then removing the corn and grinding into grits.
This is what I call a traditional dish of grits recipe. It is honestly my favorite because of the ease and simple flavor.
Hominy Grits
Hominy grits are very nutritious. You can easily make them by simmering hominy corn in water. Once it is al dente, you can then drain it, remove the tipcaps and put in a food processor to get to a coarse texture. You then cook them how you would grits and butter and season to your liking.
Anson Mills
Anson Mills founder and visionary Glenn Roberts grew up in San Diego, California, the son of a professional singer and photographer, and an erstwhile Southern belle from Edisto, South Carolina who became an accomplished scratch cook and occasional restaurateur.
At Anson Mills, we chose early on to grow and mill Carolina Gold rice and a full complement of heirloom grains adopted by Antebellum rice families, and to follow the sustainable rice-crop rotation. Why do we make this effort? We could simply lie down and lament the future of American agriculture. But instead we choose to extend the promise of pleasure—pleasure in the fine flavors of grains and vegetables produced with an eye to the integrity of cuisine and the integral character of farming.
Type of Corn
Sweet Corn (

Sweet corn

is harvested immaturely, before the normal conversion of sugar into starch can take place. More sugar content that starch)

Popcorn (

popcorn

is characterized by a tough outer shell encapsulating a small amount of soft starch content)

Flour Corn (

flour corn

has soft kernels consisting of soft starch content. This corn is easy to grind and, thus, is used in baked goods and a slew of other foods)

Dent Corn (See top of page)

Flint Corn (see above)

Pod Corn (

Pod corn is more ornamental than its aforementioned cousins, due to the uniquely elongated kernels and varied color patterns.)
Yellow Corn
Yellow corn is a variety of sweet corn. Its ears are wrapped in tightly bound lime hued husks with silks and a tassel that extend out from the tip. The yellow kernels are packed in tight almost uniform rows. A single ear of corn can contain up to 400 kernels. Freshly harvested yellow corn at its peak ripeness is sweet, offering flavors of almond and sugar, the kernels so succulent, the skin pops as you bite into it. As the corn matures, the kernels lose their milky consistency giving way to a starchy and doughy consistency. At this point, the corn is considered a grain crop and is best suited for processing or feedstock.
Yellow corn is just one cultivar among thousands of corn varieties, heirloom, hybrid or genetically modified. Yellow corn is an evolutionary mutation of white corn. Most yellow corn in the commercial marketplace is a hybrid variety developed in the 20th century.
Grits Versus Polenta
Both grits and polenta are made with stone-ground cornmeal so that is a real similarity. The corn is completely dried and then ground into grit texture. Honestly the real difference between the two really depends on where you are from or where you live. Italian "grits" are known as polenta. Or you could say Southern "polenta" is known as grits.
However when you want grits rich in flavor which are insanely creamy, buttery and smooth in texture, this is how to make grits.
How To Make Southern Grits Recipe
For this grits recipe, I replace half of the water with half and half. It imparts a luscious essence to the grits. I like that mix of both milk and cream here.
I love using stone ground grits but in a pinch I will use a quick grit to speed up the process.
You would still follow the recipe as follows however you would cook them for a much longer time of 20 or so minutes or until nice and tender.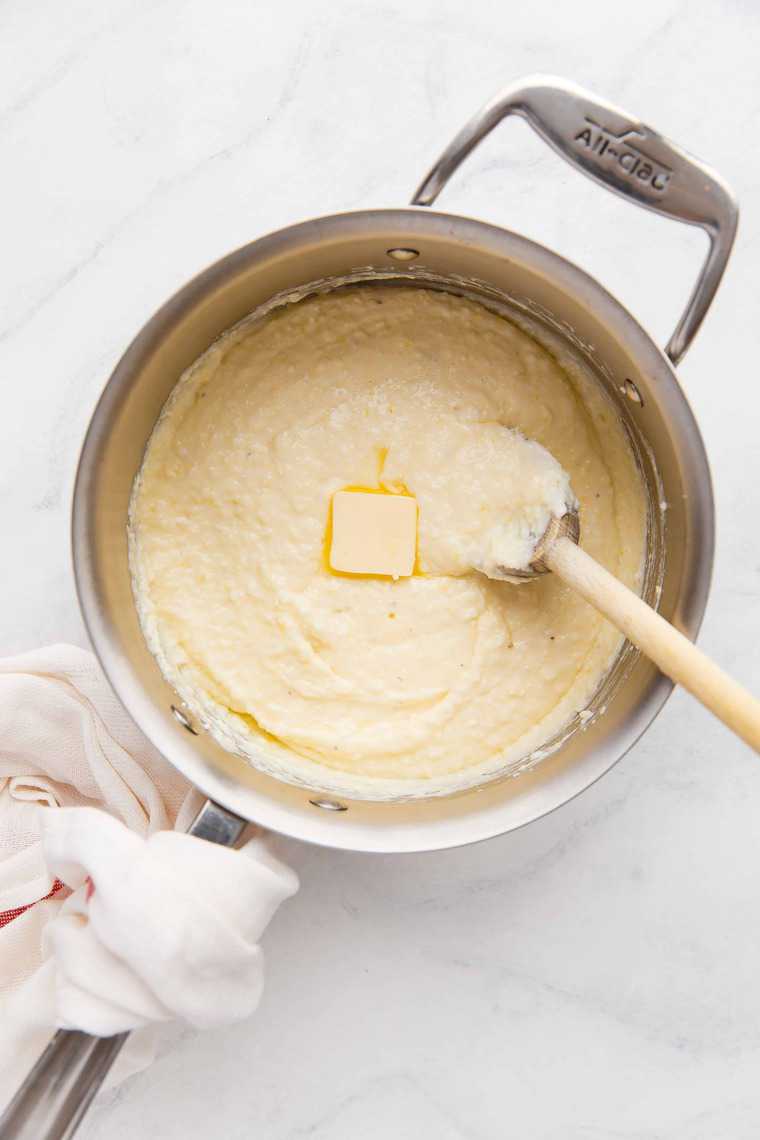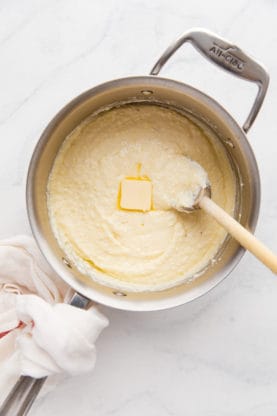 Once I add my grits to the pot, I briskly whisk them into the boiling liquid. One thing I absolutely hate is lumpy grits so this helps to make sure the grits stay smooth. I cover with a lid and bring the temperature down so they simmer and don't overcook.
When you are first learning, you may just follow the back of the package and not stir but every now and then, I go in and continue to stir them continuing to make sure that they are nice and smooth.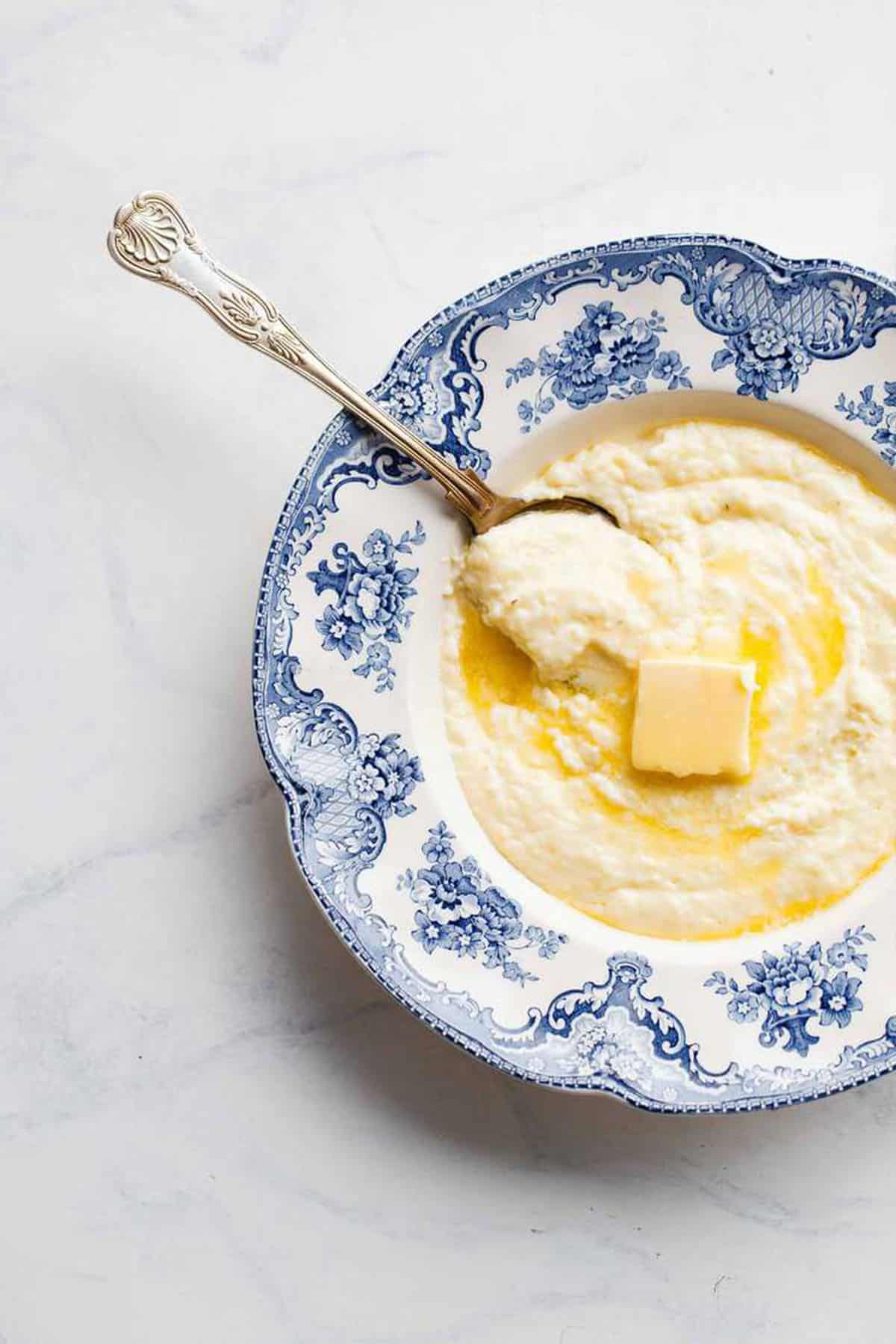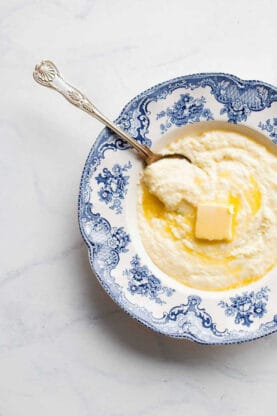 Once the grits have thickened and the liquid has pretty much evaporated, I add in an entire stick of unsalted butter. Yes, I said an entire stick. This isn't a diet grits recipe so if you want to cut back on the calories, maybe make this another time in life.
Also some heavy cream is added to make these about as rich as possible. Finally, I salt them up to give them the perfect amount of flavor.
Tip for Cheese Grits
If you wanted to mix in some shredded cheese, you definitely could but I really find this a perfect method of how to make grits.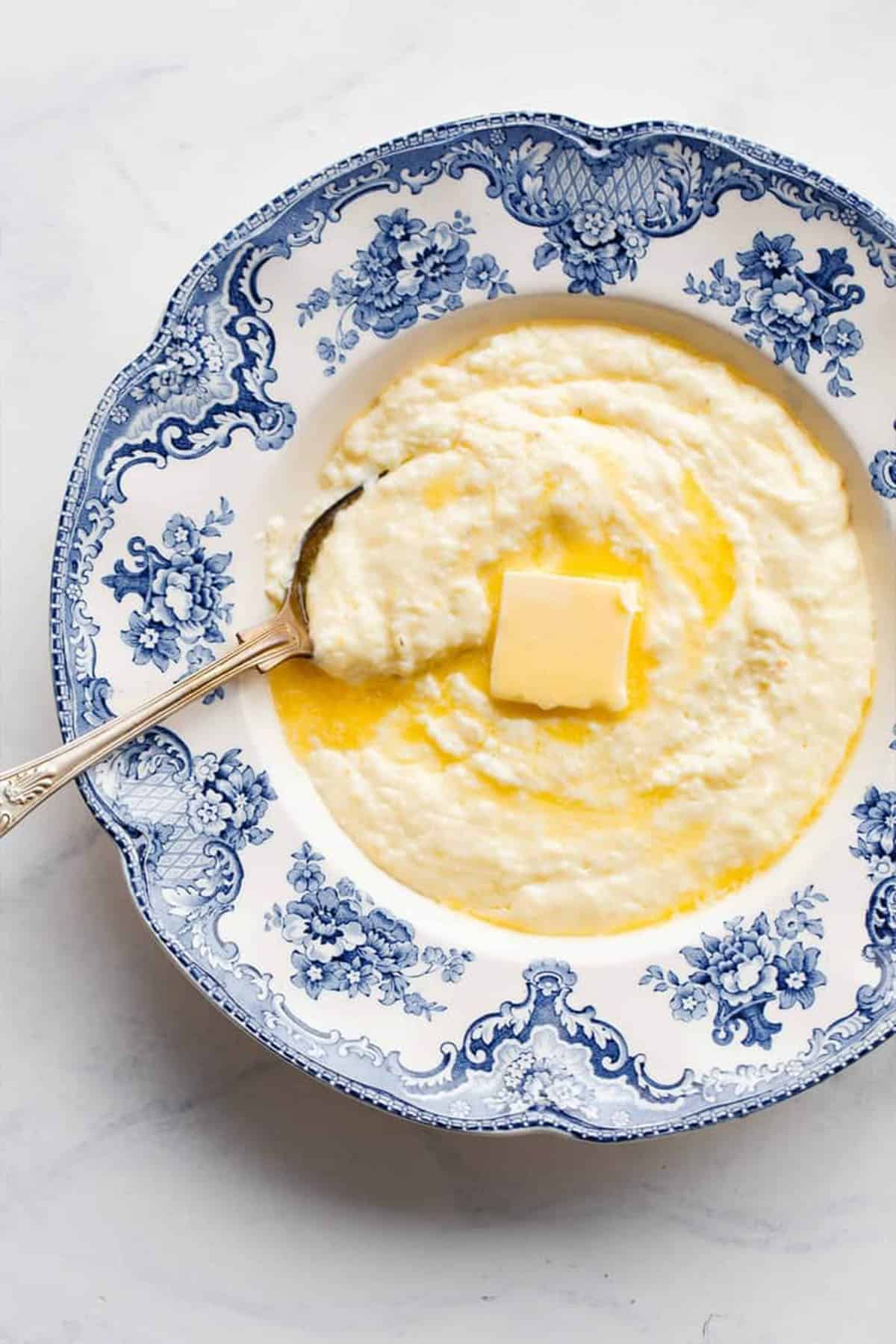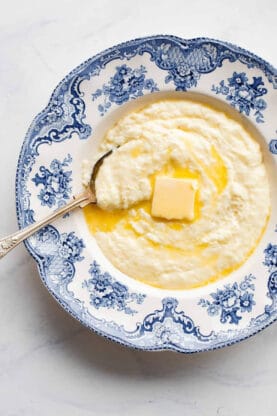 You can serve this grits recipe for breakfast, brunch, lunch, dinner or even for a snack. They are sensational when served as a side or as the bed for something like shrimp, short ribs or various heavily sauced dishes. The sauces and gravies mingle with the grits and create something quite magical. These grits are downright perfect. So grab a pot and get to cooking.
How To Make Grits Recipe
How To Make Grits Recipe - What are grits and how do you make them? Check out this recipe for perfect creamy Southern Grits that are amazing for breakfast, brunch, lunch and dinner.
Print
Pin
Rate
Ingredients
2

cups

Half and half

2

cups

Water

1

cup

Stone ground grits

½

cup

Unsalted Butter

2-4

tbsp

Heavy Whipping Cream

if you want them extra creamy / check notes

Salt to taste
Instructions
Add half and half and water to a large pot over medium high heat and bring to a boil.  Add some salt to liquid.

Once liquid starts boiling, briskly stir in grits and bring heat down to low and cover with lid. Cook according to instructions on back of package (about 20 for stone ground) stirring twice during this time to maintain smoothness. They should be completely tender and thick.

Once ready, stir in butter, heavy cream (if using/ this will make them super creamy but check notes for tips) and season with salt to taste.
Video
Notes
Regarding the heavy cream, this makes the grits even creamier.  If your grits are super creamy already after adding the butter then omit this however add 1 tablespoon at a time until you have reached your desired consistency for the grits and desired creaminess.
These can also be done with Quick grits in a pinch.  It takes about 5 minutes to make.
Nutrition
Calories:
556
kcal
|
Carbohydrates:
36
g
|
Protein:
7
g
|
Fat:
42
g
|
Saturated Fat:
26
g
|
Cholesterol:
126
mg
|
Sodium:
65
mg
|
Potassium:
221
mg
|
Vitamin A:
1440
IU
|
Vitamin C:
1.1
mg
|
Calcium:
147
mg
|
Iron:
0.5
mg