These are the BEST Hash Browns Ever! Perfectly crispy and fried until golden brown on the outside and wonderfully tender on the inside, this is a perfect hash brown recipe! Make this popular breakfast side right at home and give up the diner! Easy, flavorful and absolutely delicious! If you want more amazing breakfast recipes, try my Grits Recipe, Chicken and Waffles, Johnny Cakes , Candied Bacon or Baked Turkey Bacon.
Perfect Hash Browns Recipe for Breakfast or Brunch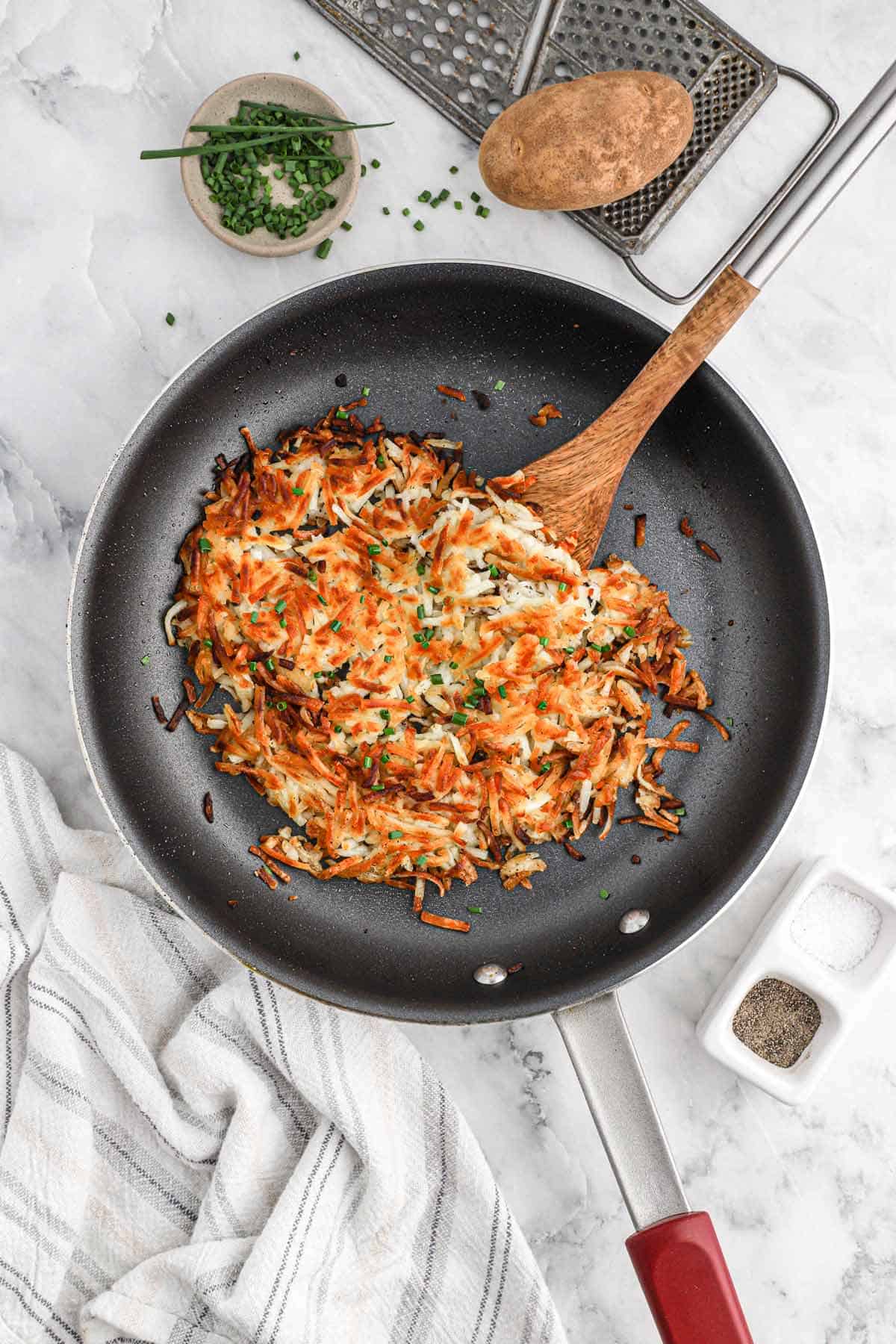 I love greasy spoons. Ya know. The kind with late night hours, kitchy diner decor, sassy waitresses and the best breakfast food you can imagine. The Waffle House immediately comes to mind when we are talking chains. Back in my college youth during my clubbing years, these were the types of spots my group of friends could not wait to get to after dancing into the wee hours.
As soon as you enter, you can smell the pancakes (these are my faves to make at home now), french toast, orders of eggs and hash browns ripe on the griddle. While you all know how much I adore pancakes, there is something quite special to me about hash browns (really potatoes in general to be honest).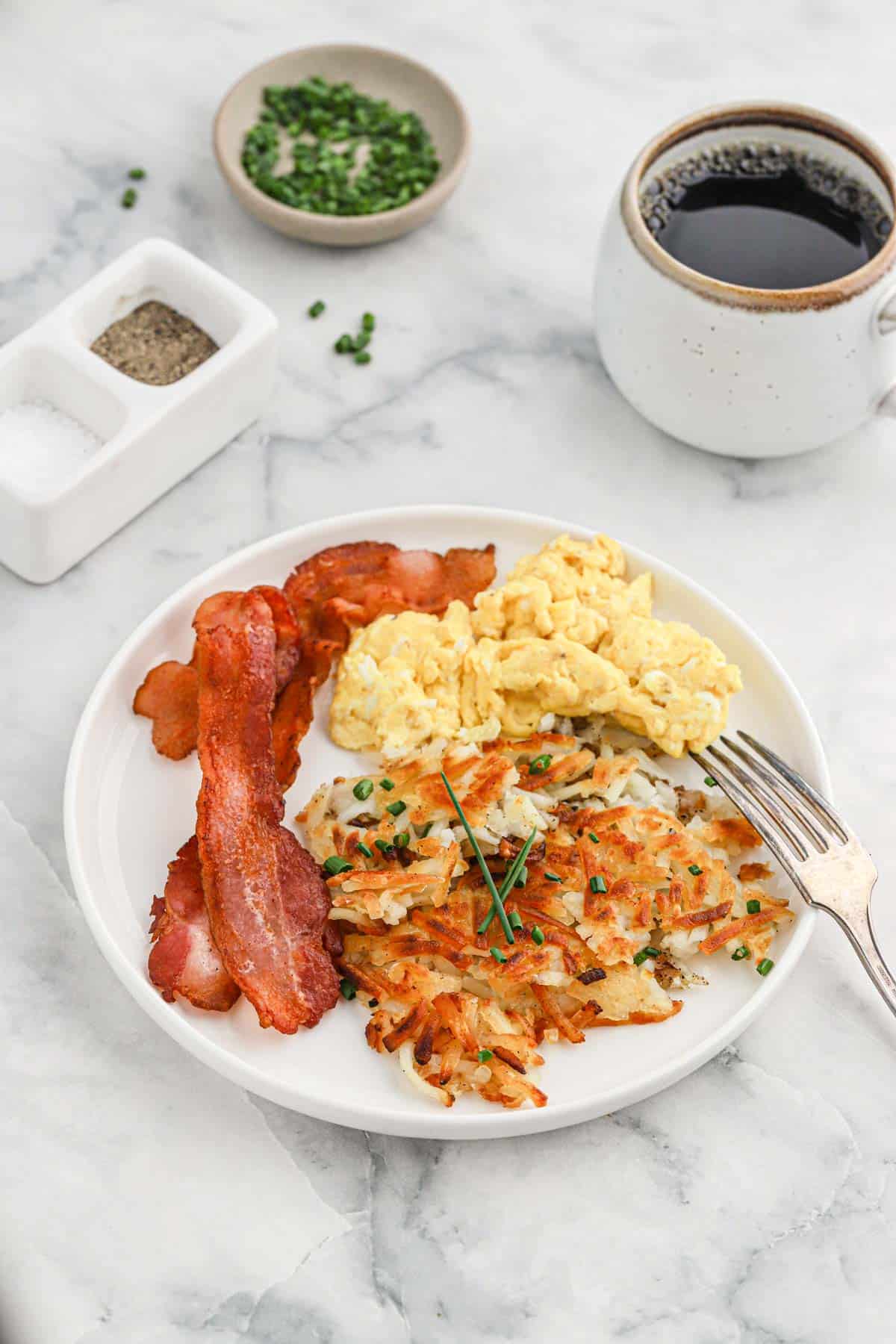 Growing up, my mama used to make these fantastic cubed potatoes, which were more like home fries with onions. The potatoes were so tender and flavorful. Whenever she would make them, I would dream about them for weeks to come. This dish really was the reason why I started ordering hash browns whenever I went out for breakfast at my favorite diners. I wanted to duplicate the taste but didn't realize how different they were.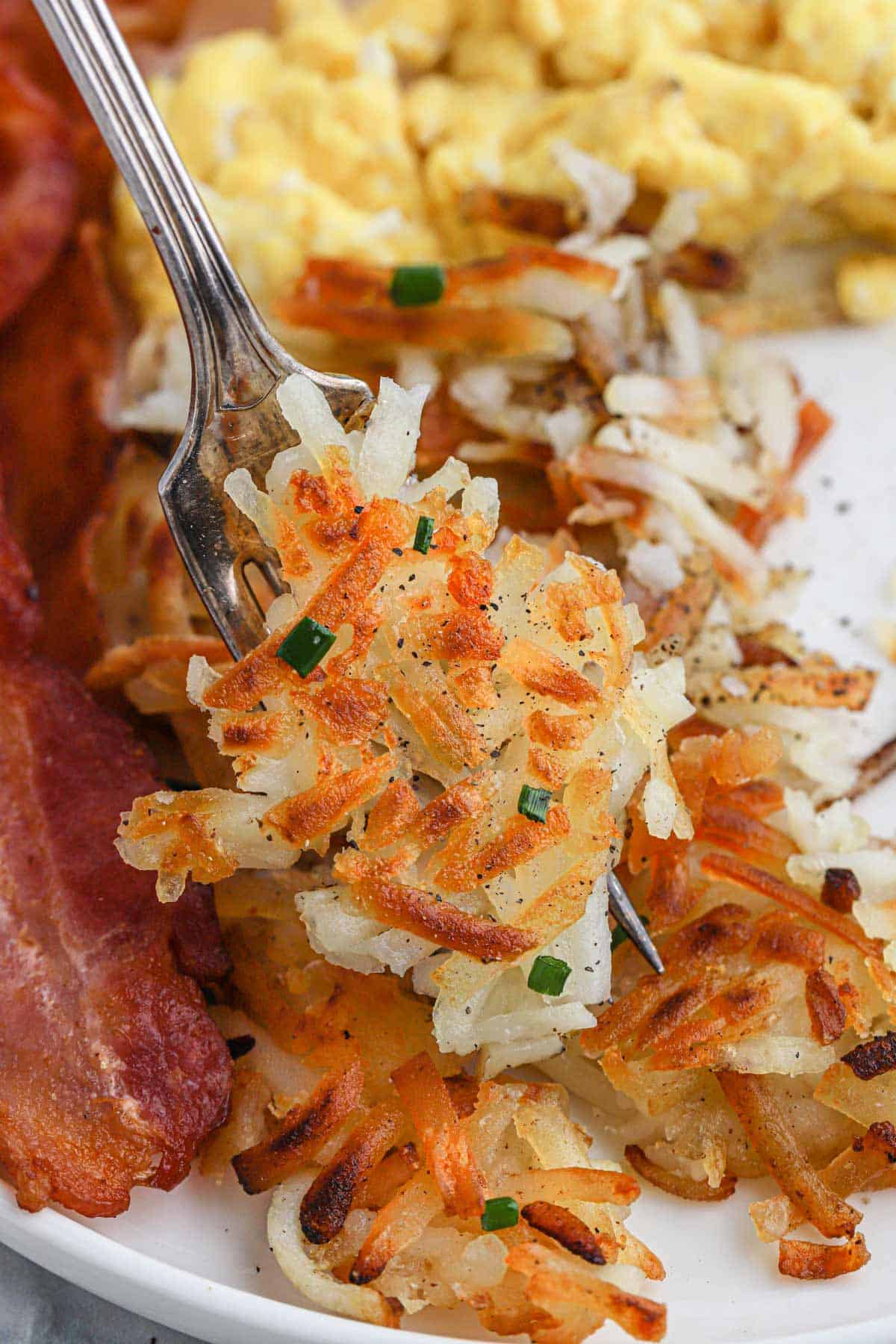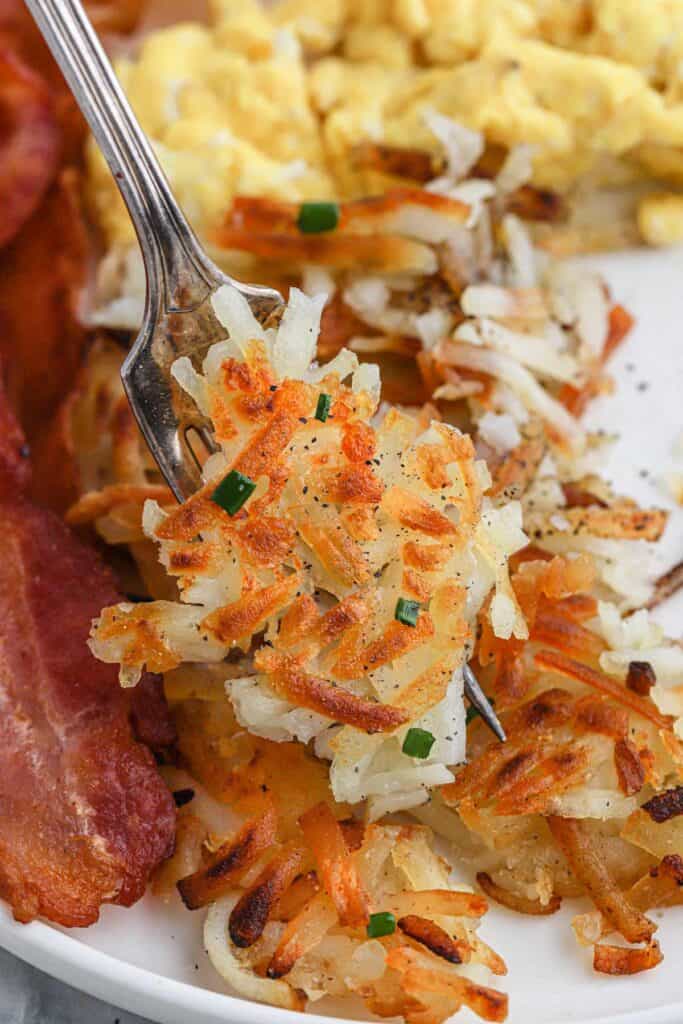 How to Make Hash Browns
These hash brown potatoes are crisp, crunchy, buttery, salty and oh so lovely. After enjoying several hundreds of orders (I'm sure at least 100) of hash browns in my life, I decided I should really start making them at home, and they couldn't be any easier.
The process starts with making sure you have quality potatoes. For hash browns, I like to use russet potatoes. They are sturdy and create a wonderful texture for hash browns.
Note: You could also use other potatoes like sweet potatoes for a sweet yet savory flavor and twist on a classic.
How to Shred Potatoes for Hash Browns
Once you have your potato of choice, you will need to shred potatoes. This is so simple and such an easy technique to use.
You are going to shred potatoes with a CHEESE GRATER! So simple and really easy.
Tip: Use the larger holes so you can get large enough potato shreds to have substantial flavor and taste.
Once potatoes are shredded, you will want to get rid of the moisture. Potatoes by nature have a lot of moisture but in order to get super crispy hash browns, you must dry them out.
Tip: You must take your potatoes and dry them on paper towels. I like to ring them out as much as possible.
Final Tips for Making Hash Brown Potatoes
Once your potatoes are shredded, I add them to a skillet with butter and oil over medium heat and watch the magic unfold.
The addition of butter and oil is great because it is both incredibly flavorful from the butter but it won't burn. The oil helps to make sure that the potatoes won't burn.
Finally, adding salt and pepper is necessary to get that perfect diner hash brown recipe flavor!
Sure I will still be hitting my local greasy spoon whenever the craving strikes but if I need a quick and delicious fix, I don't have to look any further than my very own kitchen.
Other Great Breakfast Ideas to Pair with Hash Browns Recipe
For more incredible breakfast ideas, check out these posts: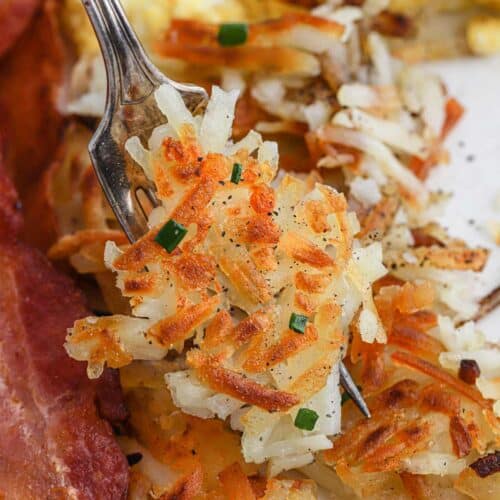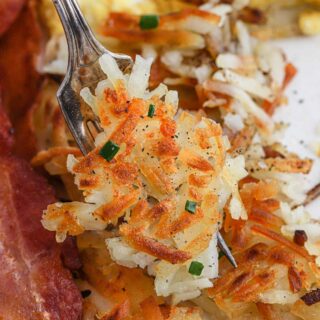 Perfect Hash Browns Recipe
The BEST Hash Browns: This is a perfect hash brown recipe! Easy, flavorful and absolutely delicious! Make this popular breakfast side right at home and give up the diner!
Print
Pin
Rate
Ingredients
2-3

russet potatoes

1/4

cup

salted butter

1/4

cup

vegetable oil

Salt and pepper
Instructions
Using a cheese grater, grate all potatoes until completely shredded. Use the large holes of the grater to get nice sized shreds.

Place potato shreds on paper towels and remove all excess liquid from them until dry.

Heat butter and oil over medium high heat in a large skillet (add more butter and oil if the entire surface of the skillet is not covered).

Once butter/oil mixture is hot, add potato shreds to pan. Sprinkle with salt and pepper.

Once a golden brown crust develops on the bottom of the potatoes, flip them on the other side.

Once golden brown on both sides, season to taste and serve hot.
Video
Notes
Make sure you really take the time to completely dry your potatoes removing as much moisture as you can to ensure that they dry until golden brown and super crispy.  
Nutrition
Calories:
202
kcal
|
Carbohydrates:
12
g
|
Protein:
1
g
|
Fat:
16
g
|
Saturated Fat:
12
g
|
Cholesterol:
20
mg
|
Sodium:
71
mg
|
Potassium:
296
mg
|
Vitamin A:
235
IU
|
Vitamin C:
4
mg
|
Calcium:
12
mg
|
Iron:
0.6
mg