Delicately crisp on the outside and tender on the inside bursting with blueberries and lemon zest, these Blueberry Lemon Biscuits are the perfect breakfast. These drop biscuits are too good to be true! If you love these, you will also love my Blueberry Lemon Layer Cake, Lemon Blueberry Cake and Orange Blueberry Muffins.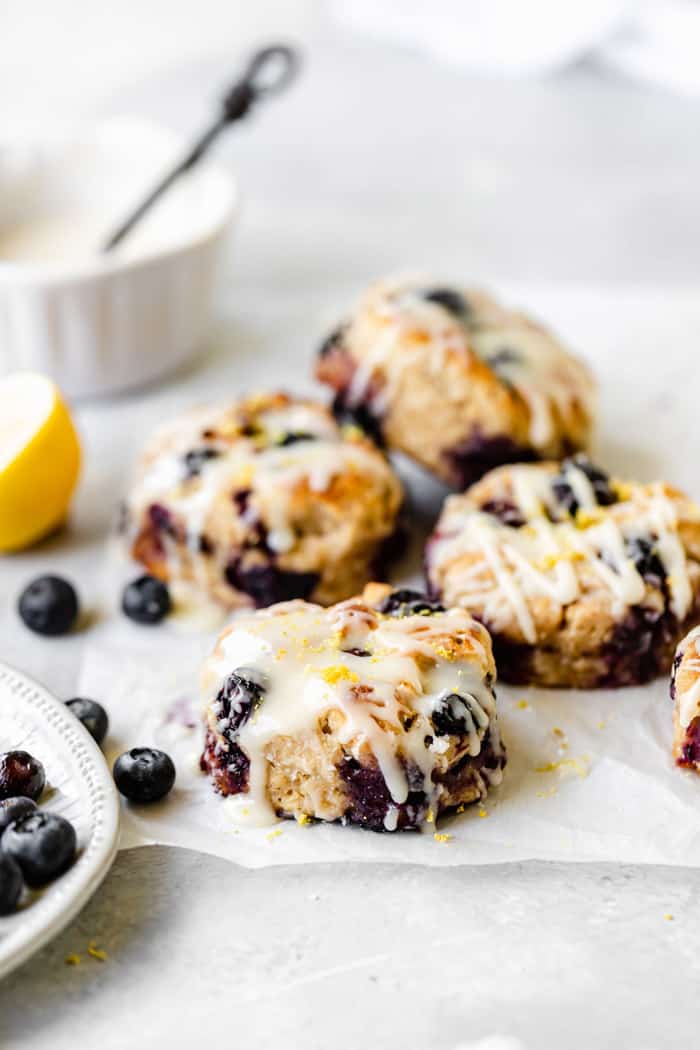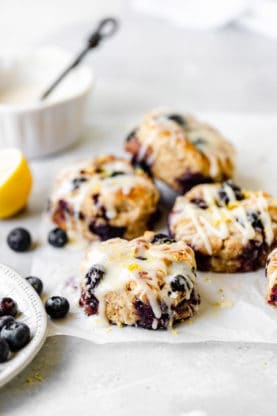 I am very excited about these biscuits- not just because they're crazy good, but because they're just so darn simple! I recipe test a lot, like a lot. Days are spent in the kitchen measuring and baking and cleaning, then doing it all over again. I'm not gonna lie, it can be tedious and frustrating when a recipe just doesn't seem to want to come together.
But, every now and then, the baking gods grant me a small win: a recipe like this one. These Blueberry Lemon Biscuits are easy-to-make yet so indulgent and flavorful! There's no need for expensive equipment, a laundry list of ingredients or ten separate tests, just a handful of items and a few minutes of your time. Don't we all deserve something easy every now and then like these drop biscuits?
Well, I say the answer is yes. So, I'm gifting y'all with something you deserve as much I do: something easy. Enjoy!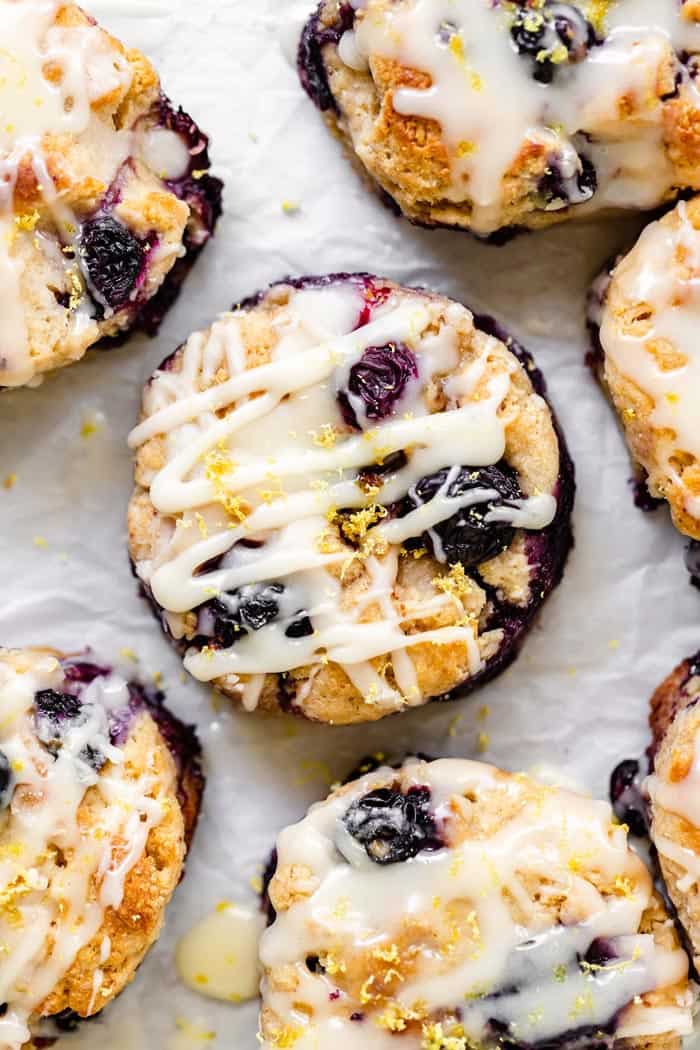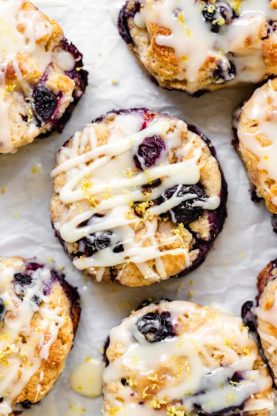 WHAT IS A DROP BISCUIT?
The closest way to describe a drop biscuit is to think of a muffin top: a nice delicate sugary crust with a soft and chewy inside. Drop biscuits are usually not too sweet, yet still good enough to be eaten on their own. Adding a glaze is optional, but I highly recommend it because it adds a tangy lemon feel.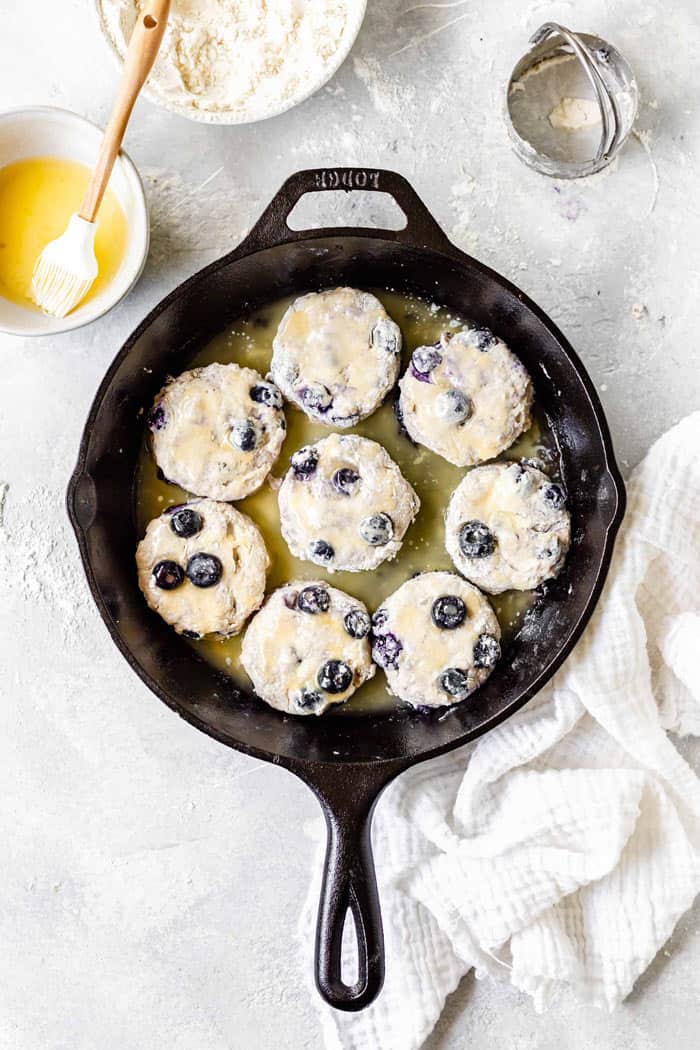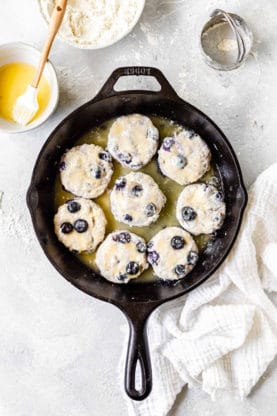 HOW TO MAKE BLUEBERRY LEMON BISCUITS
These zippy little biscuits come together using only 5 ingredients and in under 20 minutes! Seriously, y'all this simple recipe makes for breakfast magic.
Pull out the ingredients below, pour yourself a cup of coffee and let's make biscuits!
Salted Butter– To make this recipe simpler, I chose to use salted butter. The added salt does the work of creating balance and enhancing flavor without needing to add an extra ingredient. If you don't have any on hand, unsalted butter works, just be sure to add a teaspoon of kosher salt to the mix.
Biscuit Mix– Surprisingly enough, I always keep biscuit mix on hand! These inexpensive mixes can be used to make muffins, pizza doughs, scones, pancakes or, in this case, biscuits.
Lemon Yogurt– Made with all natural ingredients, lightly sweetened with wildflower honey and topped with fresh lemon curd, this yogurt is a little bit tart, a little bit sweet and a whole lot tasty! This creamy, smooth yogurt helps to tenderize the dough and make for a moist, delicious biscuit.
Lemon Zest & Juice– I really wanted the lemon flavor to POP! So I added some extra citrusy zing.
Blueberries– When cooked, blueberries become pockets of acidic yet sweet juice. So yummy!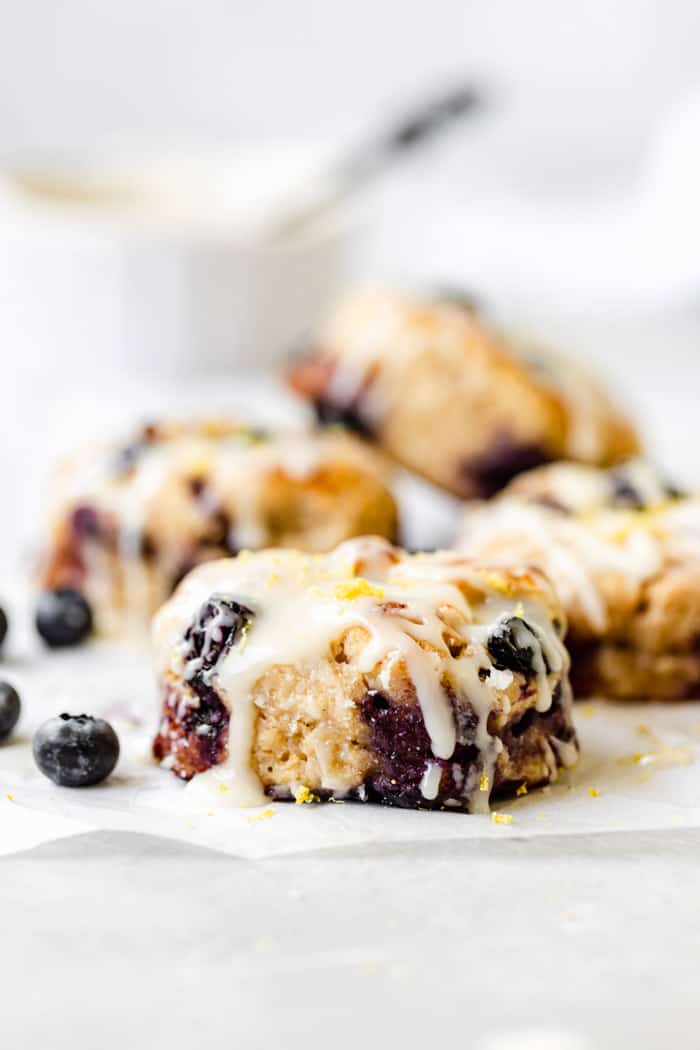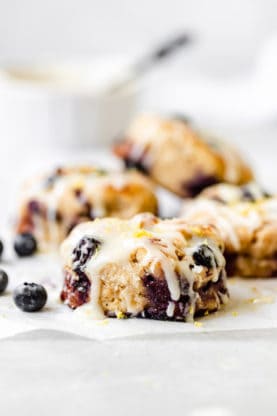 DRESS 'EM UP!
These Blueberry Lemon biscuits are great all on their own but, occasionally, I like to go the extra mile. A simple lemon or vanilla glaze takes these bad boys to a whole new level of YUM!
Here are the instructions for both glaze varieties:
Lemon Glaze
1 cup (120g) confectioners' sugar
3 Tablespoons fresh lemon juice (about 1 large lemon)
Make the glaze: Whisk the icing ingredients together. Drizzle over warm scones.
Vanilla Glaze
1 cup powdered sugar
2 tablespoons milk
½ teaspoon vanilla extract
Make the glaze: In a large glass measuring bowl or small bowl, mix all glaze ingredients until smooth. Using a spoon drizzle over cooled scones.
LEFTOVER BISCUIT STORAGE
Homemade biscuits made with perishable foods (in this case yogurt) should be stored in an airtight container in the refrigerator. If stored properly, these biscuits will stay fresh for up to 2 days. Alternatively, they can be tightly wrapped in plastic wrap or tin foil and frozen for up to 3 months.
To reheat: preheat the oven to 350 degrees, line a baking sheet with parchment paper and arrange the biscuits on top. Bake the biscuits until warmed; this typically takes about 5 to 7 minutes. Top the biscuits with fresh butter or glaze, then serve and enjoy!
If reheating from frozen, tent the biscuits with a piece of foil to prevent over-browning. It will take about 15-20 minutes to reheat frozen biscuits.
GRANDBABY CAKES' BEST BISCUITS
Nothing can get in the way of me and a fresh, warm biscuit, and I mean NOTHING. Whether you're serving up shortcakes on sweetened dough or herby rounds alongside a vat of gravy, you can count me IN. If you're not on my level of biscuit obsession, you will be soon!
Get in on the best, butteriest biscuits Grandbaby Cakes has to offer: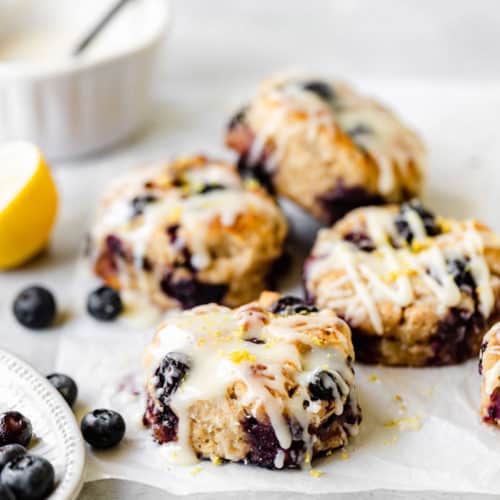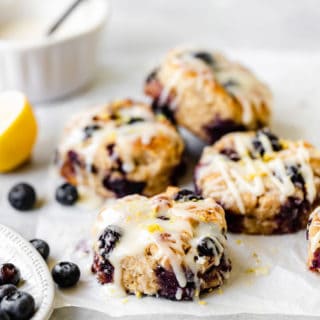 Blueberry Lemon Biscuits
Delicately crisp on the outside and tender on the inside bursting with blueberries and lemon zest, these Blueberry Lemon Biscuits are the perfect breakfast.
Print
Pin
Rate
Ingredients
1/3

cup

salted butter

melted and divided

2 1/4

cup

biscuit mix

I used Bisquick

1/3

cup

lemon yogurt

I used Noosa

1

lemon (you need the juice and zest)

juice and zest of the one lemon

1

cup

blueberries
Instructions
Preheat the oven to 450 degrees. Pour ¼ cup of melted butter into the bottom of a cast iron skillet.

Mix together biscuit mix, lemon yogurt, lemon zest and juice in a large bowl. Start with 2 cups of biscuit mix and then add a 1/4 cup of biscuit mix until the dough is slightly sticky yet well-combined.

Dust a little flour on the blueberries then toss into the biscuit dough. Gently fold in to combine. If needed, add a bit more biscuit mix to create a firmer result.

Lightly flour your hands and grab a roughly tennis ball-sized ball of dough. Drop the biscuit into the cast iron. Repeat until all the dough is in the skillet.

Brush or drizzle the tops of the biscuits with the remaining butter.

Bake biscuits for 10-12 minutes. If you'd like a more golden brown color, broil for the last 2 minutes of baking. Let cool for at least 10 minutes.

Once cooled, serve with additional butter or top with a light glaze.
Notes
Feel free to try different flavors of yogurt like orange or vanilla to vary the recipe up.
Nutrition
Calories:
233
kcal
|
Carbohydrates:
26
g
|
Protein:
3
g
|
Fat:
13
g
|
Saturated Fat:
6
g
|
Cholesterol:
22
mg
|
Sodium:
503
mg
|
Potassium:
104
mg
|
Fiber:
2
g
|
Sugar:
7
g
|
Vitamin A:
256
IU
|
Vitamin C:
9
mg
|
Calcium:
79
mg
|
Iron:
1
mg