Imagine layers of tender lemon cake bursting with fresh blueberries that are coated in a tangy, blueberry-hinted cream cheese frosting! This vibrant Blueberry Lemon Cake recipe is an ultra-moist, refreshing dessert! If you love this cake, you will also love this Orange Blueberry Bundt Cake, Lemon Blueberry Pound Cake, these Blueberry Lemon Biscuits, and Orange Blueberry Muffins. Also I love this Italian Cream Cake.
Disclosure: I partnered with Land O'Lakes for this recipe post, but all opinions expressed here are my own. I am grateful for authentic partnerships like this.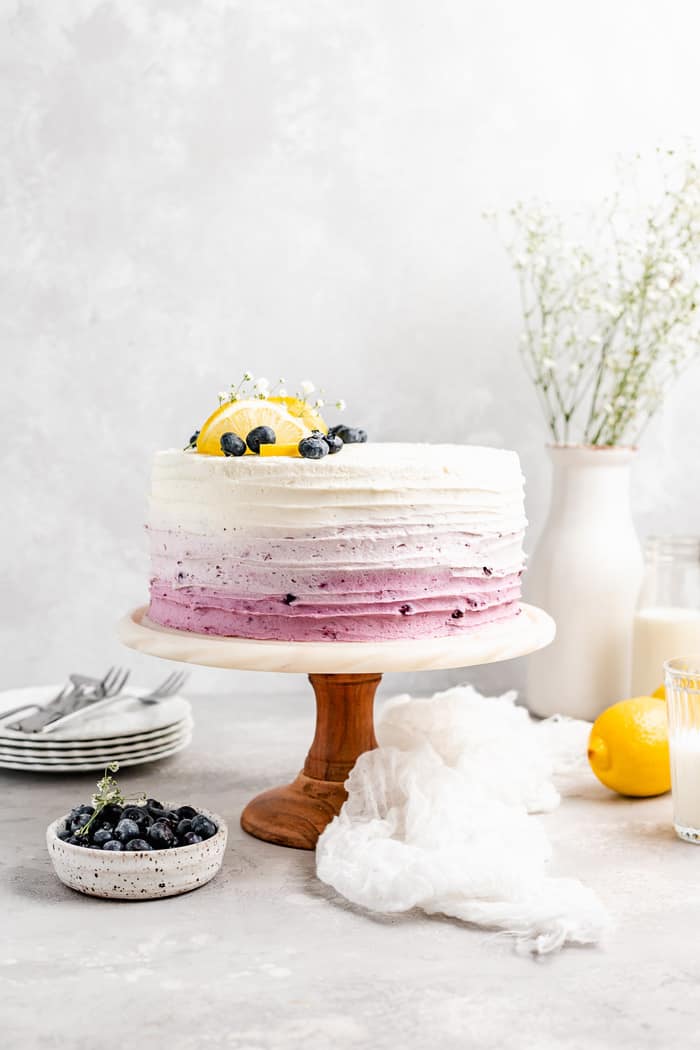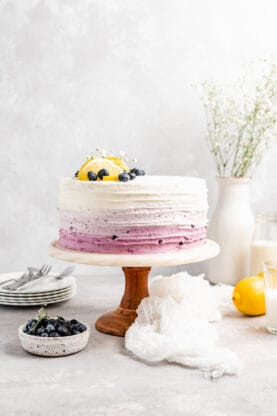 I'll be honest, I've never been a raw blueberry fan. I know, I know, it's blasphemous but true. Throw them in a smoothie, toss 'em in a pancake batter, or even add some to a batch of muffins, but a handful of plain blueberries doesn't cut it for me.
A cooked blueberry is zingy, sweet, and exploding with thick, purple juice. In comparison to its regular-old, too-cold cousin, this blueberry is an absolute superstar! This cake is no exception; it might even just be blueberries' most flavorful moment.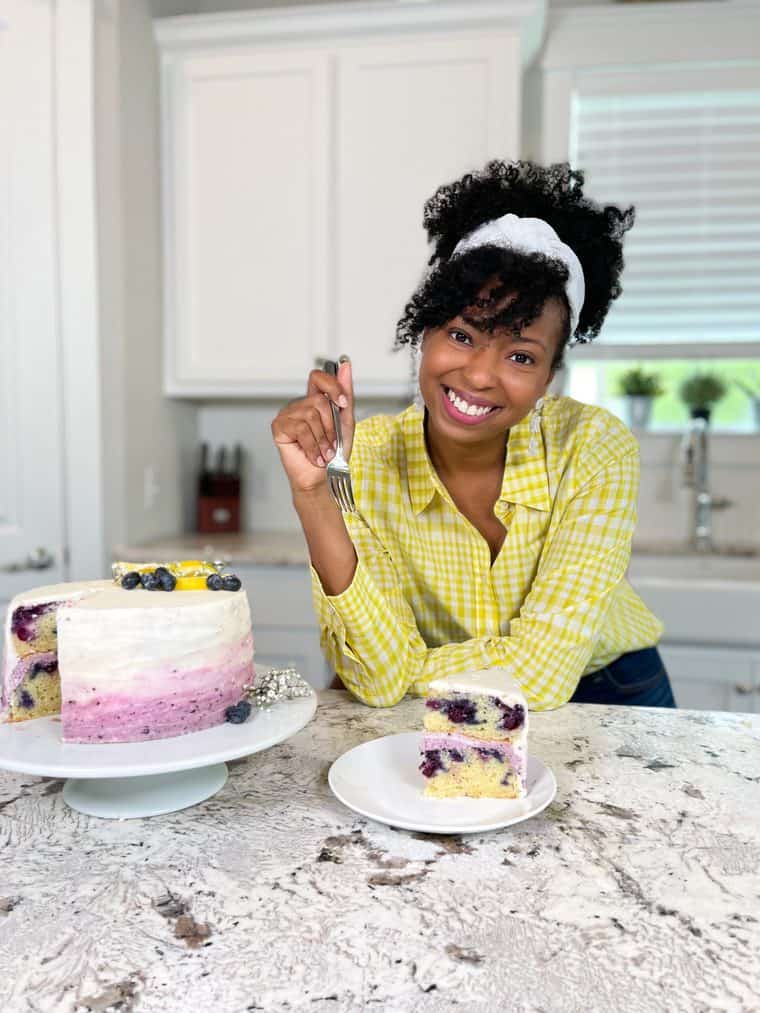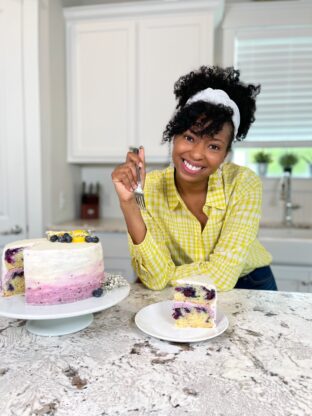 This Blueberry Lemon Cake is the spring and summer dessert obsession you've been waiting for! Buttery layers, thanks to Land O'Lakes, cream cheese frosting studded with berry jam, and a bright pop of citrus with each bite? It doesn't get much better than that.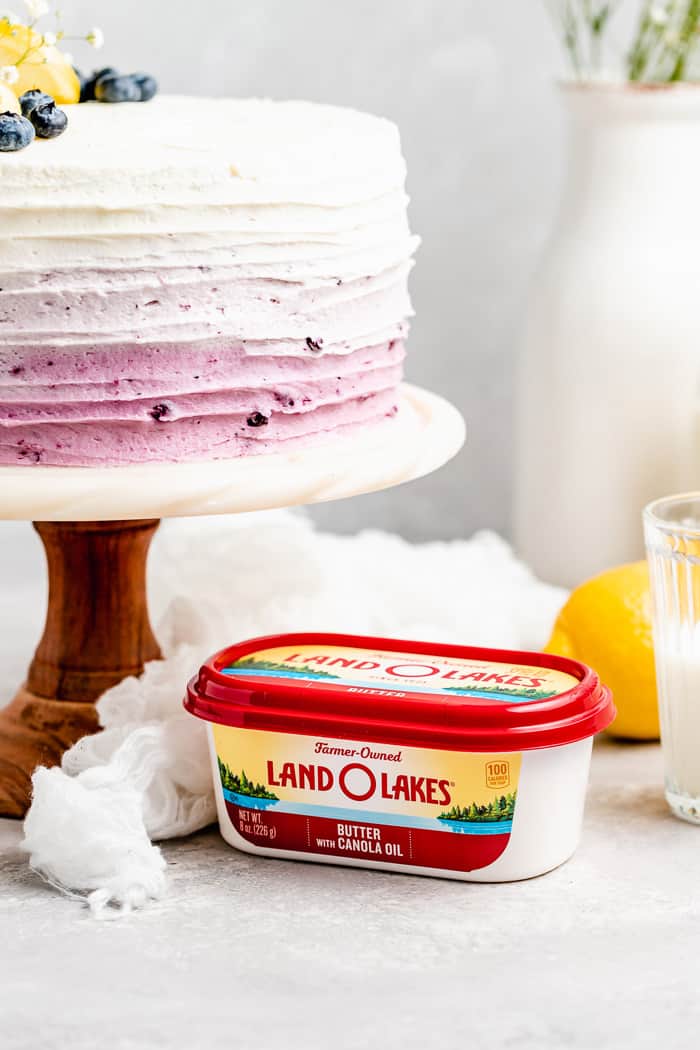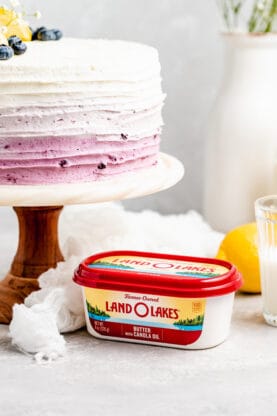 BLUEBERRY LEMON CAKE INGREDIENTS
Without the ingredients, there is no recipe! Let's go over today's most important ones:
LAND O LAKES® BUTTER WITH CANOLA OIL- Made with only 3 simple ingredients (sweet cream, canola oil, and salt), Land O Lakes® Butter with Canola Oil is the purest way to incorporate buttery goodness that is also farmer owned. I can always count on Land O'Lakes to provide maximum yumminess. I love to use this product for savory and sweet treats like this one.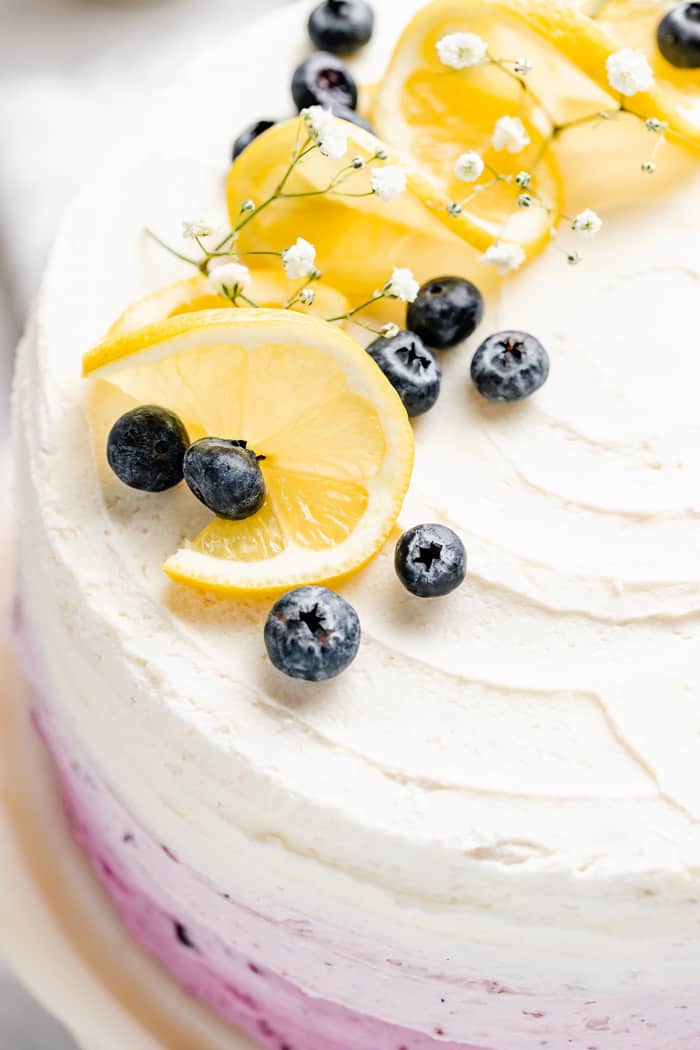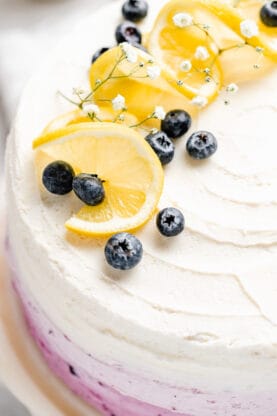 SOUR CREAM- Sour cream is the perfect way to add moisture to any cake without thinning the batter. This tangy, fatty cream can also help to control browning and activate baking soda.
LEMON JUICE & ZEST- This wouldn't be a lemon cake without a strong, tart lemon flavor. Using the tangy juice and floral zest is what makes for a strong, deliciously sharp citrus taste.
BLUEBERRIES- When you buy blueberries, look for berries that are firm, dry, plump, and smooth-skinned, with a silvery surface bloom and no leaves or stems. Also, look for berries that are deep purple-blue to blue-black. If using frozen berries, do not defrost them and be sure to work quickly.
BLUEBERRY JAM- Typically the best jams taste like a sweeter version of the original fruit: they're sweet, tart, lemony, and fresh. Jam is a great way to add unique texture, flavor, and color to any frosting.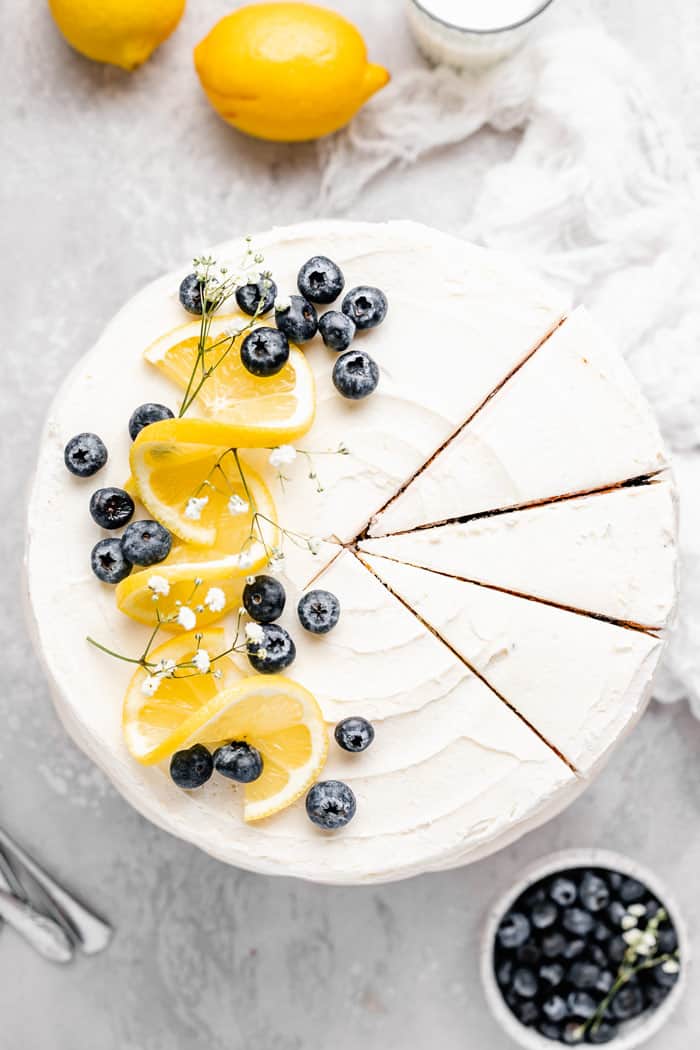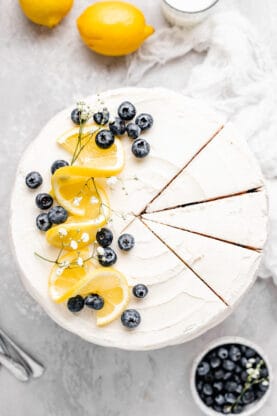 HOW TO MAKE A BLUEBERRY LEMON LAYER CAKE
Don't let the number of steps in this recipe scare you away! This is a simple lemon cake dressed up with blueberries and frosting, so there's no need to panic.
To make things easier, let's break things down into a few easy steps:
MAKE THE BATTER-

The key to a light, creamy batter is patience. Don't rush to throw everything in the mixer at once! Take the time to set out pre-measured ingredients, grab a rubber spatula, and put on an apron. Start by sifting the dry ingredients; this quick step will always produce a more tender cake. Be sure to only mix the batter until

just

combined, any more and the cake won't rise as much. Fold in the blueberries by hand! If you toss the berries into the mixer, they will pop and make a soupy mess.
BAKE THE LAYERS-

You'll need at least two layers for this cake, but as many as three can be used. The cakes will need to be on different racks to encourage even air flow and heat distribution in the oven. Stagger the pans, but don't allow them to get too close to the sides. I'd recommend sticking to the top and middle racks of the oven, rotating 1-2 times during baking. If you want, you can torte (or split the layers in half) for a taller, more epic creation.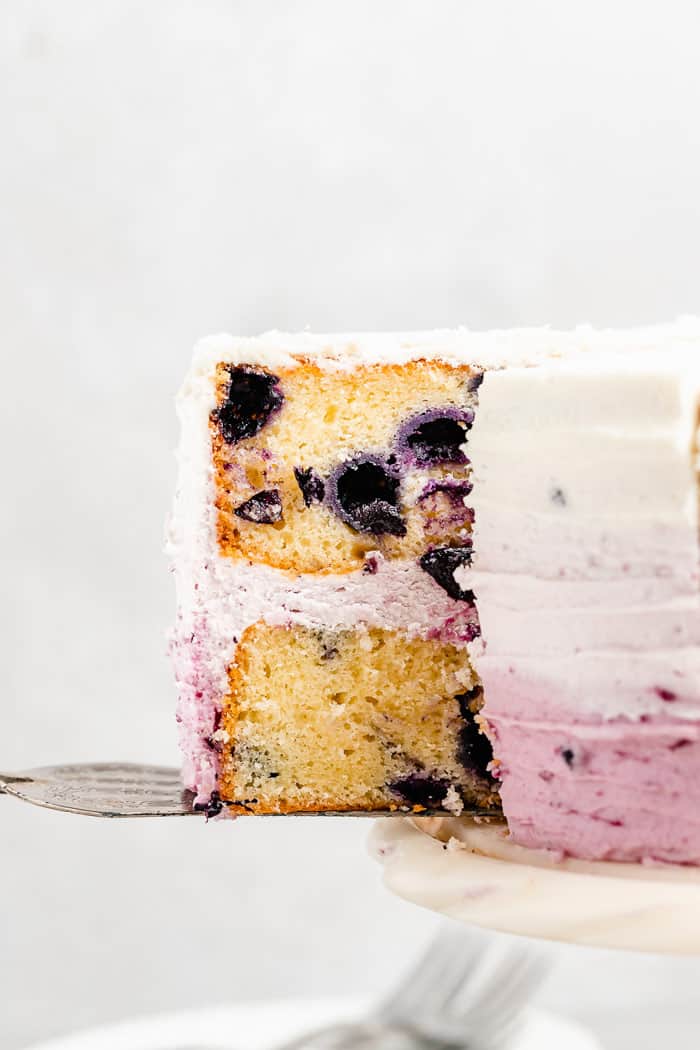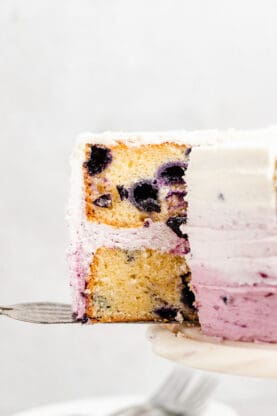 WHIP UP SOME FROSTING-

Homemade frosting couldn't be easier! Just be sure to start with room temperature Land O Lakes® Unsalted Butter and cream cheese. Scrape the sides of the mixer bowl a few times to ensure a well-blended result.
ASSEMBLE, GARNISH, AND SERVE- Do not even THINK about assembling this cake until the layers are completely cooled. Follow the assembly instructions provided, have fun decorating, and make sure you cut yourself the first, thickest slice!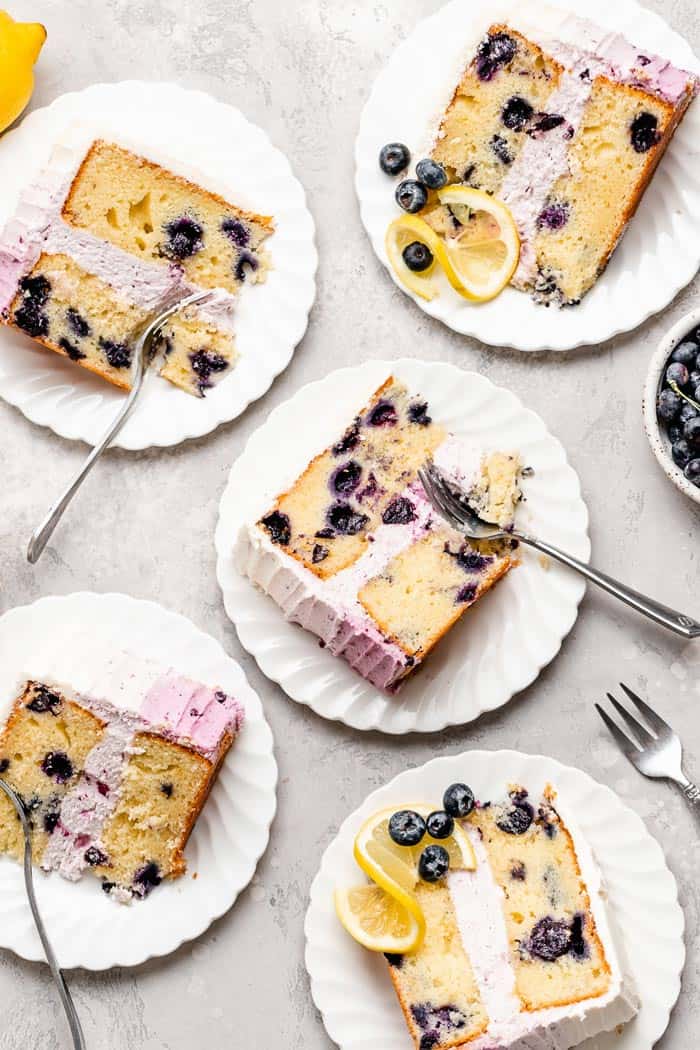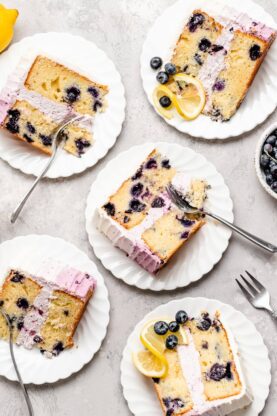 TIPS FOR BUILDING A LAYER CAKE
Assembly takes practice, so don't get discouraged if your first attempt isn't a masterpiece. Take your time, invest in handy utensils, and, most importantly, have fun!
Here are a few useful tips to get you started:
Chill the Cake
Once baked and out of the pan, leave the cake out to come to room temperature. Then, wrap the layers in plastic wrap and place in the freezer for at least a couple hours. Cold makes for fewer crumbs and therefore, a smoother layer of frosting.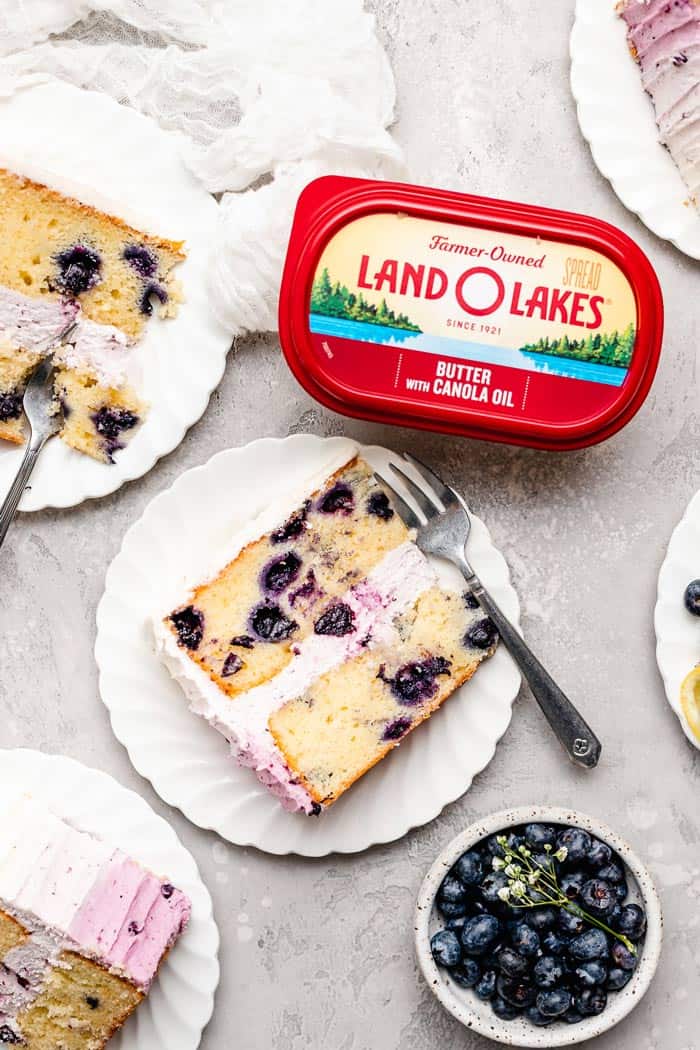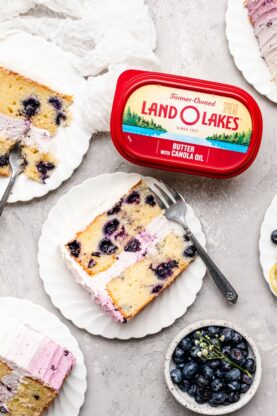 Level the Layers
If your cake has come out of the oven with a domed top, I would suggest giving it a trim. Flat cakes make for easier stacking and a more visually appealing result. Use a long serrated knife (or the dental floss method) to carefully slice the rounded tops off each layer. For fun, you can even add some Homemade Lemon Curd to the layers.
Apply a Crumb Coat
After having chilled your cake, apply a thin, even coating of frosting between each layer, as well as to the top and sides. Refrigerate for at least 15 minutes, then proceed with the final smooth layer of frosting.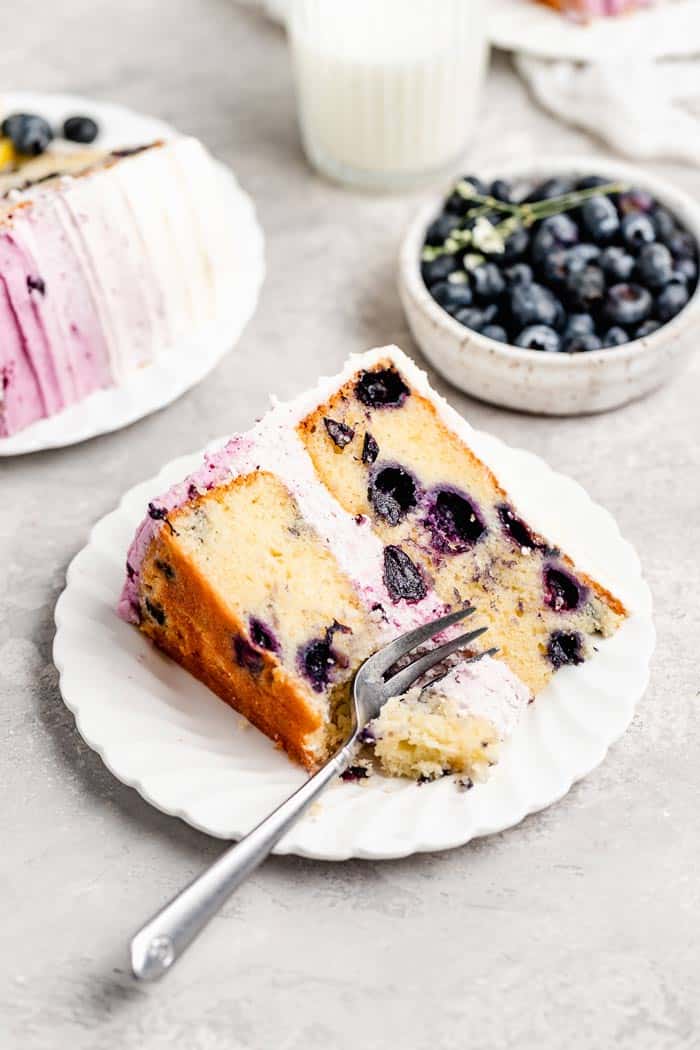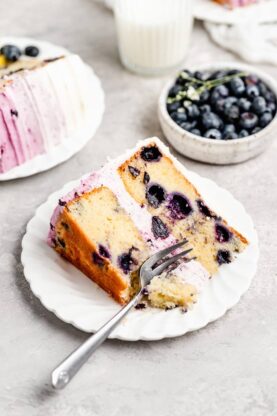 MORE GRANDBABY CAKES' LAYER CAKE RECIPES
If you're as enthusiastic about sweet, tender cakes as I am, give a few more of my classic cakes a try: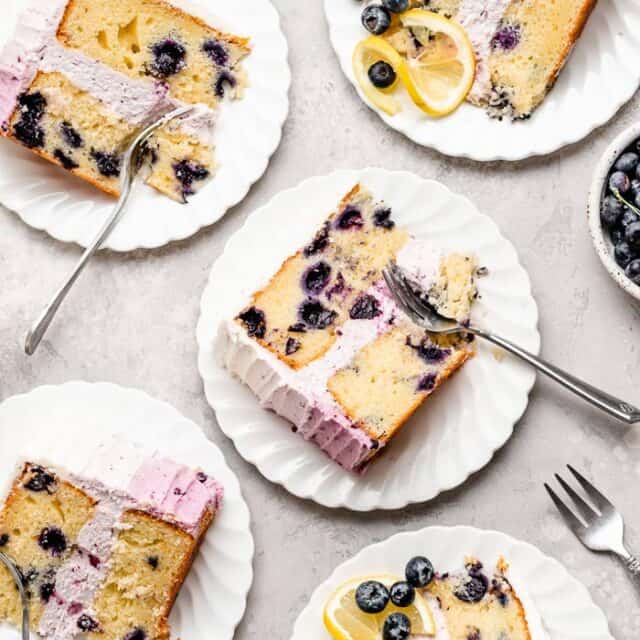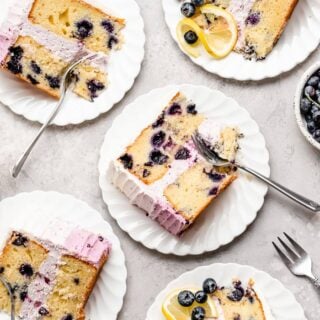 Blueberry Lemon Layer Cake
Imagine moist lemon cake bursting with blueberries that's coated in a tangy, blueberry-hinted cream cheese frosting! This Blueberry Lemon Cake recipe is the BEST!
Print
Pin
Rate
Ingredients
For the Cake
2 3/4

cup

all purpose flour

sifted

1 1/2

tsp

baking powder

1

tsp

salt

1/2

tsp

baking soda

1 1/4

cup

sour cream

room temperature

1/3

cup

whole milk

room temperature

1

tbsp

fresh lemon zest

from 1 large lemon

1 1/2

tsp

lemon juice

from zest lemon

1

tsp

vanilla extract

2/3

cup

vegetable oil

1/3

cup

unsalted Land O Lakes® Butter

1 1/2

cup

granulated sugar

3

large eggs

room temperature

1 1/2

cup

blueberries

frozen or fresh, rinsed, dried and tossed in 1 tbsp all purpose flour
For the Frosting
1

cup

Land O Lakes® Unsalted Butter

room temperature

8

oz

cream cheese

room temperature

pinch of salt

2

lbs

confectioner's sugar

You can start at 1 1/2 lbs and add more until it stiffens what you prefer

1/4

cup

blueberry jam

1

tsp

vanilla extract

1

tsp

lemon juice

from zest lemon
Instructions
For the Cake
Preheat your oven to 325°F, then liberally spray 2 (8-inch) round cake pans with non-stick baking spray.

In a mixing bowl, sift together the all-purpose flour, baking powder, salt, and baking soda, then set aside. In a separate bowl, whisk together the sour cream, whole milk, lemon zest, lemon juice, and vanilla extract. Set this mixture aside, as well.

In your mixer bowl, use the paddle attachment to stir together the oil, Land O Lakes® Butter with Canola Oil, and sugar on low speed. Once combined, increase the speed to high and beat the mixture for 4-5 minutes.

Once the mixture is white and slightly fluffy, decrease the speed to low and begin adding the eggs, one at a time. Mix well after each addition and scrape down the sides as needed.

After all of the eggs have been added, increase the speed to medium-high and beat until the mixture is thick and pale yellow in appearance.

With the mixer on the lowest speed, add flour mix and the sour cream mix to batter in stages. Begin with 1/3 of the dry ingredients, followed by 1/2 of the wet ingredients. Scrape down the bowl after the wet ingredients have been incorporated.

Continue this mixing in process: 1/3 of the dry, followed by remaining wet ingredients, and lastly the remaining dry ingredients.

Scrape down the sides of the bowl and the paddle and mix, on low speed just until the last of the dry mixture is combined.

Finally, using a large spatula, gently fold the flour-coated blueberries into the cake batter.

Divide the batter evenly between your prepared cake pans and bake for 30-35 minutes or until a toothpick inserted into the center of the cake comes out with minimal crumbs attached.

The sides of the cake will pull away from the pan, but the center will be springy and bounce back when pressed lightly.

Remove pans from the oven and allow them to rest in pans for 5 minutes. Invert cakes from pans onto cooling racks, then allow them to cool completely.
For the Frosting
In the bowl of your stand mixer, cream the room temperature Land O Lakes® Unsalted Butter, cream cheese, and salt together on medium-low speed until smooth.

Stop the mixer and scrape down the bowl and paddle. With the mixer on low speed, add the sifted confectioner's sugar to the bowl a cup at a time.

Once all sugar has been added, scrape down the bowl and paddle. Whip the butter-sugar mixture on high for 3-4 minutes or until light and fluffy.

Stop the mixer and add the blueberry jam, vanilla extract, and lemon juice to the bowl. Whip the frosting on medium-high speed for 2 minutes, stopping the mixer after 1 minute to scrape down the bowl and paddle. This ensures your frosting is well-blended.

Once finished, your blueberry frosting will be a pale lilac color and light and fluffy in texture.

You can store the frosting at room temperature until you're ready to frost the cake, or covered in the refrigerator for up to 1 week.
To Assemble
Level the cakes by trimming off domed tops (if any). Slice each cake horizontally into two layers making a total of four layers of cake.

Spread a 1/2-inch-thick layer of frosting between layers, then frost the entire cake with remaining frosting.

To create an ombre look, spread a 1/2- to 1-inch border of blueberry jam towards the bottom of the frosted cake and smooth the sides of the frosting to create a faded look.

Garnish the frosted cake with fresh blueberries and lemon zest and enjoy.

Store leftovers covered at room temperature or in the refrigerator for 3 days.
Video
Notes
Once baked and out of the pan, leave the cake out to come to room temperature. Then, wrap the layers in plastic wrap and place in the freezer for at least a couple hours. Cold makes for fewer crumbs and therefore, a smoother layer of frosting.
Nutrition
Calories:
708
kcal
|
Carbohydrates:
99
g
|
Protein:
5
g
|
Fat:
34
g
|
Saturated Fat:
22
g
|
Polyunsaturated Fat:
1
g
|
Monounsaturated Fat:
8
g
|
Trans Fat:
1
g
|
Cholesterol:
97
mg
|
Sodium:
293
mg
|
Potassium:
147
mg
|
Fiber:
1
g
|
Sugar:
80
g
|
Vitamin A:
836
IU
|
Vitamin C:
3
mg
|
Calcium:
71
mg
|
Iron:
1
mg