This Decadent Butternut Squash Ravioli starts with a simple butternut filling that's added to homemade pasta ravioli then tossed in an irresistible brown butter sauce. You won't believe how easy it is to entertain with this delicious dish! If you love other squash recipes, you will love my Stuffed Manicotti, Roasted Butternut Squash recipe, Potato and Squash Gratin and Shrimp Scampi with Spaghetti Squash.
The Easiest Butternut Squash Ravioli Recipe EVER!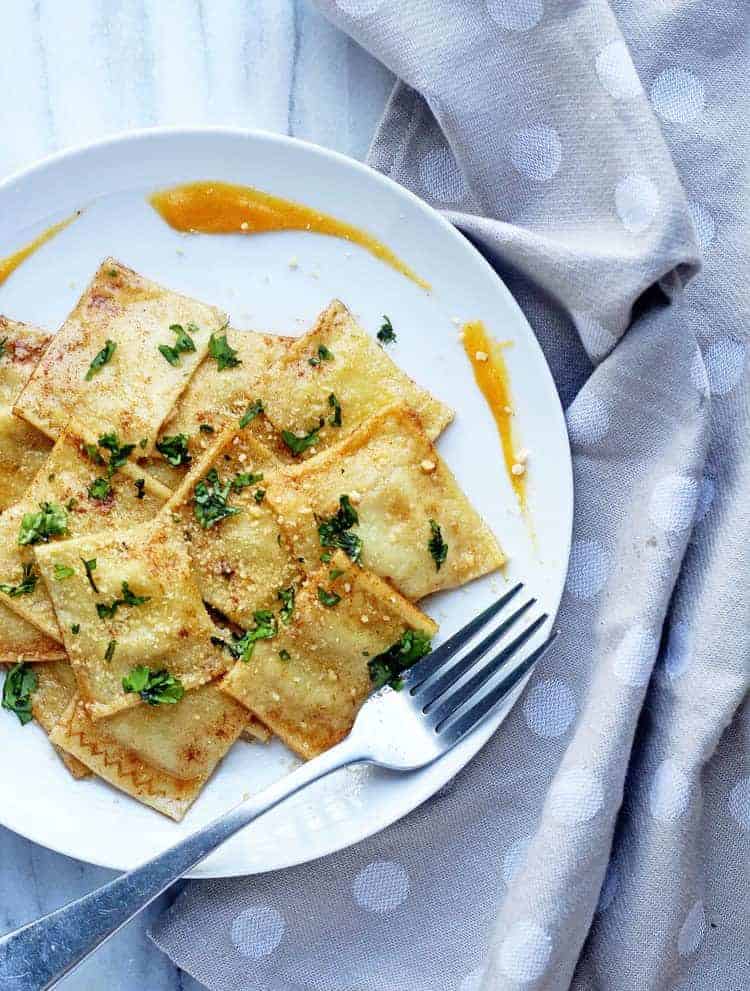 A big bowl of rich and delicious pasta can feel like quite the indulgence in my house, especially if it's homemade. Making homemade pasta – which can seem like a burden – can be much easier and quicker than I thought, not to mention tastier! My perspective of homemade pasta has changed from "special occasion" to "weeknight indulgence." This particular recipe for Butternut Squash Ravioli was a snap to make and tasted amazing. The results speak for themselves.
How to Make Homemade Pasta for Butternut Squash Ravioli
There is nothing quite like homemade pasta. The richness and flavor is unlike any other. And beyond that, it is quite easy to make. You only need two ingredients to begin making it:
A simple pasta base is just eggs and flour. It is incredibly rich and irresistible. The steps are also simple.
To start, add your eggs to the center of a deep well in your flour then use your fork to gently whisk together the egg and flour combining the ingredients.
As you begin seeing the egg and flour come together, bring in more flour from the sides and continuing whisking.
Once you see a ball of dough forming, it can get much harder to whisk so this is when you need to get your hands a little dirty. Begin to form the dough with your hands then split the dough into four separate balls.
Knead the dough for a while until all the bubbles of air are gone and you are left with leathery, pliable balls of pasta dough. Add flour as needed during this process.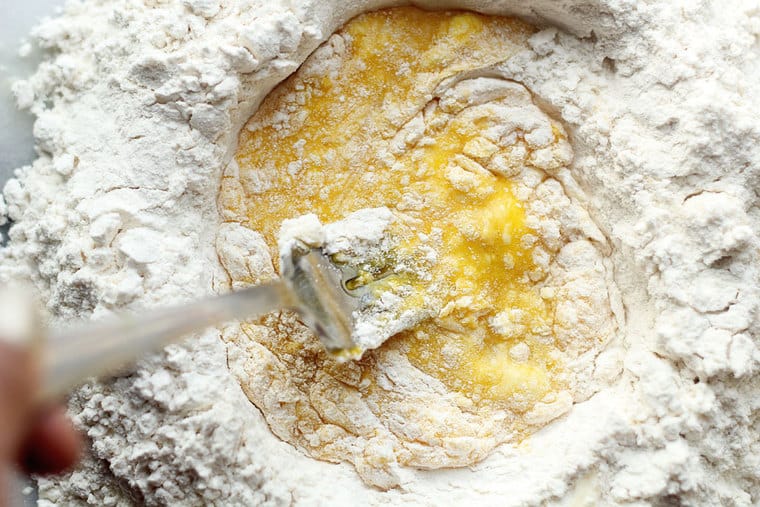 Now that your base for homemade pasta is complete, you can either stretch the dough and cut them into noodles or make homemade ravioli.
For the homemade ravioli for this recipe, I used a KitchenAid ravioli attachment. You will first need to roll out the pasta sheets to ensure they are completely flat then run them through a ravioli maker.
You simply crank out the ravioli pillows while continuously adding filling. The ravioli forms perfectly and the pillows come out incredibly even using the attachment. I have made ravioli by hand before and trust me, this is much easier and absolutely gorgeous too!
Butternut Squash Ravioli Filling
For this particular recipe, I wanted a lovely butternut squash filling that was seasonal and indulgent without lots of work or ingredients.
To create the filling, add the following to a blender!
Cooked butternut squash
An egg yolk (nice binder)
Cinnamon (adds a nice touch of additional flavor)
Salt and pepper
I simply add all of the butternut squash filling to a heavy duty blender (or you can use a food processor) and blend until completely creamy and smooth.
Brown Butter Sauce- The Perfect Butternut Squash Ravioli Sauce
Because of the natural richness of butternut squash, I wanted the sauce to be something so delicious and decadent but also very low key and low effort especially after rolling out all of that pasta.
The beauty of brown butter is it creates so much depth of flavor all on its own. Letting that butter do its magic and add nutty specs of deliciousness is really all you need. Once you get your butter to a nice golden color with specs throughout, that is perfect for tossing this ravioli in.
Topping with parmesan really takes this over the top!
My vision for creating this Butternut Squash Ravioli with Brown Butter sauce was to create something that you would order out of a restaurant without the hugely expensive price. I think I definitely achieved that.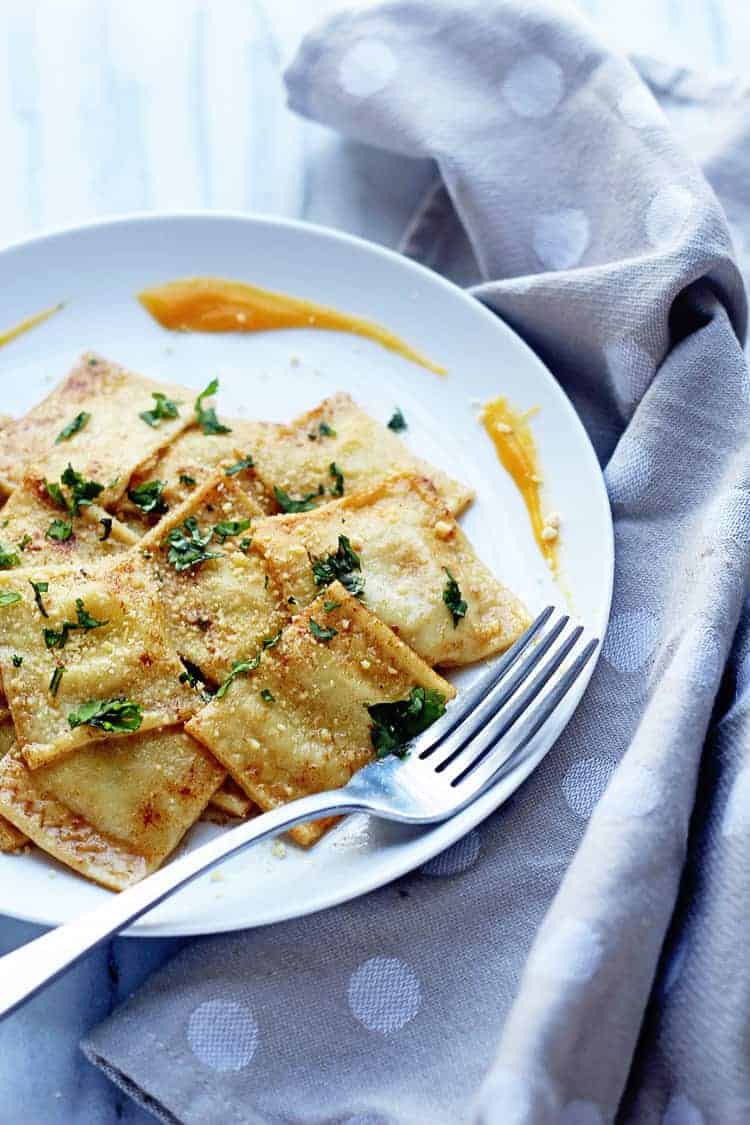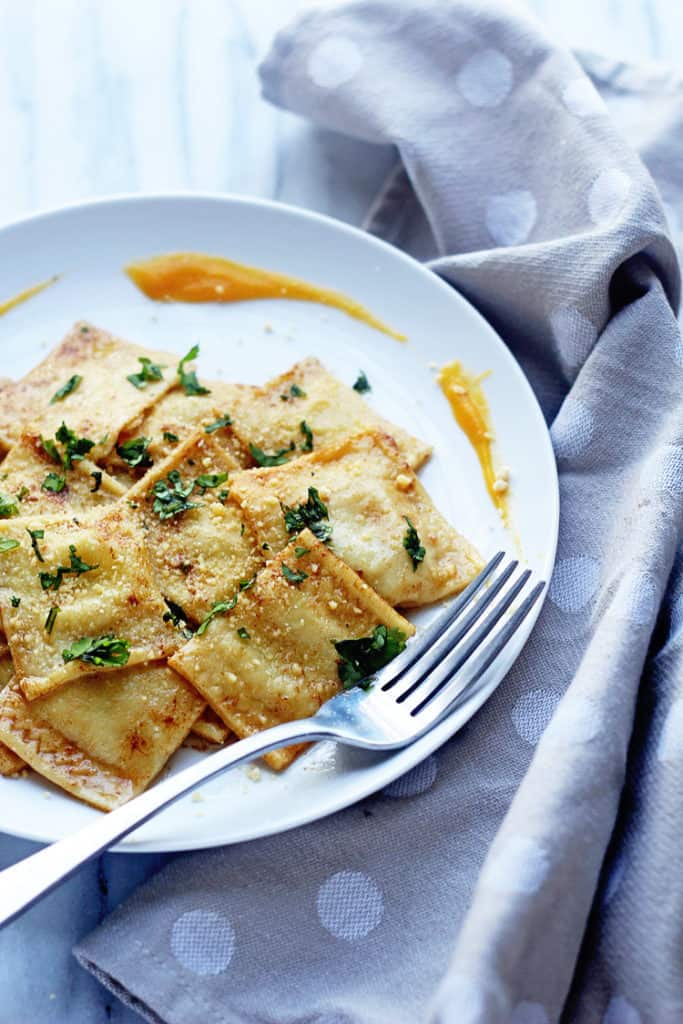 I think you owe it to yourself to make this dish right away for someone you love, even if that someone is you. I know I definitely enjoyed eating a big plate of this on my lonesome while the hubby was at work. I felt satisfaction with every single bite.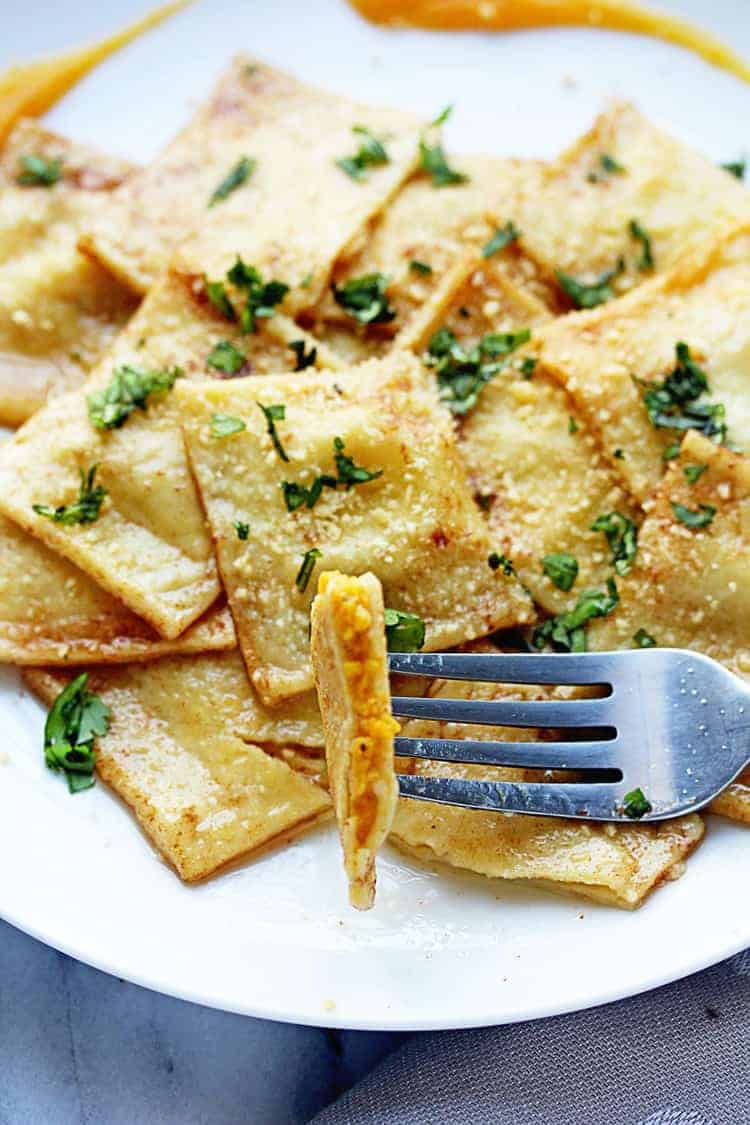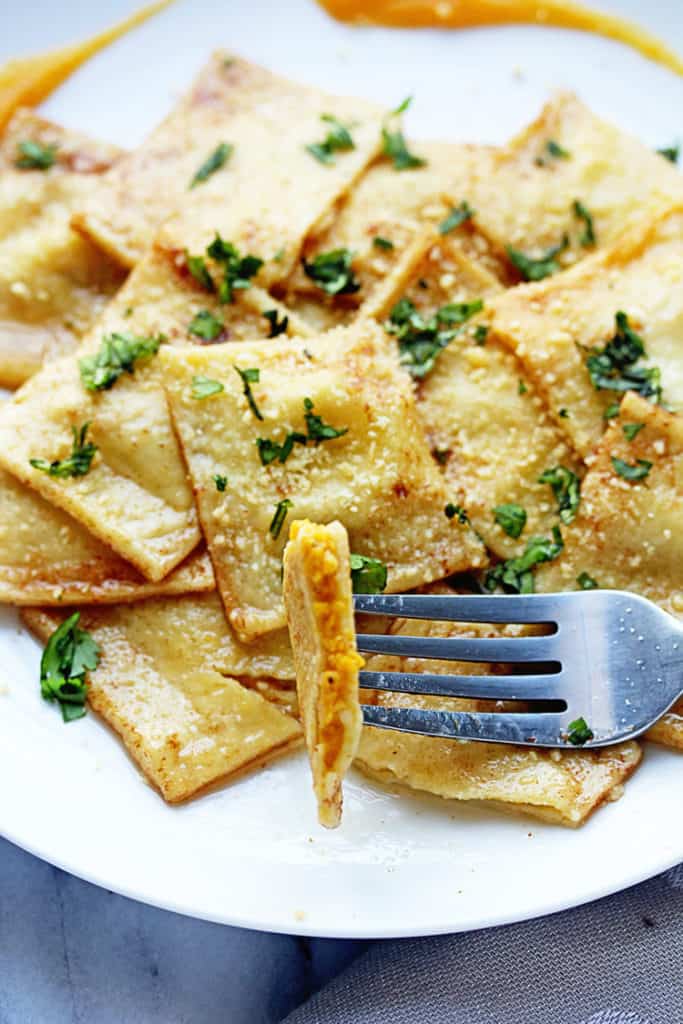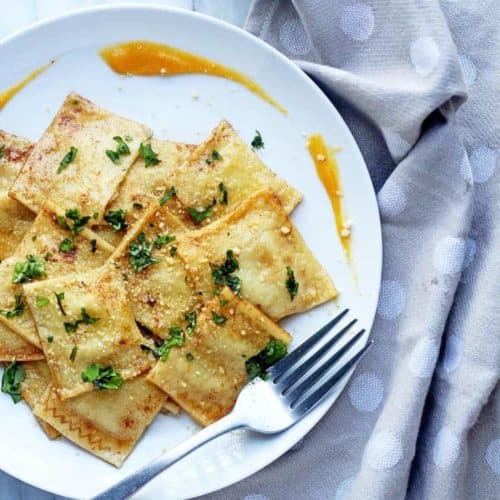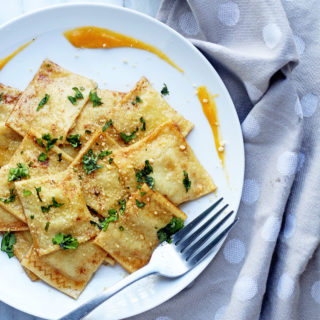 Butternut Squash Ravioli
This Decadent Butternut Squash Ravioli starts with a simple butternut filling that's added to homemade pasta ravioli then tossed in an irresistible brown butter sauce.
Print
Pin
Rate
Ingredients
For the Butternut Filling
1 1/2

cup

chopped, cooked butternut squash cubes

about half of medium butternut squash

1

large egg yolk

1/4

tsp

cinnamon

Salt and pepper to taste
For the Pasta
2

cups

all purpose flour

3

large eggs

4

cups

water

pinch of salt
For the Brown Butter Sauce
1/2

cup

salted butter

Optional: parsley and parmesan for garnish
Instructions
For the Butternut Squash Filling
Add cooked butternut squash, egg yolk, cinnamon and salt and pepper to a blender or food processor.

Blend or pulse until thick puree is formed and all ingredients are combined. Set aside.
For the Pasta
Start by creating a deep well in the middle of your flour. Add eggs to the center of the well.

Using your fork, start in the middle of the well and begin to whisk together the egg and flour gently pulling in more of the flour on the sides. Continue whisking until all the flour has combined with the eggs forming a ball of dough. Use your hands as it begins to get harder to whisk with your fork.

Adding more flour as needed, split the dough into four separate balls and knead each ball of dough getting out all of the air and flattening until they are leathery in feel and pliable.

Once done kneading, attach Pasta Roller to your Stand Mixer and feed each ball through the roller starting at level 1 and going up to level 3. Your ravioli dough should be a little thicker so it can handle the filling. Once you finish each sheet of pasta, lay it on a parchment lined baking sheet dusted with flour.

Once all the sheets are completed, detach the Pasta Roller and replace with the Ravioli Maker. Take a sheet of pasta, fold it in half and slide the folded end into the Ravioli Maker. Take each of the two top ends and lay them over the metal rollers so you can add the filling in between them. Add the filling into the Ravioli Maker and turn the handle to feed the sheets through the attachment and form the ravioli.

Once you've filled all of the ravioli sheets, carefully separate the ravioli along the perforations using a pizza cutter or knife.

To cook the ravioli, add 4 cups of water and a sprinkle of salt to a pot; bring to a boil.

Once boiling, add ravioli to the pot and cook approximately 3-5 minutes until they float to the top of the water. Remove and drain.
For the brown butter sauce
While pasta is cooking, add butter to medium sized pan over medium low heat.

Allow butter to melt and continue to heat until it begins to brown and you see tiny dark specs in the pan. It will also smell quite nutty. Watch carefully so you don't burn the butter.

Once browned, remove from heat.

Add drained ravioli to butter and toss to completely coat.

Sprinkle with parmesan cheese and garnish with parsley. Serve immediately.
Notes
Make sure you truly knead all of the pasta dough until all of the bubbles are gone before continuing the process.
Nutrition
Calories:
344
kcal
|
Carbohydrates:
36
g
|
Protein:
8
g
|
Fat:
18
g
|
Saturated Fat:
10
g
|
Cholesterol:
155
mg
|
Sodium:
178
mg
|
Potassium:
198
mg
|
Fiber:
1
g
|
Vitamin A:
4355
IU
|
Vitamin C:
7.3
mg
|
Calcium:
49
mg
|
Iron:
2.6
mg