Buttery, rich and perfectly sweet, this easy to make Caramel Frosting Buttercream is perfect for cupcakes, layer cakes or midnight treats! If you are a fan of my internet sensation Caramel Cake , Vegan Caramel Sauce or Easy Caramel Sauce recipe, you will love this buttercream too!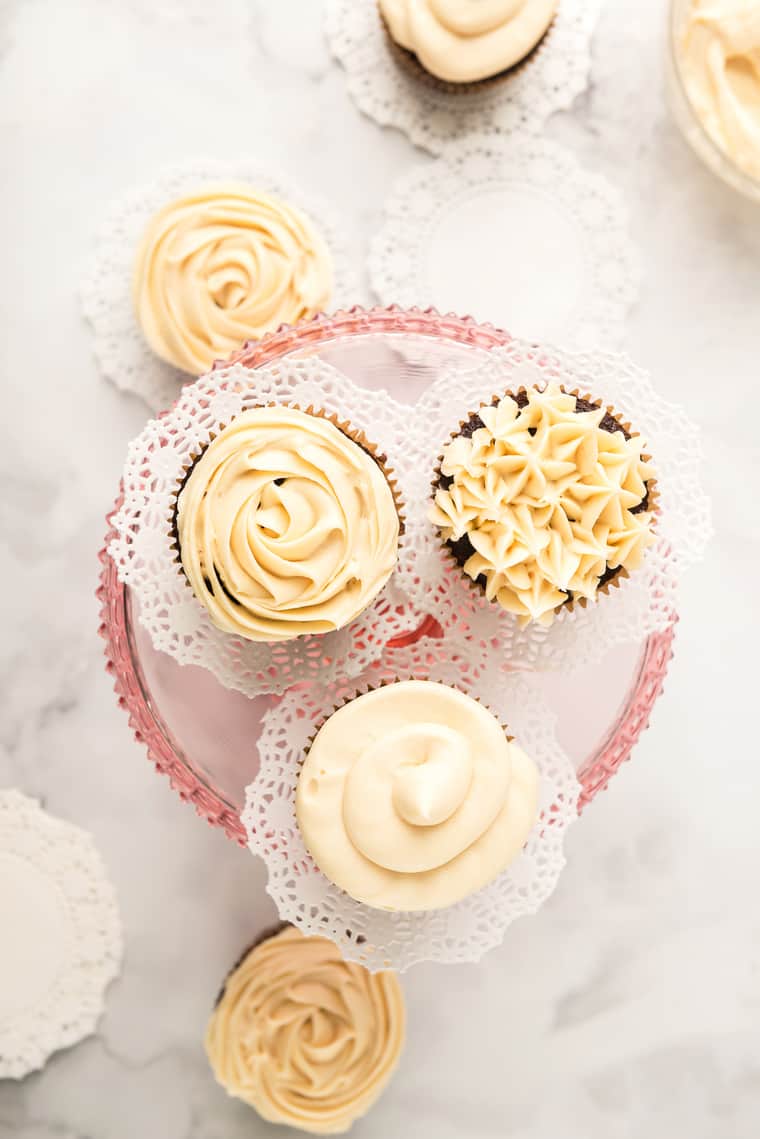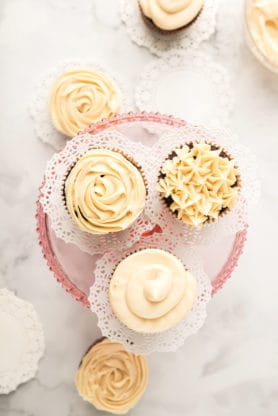 One of my favorite childhood treats came on birthdays, baptisms and occasionally, Tuesdays. A grocery store sheet cake is a simple, so-bad-it's-good treat. Every bite is soft, spongy and coated in sugary, brightly-colored buttercream frosting. I have fond memories of my tongue turning bright blue and my teeth being coated with sugar granules.
There is still a time and a place for cheap cake slathered with cheap frosting but homemade buttercream reigns supreme. With just a few ingredients and a strong wrist (or an electric mixer) you can create something those big chain stores couldn't even dream of!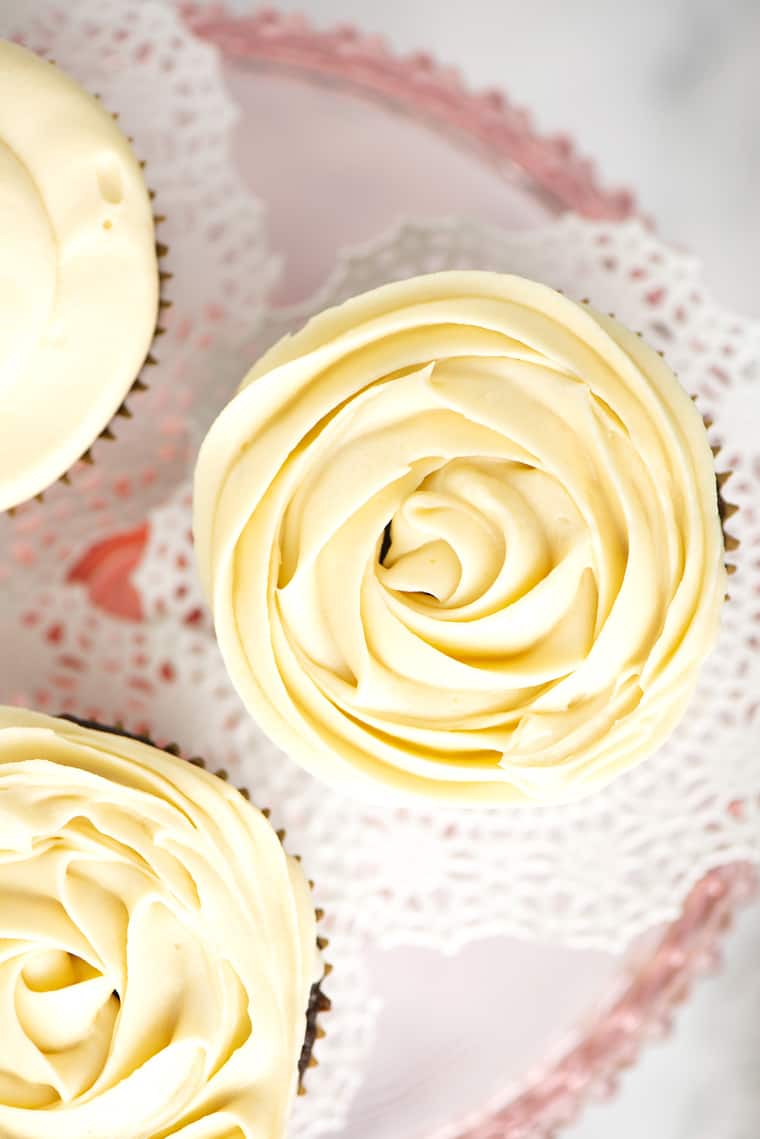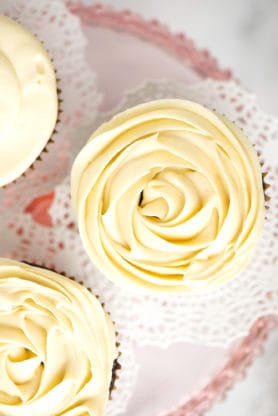 What is Caramel Frosting?
I'm a chocolate pretzel brownie, sea salt chocolate chip cookie, extra dried fruit in my trail mix kind of girl. The balance between sweet and salty is crucial, sacred even. I love good 'ole fashioned buttercream as much as the next person but, adding a salty component makes it that much better.
Caramel is sweet, buttery, creamy and best of all, a bit salty. With a bit of experimenting and a whole lot of taste testing, I found that caramel makes for the BEST buttercream ever!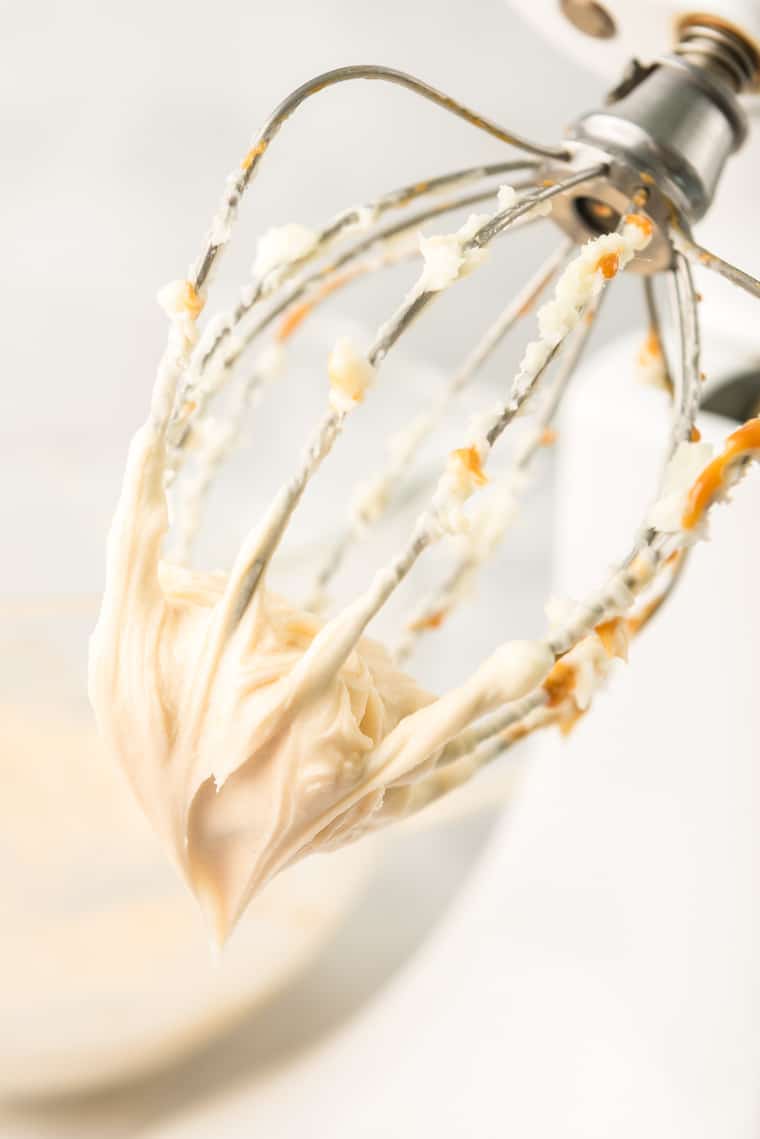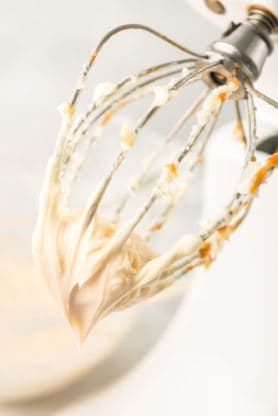 HOW TO MAKE CARAMEL FROSTING
What I love the most about buttercream is that it's always right at my fingertips. The ingredients are simple, pantry staples and the only required equipment is a mixer. In a few, short minutes I can make a delicious frosting fit for a queen.
Here are a few tips to ensure the BEST buttercream EVER!
Don't Rush the Butter!
If you're looking for a velvety-smooth buttercream, you gotta treat your butter right. Start with cool, room temperature butter; it shouldn't be partially melted or greasy. Start beating at a low speed and increase about every minute or so.
After about 3-4 minutes, the frosting should be light, fluffy and light in color. Take a taste, it should melt on the tongue; it shouldn't feel heavy or glue-y.
Adjust the Sugar
When adding in the sugar, go slowly and take an occasional taste. Buttercream isn't one size fits all! It's okay to adjust the sweetness to fit your preference.
Just be sure to cut the amount of liquid in accordance to how much you've reduced the sugar.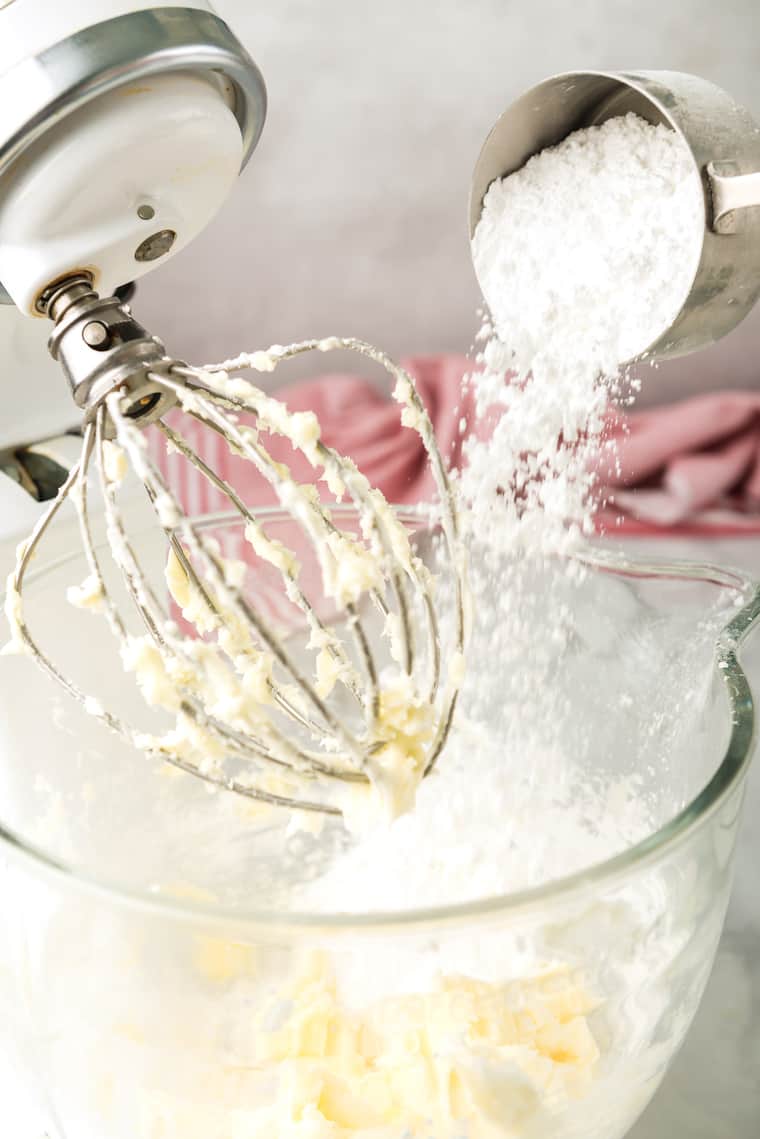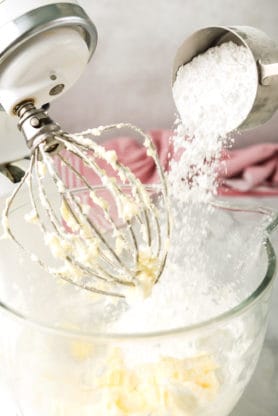 Keep Cool
A homemade buttercream doesn't contain the same preservatives as the store-bought variety. You will need to keep the environment cool to prevent melting.
What Caramel To select?
You can either use a homemade caramel. If you select that, definitely make my Aunt Beverly's Caramel Icing that is very popular in my Caramel Cake. It is decadent, delicious and absolutely incredible.
You can also make my easy and fast Caramel Sauce recipe which would be incredible in this buttercream as well. You actually melt the sugar over the stove allowing it to caramelize.
If you are grabbing store bought, definitely get a thick brand. There are some brands at the super market that are more suited as a thin sauce for ice cream, and they won't work well here.
Instead, grab something like a Mrs. Richardson or a gourmet caramel sauce like this to save time for making your own.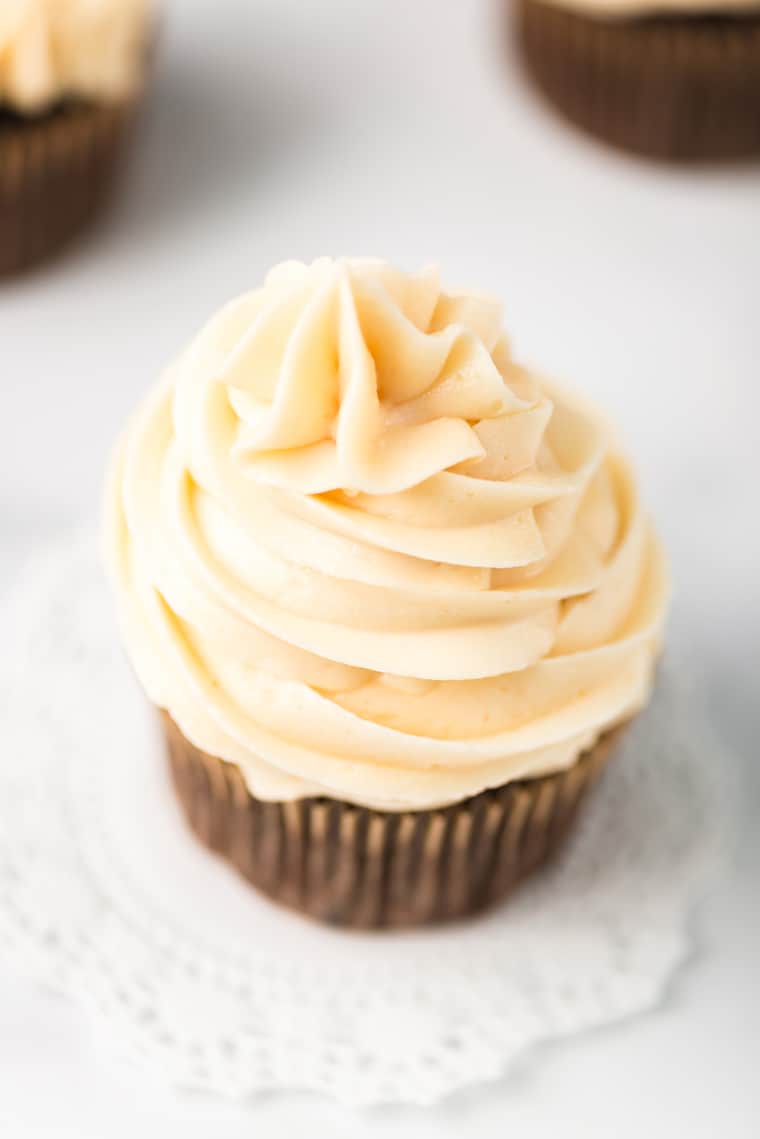 What Recipes Can I Use Caramel Buttercream For?
I'd highly recommend eating a straight up spoonful (or maybe a few) of this buttercream. It's glorious. When you're ready to put down the spoon and bust out the spatula, there's plenty of base options for this frosting.
From chocolate cupcakes to pumpkin pound cakes, you can slather this salty, sweet goodness on just about anything.
Still stumped? Below are a few Grandbaby Cakes recipes that pair perfectly with this buttercream. Simply swap out the frosting/topping used in the recipe!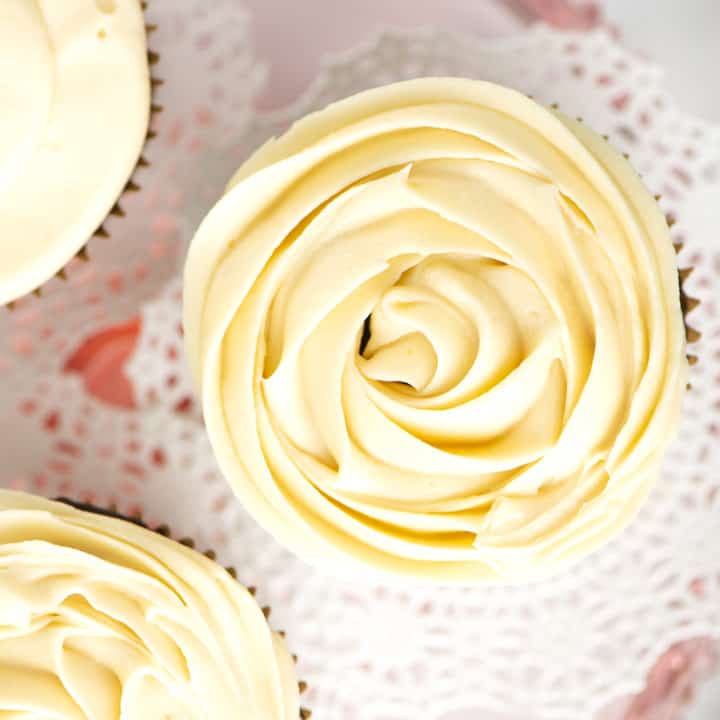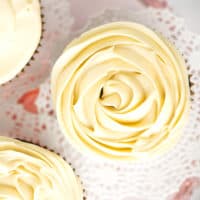 Caramel Frosting Buttercream
Buttery, rich and perfectly sweet, this easy to make Caramel Frosting Buttercream is perfect for cupcakes, layer cakes or midnight treats! 
Print
Pin
Rate
Ingredients
1

cup

unsalted butter

room temperature

pinch of salt

3

cups

confectioner's sugar

1

tbsp

heavy cream

1

tbsp

caramel

It should be thick. For store bought, I use Mrs. Richardsons

1/2

tsp

vanilla extract
Instructions
In your stand mixer, add butter and salt at medium low speed.

Next turn your mixer to down to low and slowly add confectioner's sugar in small portions until all is added then turn the speed to medium high to combine.

Add heavy cream, caramel, and vanilla extract and mix until nice and fluffy.

Pipe or spread buttercream and serve.
Nutrition
Calories:
262
kcal
|
Carbohydrates:
31
g
|
Protein:
1
g
|
Fat:
16
g
|
Saturated Fat:
10
g
|
Cholesterol:
42
mg
|
Sodium:
6
mg
|
Potassium:
5
mg
|
Sugar:
30
g
|
Vitamin A:
491
IU
|
Calcium:
6
mg
|
Iron:
1
mg