Holy Moly, this warm, cozy, fragrant and Hot Spiced Apple Cider is this Autumn's go-to drink! Made with rich apple cider, fresh fruit and an assortment of earthy spices, this cider is well-balanced and oh-so comforting! If you love this, you will also love my Hot Buttered Rum, Apple Cider Floats and Spiced Apple Cider Cake!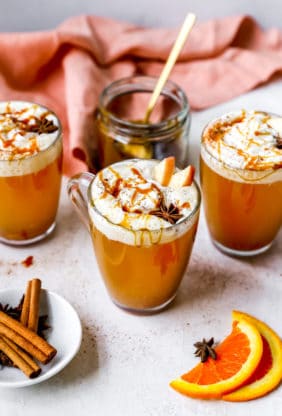 Each year, without fail, my extended family and I make it a point to take a mini road trip. We pack our snacks, queue up the old-school jams and hit the road in search of our Fall favorites: apples, hayrides, pumpkin donuts and most importantly, hot apple cider.
I love milling around the apple orchard, hot spiced apple cider in one hand and a warm doughnut in the other. The crisp air and overflowing bags of juicy apples seem to feed the soul and make for an absolute perfect day. When all is said and done, we lug home crates of apples (for pies and cobblers of course) and we never forget the gallons of rich, sweet cider.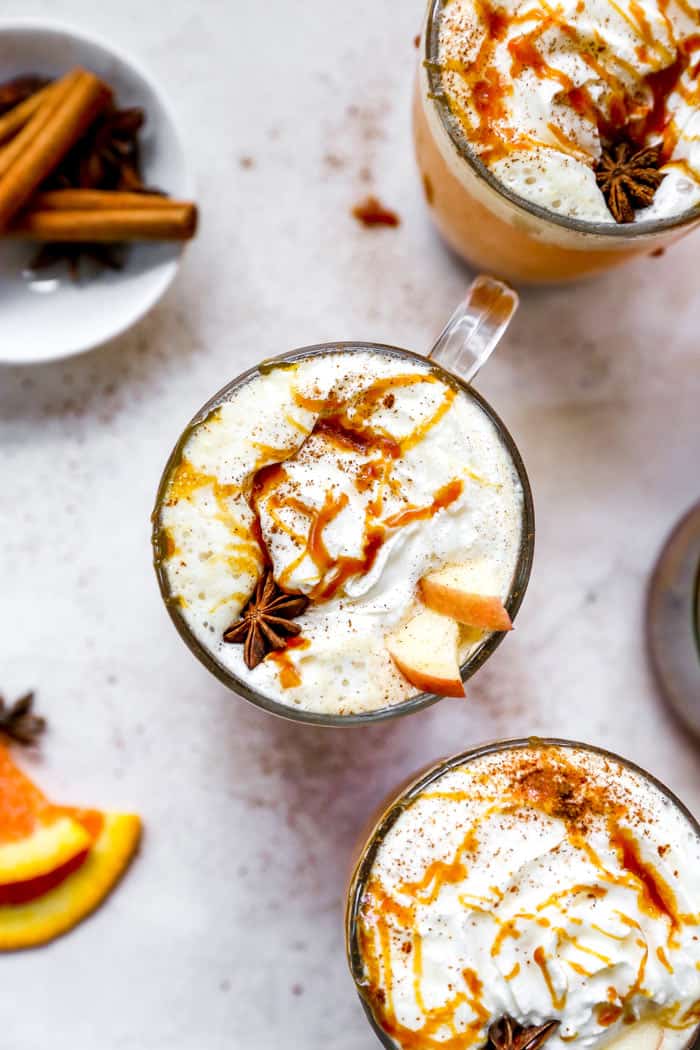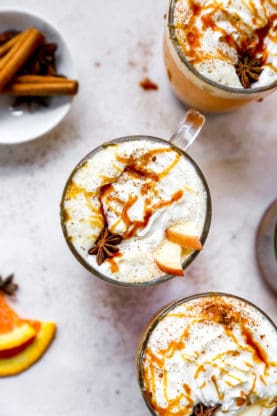 Each gallon of liquid gold is precious and destined for greater, tastier use! Spiced Apple Cider is everything you could want in a Fall beverage: fruity, warm, spicy and all-around delightful. Each sip travels down to the belly, soothing from the inside out. Sooooo good!
Let's share a mug or two, shall we?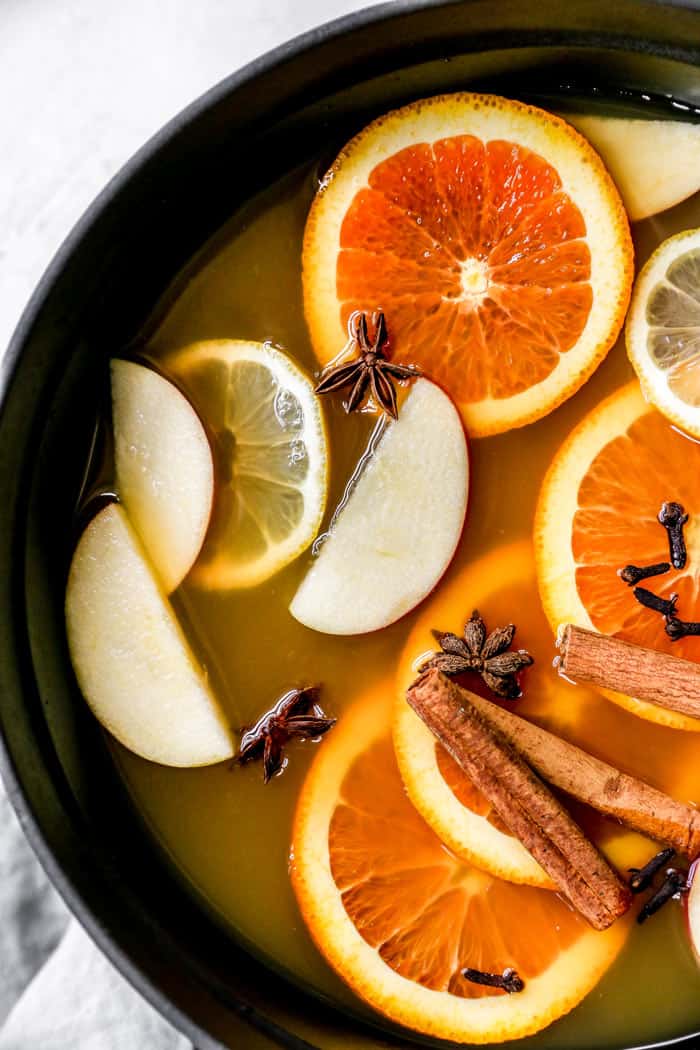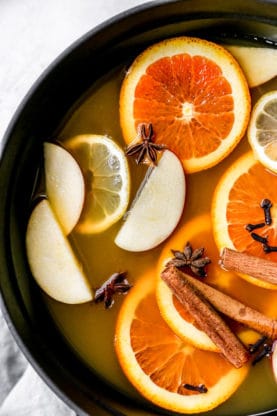 HOW TO MAKE SPICED APPLE CIDER
There are two simple steps to this recipe: dumping the ingredients in a crockpot and turning it on high. In a few short hours you'll be ladling out fresh, hot mugs of sweet-spicy cider to friends and foes alike. It's that good! And did I mention the smell? It fills your home and wraps you in a warm blanket of deliciously scented heaven.
Apple Cider – cider offers a crisp, sweet taste that pairs perfectly with cool air and changing leaves. Unlike store-bought apple juice, cider is rich, tart and offers a more balanced sweetness. It's perfect for hot or cold beverages, baking or just on its own!
Apple (slices)– I like to bump up the apple flavor by adding fresh slices of apple. Try a contrasting flavor like a green or golden delicious apple!
Lemon & Orange – both add a tart, citrusy element that levels out sweetness while adding a bit of complexity. The bright colors of their rinds are also visually stunning.
Cinnamon (sticks & ground)– when immersed in liquid, cinnamon sticks impart a deeper, earthier flavor that can't be imitated with its ground counterpart. Both work together to create a rich, aromatic flavor profile.
Nutmeg– just a couple pinches adds a pungent kick and a warm, slightly sweet taste.
Whole Cloves– cloves have a bitter, astringent flavor that is quite intense. The flavor is almost "hot". It plays wonderfully with all the other strong, woodsy flavors.
Star Anise– anise is a bit licorice-like: sweet, sour, bitter and salty. It helps to create balance and aroma.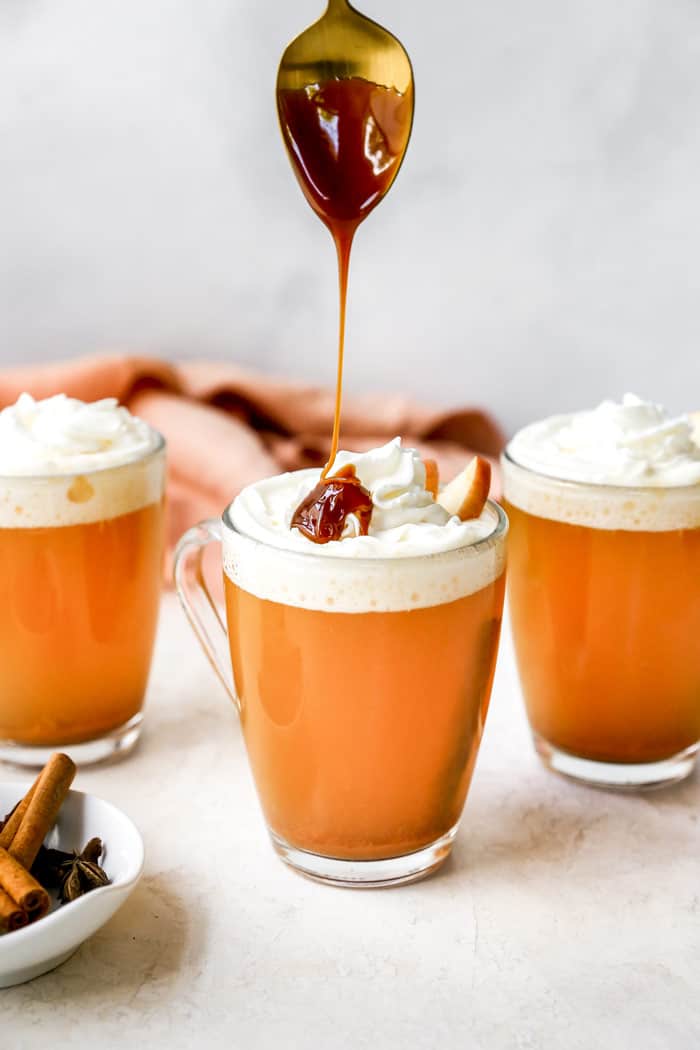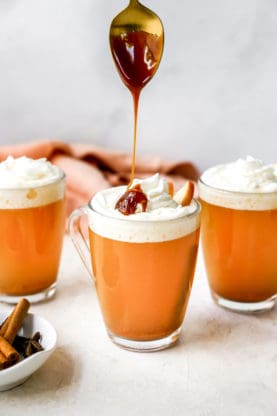 TIP: I prefer to slowly simmer this cider in a crockpot to develop flavor (and make for a hands-free affair). If you don't have a crockpot on hand, use a large pot and simmer over medium-low heat for about an hour.
SPIKE IT!
Some days are harder than others y'all and, on those days, Mama needs a little extra juice. I love adding a bit of whiskey or bourbon (whatever I have on hand) to this spiced apple cider recipe! The added warmth not only pairs beautifully with the earthy spices but it also acts as a digestive aid. Win, win.
TIP: Start with ½ an ounce of liquor per 8oz glass of cider. Take a taste then adjust based on your preference.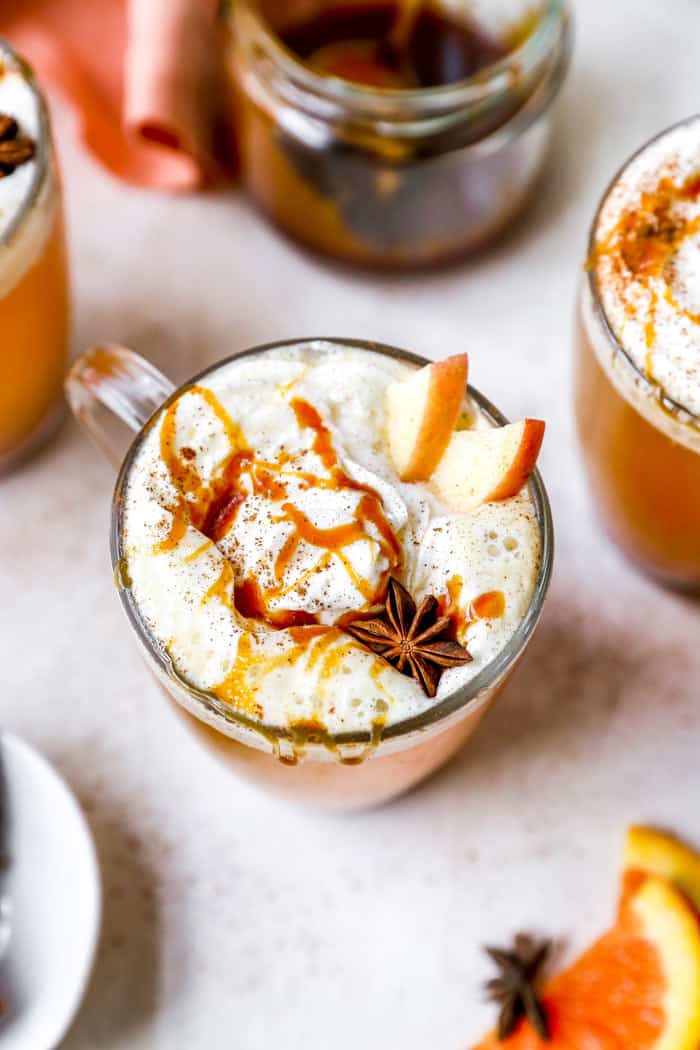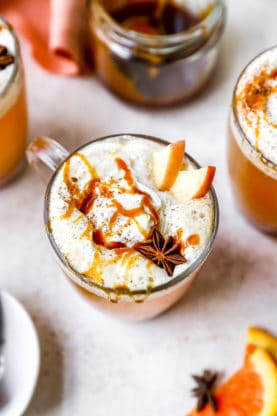 GRANDBABY CAKES BEST FALL APPLE RECIPES
If you're not making the most of Autumn's best natural candy, you're making a mistake. Crunchy, juicy and exceptionally sweet, apples make for the absolute best breakfasts, desserts, salads and just about anything else you can think of!
Take a chance and try out one of my favorite Fall apple recipes: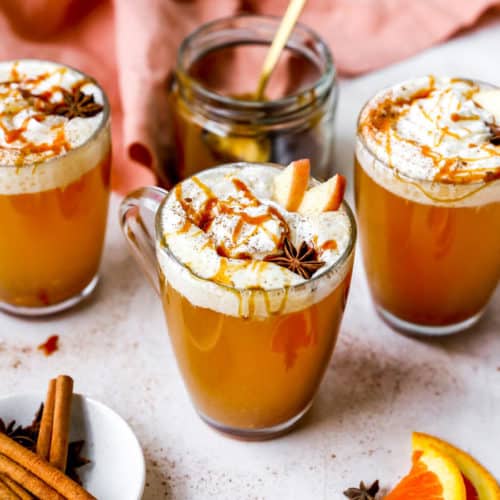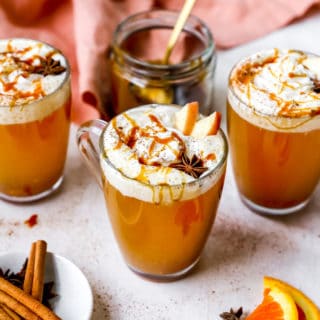 Spiced Apple Cider
Holy Moly, this warm, cozy, fragrant and spiced Hot Apple Cider is this Autumn's go-to drink! Made with rich apple cider, fresh fruit and an assortment of pungent, earthy spices, this cider is well-balanced and oh-so comforting!
Print
Pin
Rate
Ingredients
1

gallon

apple cider

1/2

tbsp

ground cinnamon

1/2

tbsp

ground nutmeg

3

lemon slices

1/2 lemon

3

orange slices

1/2 orange

4

apple slices

1/2 apple

3

cinnamon sticks

6

whole cloves

5

star anise pieces

up to 6
Instructions
In a 5 quart crock pot on low heat, add the apple cider, cinnamon, nutmeg, lemon slices, orange slices, apple slices, cinnamon sticks, whole cloves and star anise.

Allow the punch to warm for 3-4 hours. Serve warm. Ladle into serving glasses.

Top with whipped cream and caramel if desired.

Or you can serve chilled by removing the fruit slices, cinnamon sticks, cloves and star anise pieces after it's cooked and storing the punch in the fridge overnight. NOTE: You can add water to the punch if it's too sweet for your taste.
Video
Notes
You can also use apple juice as a sub but you want to make sure it is a quality stronger variety in order to get the flavor of cider.
Nutrition
Calories:
110
kcal
|
Carbohydrates:
27
g
|
Protein:
1
g
|
Fat:
1
g
|
Saturated Fat:
1
g
|
Sodium:
9
mg
|
Potassium:
243
mg
|
Fiber:
1
g
|
Sugar:
22
g
|
Vitamin A:
11
IU
|
Vitamin C:
6
mg
|
Calcium:
30
mg
|
Iron:
1
mg