This Cream Cheese Pound Cake Recipe is moist, tender, buttery and melt in your mouth. This is a Southern dessert classic recipe is passed down from generation to the generation that will always be a hit. With a lovely texture unlike my Kentucky Butter Cake, Sock It To Me Cake, Butter Pound Cake and Sour Cream Pound Cake, this is a recipe that stands out from all the rest!
GRANDBABY CAKES POUND CAKE RECIPE
There are some recipes so entrenched in your spirit that they almost become part of the family, kinda like a distant cousin. You know them inside and out, and no cookbook is necessary to execute their greatness. Making these recipes is as natural as walking.
These are the types of recipes that the women in my family have been making for decades. They are completely worn in, and every single time I make them, they seem to get better and better.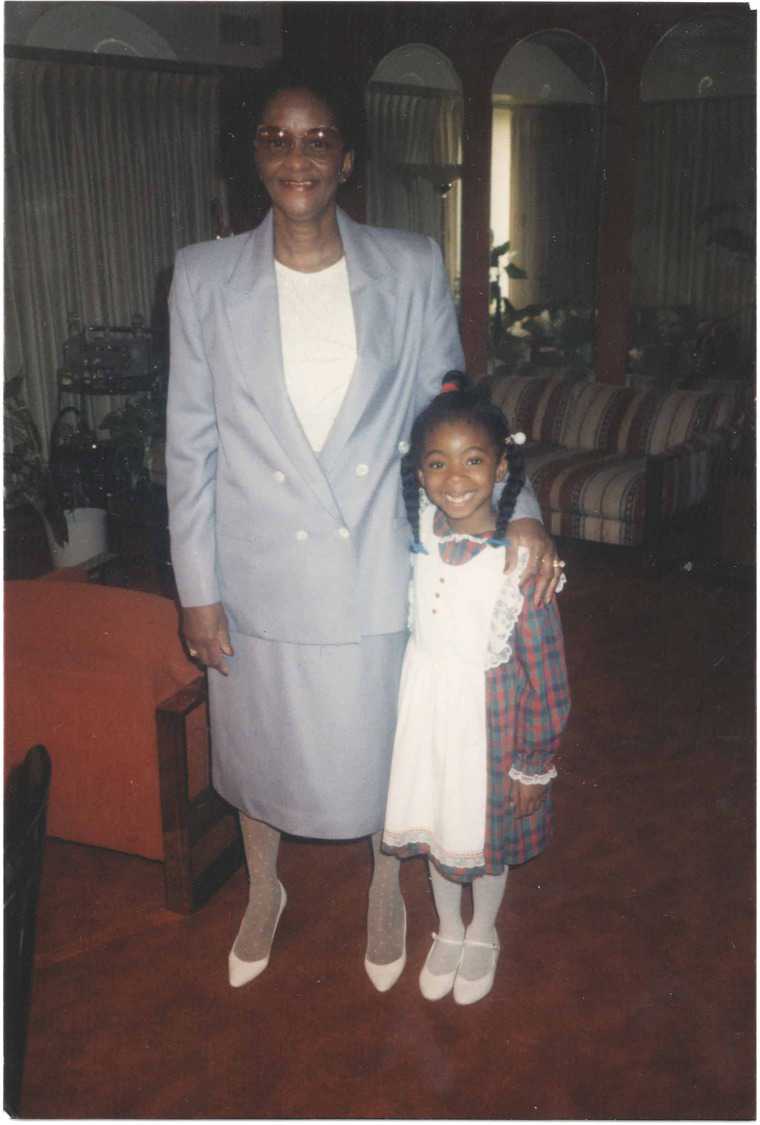 For my family, it is definitely the pound cakes that fit snugly into this category. We can mix them together in mere moments but they always taste as though several hours were spent creating them. It is one of our super powers.
I first learned how to make these passed down cake recipes from my Big Mama when I was a young girl. She'd watch me patiently as I sifted large bowls of flour and paused frequently to sneak tastes of the delicious batter. We chatted about my school day or she'd tell me stories to make me laugh until my belly hurt.
There is a certain care and meticulous nature in the baking process that Big Mama takes pride in. She truly passed that pride on to me. I wasn't just learning to bake; I was learning about my family's deep rooted traditions and the fabric of our heritage.
These are the same traditions I hope to pass on to my daughter and to the grandchildren I'll welcome into my kitchen.
THE ORIGINAL CREAM CHEESE POUND CAKE RECIPE – NOSTALGIC AND PERFECT!
You know a recipe is guaranteed to be great when it's ingredients include what seems to be a pound of butter. Yes, each ingredient is vital in its own way, but butter is what makes the mouth water and the world go 'round. I mean, who doesn't love a cake that is first and foremost all about creamy, lick your lips butter. I'll be the first to raise my hand and say, I do.
WHAT IS POUND CAKE?
Now, the name "pound cake" derived from the original recipes that contained one pound of every one of its ingredients: sugar, flour, butter and eggs. In the days when many people couldn't read, this made it simple to memorize the recipe. I'm sure you can imagine that a cake with four pounds of ingredients makes for one hefty cake.
The product made the cake big enough to feed the entire neighborhood and on many occasions, it did. As time has gone on, the proportions of the recipe were adjusted to make a smaller, lighter cake. But let's not kid ourselves, we've kept it just big enough that even if you have to share, there's always leftovers for late-night binges.
HISTORY OF POUND CAKE
Pound cake originated in Europe in the early 18th century; since then it's traveled far and wide, becoming one of the most popular cake variations around the world. But there's nowhere in the world that makes them better than in the South.
The first known cookbook written by an African-American, Abby Fisher, is called What Mrs. Fisher Knows About Old Southern Cooking. Mrs. Fisher, born a slave, somehow found her way to San Francisco soon after the Civil War and created a life and a small business. Mrs. Fisher could not read or write.
With the help of her friends she was able to write and publish her cookbook that included two different Pound Cake Recipes. Mrs. Fisher's recipes stayed true to her Southern roots and helped to create the outline for more recipes to come.
Today, Pound Cakes have become a staple for bakers all across the South. They're easy to make, incredibly delicious and perfect to share with people you love or even strangers you want to impress.
HOMEMADE CREAM CHEESE POUND CAKE RECIPE
The flavor of this cake is simply irresistible; it's buttery and simultaneously dense and light in a way that doesn't seem possible. It is the oxymoron of cakes with a texture that's indescribable.
Don't be put off by the idea of cream cheese either; it does not add an unappealing cheese flavor. Instead, the cream cheese creates a smooth texture and a slight tang that'll have you smacking your lips.
INGREDIENTS FOR A CREAM CHEESE POUND CAKE
To create a super smooth melt in your mouth texture, these are the ingredients that come together perfectly for this cake:
BUTTER
Butter is always a crucial ingredient in pound cakes. In fact, I don't know many pound cakes that don't have this at the very start. You begin with room temperature high quality and high fat butter which melts into granulated sugar once mixed on high speed. That, in addition to cream cheese, makes this cake absolutely magical! It is rich and creamy to start and mixes until light and fluffy.
OIL
Vegetable or canola oil contributes an incredible amount of moisture to a pound cake because it remains liquid at room temperature, whereas butter does not. This means that, once baked, this cake contains two sources of buttery, smooth texture.
CAKE FLOUR
I opt for cake flour in this cake versus all purpose flour. If you don't have any at home, make it using my recipe. It develops less gluten so it doesn't become as tough when mixed and baked.
EGGS
This cake has a large amount of eggs (SIX!) which act as stabilizers in pound cakes. The yolks add moistness but the whites dry out the batter so they balance each other out.
CREAM CHEESE
Tangy, sweet, and smooth, cream cheese makes for a delicious addition to this pound cake. I'm a Philadelphia kind of girl but you can use whatever you'd like! Regardless of what you use, be sure to bring it to room temperature before use.
TIPS FOR A CREAM CHEESE POUND CAKE
TIP 1: Most will skip the "creaming" process which is mixing the fat and sugar together. Don't underestimate the importance of this step! As you cream, the jagged edges of the sugar crystals drag in air, lightening the butter and creating a fluffy mixture. This is what makes for the most tender and moist cake ever!
TIP 2: Make sure that you do not over mix once you add your flour to this cake. Because flour has gluten, if you over mix it, the texture will change. As soon as your flour is incorporated into the batter, stop mixing.
TIP 3: Be sure to grease your Bundt pan VERY well. Even the non-stick pans need a little extra love. This homemade cake release is a godsend but you can totally use a spray or butter and a dusting of flour.
HOW TO STORE A HOMEMADE POUND CAKE
If kept in an airtight container or tightly wrapped, pound cakes can be kept for 4-5 days at room temperature. This cake should be kept in a cool environment so if you live in a warmer/humid climate I'd recommend storing the cake in the fridge.
To Freeze: Wrap the cake in aluminum foil or plastic wrap then put it in a heavy-duty freezer bag. A frozen pound cake will keep for 4-6 months. When ready to consume, thaw overnight in the fridge.
MORE GRANDBABY CAKES POUND CAKE RECIPES
Love this recipe? Well I've got plenty more just like it! Check out a few more of GBC's BEST pound cake recipes:
*Did you make this recipe? Please give it a star rating and leave comments below!*
Want To Grab The Products To Make This Recipe? Grab Them BELOW!
Cream Cheese Pound Cake Recipe
Cream Cheese Pound Cake Recipe - a true Southern dessert classic that never goes out of style. Passed down from generation to the generation, this pound cake recipe will always be a hit!
Print
Pin
Rate
Ingredients
1 ½

cups

unsalted butter

room temperature

2

tablespoons

oil or shortening

8

ounces

cream cheese, room temperature

one brick

2 3/4

cups

granulated sugar

6

large

eggs

room temperature

3

cups

sifted cake flour

1/2

teaspoon

salt

1

tablespoon

vanilla extract

powdered sugar for garnish
Instructions
Start by preheating your oven to 325°F then liberally spray a 12-cup bundt pan with non-stick baking spray or greasing with butter or shortening and then flour.

In your mixer bowl, add butter, oil or shortening, and cream cheese and beat for 2 minutes on high speed. Slowly add in sugar beat on high speed for an additional seven minutes until very pale yellow and fluffy. There is no leavening in this cake because we add ample air to this cake by having a very long creaming period.

Next, add eggs, one at a time, combining well after each addition and scraping down the sides as needed.

Turn your mixer down to its lowest speed, and slowly add flour into batter in two increments then add salt. Be careful not to overbeat.

Lastly, add in vanilla extract, scrape down sides and mix until just combined and turn off mixer.

Pour cake batter into prepared bundt pan, and bake for 1 hour and 15 -20 minutes or until a toothpick inserted in the center of the cake comes out clean.

Cool in pan on a wire rack for 10 minutes, then invert cake on serving plate for at least an hour or until the cake is cool to the touch.

Dust with powdered sugar and serve.
Video
Notes
Tips for Cream Cheese Pound Cake
With any pound cake, texture is key to creating the perfect taste.  To create the best texture, begin by making sure that your cake batter is mixed well.  You must beat your fat to incorporate air into your cake because it doesn't have a leavening.  
Most will skip the importance of the "creaming" process which is mixing the fat and sugar together.   
Another tip is making sure that you do not overmix once you add your flour to this cake.  Because flour has gluten, if you overmix it, the texture will change.  As soon as your flour is incorporated into the batter, stop mixing.  Also remember to slow down your mixer.  This is also important.
Nutrition
Calories:
616
kcal
|
Carbohydrates:
69
g
|
Protein:
8
g
|
Fat:
34
g
|
Saturated Fat:
19
g
|
Cholesterol:
174
mg
|
Sodium:
197
mg
|
Potassium:
98
mg
|
Sugar:
46
g
|
Vitamin A:
1100
IU
|
Calcium:
44
mg
|
Iron:
0.8
mg