An absolute Christmas classic, these Gingerbread Crinkle Cookies offer an unexpected flavor twists: lemon and cardamom! These crackly-topped cookies are delightfully chewy, fat with flavor and incredibly easy to make! If you love these, you will also love my Lemon Crinkle Cookies, Gingerbread Cake and Cupcakes, and these Gingerbread Pancakes!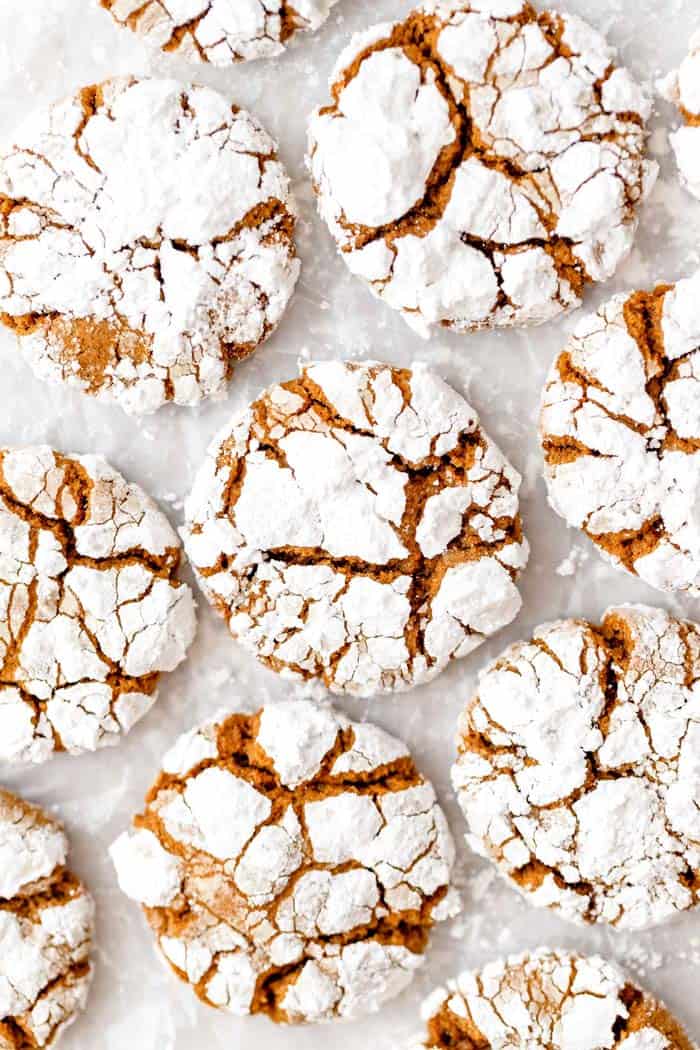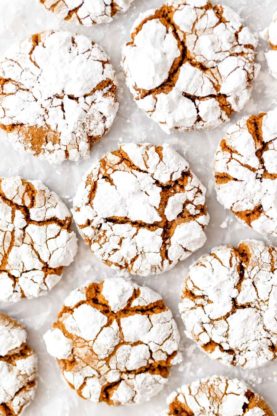 Have you ever wondered why we leave cookies for Santa on Christmas Eve? There are lots of theories behind one of our favorite holiday traditions so I'll just share my favorite one. During the Great Depression, parents couldn't afford extravagant gifts but they could afford to bake or buy small snacks. Rather than indulge on their treats, parents encouraged their children to share with others by offering a share of their goods to Santa and his reindeer. Sweet, right?
I know that story is a bit on the sad side of the tracks but it speaks to a very important piece to the holiday puzzle. The Christmas season can be distracting; there are flashy lights, extravagant decorations and, of course, gifts. It can be hard to remember to appreciate this season's true gifts: family, friends and tradition. Acts of almsgiving and kindness are a way to express gratitude and remind ourselves of what truly matters. A simple cookie can be an offering, an expression of love and peace. At least that's my two cents!
Ginger cookies are a staple in my family around the holidays. These Gingerbread Crinkle Cookies remix the traditional ginger cookie like never before! They are incredibly soft and chewy with the perfect balance of spice that we know and love. The addition of cardamom adds a citrusy yet fragrant compliment to the classic ginger and molasses flavors. But that lemon zest really sets it apart! Serve these with hot cocoa or a warm mug of apple cider, sit around the fireplace and, if you're so inclined, make an extra batch for someone who might need a little extra love this season.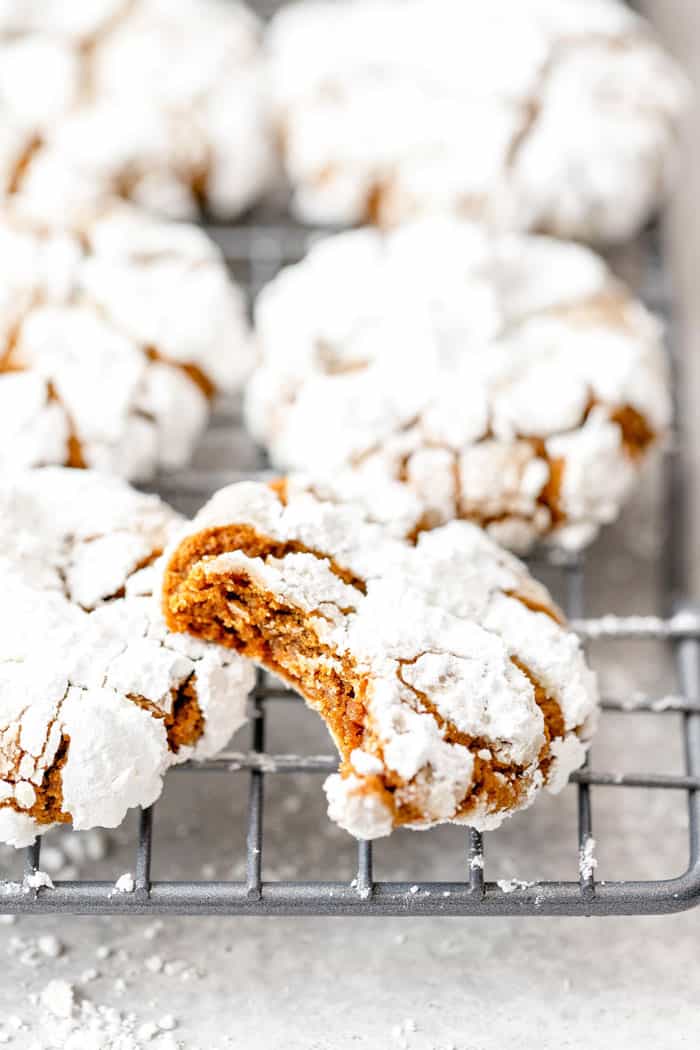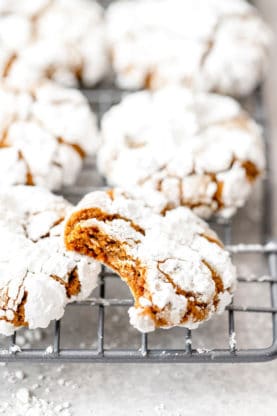 HOW TO MAKE GINGERBREAD CRINKLE COOKIES
Now, I love a good sugar or shortbread cookie but, let's be honest, they can be a bit time consuming. And y'all, when the Christmas season is in full-swing, I just don't have the hours to spare! That's where this simple, delicious gingerbread crinkle cookies recipe comes in to play.
Here's how we get it done:
AP Flour is what creates the structure for your cookies. For tender, soft cookies, I highly recommend thoroughly sifting the flour before use.
Baking Soda serves as a rising agent, be sure to use fresh, active baking soda.
Salt creates balance and gets all of our other tasty flavors to really POP!
Ground Cinnamon is warm, fragrant and oh so delicious.
Ground Ginger tends to lose its flavor quickly! So if you want very gingery cookies, pick up a fresh bottle of the stuff if yours is over a year old.
Cardamom produces a zesty citrus flavor that can be somewhat sweet and spicy at the same time.
Unsalted Butter needs to be softened for this recipe. Not frozen, not melted but smooth enough to be easily creamed.
Granulated Sugar is what makes for the perfect sugary bite!
Dark Brown Sugar is deep, rich and full of necessary moisture; it helps to create that chewy but not dense texture.
Egg Yolk has necessary fat that tenderizes the dough by shortening the gluten strands, resulting in cookies that have a richer flavor.
Vanilla Extract acts as a flavor enhancer; without it baked goods tend to be a bit flat and bland.
Molasses has a warm, sweet, somewhat smoky flavor. Dark and medium molasses boast a very robust flavor, light molasses has the mildest flavor, and blackstrap molasses is considerably less sweet with a distinct bitterness. Choose your molasses based on this information!
Lemon Zest adds an unexpected burst of tangy citrus that compliments the cardamon perfectly.
Powdered Sugar, also known as confectioner's sugar, is what makes for that beautifully snowy-white exterior. You can't skip this part!

HOW TO PREVENT THE POWDERED SUGAR FROM MELTING
This recipe (just as with any other crinkle cookie recipe) calls for rolling the dough in confectioner's sugar. As the cookies bake, the confectioners' sugar coating crinkles and cracks as the cookies take their shape. Hence, the cute crinkle name!
However, these particular crinkle cookies are extra moist so the sugar ends up melting a bit. Not a problem, but if you want stark white confectioners' sugar on top, coat the cookie dough balls in a little granulated sugar first. Just a light layer– then go heavy on that powdered sugar topping!
PRO TIP: Don't be shy with the powdered sugar! If you want super white sugary looking cookies like in the photos, you need a heavy-handed roll!
CAN I MAKE THESE COOKIES AHEAD OF TIME?
During the holiday season, I'm a big fan of stirring up large batches of cookies (both raw and fully baked) and storing them in the freezer. Last minute cookie swap? I'm covered. Office Christmas party? I know exactly what I'm bringing. Santa's got a craving a few days past the holidays? He hits me up for the goods!
These crinkle cookies are great made in advance as they stay chewy on the inside even a few days later! But, if you're looking to create your own stash, the freezer is your best friend. You can freeze crinkle cookies before or after baking.
To freeze the baked cookies, let them cool completely first. Freeze in single layers between sheets of parchment paper for up to 3 months. Thaw in the refrigerator overnight or on the counter for about an hour.
To freeze the raw cookie dough, chill the cookie dough as directed in the recipe below. After that, roll into balls, and chill the cookie dough balls in the refrigerator for 1 hour. Then, place the solid and cold cookie dough balls into a large zipped-top bag. Freeze cookie dough for up to 3 months. When it's time to bake the cookies, remove them from the freezer and thaw on the counter for at least 30 minutes. Roll into powdered sugar and bake as directed.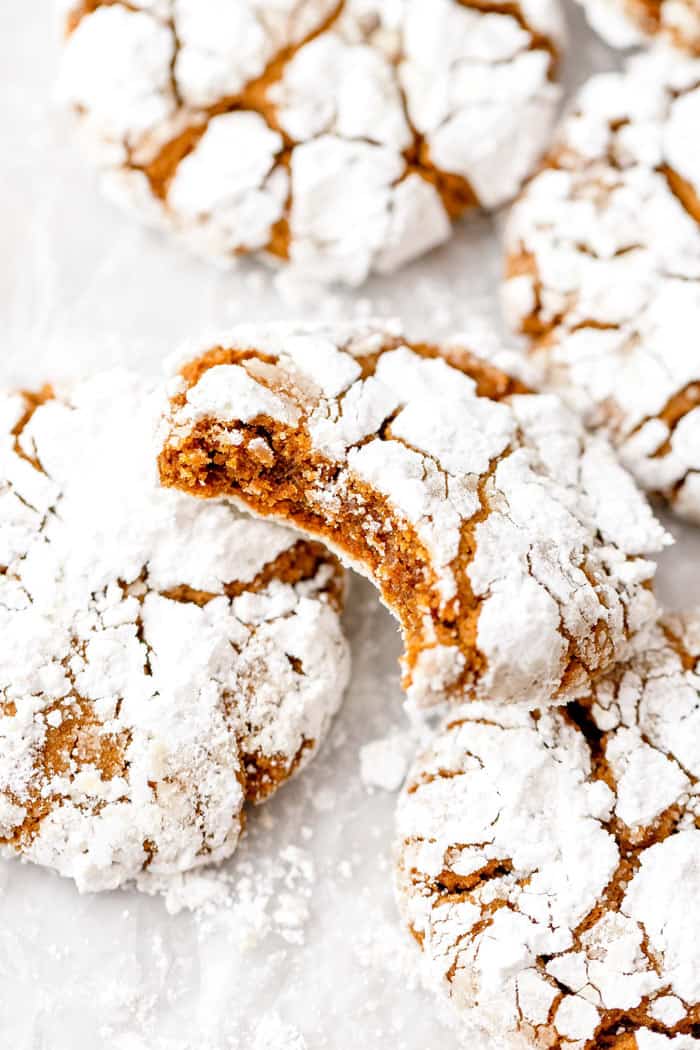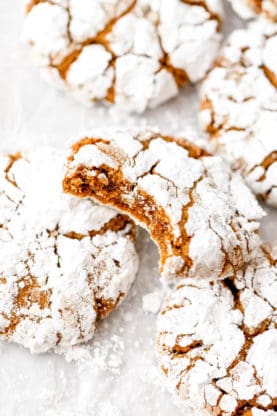 LEFTOVER COOKIE STORAGE
It's best to keep these Gingerbread Cardamom Crinkle Cookies in an airtight container; they will stay fresh for up to a week. If the cookies begin to go stale early, take a slice of sandwich bread and stick it in the container. The moisture from the bread will release and rehydrate the cookies!
GRANDBABY CAKES' BEST CHRISTMAS COOKIES
'Tis the season of Christmas cookies galore! From thumbprints to shortbread, I love 'em all and I'm not afraid to show it (neither is my waistline).
Check out a few of my finest holiday-inspired confections: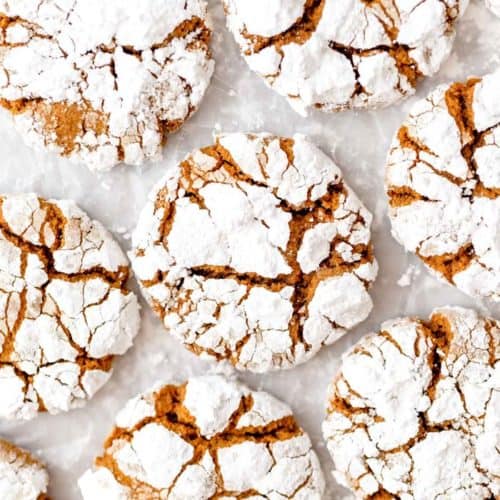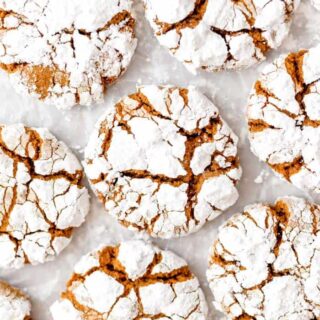 Gingerbread Crinkle Cookies
An absolute Christmas classic, these Gingerbread Crinkle Cookies offer unexpected flavor twists: lemon and cardamom! These crackly-topped cookies are delightfully chewy, fat with flavor and incredibly easy to make!
Print
Pin
Rate
Ingredients
2 1/3

cup

all purpose flour

can go up to 2 1/2 cups if you want a puffier cookie. If you want it flatter, go for the 2 1/4 cups

1 1/2

tsp

ground ginger

1 1/2

tsp

ground cinnamon

1

tsp

baking soda

1/2

tsp

ground cardamom

1/2

tsp

salt

6

oz

unsalted butter

room temperature but still firm to the touch

1/3

cup

granulated sugar

1/3

cup

dark brown sugar

packed

1

egg yolk

5

tsp

lemon zest

from 2 lemons

1

tsp

vanilla extract

1/2

cup

molasses

unsulfured

1

cup

powdered sugar
Instructions
In a large bowl, whisk together flour, ginger, cinnamon, baking soda, cardamom and salt and whisk until combined. Set aside.

In the bowl of your stand mixer fitted with a paddle attachment, add butter and both sugars and mix for 3 minutes or until light and fluffy.

Turn speed down to low and add egg yolk, lemon zest and vanilla and mix until well incorporated.

Add molasses and mix thoroughly then add flour mixture in three increments and mix until just combined. Make sure you scrape the bottom of the bowl making sure to thoroughly combine all ingredients into a cohesive yet soft dough.

After the dough is complete, tightly cover the bowl and refrigerate for an hour.

Preheat your oven to 375 F and line a baking sheet with a sheet of parchment and set aside.

Once the dough has been refrigerated, pour the powdered sugar into a separate bowl.

Use a tablespoon sized cookie scoop or spoon to measure out dough. Using cold hands, roll it into a ball using your palms. Next, thoroughly roll the cookie ball in powdered sugar and place on the prepared cookie sheet. Repeat with remaining dough making sure to space cookies 2 inches a part.

Bake 1 sheet at a time for 10 to 12 minutes until cookies are puffy and cracked. The centers should still be soft however.

Cool cookies on the baking sheet for at least 5 minutes so they can set, then transfer to a wire rack to cool completely.

Repeat steps 8-10 until all cookies are baked and enjoy.
Video
Nutrition
Calories:
101
kcal
|
Carbohydrates:
16
g
|
Protein:
1
g
|
Fat:
4
g
|
Saturated Fat:
2
g
|
Cholesterol:
15
mg
|
Sodium:
67
mg
|
Potassium:
77
mg
|
Fiber:
1
g
|
Sugar:
10
g
|
Vitamin A:
119
IU
|
Vitamin C:
1
mg
|
Calcium:
15
mg
|
Iron:
1
mg