These Gingerbread Pancakes Recipe with Eggnog Syrup will change your Christmas morning breakfast for years to come. The flavors of molasses, nutmeg, cinnamon and maple come together to create the ultimate Christmas flavor infused pancakes.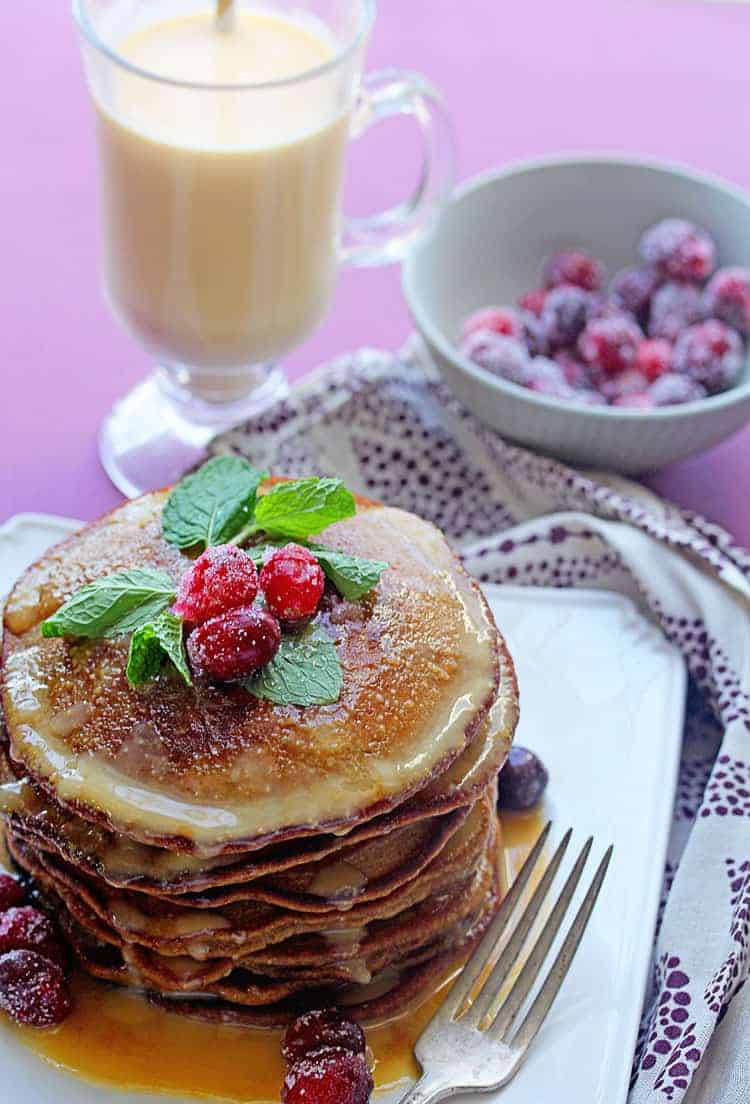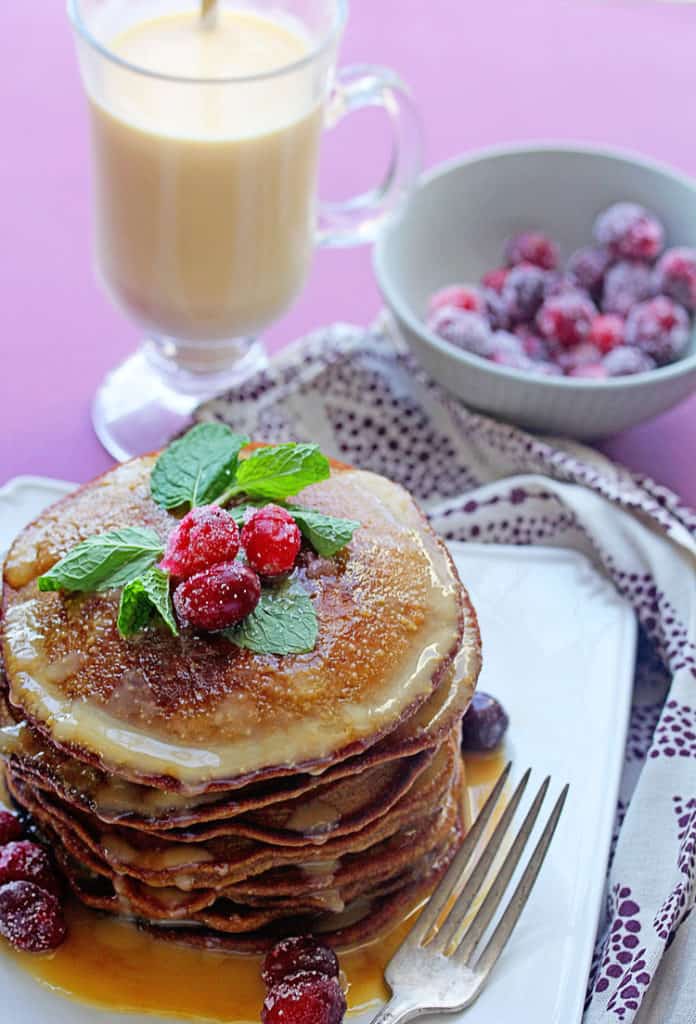 The Perfect Holiday Breakfast: Gingerbread Pancakes Recipe!
Pancakes are my spirit animal. They understand me, and I understand them. Whenever I have a bad day, they are my refuge. When I have a great day, they are my celebratory treat. That's right! Pancakes and I go together like peanut butter and jelly, and this new Gingerbread Pancakes with Eggnog Syrup recipe is my new favorite, especially during the holiday season.
In the 1980s and 1990s, my husband's family carried out an annual tradition of having a formal sit down breakfast every Christmas morning. Growing up, mornings were hectic in his household and having a daily breakfast together was almost never possible. Christmas was a chance to slow down, eat and bond with family. The holiday breakfast consisted of pancakes, sausage, bacon, biscuits, eggs, grits and cinnamon rolls.
I developed this gingerbread pancake recipe with my husband's family in mind. I have always loved the image of his family coming together in that moment over food and laughter. These new pancakes would have fit in perfectly with their Christmas morning feast.
What Are Gingerbread Pancakes?
These Gingerbread Pancakes with Eggnog Syrup can now be added to that growing list as one of my favorites for the holidays. We all know and love gingerbread cookies during the holiday season but I also know that they aren't quite ideal for breakfast (though they are definitely acceptable in my mind). This gingerbread pancake recipe combines the flavor of gingerbread cookies with the tradition and presentation of pancakes.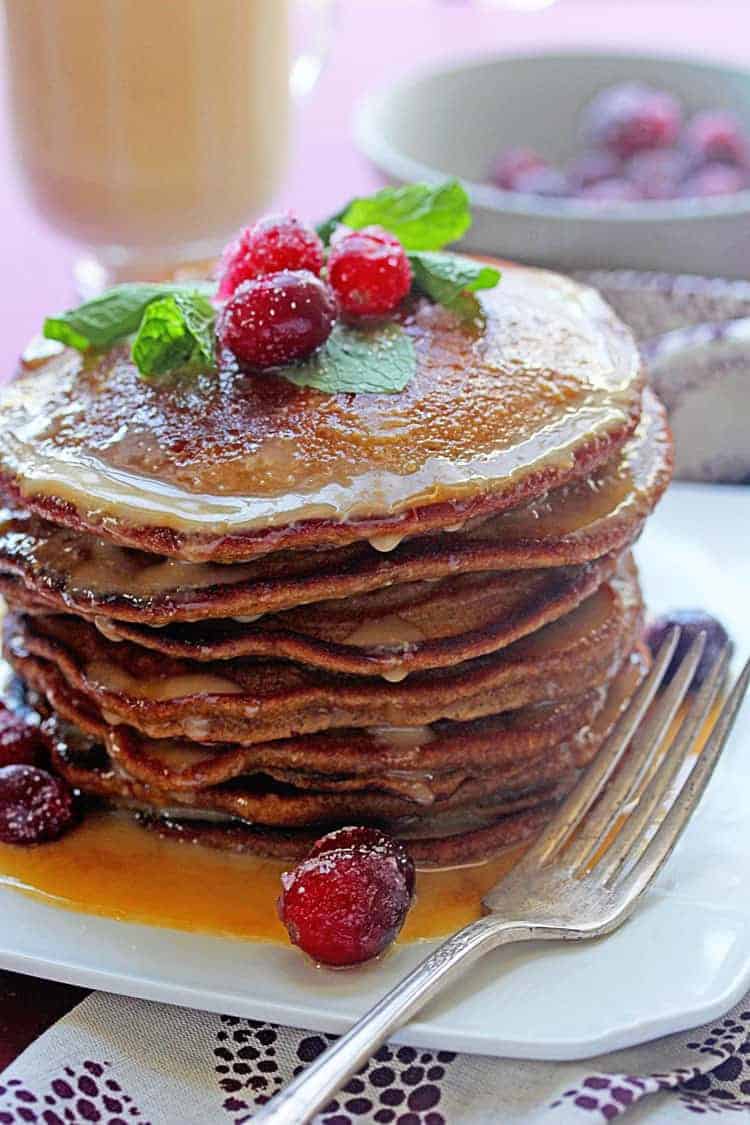 Gingerbread cookies are a fan favorite come holiday season but they aren't quite ideal for breakfast (though they are perfectly acceptable in my mind). This gingerbread pancake recipe combines the flavor of gingerbread cookies with the tradition and presentation of pancakes. It doesn't get any better than that!
A stack of these pancakes easily hold their own on the holiday breakfast table and give you all the sensational flavors you know and love during this time of year. The pancake batter is one of my favorite traditional batters with added gingerbread flavors such as molasses, ginger and cinnamon to liven it up.
So get with the season and make a stack of these, along with eggnog syrup that your family will not be able to refuse. 'Tis the season to make things as decadent as humanly possible.
How to Make Gingerbread Pancakes
We all have our version of the "perfect" pancake. But today, we're going to focus on my ideal because I think it's best. Sorry not sorry!
I want crispy edges, fluffy middles and butter that coats the tongue with every bite. I've worked really hard to perfect my pancake techniques and I achieve my ideal every time. Here's how I do it!
Preheat Your Griddle or Skillet
Your cooking tool of choice should be preheated to a medium-high heat. It's hot enough when you sprinkle a bit of water on it and the water evaporates.
Be sure to butter your griddle properly before ladling on the batter. Gotta make sure those precious pancakes don't stick!
Measure Out Your Pancake Batter
Using a measuring cup, pour ½ cup of batter onto the griddle or skillet. By measuring out the batter you create not only visually uniform pancakes but you ensure that they cook at the same speed.
Watch Your Pancakes Carefully
You have to be pretty hands on when it comes to pancakes. They have the ability of going from zero to burnt in seconds. Bubbles will form in the batter as your pancakes cook. When the bubbles start to pop you're ready to flip! Let the pancake sit for about another minute and then remove it from the heat.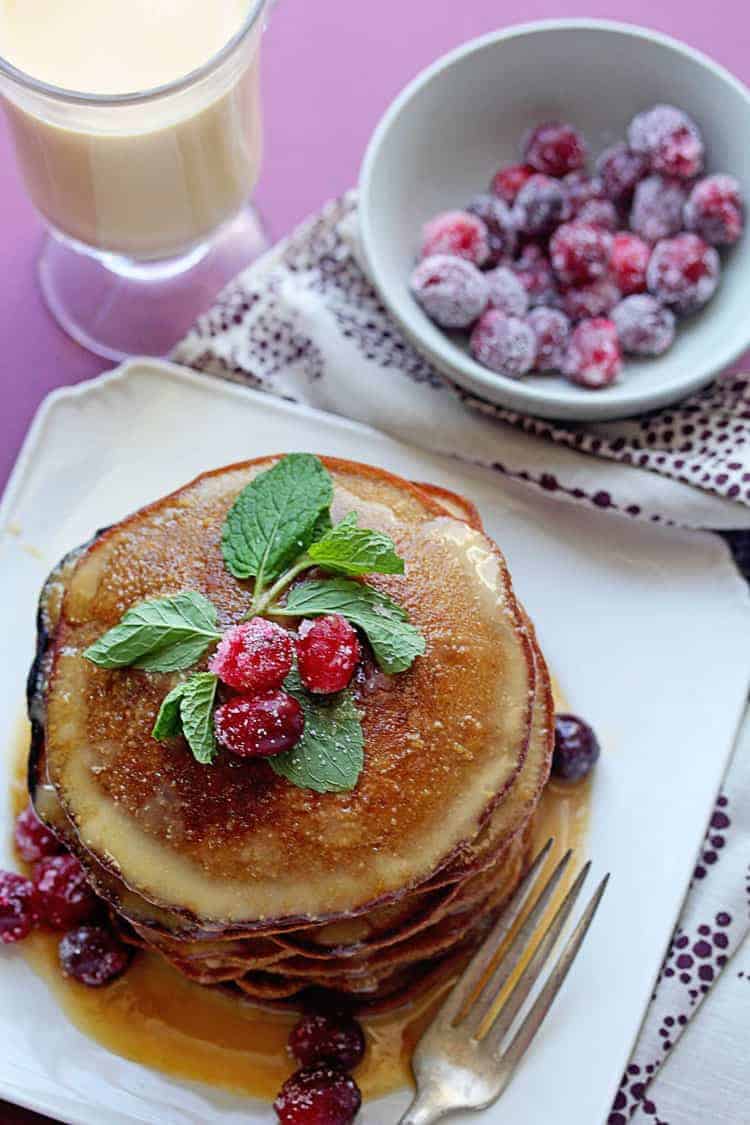 Eggnog Syrup Recipe
Eggnog is one of my favorite things about the holiday season. Eggnog is a traditional Christmas drink made from eggs, sugar, milk, booze and nutmeg. The drink is creamy, sweet, warm and slightly spiced. It's the perfect drink to curl up with on a cold, Christmas afternoon.
The syrup recipe I developed for these gingerbread pancakes is a mixture of both pure maple syrup and classic eggnog. The result is a rich syrup layered with flavors of toffee, caramel and nutmeg. The pairing of this syrup with the gingerbread pancakes creates the ultimate holiday treat. The best part? It's a really simple recipe to make.
Other Gingerbread Recipes and Eggnog Recipes To Try
If you like these gingerbread pancakes that feature an eggnog syrup, you might really get a
kick out of these other gingerbread and eggnog recipes:
*Did you make this recipe? Please give it a star rating and leave comments below!*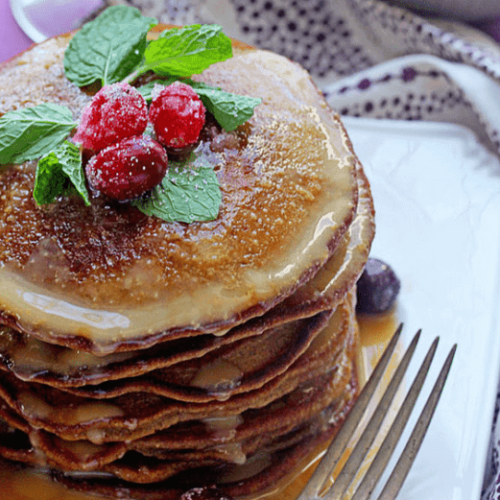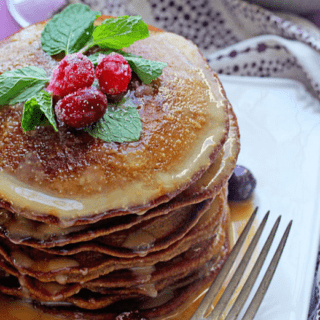 Gingerbread Pancakes with Eggnog Syrup
Gingerbread Pancakes with Eggnog Syrup – your Christmas morning breakfast will never be the same after these amazingly fluffy pancakes with a Christmas flavored twist!
Print
Pin
Rate
Ingredients
For The Gingerbread Pancakes:
1⅓

cups

all-purpose flour plus 1 tablespoon

1¼

teaspoons

baking powder

1

teaspoon

ground ginger

1

teaspoon

ground cinnamon

4

tablespoons

molasses

2

large eggs

3/4

cup

buttermilk or coconut milk

4

tablespoons

melted butter

1

teaspoon

pure vanilla extract

Extra butter for your griddle
For the Eggnog Syrup
1

cup

Eggnog

1

cup

Pure Maple Syrup

Optional: Sugared Cranberries for Garnish
Instructions
For the Pancakes:
In a large bowl, add flour, baking powder, ground ginger and cinnamon and whisk together until well mixed.

Next add in molasses, eggs, milk, melted butter and vanilla extract and whisk until batter just comes together. Leave the lumps there. No need for a smooth batter.

Heat a griddle or non stick skillet over medium heat and melt extra butter.

Pour about ¼ of a cup of batter onto the griddle surface in a circular pattern and allow to sit until bubbles form and the bottom is golden brown and crisp.

Flip over the pancake and cook until golden brown and crisp on the other side.

Remove the pancake and place in a warm oven (about 225 degrees) and repeat the process until all pancakes are done.
For the Eggnog Syrup
Add eggnog and maple syrup to a medium sized pot over medium high heat. Whisk together and heat until warmed then serve with pancakes. Optional: Garnish with sugared cranberries
Notes
You can easily replace the buttermilk in the pancake recipe for coconut milk.
Nutrition
Calories:
261
kcal
|
Carbohydrates:
43
g
|
Protein:
4
g
|
Fat:
7
g
|
Saturated Fat:
4
g
|
Cholesterol:
66
mg
|
Sodium:
93
mg
|
Potassium:
337
mg
|
Sugar:
28
g
|
Vitamin A:
275
IU
|
Vitamin C:
0.4
mg
|
Calcium:
138
mg
|
Iron:
1.5
mg