Tender round steak slow-cooked in a rich, creamy Creole spiced gravy and served over buttery grits. A traditional Louisiana dish, Grillades and Grits make for the perfect deliciously Southern-inspired meal! If you love this recipe, you will love my Lighter Shrimp and Grits, Sweet Potato Grits, Shrimp Etouffee and Baked Cheese Grits too!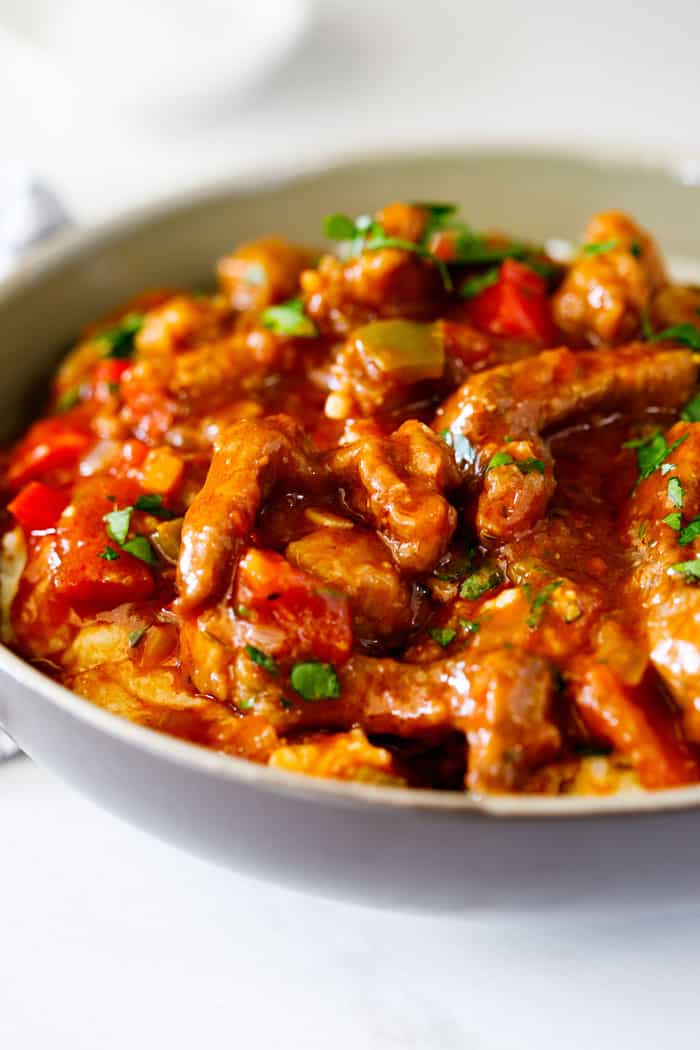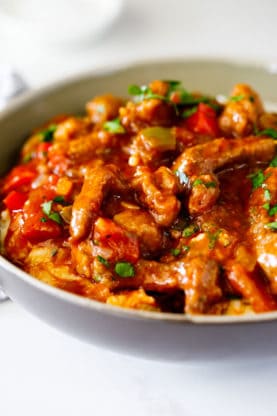 I woke up this morning with a craving, a hankering, a straight-up need for Creole cooking. As I rolled out of bed, to the bathroom and eventually, into the kitchen, all I could think about was how I was gonna get my fix. So, I raided the pantry and gutted the refrigerator in the hopes that genius would strike. And y'all, it did!
With grits in one hand and steak in the other, I made my way to the cast-iron pan resting on the stovetop. I had Grillades and Grits on the brain! A Creole classic, this stick-to-your-ribs dish is just about everything you need to start the day right. Whether you're sleepy, starving or hungover, every bite of this meal will soothe and serenade you back to pure joy.
Grillades and Grits is an incredible way to turn an inexpensive cut of meat into the most flavorful, comforting meal you've ever had! The meat is slow-cooked to perfection in a smoky, sweet gravy and then spooned over creamy, decadent Southern Grits.
If you're wondering whether or not I got my fix, I did. It's your turn!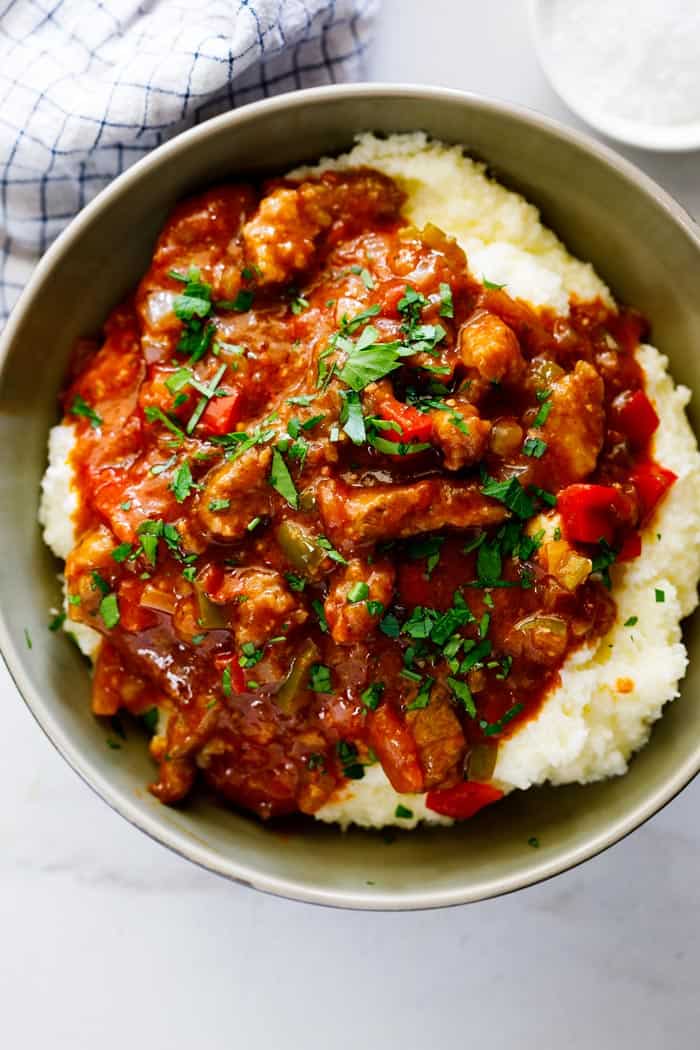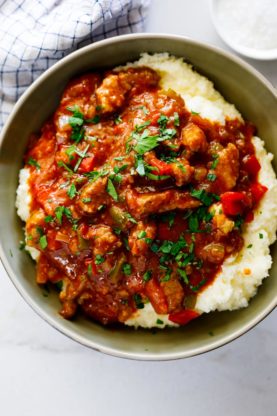 WHAT ARE GRILLADES AND GRITS?
Grillades (pronounced gree-yahds) are thin-pounded pieces of tender meat (typically beef, pork or veal) coated in seasoned flour, browned in oil or butter, then set to simmer in a rich tomato-based sauce. Served over grits, Creole grillades are typically a breakfast or brunch meal.
The origin of Grillades and Grits is a bit hazy. Though the French word "grillades" is translated to "grilled meat", this dish is far from anything French or grilled. In the Bayou Country, it's believed that the dish originated when local butchers prepared cheap, thin-sliced pork and pan-fried them with onions. This simple dish, served with grits or rice, was the perfect quick breakfast or lunch for busy boucherie folk.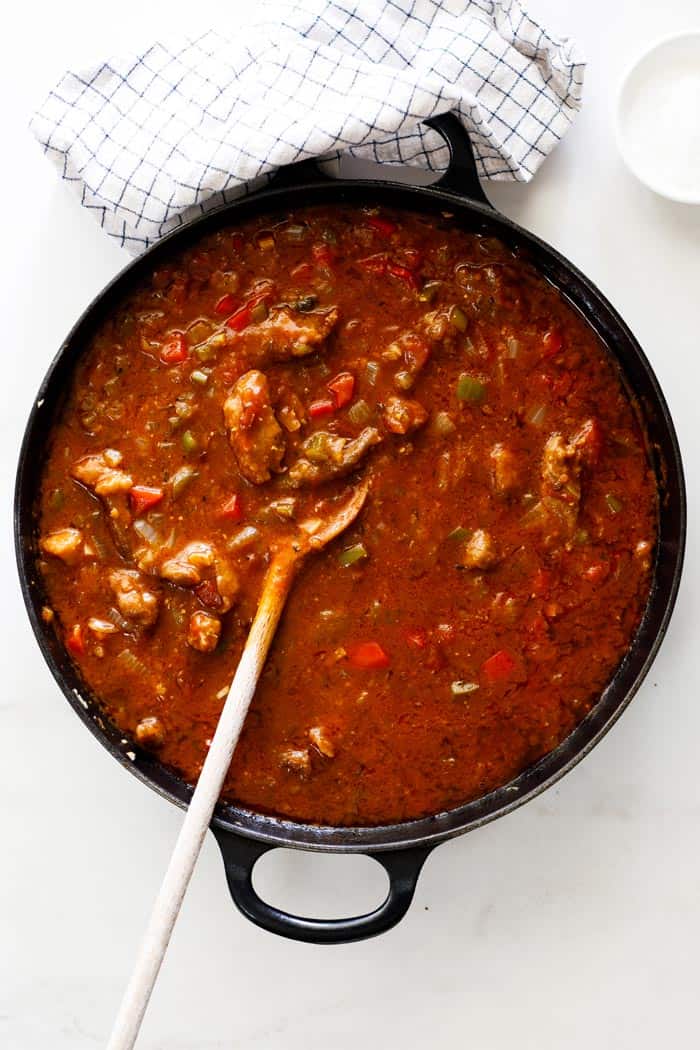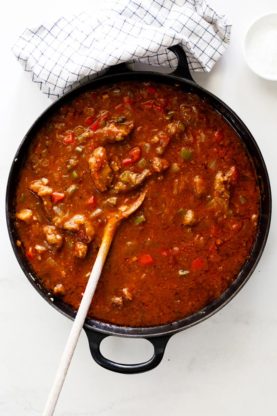 HOW TO MAKE GRILLADES AND GRITS
The ingredient list for this recipe is a bit hefty and maybe, a little intimidating. Let's take a moment to break down our most crucial ingredients and better understand how it all comes together!
Here's what we'll need:
Round Steak
Round steak is a lean, versatile cut of beef that comes from the hindquarters of a cow. It's a moderately tough cut but, if cooked properly, round steak can become quite tender.
I prefer this cut because it's readily available and super inexpensive. I can always buy enough for my family with plenty of leftovers to spare!
Southern Holy Trinity
Any cajun or creole recipe worth its salt begins with the Holy Trinity: onions, peppers and garlic. When combined, these three simple ingredients come together to create a powerhouse of flavor. Salty, sweet, bitter, aromatic, acidic, you name it and these three got it!
The key to any gravy is creating depth by adding ingredients that will enhance all the others. Chicken Stock adds body to our gravy and brings out the best in the steak.
TIP: If you don't have chicken stock on hand, a beef or vegetable stock will work just as well! No stock at all? No problem. Deglaze the pan using a white or red wine and then, add water. Just be sure to adjust the seasoning accordingly!
Chopped Tomatoes & Tomato Paste
Our grillades are being tenderized in a tomato-based gravy therefore, we need lots of tomatoey goodness. Tomatoes are sweet, tart and slightly acidic; their sugars are what help to break down connective tissue in the meat and create a more tender result.
Cajun Seasoning
Cajun is King! If you don't have a Cajun seasoning blend on hand, you're doing something wrong. It's smoky, sweet, spicy and packed with Southern flavor!
TIP: Make your own Cajun Seasoning with spices you've already got in the pantry. Try out this Homemade Cajun Seasoning and keep it on hand for future recipes!
Serving grillades on a bed of light, Creamy grits is what makes this dish so irresistible. The two components balance each other out and create the ultimate Southern flavor-bomb.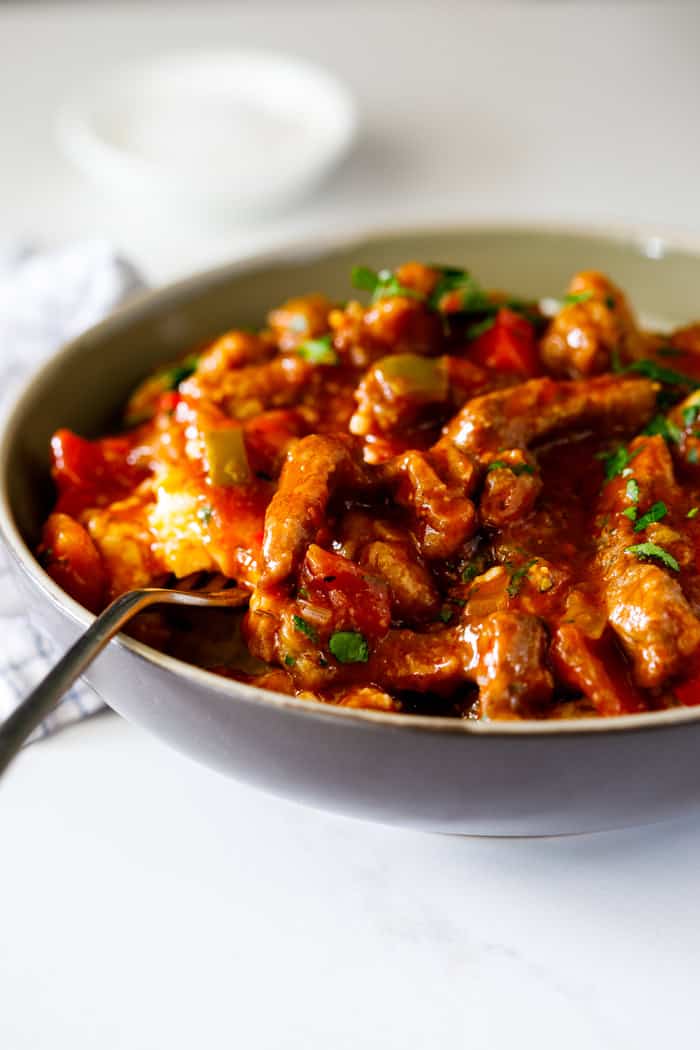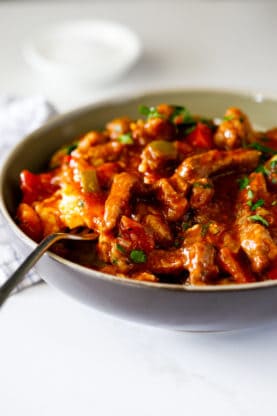 CAN IT BE MADE VEGETARIAN?
Yes! A vegetarian/vegan variation of this recipe can be made using wild mushrooms. I would suggest using a larger, meatier mushroom like Portobello or Cremini. Follow the recipe as written for the same delicious results.
Be sure to also replace the chicken stock with a vegetable stock!
VEGANS: When making the grits, use a vegan butter substitute, omit cheese (or experiment with your favorite substitute) and use a creamier plant-based milk option. I find that cashew or soy milk yields the best results.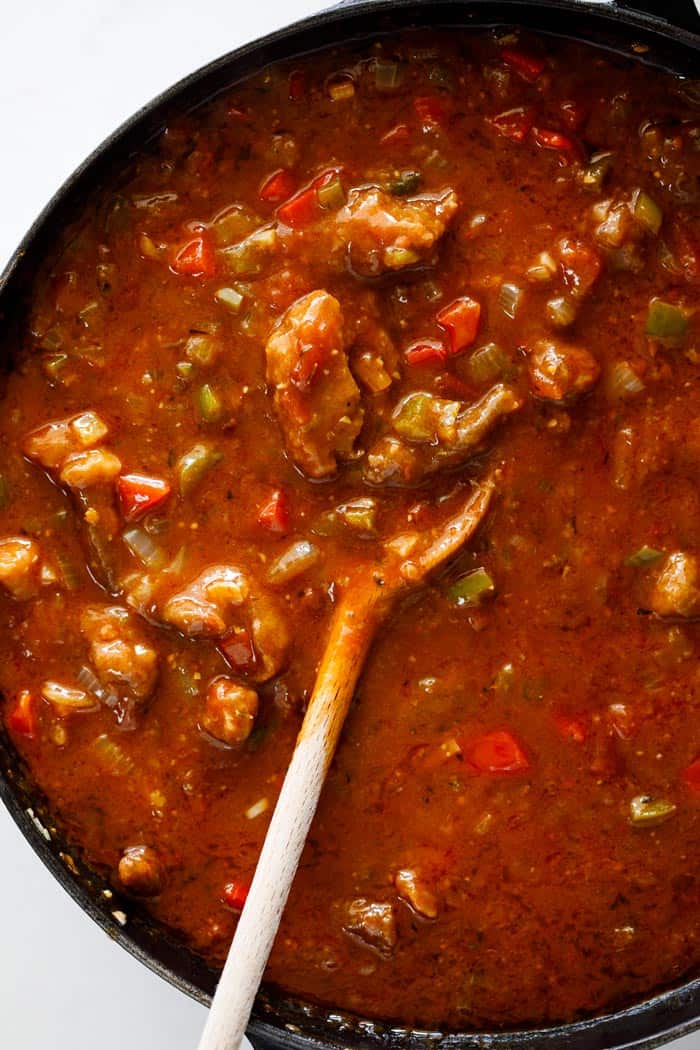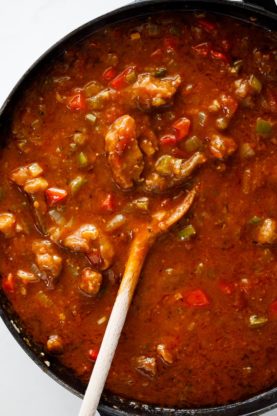 GRANDBABY CAKES' CAJUN CREATIONS
Craving a little more creole? Join the club! Try out some of my absolute FAVORITE Cajun & Creole inspired recipes: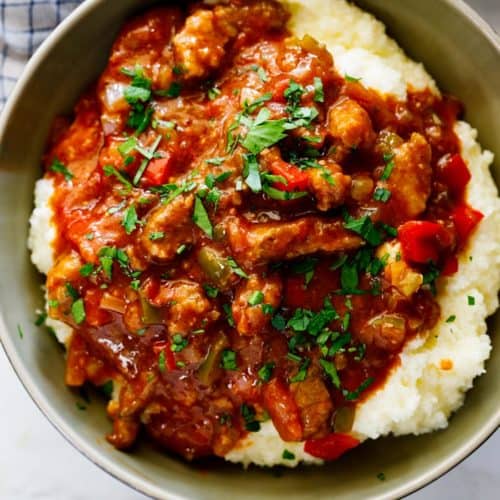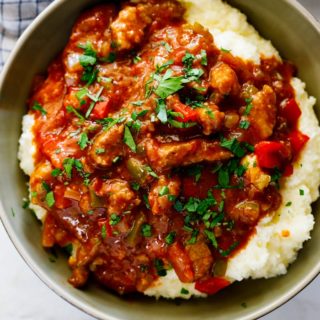 Grillades and Grits
Tender round steak slow-cooked in a rich, creamy Creole spiced gravy and served over buttery grits. A traditional Louisiana brunch or breakfast dish, Grillades and Grits make for the perfect deliciously Southern-inspired meal!
Print
Pin
Rate
Ingredients
1

lb

round steak

1

tsp

seasoned salt

plus more to taste

1/2

tsp

black pepper

plus more to taste

6

tbsp

all purpose flour

divided

6

tbsp

vegetable or canola oil

separated

1

large onion

chopped

1

bell pepper

chopped

4

garlic loves

minced

2

cups

chicken stock

1

cup

chopped tomatoes

2

tsp

Worcheshire sauce

1 1/2

tsp

hot sauce

use less if you can't handle too much spice

1

tsp

tomato paste

1/2

tsp

cajun seasoning

use up to 1 tsp/ taste until it reaches your preference

pinch a thyme

Southern Grits

Find The Recipe HERE

Chopped parsley

for garnish
Instructions
Cut round steak into medallions or strips.

Mix 1 tsp of seasoned salt, ½ tsp of pepper and 4 tbsp of flour together. Dredge beef strips in flour.

In a heavy skillet, heat oil over medium high and brown meat until golden brown then set aside to drain on paper towels. In the same skillet, add onions and bell peppers and cook until tender making sure to scrape up all of the bits cooked before in the skillet.

Then add garlic for 30 seconds then remove all of the vegetables from the skillet and place to the side.

Add remaining 2 tablespoons of oil to pan. Add remaining 2 tablespoons of flour to drippings in the pan and brown until a medium brown colored roux is developed. Whisk in chicken stock, tomatoes, worcheshire sauce, hot sauce, tomato paste, hot sauce, cajun seasoning and thyme.

Bring to a boil then lower heat to medium low and add back in meat and vegetables, cover and cook for 45 minutes or until meat is tender, checking periodically to make sure nothing sticks to the bottom of the skillet. Lower heat if necessary. It could take longer.
Nutrition
Calories:
309
kcal
|
Carbohydrates:
15
g
|
Protein:
21
g
|
Fat:
19
g
|
Saturated Fat:
13
g
|
Cholesterol:
50
mg
|
Sodium:
663
mg
|
Potassium:
536
mg
|
Fiber:
1
g
|
Sugar:
4
g
|
Vitamin A:
777
IU
|
Vitamin C:
33
mg
|
Calcium:
40
mg
|
Iron:
3
mg