Perfectly creamy, rich, buttery and cheesy, these Cauliflower grits will rock your world if you are keto, paleo or Whole 30!  You will never guess these are low carb keto grits!  And take these over the top with my Keto Shrimp and Grits recipe! If you want more grits in your life, check out my Perfect Southern Grits recipe, these Baked Cheese Grits, this recipe for Shrimp Scampi and Grits and of course BBQ Shrimp and Grits!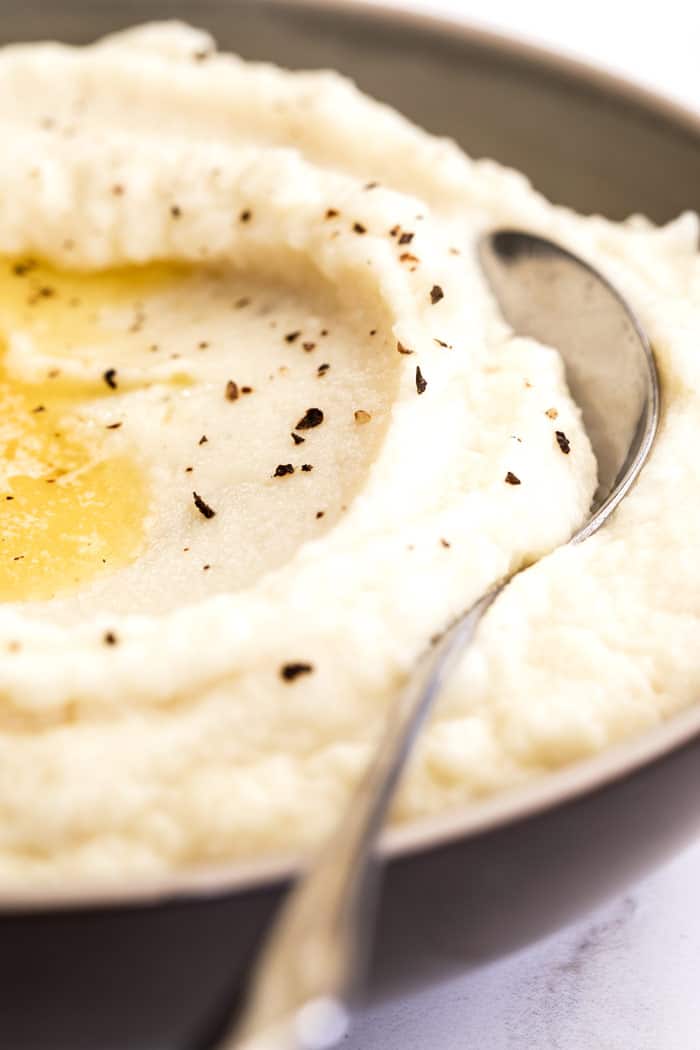 The low carb journey can be difficult especially if you have Southern roots.  I totally get it y'all. I love my fried chicken, biscuits and grits just like everyone else.  The process of finding substitutes that truly work for your taste buds so you aren't constantly thinking about what could be is the key.  
I have written quite a few posts about grits.  I consider grits my spirit animal, and they are the quintessential Southern side dish that works at breakfast, brunch, lunch and dinner.  They work alone with butter and salt (my preference), with sugar (some people actually enjoy this), baked with cheese and garlic, and of course with shrimp or a delicious short rib served over it.  
 Grits really go with so much but the problem is what happens when you are doing keto, paleo, Whole 30 or any other low carb diet that requires you to say goodbye to them?  I've got the key!
Cauliflower grits!
What are Cauliflower Grits?
Cauliflower is one of the most versatile ingredients used in low carb diets.  It can make just about anything ranging from mashed potatoes to rice.
Here, I use it to make grits.  And easy grits too. The texture can be ground down smaller than what you would find with cauliflower rice making it cornmeal like.
They can also easily be replaced in so many different recipes but still taste as similar to grits as you can get.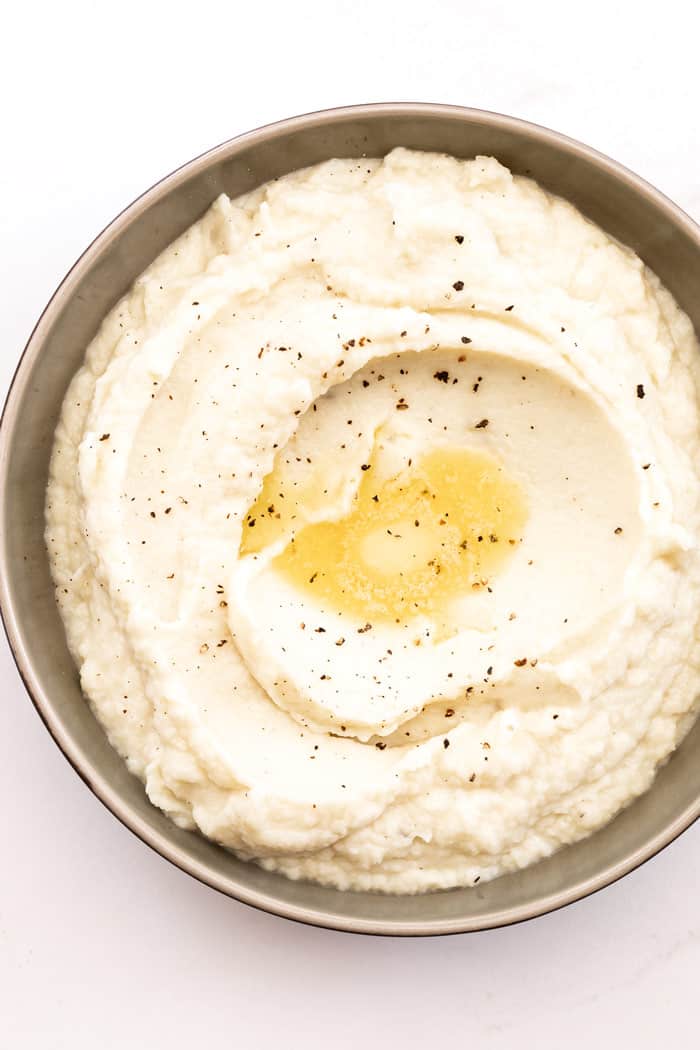 How To Make Cauliflower Grits
Cauliflower has a very distinct taste but it is very adaptable and can truly take on any flavor you want to give it.  Here I opt for a creamy, cheesy and garlicky taste and texture.
I start with frozen cauliflower mashed potatoes because it keeps the prep down and saves you a ton of time.  The texture is also wonderful because it truly mimics the small granule texture of grits.
I pop these in the microwave and then we add additional flavor to it.  
The ingredients that truly make a huge difference in changing the flavor are the following:
Salted Butter
Cheddar Cheese
Parmesan Cheese
Heavy Whipping Cream
Garlic Powder
I use salted butter here to start injecting flavor.  I won't have to add additional salt later, and of course the richness of butter is essential to making grits amazing.
I opted for two different cheeses with two different flavors and melting points.  It adds a depth of flavor to the grits.  
Tip 1: If you have time, shred the cheese yourself.  Pre Shredded cheeses have a chemical added to them that you want to avoid here.  
Also Tip 2: Do not buy the canned parmesan cheese.  You want to get a block of real parmesan cheese that can be shredded.
The heavy whipping cream is something I love adding to grits.  It thickens them in the best way but also adds the most rich and decadent essence that I just can't get enough of.
Finally, I add garlic powder.  Now these grits are something I use for savory dishes a lot of times but if you want to omit this, you totally can.  I find that it adds something special and also masks the cauliflower flavor more.
Tips for Keto Grits
Here are some amazing tips for making these "grits" just about anything you would like:
Make It Your Own!
Feel free to change the cheeses and spices to truly make this something special.  You will want to go with cheeses that melt well so they blend into the grits seamlessly.
Avoid Substituting Cauliflower Rice
You definitely want to go with cauliflower mashed potatoes here because the texture is finer.  I find that everything blends in much easier and better.
Make Them From Scratch
If you don't want to go the frozen route, you can easily make these by adding chucks of a cauliflower head to a food processor and chopping it up super fine.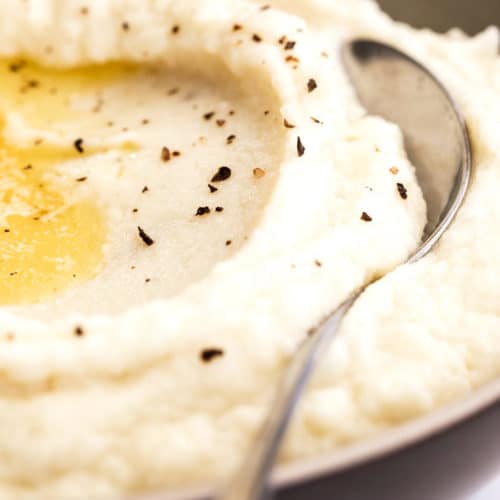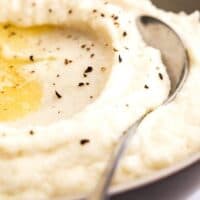 Cauliflower Grits
Perfectly creamy, rich, buttery and cheesy, these Cauliflower grits will rock your world if you are keto, paleo or Whole 30!  You will never guess these are low carb keto grits!
Print
Pin
Rate
Ingredients
24

oz

frozen cauliflower mashed potatoes

2 (12 oz) each packages

2

tbsp

salted butter

1/3

cup

shredded cheddar cheese

we use mild or medium but feel free to use sharp if you prefer it

1/4

cup

shredded parmesan cheese

2

tbsp

heavy whipping cream

1/4

tsp

garlic powder

feel free to go up to 1/2 tsp but taste as you go along
Instructions
Cook mashed cauliflower in the microwave according to the package.

Add contents to a bowl then whisk in butter, both cheeses, heavy cream, garlic powder and salt and pepper to taste.
Notes
You definitely want to make sure you use cauliflower mashed potatoes instead of rice since it has a smaller granule that mimics grits.
Nutrition
Calories:
184
kcal
|
Carbohydrates:
9
g
|
Protein:
8
g
|
Fat:
14
g
|
Saturated Fat:
9
g
|
Cholesterol:
41
mg
|
Sodium:
258
mg
|
Potassium:
518
mg
|
Fiber:
3
g
|
Sugar:
3
g
|
Vitamin A:
434
IU
|
Vitamin C:
82
mg
|
Calcium:
180
mg
|
Iron:
1
mg