Bite into the deliciously sweet, tangy, and tropical flavors of Guava Empanadas! Made with a flaky homemade crust that surrounds a luscious cream cheese and guava paste mixture, this treat is sure to please a crowd. If you love this, you should check out my Blueberry Hand Pies, Strawberry Hand Pies, or Homemade Pop Tarts.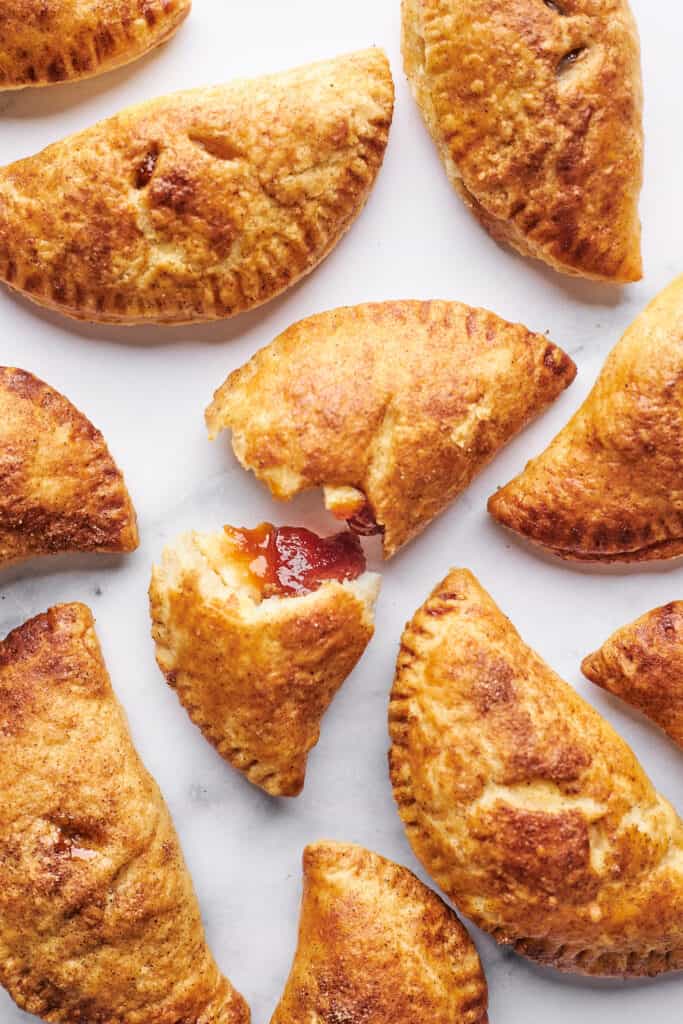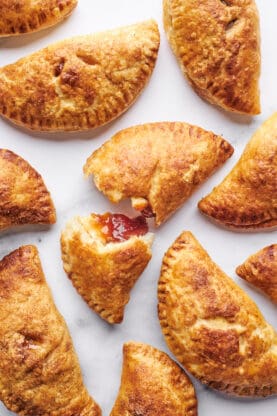 Guava empanadas are one of those treats that I swear everyone loves! They're uniquely flavored with a balance of fruity and rich elements. Plus, empanadas are incredibly fun and easy to make.
The smooth guava paste and cream cheese filling combined with the flaky, golden-brown crust always transports me to a tropical destination. I know y'all are going to go crazy over this recipe!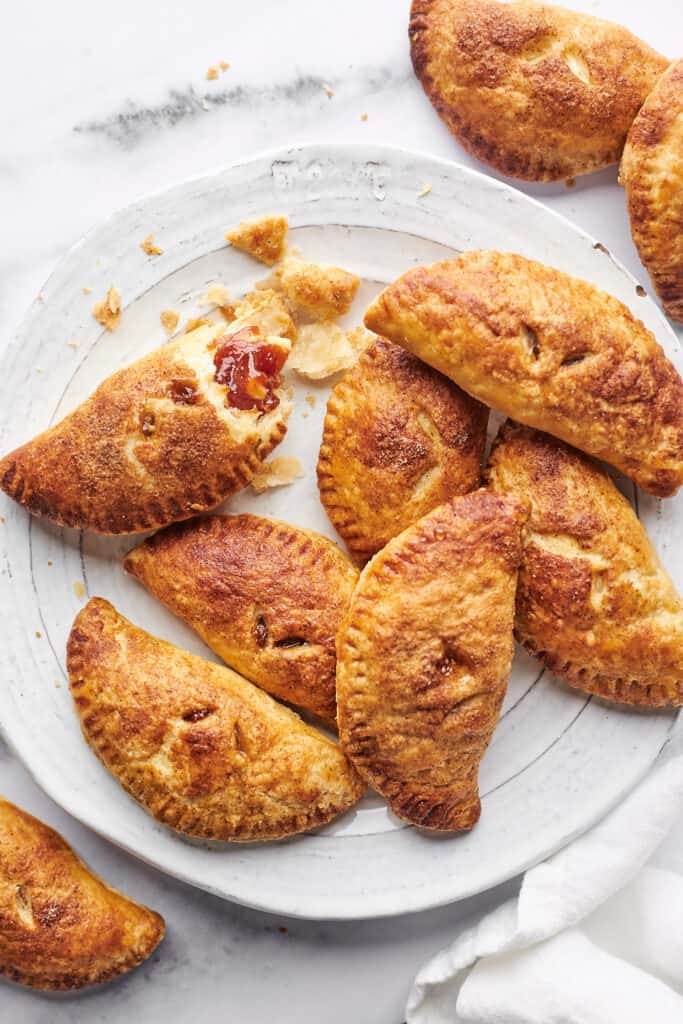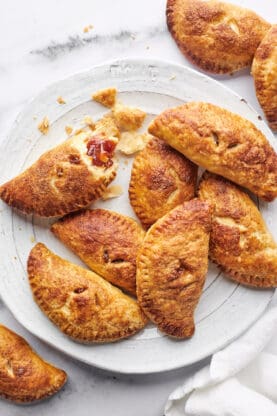 What are guava empanadas?
Guava empanadas are a popular dessert enjoyed all throughout Latin America, and for good reason! These mouthwatering pastries boast a sweet, slightly floral, and tropical flavor from the guava paste and a perfectly creamy tang from the cheese.
You can use empanada dough, but this recipe will take you through preparing the dough from scratch, resulting in perfectly flaky, buttery, and rich flavors. Plus, it's actually quite simple to make it yourself!
It is best to serve these homemade hand pies at room temperature or slightly warm, accompanied by a hot cup of coffee, tea, or atole. Just a warning though, you'll definitely be back for seconds!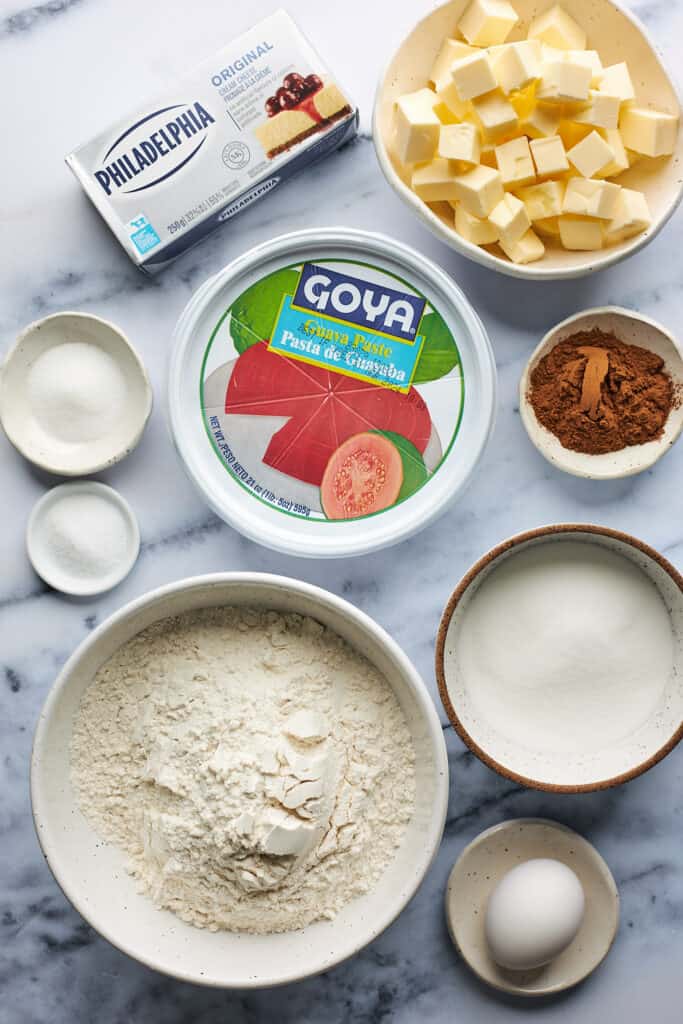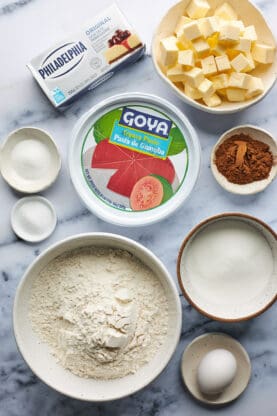 Ingredients & substitutions
All-purpose flour:

Provides structure to the dough, creating a sturdy-yet-tender crust. If you prefer, you can use pastry flour or a gluten-free flour blend, but the results will vary.

Granulated sugar:

Adds a delicate sweetness to the crust. Feel free to replace granulated sugar with cane sugar if you prefer.

Salt:

Never omit salt in baking! It elevates the flavors in the crust, helping to bring out the sweetness of the guava and sugar.

Unsalted butter:

Gives the crust a rich flavor and crispy texture. Just make sure it's very cold so it creates pockets of fat throughout the dough. As the empanadas bake, the butter will melt and result in flaky layers. For a dairy-free option, try vegetable shortening or even cold coconut oil.

Water:

Helps bind the dough together. As with the butter, it's essential for the water to be ice-cold to create those perfectly flaky layers!

Cream cheese:

Adds a creamy and tangy element that contrasts the sweet guava paste incredibly well. You can also try Manchego cheese for a slightly more pronounced savory, umami-rich flavor.

Goya guava paste:

Gives the empanadas their signature sweet, floral, and tropical flavor. If you can't find guava paste, try guava jam or quince paste (you may also find it labeled as ate de membrillo in Latin American food markets).

Egg:

For the egg wash, which gives the empanadas a beautiful golden-brown finish. No eggs on hand? Use a mixture of milk and maple syrup or jam.

Cinnamon:

Adds warmth and depth to the sugar topping. You can also try nutmeg, cardamom, or allspice, or omit the cinnamon altogether.
How to make guava empanadas
Step 1: Prepare the crust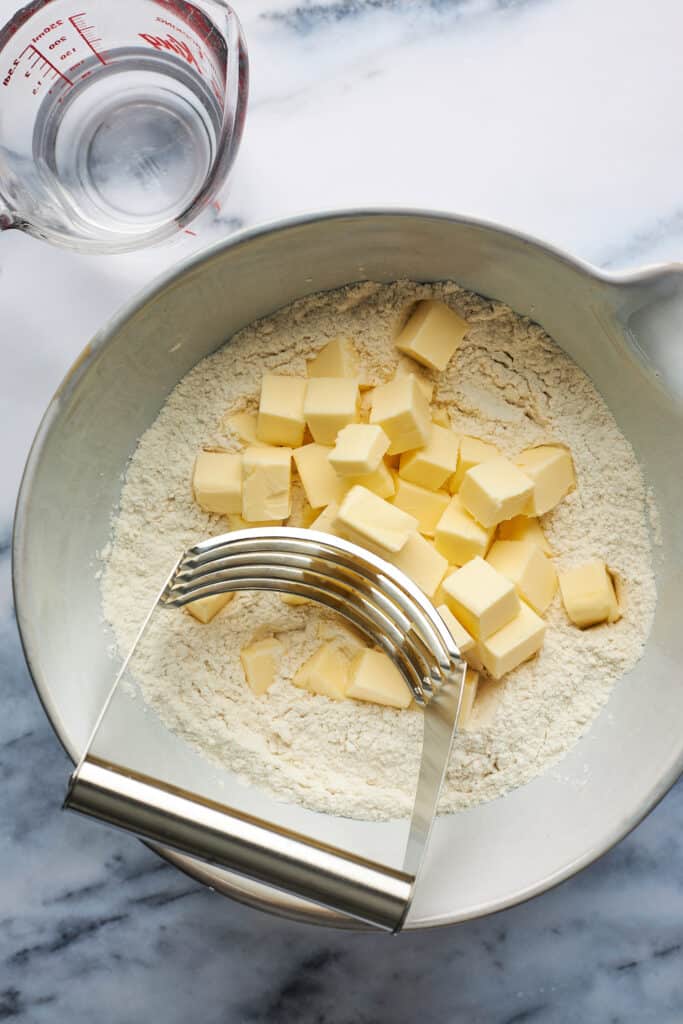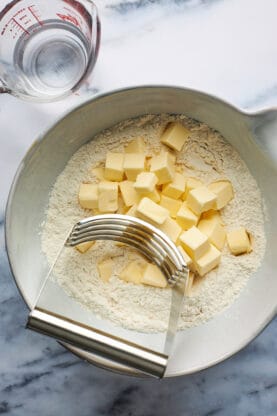 Combine the flour, sugar, and salt in a medium-sized bowl. Cut in cold butter cubes using a pastry cutter until you have various-sized crumbs. You can also use a fork if you don't own a pastry cutter. Just try not to use your fingers as this will warm the butter.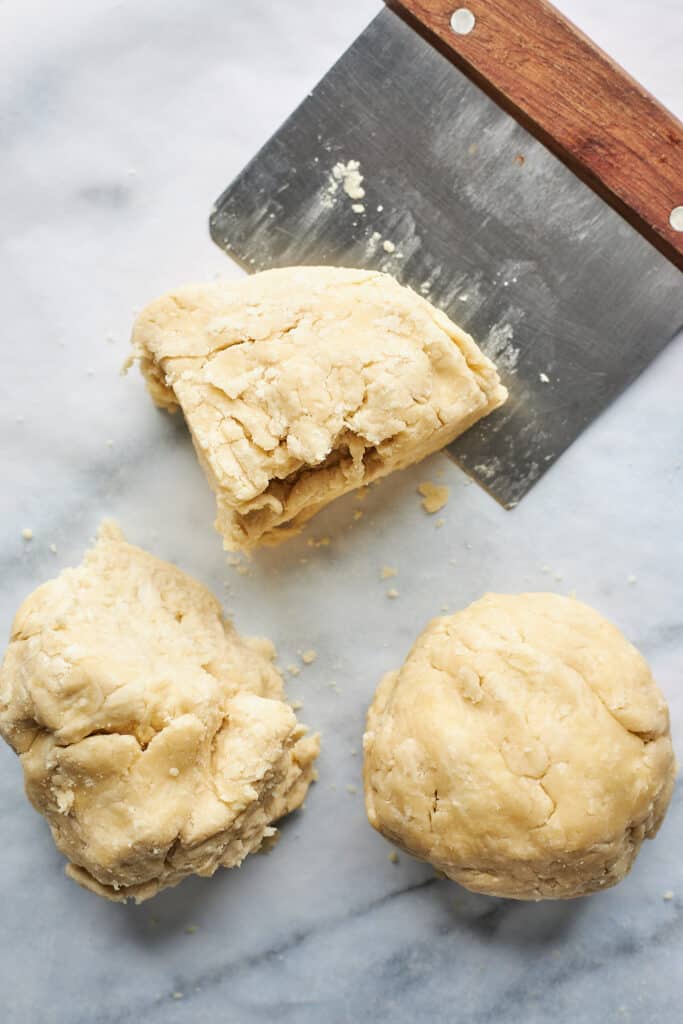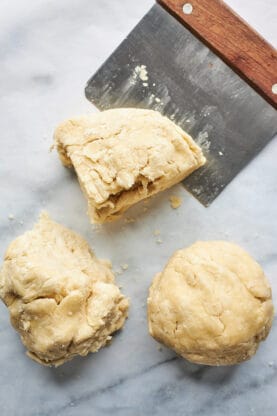 Starting with a small amount, slowly add the cold water to the dry ingredients until a dough forms. If the dough is not coming together, add more water a little at a time. Divide the dough into 3 or 4 balls, wrap them in plastic, and let them chill for about 30-45 minutes.
Step 2: Assemble the empanadas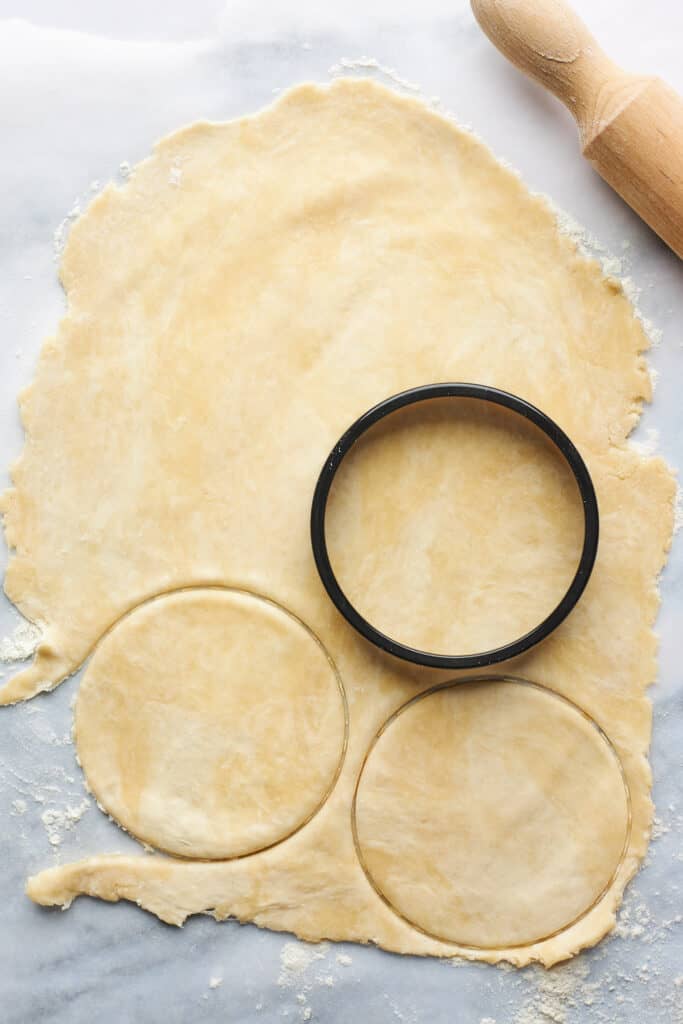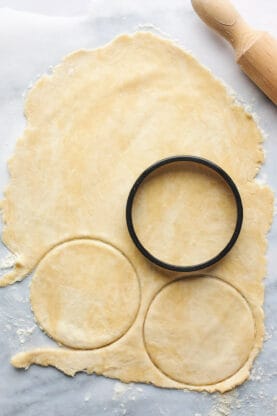 Roll out the chilled dough on a floured surface, then cut out circles with a 4 ½-inch diameter cutter.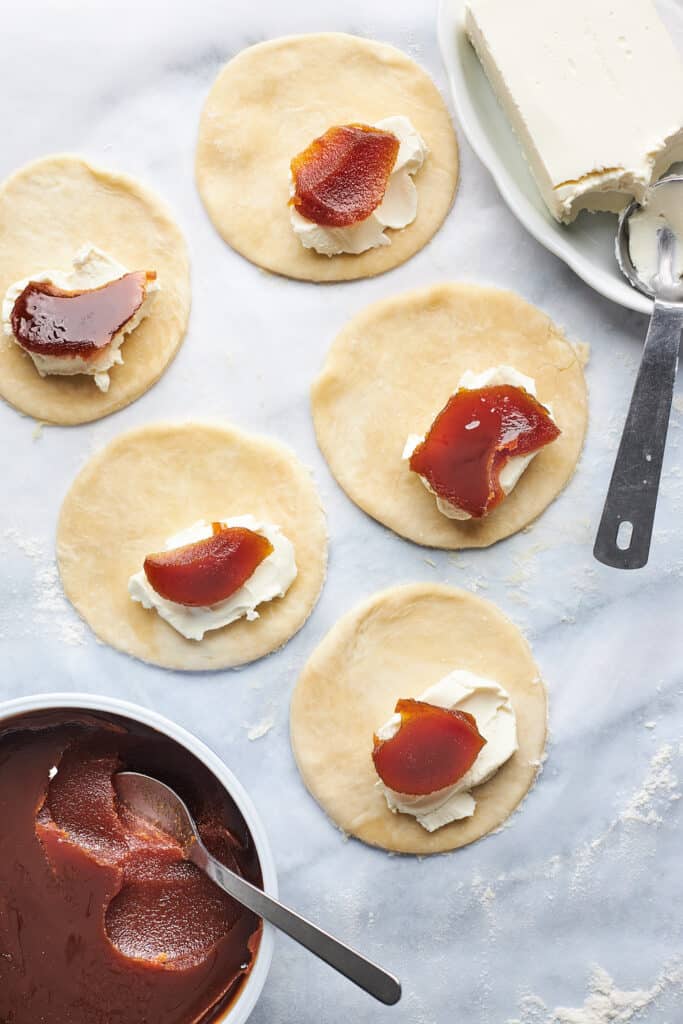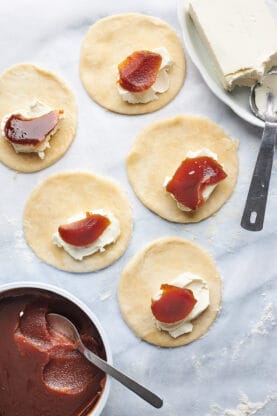 Place a dollop of cream cheese and guava paste in the center of each dough circle, then fold the empanadas in half and seal the edges with a fork.
Step 3: Bake the empanadas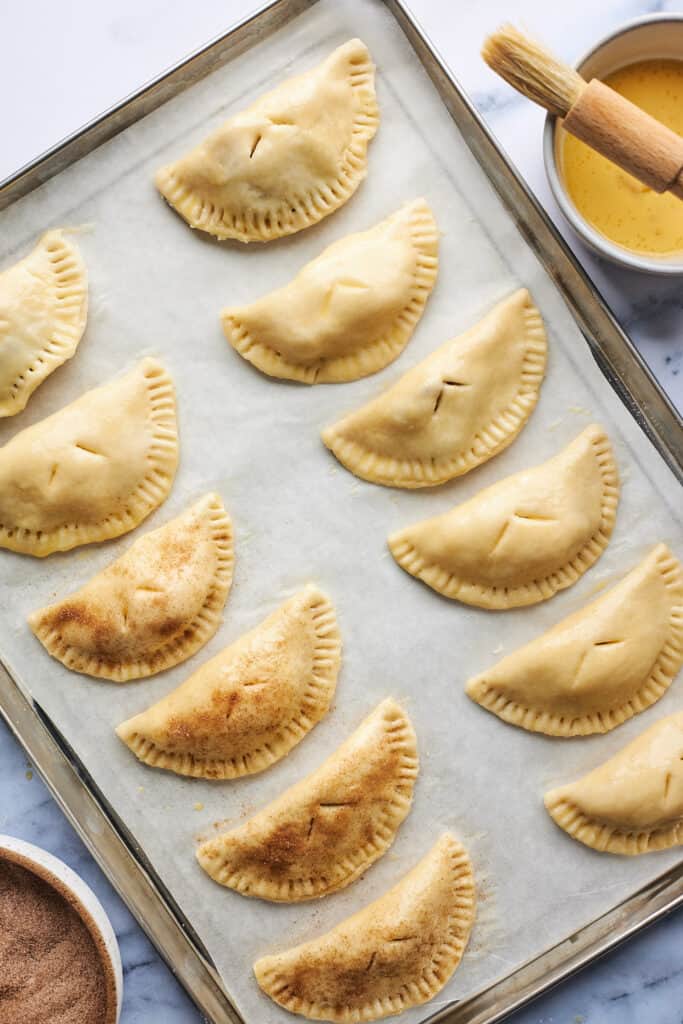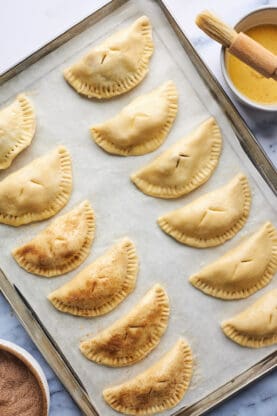 Brush the outsides of the empanadas with your egg wash and sprinkle them with a cinnamon sugar mixture for extra crunch and flavor. Refrigerate the empanadas once more, then bake them in an oven set to 375F until they turn golden brown and puffy.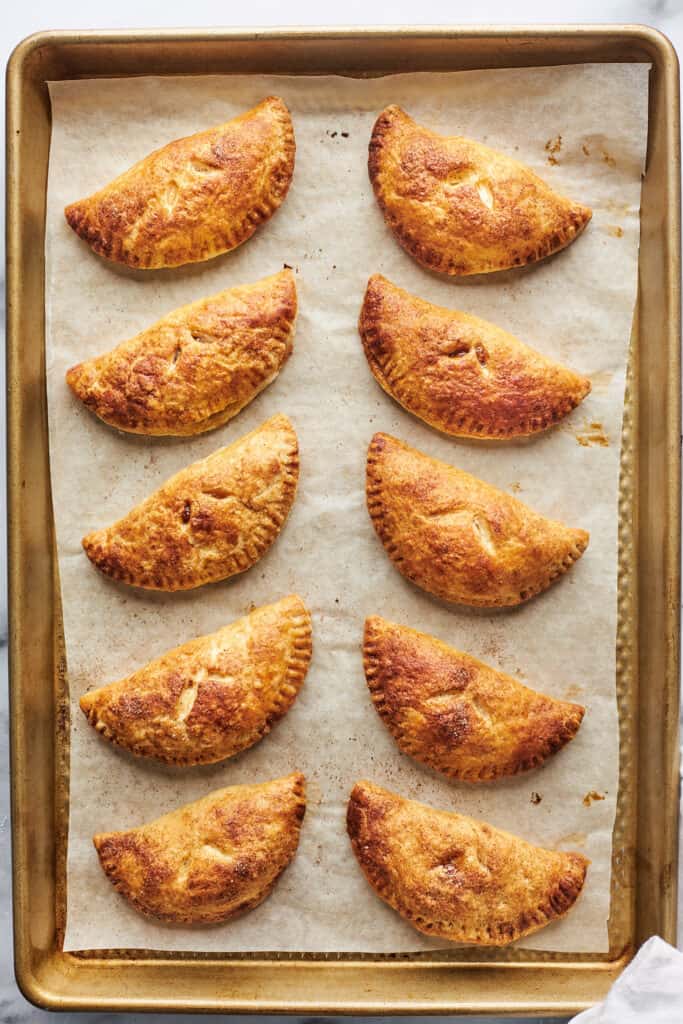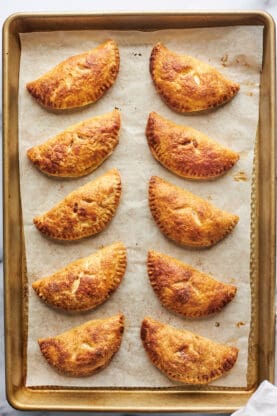 Serving suggestions
Personally, I can eat these guava empanadas straight off the baking sheet (and I do)! If you have a little more patience than me, you might like to try serving yours with accompaniments like these:
Recipe variations
Fruit:

Switch up the filling to apple or quince paste. Or try different jams and jellies, like strawberry, mango, pineapple, apricot, or peach.

Chocolate:

Add a layer of chocolate chips or chunks to the filling.

Citrus:

Incorporate orange or lemon zest into the crust for a citrusy twist.

Cheese:

Replace the cream cheese with ricotta or mascarpone.

Quick:

Use empanada dough or puff pastry instead of homemade for a quick alternative.
Tips and tricks
Use cold ingredients:

For a perfectly flaky crust, your butter and water

must

be cold!

Work quickly with the dough:

Move fast when handling the dough to prevent it from turning warm and sticky.

Don't overfill:

Careful not to stuff the empanadas too full to avoid leaking during baking.

Form a seal:

Use a fork to create a tight seal around the edges of the empanadas.

Rotate:

Don't forget to rotate the baking sheet halfway through baking for even browning on all sides.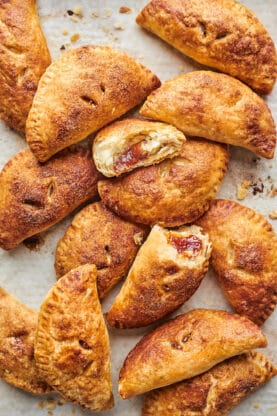 What to do with leftovers
For any leftover guava empanadas, follow these simple storage and reheating tips:
Fridge:

Leftover empanadas will keep in an airtight container at room temperature for up to 2-3 days. Just let them cool to room temperature before transferring them to the container.

Freezer:

Wrap each cooled empanada in plastic wrap, then transfer them to a freezer-safe bag or container for up to 3 months in the freezer.

Reheating:

You can reheat empanadas in an oven at 350F for 10-15 minutes, or until warmed through. I don't recommend microwaving them as the crust won't crisp up well.

Prep ahead:

Prepare the dough and filling in advance and keep them in the fridge. All you have to do is assemble and bake the empanadas when you're ready to serve them.
Additional recipes
If you enjoyed these guava empanadas, check out some more of GBC's popular fruit-forward sweets like these:
Frequently asked questions
Can I use store-bought pie crust instead of homemade dough?
Yes, you can use store-bought pie crust or puff pastry as a quick and easy alternative to homemade dough.
Is it possible to make guava empanadas without cream cheese?
Yes, you can make this recipe without cream cheese, but the filling will be less creamy, tangy, and decadent.
Can I use fresh guava instead of guava paste?
Fresh guava can be used, but you'll need to cook it down with sugar to create a thick, jam-like consistency.
How long can I store the unbaked empanadas in the refrigerator?
Unbaked empanadas can be stored in the refrigerator for up to 1 day before baking.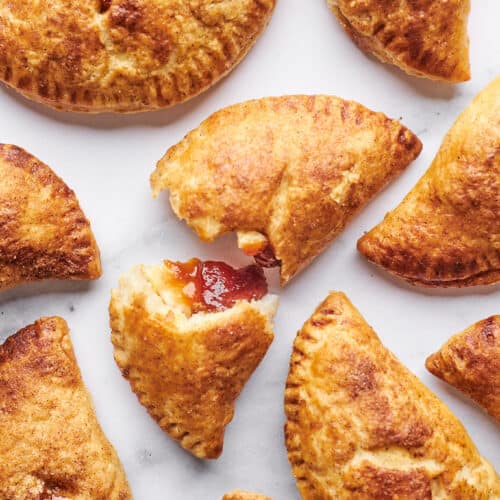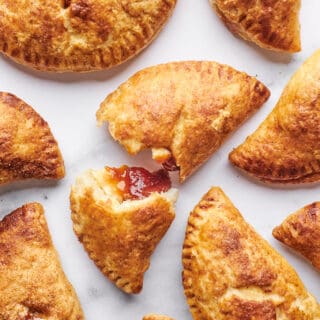 Guava Empanadas
Bite into the deliciously sweet, tangy, and tropical flavors of Guava Empanadas! Made with a flaky homemade crust that surrounds a luscious cream cheese and guava paste mixture, this treat is sure to please a crowd.
Print
Pin
Rate
Ingredients
For the Crust
2 1/2

cups

all purpose flour

2

tsp

granulated sugar

1

tsp

salt

1

cup

very cold unsalted butter

cut in cubes

1/2

cup

very cold water

up to 2/3 cup if you need it
For the Filling
8

oz

cream cheese

21

oz

guava paste

Goya
For Assembly
1

large egg

2

tbsp

water

1/2

cup

granulated sugar

2

tbsp

ground cinnamon
Instructions
For the Crust
In a medium sized bowl, add flour, sugar and salt and whisk together to combine.

Next add your butter cubes to flour and using your pastry cutter, cut the butter into the flour mixture until various sized crumbs appear.

Slowly add the cold water into the flour until a ball of dough forms. Start with 1/2 cup and add more water if you need it. Knead the dough quickly to bring it together. Don't worry if there is any flour left in the bowl.

Remove the dough from the bowl, cut into 3 or 4 sections and round into balls. Cover each ball tightly with plastic wrap and place in the refrigerator for 30-45 minutes to rest.
To Assemble
Remove dough from the fridge and add a bit of flour to a working surface or clean counter and place dough on it.

Using a rolling pin, quickly roll dough out to about 1/4 inch thickness.

Cut out circles using a large cutter the size of about 4 ½ circumference.

Spoon 1 tablespoon of cream cheese onto the lower half of the disc and use the back of your spoon to spread it a bit. Be sure to leave about ½ an inch of space around the edges. Spoon another layer of guava paste on top of the cream cheese.

Whisk together egg and water in a small bowl.

Brush a little egg wash around the outside of the dough circle, and fold it in half so the other side comes down over the filling, creating a semicircle.

Seal each hand pie by pressing the edges of the dough together with the tines of a fork then add two tiny slits to the top of each pie.

Combine sugar and cinnamon in a separate bowl.

Brush pies with egg wash and sprinkle with cinnamon sugar.

Place back in the refrigerator for about 20-25 minutes to firm up before baking.

Preheat the oven to 375 degrees.

Once firm, bake for about 20-30 minutes or until golden brown and puffed. (If you made super thick dough, you would have to bake for up to 40 minutes). Cool until room temperature or just warm.
Notes
NOTE 1: I only use about ½ the container of guava paste. You can enjoy the leftovers as a snack with crackers and cheese, in a sandwich, or baked into another dessert! Some stores might sell smaller containers if you'd prefer that. 
NOTE 2: If you have a pre-made cinnamon sugar, go ahead and use that. Otherwise, mix ½ a cup of granulated sugar and 2 tablespoons of ground cinnamon. 
Nutrition
Calories:
323
kcal
|
Carbohydrates:
27
g
|
Protein:
4
g
|
Fat:
22
g
|
Saturated Fat:
15
g
|
Polyunsaturated Fat:
1
g
|
Monounsaturated Fat:
4
g
|
Trans Fat:
0.5
g
|
Cholesterol:
55
mg
|
Sodium:
196
mg
|
Potassium:
51
mg
|
Fiber:
2
g
|
Sugar:
8
g
|
Vitamin A:
563
IU
|
Vitamin C:
0.04
mg
|
Calcium:
32
mg
|
Iron:
1
mg