These Honey Apple Bars are filled with fall spiced apples that are layered on top of a honey almond shortbread crust and topped with a buttery crumble and honey caramel sauce! Filled with nutrient-dense, whole ingredients and no refined sugar, these bars are both nutritious and delicious! If you love these, you will also love this Apple Cider Donut Cake, my Ginger Brown Butter Blondies, Peach Crumb Bars and my Blueberry Crumble Bars!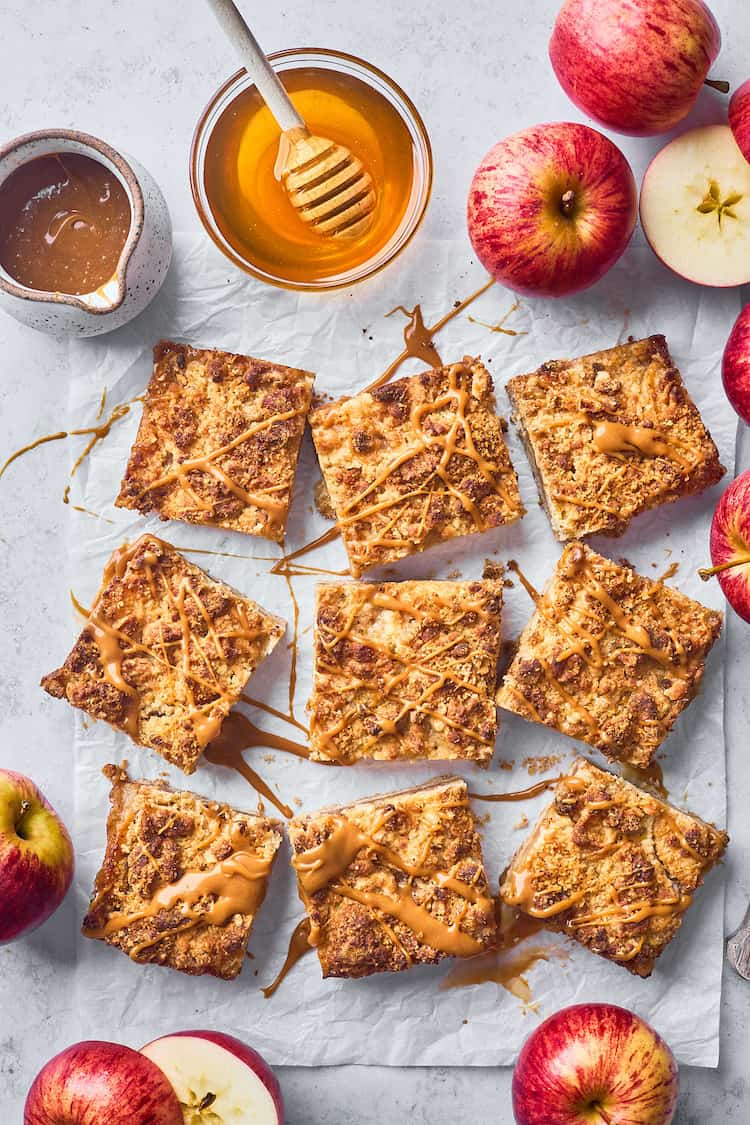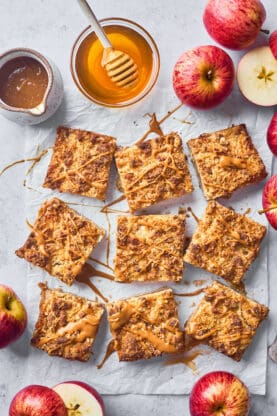 Sliced and spiced apples, buttery crumble topping, and a heavy drizzle of honey caramel- now that's a Fall recipe I can get behind. During the cooler months, I love making fruit crumbles but I don't often eat them for breakfast; they're a bit too messy. So, this year I've opted to recreate my favorite kind of crumble into a healthy bar I can count on for a quick, on-the-go breakfast or snack!
Honey Apple Bars with Honey Caramel Sauce (which I made in collaboration with The Honey Board) can be served warm, cold, for breakfast or lunch, with ice cream or on its own. Don't play yourself, turn those orchard apples sitting on the counter into a (mostly) healthy treat the whole family can enjoy!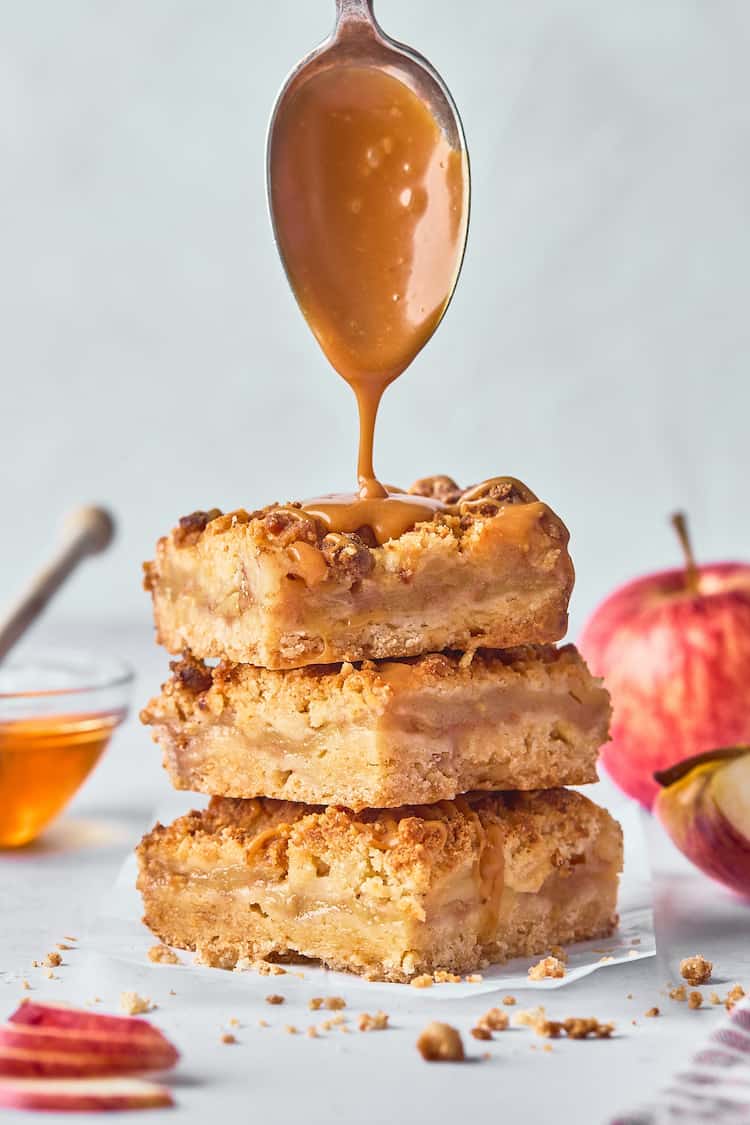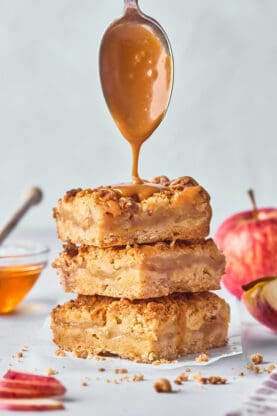 HONEY APPLE BARS
If there's anything I love more than a thick, warm slice of apple pie, it's a homemade apple crumble bar. What can I say? I'm just obsessed with these squares of crisp, crunchy bottom with spiced apple filling piled on top.
From start to finish, these Honey Apple Bars are made in under an hour. No fuss, no mess, just a simple recipe coming to serve up a little extra happy!
But, before we get started, let's talk about our layers: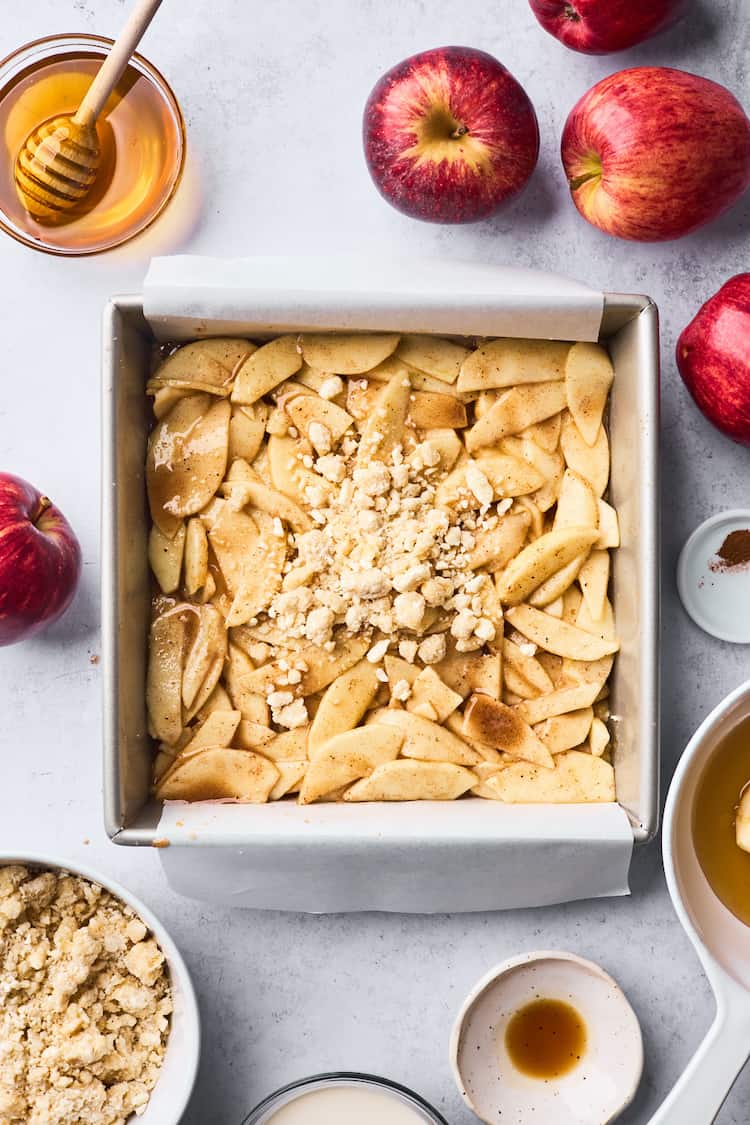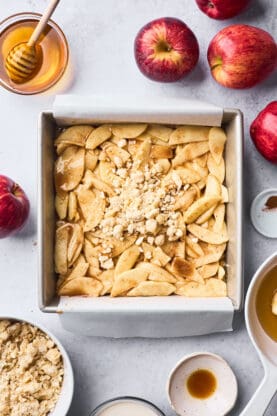 CRUMBLE & CRUST- The buttery, crisp base of these bars is to die for. The addition of almonds and honey layer in texture, sweetness, and natural health benefits. Be sure not to overwork the crumble dough; there should be small pieces of butter throughout the dry mixture. To save on time, we're using the same mixture for both the bottom and top of the bars: a true life saver.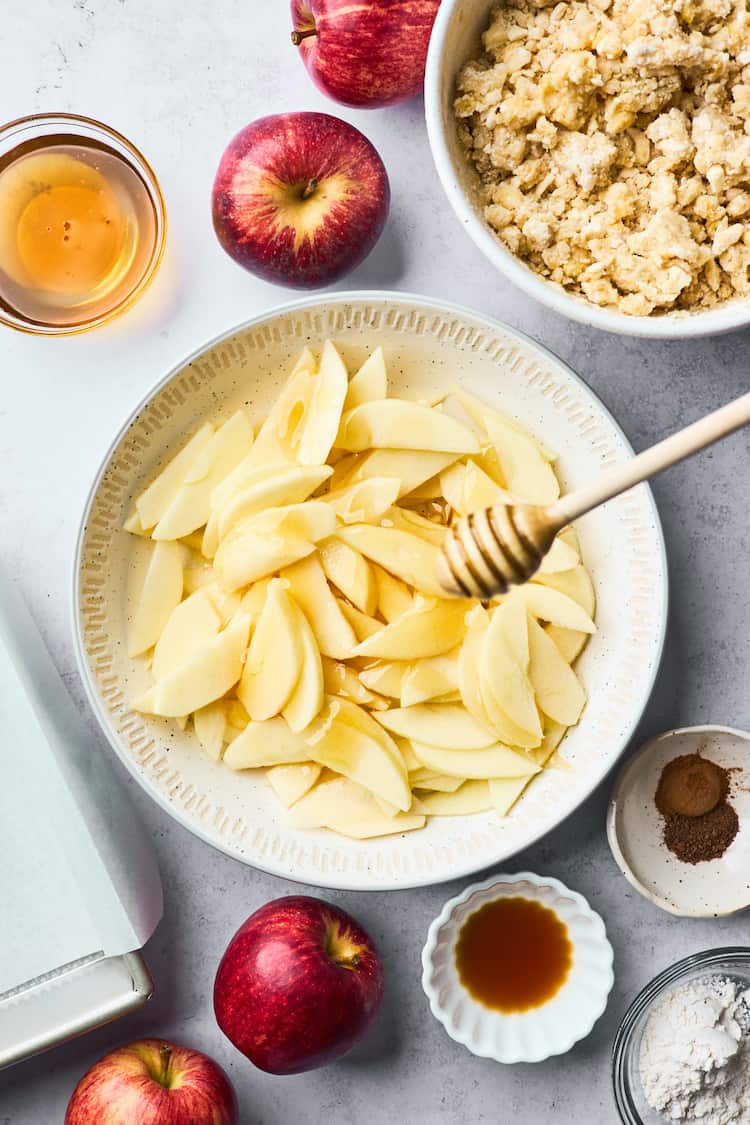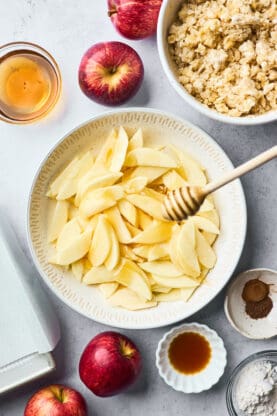 SPICED APPLE FILLING- It's best to use a sweet, crisp apple variety for this recipe. Granny Smith, Honeycrisp, and Pink Lady are a few of my favorites. Once you've got your pick, toss 'em up with lemon juice, flour, honey, cinnamon, nutmeg, and vanilla for an irresistibly warm and nutritious treat!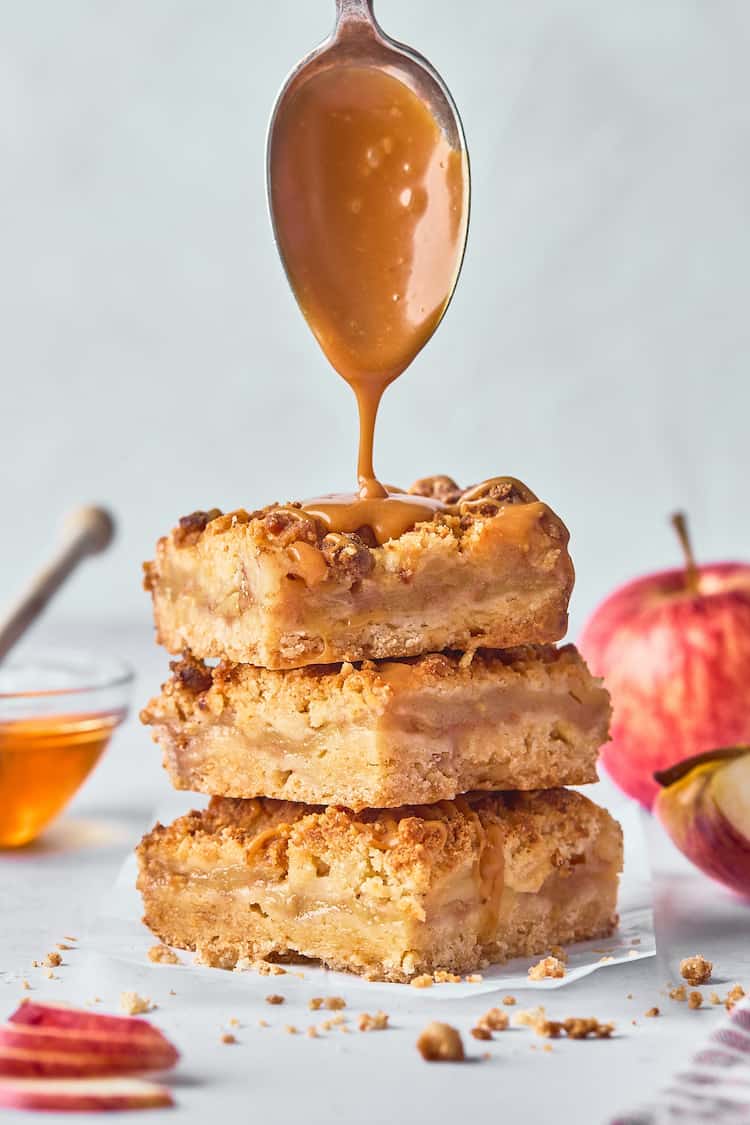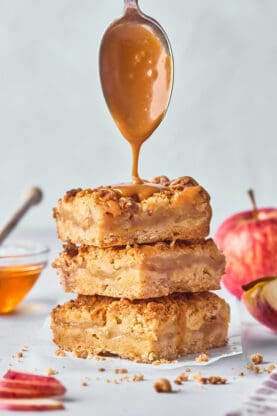 HOMEMADE HONEY CARAMEL SAUCE
Listen, these Apple Bars are bad all by themselves but a little extra somethin' never hurt anybody. Honey Caramel Sauce is made with fresh, natural ingredients to create a drizzle worth dreaming about!
Y'all ready for the secret ingredients? Okay, not so secret but still simple and delicious.
Unsalted Butter-

Butter makes everything better and that's all I'll say about that!
Honey-

Honey is versatile, varied, and delicious! Proven to contain a wide variety of vitamins, minerals, amino acids, and antioxidants, honey adds a special touch to any recipe. Not only is this superfood being used a sweetener in this recipe but it's also imparting a distinct and unbeatable flavor!
Heavy Whipping Cream-

Use fresh, high-quality cream for a smoother, richer, and more flavorful result.
Pure Vanilla Extract-

Caramel relies heavily on the flavor and fragrance of vanilla. A pure extract is a must for a more concentrated, well-balanced sauce.
Salt-

I often like to use sea salt for caramel for an extra layer of complexity, but kosher salt also works here.
Cinnamon-

I added just a pinch of cinnamon for some extra warmth. This step can be omitted or replaced with a similar spice such as cardamom or nutmeg.
You'll notice that there's no refined sugar on this list. That's right, this decadent caramel is naturally sweetened and you wouldn't even know it! Honey Caramel Sauce is sweet, fragrant, buttery, smooth, and slightly spiced for that extra Fall feeling. I love spooning this sauce over brownies, cakes, ice cream, pancakes, and so much more! Especially these Honey Apple Bars though!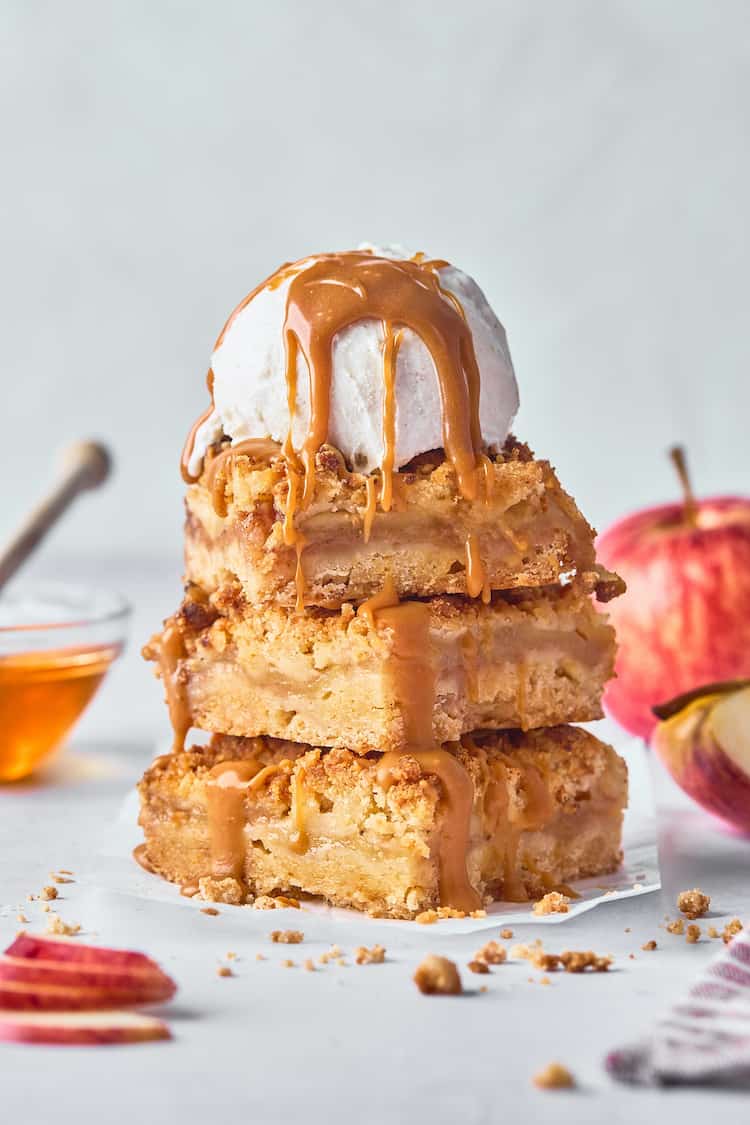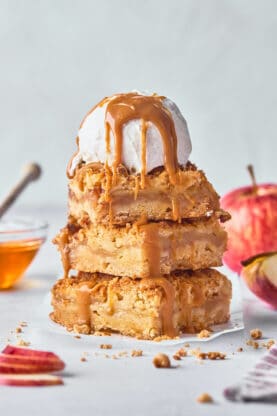 HOW TO STORE APPLE CRUMBLE BARS
Apple bars can be stored in an airtight container at room temperature for up to 48 hours. If you'd like to keep them fresher for longer, refrigerate the bars for up to 5 days. When you want a slice, you can either enjoy it cold (it's still delicious) or use the oven/microwave to reheat until hot.
MORE GRANDBABY CAKES APPLE RECIPES
Y'all, I just took a trip to the orchard and I've got apples for days! So, this week I'm pulling in inspiration from the blog and whipping up a few of my BEST apple recipes. In addition to these apple bars, definitely make these too!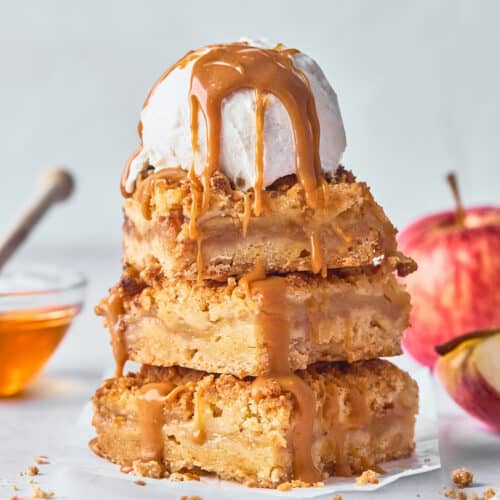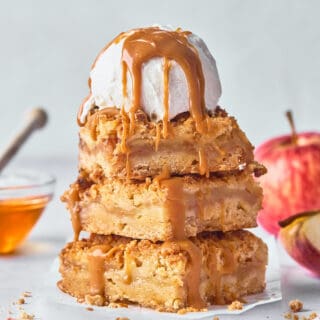 Honey Apple Bars
These Honey Apple Bars are filled with fall spiced apples that are layered on a honey almond shortbread crust and topped with a buttery crumble and honey caramel sauce! #apple #fallbaking #applebars #applecrumblebars #crumblebars #blondies #applepie #applecrisp #applecobbler #caramel
Print
Pin
Rate
Ingredients
For the Crumble and Crust
1 1/3

cup

all purpose flour

1/2

cup

granulated sugar

or 1/3 cup honey (start at 1/4 cup and add until it gets crumbly)

1/4

cup

ground almonds

1/2

tsp

baking powder

1/4

tsp

salt

10

tbsp

unsalted butter

cold and cut into cubes

1

large egg yolk

1

tbsp

cold water
For the Apple Filling
2 1/2

cups

fresh apple slices

1

tbsp

lemon juice

2

tbsp

all purpose flour

1/2

cup

honey

1/2

tsp

ground cinnamon

1/4

tsp

ground nutmeg

1

tsp

vanilla extract
For the Honey Caramel
2

tbsp

unsalted butter

1/4

cup

honey

1/2

cup

heavy whipping cream

1/2

tsp

vanilla extract

pinch of salt

pinch of cinnamon
Instructions
For the Crumble and Crust
Preheat the oven to 375 degrees F. Prepare a 8×8-inch baking pan with the non-stick coating of your choice.

For the crumb and crust, whisk together flour, sugar, ground almonds, baking powder and salt.

Next, cut in the cold butter using two forks or a pastry cutter then slowly mix in the egg yolk and cold water (if you using honey instead of sugar, add in here as well). Don't worry if the dough seems really crumbly. It should be!

Next take half of the crumble mixture and press into the prepared pan. The rest should be saved for the top of the bars.
For the Apple Filling
Stir together apple slices, lemon juice, flour, honey, cinnamon, nutmeg and vanilla until combined.

To assemble, evenly add apple filling to the top of the crust.

Next sprinkle the remaining crumble over the top of the apple filling.

Bake for 30-38 minutes or until golden brown and set.

Cool bars to room temperature then cut and serve.
For the Honey Caramel
While bars bake, add butter and honey to a medium sized pot over medium heat and allow the butter to melt and combine with the honey. Once butter completely melts, stir together over medium high heat for about 5-6 minutes or until it has thickened somewhat.

Whisk in the cream and bring to a boil then remove from heat. Finally stir in the vanilla, salt and cinnamon and allow it to thicken and cool a bit. Drizzle caramel sauce over completed bars and enjoy!
Notes
Feel free to add 1 cup total of your favorite berries (strawberries, raspberries, blackberries, blueberries) and bring the apples down to 1 1/2 cups.
Nutrition
Calories:
331
kcal
|
Carbohydrates:
45
g
|
Protein:
3
g
|
Fat:
17
g
|
Saturated Fat:
10
g
|
Polyunsaturated Fat:
1
g
|
Monounsaturated Fat:
4
g
|
Trans Fat:
1
g
|
Cholesterol:
60
mg
|
Sodium:
57
mg
|
Potassium:
94
mg
|
Fiber:
1
g
|
Sugar:
32
g
|
Vitamin A:
532
IU
|
Vitamin C:
2
mg
|
Calcium:
31
mg
|
Iron:
1
mg