This Classic Apple Tarte Tatin starts with slow-cooked, caramelized apples that are baked into a flaky, buttery puff then topped with a wonderfully spiced Baileys Apple Pie liqueur cream sauce. This Apple Tarte Tartin is a dessert that really sings Fall flavor praises! If you love this, you will also love this Dutch Apple Pie, Apple Brown Betty, Apple Pie Bars, Apple Cobbler, Classic Apple Pie and Baked Apples with Crumble Topping!
Disclosure: I partnered with Baileys for this recipe post, but all opinions expressed here are my own. I am grateful for authentic partnerships like this.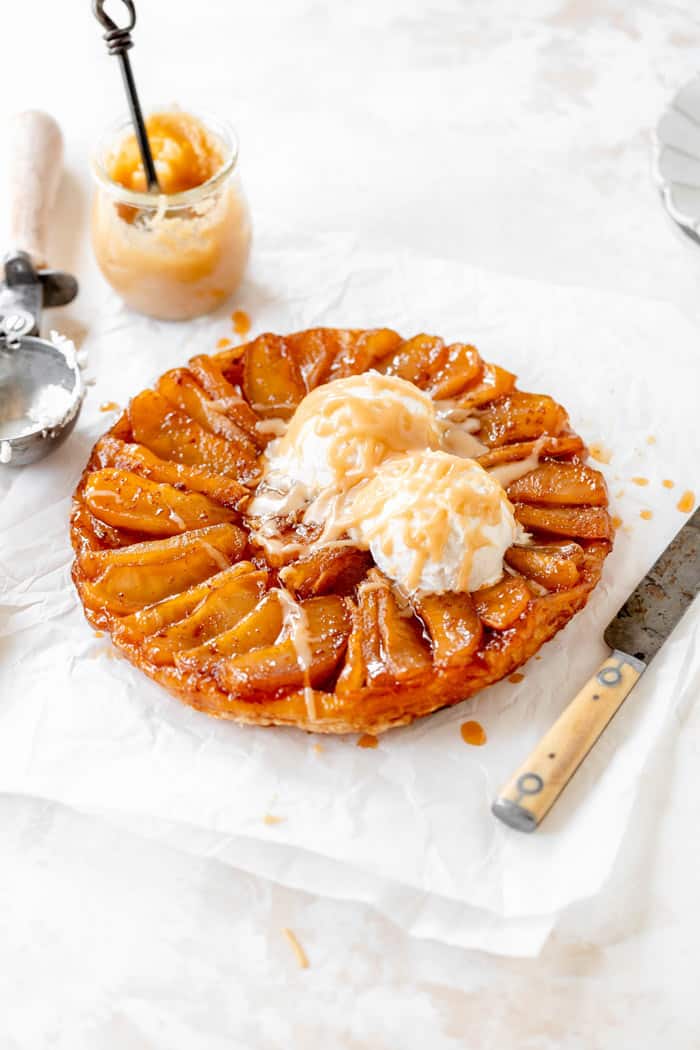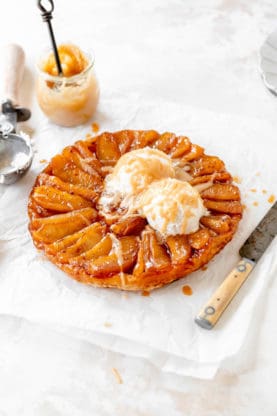 And just like that, Summer is over! Is it just me or was this the fastest Summer in the history of all Summers? I woke up this morning and BOOM, Fall is here. To be fair, I live in Dallas now and the extended warm-weather is an actual Godsend. But no matter where I am, I can't seem to escape changing leaves, warm apple ciders, pumpkin-spiced lattes and flannel tops.
If there is one thing that triggers a bit of new-season excitement, its apples. From Braebrun to Fuji, I love 'em all! There are endless possibilities when it comes to baking with Apples and, believe me, I've tried just about all of them.
Today's recipe is a fave of mine: Apple Tarte Tatin! Now, this ain't your mama's tarte tatin. Made with Baileys Limited Edition Apple Pie, this tarte is unique, warm, decadent and oh-so tasty!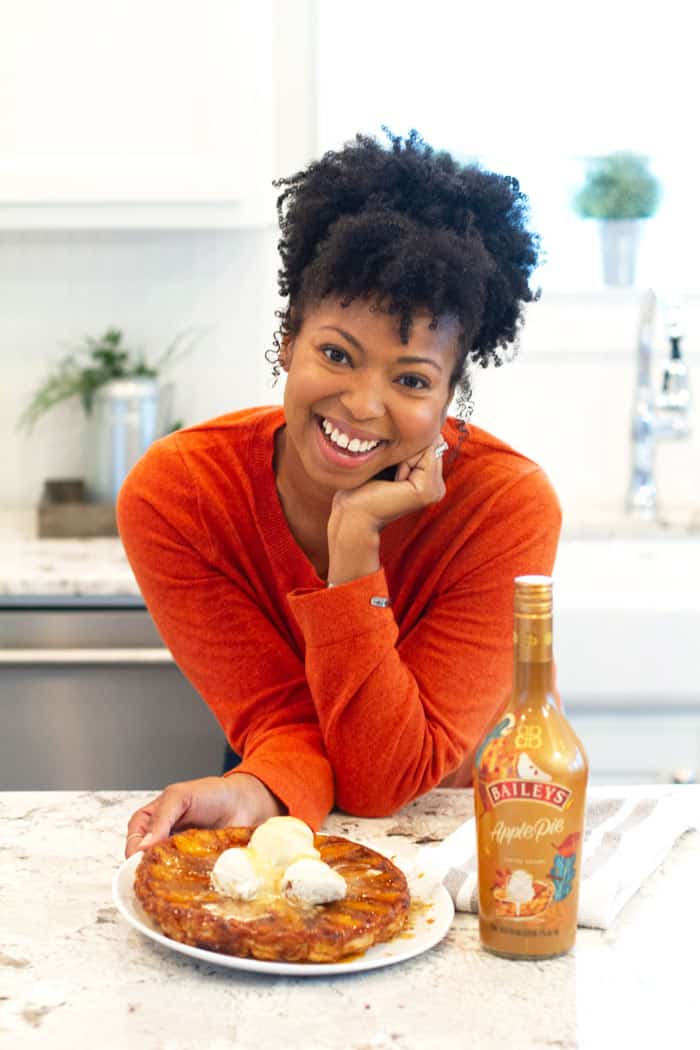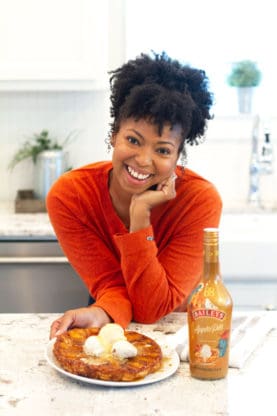 WHAT IS A TARTE TATIN?
The Tarte Tatin, named after the Tatin sisters who invented it, is basically French apple pie y'all! It is a pastry in which the fruit (usually apples) is caramelized in butter and sugar before the tart is baked. In the 1880's, the hotel Tatin opened its doors in the South of Paris. Run by two sisters, Stephanie and Caroline Tatin, the hotel attracted aristocrats and commoners alike.
Stephanie Tatin, who did most of the cooking, was overworked one day. She started to make a traditional apple pie but left the apples cooking in butter and sugar for too long. Smelling the burning, she attempted to save the dish by putting the pastry base on top of the apples and quickly baking the dish in the oven.
After turning the dish upside down, Stephanie was shocked by much she (and her hotel guests) enjoyed the dessert. Soon enough, the tart became the hotel's signature dish and, soon after that, folks began creating variations of their very own!
Who knew your baking mistakes could turn into a masterpiece like this?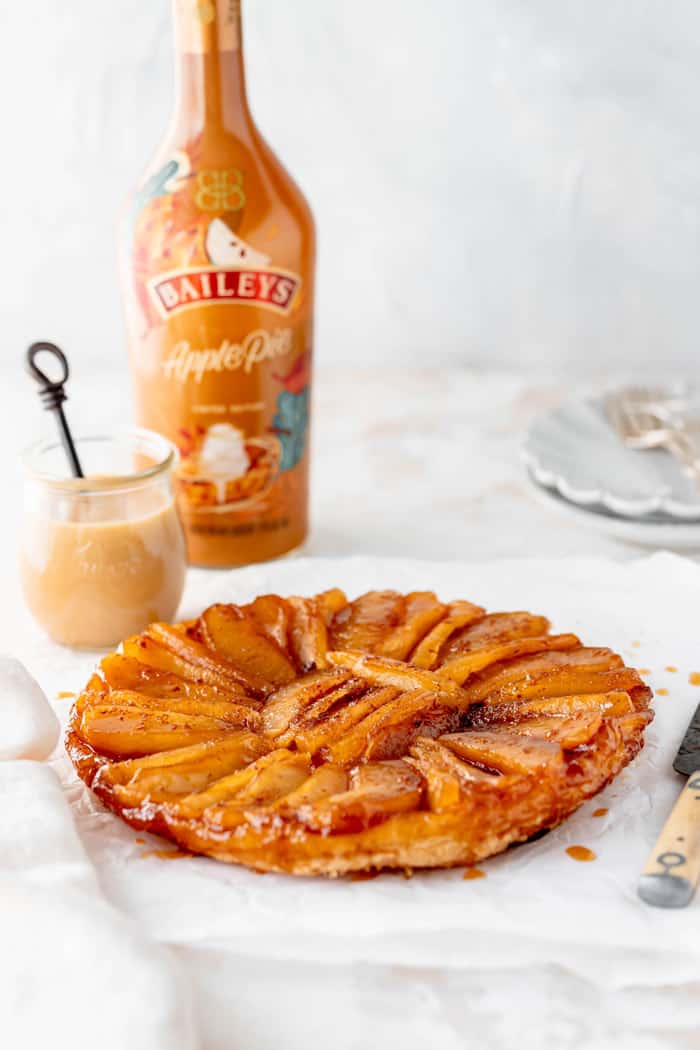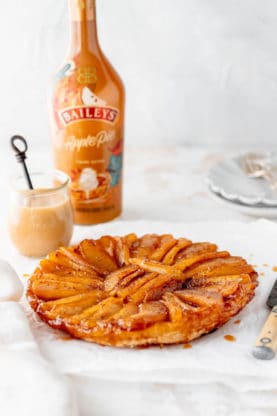 BAKING WITH BAILEYS APPLE PIE
Baileys Apple Pie is the brand-new, limited-edition, seasonal offering that gives you more reasons to enjoy your favorite treat anytime you want to! Baileys' latest release is an relentlessly indulgent liqueur that blends together the classic flavors of apple pie and creamy vanilla ice cream. With hints of cinnamon and spice, each delectable sip is a unique, flavorful experience.
Whether served neat, over ice, mixed with coffee or baked into an Apple Tarte Tatin, Baileys Apple Pie is an incredible way to celebrate the Fall season!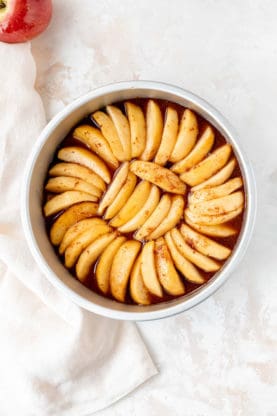 WHAT KIND OF APPLES SHOULD I USE?
Plain old Honeycrisp apples are perfect for making a Tarte Tatin! They hold up well during the caramelization and baking process, and their tartness translates into very pure apple flavor that contrasts the rich caramel.
That being said, you should feel free to experiment with other apple varieties. Just be sure to use apples that hold up well during baking! Cutting the apples in quarters also helps them to hold their shape without turning into apple sauce.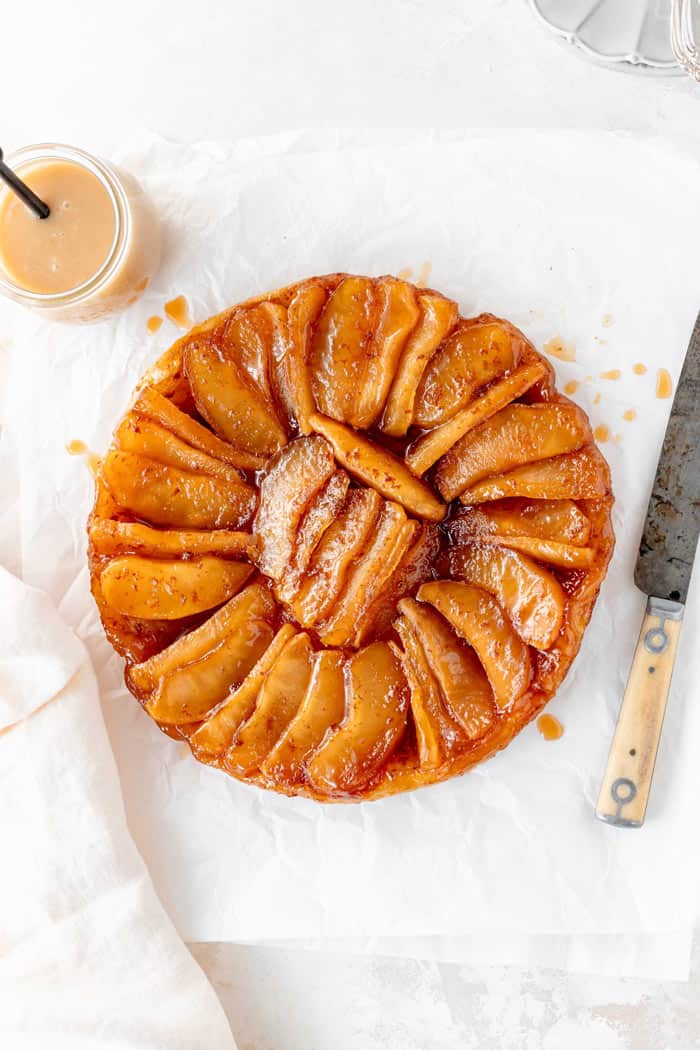 HOW TO MAKE APPLE TARTE TATIN
What I love most about this recipe is its simplicity. All the benefits of a crisp, delicious apple pie without the tricky technical parts! In under 10 ingredients, you can have a buttery, apple-filled dessert that is sure to please this holiday season.
Here's how we get it done:
Honeycrisp Apples– a balanced content of sugar and acid gives Honeycrisp apples a pleasant sweet-tart flavor that varies in strength depending on the ripeness of the apple. I find that, when cooked, honeycrisp apples hold their shape well while also soaking in a crazy amount of flavor.
Lemon– citrus helps to prevent the oxidation, meaning that it stops the slices from turning brown by providing a barrier between the apple's flesh and air.
Unsalted Butter– this is a simple recipe so be sure to use high-quality ingredients. Rich, creamy butter is a MUST.
Baileys Apple Pie– Baileys' latest and greatest is smooth and packed with cinnamon-spiced flavor. By incorporating it in both the apples and the cream sauce, we layer decadence and warmth into every part of this dessert.
Puff Pastry– if you've ever made puff pastry from scratch, you know it is NOT EASY. Using store-bought is the way to go. Cutting time, saving money and lots of stress? Sounds like a win to me. I personally go with puff pastry that is made with just butter. The flavor is unmatched.
Salt– Salt balances sugar. Always use kosher unless directed otherwise!
Granulated Sugar– sugar will coat the apples, break them down and create that signature sweet, plump apple filling.
Vanilla– floral, aromatic and woodsy, vanilla is what brings together that classic apple pie flavor.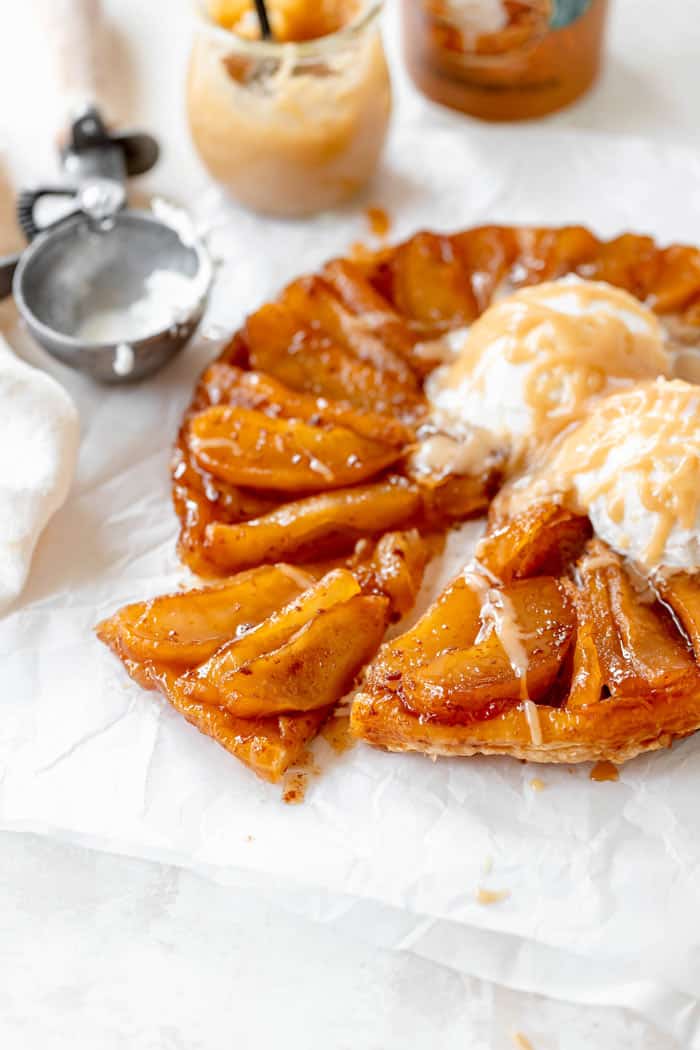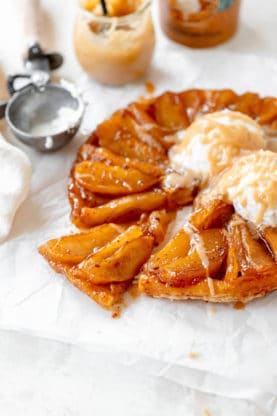 HOW TO FLIP A TARTE TATIN
Don't be intimidated by the flip! Honestly, it's the least stressful part of making tarte tatin! To release the tarte, run a knife around the edge of the crust and then get a firm grip on the pan or skillet before flipping.
The tarte is still hot at this point, so it's easy to nudge any apples back into place that fall out of line or stick to the pan. The best part? A Tarte Tatin will taste amazing no matter what happens during that flip.
SERVING A TARTE TATIN
A Tarte Tatin is best served warm, straight out of the oven! For a truly indulgent experience, top the tarte with hefty scoops of cool, creamy vanilla ice cream. Trust me, there's no other way to eat a slice of this caramelly, spiced heaven!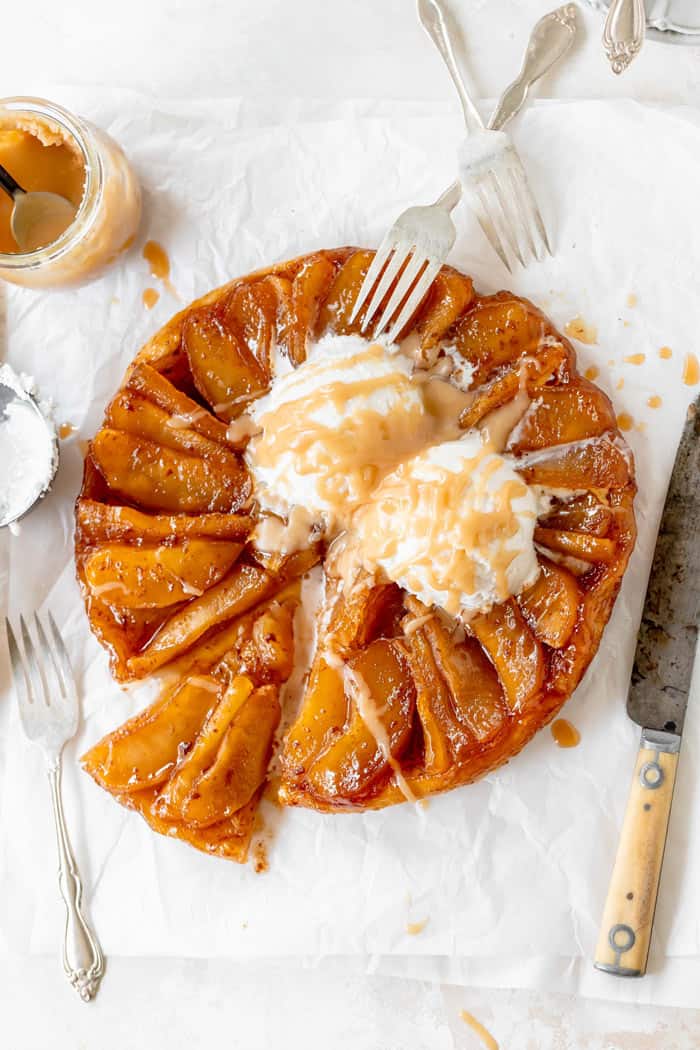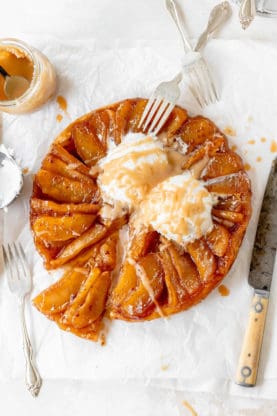 SALTED CARAMEL APPLE TARTE TATIN
Looking to add an extra bite? I like to change up this recipe by layering a rich, salty component. Add an extra half teaspoon of salt to the caramel as it cooks, then sprinkle the top of the finished tarte with crunchy sea salt. Voila! You've got something fun, new and super decadent.
LEFTOVER STORAGE
Leftover Tarte Tatin can be stored in an airtight container in the refrigerator for several days. Because it's best served warm, I suggest reheating before serving. Tarte Tatin makes for an excellent next-day breakfast!
GRANDBABY CAKES' BEST APPLE RECIPES
Apples are arguably the best part of Fall! Crunchy, sweet, juicy and even better when baked, apples make for some of the most delicious recipes EVER!
Check out a few of my classic Autumn-inspired dishes: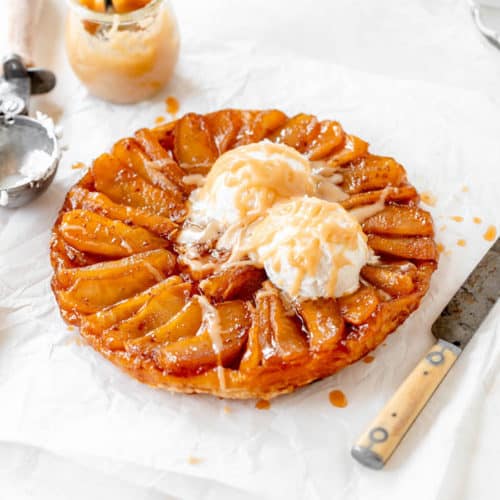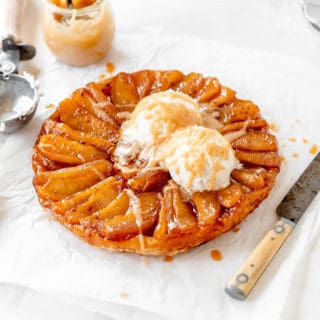 Apple Tarte Tatin
This Classic Apple Tarte Tatin starts with slow-cooked, caramelized apples that are baked into a flaky, buttery puff then topped with a wonderfully spiced Baileys Apple Pie liqueur cream sauce.
Print
Pin
Rate
Ingredients
For the Tartin
3

lbs

Honeycrisp apples

about 6-7 medium sized apples

1

large lemon

1/2

cup

granulated sugar

3

tbsp

unsalted butter

2

tbsp

Baileys Apple Pie

pinch of salt

1

puff pastry sheet

thawed
For the Cream Sauce
4

tbsp

unsalted butter

1/2

cup

Baileys Apple Pie

1/2

cup

granulated sugar

1/4

tsp

vanilla extract

pinch of salt
Instructions
For the Tarte
Preheat your oven to 375 degrees.

Peel, remove cores and quarter apples and add to a large bowl. Sprinkle the juice of the lemon over all of the apple slices and toss them to make sure they are coated. This will help them from turning brown.

In a large nonstick skillet over medium heat, add sugar and cook until nice and smooth and a nice amber color. Make sure to stir constantly. Stir in butter then Baileys and melt together completely then add the apple quarters, ensuring that they are coated with the caramel sauce.

Cook for about 15-20 minutes while continuing to baste the apples and turn them in the caramel. Once caramel has mostly reduced, remove from heat.

While apples cook, work on puff pastry. Using a 9 inch round cake pan, trace and cut a circle out from your sheet of puff pastry a little bigger than the edge of the pan.

Transfer the apple slices to a 9 inch cast iron skillet or 9 inch baking pan that has been LIBERALLY non stick sprayed or greased and place in a decorated design to the bottom of a pan. Pour remaining caramel on top of those apples.

Next carefully place the puff pastry circle on top of the apples and tuck the sides down into the pan. Poke fork holes on top.

Bake for 45-50 minutes or until the pastry is golden brown and no longer soft. It should be pretty firm.

Cool for about 10 minutes, go along the sides and then then invert onto a serving plate.
For the Cream Sauce
Combine the butter, Baileys Apple Pie and sugar in a small saucepan. Bring the mixture to a low simmer and stir until the sugar is dissolved and the mixture is combined. Simmer gently for 10 minutes, stirring often.

Remove from heat, stir in the vanilla. Serve vanilla ice cream over tartin and top with cream sauce.
Notes
Feel free to try other apples if you aren't a fan of honeycrisp apples.
Make sure you are patient when it comes for the flip.  I find that 45 minutes is a good flip time because the caramel has settled.  Just make sure you liberally grease your pan for a clean flip.
Nutrition
Calories:
677
kcal
|
Carbohydrates:
91
g
|
Protein:
5
g
|
Fat:
33
g
|
Saturated Fat:
14
g
|
Cholesterol:
36
mg
|
Sodium:
106
mg
|
Potassium:
292
mg
|
Fiber:
7
g
|
Sugar:
63
g
|
Vitamin A:
536
IU
|
Vitamin C:
20
mg
|
Calcium:
26
mg
|
Iron:
1
mg