These Honey Garlic Jerk Chicken Wings are GLUTEN FREE and air fried to golden-brown goodness, then brushed in a homemade sticky honey garlic glaze! They are perfect for game-day appetizers or as a part of an epic Caribbean-inspired spread!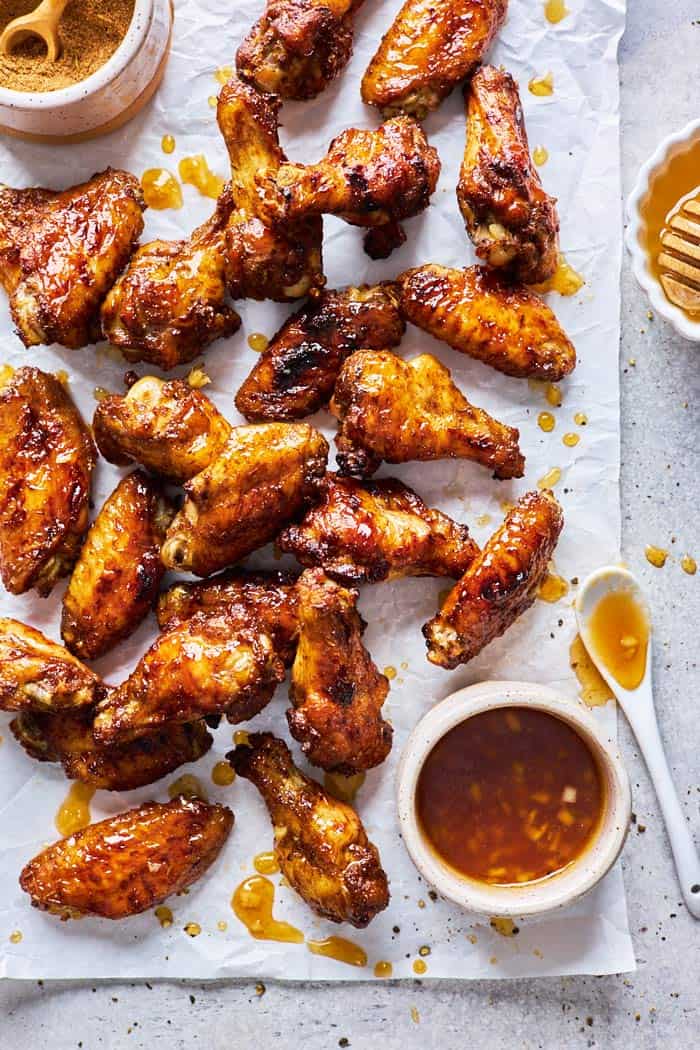 I've shared quite a few chicken wing recipes here on the blog, but none of them are quite like this one! There are a few non-negotiables when it comes to chicken wings; they must be crispy, smothered in sauce, and full of addictively salty-on-the-outside but sweet-and-tender-on-the-inside flavor. And I can guarantee that each one of the recipes I've shared meets those requirements.
But, today's recipe is a beast of its own kind! You wouldn't even believe that these bad boys are air fried. Yup, all that crispy goodness without having to risk a fry oil burn: a dream come true.
These Honey Garlic Chicken Wings are magically air fried to golden-brown perfection, then tossed in a homemade honey garlic glaze. After each bite the sticky, spicy, and sweet sauce sticks to your lips and, instantly, you'll find yourself going back in for more.
Don't just take my word for it though, take a taste!
Perks and Highlights for the Best Honey Garlic Jerk Wings Recipe
Cuisine Inspiration: Caribbean Fusion
Who's ready for a culinary carnival? Inspired by the vibrant flavors of the Caribbean, these wings are a dance party for your taste buds! Think tropical vibes meet savory comfort – a culinary mashup you didn't know you needed until now.
Primary Cooking Method: Baking & Broiling
We're double-dipping in the cooking methods for these bad boys — baked to perfection and then broiled to get that irresistible crispy skin. It's like sunbathing and a quick dip in the pool, but for your wings!
Dietary Info: Gluten-Free, Poultry
For our friends mindful of gluten, you're in luck! No gluten here, just sticky, sweet, and spicy goodness. And yes, it's all chicken, all incredible, all the time.
Key Flavor: Honey-Garlic-Jerk Fusion
Hold onto your hats, folks! The sweet kiss of honey, the robust punch of garlic, and the fiery swagger of jerk seasoning come together to create a flavor tornado that's about to sweep you off your feet!
Skill Level: Easy to Intermediate
No culinary degree? No problem! While a little kitchen confidence is great, this recipe is forgiving enough for beginners, with enough pizzazz for seasoned cooks to enjoy the sizzle.
Special Perks:
Flavor Fiesta: This isn't just food; it's an experience. Each bite comes with a promise of sweet, savory, and spicy in a beautiful, messy harmony.
Crispy Goodness: Thanks to our bake-and-broil technique, each wing is a mini masterpiece of crispy, crunchy delightfulness.
Healthier Option: They're baked, making them a healthier alternative to traditional fried wings. Indulge away, health nuts!
Party Favorite: These wings are the life of the party — perfect for your game days, cookouts, or Tuesday nights when you're feeling fancy.
Customizable Heat: Scared of a little spice? No worries! You control the heat level. Keep it mild or dial it up to full Caribbean carnival — your kitchen, your rules.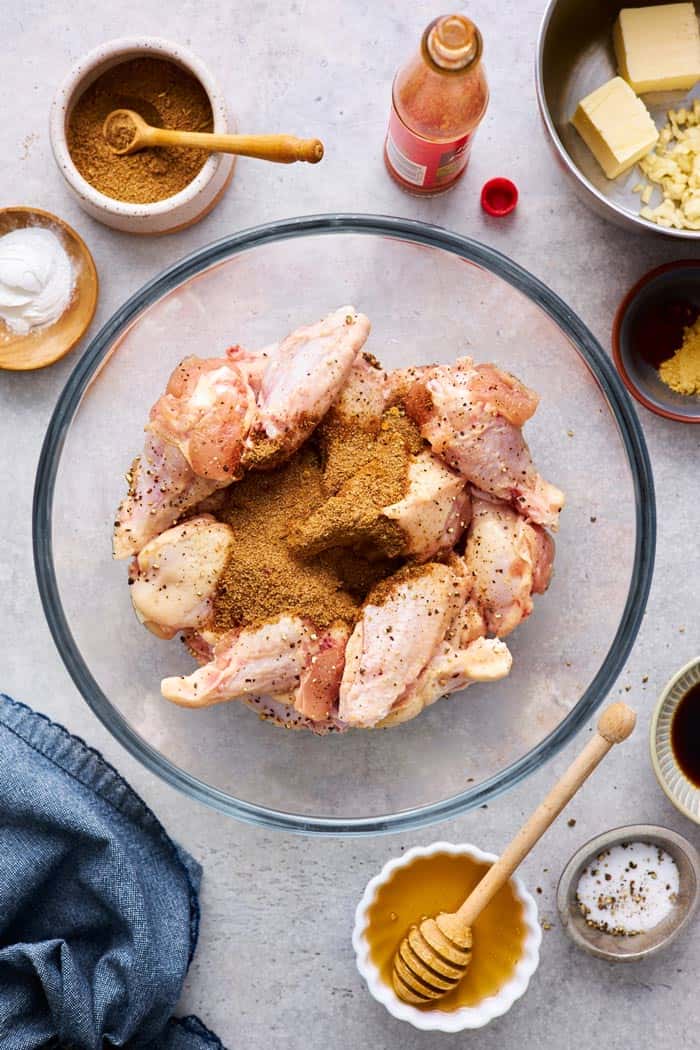 Ingredients
When I develop a recipe, I think less about ingredients and more about the overall experience. I ask myself, "what kind of bite am I looking for today?". Today I could want something smooth and creamy with a little tang. Tomorrow it could be crispy, layered, and sweet.
So, when it came to developing this recipe I knew I wanted something juicy, crispy, salty, and buttery. And y'all, I didn't disappoint!
Here's how the flavors came together:
Chicken Wing Dings make for the perfect bite-sized wings! Wing dings come pieced so you have the bones separated to make it easy to eat. If these are not available to you (or you don't enjoy them), regular chicken wings will work too.
Salt and Pepper is a MUST. If you're worried about over-seasoning, add a little less. You can always season as you go!
Jerk Seasoning is a pantry staple in my home. The essence of Jerk Seasoning is created using a rich, slightly spicy combination of Jamaica's best native herbs and spices. You can use a homemade one like this or play around with ones online like here.
Baking Powder may sound unappealing, but using it to coat chicken wings is what makes for the super crispy skin. I promise you won't taste it in the end result.
Salted Butter is the perfect creamy, salty-sweet base for our sauce.
Garlic adds aroma and bold flavor to anything and everything. If you're feeling bold, grate the garlic for a stronger, more pungent experience.
Honey is just the right texture and taste for these wings; its stickiness helps adhere the sauce to the wing ding, and its sweetness balances out the jerk spice.
Tamari tastes like a mellow, less salty, nuanced soy sauce. I find that even just a dash adds a smooth, earthy feature to the sauce. BUT THIS IS GLUTEN FREE! If you don't have a gluten intolerance, you can use regular soy sauce if you wish.
Hot Sauce is a chicken wing necessity! I like my wing dings SPICY, but you're welcome to omit this if you'd prefer a milder situation.
Ground or Fresh Ginger is a great way to add brightness to this recipe. That zesty, zingy flavor cuts through the sauce and POPS in your mouth.
Smoked Paprika can make all the difference; it's deep red color and sweet-smoky flavor add complexity and warmth.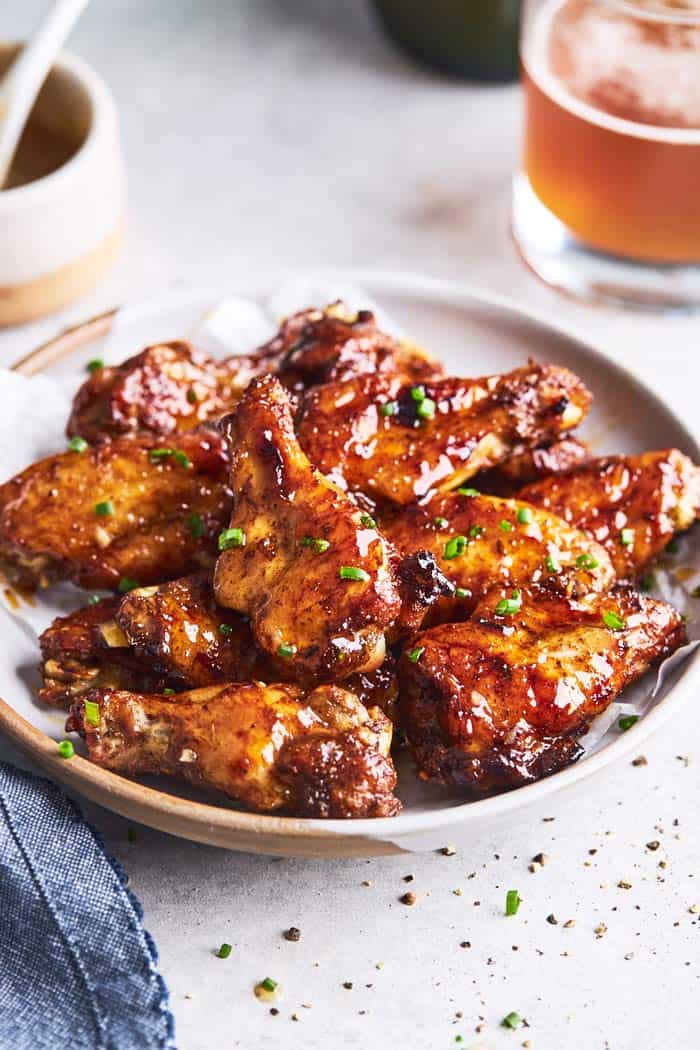 How to Make Honey Garlic Jerk Wings
If you ask me, wings should be easy to make! I don't want to deal with overly complicated marinades and deep fryers. I just want some wings people! So, today's recipe is one that's made in 5 simple steps.
Here's how:
Prepare the Wings-

Before air frying, it's important to season the chicken. As the wings cook, the seasoning will tenderize the meat and create a crispy, flavorful base for our sauce to adhere to.

Air Fry the Chicken-

Air fryers work by generating hot air that is then circulated to cook the food. These little machines can fry food to a golden crispiness while using 70-80% less oil than a deep fryer. When air frying wings, it's imperative that you don't overcrowd the basket, instead work in batches until all the wings are cooked.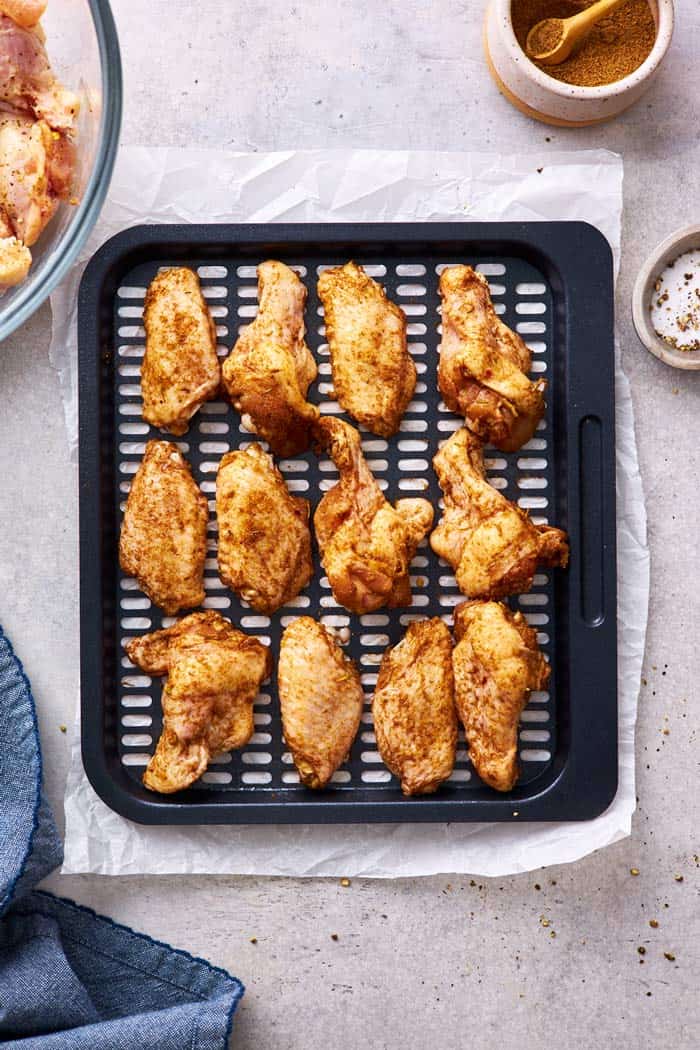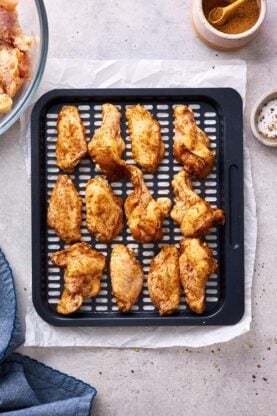 Make the Honey Garlic Sauce-

The shining star of this recipe is the honey garlic sauce! Be sure to cook the sauce at medium heat (anything hotter will burn it) and only cook it for about 5-6 minutes.

Toss in the Sauce-

Once the wings are done cooking, and are completely crispy, move them to a bowl and toss them in the sauce then place back in the air fryer.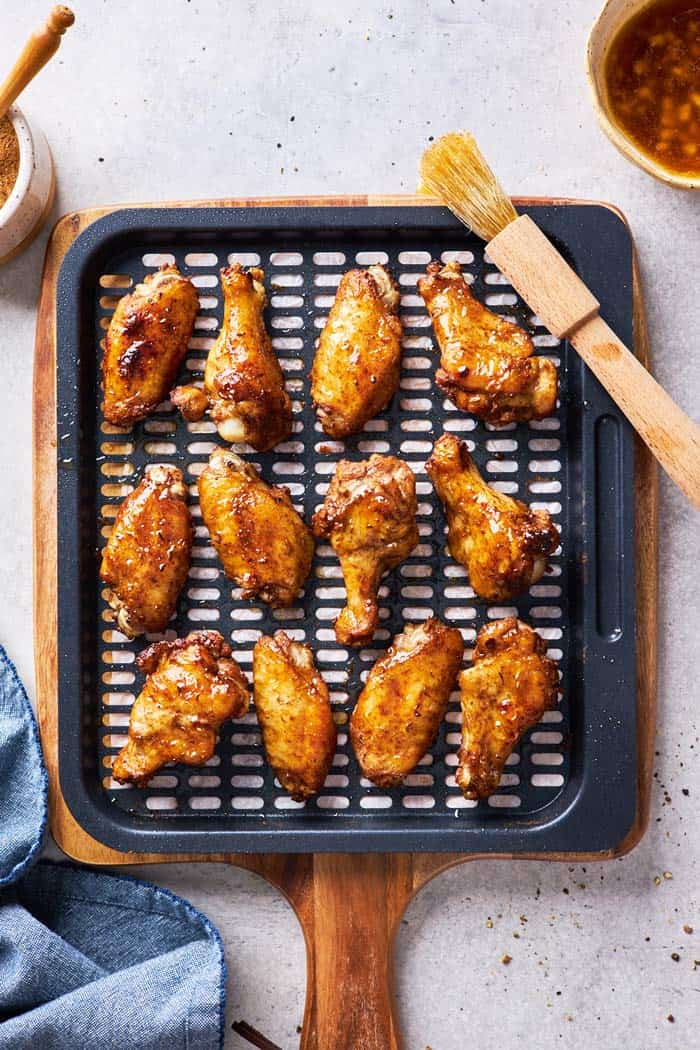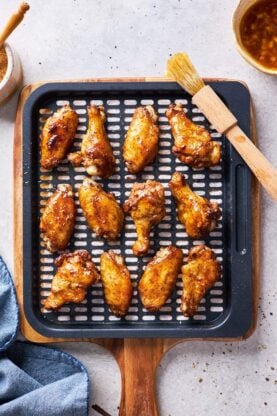 Can I bake instead of air frying?
Yes! Keep in mind, it takes significantly longer to achieve crispy chicken wings in the oven. To bake these chicken wings in a conventional oven, preheat the oven to 400 degrees, and bake until crispy. Flip the wings over after about 15-20 minutes of cooking.
TIP: Elevate the wings by cooking them on a wire rack on top of a parchment paper-lined pan.
What to Serve With?
I could eat about a dozen of these wings and call it a night but, if I'm feeling feisty, I'll whip up an entire Caribbean-style spread! I love serving these Jerk chicken wings with an assortment of bold, hearty side dishes.
Take your tastebuds straight to the islands by dishing out a few of my favorite authentic Jamaican sides: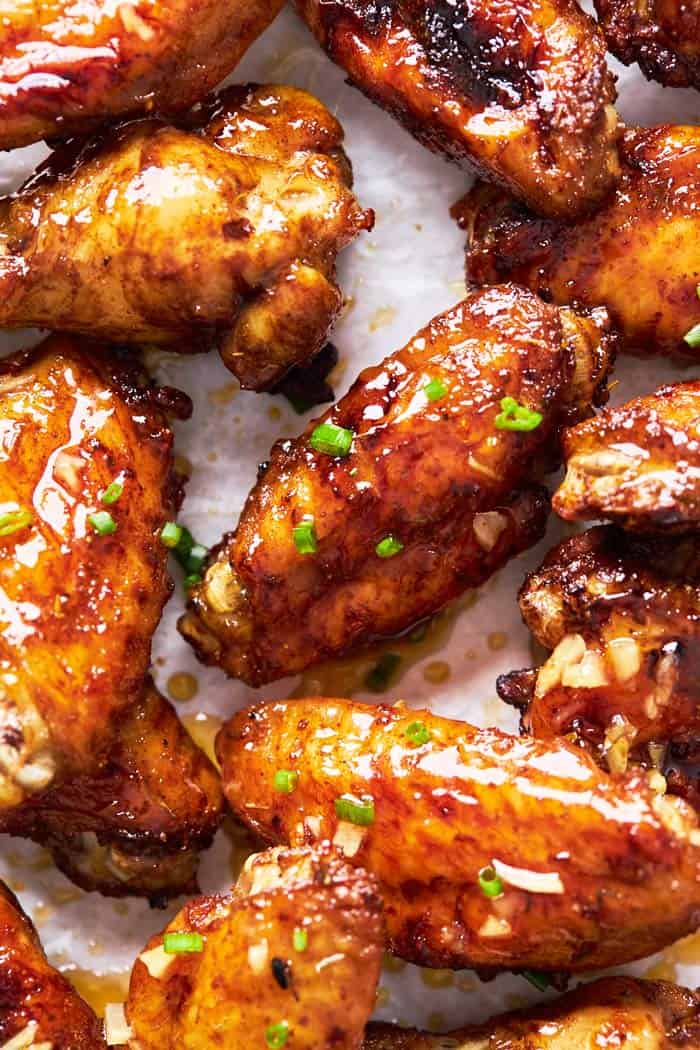 Storing and Reheating
There is comfort in knowing you have jerk chicken wings in the fridge that you can easily whip out and reheat when you don't have the time to prepare anything or when you just feel like eating some!
If stored in an airtight container in the refrigerator, leftover chicken wings will last for up to 4 days. Just be sure to allow the wings to come to room temperature before tucking them away.
To reheat leftover chicken wings, first remove them from the fridge and allow them to come to room temperature (about 10 minutes). Place the wings in the air fryer basket, making sure there is enough space in between each piece so they will evenly reheat. Set the temperature to 400 degrees, reheat for 5-10 minutes, and remove wings from the basket. Allow to cool for 5 minutes, then enjoy!
Alternatively, chicken wings can be reheated in the oven. Preheat the oven to 350 degrees, spread your wings on a baking sheet in a single layer, and reheat for 10-20 minutes.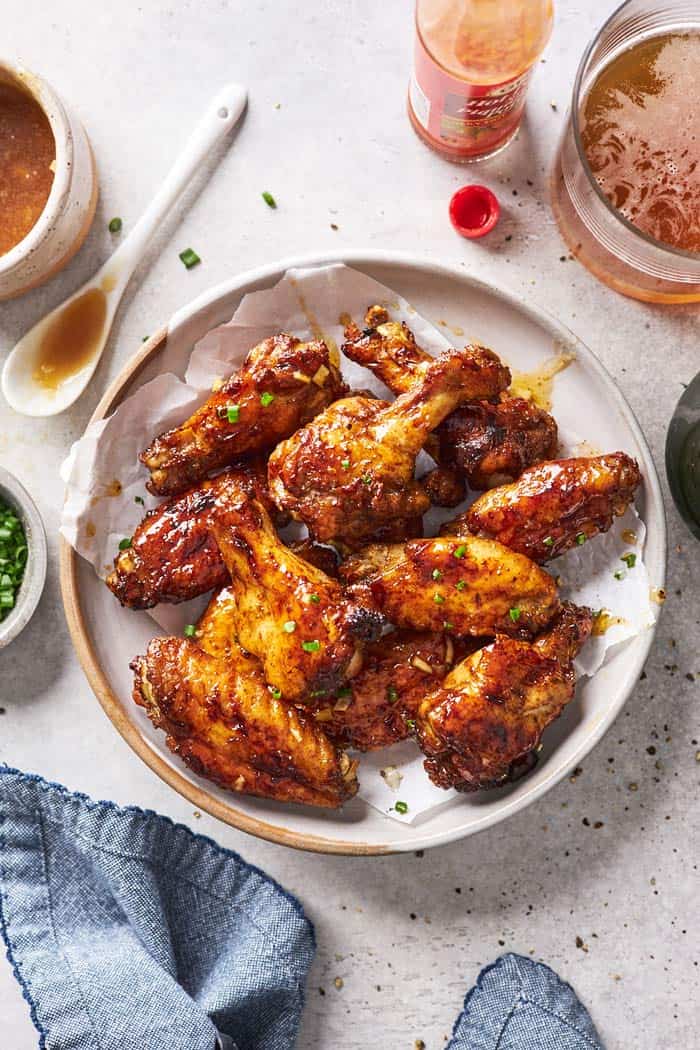 Best Chicken Wing Recipes
Y'all I could eat chicken wings all day every day! Crunchy, crispy, sweet, and salty, wings make for the best shareable snack or meal!
If you feel me on this, give a few more of my tastiest wing recipes a try: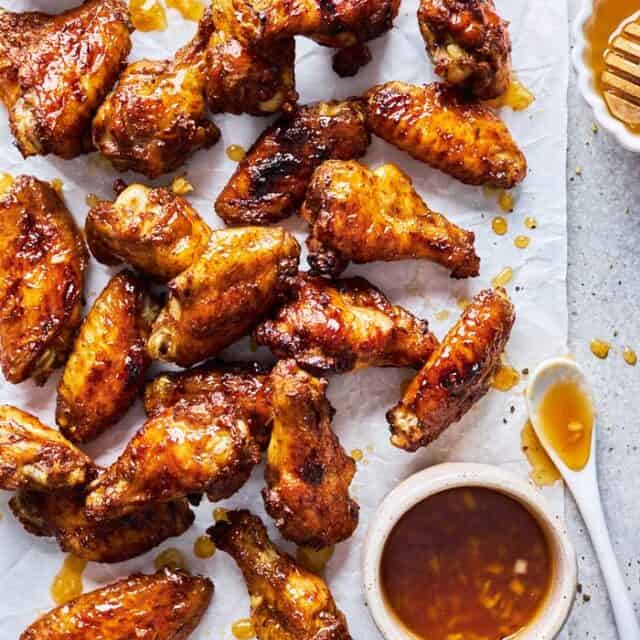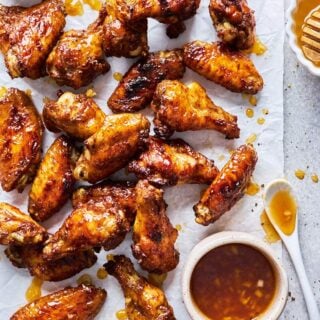 Honey Garlic Jerk Chicken Wings
These Honey Garlic Jerk Chicken Wings are air fried to golden-brown goodness, then brushed in a homemade sticky honey garlic glaze!
Print
Pin
Rate
Equipment
Air Fryer (but you can also use an oven)
Ingredients
2 1/2

lb

party chicken wing dings

they should be disjointed with tips removed

salt and pepper

8

tsp

jerk seasoning

up to 9 tsp but this is really to your taste

2

tsp

baking powder

Cooking spray

2

tbsp

salted butter

5

garlic cloves

minced

1/4

cup

honey

1 1/2

tsp

tamari

1/4

tsp

gluten free hot sauce

1/4

tsp

ground ginger

or fresh grated ginger if desired

1/8

tsp

smoked paprika
Instructions
In a large bowl, pat dry chicken wings with a paper towel then season with salt and pepper then with jerk seasoning and baking powder and toss them in it until well combined.

Set your air fryer temperature to 400 degrees. Spray rack using a cooking oil spray and arrange chicken wings evenly on the rack.  Make sure you don't overcrowd the wings so they can cook evenly.

Allow wings to cook for 15-17 mins making sure to flip halfway.  They should be pretty much done.

As chicken cooks, add butter and minced garlic to a pot over medium heat and cook until butter melts and garlic becomes fragrant. 

Stir in honey, tamari, hot sauce, ginger and paprika and allow to simmer for 3-4 minutes then remove from heat.

Once wings are done cooking and are completely crispy, add wings to the sauce and coat evenly or brush the sauce then add to the air fryer again for 8 minutes then serve.
Video
Notes
CAN I BAKE THESE WINGS INSTEAD OF AIR FRYING?
Yes! Keep in mind, it takes significantly longer to achieve crispy chicken wings in the oven. To bake these chicken wings in a conventional oven, preheat the oven to 400 degrees, and bake until crispy. Flip the wings over halfway through cooking. 
TIP: Elevate the wings by cooking them on a wire rack on top of a parchment paper-lined pan. 
Nutrition
Calories:
239
kcal
|
Carbohydrates:
11
g
|
Protein:
15
g
|
Fat:
15
g
|
Saturated Fat:
5
g
|
Trans Fat:
1
g
|
Cholesterol:
66
mg
|
Sodium:
120
mg
|
Potassium:
281
mg
|
Fiber:
1
g
|
Sugar:
9
g
|
Vitamin A:
809
IU
|
Vitamin C:
1
mg
|
Calcium:
65
mg
|
Iron:
1
mg