The best Crispy Buffalo Wings Recipe online! Crunchy seasoned fried chicken wings take a dip in a classic buffalo sauce becoming the ultimate game day or party food!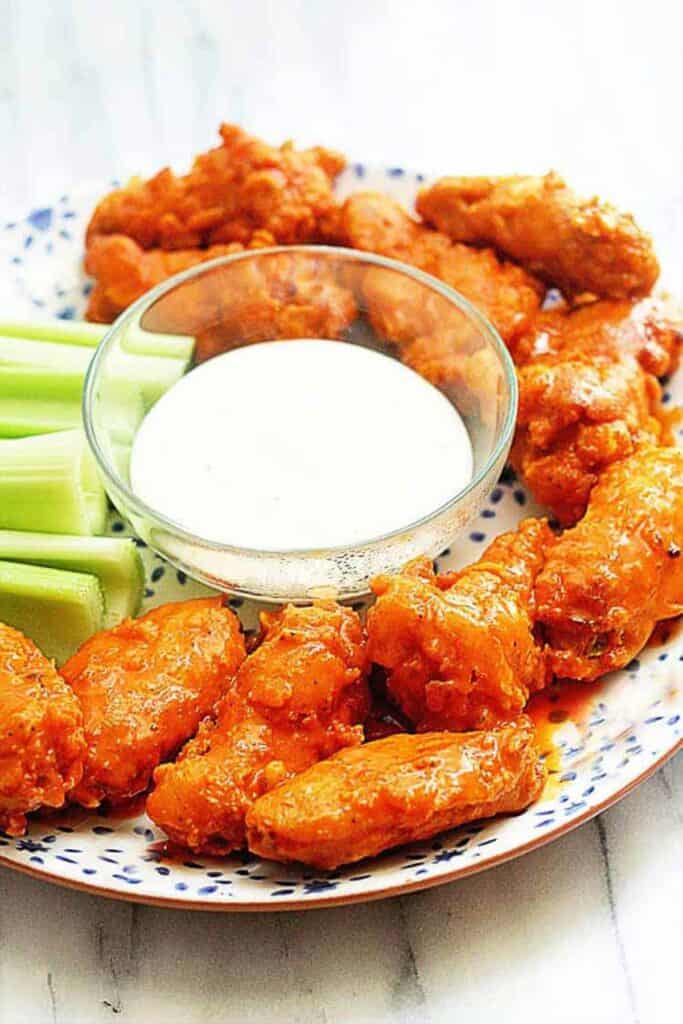 I love buffalo chicken wings but not just any buffalo wings, crispy buffalo chicken wings. The traditional buffalo wings are fried without a batter. They are cool but when you dip real flour battered fried chicken wings in buffalo wing sauce, you get the most incredible crunch and double the flavor.
I, like everyone, have had the Hooters wings. I think I may have gone to Hooters when it first opened back in the day when I was young. The first time I had a battered crispy buffalo wing, I knew I found a life long love. Since the days of my youth, I have ordered just about every crispy buffalo chicken wing in the United States ( a tad bit of an exaggeration but you get the point I'm trying to make). It was definitely time I stopped ordering them and started making them at home.
This recipe starts with fried chicken, a topic I am very well versed in. I've fried quite a bit of chicken on this site (like this and this) so you know you are in good hands. I've toned down my usual highly seasoned flour for a milder variety so the buffalo wing sauce flavor takes the lead. I also let the party wings (or wingettes) sit in buttermilk for a while to add additional flavor (through marination) and the perfect ingredient for crispy creation. Every time you transfer a wing from buttermilk to flour, magic happens. Crispiness becomes real.
Then comes the fun part, the buffalo saucing if you will. Buffalo wing sauce is simply quality hot sauce and melted butter. That's it. A few tosses of these crispy wings in buffalo sauce results in something really special. I can't tell you how many times I plan on making this amazing buffalo wings recipe for football games and get togethers this fall. But I can tell you that if you decide to make them too, you will be very happy indeed.
Crispy Buffalo Wings
The best Crispy Buffalo Wings! Crunchy seasoned fried chicken wings take a dip in a classic buffalo sauce becoming the ultimate game day or party food!
Author:
Jocelyn Delk Adams of Grandbaby Cakes
Ingredients
For The Chicken:
1 pound disjointed chicken wings
2 cups buttermilk
2½ cups all-purpose flour
3 tablespoons plus 2 teaspoons seasoned salt
2 teaspoons paprika
2 teaspoons black pepper
½ teaspoon garlic powder
For the Sauce:
⅔ cup Frank's hot wing sauce
½ cup melted salted butter
Instructions
For the Chicken:
Add chicken wings to buttermilk and let marinate for at least 2-3 hours.
While chicken marinates, add flour, seasoned salt, paprika, black pepper and garlic powder to paper bag and shake well to evenly distribute flavors.
Dip each piece of chicken into seasoned flour thoroughly coating each piece then add piece to baking sheet to rest.
Finish coating all chicken and let sit for 10-15 minutes until coating has set.
While coating sets, add 2½-3 inches of oil to a medium sized deep pot or deep fryer and heat over medium high heat. Also turn on oven to 275 degrees.
This is my test for knowing when the oil is ready: Big Mama always tossed a tiny bit of flour in the oil and if it began to fry and sizzle, the oil was ready.
Fry all pieces until golden brown and place on paper towels to drain for only 1 minute per wing before tossing in sauce.
For the Sauce:
Whisk together hot sauce and melted butter and heat in microwave to make sure it is hot.
Add half of sauce to another large bowl and carefully toss several wings in sauce until completely covered. Add more sauce if you like them really saucy like me then serve immediately.
Celery and ranch or blue cheese is a nice complement.
If not serving immediately, place in the oven to keep warm.