Learn how to deep-fry a turkey to crispy, golden-brown skin and tender, juicy meat perfection! This bird is infused with a flavorful homemade injection and rubbed down in cajun seasoning, resulting in an out-of-this-world holiday experience! Serve with my cranberry sauce, Turkey Gravy or Perfect Gravy and Auntie Rose's Cornbread dressing or with some Turkey Pot Pie, Turkey and Dumplings, Turkey Legs or Baked Turkey Wings or Smothered Turkey Wings for our full holiday faves!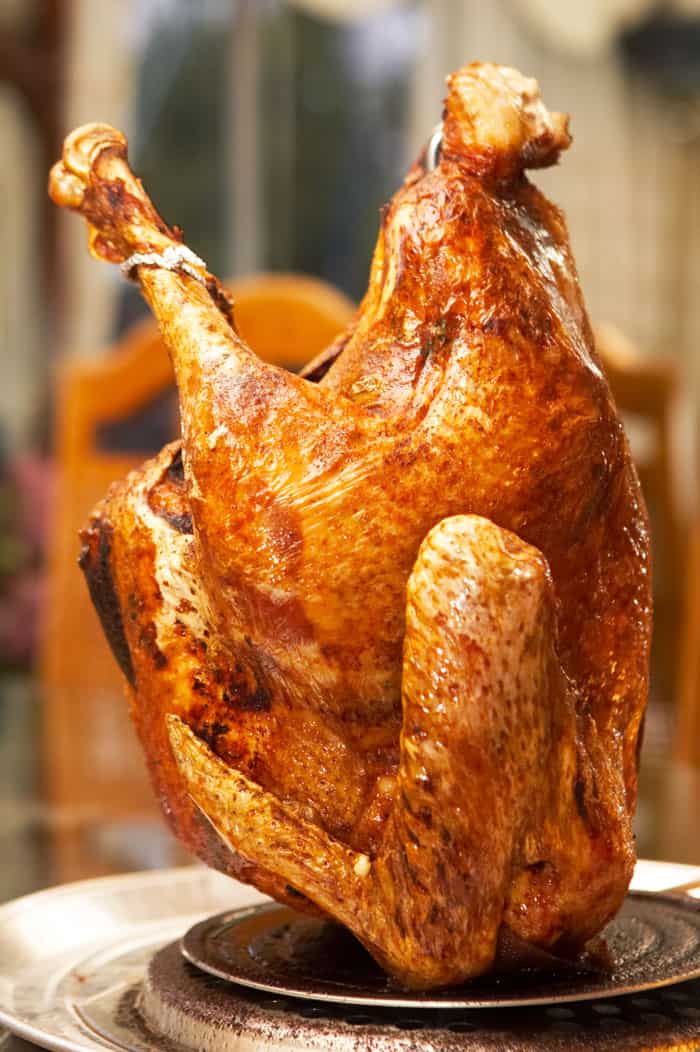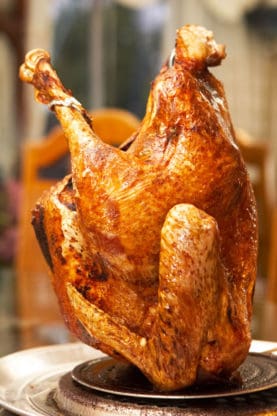 My daddy has been frying our Thanksgiving and Christmas turkey for the last ten years. Once we had the first taste, we never went back. Sure we love a roast turkey as much as anyone else (in fact, we have two different turkeys each year) but there is something so unique and incredibly special about the fried turkey. The skin becomes perfectly crisp and is enhanced with the most sensational cajun spice, but the kicker is the from scratch injection marinade that we make over the stove. The longer you let it penetrate the meat, the better it will be!
Whether you're a fried turkey veteran or a newbie, this recipe is fun, friendly and oh so delicious. Happy Thanksgiving y'all!
Warning: Frying a turkey is an extremely dangerous undertaking. Yes, there are precautions that can be taken to minimize the risk but there's no way to heat up gallons of oil, dunk a turkey in it and be guaranteed that you won't hurt yourself or others. Be sure to follow the safety guidelines provided below.
SAFETY GUIDELINES
As mentioned above, frying a turkey is not something to be taken lightly. To ensure your own safety and the safety of others, it's crucial to not only prepare but to do everything possible to prevent disaster.
Let's kick things off with a few critical points:
Children and pets should be nowhere near a deep-frying setup. There should be absolutely no chance they'll get anywhere close to it.
Before frying, read and follow the manufacturer's instructions and warnings included with your deep fryer. Regardless of what's written in this post, it's more important to adhere to those rules rather than deviate.
I don't recommend the use of indoor fryers, it's a bit too risky for my taste. But, if an indoor setup is your only option, make sure it is indeed an indoor setup. An outdoor setup will not suffice inside and vice versa.
Keep a fire extinguisher on hand! Seriously y'all, you never know.
Wear protective clothing. I highly recommend wearing long sleeves (maybe even layers), protective gloves and close-toed shoes. Oil splatter burns are not fun.
Once in the fryer, do not leave it unattended! If you need relief from cold weather or have to take a bathroom break, find someone to take your place.
Most importantly, DO NOT DRINK AND FRY. I know, it's Thanksgiving and we all deserve to drink and enjoy, but I promise it's not worth the potential ruin.
Okay, now that we've covered the serious stuff, let's talk deep-frying!
WHY DEEP FRY A TURKEY?
Beware: if you've never had a fried turkey, you might never want an oven-roasted one ever again. Fried Turkeys can deliver an incredibly-juicy bird with the crispiest skin possible. Seriously, I'm talking about a potato chip outside with a tender, fall-apart inside!
Though frying a turkey won't save you any time, it is a forgiving cooking method. Should you accidentally overcook your poultry, which I don't recommend, it will still retain most of its juices. If you're unsure as to whether or not this is the method for you, I suggest roasting a back-up bird. You can't go wrong with extra day-after sandwich meat.
HOW BIG OF A TURKEY CAN I FRY?
Most indoor and outdoor fryers boast about being able to handle up to an 18-pound turkey but I wouldn't recommend going THAT hard. Smaller birds cook more evenly, and frying a large one increases the risk of burning the skin before the center cooks through. Large birds can also cause oil-spillover, even if you've properly measured the oil and have it below the maximum fill-line on the pot.
I would suggest staying under a 15-pound turkey in fryers that claim an 18-pound maximum.
SHOULD I FULLY DEFROST MY TURKEY?
YES! Placing a wet or icy turkey in hot oil could land you in the hospital, especially if there are chunks of ice. As a general rule, turkey-thawing time in the fridge requires about 24 hours for every 5 pounds ( in a refrigerator set to about 40 degrees).
Pay extra attention to this: a seemingly full defrosted turkey might still be hiding ice in its cavity, especially between the rib bones. Double, triple and quadruple-check that there is no ice hidden in there, and dry the bird well before putting it in the hot oil.
IS IT WORTH IT TO MAKE A HOMEMADE TURKEY INJECTION?
Absolutely! In fact, I'd even say that it's necessary! Injecting turkey is a method that flavors meat from the inside, tenderizing it while slowly spreading the flavors through the bird. Injection marinades can be used with traditional turkey marinades, turkey rubs, and even turkey brines.
For this recipe, I used my daddy's signature homemade injection. Made with a mixture of carefully chosen spices and liquid flavorings, this injection is beyond anything you've ever tasted before. Salty, sweet, spicy and well-balanced, this simple concoction imparts an astounding amount of flavor in our bird. Trust me, after about 10 years of successful testing, I can confidently guarantee that this injection is IT.
WHAT KIND OF FRYING OIL SHOULD I USE?
Peanut oil is the best oil for deep-frying turkey, as its high flash point makes it less likely to catch on fire. The best oil for fried turkey should be low in saturated fat so that the turkey absorbs the least amount of oil as possible. Vegetable oil is an alternative but I highly recommend sticking to the peanut variety.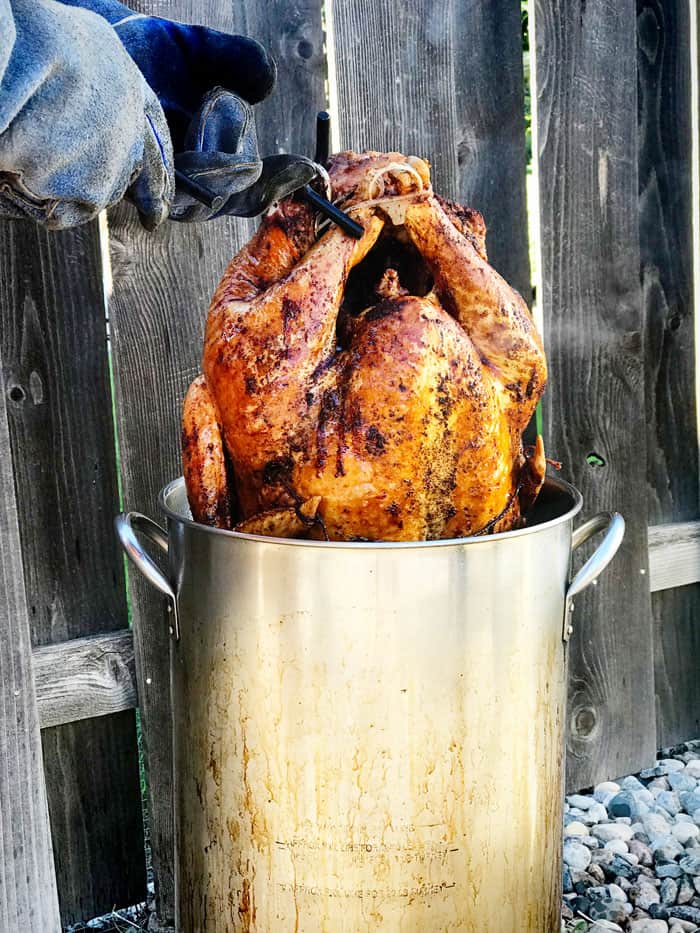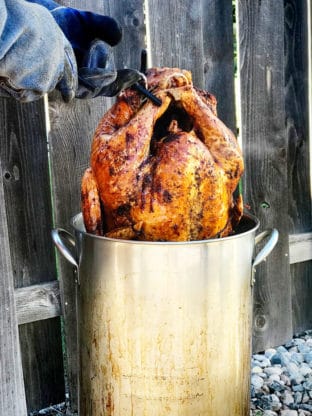 HOW TO FRY A TURKEY OUTSIDE
Alright y'all, here's where things get a bit serious again. Before your turkey gets anywhere near hot oil, you'll need a foolproof frying-rig, which includes a burner and stand, a pot, a thermometer for the oil, and the hanger and lowering mechanism for the bird. You'll also need a propane tank. You should NOT try to jury-rig your own setup.
The biggest mistakes people make when using this cooking method are: setting up the fryer in or near a home or something combustible, overfilling the pot with oil, and dropping the turkey too quickly, causing the hot oil to splash. Not fun.
To ensure a safe outdoor frying experience, follow the guidelines below:
First, determine how much oil you need. To do that, place the turkey in the pot and fill it with water, measuring along the way. Stop when the turkey is covered by about half an inch or so. Remove the turkey and be sure to properly dry it.
Once the turkey is removed, pour the water out of the pot, dry it well, then fill it with the equivalent amount of oil.
Your setup should be in an open area, a safe distance away from anything flammable.
Preheat the oil to 350 degrees (using a thermometer). Once the oil has reached its temperature, securely insert the hanger into the bird.
Very carefully and slowly, lower the turkey into the pot. Ease the bird into the oil and, if it seems to go wrong on the way down, pull it out immediately and try again.
Once the turkey is submerged, it will cook quickly. I'd recommend about 2-3 minutes of cooking per pound of meat.
When you're ready to check the temperature, use the hook to slowly pull out the turkey, allowing for excess oil to drip off as you raise it.
When the internal temperature of the turkey reaches 145 degrees, you're good to go! Let it rest for at least 20 minutes before carving.
Voila! You've successfully fried a turkey! With this accomplishment comes full bragging rights, enjoy them.
HOW TO FRY A TURKEY INSIDE
A lot of people don't know that you can fry a turkey inside! Though I prefer the outdoor method, indoor turkey fryers are a great option for those who don't have the outdoor space or those who live in cold climates. There are plenty of model options for you to choose from, just know that they are a bit more expensive than the outdoor variety.
To use, follow the instructions below:
Pour oil into the fryer and begin to preheat to 350 degrees.
Set the turkey in the fryer basket and, once the oil has preheated, carefully lower it into the hot oil.
Follow the same cooking instructions above.
When the turkey is done, carefully lift it out the fryer and allow it to rest before carving.
I've found that both the indoor and outdoor deep-frying methods produce a similar result. The cooking time is the same as well! So, the choice is really yours!
WHAT SHOULD I SERVE WITH FRIED TURKEY?
A turkey is a turkey! Serve this masterpiece with all your favorite Thanksgiving breads, puddings, mashes and greens. If you're looking to make this a special Southern-inspired meal, cook up a few of my favorite family classics: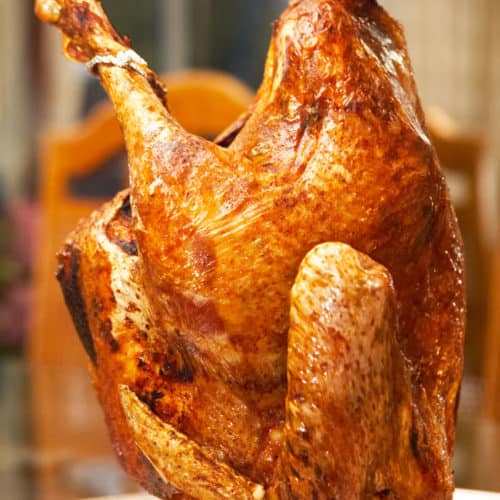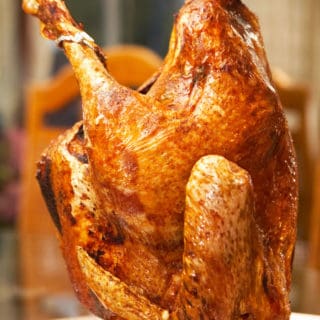 Fried Turkey Injection
Learn how to deep-fry a turkey to crispy, golden-brown skin and tender, juicy meat perfection! This bird is infused with a flavorful homemade injection and rubbed down in cajun seasoning, resulting in an out-of-this-world Thanksgiving experience!
Print
Pin
Rate
Ingredients
For the Injection
1

cup

chicken stock

3/4

cup

salted butter

melted

4

tbsp

light brown sugar

packed

4

tbsp

worcestershire sauce

2

tbsp

apple cider vinegar

2

tbsp

onion powder

2

tbsp

garlic powder

2

tbsp

lemon juice

1

tbsp

concentrated liquid crab boil

1

tbsp

soy sauce

2

tsp

seasoned salt

1

tsp

cajun seasoning

1/4

tsp

cayenne pepper
For the Turkey
1

turkey

10-14 lb, room temperature

3-5

gallons

peanut oil

Cajun spice

for rubbing turkey
Instructions
For the Injection
Add all ingredients to a small pot over medium heat and simmer for 30 minutes until slightly reduced.

Allow injection to come to room temperature and add to a injector.
For the Turkey
Clean the turkey thoroughly inside and out.

Once the turkey is completely thawed out and room temperature, place injection needle all over turkey particularly in meaty areas like breasts and thighs and inject liquid inside of turkey. If some comes out, just rub on the outside. (2-3 injections per thigh and 3-4 per breast should be good but the more the merrier if you want more flavor). Allow marinade to sit up to 24 hours.

Thoroughly sprinkle the turkey with cajun seasoning and rub in.
Notes
Tips for Frying the Turkey
Heat oil in a very large stockpot to 350 degrees. Once heat reaches temperature, insert hanger into turkey. It should be very secure.
Slowly and carefully lower turkey into oil until fully submerged. Fry turkey about 3 minutes per pound but start checking sooner just in case.
Turkey should reach an internal temperature of 145 degrees so when you check with your thermometer it should reach this temp.
Once there, remove and allow to rest for at least 20-25 minutes.
Nutrition
Calories:
362
kcal
|
Carbohydrates:
5
g
|
Protein:
29
g
|
Fat:
25
g
|
Saturated Fat:
8
g
|
Cholesterol:
111
mg
|
Sodium:
540
mg
|
Potassium:
356
mg
|
Fiber:
1
g
|
Sugar:
3
g
|
Vitamin A:
359
IU
|
Vitamin C:
1
mg
|
Calcium:
27
mg
|
Iron:
2
mg