A Southern classic, Italian Cream Cake is filled with shredded coconut, coated in decadent cream cheese frosting, and covered in toasted pecans. This light and fluffy cake is a perfect dessert for birthdays, holidays, or weeknights! If you love this cake, you will also love this Caramel Cake, Devil's Food Cake and Yellow Cake.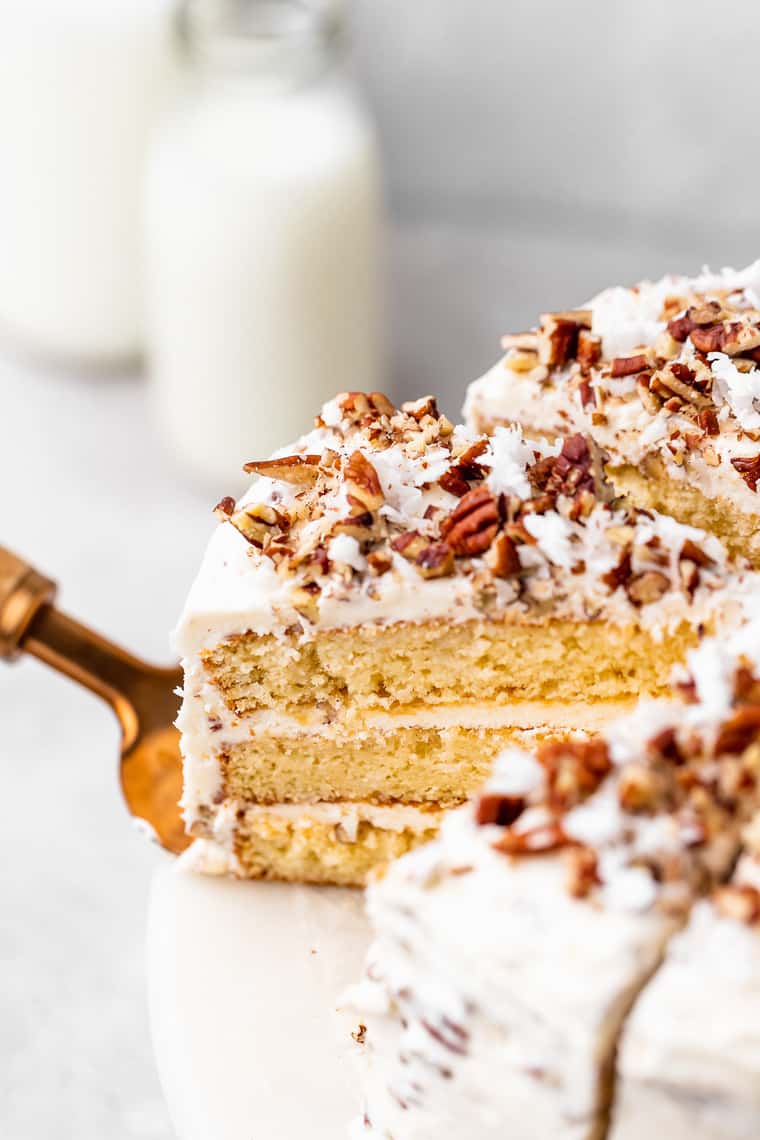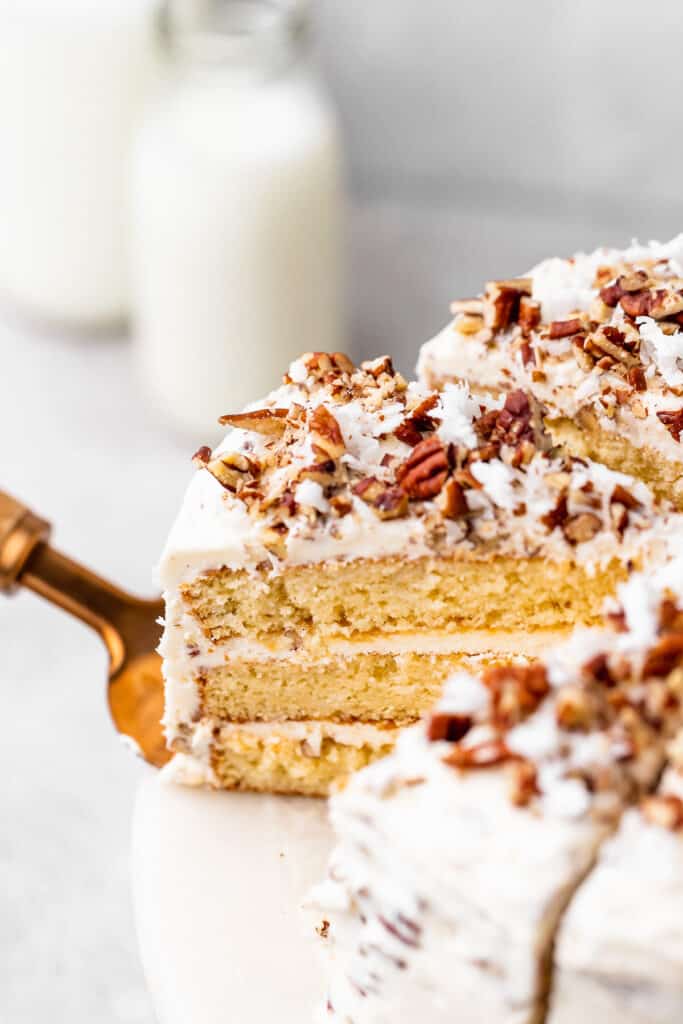 Boy do I have a recipe for y'all today! Through the years, GBC has gotten many recipe requests but none so much as this one.
I'll be honest, I didn't grow up eating Italian Cream Cake! It just wasn't something my family made. I have come across it in my adulthood and I've even made a few of my own but I just haven't perfected my own recipe. And y'all, I don't think I'm gonna need to.
This Italian Cream Cake is absolutely perfect. It's just that simple. Baker Cheryl Day's magical cake is tender, creamy, crunchy, sweet, salty, and just about everything else in between. After a slice of this one, you're gonna be running to get your copy of Cheryl's Treasury of Southern Baking!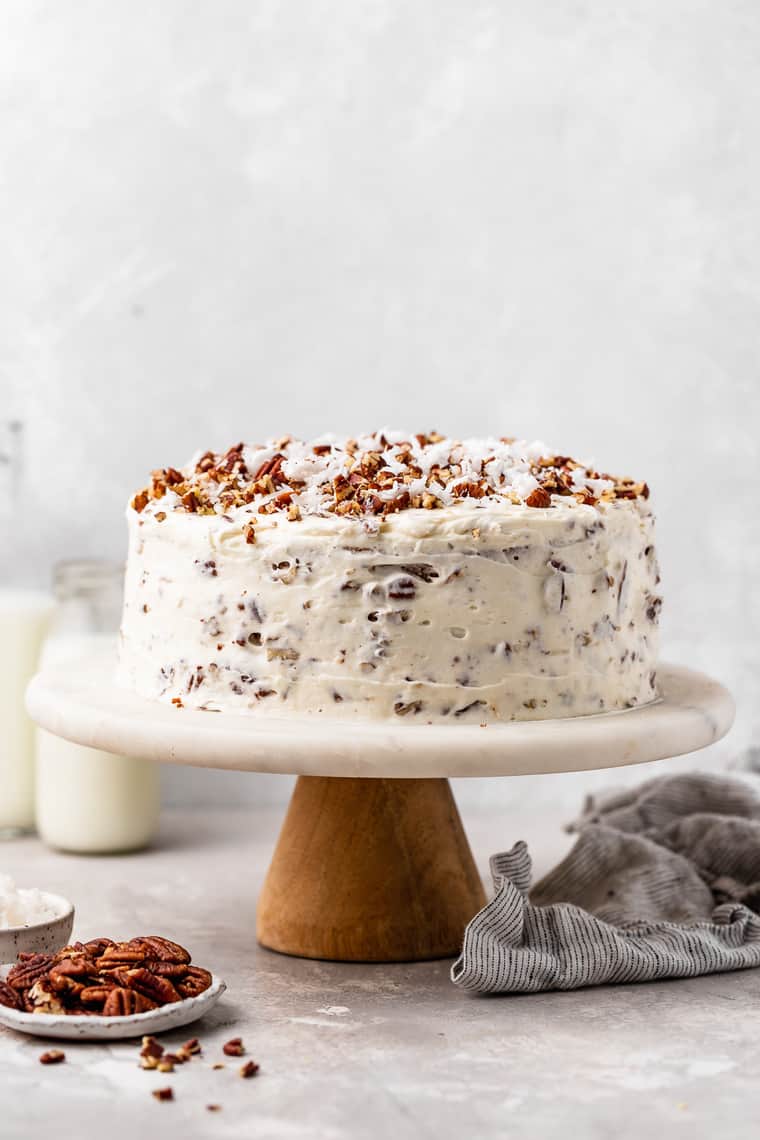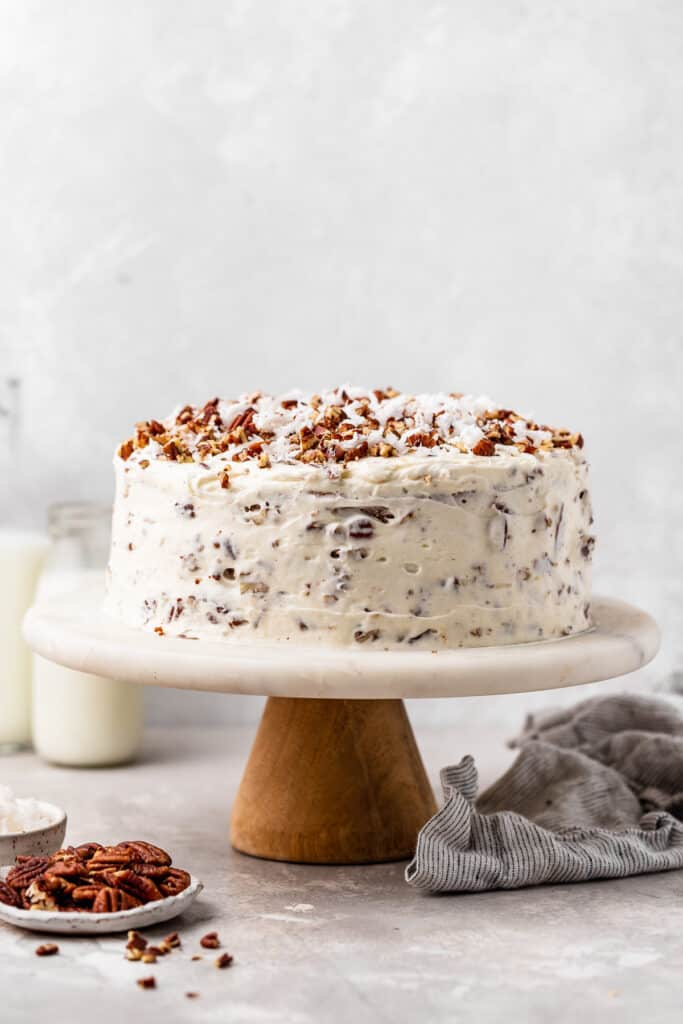 CHERYL DAY'S TREASURY OF SOUTHERN BAKING
Today's recipe is brought to you by none other than New York Times bestselling cookbook author and James Beard Award semifinalist for Outstanding Pastry Chef, Cheryl Day. Over the last 20 years, Cheryl, a self-taught scratch baker and entrepreneur, and her wonderful husband have built a business that has become a go-to eatery in the heart of Savannah, Georgia.
Cheryl's latest endeavor, Treasury of Southern Baking, is as educational as it is extensive, and this descriptive cookbook offers a wide breadth of classic Southern recipes as well as a lesson in love and a celebration of the mosaic of shared memories that make up Southern Black Heritage.
Treasury of Southern Baking has quickly become one of my most treasured cookbooks. It's the book I always wish I had and I'm so happy to share even just a small piece of it with you all!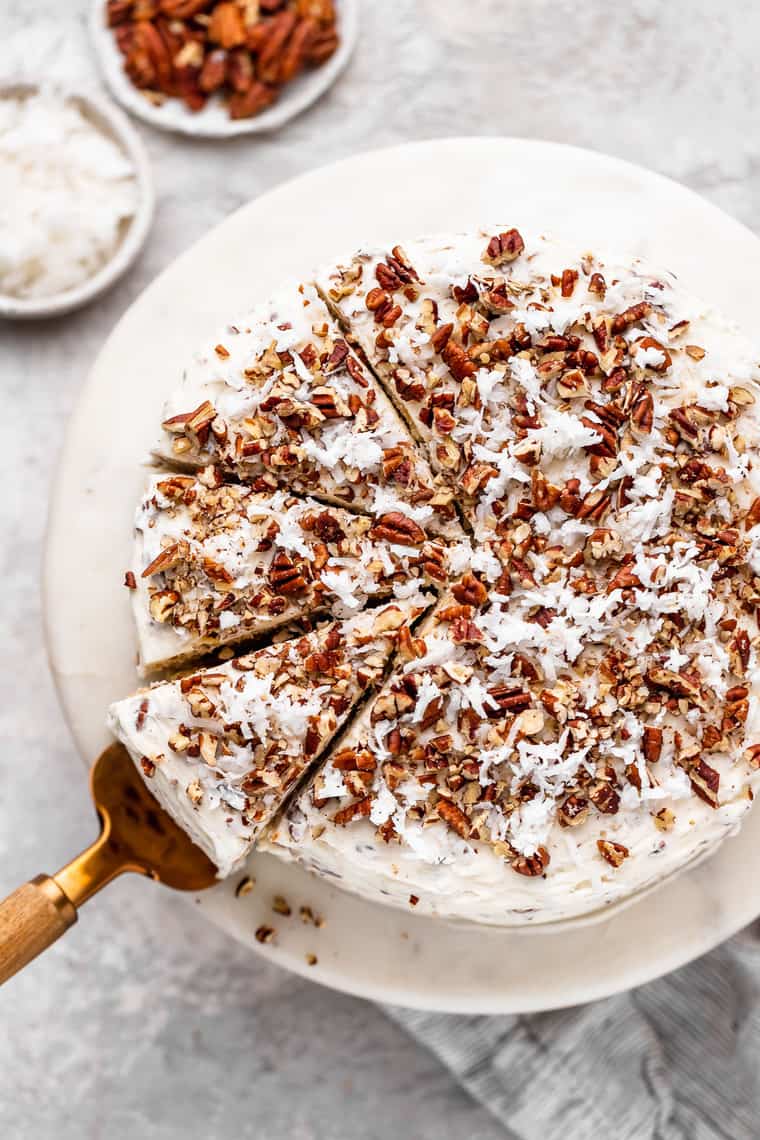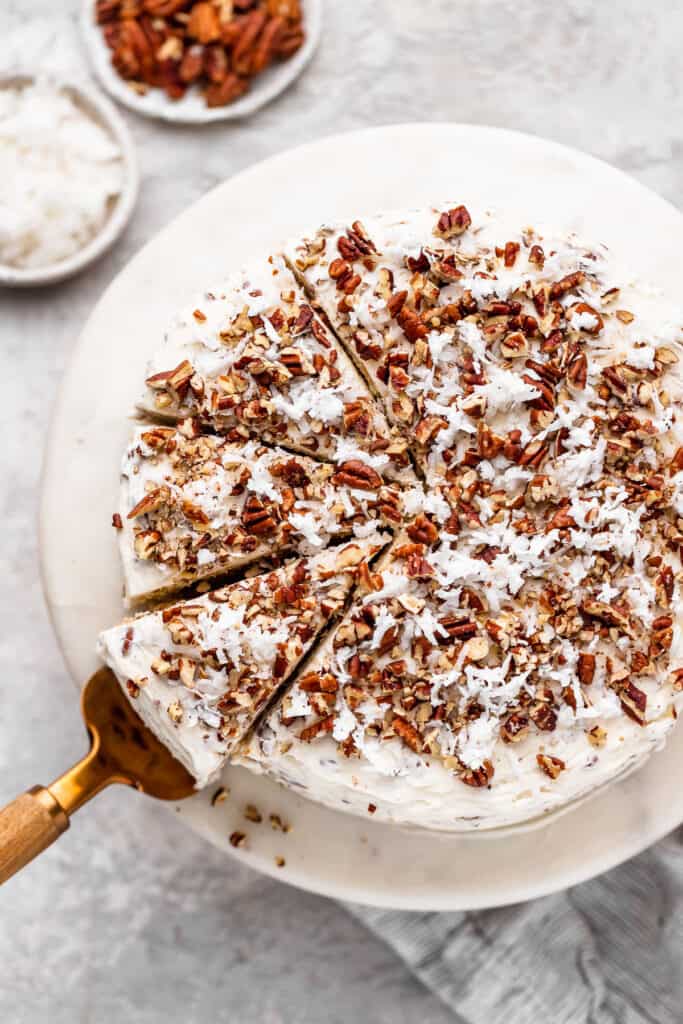 WHAT IS ITALIAN CREAM CAKE?
Confession: an Italian Cream Cake is about as Italian as I am! Though no one knows its exact origin, it's said that an Italian baker working for a wealthy family in the South created the recipe using local ingredients rather than the traditional Italian ones.
True or not, Italian Cream Cake has been a staple Southern recipe for as long as I've been alive and then some. The combination of coconut and pecan is what really makes this cake special, and they join together to forge a sweet-salty, nutty union that cuts through the rich cream cheese frosting. The cake layers themselves are tender, fragrant, and full of warm flavor.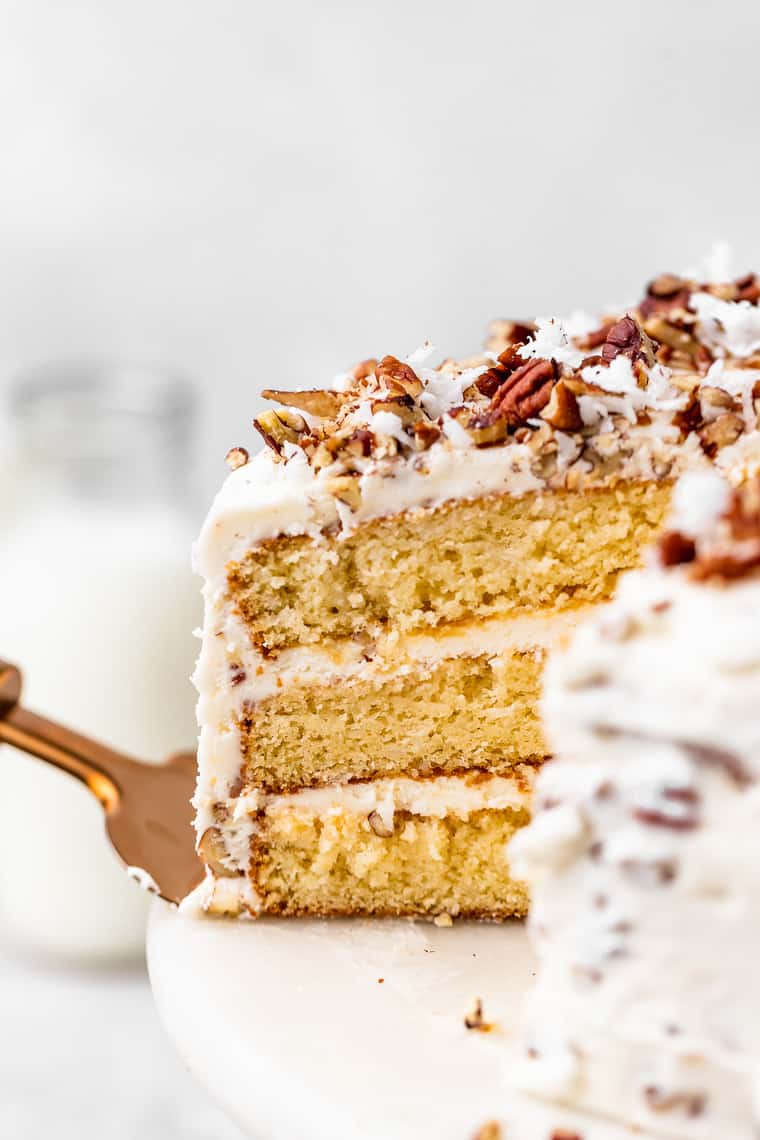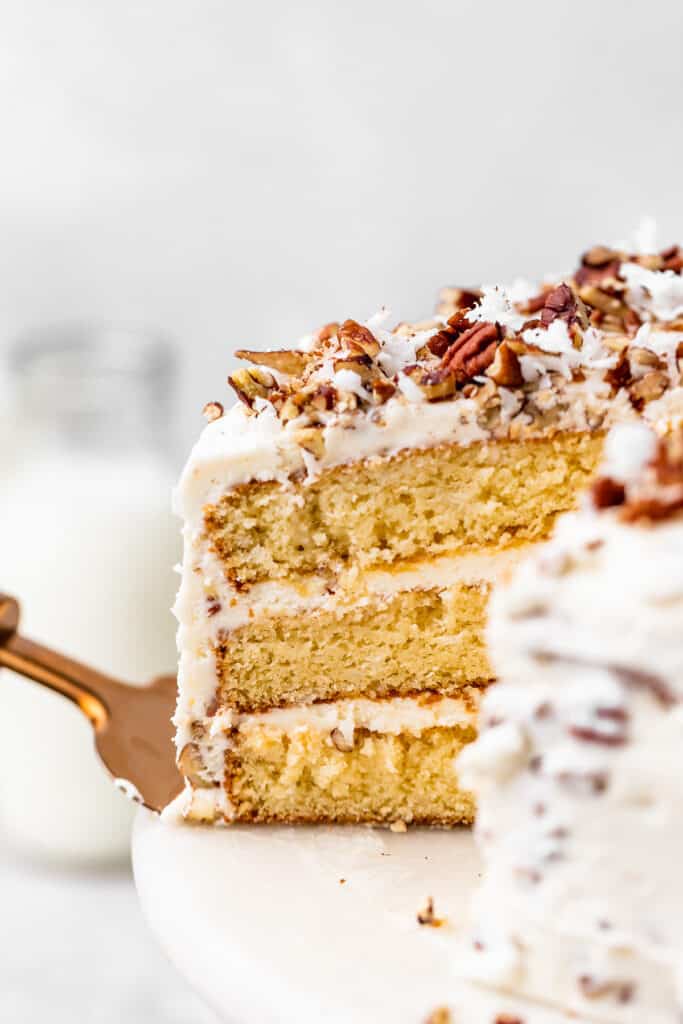 ITALIAN CREAM CAKE INGREDIENTS
The ingredients in this recipe are simple. There aren't very many substitutions you can make without drastically altering its flavor. I'd recommend trying the recipe as is before making any changes!
Here's what you'll need:
ALL PURPOSE FLOUR

BAKING SODA

SEA SALT

BUTTERMILK

VANILLA

UNSALTED BUTTER

COCONUT OIL

GRANULATED SUGAR

EGGS

UNSWEETENED COCONUT FLAKES

LEMON JUICE

COCONUT MILK SOAK

CREAM CHEESE FROSTING

CHOPPED PECANS

HOW TO FROST AN ITALIAN CREAM CAKE
This is a 3-layer cake recipe so that means there's a little bit more of an involved process when it comes to decorating. There are several ways you can frost an Italian Cream Cake and one way is the option pictured in this post.
I invite you to use this as an opportunity to get creative and try out your own method or give one of the choices below a try:
GO ALL THE WAY.

Looking to impress? You're gonna need to put in the work! Start by leveling the cakes to create evenly stacked layers, then apply a crumb coat to guarantee a smooth outcome. Apply an additional layer of frosting around the sides and top of the cake. Use chopped pecans or toasted coconut to decorate the sides for an extra special touch!

NAKED CAKE:

Leave the side of the cake unfrosted, as a "naked" cake. I think this is a super dope and rustic way to frost a cake!

PIPE IT UP:

If you're a pro with the piping bag, or just looking to give it a try, pipe swirls onto the top or around the edges to give it a fancy upgrade!
STORING THE LEFTOVERS
Any leftover cake should be stored in an airtight cake keeper, covered with a large overturned bowl, or sliced and tucked into individual airtight containers. Because of its perishable ingredients, Italian Cream Cake needs to be kept in the refrigerator where it will last for 5-7 days.
Just be sure to bring the cake back up to room temperature before serving!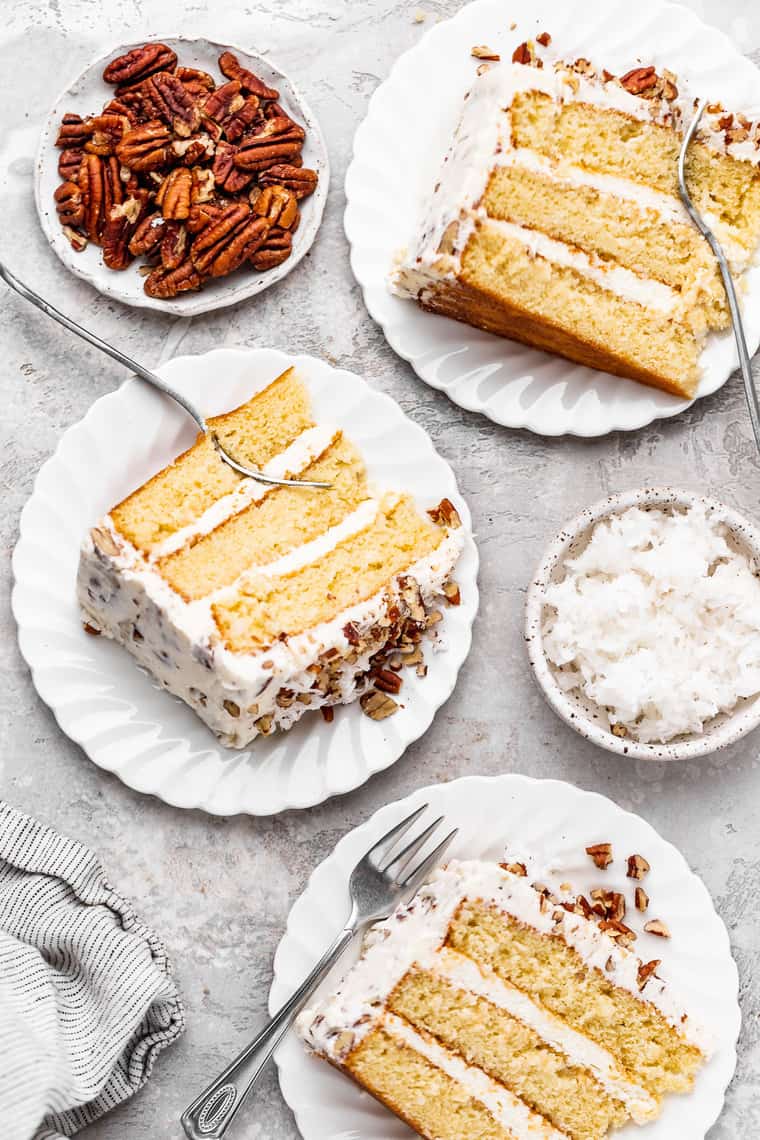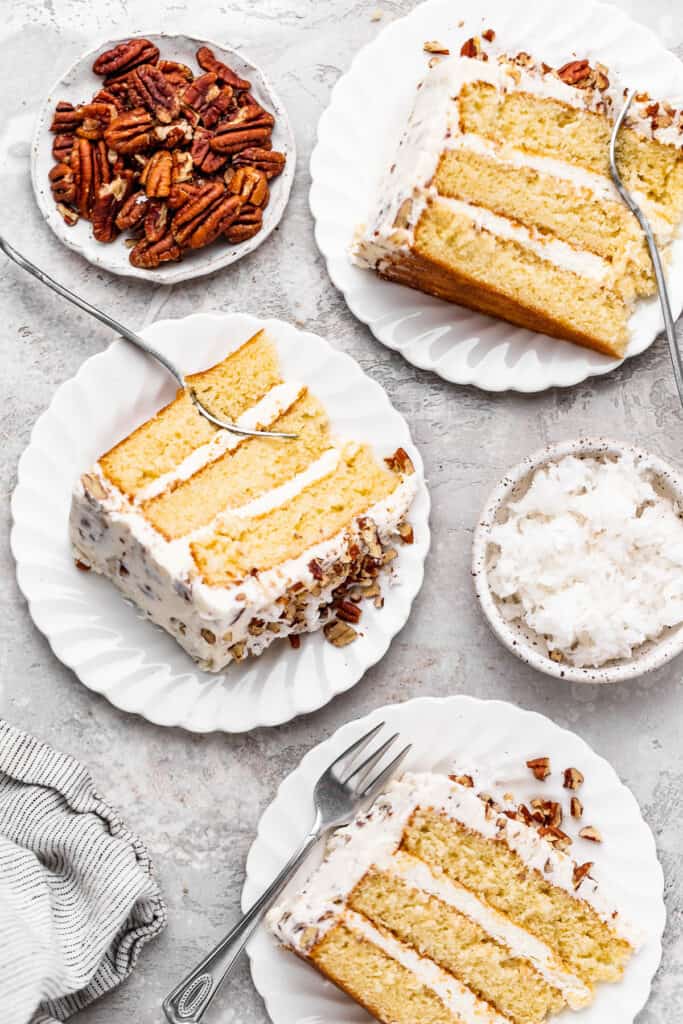 MORE GRANDBABY CAKES FOR SPECIAL OCCASIONS
Decadent cakes are a Southern specialty! Next time you're celebrating a birthday, hitting up the church potluck, or just treating yourself, reach for one of GBC's BEST cake recipes!
Here are a just a few to start: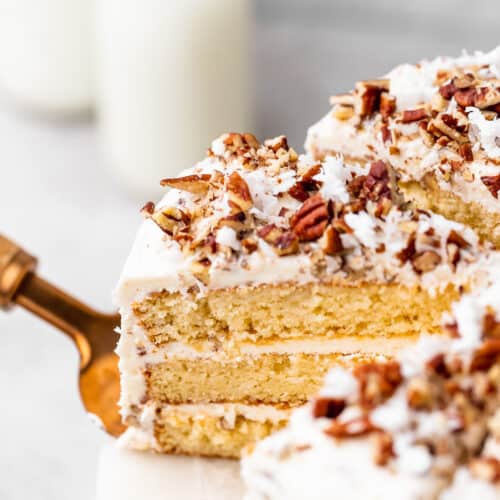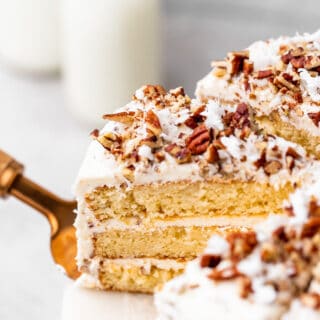 Italian Cream Cake
A Southern classic, Italian Cream Cake is filled with shredded coconut, coated in decadent cream cheese frosting, and covered in toasted pecans. This light and fluffy cake is a perfect dessert for birthdays, holidays, or weeknights! 
Print
Pin
Rate
Ingredients
For the Cake
2

cups

unbleached all-purpose flour

250 grams

1

tsp

baking soda

1/2

tsp

fine sea salt

1

cup

buttermilk

237 ml

1

tbsp

pure vanilla extract

8

tbsp

unsalted butter, at room temperature

1 stick/113 grams

1/2

cup

refined coconut oil

118 ml

2

cups

granulated sugar

400 grams

5

large eggs, separated at room temperature

250 grams

1

cup

unsweetened flaked coconut, plus 1 cup for finishing the cake

80 grams plus 80 grams

a few drops of lemon juice
For the Coconut Milk Soak
1/4

cup

coconut milk

59 ml

1

tsp

vanilla extract
For the Cream Cheese Frosting
10

tbsp

unsalted butter, cut into chunks, at room temperature

1 1/4 sticks/142 grams

16

oz

cream cheese packages, cut into chunks, room temperaure

227 grams

1

tbsp

vanilla extract

1/4

tsp

fine sea salt

5-6

cups

confectioners' sugar

625-750 grams

1 1/2

cups

chopped pecans, toasted

180 grams
Instructions
For the Cake
Position a rack in the middle of the oven and preheat the oven to 350 F (175 C). Butter three 9-by-2 inch (23 by 5 cm) round cake pans, then line the bottoms with parchment and butter it as well. Lightly dust the pans with flour, tapping the pans on the counter to shake out the excess.

Sift together the flour, baking soda, and salt into a medium bowl. Set aside

In a large measuring cup or small bowl, combine the buttermilk and vanilla. Set aside.

In the bowl of a stand mixer fitted with a paddle attachment (or in a large mixing bowl, using a handheld mixer) cream the butter, coconut oil, and sugar together on medium-high speed until light and fluffy, 3 to 5 minutes. Add the egg yolks one (19 g) at a time, beating well after each addition and scraping down the sides and bottom of the bowl with a rubber spatula as necessary. Then continue to beat until light in color and texture, 2 to 3 minutes.

Turn the mixer speed down to low and add the flour mixture in thirds, alternating with the buttermilk mixture and beginning and ending with the flour, mixing until just combined. Gradually add the 1 cup (80 g) coconut. If using a stand mixer, transfer the batter to another large bowl (if you don't have a second mixer bowl).

Wash and dry the mixer bowl and wipe the inside of the bowl (or another large mixing bowl) with the lemon juice to make sure the bowl is squeaky clean. Attach the bowl to the mixer stander (if using) and fit it with a whisk attachment. Put the egg whites in the mixer bowl (or large mixing bowl) and beat (with clean beaters if using a handheld mixer) until stiff peaks form, 3 to 5 minutes.

Scoop up a little of the egg whites with a rubber spatula and gently stir them into the cake batter to lighten it and make it easier to fold in the rest of the egg whites. Then gently fold in the remaining egg whites until thoroughly incorporated, about 1 minute.

Gently scrape the batter into the prepared pans, dividing it evenly. Smooth the tops with a spatula.

Bake for 20 to 25 minutes, until a cake tester inserted in the center of a cake comes out clean and the cake is light golden. Let the cakes cool in the pans on a large wire rack for 20 minutes then invert them onto another rack, peel off the parchment and let cool completely.
For the Coconut Milk Soak
In a measuring cup, combine 1/4 cup coconut milk and vanilla extract. Set aside.
For the Cream Cheese Frosting
In the bowl of a stand mixer fitted with a paddle attachment, beat the butter, cream cheese, vanilla and salt on medium speed until smooth and creamy, about 3 to 5 minutes. Gradually add 5 cups confectioners sugar, beating until thoroughly incorporated. Then continue to beat, adding up to 1 cup more confectioners sugar if needed, until the frosting is light and fluffy, about 4 to 6 minutes.
To Assemble
Level the tops of two of the layers with a serrated knife to make them flat. Place one layer cut side up on a serving plate. Brush the top of the layer with half of the coconut milk soak.

Using an offset spatula or a butter knife, spread the layer with a big dollop of the frosting. Place the second leveled layer on top and brush with the remaining milk soak, then spread with another big dollop of frosting. Place the final cake layer right side up and frost the top and sides with a thin layer of the remaining frosting.

Place the cake in the refrigerator for at least 30 minutes to set the frosting.

To finish, fold 1 cup of the pecans into the remaining cream cheese frosting. Using an offset spatula, frost the top and sides of the cake. Sprinkle the top of the cake with 1 cup coconut and the remaining pecans.
Notes
The frosting can be made ahead and refrigerated in an airtight container for up to 5 days.  Bring to room temp before using.
The cake can be stored, covered, in the refrigerator for up to 5 days. Bring to room temp before serving.
Nutrition
Calories:
817
kcal
|
Carbohydrates:
91
g
|
Protein:
8
g
|
Fat:
49
g
|
Saturated Fat:
28
g
|
Polyunsaturated Fat:
4
g
|
Monounsaturated Fat:
13
g
|
Trans Fat:
1
g
|
Cholesterol:
135
mg
|
Sodium:
354
mg
|
Potassium:
207
mg
|
Fiber:
3
g
|
Sugar:
74
g
|
Vitamin A:
1005
IU
|
Vitamin C:
1
mg
|
Calcium:
79
mg
|
Iron:
2
mg