This Shortbread Cookie Recipe is irresistible! The initial bite is wonderfully crisp followed by a melt in your mouth buttery texture. The light drizzle of chocolate on top adds an added depth of flavor that is unforgettable. If you love buttery cookies like these, check out these Pralines, Southern Tea Cakes, Lemon Tea Cakes, Eggnog Butter Cookies, Snickerdoodles, Ricotta Cookies and Chewy Chocolate Chip Cookies.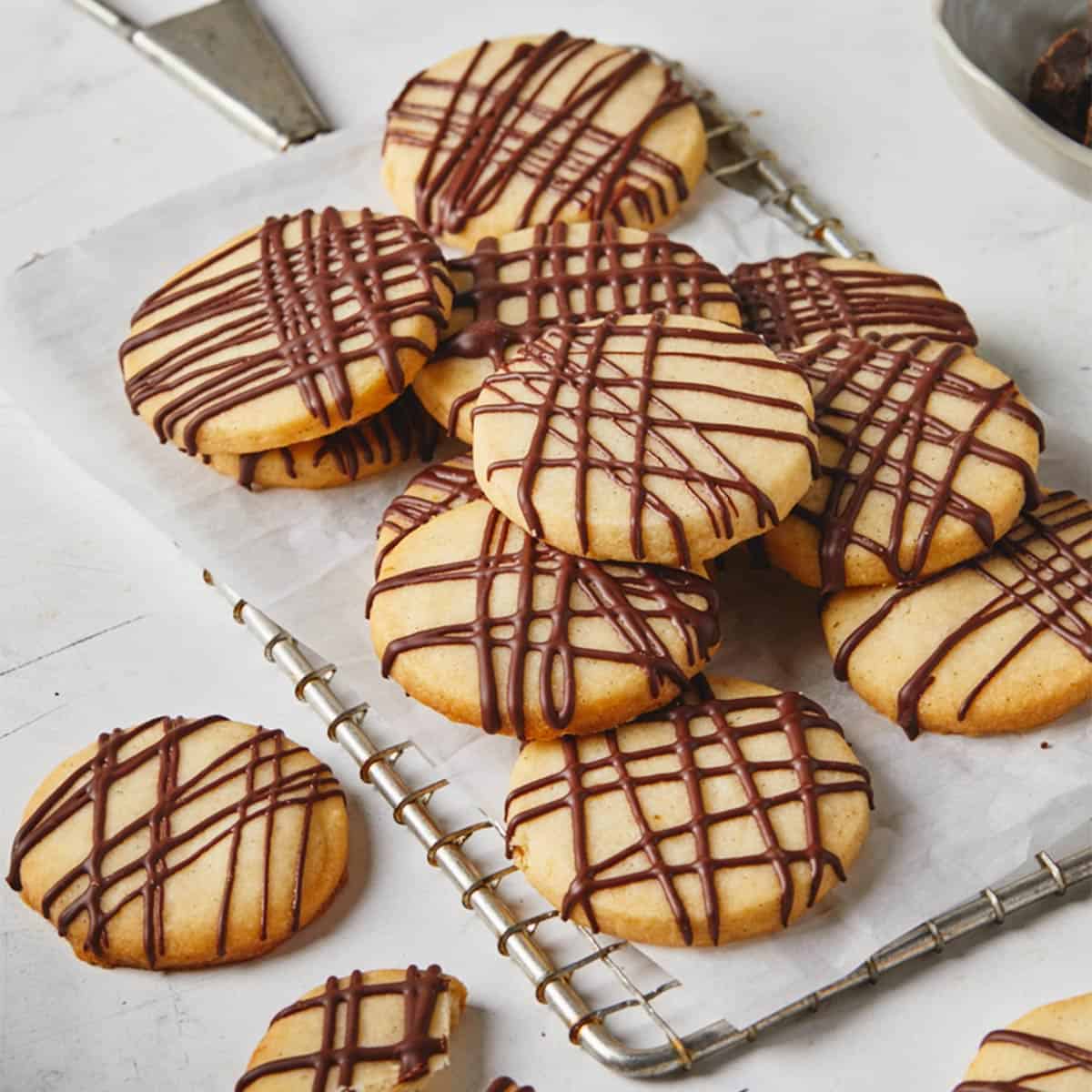 The BEST Shortbread Cookies Online
There seems to be an endless amount of cookie recipes out there. Thumbprint, gingerbread, macaroon or custard cream, the list is both endless and delicious. There are all sorts of stunts out there with cookies, like stuffing dough with Hershey kisses and other odd things. While I love the innovation and variety, I also love the classics. I'm talking snickerdoodles and chocolate chip cookies and Chewy sugar cookies or the cookies that come in those blue tins come Christmas time. Each one offers its own incredible flavor and irresistible nostalgia, especially the classic shortbread cookie.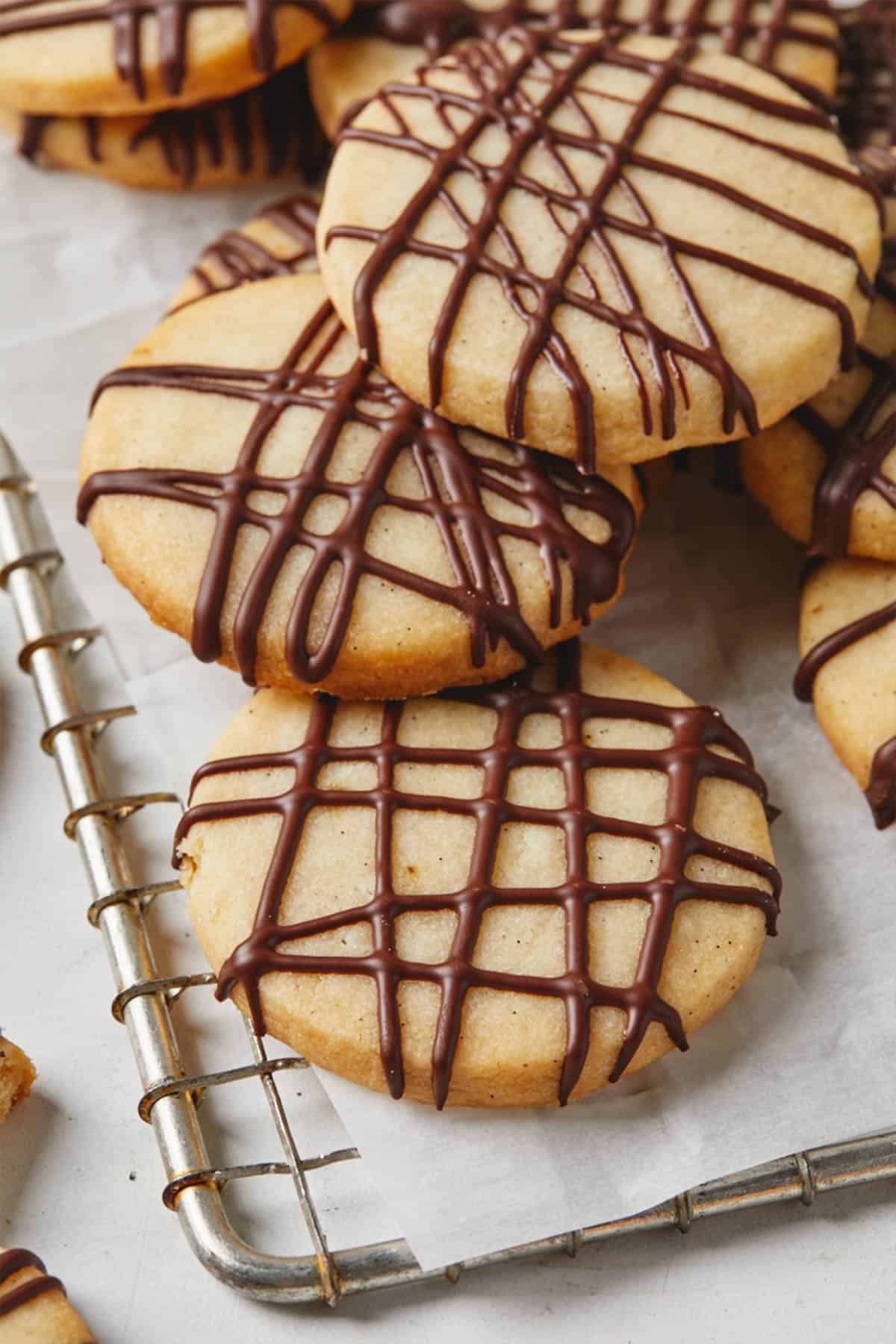 What Are Shortbread Cookies?
Deliciously crisp and buttery in a classic way, shortbread is almost the perfect cookie. Shortbread cookies have a much crisper texture due to the lack of any leavening.
The crunchy bite is its signature. It also has that lovely flakey texture almost like pie crust. And the crumbly taste as it dissolves, it is what we all love right?
They can be decorated or left plain, dunked in coffee or hot chocolate and even stored in tins and given away as a sweet treat. They are incredibly versatile. This shortbread cookie recipe comes from the amazing Sarah Kieffer who I like to think of as a baking queen. Her cookies are absolutely sensational. You may have heard of her pan banging method that swept the internet. Well these are just as wonderful!
What's The Difference Between A Sugar Cookie and A Shortbread Cookie?
Sugar cookies and Shortbread cookies have very similar flavors. In fact, they can even be decorated similarly. However sugar cookies are more tender and softer in texture. That's also because shortbread cookies don't have eggs which change the texture completely.
Sugar cookies also have a bit more sugar and sweeter taste. If you have time to do ever do a side by side taste test, by all means do it, and do it during the holiday season.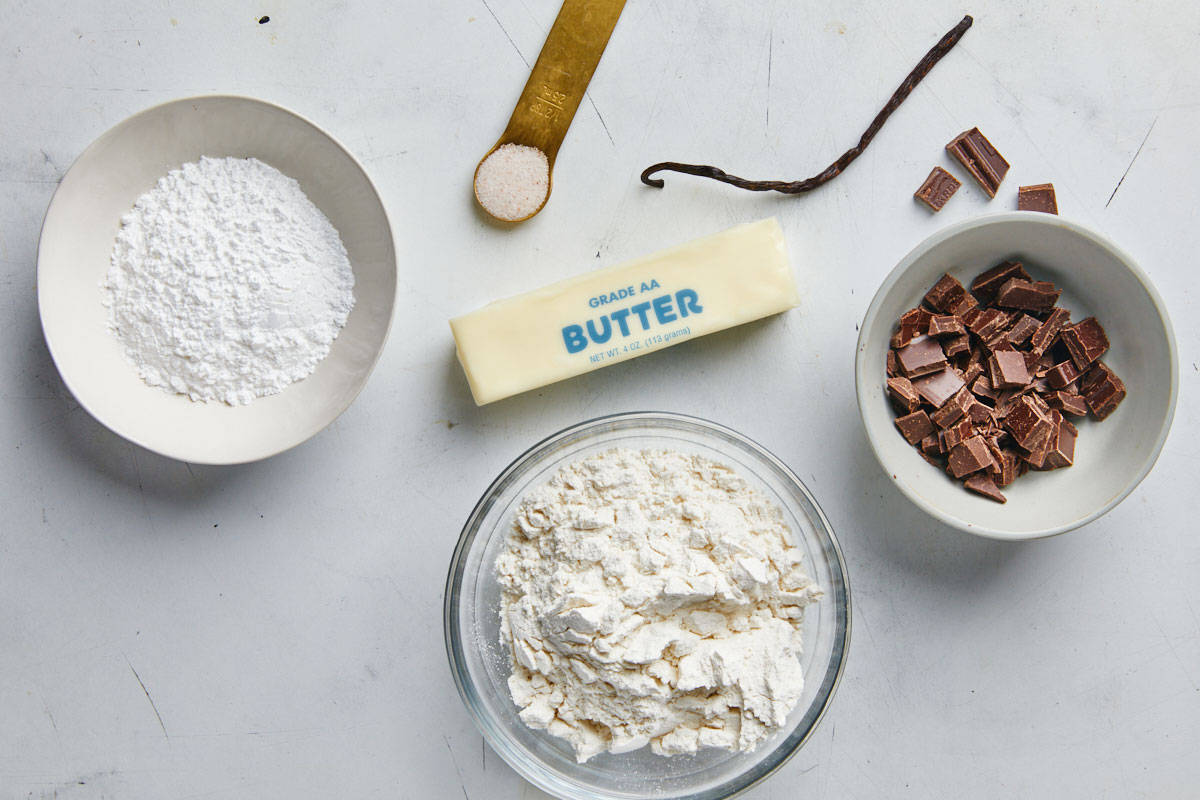 This shortbread cookie recipe makes the absolute perfect treat. At first you get the crisp first bite, followed by the melt in your mouth sweetness and a slight coating of butter that lingers so wonderfully.
One bite of this cookie and you're never going back.
Ingredients for Shortbread Cookie Recipe
To make the perfect crisp shortbread cookies, you will need just a few key ingredients:
Butter
Flour
Sugar
Salt
Vanilla
Chocolate
In this recipe, butter is what ensures the best texture and taste of your cookies. So you have to be sure to use good quality butter. Believe me, you'll taste the difference. I really adore using European style butter in baking for cookies because the fat content is much higher and the cookies end up tasting much richer.
Combined with all purpose flour and powdered sugar which really cuts into that butter makes this exceptional.
As with all baking, salt is key. Everyone always thinks about the sugar in baked goods but salt is just as important. For the rich vanilla flavor in these shortbread cookies, we are using vanilla bean seeds.
The light drizzle of chocolate on top adds an added depth of flavor. Personally, I love the use of the bittersweet chocolate but you can personalize this recipe by using the chocolate of your choosing. White, dark, milk or peppermint! Whichever you choose will add a silky, cocoa flavor that compliments your shortbread perfectly.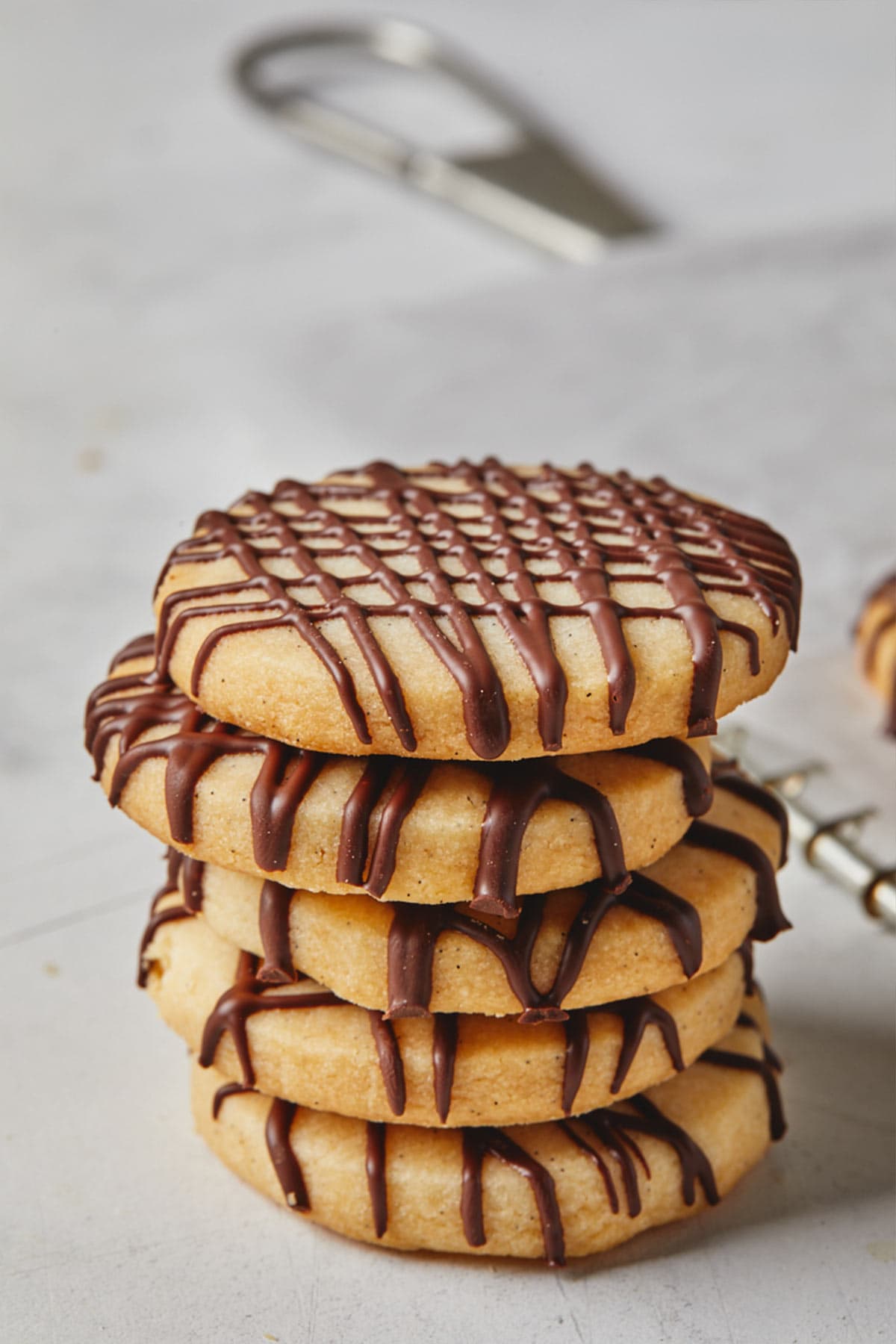 How To Make Homemade Shortbread Cookies
Here are a couple tips to make these the best shortbread cookies possible.
Tip 1: Do not skip out on the refrigeration.
As tempting as it may be, the refrigeration allows your dough to set properly and hold shape.
Tip 2: Use Vanilla Bean Paste!
If you don't have actually vanilla beans, this is a great option. I actually keep vanilla bean paste in my kitchen because I adore the convenience of it. You can add it to a recipe like you would add vanilla extract.
Tip 3: Cool Cookies Completely Before Decorating!
The one mistake I read about a lot is impatience. Have you ever tried decorating warm cookies? Icing and just about everything falls off and melts away. Have a little patience and wait until everything is completely cooled before drizzling with chocolate.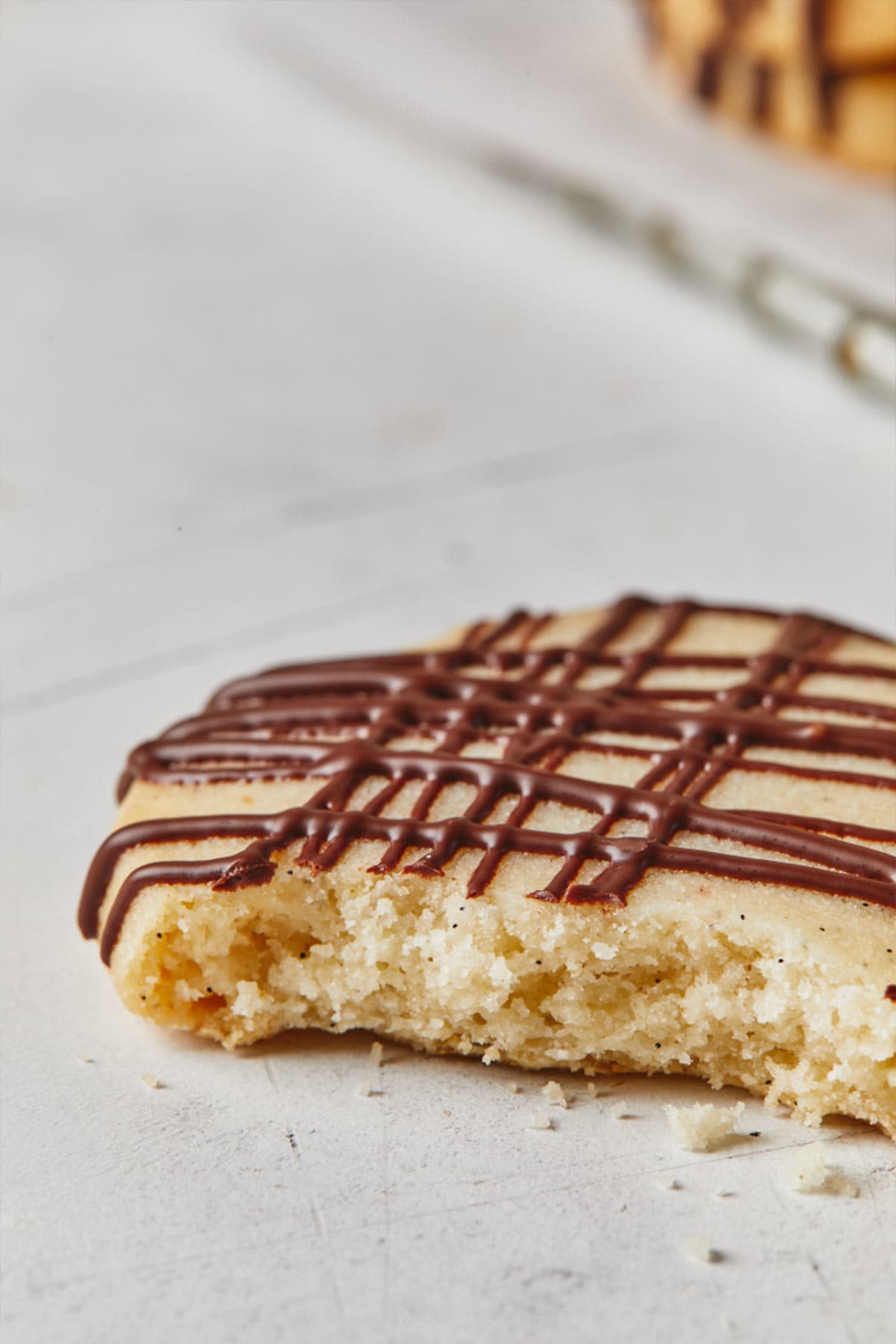 Now that I've given away my secrets and shared a piece of my cookie obsession it's time for you to get to work. Bust out the kitchen aid, roll out some dough and get yourself a buttery bite of this shortbread.
*Did you make this recipe? Please give it a star rating and leave comments below!*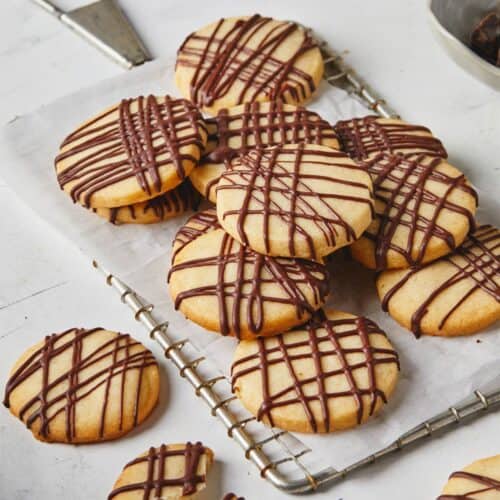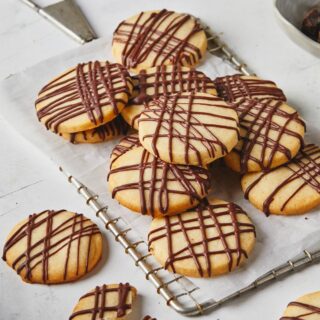 Shortbread Cookie Recipe
This Shortbread Cookie Recipe is irresistible! The initial bite is wonderfully crisp followed by a melt in your mouth buttery texture. The light drizzle of chocolate on top adds an added depth of flavor that is unforgettable!
Print
Pin
Rate
Ingredients
For the Cookies
1

cup

all-purpose flour

1/3

cup

confectioners' sugar

1/2

tsp

salt

1

vanilla bean, seeds scraped

8

tbsp

unsalted butter

room temperature, cut into 1-inch pieces
For the Chocolate Topping
2

ounces

bittersweet chocolate, chopped into small pieces
Instructions
Adjust an oven rack in the middle position. Preheat the oven to 350 F . Line two baking sheets with parchment paper.

In the bowl of a stand mixer fitter with a paddle, combine the flour, sugar, salt, and vanilla bean seeds on low speed. Add the butter one piece at a time and mix on medium until it is incorporated and the dough starts to form a ball. Dump dough out onto a lightly floured work surface, shape into a flat disc, and wrap in plastic. Refrigerate 30 minutes.

Lightly flour a work surface and roll the dough into a large, 1/2 inch thick square. Using a 2-inch biscuit or cookie cutter, cut out circles. (Any dough scraps can be rewrapped and chilled while the cookies are baking). Gently slide a metal spatula underneath each round and transfer it to a prepared baking sheet. Place 8-9 on each sheet.

Bake one sheet at a time, 15-17 minutes, until the edges begin to brown. Transfer the pan to a wire wrack and allow the cookies to cool completely before drizzling with chocolate.
For the Chocolate
Put about 1 inch of water in a medium saucepan and bring to a gentle boil.

Melt 1 ounce of the chocolate in a heatproof bowl set over the pan of boiling water, being careful not to let the water touch the bottom of the bowl. Stir constantly until just melted. Add the remaining 1 ounce and stir until the chocolate is completely smooth. Set aside to cool to room temperature.
To Decorate
Keep the cookies on the baking sheet. Spoon the room temperature chocolate into a zipper-lock bag and close to seal, then snip the tip to make a very small opening. If the opening is too big, the chocolate will flow out too fast. Drizzle the chocolate back and forth over the cookies, making criss-cross patterns (or any pattern you like). Let the chocolate set before removing the cookies from the pan (unless, of course, you need to eat one right away).
Notes
Do not skip out on the refrigeration. As tempting as it may be, the refrigeration allows your dough to set properly and hold shape.
Nutrition
Calories:
102
kcal
|
Carbohydrates:
9
g
|
Protein:
1
g
|
Fat:
6
g
|
Saturated Fat:
4
g
|
Cholesterol:
14
mg
|
Sodium:
72
mg
|
Potassium:
28
mg
|
Sugar:
3
g
|
Vitamin A:
165
IU
|
Calcium:
13
mg
|
Iron:
0.4
mg