Salisbury Steak Meatball Noodle Skillet – These homemade Salisbury Steak Meatballs over Reames Frozen Egg Noodles are pure comfort food!! Tender juicy meatballs are served in a rich onion and mushroom gravy served over delicious noodles. This recipe will turn your average weeknight meal into a decadent treat for the whole family! If you love this recipe, you will love these Classic Meatloaf, Pizza Meatloaf, BBQ Meatballs, Stuffed Meatloaf, Classic Pot Roast, Smothered Pork Chops, Smothered Steak or Mississippi Pot Roast.
Disclosure: I partnered with Reames Frozen Egg Noodles for this post, but all opinions expressed here are my own. I am grateful for authentic partnerships like this.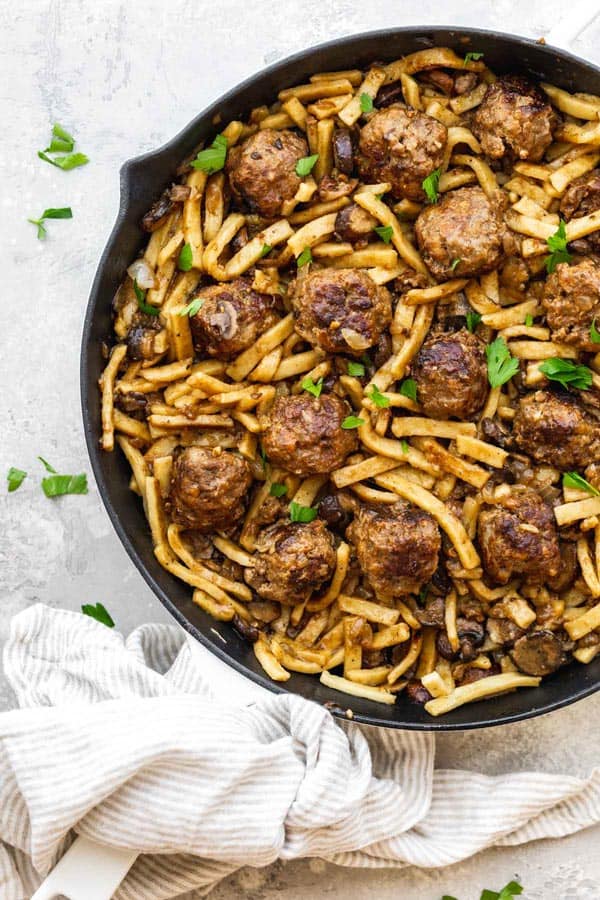 DELICIOUS AND RICH HOMEMADE SALISBURY STEAK RECIPE WITH A TWIST!
There are certain comfort food favorites that never go out of style. Whether it's because it's quick to make, requires few ingredients or it's inexpensive, there are just particular dishes that are always left in rotation. As a child, I would sometimes dread coming home to a dinner that I'd had a million times before. Instead, I craved the things I knew I couldn't have: fat slices of chocolate cake, macaroni and cheese and bowls of sugary cereals. I often took for granted the simplicity of whatever dinner was placed in front of me. Especially since these days I'm the one making the dinners around here.
In my house, this Salisbury Steak recipe paired with Reames Homestyle Frozen Egg Noodles is always a big hit after a long, cold day. It can be made with my daughter on my hip or while I catch up on the news. After it's set on the table, this dish doesn't last very long. And once it's devoured you don't have much time before the food coma strikes. So put on your cozy sweatpants (you know, the ones that probably have a hole in them?) and let's get cookin'.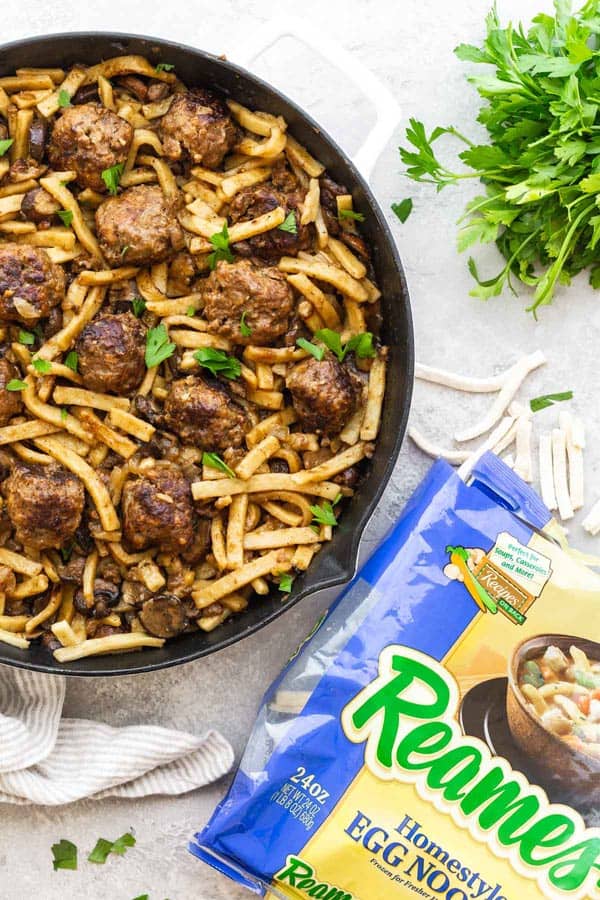 WHAT IS SALISBURY STEAK?
Salisbury Steak is a dish that consists of minced meat being formed into either patties or balls. The meat is cooked to a golden brown color, and then a simple gravy is made with onions, mushrooms, beef stock and a little flour to be used as a thickener. The end result is tender, flavorful patties or meatballs that are just smothered in rich gravy.
You've probably seen a frozen Salisbury Steak TV dinner while wandering through the aisles of your local grocery store. You might have even had one, but once you've had this homemade version you'll never go back!
Salisbury Steak is served over everything from mashed potatoes to egg noodles, but this is super special because I used Reames Frozen Egg Noodles here. They are hearty, thick and delicious when paired with a traditional recipe like this.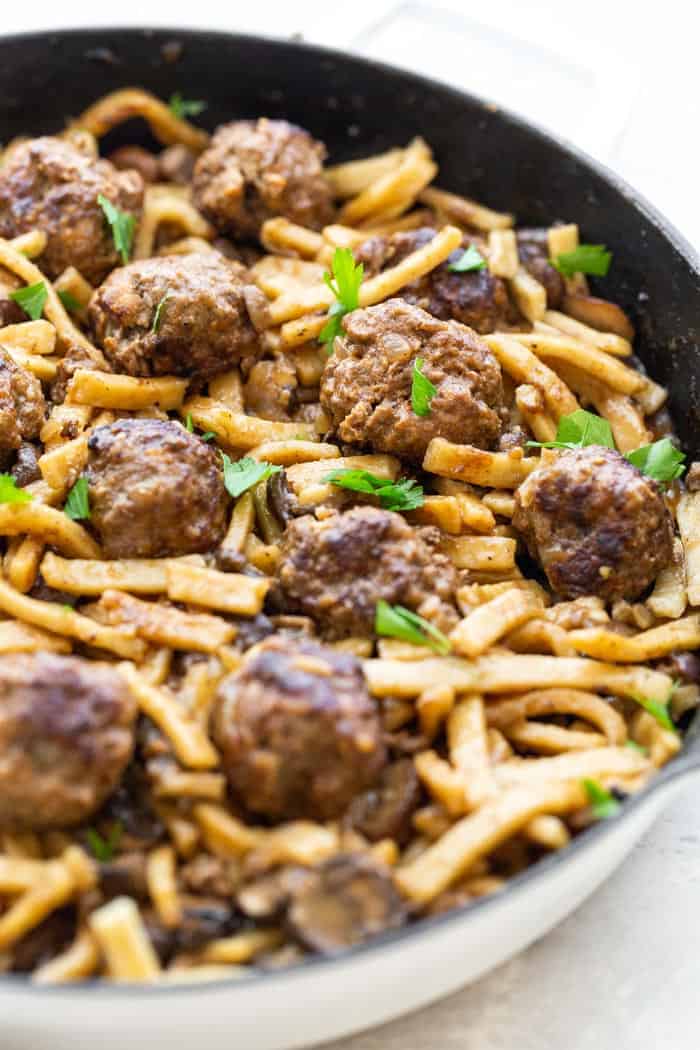 WHERE DOES HOMEMADE SALISBURY STEAK RECIPE COME FROM?
Recipes that include the use of minced meat date back all the way to Roman times! The Apicius cookbook, a collection of ancient Roman recipes, details a dish called isicia omentata. This dish was a baked beef patty that was mixed with pine kernels, peppercorns, and white wine. Isicia omentata may be the earliest version of the hamburger. Cool, huh?
Almost a couple thousand of years later the recipe known as Salisbury steak has become an American classic. We have Dr. Salisbury to thank for that. Dr. James Salisbury, an American physician and chemist, advocated for a meat-centered diet to promote health, and the term Salisbury steak has been used in the United States since 1897.
Now, Dr.Salisbury's theories may not have been as correct as we previously thought but the dish that was born from it is still delicious.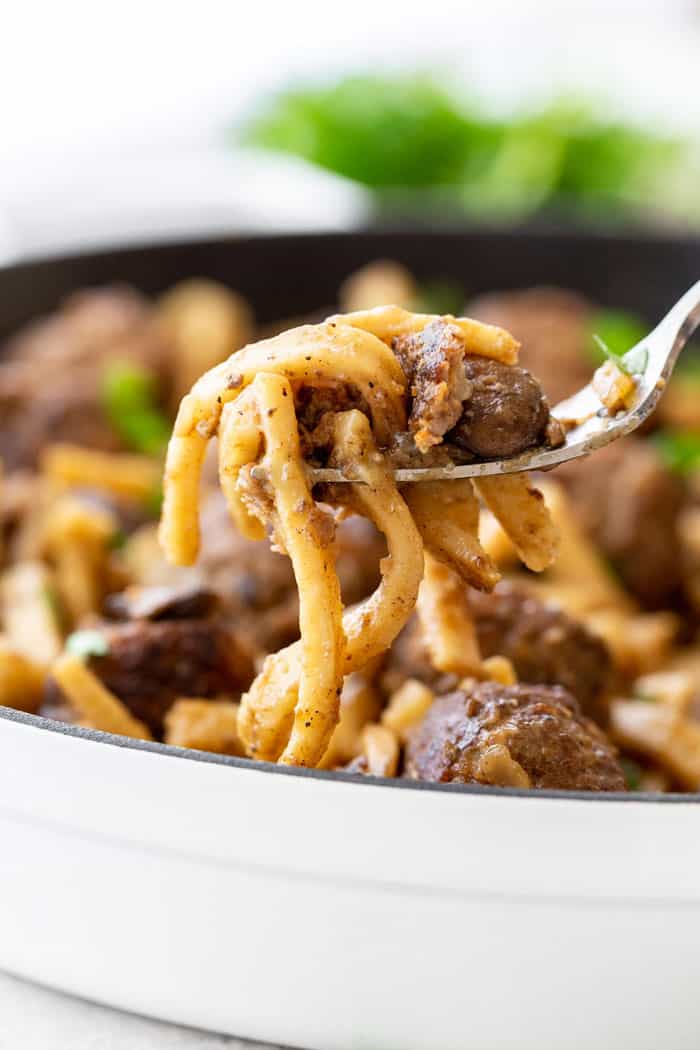 HOW TO MAKE SALISBURY STEAK
This recipe is a nice twist on a classic. I decided to make these into meatballs because I like the smaller serving size.
I enjoy using ground turkey rather than the traditional ground beef because of the health benefits. Turkey is a leaner meat that contains a high amount of protein, potassium and zinc. The list of benefits goes on and on! I feel better serving this to my family knowing they are getting just a little more of the good stuff from their dinner. However, if you are a big ground beef fan, definitely use instead.
To create a wonderful meatball filled with flavor, I used the following flavor enhancements:
Flavored breadcrumbs
Worchestershire Sauce
Soy Sauce
Onion flavor
Garlic flavor
Onion
These items along with egg, create a wonderful texture and incredible flavor in each bite of the meatball even before the sauce is created.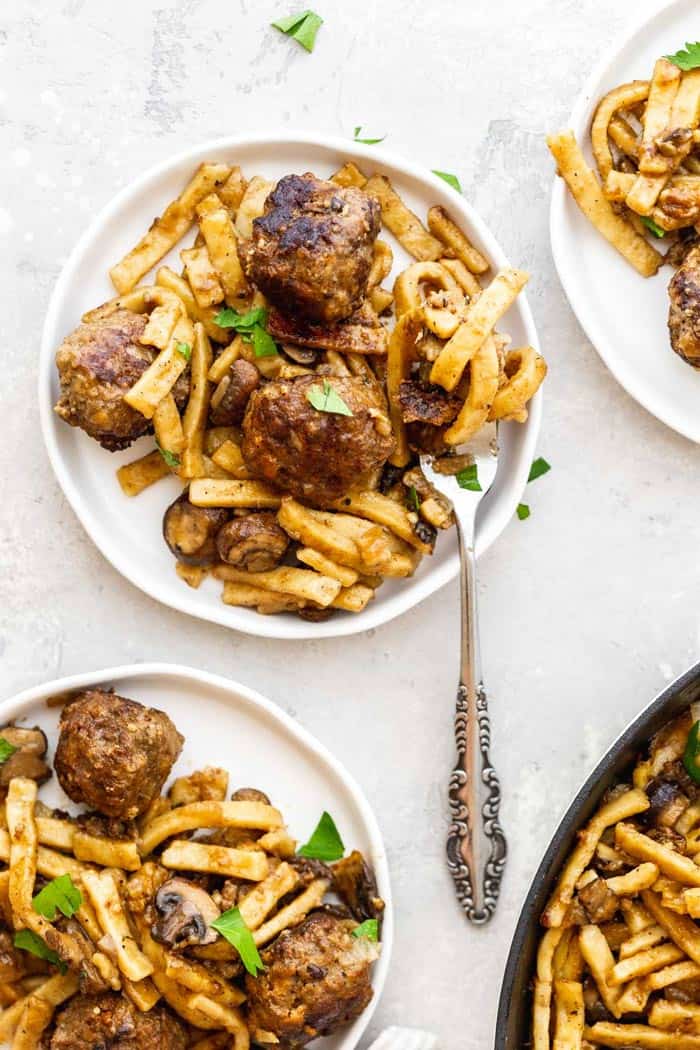 The gravy is sensational as well. It thickens starting with a simple roux and builds upon the flavors that started with the meatballs. Garlic and onion add incredible flavor. Once the gravy has thickened, it pairs with the sensational Reames Frozen Egg Noodles!
Have you ever tried them? They are amazing! I grab a bag right out of the freezer and add them to my meals after about 20 minutes of cooking. Made with only three ingredients (YES I SAID ONLY 3 INGREDIENTS) and no preservatives, Reames Egg Noodles provide better taste and texture than any other store-brand option.
Their hearty noodles are capable of withstanding the thickness of this gravy while also adding in incredible flavor. Reames Noodles are so hearty, you'll need to eat them with a fork!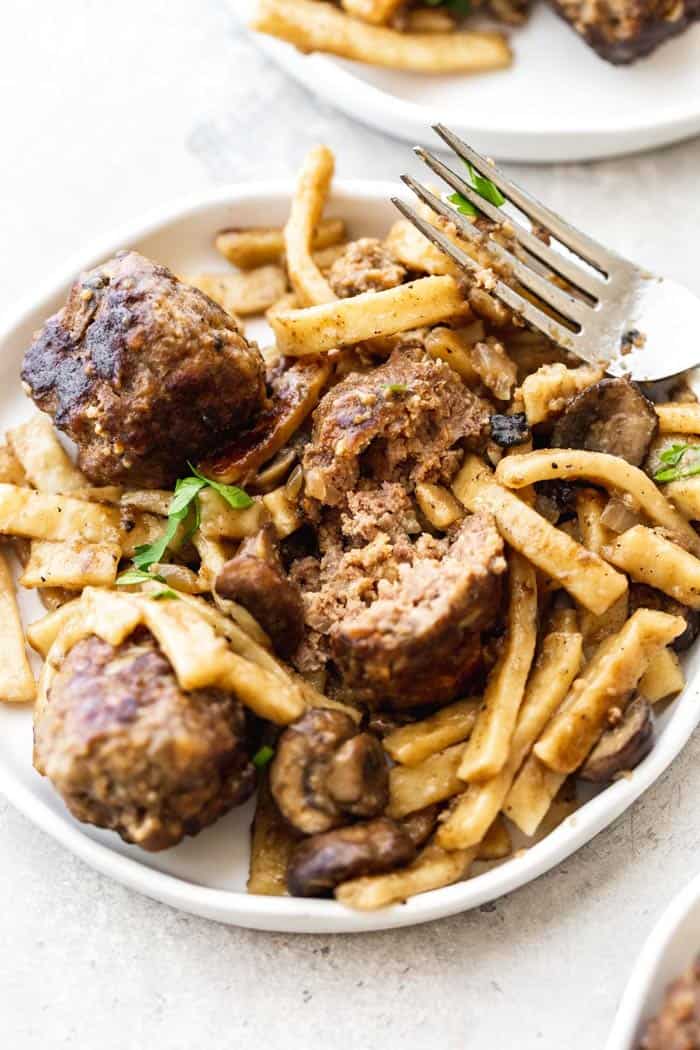 WHAT'S THE DIFFERENCE BETWEEN SALISBURY AND HAMBURGER STEAK?
We tend to use these terms interchangeably, although some think there is a difference between Salisbury Steak and Hamburger steak. Typically, a hamburger steak should contain only seasoned meat with no additional fillers. Salisbury Steak contains different ingredients such as breadcrumbs, onions and eggs.
Both recipes are usually prepared in some form of gravy and either served with gravy or filled with egg noodles. No matter how you put it, both dishes are absolutely delicious.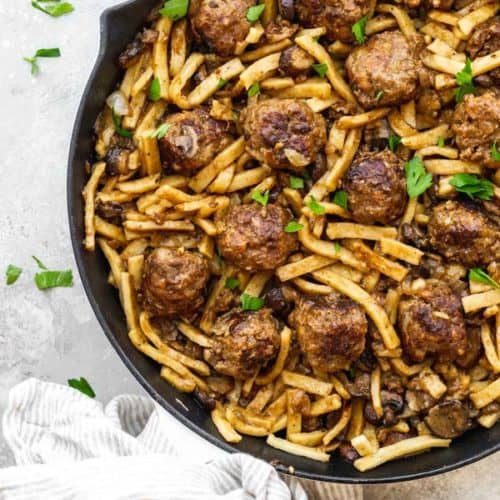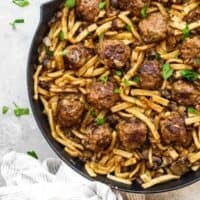 Salisbury Steak Meatball Noodle Skillet
These homemade Salisbury Steak Meatballs over egg noodles are pure comfort food! Tender juicy meatballs are served in a rich onion and mushroom gravy served over delicious noodles. This recipe will turn your average weeknight meal into a decadent treat for the whole family!
Print
Pin
Rate
Ingredients
For the Salisbury Steak Meatballs
1

lb

ground turkey or ground beef

1/4

cup

herb flavored breadcrumbs

1

large egg

1

tbsp

Worcestershire sauce

2

tsp

soy sauce

1

tsp

onion powder

1/2

tsp

garlic powder

1/2

tsp

paprika

1/8

tsp

cayenne pepper

optional

1/3

cup

finely diced onion

kosher salt

to taste

black pepper

to taste

1

tbsp

butter

1

tbsp

vegetable oil
For the Gravy and Noodles
1 1/2

cups

onions

chopped

8

oz

mushrooms

sliced

3

garlic cloves

minced

2

tbsp

butter

2

tbsp

all purpose flour

3

cups

beef stock

2

tsp

Worcestershire sauce

1

tsp

balsamic vinegar

1

tsp

soy sauce

1/2

tsp

onion powder

1/2

tsp

garlic powder

Kosher salt

to taste

Black pepper

to taste

16

oz

Reames Frozen Egg Noodles package

chopped parsley

for garnish
Instructions
For the Salisbury Steak Meatballs
In a large bowl, thoroughly mix together ground beef, breadcrumbs, egg, worchestershire, soy sauce, onion powder, garlic powder, onion, salt, pepper and red pepper flakes until combined well.

Next shape into medium sized meatballs and set aside.

Add butter and vegetable oil to a large pan over medium heat.

Once butter is completely melted, add meatballs and sear on all sides. Remove from pan and set aside.
For the Gravy
Add onions and mushrooms to pan drippings and saute for about 3-4 minutes. Make sure you are scraping the bottom drippings for additional flavor.

Next add garlic and cook for only 30 seconds making sure to stir.

Push onions, mushrooms and garlic to one side of pan and add butter to empty side. Allow to melt then quickly stir in flour and continue to stir beginning a roux. Allow it to darken until a deep delicious brown then whisk in beef stock and stir until smooth allowing all the ingredients to come together.

Next add Worchestershire sauce, vinegar, soy sauce, onion powder, garlic powder and salt and pepper and whisk to combine.  Remember, the saltiness and flavors will concentrate more as it reduces down.

Bring to a boil then lower temperature to medium low. Add meatballs back to gravy and allow to cook for 25-30 minutes. While cooking meatballs, make noodles.
For the Reames Frozen Egg Noodles
Bring 4 quarts of water to a rapid boil.

Add 2 teaspoons salt, if desired.

Add Reames noodles and return to a full rolling boil, stir to separate.

Cook noodles uncovered for 20 minutes or until desired tenderness, stir occasionally.

Once noodles are done, add noodles to meatballs and gravy once gravy has thickened. Stir together to coat noodles with gravy.

Sprinkle with parsley and serve.
Notes
Traditional salisbury steak is made with ground beef but here I use ground turkey. Feel free to use whichever one you prefer!
Nutrition
Calories:
540
kcal
|
Carbohydrates:
69
g
|
Protein:
35
g
|
Fat:
14
g
|
Saturated Fat:
7
g
|
Cholesterol:
148
mg
|
Sodium:
640
mg
|
Potassium:
887
mg
|
Fiber:
4
g
|
Sugar:
6
g
|
Vitamin A:
402
IU
|
Vitamin C:
6
mg
|
Calcium:
71
mg
|
Iron:
3
mg