Savor the flavors of this delicious Sheet-Pan Salmon recipe, featuring a mouthwatering jerk marinade and refreshing cucumber-tomato salad. It's an easy-to-make dish for special occasions or busy weeknights when you're in the mood for good food. If you love salmon, you need to try my Air Fryer Salmon, Blackened Salmon, Cajun Salmon Alfredo Pasta or Maple Glazed Salmon.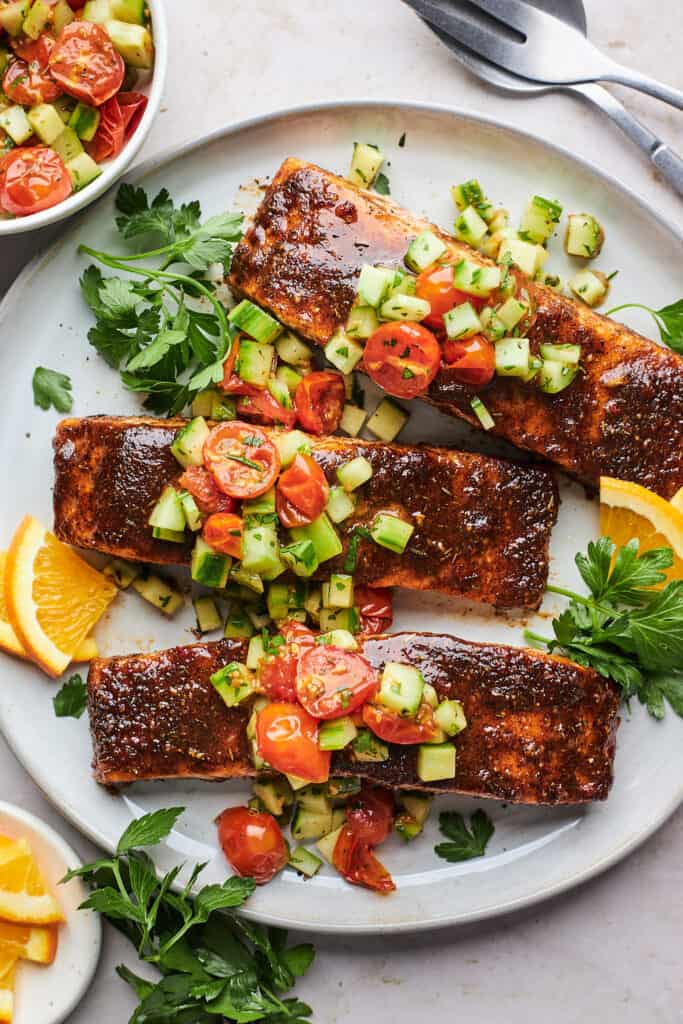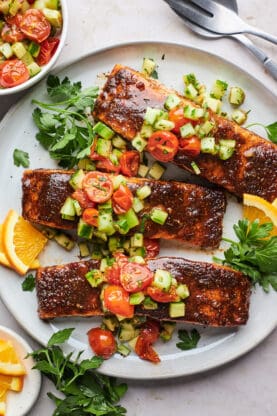 As a seafood lover, I'm always on the hunt for new ways to enjoy salmon, and this recipe has quickly become one of my all-time favorites. The jerk marinade adds the perfect kick to this dish, making it one unforgettable meal. I know y'all are going to love it!
What is sheet-pan salmon?
This sheet-pan salmon recipe is a convenient and delicious meal inspired by the flavors of the Caribbean. The dish gets its taste from Jamaican jerk seasoning, bringing a unique blend of sweet, tangy, and spicy flavors to the salmon.
Plus, the cooking method couldn't be more straightforward! As the name suggests, the salmon is roasted on a sheet pan along with marinated cherry tomatoes. Did I mention how effortless the cleanup is?
The final product is vibrant and visually appealing, but the real treat is when you take your first bite. Serve this jerk salmon over a bed of rice or couscous with a fresh cucumber salad for an ultra-satisfying meal.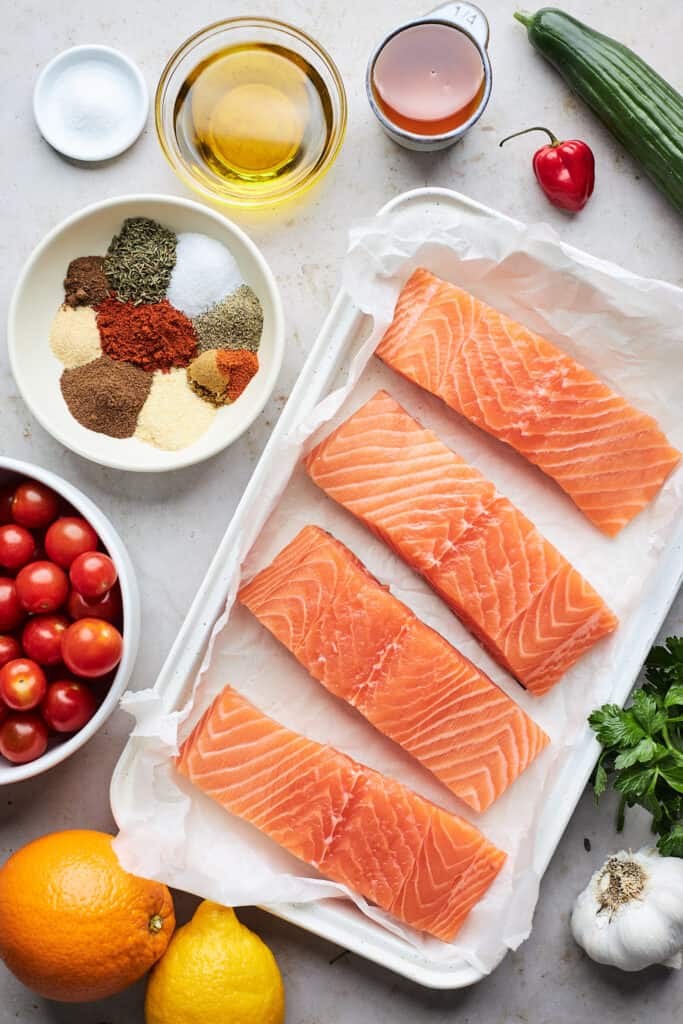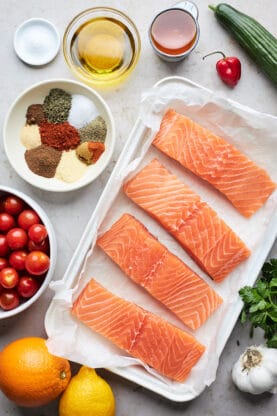 Ingredients & substitutions
Olive oil:

Adds richness and helps the marinade adhere to the salmon. You can substitute olive oil with avocado or canola oil if you prefer.

Garlic:

Brings an aromatic and savory flavor to the marinade. If fresh garlic is unavailable, use ½-teaspoon garlic powder instead.

Habanero:

Adds heat and a fruity undertone. You can substitute habanero with a Scotch bonnet pepper or a milder pepper, like serrano or jalapeño, if you'd like.

Spices:

I use allspice, garlic powder, onion powder, cumin, nutmeg, smoked paprika, thyme, cayenne powder, black pepper, and kosher salt to create a classic jerk seasoning. Feel free to adjust the proportions or use a pre-made jerk seasoning blend.

Citrus:

Fresh orange and lemon juice add acidity and brightness to the marinade. If you don't have lemons or oranges on hand, substitute them with fresh lime juice.

Honey:

Sweetens the marinade and balances the heat. No honey available? Replace it with agave nectar or maple syrup for a similar effect.

Salmon filets:

The star of the dish, providing a rich, tender, and flavorful protein. I prefer to leave the skins on, but you can remove them if you want. You can also substitute salmon with another type of fish, such as cod or halibut.

Cherry tomatoes:

Add a burst of sweetness and color to the dish. Substitute with grape tomatoes or chopped Roma tomatoes if necessary.

Cucumber:

For the salad to serve with your jerk salmon. Both English cucumbers and Persian (mini) cucumbers work well for this recipe, adding a fresh and crispy texture.

Parsley:

Also for the salad, fresh parsley brings a bright, herbaceous element. Substitute it with cilantro or basil for a different flavor profile.
How to make sheet-pan salmon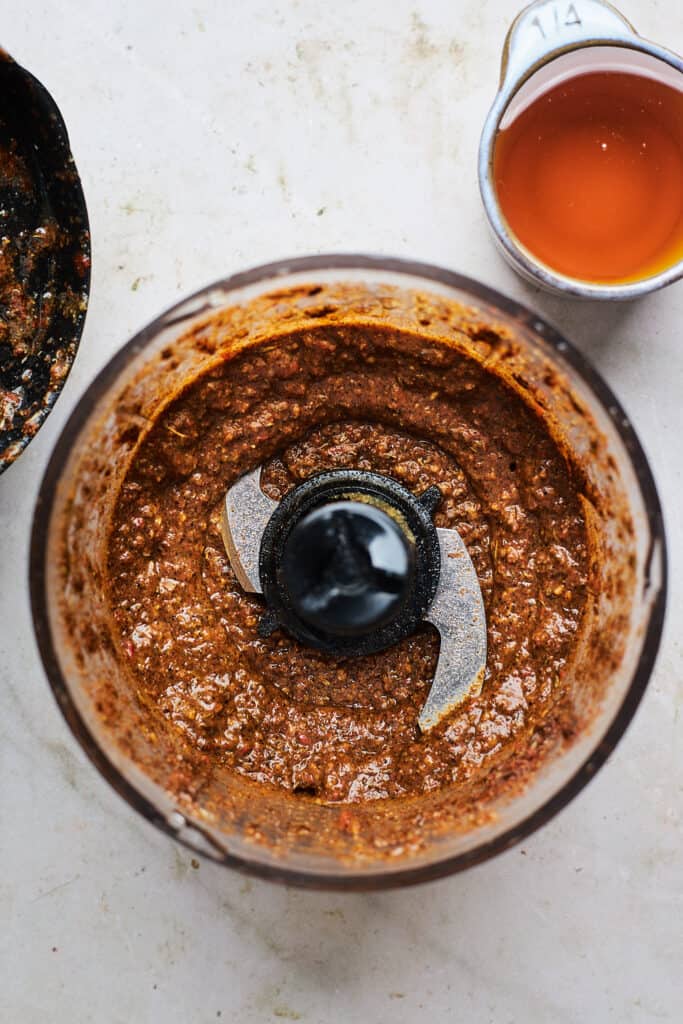 Step 1: Blend the marinade
In a small blender or food processor, combine the olive oil, garlic, habanero pepper, spices, salt, orange juice, and lemon juice. Blend until smooth, then add honey and blend again.
Feel free to taste the marinade and adjust the seasonings at this point. Add more habanero or cayenne for spice, garlic or onion powder for savoriness, and cumin for warmth.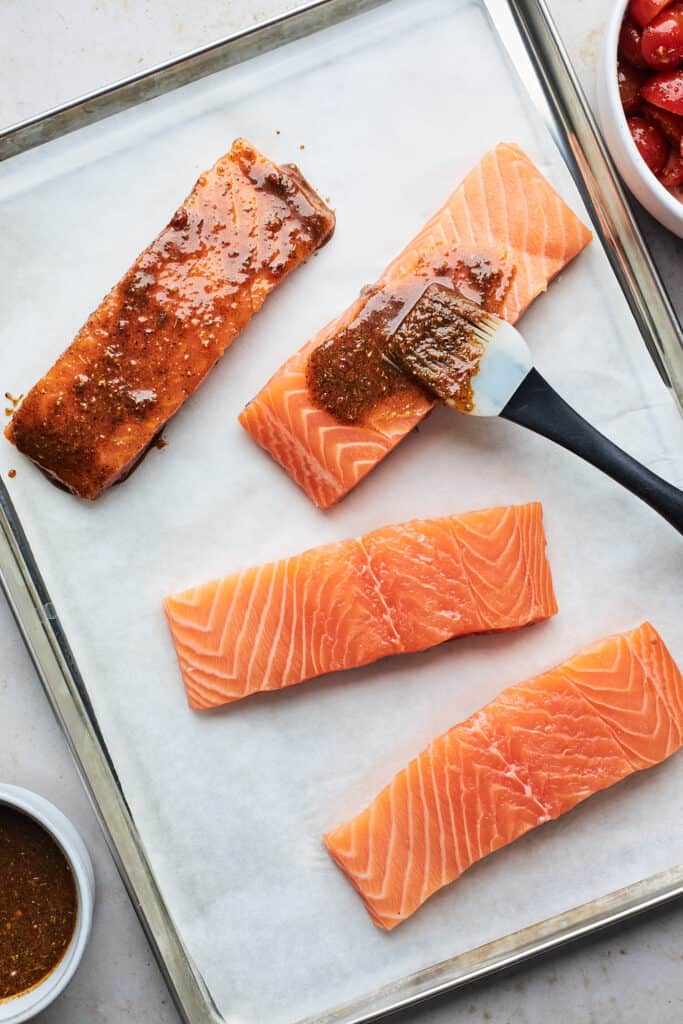 Step 2: Season the salmon
Don't forget to pat the salmon filets dry so they crisp up perfectly and to help the marinade stick. Place them on a foil-lined sheet pan, then brush the jerk marinade all over the top and sides of the salmon.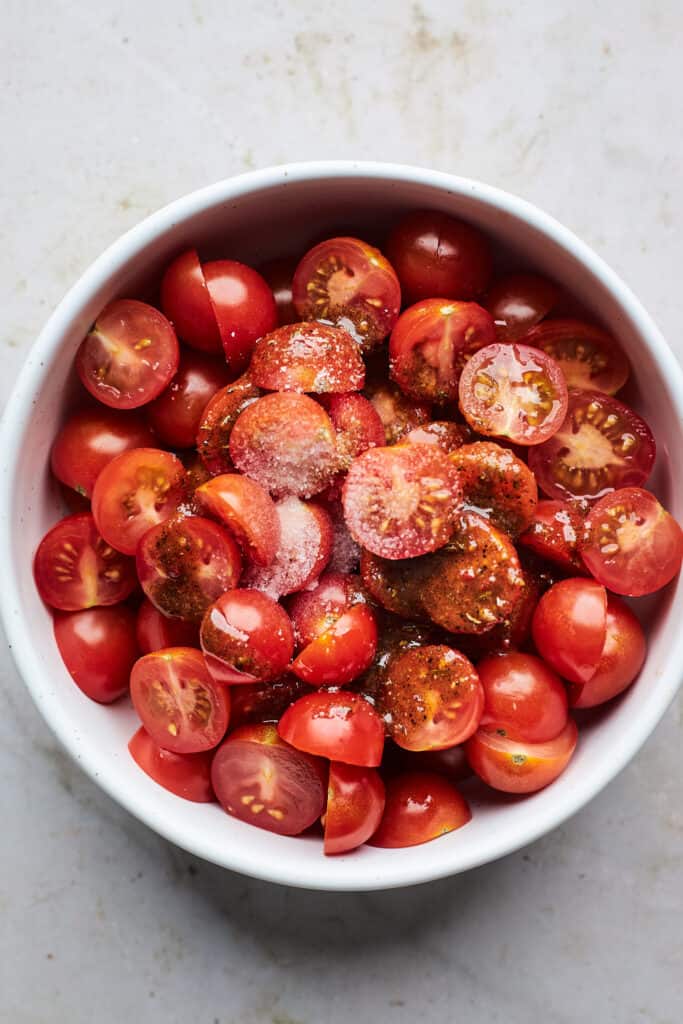 Step 3: Prepare the tomatoes
Combine the halved tomatoes, a tablespoon of jerk marinade, and salt in a small bowl. Arrange the tomatoes evenly around the salmon filets on the sheet pan.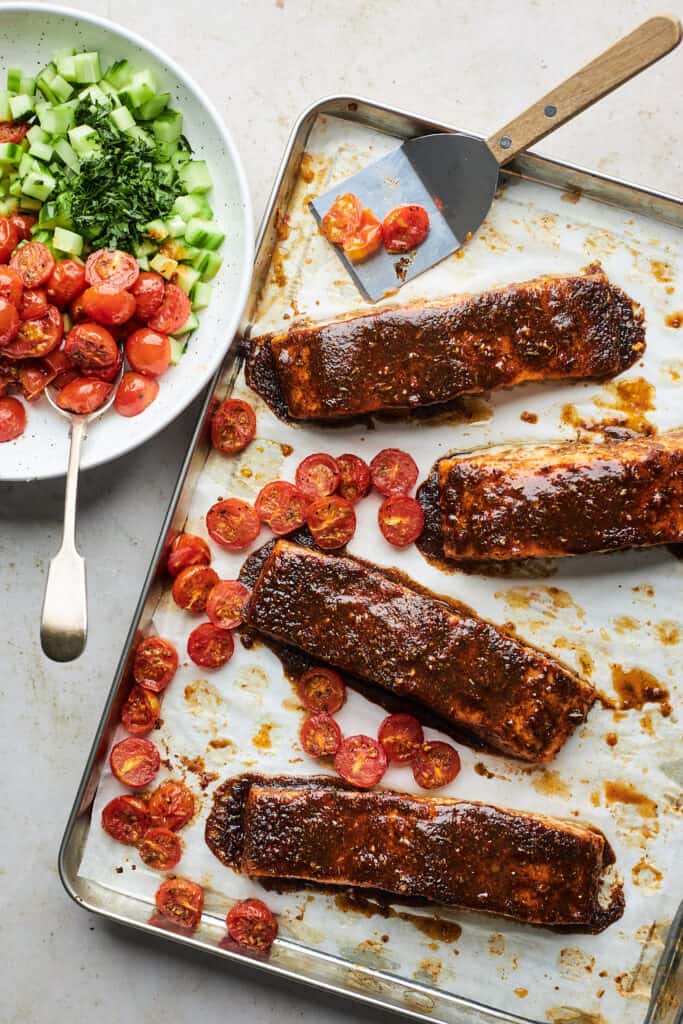 Step 4: Bake the salmon
Roast the salmon and tomatoes in the oven at 400F for about 10 minutes, or until the center of the salmon is barely translucent and the outside flesh flakes easily. If you own a digital thermometer, the thickest part of the filet should reach 140F.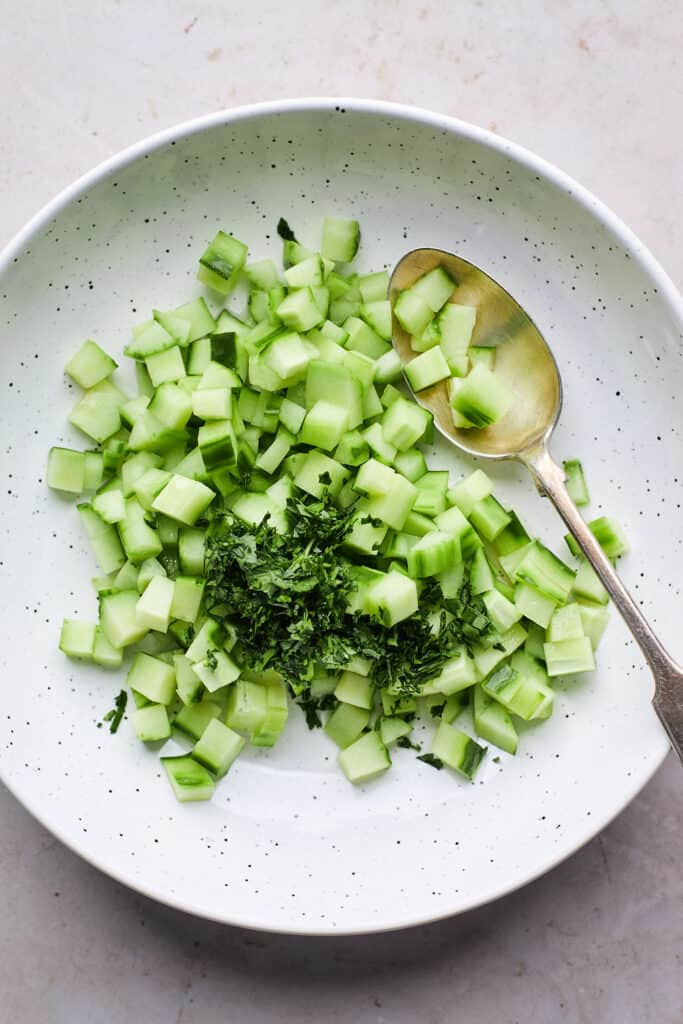 Step 5: Make the salad
While the salmon bakes, combine the diced cucumber, remaining lemon juice, and parsley in a medium bowl. Stir to combine, then set aside while the salmon finishes cooking.
Step 4: Serve the salmon
Remove the salmon from the oven and set aside. Transfer the burst cherry tomatoes and their juices to the bowl with the cucumber mixture and toss to combine. Serve your jerk salmon with the cucumber-tomato salad over a bed of rice or couscous.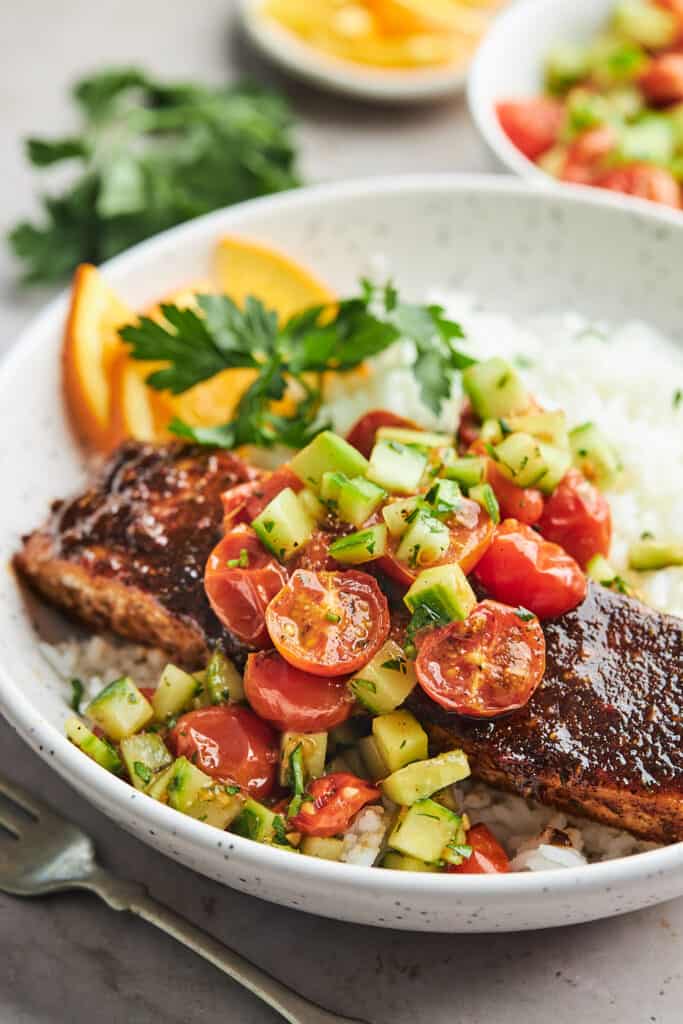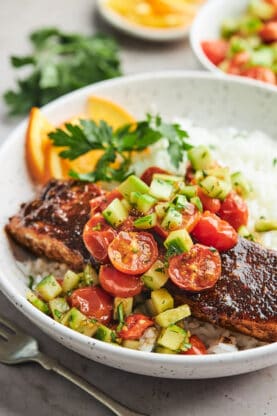 Serving suggestions
To add texture, try sprinkling sesame seeds or crushed red pepper flakes over the top of your jerk salmon. You can also serve the salmon with a side of roasted vegetables, like asparagus or Southern green beans. Start your meal off with a Caesar salad, or add it as a side dish.
Recipe variations
Protein:

Swap the salmon for scallops or shrimp. Just don't forget to adjust the cooking time.

Vegetables:

Add other vegetables to the sheet pan, like bell peppers, red onion, carrots, or zucchini.

Store-bought seasoning:

While I always prefer to make my own jerk seasoning, you can buy one at the store to save time.

Herbs:

Instead of parsley, try using cilantro, basil, or mint for a unique flavor.
Tips for the perfect sheet-pan salmon
Pat the salmon dry:

Remember to pat the salmon dry so the marinade adheres well.

Thermometer:

Use a thermometer to ensure the perfect internal temperature of the salmon. It should reach 140F at the thickest point.

Line the sheet:

For easy cleanup, line the pan with aluminum foil or parchment paper.

Cut the vegetables evenly:

If you use other vegetables besides tomatoes, cut them into similar sizes to help them cook evenly.
What to do with leftovers
If you have leftover sheet-pan salmon, follow these simple storage tips:
Fridge:

Store leftover salmon in an airtight container in the refrigerator for 3-4 days.

Freezer:

Once fully cooled, place the cooked salmon in a freezer-safe container or wrap it tightly with aluminum foil. Store in the freezer for up to 3 months. Just note that the cucumber-tomato salad may not freeze well, so it's best kept in the fridge.

Reheating
To reheat your salmon, place it in a preheated oven at 300F until warmed through. You can also warm it in the microwave on low power to avoid overcooking it.
Additional salmon recipes
If you love salmon, try some more of GBCs' most popular recipes like these:
Frequently Asked Questions
Can I use frozen salmon for this recipe?
Yes, you can use frozen salmon. Make sure to thaw it completely in the refrigerator before patting it dry and applying the marinade.
Is this dish spicy?
This dish has a moderate level of heat from the habanero pepper and cayenne powder. You can adjust the spiciness by using more or less of these ingredients.
Can I use a different type of fish?
Yes, you can substitute the salmon with another type of fish, like cod or halibut. Adjust the cooking time accordingly, as different fish varieties cook at different rates.
Sheet Pan Salmon
Savor the flavors of this delicious Sheet-Pan Salmon recipe, featuring a mouthwatering jerk marinade and refreshing cucumber-tomato salad. It's an easy-to-make dish for special occasions or busy weeknights when you're in the mood for good food.
Print
Rate
Ingredients
3

tbsp

extra virgin olive oil

divided

2

garlic cloves

crushed

1/2

habanero pepper

stem removed

1 1/2

tsp

kosher salt

divided

1 1/2

tsp

ground allspice

1 1/2

tsp

dried thyme

1

tsp

onion powder

1

tsp

smoked paprika

3/4

tsp

coarse ground black pepper

1/2

tsp

garlic powder

1/2

tsp

ground cumin

1/4

tsp

ground nutmeg

1/4

tsp

cayenne pepper

1

tbsp

fresh orange juice

2

tbsp

fresh lemon juice

divided

1/4

cup

honey

4

salmon filets

6 ounces, center cut, skin on

1

pint

cherry tomatoes

halved

1

cucumber

peeled, seeded, cut into small dice

1/4

cup

fresh parsley

finely chopped
Instructions
In carafe of small blender or food processor, add 2 tablespoons extra virgin olive oil, garlic cloves, habanero pepper, 1 ¼ teaspoon salt, all the spices, 1 tablespoon each orange juice and lemon juice. Blend until garlic is broken down and you have a thick paste.

Add in honey and blend again. Mixture should be the texture of barbeque sauce.

Pat salmon filets dry and place on a lined sheet pan.

With a pastry brush, brush jerk marinade onto top and sides of salmon.

In a small bowl, mix halved tomatoes, 1 tablespoon jerk marinade, and ½ teaspoon kosher salt. Place onto a sheet pan around salmon filets. Cook until the center of salmon is barely translucent and outside flesh flakes easily or until it registers 140F on a digital thermometer, about 10 minutes. (If not eating the skin, gently slide a spatula between the skin and flesh, leaving the skin behind.)

Meanwhile, place diced cucumber, 1 tablespoon lemon juice, and parsley into medium bowl. Stir to combine.

Once removed from the oven, add the burst cherry tomatoes and juices to a bowl with the cucumber and spoon over salmon to serve. I like to serve with rice or couscous.
Nutrition
Calories:
447
kcal
|
Carbohydrates:
28
g
|
Protein:
36
g
|
Fat:
22
g
|
Saturated Fat:
3
g
|
Polyunsaturated Fat:
6
g
|
Monounsaturated Fat:
11
g
|
Cholesterol:
94
mg
|
Sodium:
967
mg
|
Potassium:
1295
mg
|
Fiber:
2
g
|
Sugar:
22
g
|
Vitamin A:
1359
IU
|
Vitamin C:
42
mg
|
Calcium:
75
mg
|
Iron:
4
mg