Looking for Healthy Chicken Marsala? This deliciously satisfying skinny chicken marsala from SkinnyTaste is lightened up on fat but definitely not flavor.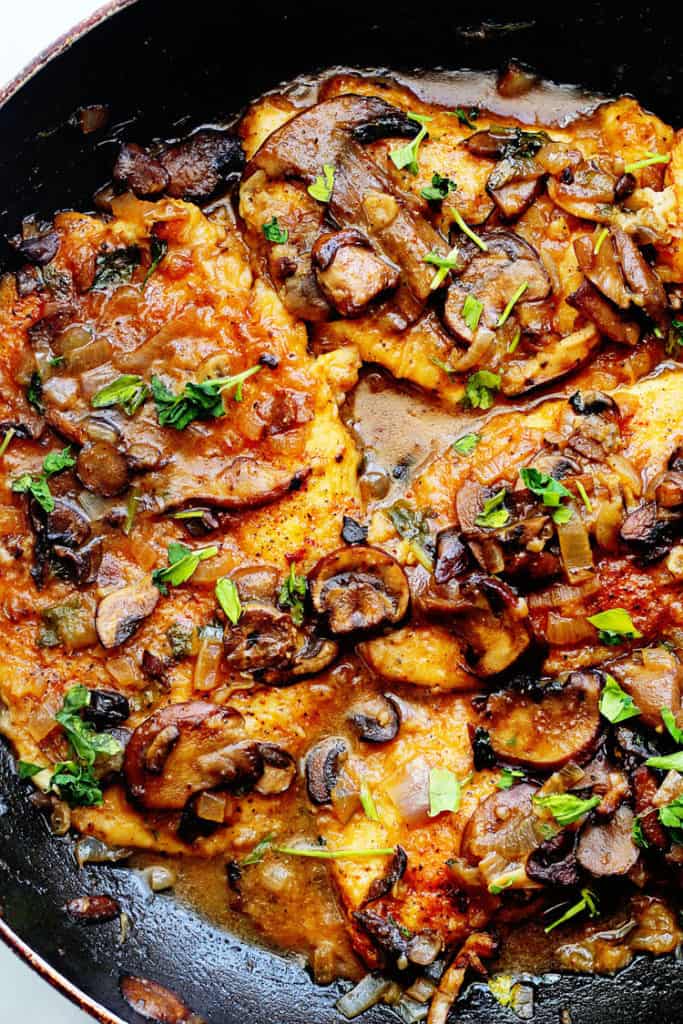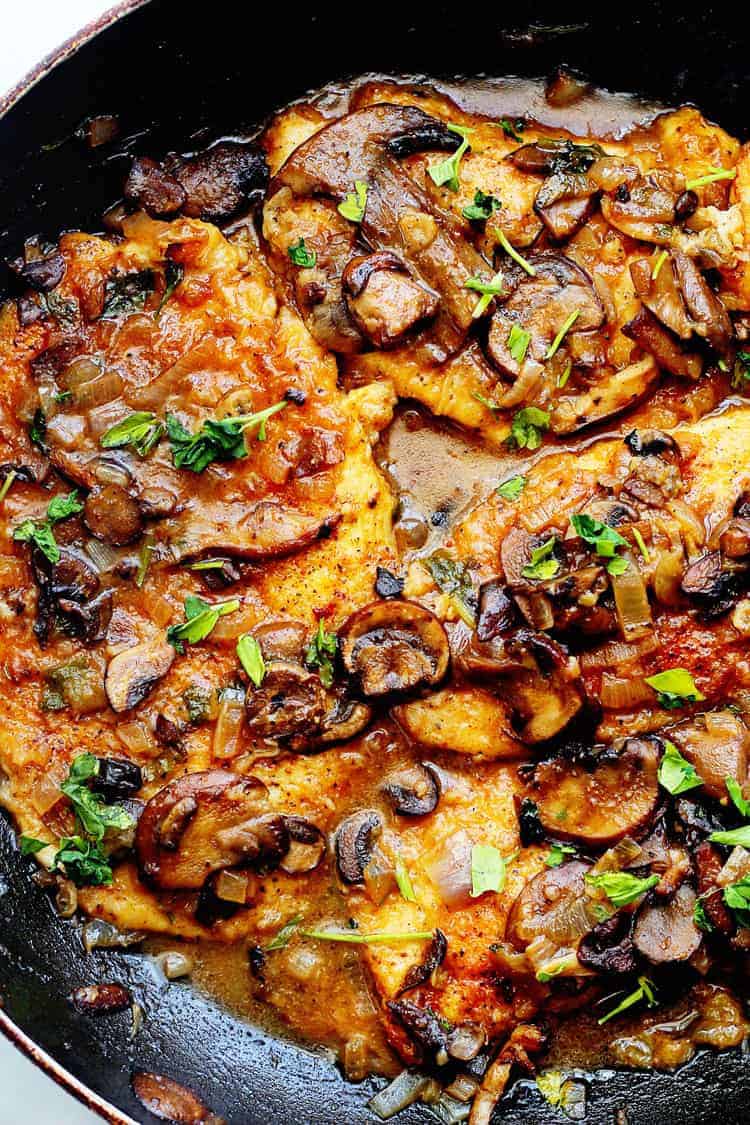 So last month, I made a commitment to actually dust off the cookbooks I collect and use them. I started with this Strawberry Cheesecake Ice Cream from the Homemade Decadence cookbook to ease myself in slowly. Then I decided I needed a dinner recipe to try next. Out popped my barely skimmed new book The Skinnytaste Cookbook. Filled with such promise, I knew it was an outright travesty that I hadn't so much as read the introduction and had only resorted to gawking at the gorgeous photos a few times.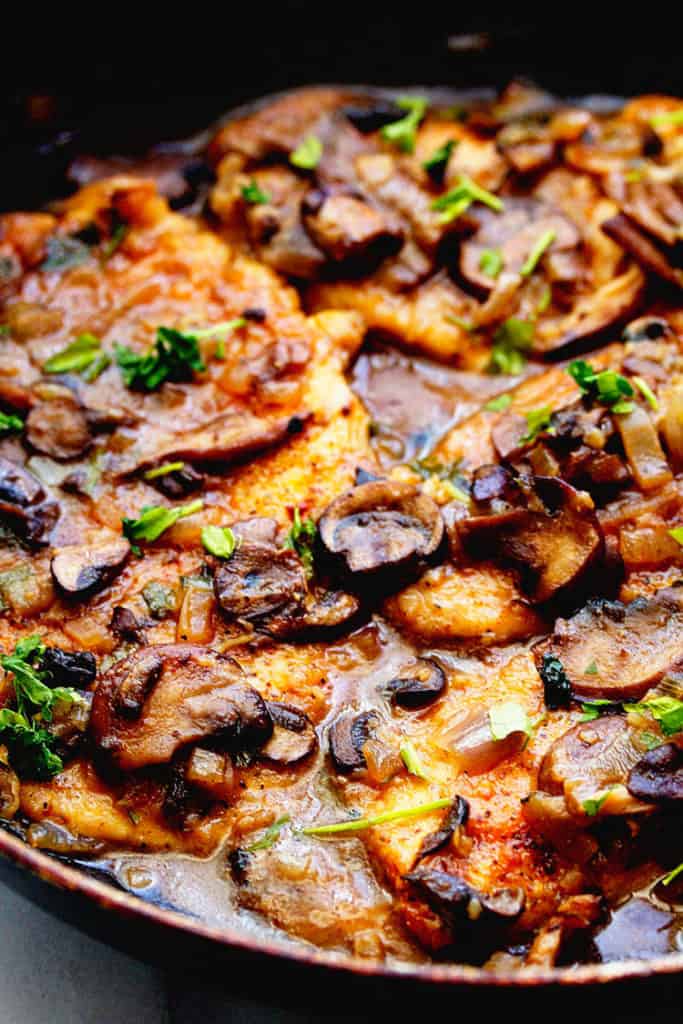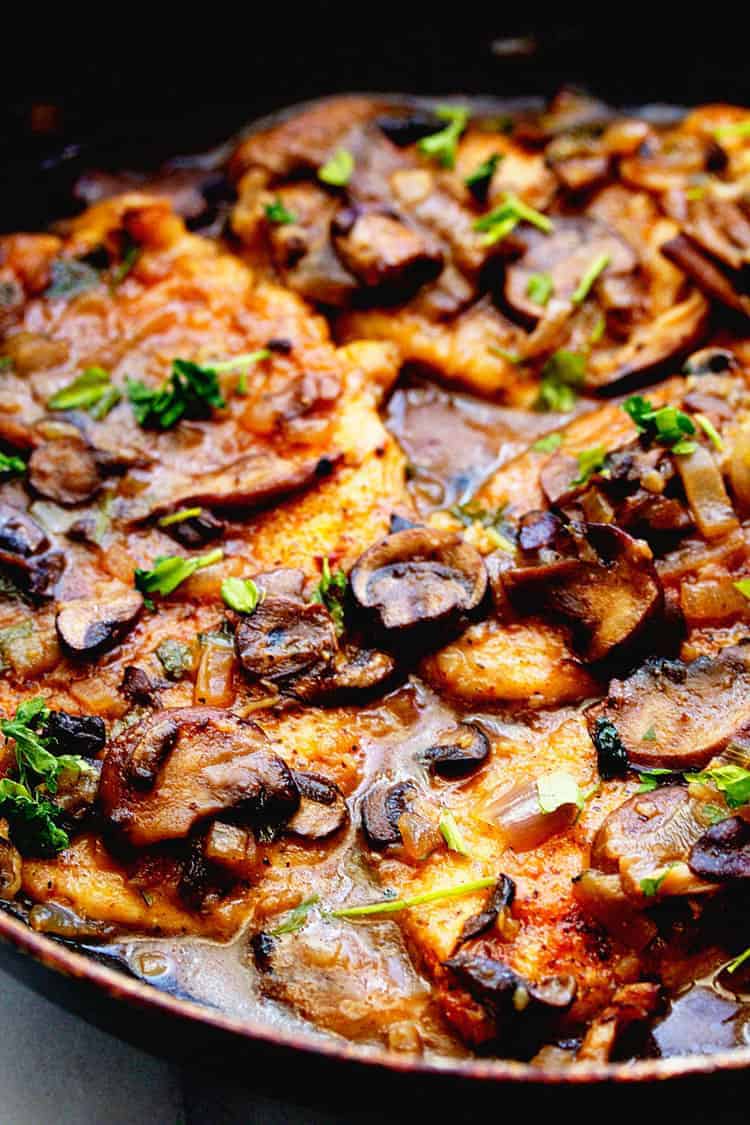 I originally bought the book to improve our family eating habits. Because Gina's blog Skinnytaste is all about providing lighter versions of flavorful recipes that we all know and love, I knew I was in good hands. And boy was I right.
I started with her version of healthy chicken marsala. I happen to adore a traditional chicken marsala recipe. A hot plate of it makes me warm in my bones. When done right, the chicken is insanely tender, the sauce is rich and layered, and the mushrooms and herbs add just another level of perfection to round out the dish. I find it insatiable and outright impossible to turn down.
But skinny chicken marsala recipe? Could the lighter version, this healthy chicken marsala recipe, do just as much for my soul? A girl had to wonder but I'm so glad my curiosity made me try this recipe. In fact, I will no longer deem "skinny" an evil word. I realized the following while trying this:
A. Butter in moderation is absolutely fine in skinny dishes. A small amount goes a long way. I will probably no longer toss entire sticks into my dinners.
and
B. Flavor is the key focus in skinny meals. In this recipe, I didn't feel like I lacked anything because the tender chicken and the depth of flavor from the wine, spices, shallots and mushrooms really made me feel as though I was having any regular full fat meal. If you focus on flavor, you won't miss the fat. That is exactly what this healthy chicken marsala recipe does.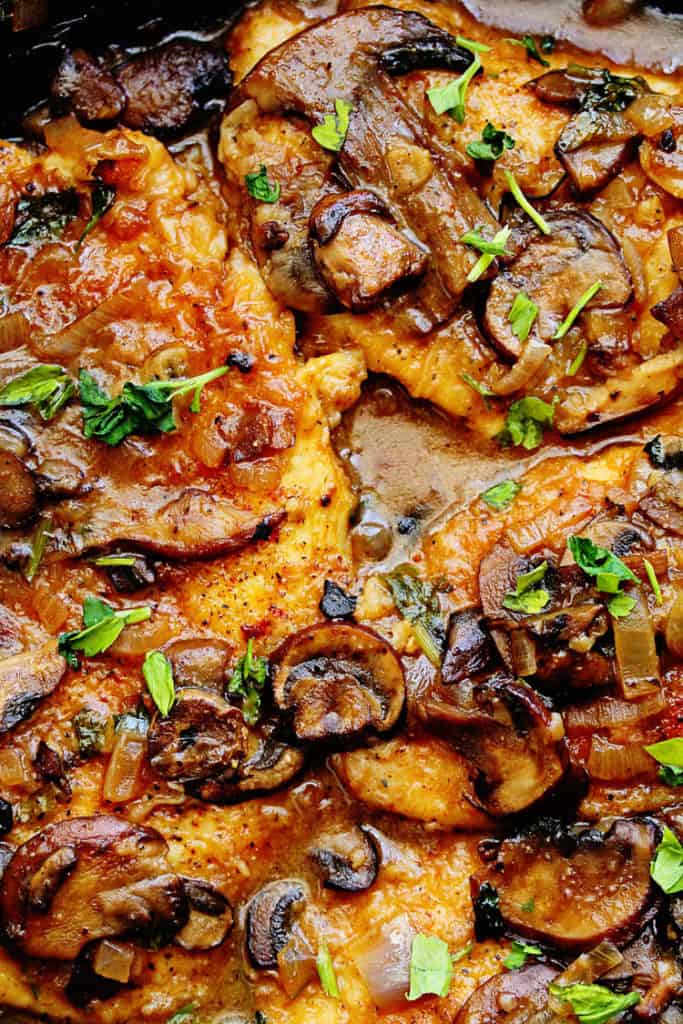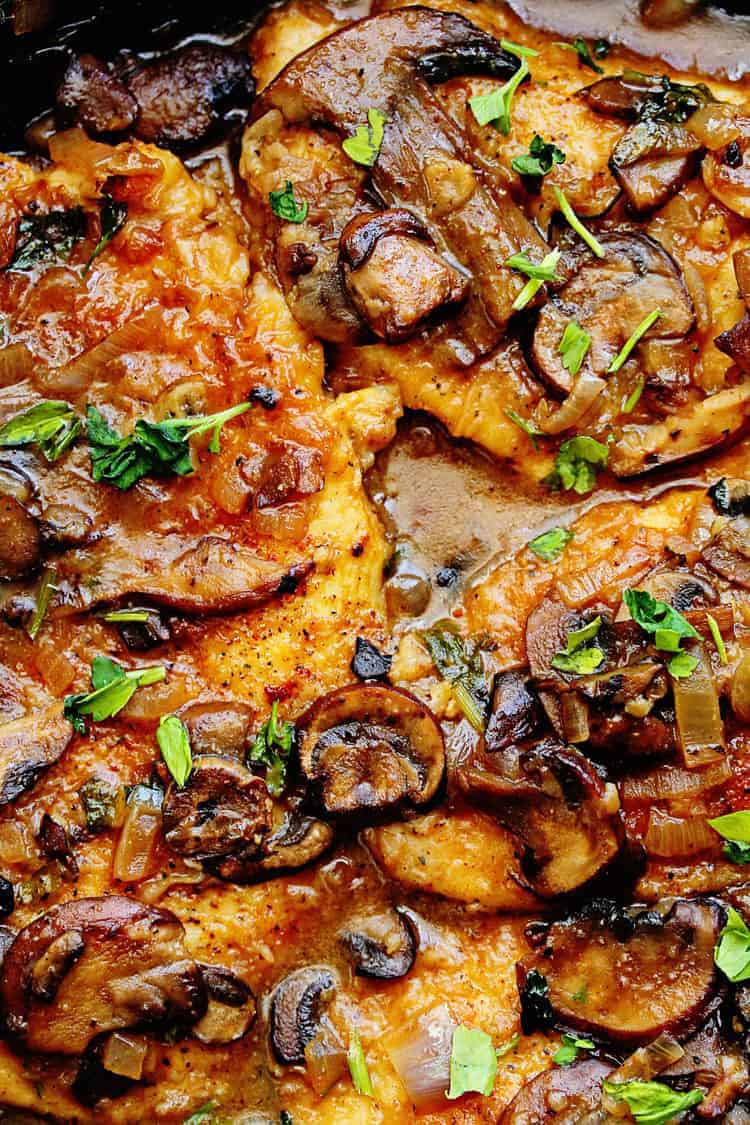 This skinny chicken marsala recipe is just the beginning. I plan to try many more recipes from this book for healthy weeknight dinners that will finally get my hubby and I on the good foot. Skinny isn't so bad after all.
Here are some of the products I used for this recipe:



Skinny Chicken Marsala (Healthy Chicken Marsala)
Deliciously satisfying skinny chicken marsala lightened up on fat but definitely not flavor. The recipe is from the popular The SkinnyTaste Cookbook.
Author:
Gina Homolka of The Skinnytaste Cookbook
Recipe type:
Savory/ Entree
Ingredients
2 large boneless, skinless chicken breasts (8 ounces each)
Kosher salt
Freshly ground black pepper
¼ cup plus 1 teaspoon all-purpose flour
1 tablespoon unsalted butter
2 teaspoons olive oil
3 garlic cloves, minced
¼ cup finely chopped shallots
8 ounces sliced cremini mushrooms
3 ounces sliced shiitake mushrooms
⅓ cup Marsala wine
½ cup Swanson 88% fat-free chicken broth (I used chicken stock since it was all I had on hand)
2 tablespoons chopped fresh parsley
Instructions
Preheat the oven to 200°F.
Slice the chicken breasts in half horizontally to make 4 cutlets. Put each cutlet between two sheets of plastic wrap and lightly pound them until they are about ¼ inch thick. Season with ½ teaspoon salt and a pinch of black pepper.
Place an 18-inch-long length of wax paper on the counter. Put the flour in a shallow bowl and lightly dredge the chicken pieces in the flour, shaking off any excess. Put the chicken on the wax paper; reserve the 1 teaspoon remaining flour to use later.
Heat a large nonstick skillet over medium-high heat. Add ½ tablespoon of the butter and 1 teaspoon of the olive oil to the pan and swirl the pan until the butter has melted. Add the chicken and cook until slightly golden on both sides, about 3 minutes per side. Transfer to a baking dish and place in the oven to keep warm.
Add the remaining ½ tablespoon butter and 1 teaspoon olive oil to the skillet. Add the garlic and shallots and cook until soft and golden, about 2 minutes. Add the mushrooms, season with ⅛ teaspoon salt and a pinch of black pepper, and cook, stirring occasionally, until golden, about 5 minutes. Sprinkle in the reserved 1 teaspoon of flour and cook, stirring, for about 30 seconds. Add the Marsala wine, chicken broth, and parsley.
Cook, stirring and scraping up any browned bits from the bottom of the pan with a wooden spoon, until thickened, about 2 minutes.
Return the chicken to the skillet with the mushrooms, reduce heat to low, cover, and simmer in the sauce to let the flavors blend, about 4 to 5 minutes.
To serve, put a piece of chicken on each of 4 serving plates. Spoon the mushrooms and sauce evenly over the top, and serve hot.
Nutrition Information
Serving size:
1 breast + mushrooms and sauce
Calories:
241
Fat:
8 g
Saturated fat:
2.5 g
Carbohydrates:
10 g
Sugar:
2 g
Sodium:
428 mg
Fiber:
1 g
Protein:
26 g
Cholesterol:
80 mg