Tender and juicy and downright addictive, these Southern Fried Pork Chops Recipe is marinated in a spicy buttermilk, breaded in a flavorful flour dredge then pan fried until golden brown creating the ultimate crunch and deliciousness!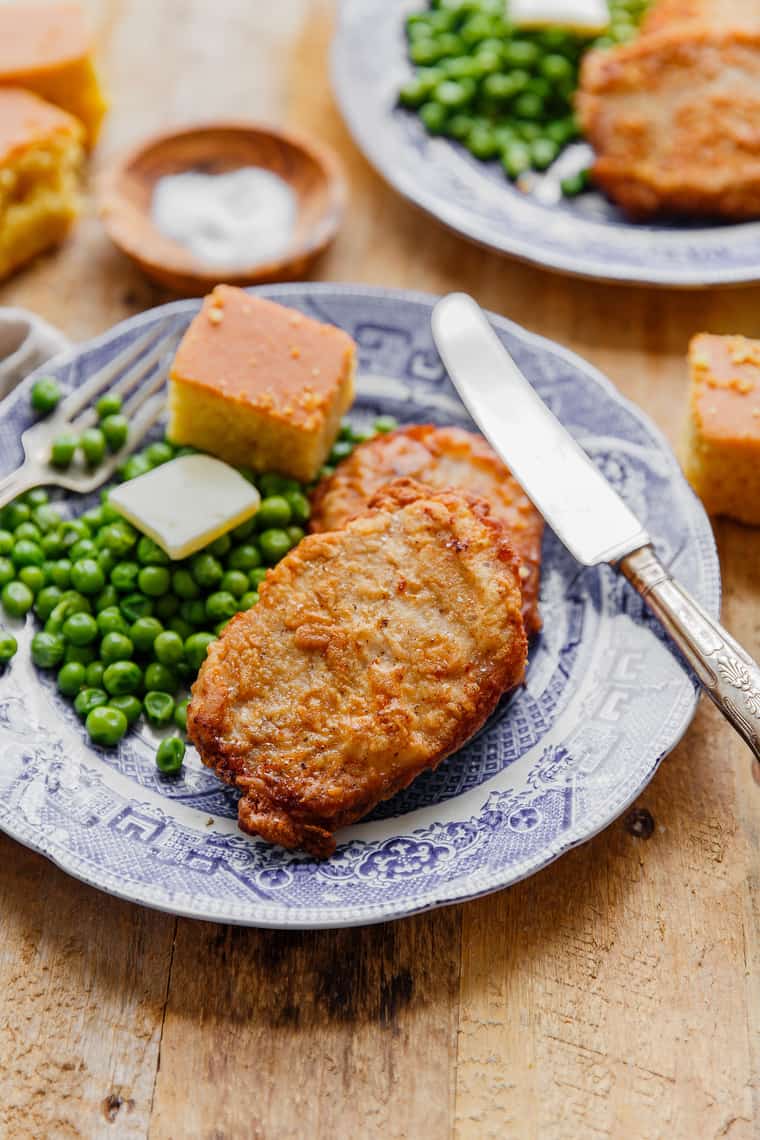 Perks and Highlights of this Fried Pork Chops Recipe
Southern food is synonymous with the word "fried" and with good reason. From catfish and tomatoes to okra and chicken, us Southern folk can fry it all.
Yes, we all know it's not the healthiest way to prepare your food but it's damn delicious. Every now and then we all need a bit of comfort food; something to warm the belly and please the soul. When I need that little pick me up I reach for a simple, tasty Fried Pork Chop.
Cuisine Inspiration: Southern Comfort – This dish brings the soulful warmth of the South right to your kitchen!
Primary Cooking Method: Frying – We're talking sizzle, golden-brown goodness, and the perfect crispy exterior.
Dietary Info: Indulgence Alert – While not for the calorie-conscious, it's a soul-satisfying treat everyone deserves once in a while.
Key Flavor: Savory with a hint of smokiness, these pork chops offer a tantalizing balance that dances on the taste buds.
Skill Level: Intermediate – A bit of frying know-how is great, but even kitchen newbies can jump right in with a bit of courage!
Special Perks:
Crispy on the Outside, Juicy on the Inside: Achieve that perfect textural duality with a tried-and-true method that guarantees moist pork encased in a crispy, flavorful crust.
Customizable Heat Level: Whether you like a gentle warmth or a fire in your mouth, you can easily adjust the spices to suit your heat preference.
Crowd-Pleaser: These chops are like a culinary hug; they're a hit at family dinners, cookouts, and any place where people appreciate good, hearty food.
Pairs with Anything: Flexibility is key! Serve with mashed potatoes, collard greens, or any side you love. These chops are not picky eaters.
Great for Leftovers: If you have any left (and that's a big if!), they make fantastic next-day lunches, whether reheated or eaten cold like the rebels of the culinary world.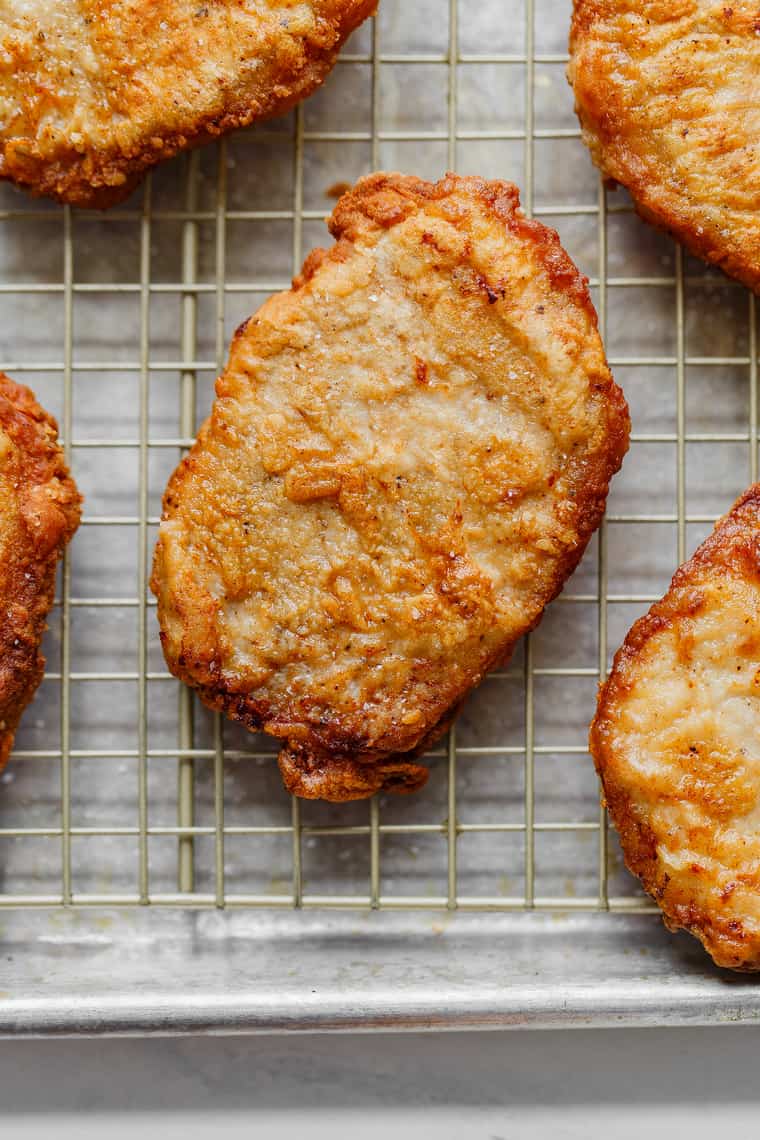 How to Make Southern Fried Pork Chops
Southern Pork Chops are a simple favorite, easy to make but still so indulgent.
The initial crunch, the tender bite of meat and that spice that tickles on your tongue just the right way. Heaven on earth. Only a few things are necessary to create perfect fried pork chops:
A marinade for flavor building

Flour dredging for crispiness

Frying technique
How to Tenderize Tough Pork Chops
Pork chops, when cooked correctly, are incredibly tender and juicy. Fail to properly tenderize the meat, or overcook it, and your dinner is suddenly dry, chewy, and tough.
To prevent that from happening, you'll want to start this recipe by using a mallet to really break down the meat and make the pork chops more tender prior to the marinating and cooking process.
I'd also recommend keeping a meat thermometer on hand. Pork chops can vary in thickness, which also determines how long it takes to cook. Overcooking happens quicker than you think. A well done pork chop is fully cooked when it reads 160 degrees Fahrenheit. Do not exceed that temperature.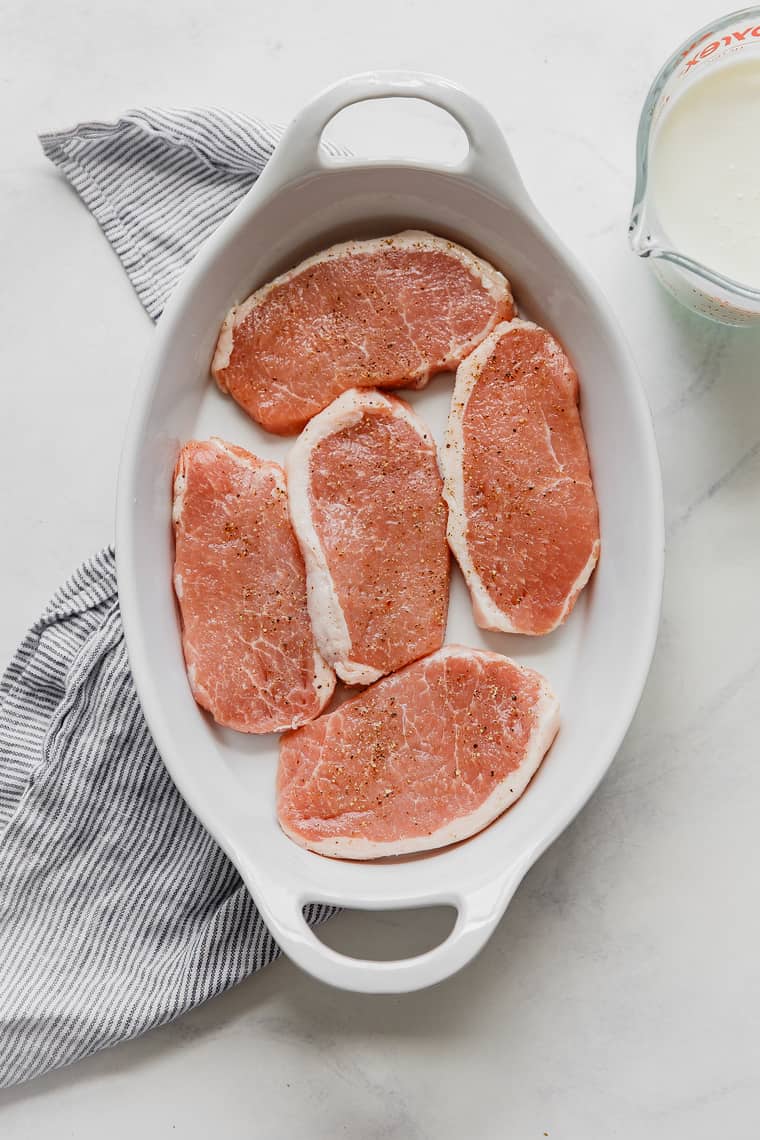 Best Seasoning Tips
What sets this recipe apart is the seasoned buttermilk soak that the chops bathe in before being dunked into my signature seasoned flour. To give that creamy buttermilk a kick, I add a few dashes of hot sauce; it provides the salt needed to enhance taste too.
Once out of its flavorful bath, the pork chops are moist, tender, and ready to get all dressed up!
SEASONING TIPS:
For more flavor, I also season the pork chops with a generous helping of salt and pepper. Using seasoned salt can also be a nice touch.

Feel free to adjust spices like cayenne, hot sauce, and paprika based on your personal preference. If you want more spice, go ahead and add it. Just be careful when adding cayenne because it can pack a major punch.


How to Dredge the Chops
The flour dredge will ensure that you have a crispy, flavorful coating on each pork chop. Once cooked, each bite will have you wondering how you lived this long without this recipe.
I personally like to use a self rising flour for more lift on the pork chops. The buttermilk wash also assists in creating a super crispy crunchy batter on the outside.
TIP: For easier clean up, I opted to use a large plastic bag to dredge the pork chops in seasoned flour. Alternatively, you could mix the seasoned flour into a large bowl and individually dip/coat each piece.
Which is Better, pan fried or deep fried?
This comes down to preference. A cast iron pan is easier to clean up but a deep fryer yields a faster cooking time. There are pros and cons to both methods, so go ahead with whatever is simplest for you!
Here are a few tips that apply to either method:
You can use bone-in or boneless pork chops. Bone-in tends to retain moisture better but boneless is easier to eat. I'd allow the quality of the cuts themselves to determine which you use.

Before cooking, allow the chops to sit out at room temperature for at least 30 minutes. This helps them to cook more evenly.

Make sure the oil is hot before placing the pork chops in the pan. If you put them in too early, the skin will be soggy.

Be sure to turn over the pork chops halfway through cooking. You want each chop to be as evenly cooked as possible.

Do not overcrowd the pan! Too many pork chops can result in an undercooked and greasy result.

Drain on paper towels or a baking rack set over a baking sheet. This removes extra oil and allows the chops to rest and redistribute their juices.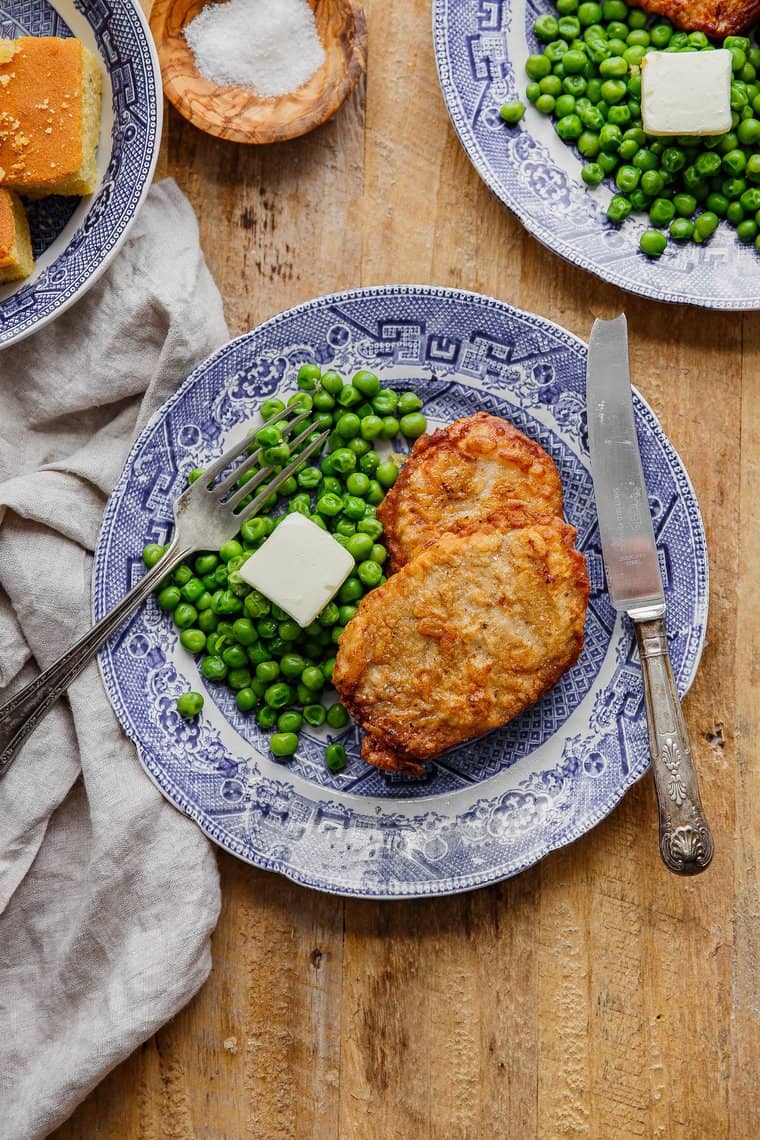 What to Serve with
This fried pork chops recipe is a cozy weeknight dinner just waiting to happen. Pair them with a bright summer salad, succotash, roasted vegetables or Baked mac and cheese for that extra dose of comfort.
No matter what you choose, my Fried Pork Chops will transport those taste buds straight down South. Roll up your sleeves, pop out those chops and get to working because you and I both know you're frying some of these up tonight!
For a super down home Southern meal, pair with these Chitterlings. Also try these Collard Greens or Mustard Greens , Pinto Beans and some Hot Water Cornbread or Corn Muffins for a true down home meal.
More Comfort Food Recipes to Try
If you love this Southern Fried Pork Chops recipe, you will love these recipes:
Check out my Smothered Pork Chops Recipe! It takes fried pork chops to another level!
This Chicken Fried Steak recipe is insanely delicious and comforting!
Get real down with southern grub with my Fried Chicken Gizzards recipe!
How about frying some Buttermilk Fried Chicken while you are at it!
*Did you make this recipe? Please give it a star rating and leave comments below!*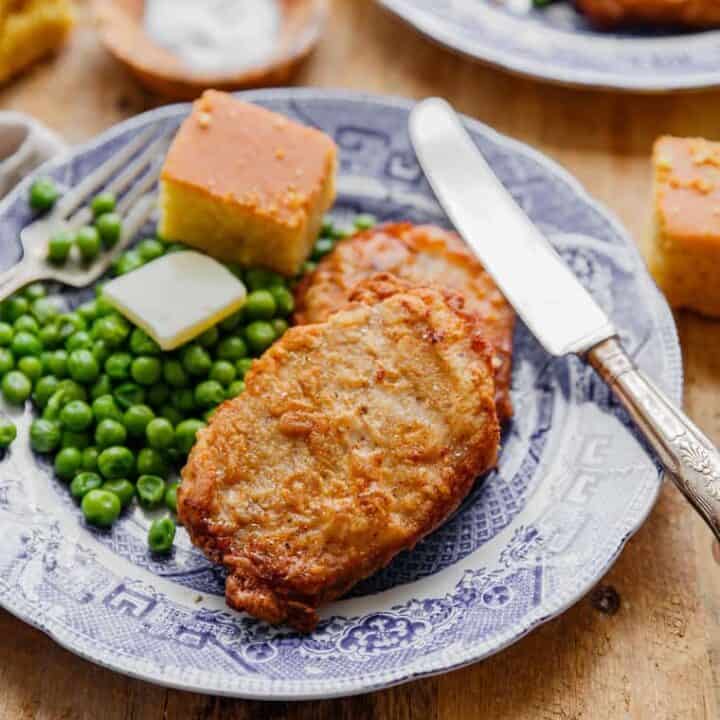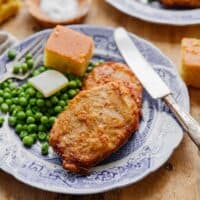 Southern Fried Pork Chops Recipe
Tender and juicy and downright addictive, these fried pork chops are marinated in a spicy buttermilk then breaded in a flavorful flour dredge creating the ultimate crunch and deliciousness.
Print
Pin
Rate
Ingredients
1

lb

pork chops

2

cups

buttermilk

2

tsp

hot sauce

1 1/4

cup

self rising flour

1

tbsp

plus 1 tsp seasoned salt

plus to taste

1 1/2

tsp

black pepper

plus to taste

1/2

tsp

ground garlic powder

1/2

tsp

cayenne pepper

1/2

tsp

paprika

2

cups

canola oil
Instructions
Season pork chops with salt and black pepper to taste on both sides.

Next whisk hot sauce into buttermilk and dip pork chops into buttermilk mixture. Allow to soak for an hour.

In a large plastic bag, add flour, salt, pepper, garlic powder, cayenne pepper, and paprika and mix until combined.

Put pork chops into seasoned flour and place on a parchment lined baking sheet. Place in refrigerator for 20 minutes to set flour.

Heat oil over medium high heat.

Fry until golden brown on both sides. Once fried, remove and add to paper towel to drain oil.
Notes
Make sure you season both the pork chops and also the flour.  Using seasoned salt is a nice element to add additional flavor. It is usually salt seasoned with additional spices to create more depth for your dish.
Feel free to adjust spice elements like cayenne, hot sauce and paprika based on your preference.  If you prefer more spice, definitely add a bit more. Just be careful when adding cayenne because it can pack major spice.  
Nutrition
Calories:
396
kcal
|
Carbohydrates:
28
g
|
Protein:
26
g
|
Fat:
19
g
|
Saturated Fat:
4
g
|
Cholesterol:
71
mg
|
Sodium:
1590
mg
|
Potassium:
507
mg
|
Sugar:
4
g
|
Vitamin A:
345
IU
|
Vitamin C:
1.4
mg
|
Calcium:
124
mg
|
Iron:
0.8
mg