You won't miss the meat with these incredibly tender, flavorful lentil meatballs cooked in a rich Italian tomato sauce and spaghetti! This is pure vegetarian comfort food! If you love this, you will also love these BBQ Meatballs, Baked Spaghetti and Classic Spaghetti and Meatballs.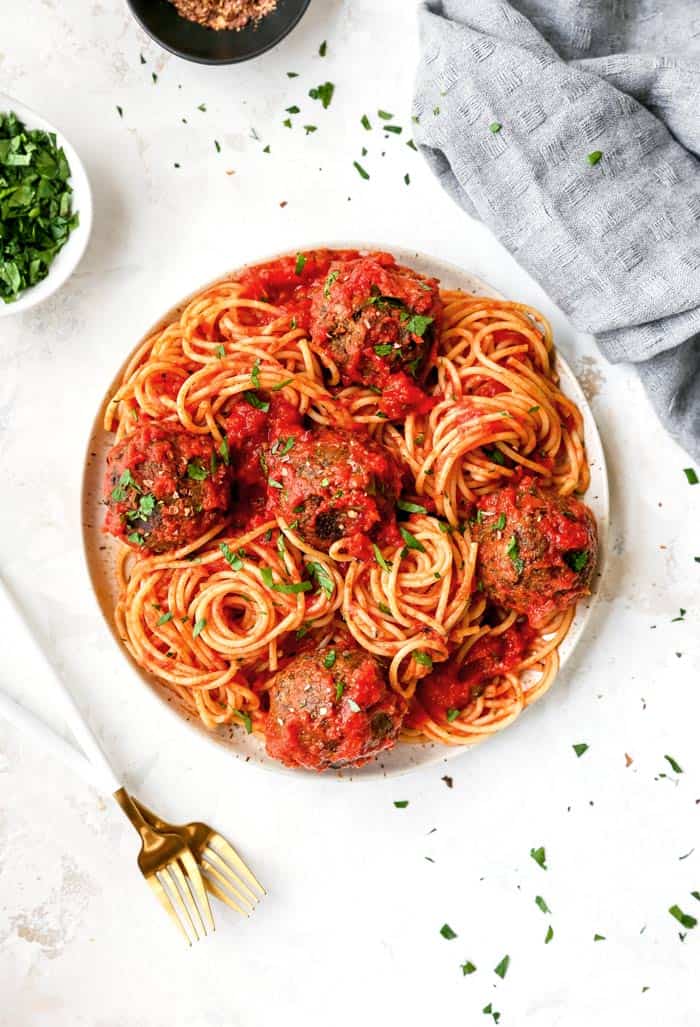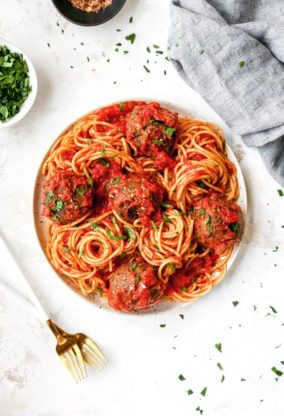 Having been raised in a Southern household, I grew up eating more than my fair share of meat and seafood. Smothered pork chops, fish frys' and fried chicken were all a part of our regular dinner rotation. Now, I don't regret any of those devilishly delicious bites but as I've gotten older, I've changed my ways a bit. Prioritizing my health has been, and will continue to be, very important.
In recent years, my husband Frederick has transitioned his diet and he now focuses on a primarily vegetarian/vegan diet. He has limited meat to the bare minimum, it's been really impressive to watch. Being the devoted wife that I am, I've done my best to develop recipes that support his journey. What a lucky man, huh?
There are just about a million and one meat replacements and veggie alternatives but there's one that stands out above the rest: lentils. I have been known to eat several bowls of lentil soup in one sitting or to devour a plate of lentil curry without thought. Hearty and adaptable, lentils are capable of taking just about any form and still be exquisite.
Today's recipe is a little out of the box and a whole lot tasty! Savory, nourishing and unique, Spaghetti and Lentil Meatballs is my creative take on an Italian-American classic. You might not ever go back to the real thing!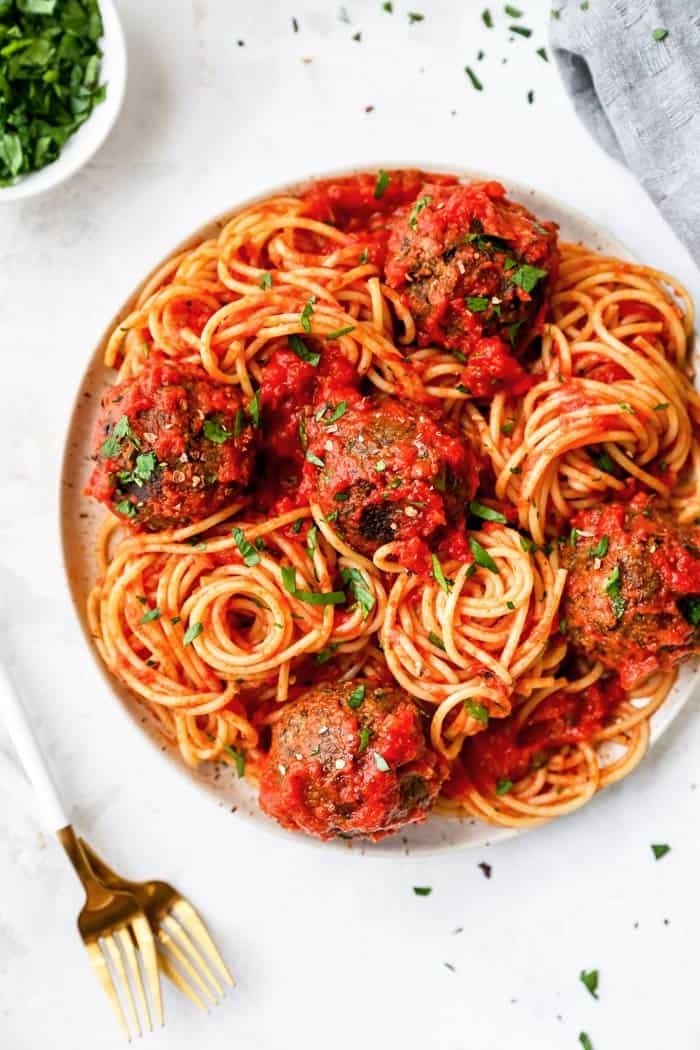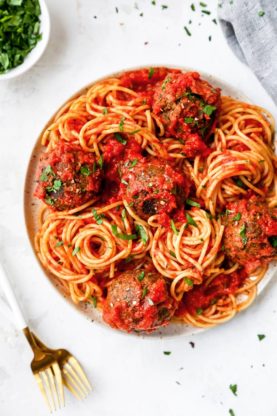 LENTIL HEALTH BENEFITS
During the third trimester of my Baby Cakes pregnancy, lentils were a staple on my weekly grocery list. Lentils not only provide an incredible amount of protein but they are also a great source of folate. Each serving of cooked lentils is low in fat and high in fiber while also being low in calorie content. Lentils are the ultimate nutritional win if you ask me!
Another benefit? Lentils are naturally gluten-free and only take about 15 minutes to cook. No need for time-consuming soaks; this means dinner hits the table that much faster. It doesn't get much better than that y'all!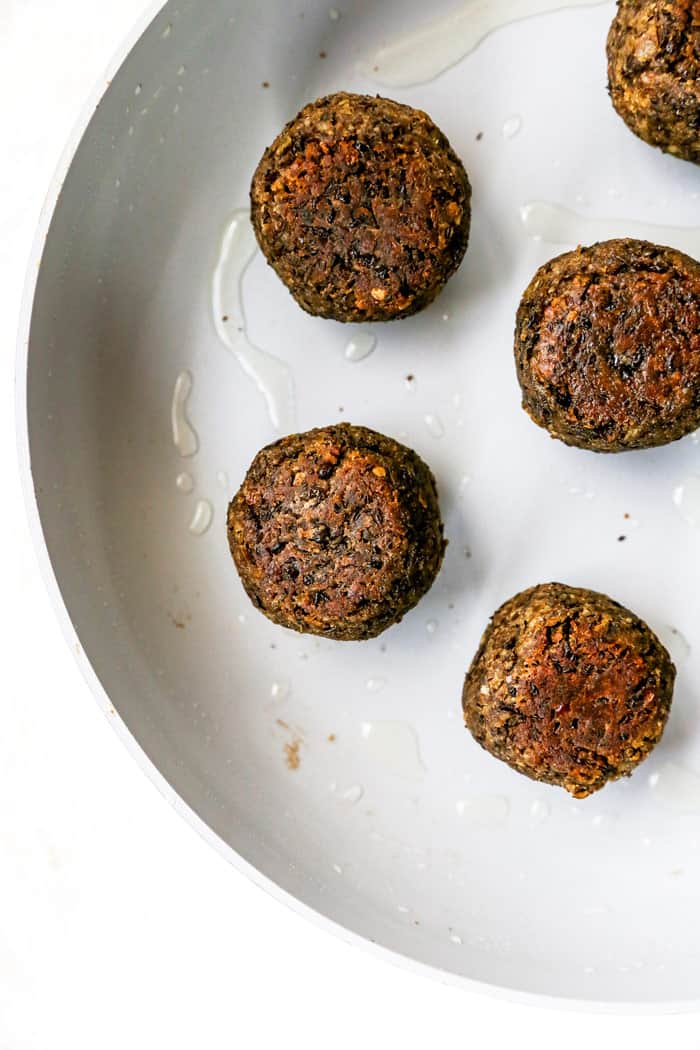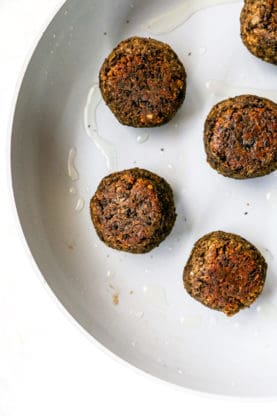 HOW TO MAKE LENTIL MEATBALLS
Made with simple, pantry-staple ingredients, Spaghetti and Lentil Meatballs make for the perfect weeknight dinner! Trust me, y'all need to make this recipe ASAP.
Here's what you'll need to grab:
Green Lentils– green lentils are rich in antioxidants, iron and magnesium; they have a particularly peppery, earthy taste. Once cooked, they become tender and extremely malleable. Perfect for meatballs!
Vegetable Stock– similar to rice, lentils soak up the liquid they are being cooked in. By using vegetable stock, we layer in flavor from the very beginning.
Olive Oil– an Italian dish without olive oil? I don't want it.
White Mushrooms- high in protein and low in calorie, white mushrooms are incredibly healthy and beneficial to your gut health. They also add that "meaty" quality to these, well, meatballs.
Chopped Onion & Garlic– adding in aromatics is key to creating flavorsome, balanced meatballs.
Italian Breadcrumbs- breadcrumbs act as a binder for our meatballs, the added dry spices also make for the best signature Italian flavor.
Worcestershire Sauce– just a few dashes add a delightful, almost smoky, zing!
Red Chili Flakes– like just about anything else I eat, I like a little bit of kick. Sprinkle in as many or as little chili flakes as you'd like!
Large Eggs- eggs work alongside the breadcrumbs to bind the lentils together.
Spaghetti Sauce & Pasta– use your favorite sauce and pasta! Seriously, just about anything will work.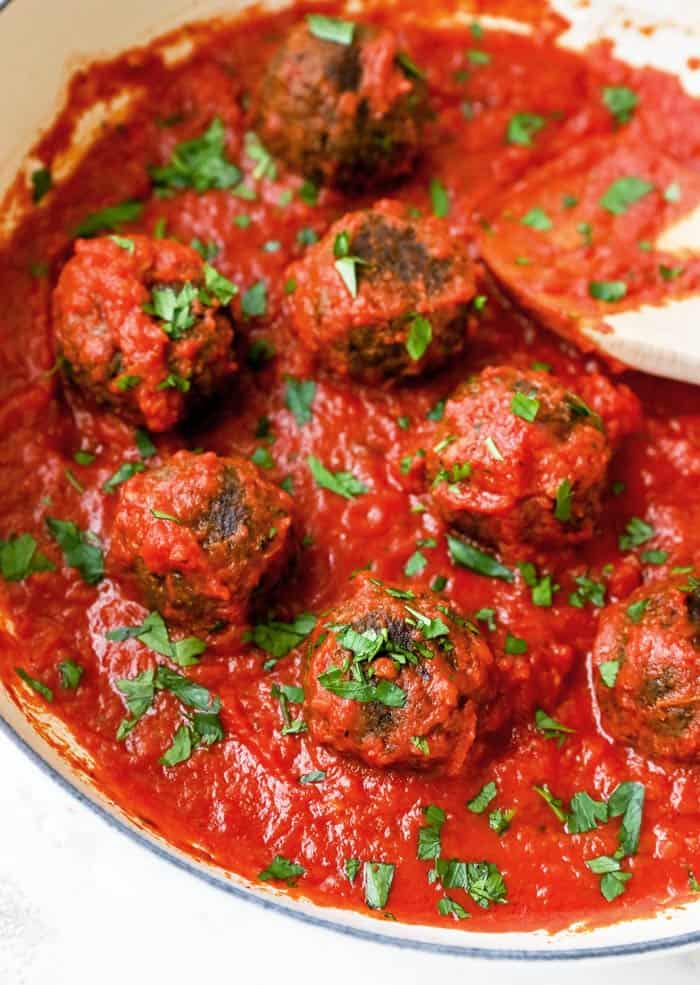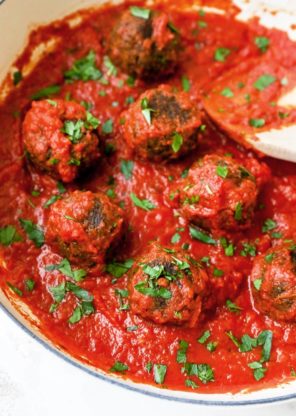 MAKE IT HEALTHIER
Looking to up your health game? So am I. Though regular pastas are delicious, they aren't very nutrient dense and often, they pack an indulgent amount of carbohydrates. I find that by using a gluten-free or chickpea pasta, I lower my carb intake and add even more protein. Give it a try, you'll thank me for it!
LEFTOVER STORAGE AND REHEATING
This recipe makes a ton of lentil meatballs, maybe more than you might expect. So, expect to have a bunch leftover! I suggest placing them in an airtight container or in a freezer-safe plastic bag and freezing them for later use. Once frozen, these meatballs will last for 3-4 months.
To reheat, allow the meatballs to defrost in the refrigerator overnight or at room temperature for at least an hour. Then, cook as directed. It's that easy!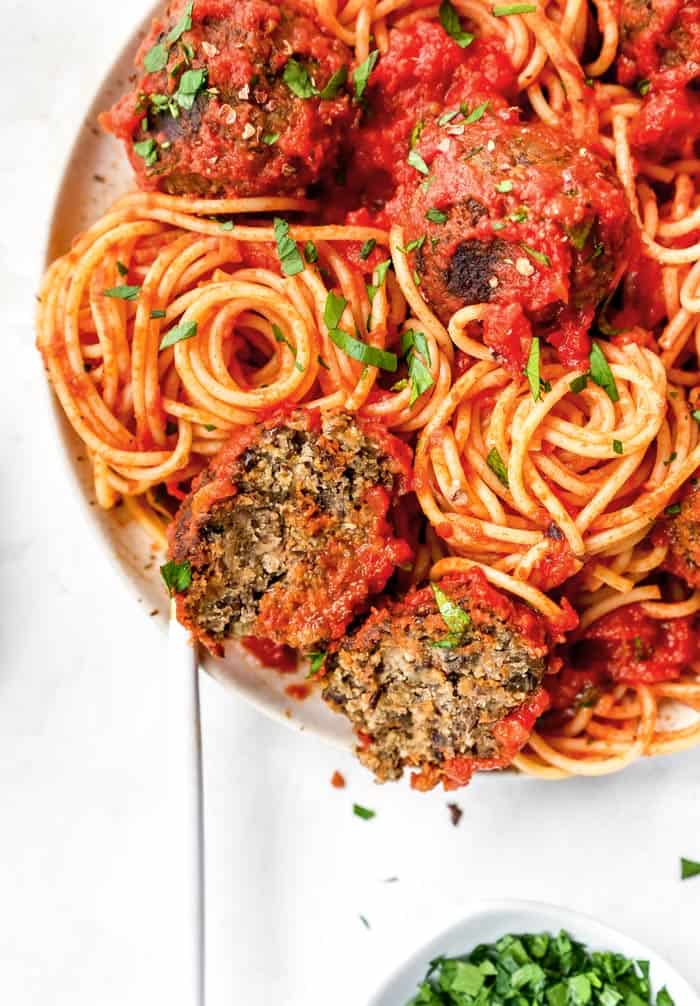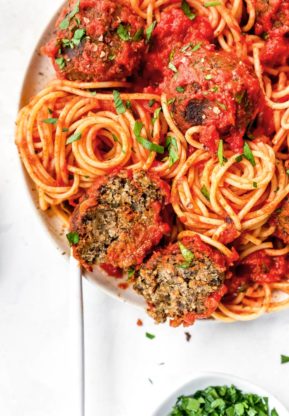 MORE GRANDBABY CAKES ITALIAN-INSPIRED RECIPES
I'm a firm believer in balance and moderation; it's important to eat nutrient-dense food along with the good stuff. In our house, Italian food is our preferred cheat meal and the recipes below are the only way to go.
Check 'em out:
*Did you make this recipe? Please give it a star rating and leave comments below!*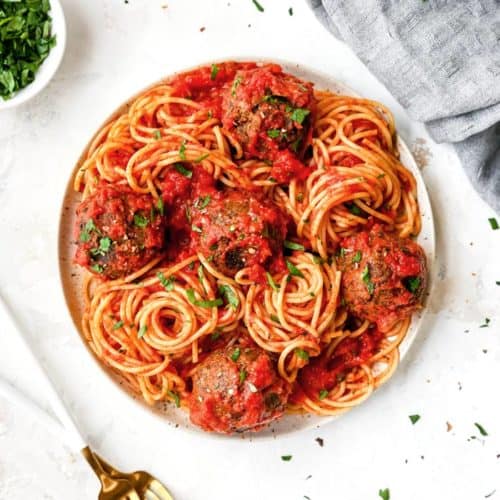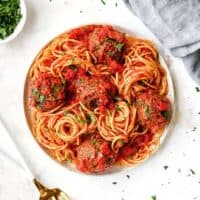 Spaghetti and Lentil Meatballs
Spaghetti and Lentil Meatballs - A delicious and vegetarian spin on a comforting Italian classic. Find out why I started using healthy lentils in weeknight meals!
Print
Pin
Rate
Ingredients
2

cups

green lentils

4

cups

vegetable stock

⅓

cup

olive oil

divided

¾

cup

white mushrooms

chopped

½

chopped onion

2

cloves

chopped garlic

1

cup

Italian breadcrumbs

1

teaspoon

Italian seasoning

1

teaspoon

Kosher salt

½

teaspoon

ground pepper

1

tablespoon

Worcestershire sauce

½

teaspoon

red chili flakes

2

large

eggs

Marinara sauce, spaghetti pasta, and parsley for serving
Instructions
Add lentils and vegetable stock to medium sized pot over medium high heat. Bring to boil then reduce to low and cook for 15 more minutes. Drain and set aside.

Add 3 tablespoons of olive oil to large pan over medium heat. Next add mushrooms and onions and saute until tender then add garlic for 45 seconds to cook then remove from heat.

Add lentils, mushrooms, onions, and garlic to food processor and pulse on high until well blended and lentils have broken down somewhat (be careful not to over pulse until it turns to mush).

Pour lentil mixture into large bowl then stir in breadcrumbs, Italian seasoning, salt, pepper, worcestershire sauce and red flakes until well mixed. Next add eggs one at a time to moisten mixture then form meatballs with your hands.

Add remaining olive oil into pan over medium heat and cook meatballs browning on each side. Remove from oil to drain on paper towels then serve over marinara sauce and pasta and garnish with parsley.
Nutrition
Calories:
75
kcal
|
Carbohydrates:
9
g
|
Protein:
3
g
|
Fat:
2
g
|
Cholesterol:
10
mg
|
Sodium:
229
mg
|
Potassium:
122
mg
|
Fiber:
3
g
|
Vitamin A:
90
IU
|
Vitamin C:
0.8
mg
|
Calcium:
16
mg
|
Iron:
1.1
mg