This Strawberry Lemonade Cake is a moist, buttery lemon pound cake filled with a delicious strawberry swirl and coated with delectable strawberry and tangy lemon glazes! Each bite is bursting with lemons and lusciously sweet strawberries. If you love this, you will love my Strawberry Lemonade Bars, Pink Lemonade Sheet Cake, Strawberry Pound Cake or my delicious Lemon Pound Cake!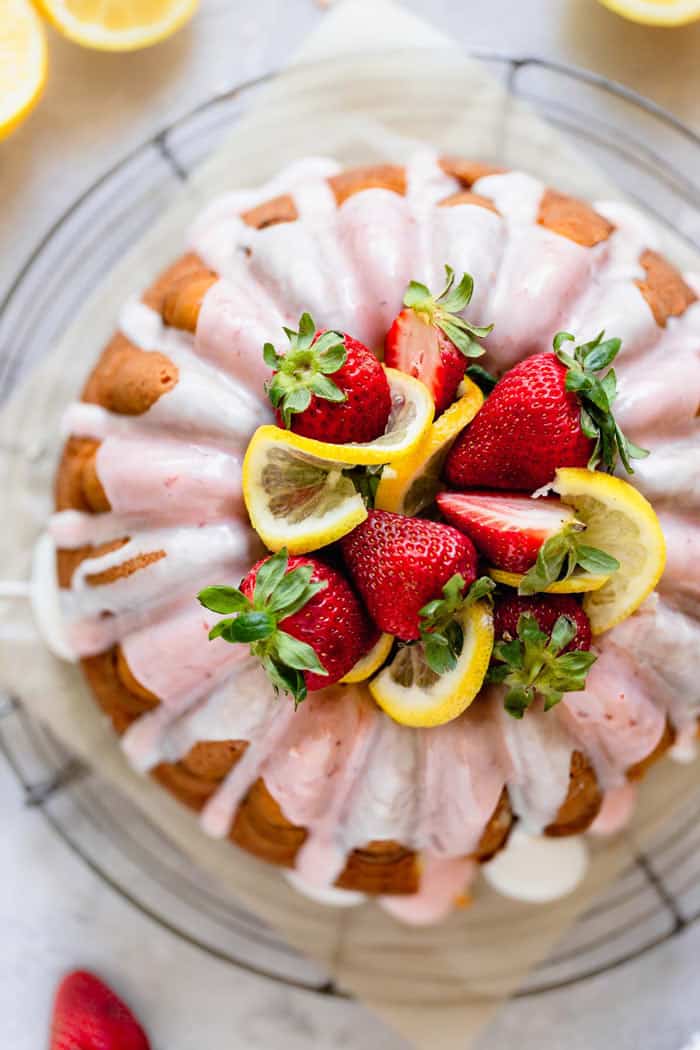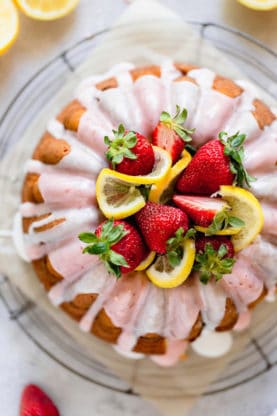 By now, you might have noticed that I've got quite a thing for lemonade. From cupcakes to fresh squeezed, I can never seem to get enough of the sour yet sweet nectar. I mean, is there anything better on a hot Summer day than a tall glass of ice-cold lemonade? I think not.
Having endured most of my childhood Summers in the Mississippi heat, I know my way around a frosty drink. I've squeezed plenty of lemons and stirred so many batches of sweet tea in my day! These days, I still enjoy sugary, chilled beverages but I also love using those same drinks to make something new.
Strawberry Lemonade is a zippy, fruity variation of classic lemonade. I'm drawing inspiration from this heavenly libation to create this Summer's latest and greatest dessert. Strawberry Lemonade Pound Cake is perfect for picnics, potlucks and weekend BBQ's!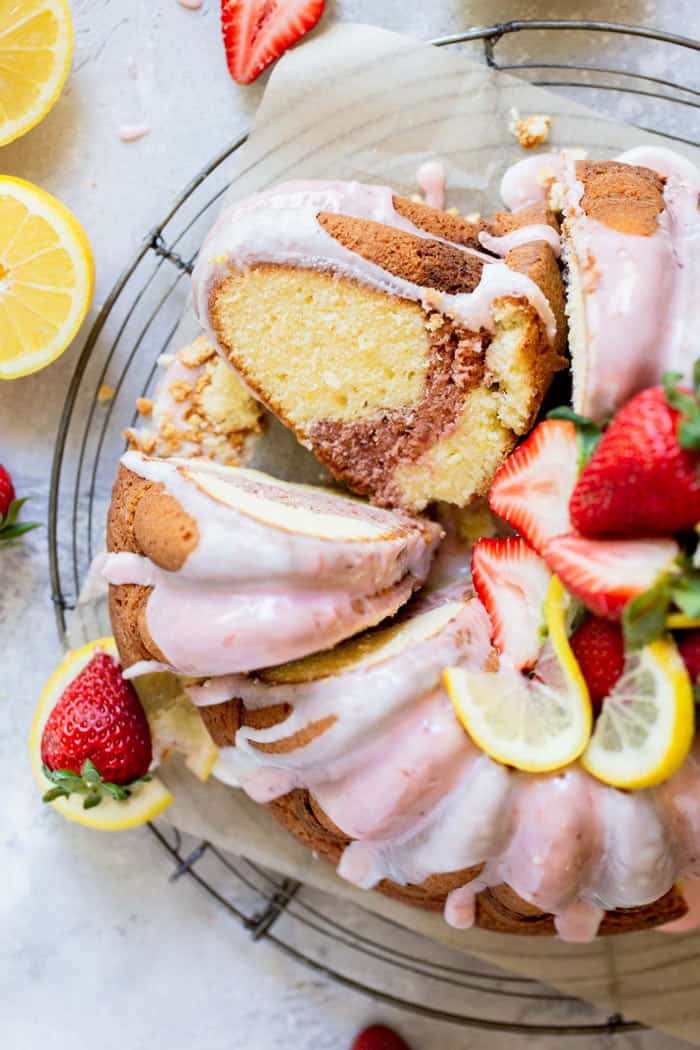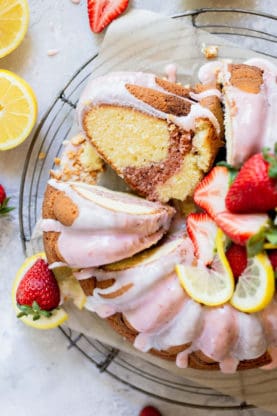 HOW TO MAKE STRAWBERRY LEMONADE CAKE
Alright y'all, you're in for a real treat today! Seriously, this pound cake is one of the best things I have ever made. Every bite is decadent, buttery and chock-full of harmonious zesty, sweet flavor. I promise you, each slice will remind you exactly of an impossibly tasty glass of strawberry lemonade!
There are quite a few ingredients in this recipe but here's what really makes the magic happen:
Cream Cheese
Pound cakes need a hefty amount of moisture to achieve that tender, buttery texture. Cream cheese has both a high fat and moisture content; they work together to build a creamy, soft consistency.
Lemon Instant Pudding
Instant pudding mixes are a great way to infuse an extra kick of flavor and create a creamier batter.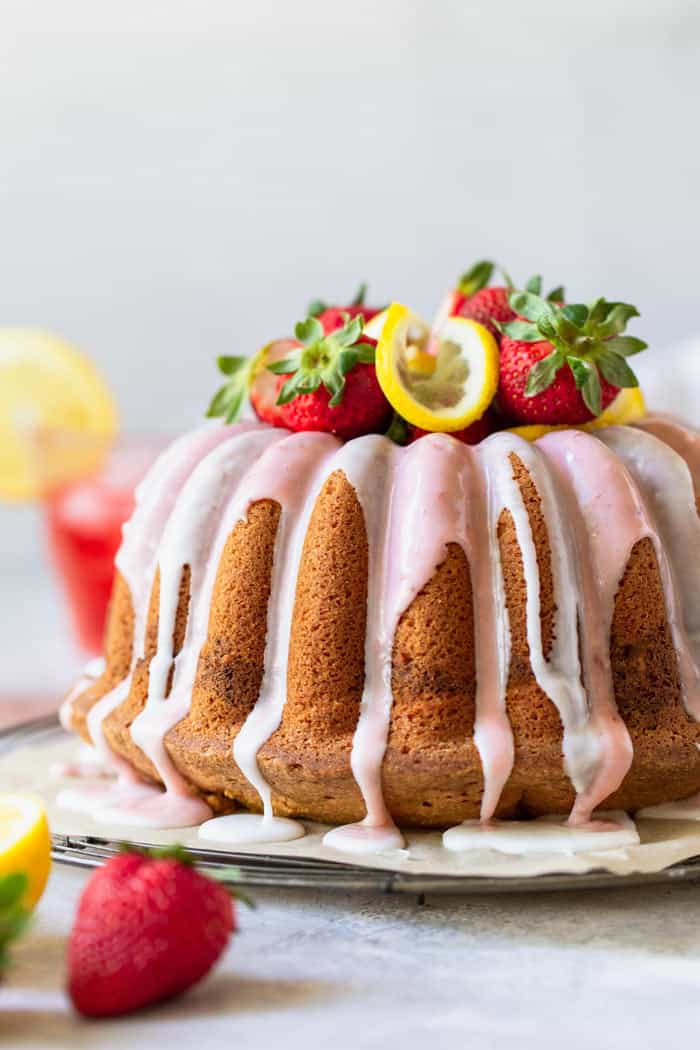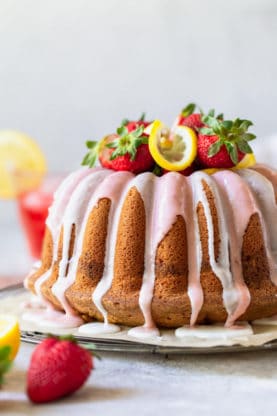 Lemon Juice & Zest
This wouldn't be a Strawberry Lemonade Cake without a strong, tart lemon flavor. Using the tangy juice and floral zest is what makes for a strong, deliciously sharp citrus taste.
Freeze Dried Strawberry Powder
Made with freshly freeze-dried strawberries, this powder is a great way to naturally flavor desserts. I love the fresh strawberry aroma that comes from using this powder.
Strawberry Preserves
Jam preserves contain a rich portion of fruitiness which makes it perfect for baking. The highly-concentrated flavor and bits of natural strawberry create a luscious glaze.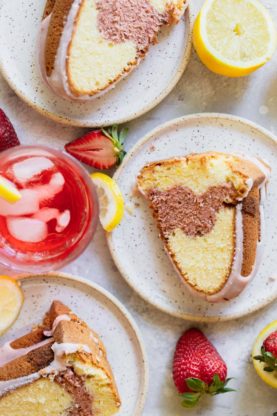 LEFTOVER POUND CAKE STORAGE
Pound cakes have a high moisture content that will begin to dry out from the moment you cut into it. Though they can be kept at room temperature for 1-2 days, I find that it's best to refrigerate a pound cake. Cover the leftover cake with either foil or plastic wrap then, place in the refrigerator for up to a week.
To Freeze: Wrap the cake in aluminum foil or plastic wrap then, put it in a heavy-duty freezer bag. A frozen pound cake will keep for 4-6 months. When ready to consume, thaw overnight in the fridge.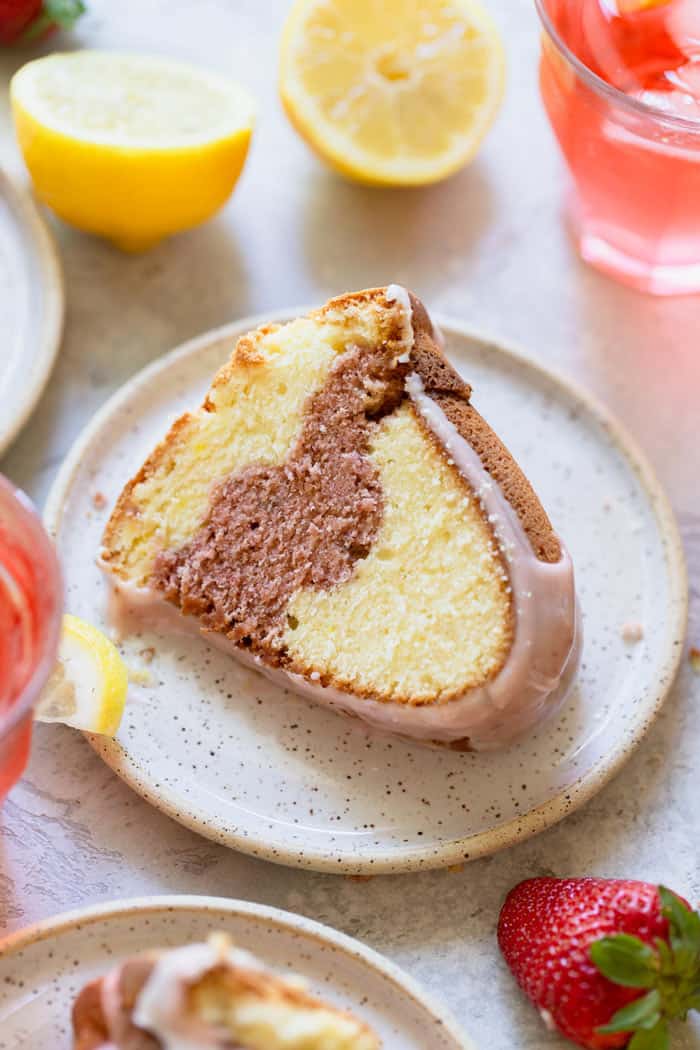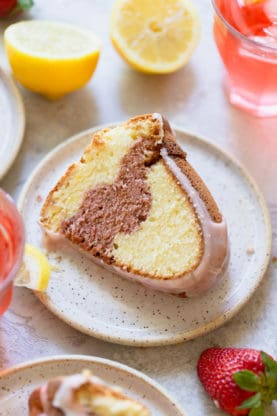 GRANDBABY CAKES' BEST LEMONADE INSPIRED RECIPES
This Summer is coming in hot! It's time to stack up a few recipes to keep you cool, sane and satiated. Try out a few my favorite refreshing sunny-day drinks & desserts:
STRAWBERRY LEMONADE CUPCAKES
PINK LEMONADE FLOATS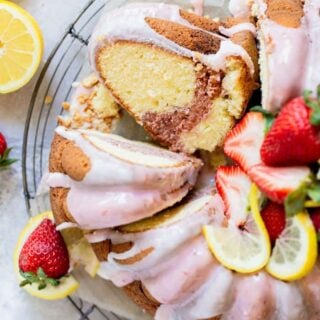 Strawberry Lemonade Cake
This Strawberry Lemonade Cake is a moist, buttery lemon pound cake filled with a delicious strawberry swirl and coated with delectable strawberry and tangy lemon glazes! Each bite is bursting with lemons and lusciously sweet strawberries.
Print
Pin
Rate
Ingredients
For the Lemon Pound Cake
1 1/2

cups

unsalted butter

room temperature (3 sticks)

8

oz

cream cheese

room temperature

1

tsp

salt

2 1/2

cups

granulated sugar

6

large eggs

room temperature

3

cups

sifted cake flour

3.4

oz

lemon instant pudding package

2

tsp

lemon zest
For the Strawberry Swirl
1/3

cup

freeze dried strawberries powder

2

tbsp

melted strawberry preserves

red food coloring if desired
For the Lemon Glaze
1 1/3

cup

confectioner's sugar

sifted

3

tbsp

fresh lemon juice

lemon zest

optional
For the Strawberry Glaze
1 1/2

cup

confectioner's sugar

sifted

4

tbsp

strawberry preserves

melted

5-6

tsp

whole milk

optional: fresh strawberries and lemon slices for garnish
Instructions
For the Pound Cake Batter
Preheat oven to 325 degrees.

Add room temperature cream cheese, butter and salt to large mixing bowl and begin creaming on high speed until smooth.

Slowly add sugar to bowl and cream until light and fluffy which takes about 5 minutes.

Lower speed of mixer to medium and add one egg at a time and mix until incorporated.

Slow mixer to slowest speed and add flour one cup at a time into bowl until just incorporated. Do not overbeat at this point.

Remove ⅓ of the batter from the mixer and set to the side.

Add half of the lemon pudding mix and lemon zest to the mixer and mix in until just combined.
For the Swirl
Add freeze dried strawberry powder and preserves to the set aside ⅓ of batter and whisk until combined.

Finally add in food coloring until you reach a color you like. I went with a moderately bright pink.

Add half of the lemon cake batter to the pan and smooth out. Next spoon strawberry cake batter on top and smooth out. Finally add the remaining lemon cake batter and smooth completely covering the strawberry cake batter.

Bake for 1 hour and 10 -20 minutes or until a toothpick inserted in the center of the cake comes out clean.

Cool in pan on a wire rack for 10 minutes, then invert cake on serving plate for at least an hour or until the cake is cool to the touch.
For the Lemon Glaze
Whisk together powdered sugar and lemon juice until smooth. If it is too runny, add a bit more sugar or if it is too thick, add a little bit more lemon juice. You want to consistency to coat the back of a spoon but slide off easily. Set aside.
For the Strawberry Glaze
In a medium bowl, whisk together all ingredients until smooth. If it is too runny, add a bit more sugar or if too thick, more milk.

Finally to assemble the cake, alternate drizzling both lemon and strawberry glaze on top of the room temperature cake making sure both icings are seen.

Add strawberries and lemon slices to center of cake and serve.
Notes
If you don't have powder, add freeze dried strawberries to your high power blender or food processor and blend until it reaches a fine powder.
Nutrition
Calories:
512
kcal
|
Carbohydrates:
76
g
|
Protein:
5
g
|
Fat:
21
g
|
Saturated Fat:
13
g
|
Cholesterol:
109
mg
|
Sodium:
223
mg
|
Potassium:
127
mg
|
Fiber:
1
g
|
Sugar:
53
g
|
Vitamin A:
721
IU
|
Vitamin C:
55
mg
|
Calcium:
32
mg
|
Iron:
2
mg