Rib Tips are a juicy, mouthwatering, finger-licking delicacy that every barbecue lover needs to try at least once! If you're a cookout fan, serve these tender, flavorful bites smothered in BBQ sauce for the ultimate crowd-pleasing recipe. If you love this, you should check out my BBQ Baby Back Ribs, Pomegranate Braised Short Ribs, or Chipotle Short Ribs.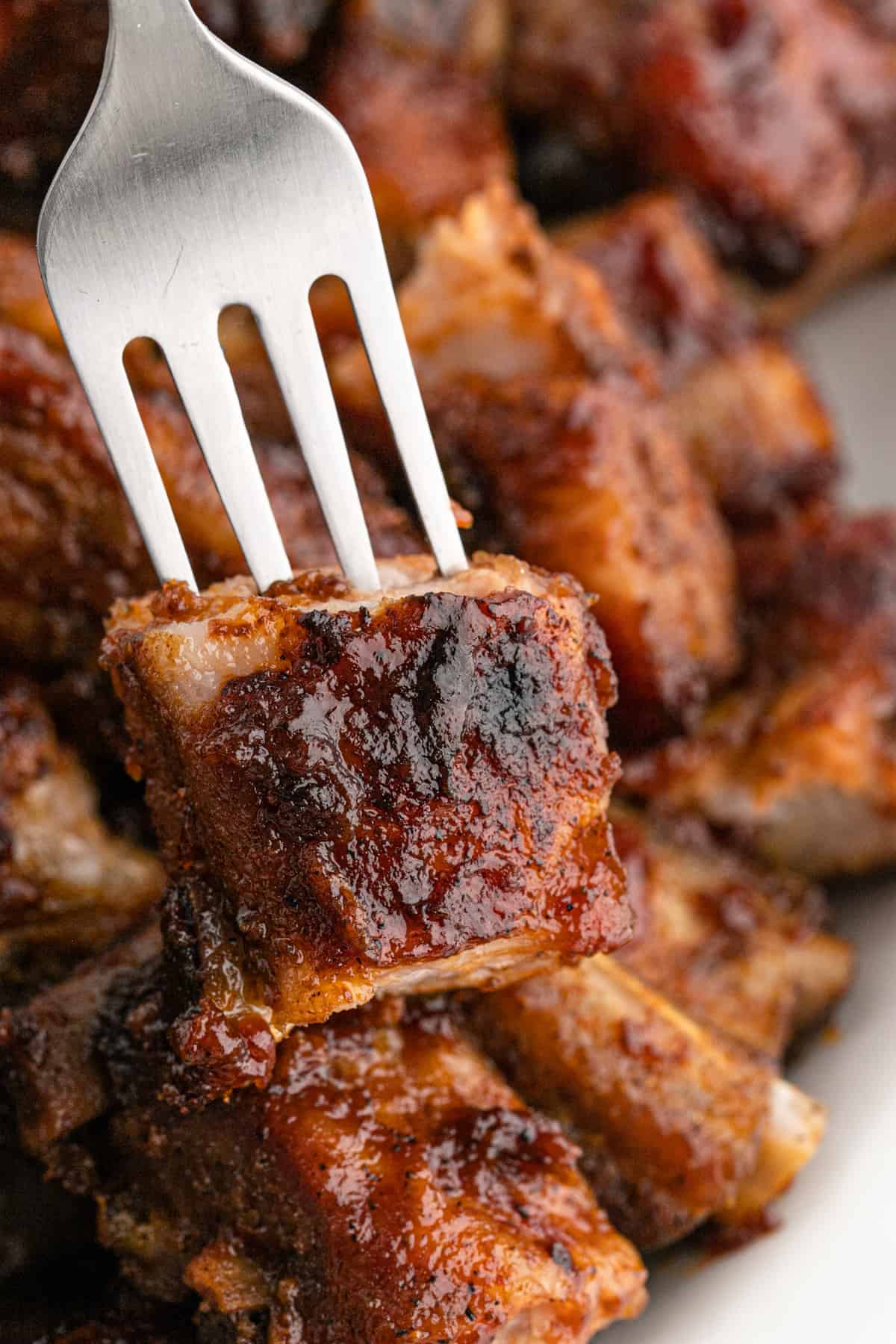 Rib tips are one of those foods I just can't turn down. As the summer grilling season approaches, I get so excited for classic Southern cookouts with grilled vegetables, cornbread, potato salad, sweet tea, baked beans, and most importantly, LOTS of ribs!
So, what's the secret to tender, flavorful, and juicy ribs? The perfect dry rub and slow cooking. Oh, and a generous slather of barbecue sauce for good measure!
What exactly are rib tips?
Rib tips are the meaty, cartilage-rich end portions of pork spare ribs. These delicious pieces of meat are considered a delicacy when it comes to Southern barbecue culture.
If you cook them just right, you'll fall in love with the blend of sweet, smoky flavors and fall-off-the-bone textures. Grilling rib tips is my preferred method of cooking, but you can bake them to achieve a similar flavor and texture, meaning no more having to wait for grilling season!
Serve them with extra BBQ sauce and sides like collard greens, baked macaroni and cheese, Southern potato salad and coleslaw for a mouthwatering meal! If you're hosting a party, finish the night off with a juicy dessert like peach cobbler or peach crisp.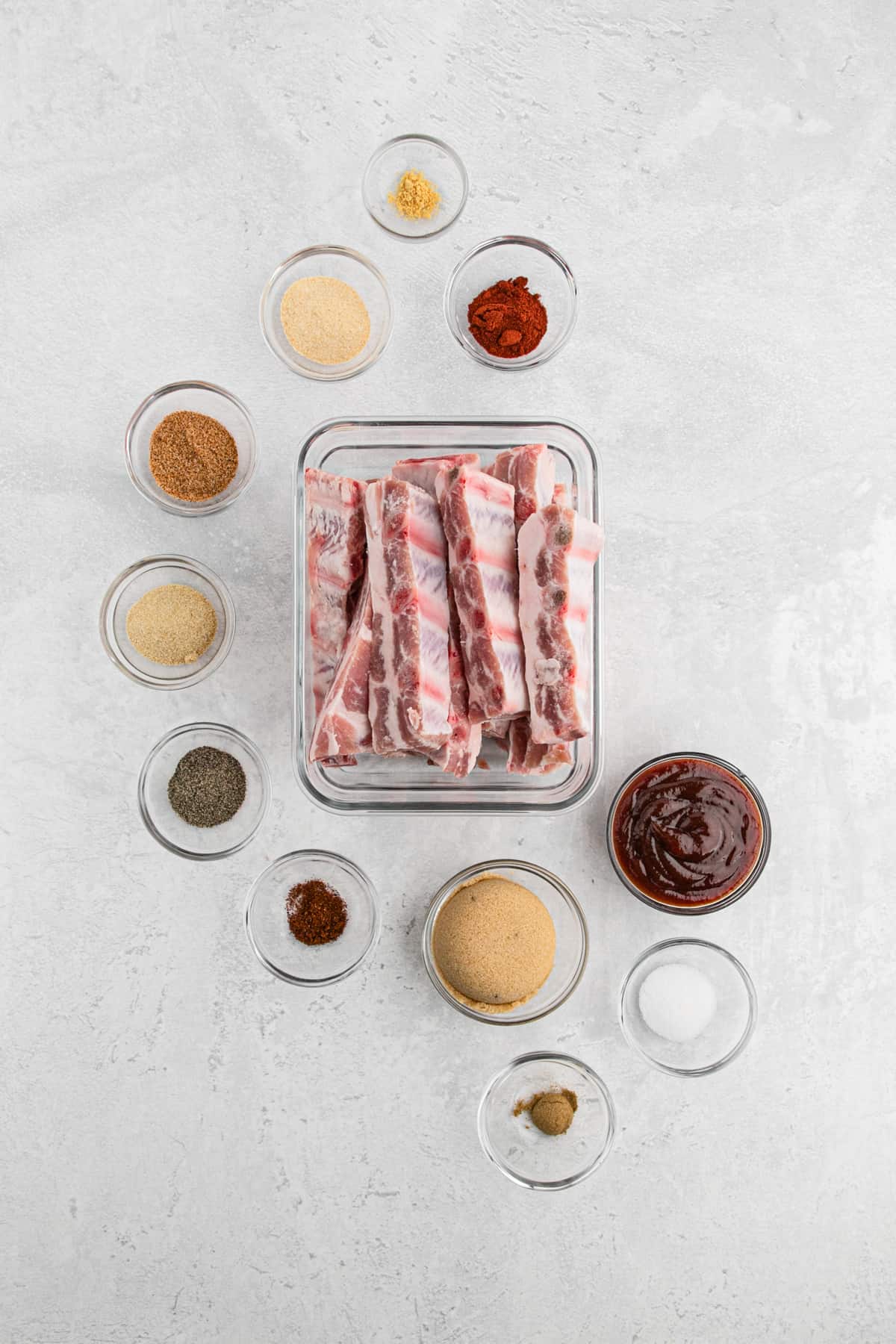 Ingredients & substitutions
Rib tips:

Pork rib tips are straight-up known for their richness and melt-in-your-mouth texture. You can find these bad boys at any local grocery store or butcher shop.

Brown sugar:

When it comes to the dry rub, brown sugar adds sweetness and complexity that balances the heat from the spices. But if you ain't got no brown sugar, you can use granulated sugar or honey instead.

Dry rub seasonings:

I'm all about those big, bold, smoky flavors like onion powder, garlic powder, Cajun seasoning, and smoked paprika. But don't be afraid to switch it up with some Creole or blackened seasoning, hot paprika, cayenne, pepper, or mustard powder.

Cooking spray:

To keep your ribs from sticking and to make sure that dry rub sticks to them, use some cooking spray or a thin layer of vegetable oil with a high smoke point.

BBQ sauce:

And for that final basting, use your fave store-bought or homemade BBQ sauce. Mix it up and try out some different flavors like honey, bourbon, or spicy varieties to find what you like best.
How to make rib tips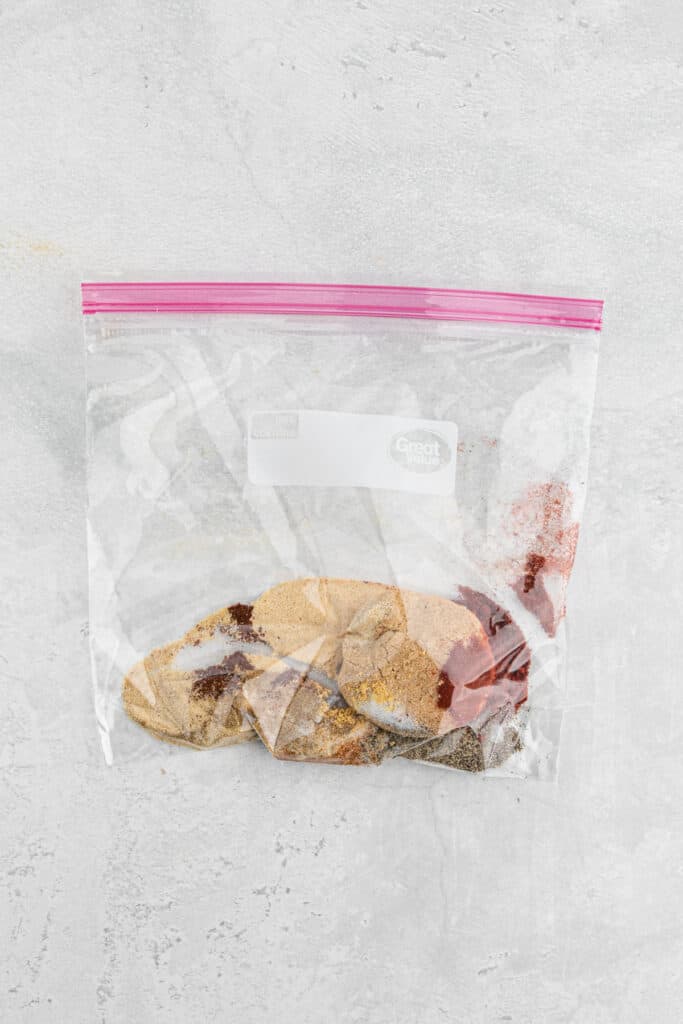 Step 1: Prepare the rib tips
Make sure they are thoroughly dried to ensure the rub sticks. Combine all the dry rub ingredients in a plastic bag or container and shake until the blend is well-mixed.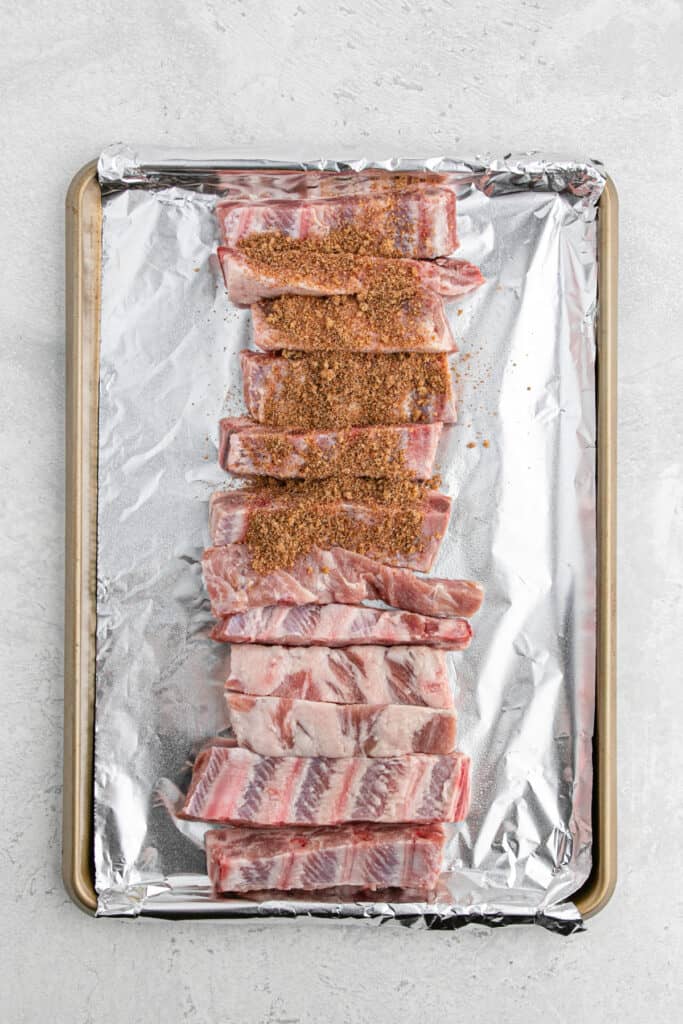 Step 2: Apply the dry rub
Line a large baking sheet with foil and place the rib tips on top. Spray the ribs with cooking spray and massage the dry rub into both sides, making sure to really work it in with your hands.
Cover the ribs with foil and refrigerate them for at least 6 hours, but preferably overnight.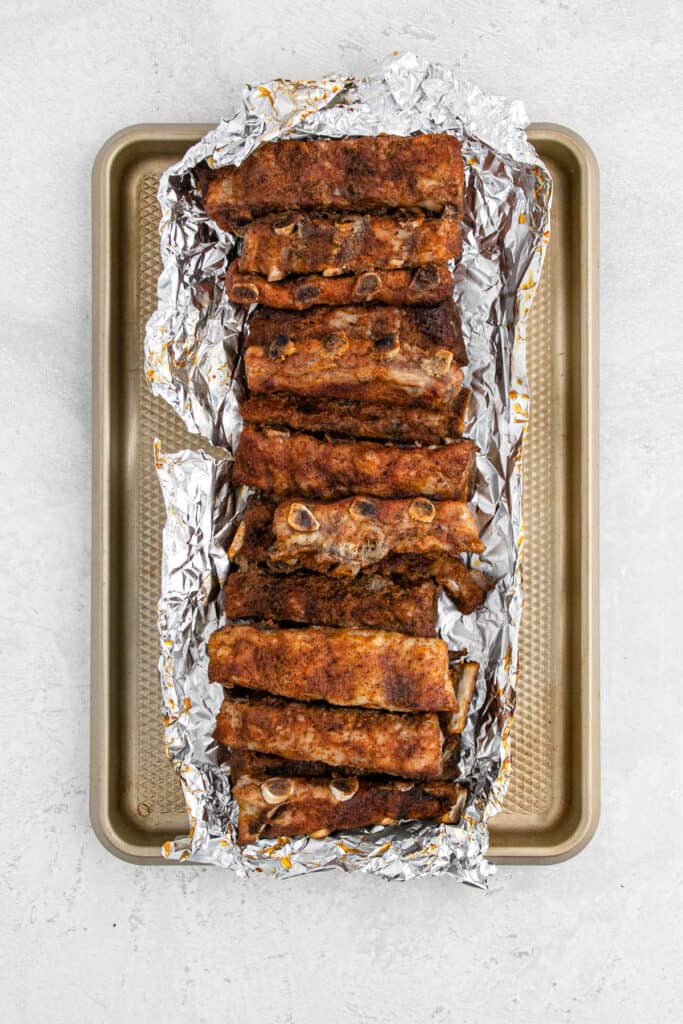 Step 3: Cook the ribs
You can either grill or bake the ribs, depending on which tools you have available. If you decide to use a grill, cook them over indirect heat for about 3 hours, turning and basting with BBQ sauce during the last 30 minutes.
If you only have an oven, bake them low and slow at 300F for 2 ½ hours. Toward the end, broil them with BBQ sauce to achieve a sticky glaze.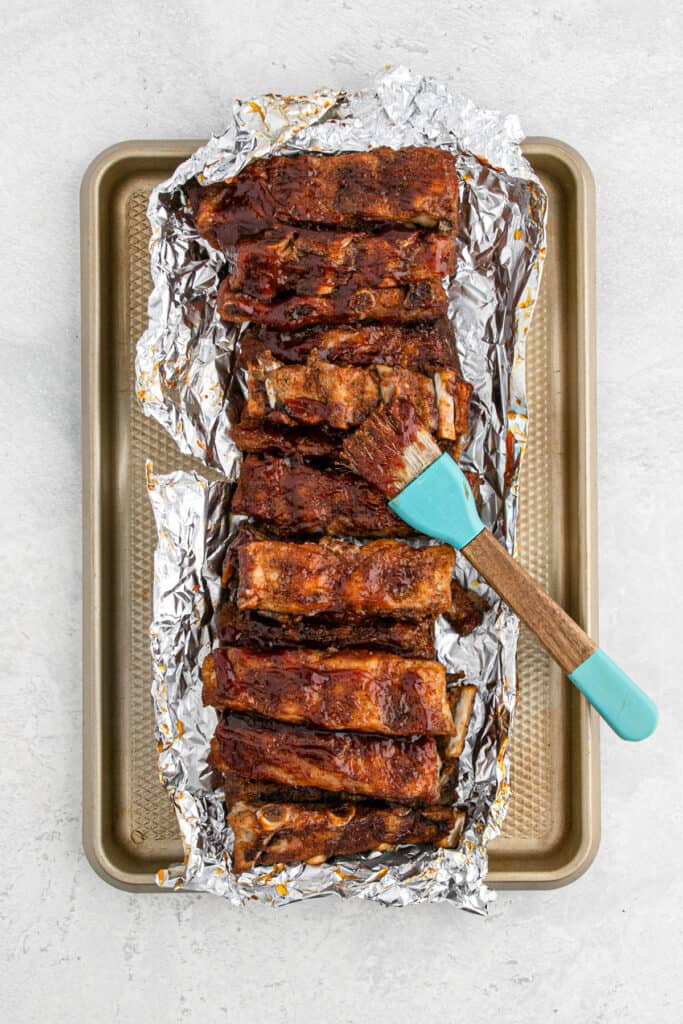 Step 4: Rest and serve
Allow the rib tips to rest for 5-10 minutes, which helps the juices redistribute and results in a juicier texture. Chop them into small pieces and serve them with extra BBQ sauce and your favorite sides.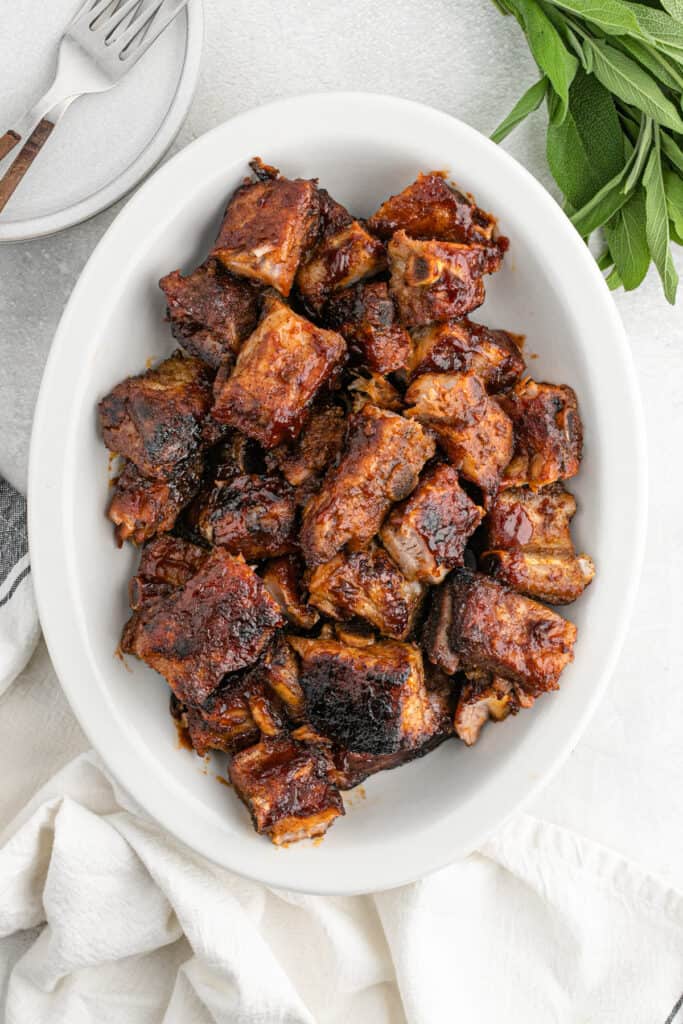 Serving suggestions
You can never go wrong by serving smoky, sweet, and sticky rib tips with other classic barbecue sides like these:
Variations
Protein:

Try a different protein like beef short ribs or chicken wings.

Dry rub:

Create a dry rub with different spices, like curry powder or jerk seasoning.

Sauce:

Instead of barbecue, use honey mustard or teriyaki sauce.
Spicy:

Increase the heat by adding cayenne, chipotles in adobo, or Sriracha hot sauce.
Asian-inspired:

Incorporate rich, savory flavors with a hoisin or soy sauce-based glaze.
Tips and tricks
Remove the membrane:

Remember to remove the membrane from the rib tips for better flavor absorption and a more tender result.

Let the ribs marinate:

For maximum flavor absorption and the juiciest textures, allow the rib tips to marinate for at least 6 hours, but I recommend leaving them overnight.

Cook low and slow:

Whether you're using a grill or the oven, keep the ribs over low heat to achieve tender, juicy meat.
Let the ribs rest:

Resting cooked ribs gives the juices time to redistribute, preventing them from spilling everywhere and creating dry, tough meat.

What to do with leftovers
In the unlikely event that you end up with leftover rib tips, Keep these storage and reheating tips in mind:
Fridge:

Store the leftovers in an airtight container for up to 4-5 days in the refrigerator.

Freezer:

You can wrap the rib tips tightly in plastic wrap and freeze them for up to 3 months this way.

Reheating:

Reheat rib tips in the oven or on the grill over low heat for the best texture and flavor. You can even add them to an air fryer for a quick and convenient option.

Prep ahead:

Marinate rib tips ahead of time and freeze them until you are ready to fire up the grill!
Additional recipes
If you enjoyed these rib tips, take a peek at some more of GBC's flavor-packed recipes like these:
Frequently asked questions
Can I use pork spare ribs instead of rib tips?
Yes, you can use pork spare ribs instead of rib tips. You'll just need to adjust the cooking time depending on the size and thickness of the spare ribs.
How do I know when my rib tips are done cooking?
Rib tips are safe to eat when they reach an internal temperature of at least 145F, according to the USDA. For the most tender result, aim for an internal temperature of 190-220F.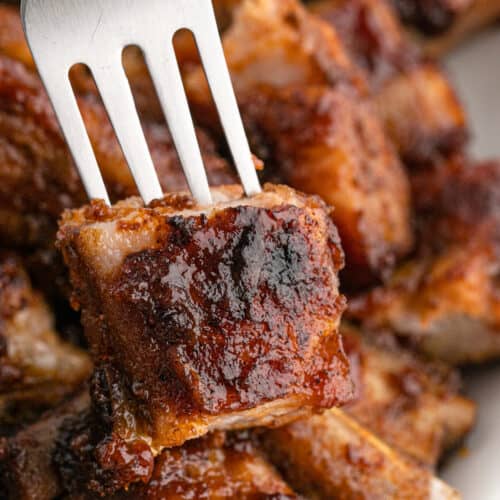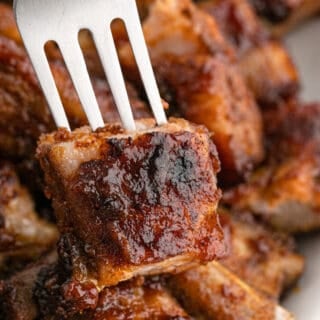 Rib Tips
Rib Tips are a juicy, mouthwatering, finger-licking delicacy that every barbecue lover needs to try at least once! If you're a cookout fan, serve these tender, flavorful bites smothered in BBQ sauce for the ultimate crowd-pleasing recipe.
Print
Pin
Rate
Ingredients
4-5

lbs

pork baby back ribs
For the Dry Rub
1/3

cup

brown sugar

packed

1

tbsp

onion powder

1

tbsp

garlic powder

1

tbsp

cajun seasoning

2

tsp

black pepper

2

tsp

smoked paprika

1

tsp

kosher salt

1/2

tsp

cumin

1/4

tsp

chili powder

1/4

tsp

mustard powder

Oil cooking spray
For Final Basting
BBQ sauce

use your fave or homemade
Instructions
Properly rinse rib tips and pat dry with paper towels.  Remove the membrane or extra skin if there is any on the tips.

In a plastic bag, shake together brown sugar, onion powder, garlic powder, cajun seasoning, black pepper, smoked paprika, kosher salt, cumin, chili powder, and mustard powder until combined.

Line a large baking sheet with non-stick foil and lay the rib tips on top. Make sure the foil is longer than the rib tips.

Spray the outside of the rack of ribs with oil spray then massage dry rub into each side of the ribs.

Cover the ribs with the foil and wrap tightly then store in the refrigerator for at least 6 hours or overnight.
To Grill Ribs
Make sure to properly oil the grates of the grill so the meat won't stick.

Once the grill is ready and hot, place the ribs bone side down on the grill over indirect heat. Grill covered for an 1 ½ hours then turn them over and grill for an additional 1 ½ hours still over indirect heat.

Make sure you are checking every now and again on the ribs to make sure they don't stick or burn if they get close to direct heat. After 3 hours or so, the ribs should be super tender. If not, continue for an additional 30 minutes. The ribs should have an internal temperature of 145°F.

Transfer the ribs to direct heat and brush with bbq sauce on both sides. Grill uncovered for 5-10 minutes then remove.
To Bake Ribs
Preheat the oven to 300 degrees F.

Bake ribs for 2 ½ hours. Check to see if they are incredibly tender. If not, leave covered and allow to bake an additional 30-45 minutes. The ribs should have an internal temperature of 145°F.

Drain the excess fat from the ribs then apply bbq sauce to both sides.

Turn your oven on to broil and allow the sauce to stick to the ribs then remove.
When Ready to Serve
Once rib tips are cooled for about 5-7 minutes, chop into smaller pieces and serve.
Notes
You'll want to cook the ribs at a low to medium heat. Going low and slow is the best way to get super-tender, smoky meat.
Cooking meat on the grill requires constant attention. Stay close to the grill, tongs in hand, and only flip when necessary. Only baste with BBQ sauce in the last 30 minutes of cooking or the sugars will burn along with your ribs.
Let the cooked ribs sit for at least 15 minutes before you serve them! If cut too early the ribs will leak out their juices and become dry. Serve with extra BBQ sauce.
Nutrition
Calories:
305
kcal
|
Carbohydrates:
18
g
|
Protein:
19
g
|
Fat:
18
g
|
Saturated Fat:
6
g
|
Polyunsaturated Fat:
3
g
|
Monounsaturated Fat:
8
g
|
Trans Fat:
0.1
g
|
Cholesterol:
66
mg
|
Sodium:
528
mg
|
Potassium:
340
mg
|
Fiber:
1
g
|
Sugar:
14
g
|
Vitamin A:
541
IU
|
Vitamin C:
0.3
mg
|
Calcium:
50
mg
|
Iron:
1
mg