Chicken Chili with Black Eyed Peas Recipe – A hearty unique and comforting chili flavored with traditional chili flavors and the unique addition of black eyed peas.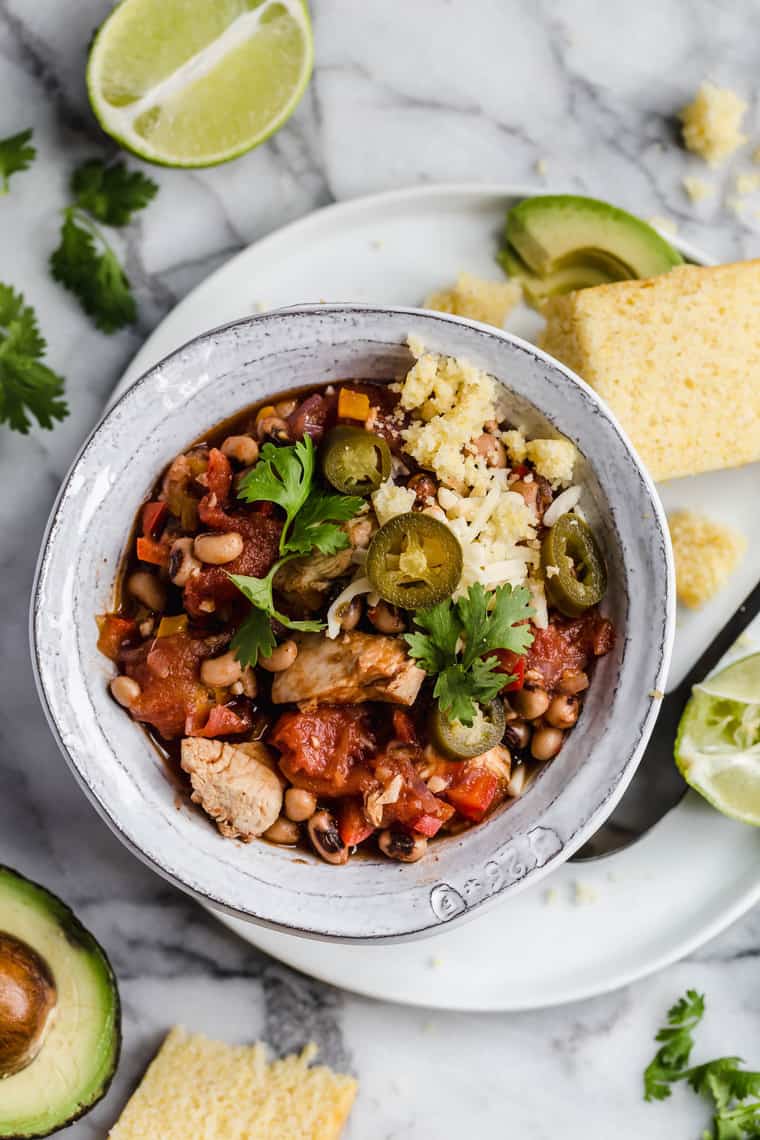 Typically, my posts consist of sharing both family and original recipes but every now and then I'm compelled to share something a bit different. Contrary to what you may believe, I don't always stick to my own recipes. I love to explore the internet, scour through cookbooks and take recommendations from followers and friends alike. The recipe I'm sharing today is an absolute favorite of mine; not only because it was made by a dear friend of mine Julia Turshen but because its astoundly delicious. Chicken Chili with Black Eyed Peas Recipe: a hearty, comforting meal made with simple ingredients while also challenging the traditional concept of chili.
We all struggle with the stragglers: the leftover ingredients in our pantries and produce baskets left to live out their last days before they're chucked in the trash bin. You find yourself staring at these ingredients wondering what you could possibly pull off for dinner. But this chili is the perfect solution. Staples like onions, spices, canned tomatoes and beans come together to form the best weeknight dinner you've had in a long time.
The Highlights and Perks of this Chicken Chili Recipe with Black Eyed Peas
Cuisine Inspiration: Homestyle Comfort Embrace the warmth of home cooking with this protein-packed, gluten-free chili featuring a robust blend of chicken and black-eyed peas.
Primary Cooking Method: Simmering Effortlessly simmered to perfection, ensuring each bite is flavor-packed.
Dietary Info: Protein-Rich & Gluten-Free Ideal for those seeking a hearty, gluten-free option.
Key Flavor: Rich and Savory A mouthwatering combination of savory spices, tender chicken, and earthy black-eyed peas.
Skill Level: Easy Accessible for all, from novice cooks to seasoned chefs.
Sweet Highlights:
Effortless Prep: Quick, simple steps for a fuss-free cooking experience.
Leftovers Delight: Tastes even better the next day, perfect for meal prep.
Make It Your Own: Easily adaptable to suit your taste buds.
Comfort in Every Bite: A soul-soothing bowl of homestyle chili.
Crowd-Pleaser: Guaranteed to satisfy and impress your guests.
---
How to Store or Make Ahead
The best part is you can make this chili and freeze it up to one month ahead or store in your fridge three days ahead. She even has a tip for turning the chili into chili nachos later one. You know I love some y'all (like these blackened shrimp nachos , these pizza nachos and these steak nachos).  Sounds like that might be perfect for football season.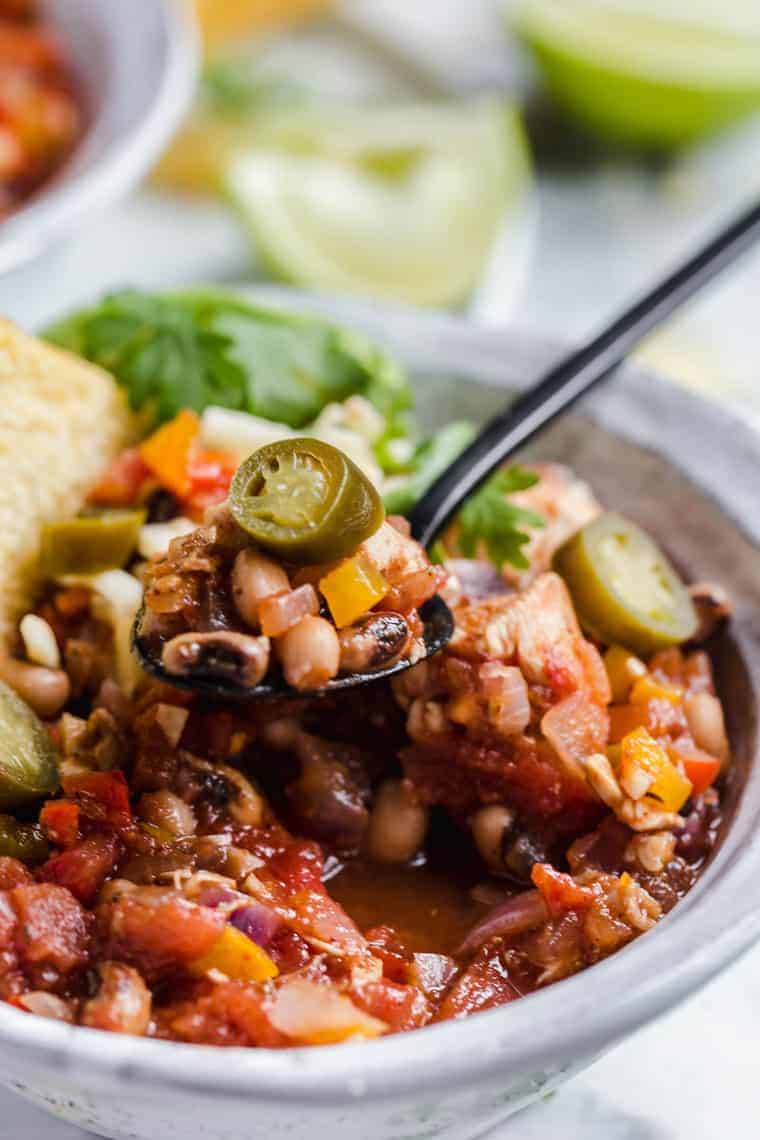 What makes this Chicken Chili Unique? Black Eyed Peas
This recipe really focuses on building flavor, starting with browning the chicken to lock in its juices and release its tasty fat. As you add the peppers, onion, garlic and spices, the aroma will fill your kitchen and create the necessary warmth in this chili. The unique addition of black eyed peas and traditional addition of canned tomatoes introduce a heartiness and sweetness. It combines beautifully with the heat from the jalapeno juice added after the chili has cooked for about an hour.
Now, the key to this recipe is patience. Letting the chili cool and refrigerate overnight. That allows the flavors to truly develop and marry together. The product is a chili like no other. It's wonderfully rich, slightly sweet and well balanced. This Chicken Chili with Black Eyed Peas is perfect for meal prepping, casual dinner parties and cozy nights in with family. So dig in that pantry, raid that grocery basket, step away from the trash bin and towards that big ole pot on the stove. Thank you Julia for such a soul warming recipe.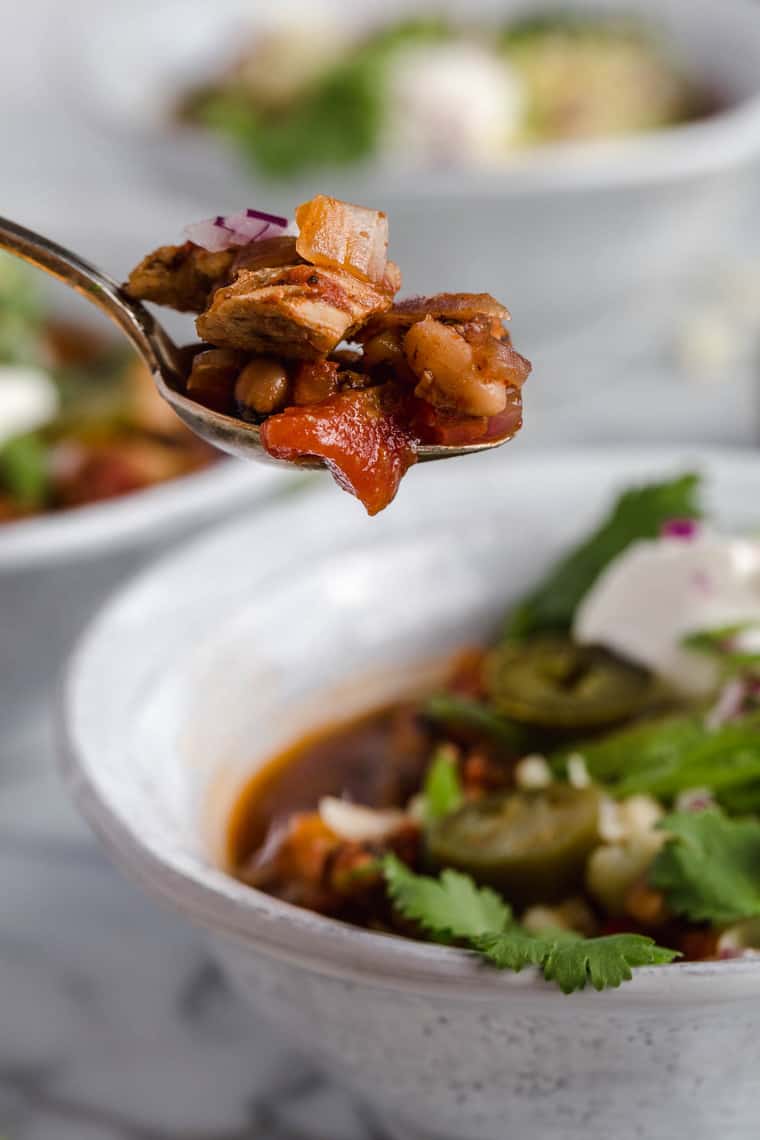 Amazing Chili Recipes
If you are looking for more chili recipes, check out these:
This White Chicken Chili is a must during the fall and winter seasons.
If you want a spin on the traditional chili, try my Fajita Chili
And for the classic chili, you gotta try this one. It's the best!
How to Serve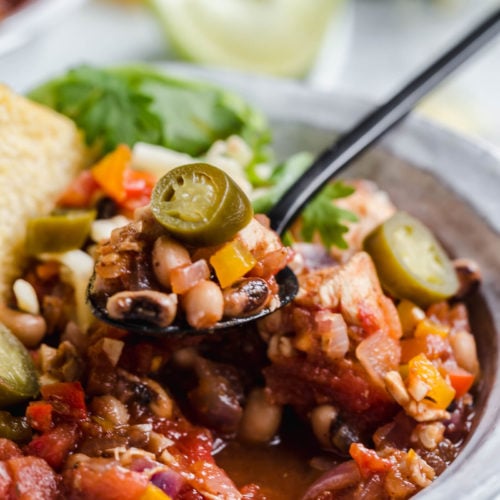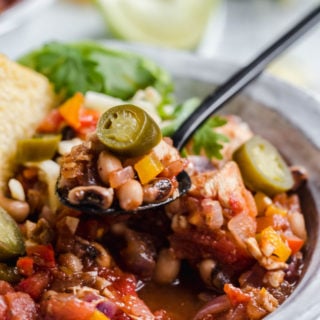 Chicken Chili with Black Eyed Peas Recipe
Chicken Chili with Black Eyed Peas Recipe- A hearty unique and comforting chili flavored with traditional chili flavors and the unique addition of black eyed peas. 
Print
Pin
Rate
Ingredients
2

tbsp

olive oil

1 1/2

lbs

boneless, skinless chicken breasts and/or thighs

cut into bite-size pieces

2

tsp

kosher salt

1

large red onion

finely diced

2

bell peppers

stemmed, seeded, and finely diced

4

garlic cloves

minced

1

tbsp

ground cumin

1

tbsp

red chile powder

1

tbsp

ground oregano

1

(28 oz) can whole peeled tomatoes

1

(15 1/2 oz) can black eyed peas

3

tbsp

pickling liquid from jar of pickled jalapeño chiles, or 1 1/2 tablespoons distilled white vinegar

optional: hot sauce, sour cream, grated cheddar cheese, sliced avocado, cilantro, pickled jalapeño chiles, and sliced scallions for serving
Instructions
In a large, heavy pot heated over medium-high heat, warm the olive oil. Add the chicken in a single layer, working in batches if necessary, and sprinkle with 1 teaspoon of the salt (divide the salt between the batches if necessary). Cook, stirring now and then, until browned all over, about 15 minutes. Add the onion, bell peppers, garlic, cumin, chile powder, and oregano and cook, stirring now and then, until the vegetables begin to soften and brown in spots, about 10 minutes. Add the tomatoes with their juice, the black-eyed peas with their liquid, and the remaining 1 teaspoon salt. Bring the mixture to a boil and then immediately lower the heat to a gentle simmer.

Cover with the lid slightly ajar to let some steam escape. Cook, stirring now and then and breaking up the tomatoes as you stir, until all of the flavors have melded and the chicken is very tender, about 1 hour. (If you're using thighs, the meat will begin to shred.) Add the pickled jalapeño liquid, then taste the chili and add more jalapeño liquid and/or salt if needed. (If you can, let the chili cool down, then cover and refrigerate it overnight and reheat it the next day. The flavor will be even better.)

If using, set out the hot sauce, sour cream, cheddar cheese, avocado, cilantro, pickled jalapeños, and scallions. Serve the chili piping hot.
Notes
If you don't have a jar of pickled jalapeños on hand, use 1 1/2 tablespoons distilled white vinegar in place of the brine.
Make ahead: This chili is great on the first day, but tastes even better if you make it ahead of time and gently reheat when it's time to serve.
Nutrition
Calories:
410
kcal
|
Carbohydrates:
31
g
|
Protein:
44
g
|
Fat:
13
g
|
Saturated Fat:
2
g
|
Polyunsaturated Fat:
2
g
|
Monounsaturated Fat:
7
g
|
Trans Fat:
0.02
g
|
Cholesterol:
109
mg
|
Sodium:
1686
mg
|
Potassium:
1436
mg
|
Fiber:
9
g
|
Sugar:
11
g
|
Vitamin A:
2790
IU
|
Vitamin C:
100
mg
|
Calcium:
143
mg
|
Iron:
6
mg