This authentic Crab Cake recipe is packed with flaky fresh crab meat, just a little panko texture, and flavorful citrus, dijon and Old Bay seasoning with a hint of spice. This is the best you will try and it will keep you coming back time and time again!! If you love these Crab Cakes, you will love my Mexican Crab Cakes, Crab Stuffed Salmon, Salmon Croquettes and Jerk Salmon Burgers.

THE PERFECT CRAB CAKE RECIPE
If there is one thing Southerners know it is how to handle their seafood. Whether it's gumbo, fried catfish or shrimp and grits, I think we can all agree that Southern seafood is supreme. And if you ask me, Crab Cakes are the best of them all.
Gosh, I absolutely love Crab Cakes! Everyone has their own version of the perfect crustation creation but mine is this: full of flaky crab meat, little to no filler, creamy mayonnaise and a balance of wonderful spices. You can serve with tartar sauce or remoulade.
Today's recipe is the embodiment of my favorite Crab Cake, and I can guarantee that your tastebuds will thank me!

WHAT IS A CRAB CAKE?
Ever wonder where the Crab Cake got started? Well so did I! Here's a little sprinkle of knowledge for you to pass on.
In 1930, a man named Crosby Gaige introduced the world to his recipe for the "Baltimore Crab Cake". Gaige used a mixture of savory crab meat, breadcrumbs and spices to create the delicacy we know today. The recipe took on a life of its own and became a staple dish in Gaige's home state of Maryland.
Since then, Maryland has led the way in recreating this dish and spreading enjoyment across the country! Maryland's access to fresh blue crabs make for the absolute best Crab Cakes ever.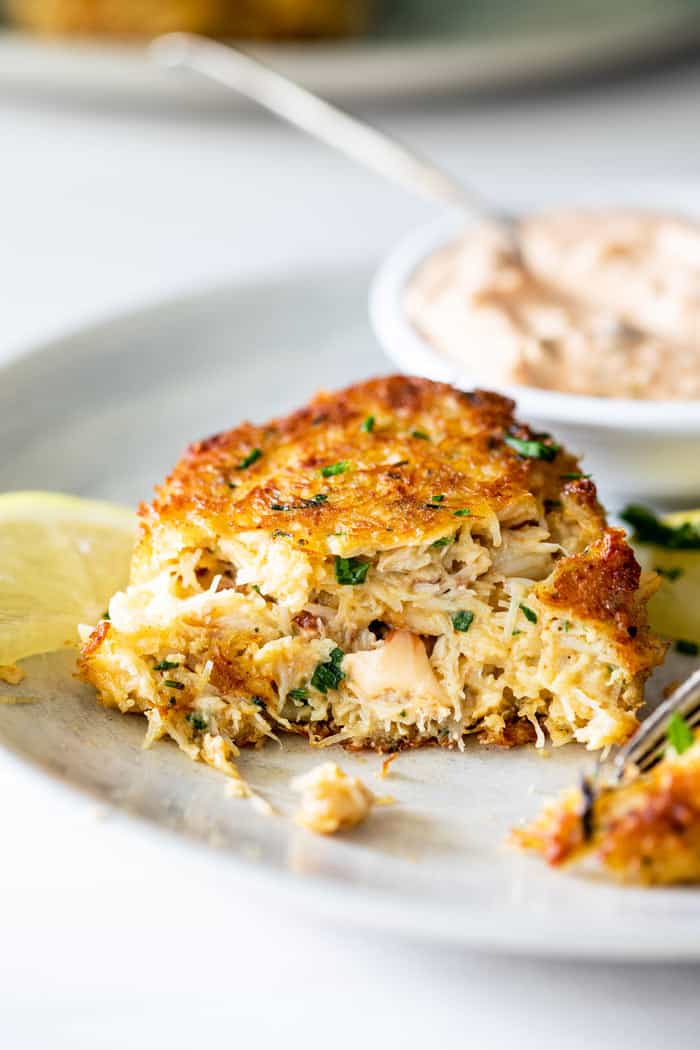 FRESH VS FROZEN VS CANNED: WHAT CRAB MEAT SHOULD I BUY?
If possible, always buy fresh or frozen crab meat rather than canned.
TIP 1: I REPEAT AVOID THE CANNED OPTIONS! Canned options are typically flavorless and rubbery. For a brand that I love that is fresh, check out Pontchartrain Blue Crab. It is imported regularly and can be found at Whole Foods Market. You will find it over ice in the seafood section so it stays fresh.
TIP 2: Another amazing tip is asking your local grocery store seafood section. They usually have fresh crab in the back of the store and will go to their fresh deliveries and gather and weigh it for you if in stock. This guarantees you get fresh delicious crab for your crab cakes.
For this recipe, I highly suggest "flaked" lump crab meat which refers to smaller pieces of meat that come from the claw. The flavor is delicious and the texture melts in your mouth.
TIP 3: If using frozen meat, be sure to properly defrost, rinse and dry off excess moisture. The result will be a bit different but nonetheless, delicious.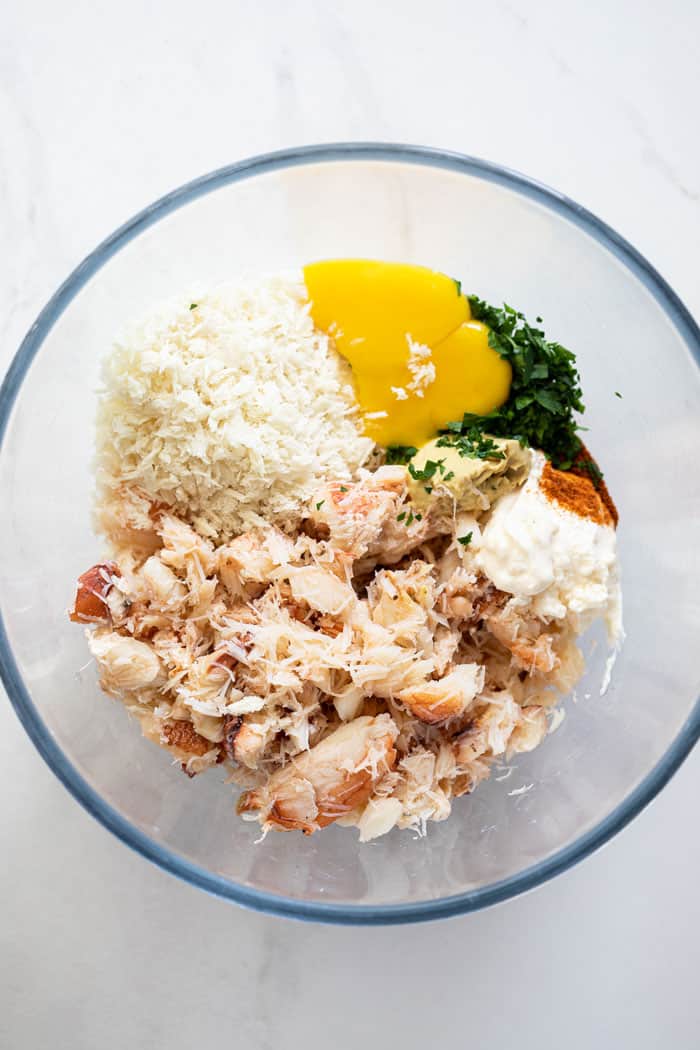 HOW TO MAKE CRAB CAKES
There is an impression that crab cakes are difficult to make. In reality, it all comes down to the quality of ingredients and quick hands. There aren't many components to this recipe which both simplifies the process and allows each one to shine.
Below are a few of the most important ingredients that make this recipe as great as it is.
Seems a bit strange huh? Mayonnaise aids the eggs in binding together the looser ingredients in this mixture. It also lends a mild, clean flavor and a nice tart-salt balance. If you hate mayonnaise (I personally do so I totally understand), Trust me when I say you don't taste it.
Breadcrumbs or cracker crumbs are the usual ingredient you will find in most crab cake recipes. I avoid saltines here because I find they make the crab cakes a bit too salty for my liking. I opt for panko crumbs which add a wonderful bite and texture but also add no additional salt allowing the other ingredients to work their magic.
This not only aids the binder as a liquid ingredient but also adds an abundance of nuance and flavor to the crab cakes. It is subtle but seriously delicious.
Seafood loves acidity. Even just a little squeeze of lemon will add a brightness and a slight tang to the crab meat. I would even suggest serving your cakes with slices of lemon for an extra pop!
If seafood loves acidity then Old Bay is its best friend. Old Bay was actually invented for the use of seasoning crab meat! The iconic blend is made of spices such as mustard, paprika, celery salt, mace and so much more. The end result produces flavor like none other.
If you ask me, everything's better with a little spice can go a long way. Just a pinch gives that classic Southern flare that we associate with so many comfort foods. Here, I've added a hint of cayenne because I love how it brightens this recipe just a bit. You can also substitute this with cajun seasoning if you want to keep the spice down but add tons of flavor. Note: Just make sure your cajun seasoning isn't very salty.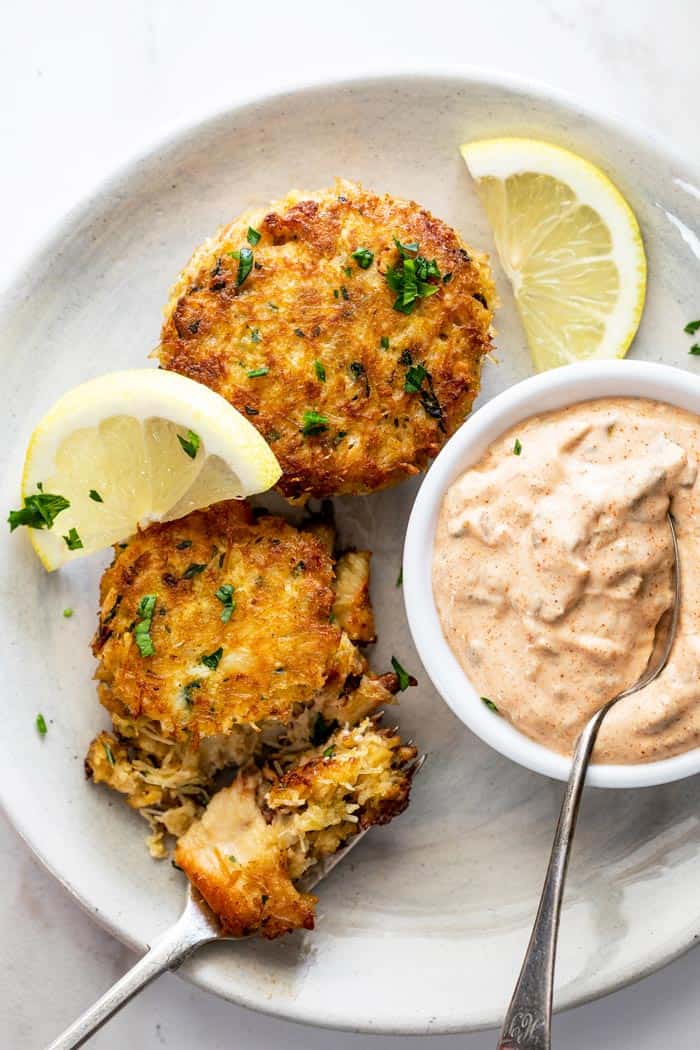 SERVING THIS CRAB CAKE RECIPE
Crab cakes are incredibly versatile and capable of being served with just about anything. Here are a few ideas to get you started!
As an Appetizer w/ Remoulade Sauce
Sliders
Salad Topper
As a Main Dish w/ Roasted Veggies
Crab Eggs Benedict
On a Po' Boy
HOW TO STORE AND REHEAT CRAB CAKES
Crab Cakes consist mainly of crab, eggs and mayonnaise; all of which are quite perishable. In the interest of food safety, be sure to properly wrap and refrigerate your leftovers promptly after they've been served. I would suggest consuming your leftovers within 24 hours.
To reheat: bring your crab cakes to room temperature, preheat the oven to 325 degrees and lay the cakes on a foil-covered baking sheet. Give each cake room, so they're not crowded and heat for 10-15 minutes.
To prevent drying out, I would suggest placing a pad of butter on each cake or tenting the pan with additional foil.
Avoid the microwave at all cost! A microwave will render your cakes rubbery and tough. Such a waste.
FOR THE LOVE OF SEAFOOD
Almost nothing comes in between me and my love for seafood. Whether it's got a shell, scales, or some combination of the two, I'm here for it. If you come to love this recipe just as much as I do, you'll love some of these other recipes. Bon appetit!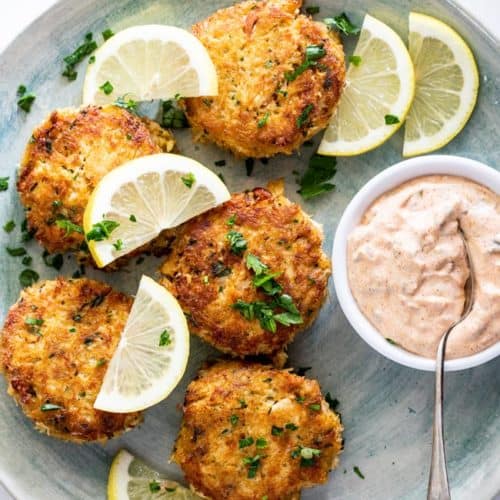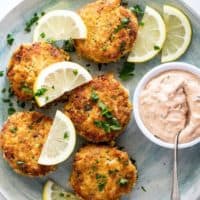 Best Crab Cakes
This authentic Crab Cake recipe is packed with flaky fresh crab meat, just a little panko texture, and flavorful citrus, dijon and Old Bay seasoning with a hint of spice. This is the best you will try and it will keep you coming back time and time again! 
Print
Pin
Rate
Ingredients
1/3

cup

mayonnaise

2

large

eggs

1

tbsp

chopped parsley

1

tbsp

dijon mustard

1

tsp

fresh lemon juice

1

tsp

Old Bay seasoning

1/4

tsp

cayenne pepper

can go up to 1/2 tsp if you want more spice

2

lbs

fresh crabmeat

drained, flaked and all cartilage removed

3/4

cup

plain panko breadcrumbs

1

tbsp

oil

canola, vegetable or olive oil is best

1

tbsp

butter
Instructions
In a large bowl, whisk together mayonnaise, eggs, parsley, mustard, lemon juice, Old Bay and cayenne until combined. 

Next fold in crabmeat and breadcrumbs and shape into 6-8 crabcakes. Place in the refrigerator for about 30 minutes.

Add butter and olive oil to the skillet over medium heat.

Cook crab cakes for 4-5 minutes on each side until golden brown.

Drain on paper towels then serve with lemon slices and a side of this remoulade sauce.
Video
Notes
If possible, always buy fresh or frozen crab meat rather than canned. Canned options are typically flavorless and rubbery.  My favorite brand is Pontchartrain which I find at Whole Foods.  It is fresh and delicious.  I get their lump crab.
Nutrition
Calories:
280
kcal
|
Carbohydrates:
6
g
|
Protein:
30
g
|
Fat:
14
g
|
Saturated Fat:
3
g
|
Cholesterol:
138
mg
|
Sodium:
1427
mg
|
Potassium:
330
mg
|
Fiber:
1
g
|
Sugar:
1
g
|
Vitamin A:
281
IU
|
Vitamin C:
12
mg
|
Calcium:
94
mg
|
Iron:
2
mg